Disclaimer: We sometimes use affiliate links in our content. For more information, visit our Disclaimer Page. 
Marketing is essential for increasing revenues and improving market share. However, effective marketing requires a lot of time and effort. There are many moving parts, from creating content to managing social media campaigns.
This is where the marketing automation software comes in. By automating key tasks, such as email marketing and lead generation, marketing automation software can help you to save time and increase efficiency.
In addition, by providing detailed insights and analysis, marketing automation software can help you fine-tune your marketing strategy and optimize your results.
If you're looking to take your marketing efforts to the next level, check out these five best marketing automation software for small businesses.
But before we dive into that list, let's make sure we're on the same page with a simple marketing automation definition.
What Is Marketing Automation?
Marketing automation software is designed to help businesses automate their marketing and sales activities. Companies can free up time and resources to focus on more strategic tasks by automating repetitive tasks.
Marketing automation software solutions typically include contact management, lead management, campaign management, and reporting features.
In addition, many marketing automation platforms offer integrations with CRM, ERP, and other business applications. A marketing automation platform can automate various marketing activities, including email marketing, social media campaigns, and targeted advertising. When used effectively, marketing automation can help businesses increase their sales and improve their customer relationships.
Related: VBOUT Reviews Marketing Automation Platform
5 Best Marketing Automation Software for Small Businesses
There are many marketing automation software options on the market these days. So, which one should you choose for your small business? Here are five of the best options available:
1. HubSpot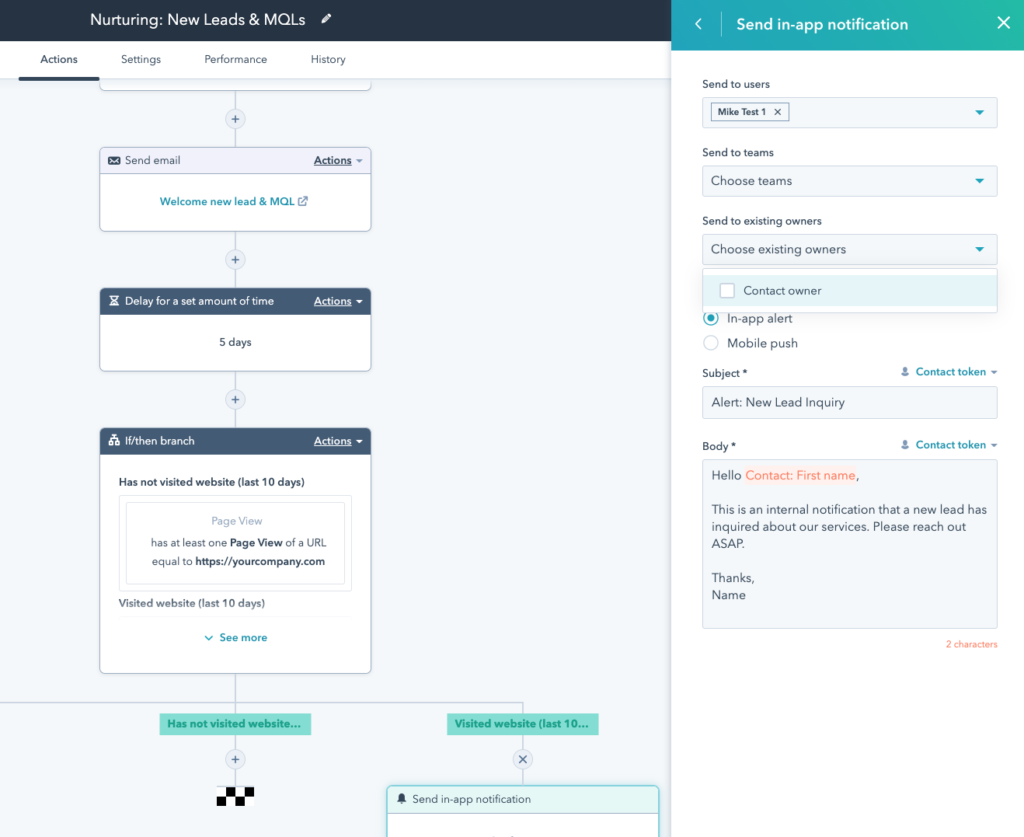 HubSpot is a popular inbound sales and marketing software for small business websites. It allows you to plan your marketing campaigns on the free email and CRM. HubSpot's main features include contact management, deals, ticketing, and automation.
In addition, you can use HubSpot to create landing pages, blog posts, lead capture forms, and email drip campaigns. It also has a robust CRM that tracks your leads and customers through the sales pipeline.
Contacts, Leads, Deals, and Reports
HubSpot's CRM software offers users a comprehensive view of their business activity, including contacts, leads, deals, and reports. Also, the software's default settings show users their team's activity, sales performance, deal forecast, deals closed versus goal report, and productivity. This gives users an overview of how their business is performing and where improvements can be made.
The software also allows users to customize their data view to better suit their needs. For example, they can choose to see only deals that are closing soon or choose to see all deals that have been won in the past month. This flexibility makes HubSpot's CRM software an excellent tool for businesses.
Integrations
HubSpot offers a wide range of integrations that can benefit businesses. Some of the most popular integrations include Salesforce, Google Sheets, and MailChimp. However, many other options are available that can be just as helpful. For example, the HubSpot-Slack integration can be extremely useful for sales teams. It allows users to receive notifications in Slack whenever a deal is updated, making it easy to stay on top of sales progress.
Additionally, the HubSpot-Gmail integration can be beneficial for customer service teams. It allows users to create tickets from within Gmail, making it easy to keep track of customer issues.
Intuitive Dashboard
The HubSpot CRM has an intuitive dashboard design that offers a real-time sales funnel view. The sales funnel displayed concisely, with each funnel stage color-coded. The visual display makes it easy to see where each deal is in the sales process and how close it is to being closed.
The dashboard also provides valuable insights into the sales team's performance and how deals are progressing through the funnel. This information can be used to improve sales productivity and close more deals.
Pricing:
HubSpot Starter plan is a great way to get started with HubSpot. It includes forms, email marketing, landing pages, live chat, etc. It's easy to use and offers a variety of features to help you get the most out of your HubSpot account. For example, with the Starter plan, you can create forms to collect leads, create and send email campaigns, build landing pages to drive conversions, and use live chat to engage with visitors.
The HubSpot Professional plan is designed for small businesses that want to grow their online presence. It includes all of the basic features of the HubSpot platform, such as dynamic personalization, multi-language content, and collaboration tools.
In addition, the Professional plan provides access to more advanced features, such as campaign management and reporting. With these tools, you can track your progress and adjust your marketing strategy on the fly. Best of all, the Professional plan is scalable to add more users as your business grows.
The HubSpot Enterprise plan gives you access to many features not available in the lower-tier plans. For example, you can create custom objects to track data specific to your business. You can also set field-level permissions to restrict access to sensitive data. In addition, the Enterprise plan includes an email send frequency cap, which helps prevent your account from being flagged as spam. With all of these features, the HubSpot Enterprise plan is ideal for businesses that need higher control over their data.
Pros
All-in-one solution
7-day free trial
Educating their users
Cons
Requires a 12-month contract
Technical support is paid
It gets expensive at higher tier plans
2. OptinMonster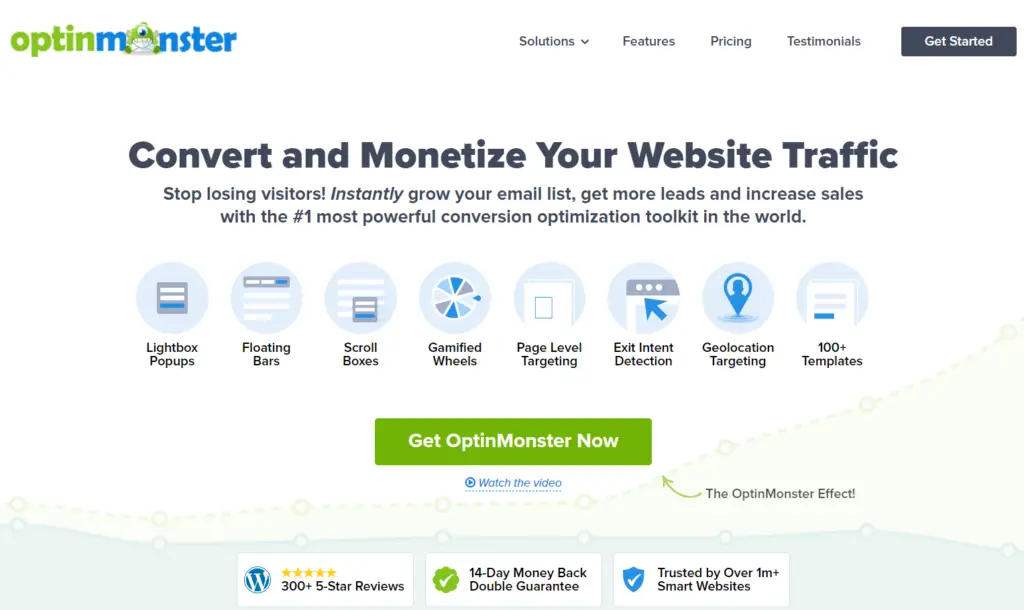 OptinMonster is the best lead generation and conversion optimization software for all websites. It helps small business owners increase their leads and conversions by creating beautiful opt-in forms and popups. OptinMonster also provides a wide range of features, such as exit-intent technology, which helps capture leads even when they are about to leave your website. In addition, OptinMonster comes with a powerful drag-and-drop editor, which makes it easy to create high-converting opt-in forms and popups.
Campaign Types
OptinMonster offers a ton of different campaign types, including:
Lightbox popups: These popups appear in a lightbox overlay on your page. You can promote discounts, social media follow campaigns, or subscribe forms.
Floating bars: Floating bars are sticky headers or footers that follow your users as they scroll down. They're great for promoting sharp deals; social media follow campaigns, or subscription forms.
Fullscreen welcome mats: Welcome mats are large options that cover the entire screen. They're perfect for growing your email list or promoting a big sale. 
Slide-in scroll boxes: Slide-in scroll boxes appear as your users scroll down. They can be used to grow your email list, promote social media follow campaigns, or display important messages.
Campaign Template
With over 50 pre-built templates, OptinMonster has you covered for all your events, such as ebook launches, retail shopping discounts and coupons, holiday sales, and flash sales. In addition, you can easily create beautiful opt-ins that convert without designing them from scratch with campaign templates.
Choose a template that matches your event, add your text and images, and voila! You have a professional-looking opt-in that's ready to go. And because OptinMonster's campaign templates are fully customizable, you can always tweak them to match your brand's look and feel.
Detailed Analytics and Easy A/B Testing
One of the essential features of OptinMonster is its ability to provide detailed analytics and easy A/B testing. This lets you see how your website visitors interact with your opt-ins and make changes accordingly. With OptinMonster, you can track conversion rate, email subscribers, and social media followers. You can also use A/B testing to try out different opt-in forms and see which ones convert the best. This is a valuable tool for any website owner who wants to improve their conversion rates.
Pricing:
The OptinMonster Basic plan is perfect for small businesses and bloggers who want to grow their email list. With unlimited campaigns and all campaign types available, you'll be able to target your audience and segment your list with ease. Page-level targeting ensures that your options are seen by the most likely to convert, and list segmentation allows you to send highly relevant messages to your subscribers. The support team is always available to help you get the most out of OptinMonster.
The OptinMonster Plus plan is the perfect solution for businesses that want to scale their email marketing campaigns. With integrated A/B testing, you can fine-tune your campaigns for maximum impact, and with full reporting, you can track your progress and ROI. Attention Activation uses cutting-edge technology to ensure that as many people see your emails as possible. Content locking allows you to gate valuable content behind an opt-in form, ensuring that you get leads from your best readers. The OptinMonster Plus plan is the perfect way to automate your marketing campaigns with these features!
The OptinMonster Pro plan gives you access to all of the marketing automation features of the basic plan, plus some powerful extras that can help you boost your conversions even further. For example, mobile-specific campaigns let you create targeted offers triggered when users visit your site from a mobile device. The Zapier integration allows you to connect OptinMonster with over 1,000 other apps, so you can automate your marketing tasks and save time. Furthermore, Countdown timers add a sense of urgency to your campaigns, encouraging users to take action before it's too late. And campaign scheduling lets you control when your campaigns are shown, so you can ensure the right people see them at the right time.
Are you looking to take your business to the next level? OptinMonster's Growth plan offers all the features you need to get there. With follow-up campaigns, real-time personalization, coupon wheel campaigns, geolocation targeting, success scripts, ManyChat integration, and AdBlock detection, you'll have everything to drive conversions and grow your business!
Pros
Pre-designed templates
Non-interruptive pop-up options
Plenty of customization choices
Conversion-optimized Trigger Options
OptinMonster-Email Service Integrations
Cons
Confusing setup
OptinMonster Uses Ongoing SaaS Billing
3. Constant Contact
Constant Contact is a powerful email marketing and automation tool. It automates all email campaigns to let you focus on the growth of your business. Constant Contact makes it easy to create beautiful, professional-looking emails that grab attention and drive conversions. You can also use Constant Contact to automate your customer communications, making it easier to stay in touch with your customers and keep them updated on your latest products and offerings.
Improved Integrations
Constant Contact's e-commerce integrations are one of the product's draws for smaller businesses. With Etsy, eBay, Shopify, and Vimeo, companies can manage their online presence and transactions without leaving their Constant Contact account. This helps streamline the process and avoid toggling between multiple platforms. In addition, businesses can use Eventbrite to promote and sell tickets to events directly through Constant Contact. This makes it easy to track registrations and payments and helps to ensure that all of the data is stored in one central location. As a result, the integrations offered by Constant Contact can save businesses time and hassle.
Campaign Tracking
Constant Contact's Campaign Tracking is an easy way to keep tabs on your email marketing performance. The dashboard gives you a quick overview of vital statistics, including opens, click-throughs, bounces, and unsubscribe requests. You can also see your most engaged subject line and opens on desktop versus mobile. This information is crucial for understanding how your campaigns perform and making necessary adjustments. With Constant Contact's Campaign Tracking, you can be sure that you always stay on top of your email marketing game.
Email Automation
Email Automation allows you to send emails automatically based on your setup triggers. For example, you can set it up to receive a welcome email every time someone subscribes to your mailing list. Or, you can set it up so that every time someone purchases on your website, they receive a thank-you email. Email Automation can save you a lot of time by automating the process of sending emails. It can also help improve your customer relations by sending timely and relevant emails. If you're not using Constant Contact's Email Automation, you're missing out on a powerful tool that can help you to save time and build customer relations.
Pricing:
The Constant Contact Core plan is a great way to get started with email marketing. It includes all the basic features you need to get up and running, including real-time reporting, customer list growth tools, and store and organize contacts. In addition, it comes with over 300 email templates to easily create beautiful, professional-looking emails. And if you need more features, there is also a Constant Contact Plus plan that offers additional functionality. But if you're just getting started with email marketing, the Core plan is a great way to get all the basics in one place.
The Constant Contact Plus plan is the most popular email marketing solution for small businesses. It includes everything you need to get started quickly and easily, including automated emails, auto-generated segments, conversion and sales reporting, and a personalized kickoff call. With the Plus plan, you'll be able to resend your emails to non-openers, send abandoned cart reminders, birthday/anniversary emails, etc. You'll also be able to segment your contact list based on engagement levels to send targeted messages to your most engaged customers. Additionally, you'll receive full access to the priority support team and resources.
Pros
A/B testing is only for the subject line
Easy to set up compared with other marketing automation tools
High deliverability rate
Niche features
Cons
Difficult to cancel account
Limited automation
4. Sendinblue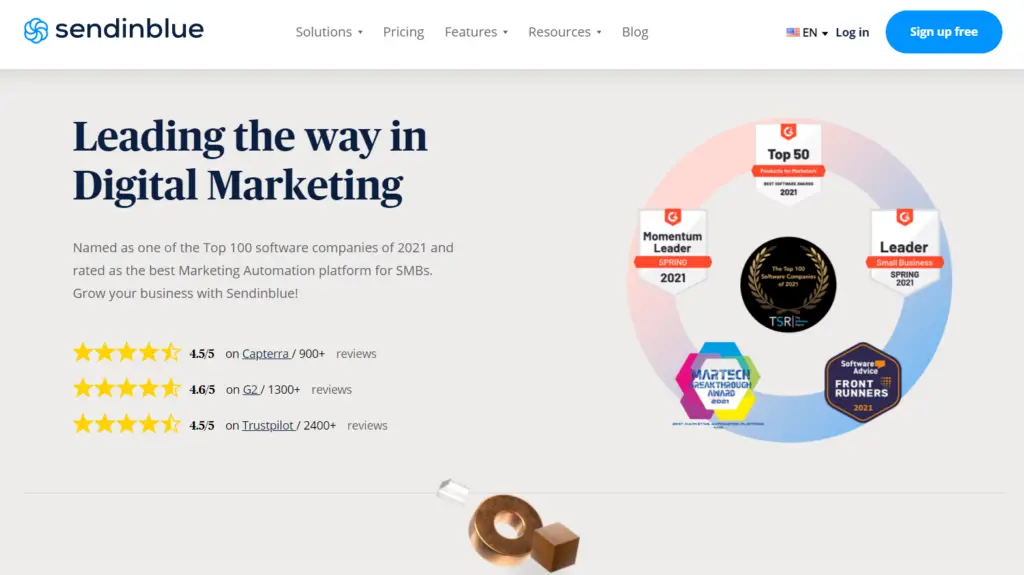 Sendinblue's all-in-one digital marketing platform has everything to engage your audience and grow your business. With robust tools for email marketing, SMS marketing, and more, Sendinblue makes it easy to plan and execute marketing campaigns that get results. And with Sendinblue's intuitive interface, you'll be able to use it easily without needing any prior experience. Moreover, Sendinblue integrates with many popular applications, making it easier. So whether you're just getting started with digital marketing or a seasoned pro, Sendinblue is a great tool to help you achieve your goals.
Marketing Automation
Sendinblue's marketing automation tool is designed specifically for small businesses. The tool features a wide variety of workflow templates that can be easily customized for specific tasks:
A welcome message template can be used to create an automated welcome message for new subscribers.
A birthday message template can send automated birthday messages to your customers.
The abandoned Carts template can be used for recovering abandoned carts and boosting sales.
Page Visit template can track page visits and understand customer behavior.
The product Purchase template can track product purchases and understand customer behavior.
With Sendinblue, you can easily customize your marketing campaigns to fit your business's needs. The tool also includes a wide range of integrations to connect to your other business applications. As a result, Sendinblue's marketing automation tool is excellent for small businesses looking for an affordable, easy-to-use solution.
Contacts and Campaign Setup
It has a simple interface, but it also offers a wide range of perfect features for businesses of all sizes. One of the best features of Sendinblue is its ability to import data from its competitors. A simple Integration wizard helps you bring in contacts and campaign data from other email marketing platforms, notably Active Campaign, Getresponse, Mailchimp, and Twilio SendGrid. This is a massive time-saver for businesses migrating to Sendinblue, and it ensures that you'll be able to hit the ground running with your email marketing campaigns.
Integrations and Plug-Ins
Sendinblue offers a wide range of integrations and plug-ins to help businesses automate their marketing efforts. The most popular Sendinblue integration is with the e-commerce platforms Shopify and WooCommerce. This allows companies to automatically add subscribers to their Sendinblue lists and send them targeted campaigns based on their purchase history. In addition, Sendinblue offers integrations with CRM platforms like Salesforce, HubSpot, and Zoho. This allows businesses to synchronize their customer data across all platforms and automate their marketing tasks. Moreover, Sendinblue integrates with webinar platforms like GoToWebinar and Webex, making running automated webinars and lead generation campaigns easy.
Pricing:
With Sendinblue, you can enjoy all the free plan features without any time limit. You can have unlimited contacts and send up to 300 emails per day. You also get access to the chat feature (1 user) to connect with your customers in real-time. You can also track your open rates and click-through rates to see how your campaigns perform. Ultimately, Sendinblue's free plan is a great way to start email marketing.
The Sendinblue lite plan is perfect for small businesses or individuals who need to stay in touch with their contacts without breaking the bank. There's no daily sending limit, so you can send as many emails as you need, and email support is always available if you have any questions. Plus, with the Lite+ add-on, you'll get access to features like A/B testing, removing the Sendinblue logo from your emails, and advanced statistics.
The Sendinblue Premium plan is an excellent tool for marketing automation. With this plan, you can create Facebook ads and landing pages and manage multi-user accounts. This plan also includes several other great features, such as email marketing and campaign management. The Sendinblue Premium plan is an excellent choice for a complete marketing solution for businesses.
Enterprise – Custom packages
The Sendinblue Enterprise plan is the perfect solution for businesses that need to send a high volume of emails. With the custom volume of emails, you can send as many emails as you need without exceeding your limit. In addition, with the priority sending, your emails will always get through. And with the 20+ landing pages, you can create beautiful pages that will capture your audience's attention. Plus, with the 10+ user access, you can give each of your employees their login to access the account. And with the SSO (SAML), you can ensure that only authorized users have access to your account.
Pros
Includes basic CRM functionality
Expanded template building options
Impressive range of automation and integration
Solid email automation
Create personalized campaigns quickly
Cons
The creation of transactional emails could be simplified
Initial account setup can be tedious
5. Drip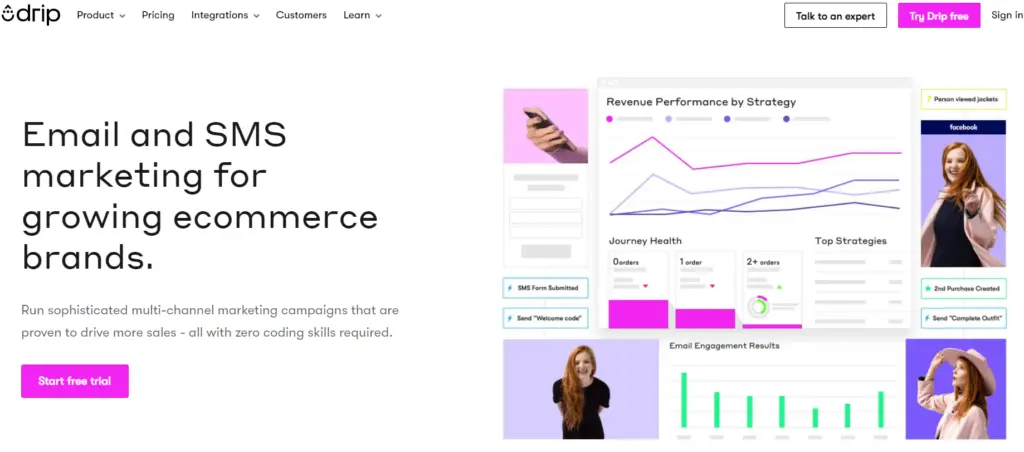 Drip is a powerful marketing automation tool that can help eCommerce businesses personalize campaigns for each customer journey stage. It is easy to use and has many features, making it essential for any online business. With Drip, you can create targeted emails, landing pages, and lead forms that capture customer data. You can then use this data to create targeted campaigns that nurture leads and convert them into customers. Additionally, Drip provides powerful analysis tools that allow you to track the performance of your campaigns and optimize them for better results. Drip is the perfect solution if you are looking for a way to automate your marketing and grow your eCommerce business.
Personalization
With Drip, you can segment your customers based on their behavior and preferences and then create targeted campaigns that address their specific needs. For example, you can create a campaign that offers a discount to first-time customers or one that provides free shipping for orders over a certain amount. Personalizing your customer journeys can increase customer loyalty and lifetime value. And because Drip integrates with a variety of other marketing platforms, you can easily customize your campaigns to meet your specific goals.
Multichannel marketing
Drip provides an effective way to reach out to potential customers through various channels. As a result, businesses can target a wider audience and create a personalized experience by using multiple channels. The most common multichannel marketing channels include email, social media, and retargeting ads. However, businesses can also use other channels such as SMS, push notifications, and in-app messaging.
One of the main advantages of drip marketing is that it allows companies to send targeted messages to leads at different sales funnel stages. For example, businesses can send educational content to leads in the awareness stage and promotional offers to leads in the consideration stage. This helps to improve conversion rates and maximize ROI.
Customizable forms
Drip is an easy-to-use tool that allows you to create custom forms without writing code. You can use Drip to collect leads, gather customer information, or even create surveys. The possibilities are endless. With Drip's drag-and-drop form builder, you can create beautiful, functional forms. Plus, Drip integrates with all major email marketing platforms to send your leads straight to your email list.
Pricing:
Email – $19
The Drip email plan is designed for businesses with up to 500 contacts. With this plan, you can send unlimited emails, and you'll have access to email support. This plan is a great way to stay in touch with your customers and prospects, and it's a cost-effective way to keep your business top-of-mind.
Email + SMS – $22
The Plus plan is the perfect way to get started with drip marketing. With email support and 200 SMS sends, you'll reach a large audience with your message. In addition, the 14-day free trial means you can try out the marketing automation services with no risk. Best of all, there's no credit card required to get started right away.
Pros
Basic form builder
Optional SMS marketing
Plenty of integrations
Advanced reporting
Cons
Automation requires practice
Ambiguous data security policy
How to Choose a Marketing Automation Software?
Marketing automation software can be an excellent asset for any business, large or small. But with so many options on the market, it can be tough to know where to start. So here are a few tips to help you choose the right marketing automation software for your business:
1. Create a plan. What are your business goals? What do you need the software to do? Make a list of must-haves and nice-to-haves. This will help you narrow down your options.
2. Ask around. Talk to other businesses in your industry and see what they're using. See if they're happy with their software and if they have any recommendations.
3. Consider cost. Marketing automation software can be pricey. But remember, you get what you pay for. So choose a software that fits your budget and has the features you need.
4. Look at Feedback. Once you've narrowed down your options, look at online reviews. See what users are saying about the software. This can be a great way to get an unbiased opinion.
5. Check Availability. Make sure the software you're considering is compatible with your current systems. You don't want to switch everything over just to use the new software.
6. Build a Short List. After considering all of the above factors, it's time to build a shortlist of software options. Try out each one and see which one works best for your business.
What Is the Difference Between CRM and Marketing Automation?
CRM (Customer Relationship Management) software is designed to help businesses manage their customer relationships, while marketing automation software is designed to automate marketing tasks. Both types of software can track customer data, but CRM software is typically more robust, offering contact management, salesforce management, and lead management features.
On the other hand, marketing automation software typically includes email marketing, social media management, and web analytics. While both types of software can benefit businesses, choosing the right tool is essential. For example, if you're primarily interested in managing customer relationships, then CRM software is a better choice. However, If you're looking to automate marketing tasks, then a marketing automation service is better.
Related: Best Free CRM Software
Closing Thoughts
Marketing automation software can be a powerful tool for small businesses. Automating repetitive tasks and providing valuable insights can help companies improve their marketing efforts and boost their bottom line.
However, it is crucial to choose the right one for your business, as not all marketing automation solutions are equally efficient.
Be sure to consider your specific needs and budget before making a decision. With the right marketing automation software in place, your business can enjoy increased efficiency and improved results.