Disclaimer: We sometimes use affiliate links in our content. For more information, visit our Disclaimer Page. 
The sales industry is constantly evolving. As a result, companies need to implement new sales strategies to lead them in the right direction to stay competitive.
This blog post will explore five sales strategies you can use to grow your business. We'll also discuss some newer tools and technologies to help you succeed. So without further ado, let's get started!
Sales Strategies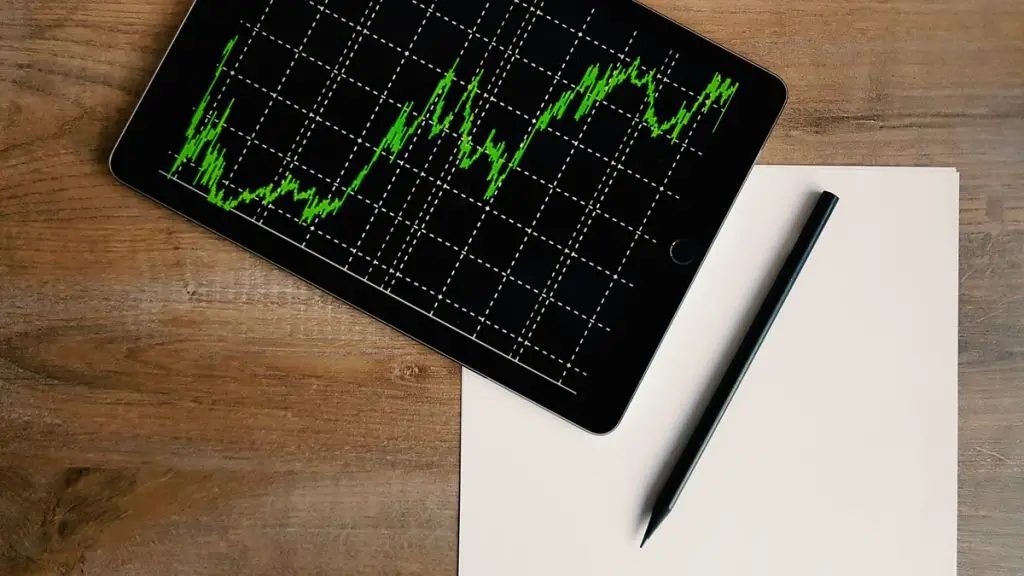 Sales strategies are constantly changing. What worked for you last year might not work this year. You need to constantly learn new techniques and test different approaches to see what works best for you and your business. Here are a few tips that can help you boost your sales this year.
Get in front of the right prospects
We all know that the most crucial part of a successful sales strategy is ensuring your team only sells to customers who will buy.
Too often, though, we see companies selling their products or services to people who have no intention of buying them. This wastes time and resources for everyone involved. It also hurts the company's reputation with these potential buyers because they feel tricked into wasting their time with empty promises or high-pressure tactics from salespeople.
To avoid this problem, encourage your team members to research prospects thoroughly before attempting any closing conversation about your product or service. Make it clear that you want them to talk about what's in it for the prospect instead of focusing solely on how much money it can save them during the first meeting. If they do this work upfront and qualify each prospect as "high-probability," then there should be fewer wasted meetings when you're trying to close deals! 
To qualify a prospect effectively, ensure that they meet all necessary criteria before moving forward with any other steps in the sales process. These qualifications should be based on past behavior (such as visiting your website) and demographic information (such as age).
Use videos to close more deals
If a picture is worth a thousand words, then a video must be worth at least a million. Video is one of the most powerful sales tools available today, yet so few companies use it to its full potential.
Videos can be used throughout sales, from engaging potential customers who visit your website to providing a "virtual tour" of your product or service.
If you're looking for a way to improve your sales process and close more deals, consider using explainer videos. These videos can be beneficial in engaging with more people and explaining your product or service in a way that is easy to understand.
Related: The 13 Best Marketing Tactics for 2021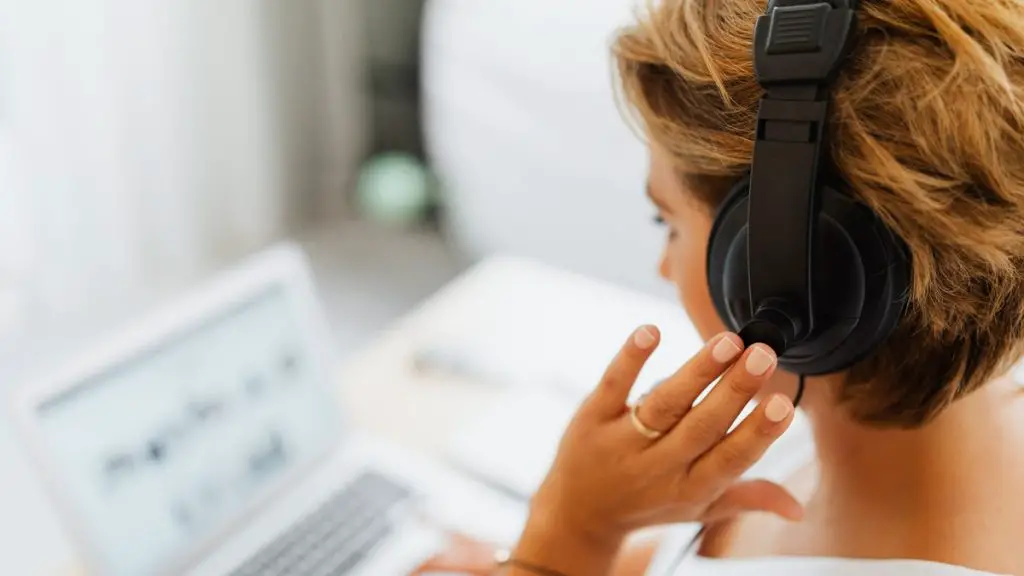 Get your team comfortable with cold calling.
Selling is a numbers game. It's easy to get discouraged when the phone doesn't ring, but it's important not to give up! Salespeople are often told to "cold call" potential clients. But most sales reps dread picking up the phone and calling an unknown number. 
Cold calling is necessary for any sales process, but it doesn't have to be tedious or painful. You can take a few simple steps to make cold calls more effective and less stressful for everyone involved. 
The first step in making your cold calls less awful is to practice with someone else before you start dialing numbers on your own. Have each member of your team pick three people they know would be good prospects for your product; then give them 15 minutes each to practice their pitch by phoning one another over Skype or Google Hangouts (or even just a regular phone). This way, when they do need to talk business with someone new, they'll already feel confident about what they're going to say—and it won't seem like such an intimidating task anymore!
Sales presentation
Pitching can be the make-or-break moment in a sales strategy. The sales pitch has to be a powerful, compelling presentation. But it also can't come on too strong lest your team scare away the prospect.
Study the elements of a successful sales pitch and have your team practice these amongst themselves, too. Better yet, test your presentations on a few loyal customers and gather feedback from their perspective; they can speak to the prospect's point of view.
Inbound sales teams should lead with a tailored message to the buyer from their specific context or point-of-view rather than an elevator pitch designed for every customer in general without regard for what they need right now (which is why many pitches fall flat).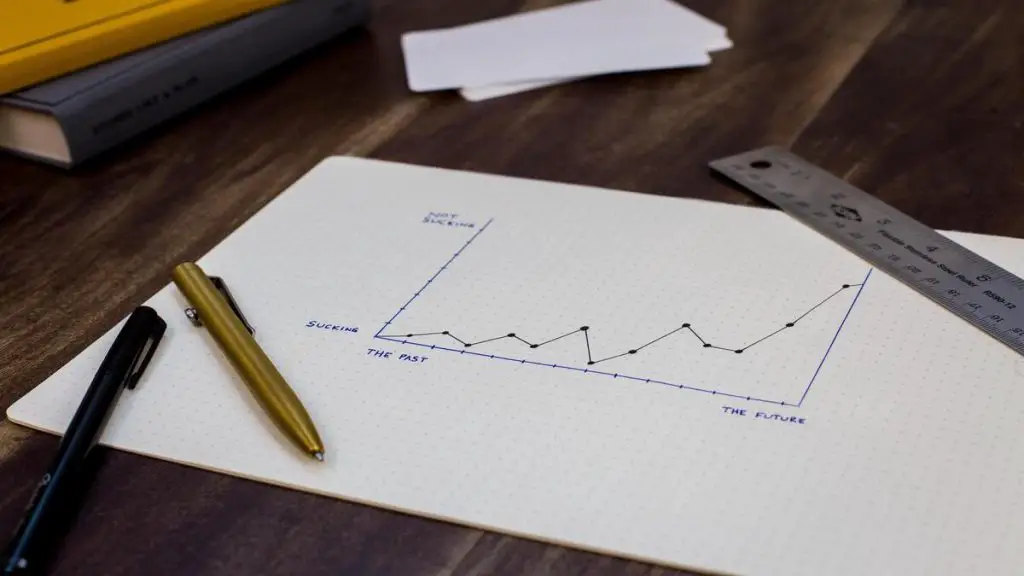 Get the most out of your closing techniques.
Closing techniques are one of the essential parts of any sales conversation. It's not enough to know what you're selling; you also need to be able to close a deal and get people excited about buying from your company.
There are many different closing strategies out there that can help you seal the deal with customers, but it can be difficult for anyone on your team to remember all the best practices they should follow when trying to close a sale. 
Our advice is simple – keep a list of tried and true closing techniques handy, so everyone on your team knows how they should handle themselves every time they start talking with a potential customer or client! You'll find dozens of proven tactics in our ebook that will help set up solid deals for years into the future! To get your copy, send me an email at [email protected] with "close deals" as the subject line, and I'll send it right over!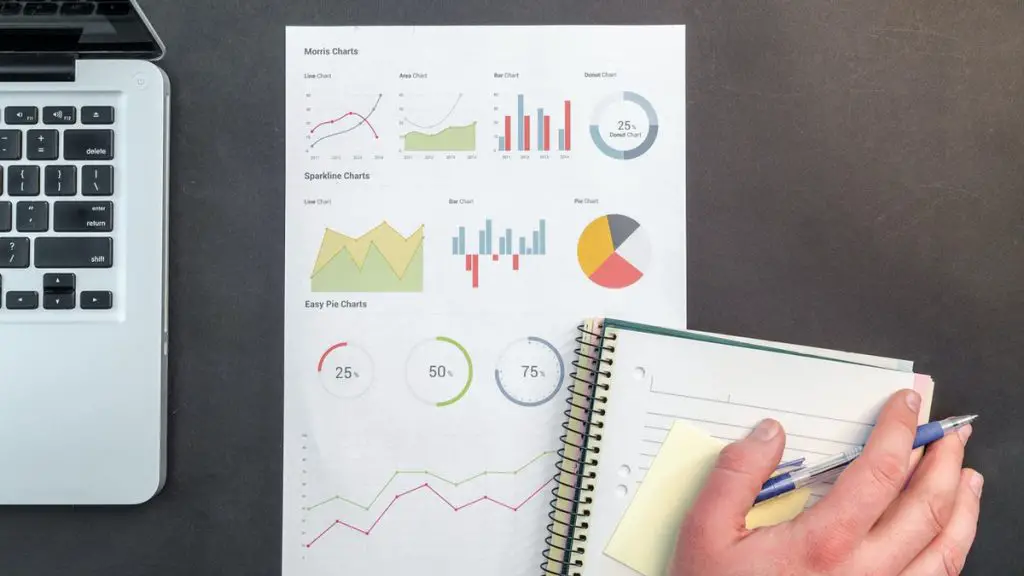 Account management is an essential part of sales
The sales process doesn't end when the deal is closed. 
Account management can be a great way to keep your customers happy and loyal, but companies that are too focused on closing deals are also often neglected. As a result, they lose their best clients to competitors who understand how vital account management is for long-term business success.
In addition to having an excellent account management team, how can you be sure that your sales staff uses the best possible methodologies? Sales staff are faced with two types of strategies: outbound and inbound.
Companies are limited to managing their accounts based on seller actions in outbound sales. This means that they can't tell if a lead is ready for a demo until the seller decides to schedule one, and they have no way of knowing when leads become opportunities or how much revenue those opportunities will bring in.
In inbound sales — which is now possible with modern technology like CRMs and marketing automation software — companies base their sales strategy on buyer actions, so they're able to track each step of the buying process from start to finish. They know precisely what stage every prospect is at within the funnel and can work collaboratively with sellers to move them through it faster.
The result? A more efficient process allows buyers and sellers to get what they need from each interaction without unnecessary back-and-forth or confusion about the next steps. 
Related: Marketing Strategy Will Be For You What You Want It To Be (2021)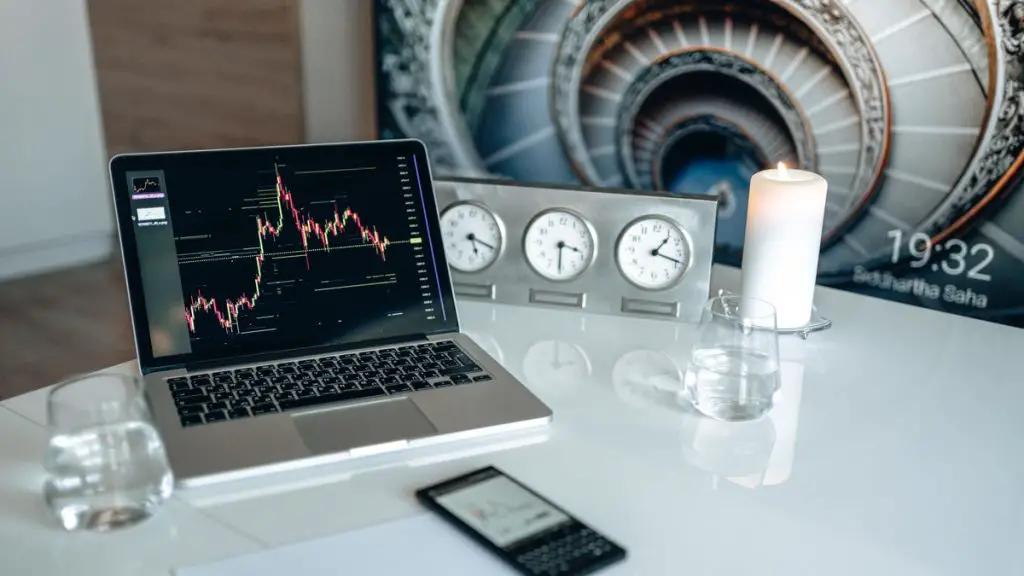 Sales Tools used by Top Performers
Salespeople are always looking for ways to improve their sales strategy and get more leads, but they don't have the time or budget to build a custom solution from scratch.
Most salespeople use multiple tools that were not built with sales in mind. This makes it challenging to track their marketing efforts across different channels, manage contacts, and keep up with the latest news about their prospects.
These three sales tools make it easy for any salesperson to put together an all-in-one system tailored towards their specific needs! No matter your role at your company (salesperson, manager, CMO), you can create a personalized CRM using these best practices!
Zoho – Customer Relationship Management (CRM)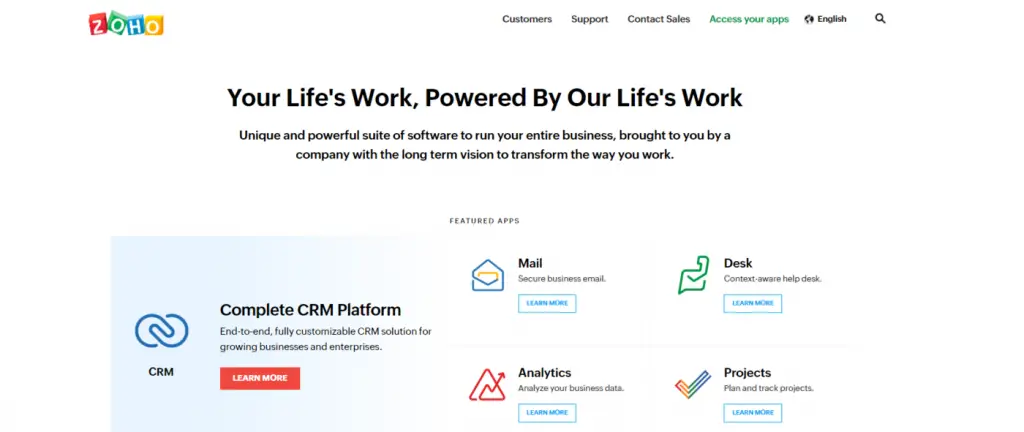 Manage your sales, support, and marketing all in one place. Zoho CRM features the powerful tools you need to engage customers at every point of their journey. From managing leads and contacts to tracking correspondence and setting up meetings right from Zoho Connect—Zoho's a free app for mobile phones—you can stay on top of it all no matter where you are or what time zone you're in.
Zoho CRM is the most comprehensive cloud-based customer relationship management platform available. It's built from the ground up to help businesses of all sizes and industries build lasting relationships with their customers, drive revenue growth, increase operational efficiency, and boost team productivity.
With omnichannel support for phone calls, emails, live chat sessions, social media interactions, and in-person meetings, Zoho CRM provides a unified view across all channels that keeps your sales pipeline full at every stage of the buying cycle.
In addition, the AI-powered Sales Assistant assists you by providing instant insights into leads' profile information and predictive analytics based on past behavior so that you can close more deals faster than ever before!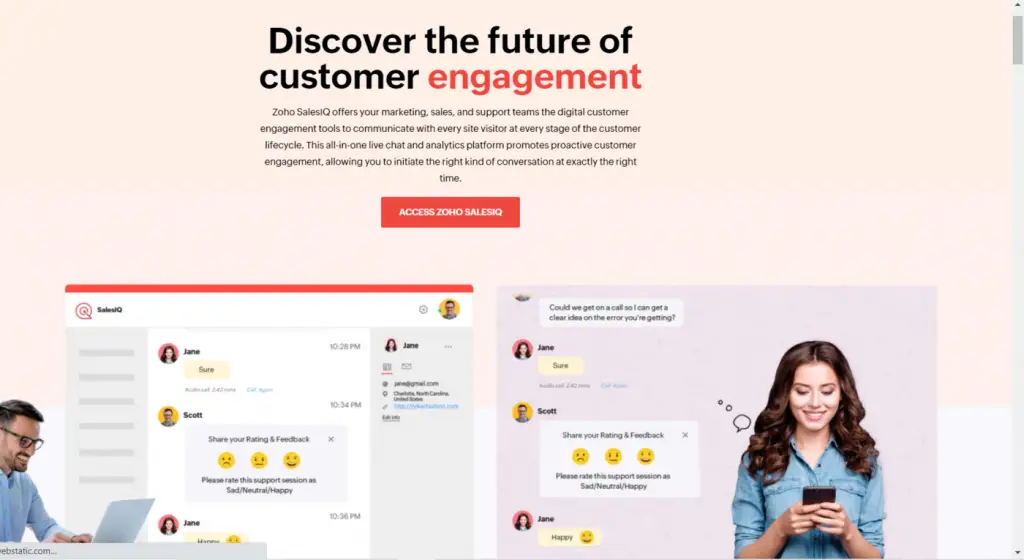 CRM software is complicated and expensive. It's not easy to find a solution that matches the needs of your business.
Zoho CRM is affordable, with a forever free edition. It's simple to use, even if you don't have any experience using CRM systems before. And it has all the features you need to manage your sales pipeline, create customer profiles, and track lead generation efforts in one place.
If you're looking for a CRM that will help your business grow, look no further than Zoho CRM. Whether you want to increase team productivity or drive revenue growth, Zoho has what you need! It gives you everything you need at an affordable price so that you can focus on growing your business instead of managing it from multiple different systems!
Check out their website for more information about this unique CRM and how your company can excel far beyond the competition.
---
Apollo – Lead Generation Software (LGS)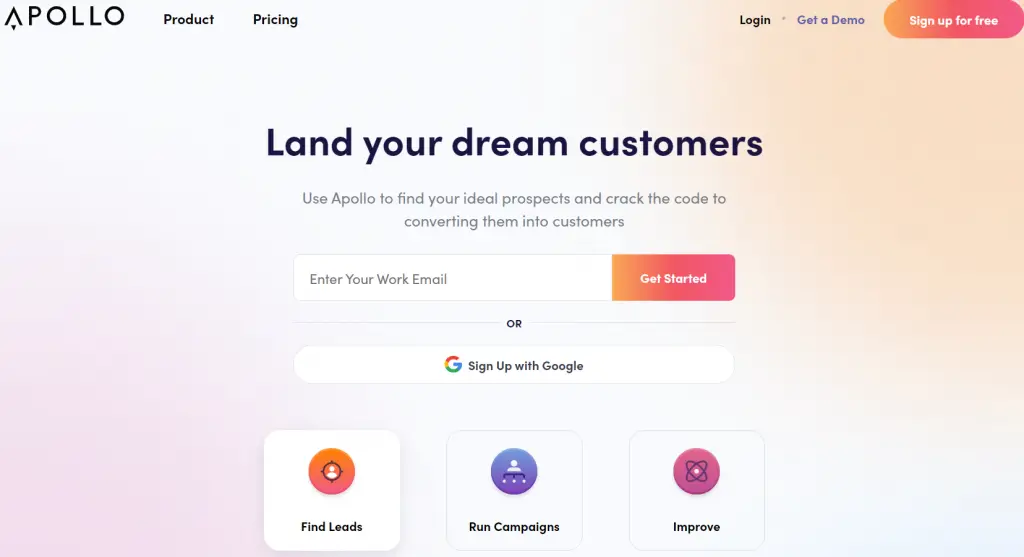 Welcome to Apollo.io, the future of sales and customer engagement!
Apollo is a robust platform that allows you to significantly increase the number of quality conversations and opportunities for your business.
The more a rep learns about their company and its customers, the better they can communicate with them. Apollo provides tools that allow teams to make this happen quickly and efficiently, so your business is constantly growing!
Its lead generation software lets you engage with your customers in ways never before possible. It provides a unified engagement platform so you can increase quality conversations and opportunities with less time invested.
With data spanning an astounding 200 million people. Apollo helps reps engage with more people and improve their strategy by increasing the number of top-quality discussions they can engage in and developing actionable plans for day-to-day activities!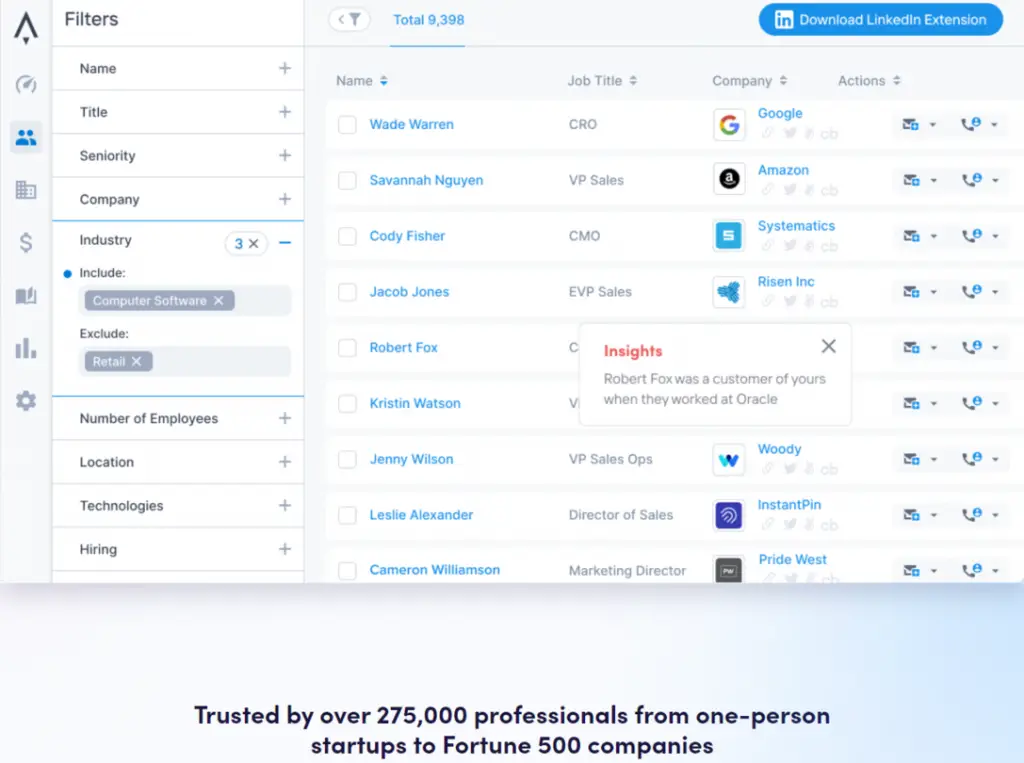 The biggest problem with the current sales process is that it's not very effective. As a result, most of your leads will never turn into customers, and you'll end up wasting a lot of time following them around without getting anywhere.
If you want to retake control of your business, you need to invest in a better sell method. That means using software like Apollo, which can help you scale your outreach and focus on quality instead of quantity.
With this tool, reps get access to data about millions of people across social media platforms like LinkedIn so they can find the best prospects for their campaigns. They also get access to email addresses from databases, making it easy for them to reach out directly when they're ready! This kind of intelligent technology helps companies grow faster than ever before!
Find out what else this lead generation has to offer by signing up for free.
---
Freshchat – Customer Messaging Software (CMS)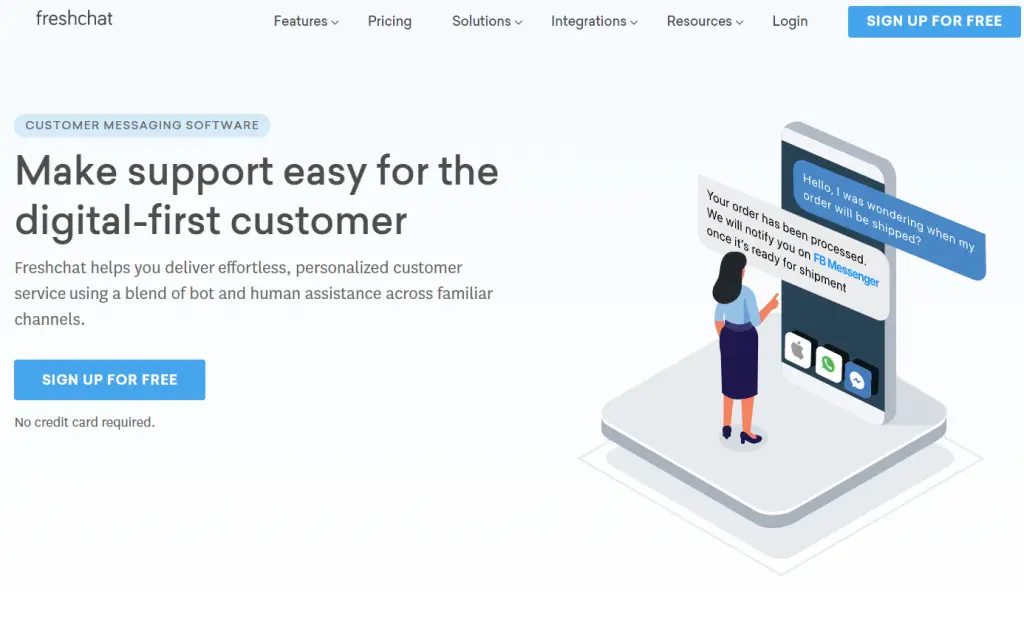 Freshchat is modern messaging software that makes it easy for businesses to communicate with prospects and customers. With features like campaigns, sales bot, integrated self-service, intelligent message routing, expectations are set and met, and responses to visitors' questions are smarter and faster.
Sales teams and customer service agents have access to many sales tools, but they're still unable to provide the best experience for their customers.ss
Freshchat is different because it was built from scratch with modern messaging in mind. It's designed to help businesses make better decisions about engaging with prospects and customers on social media, the website, or mobile apps. This means you can focus more on providing value than switching between multiple tools when you need info from your team members or contact lists.
This software makes it easier and faster than ever to collaborate with customers, understand their feedback about your brand while setting expectations appropriately. It also offers self-service options that let visitors find answers without waiting in line and keep track of all interactions across channels using reports that deliver actionable insights every time!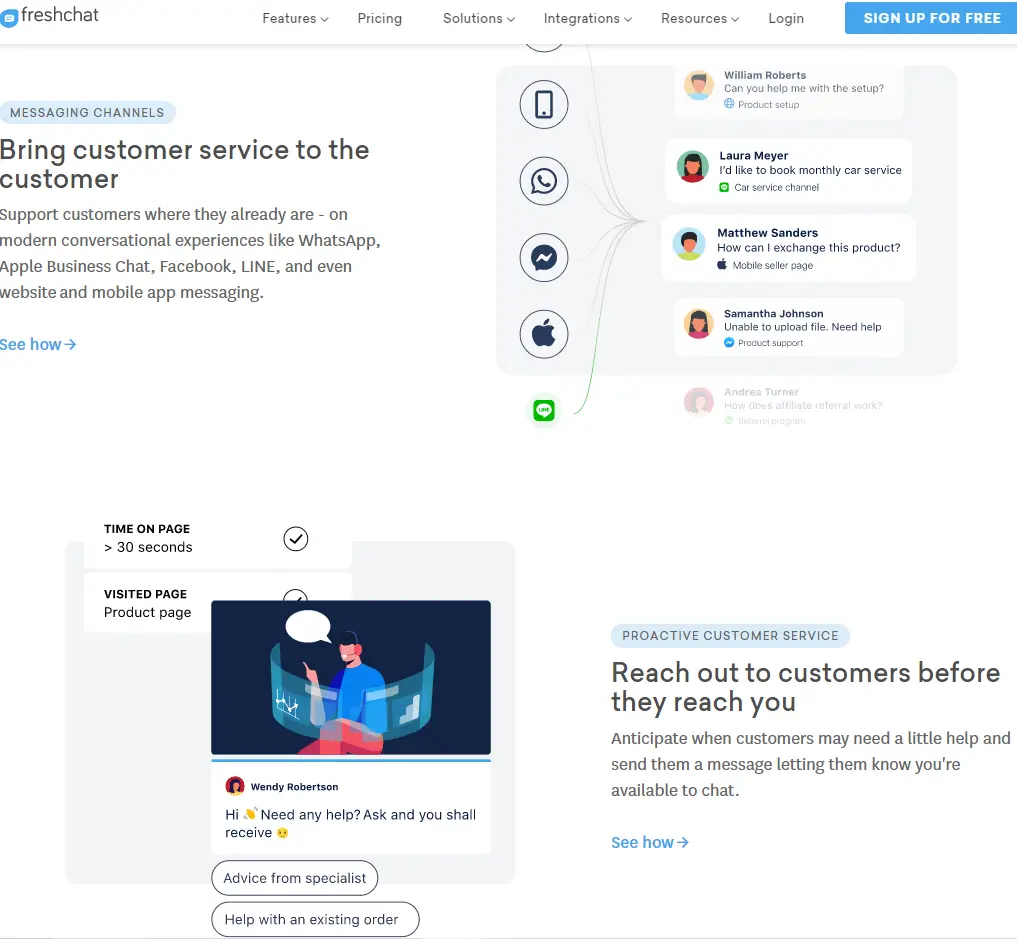 If your sales team is struggling to keep up with the pace of today's digital world, Freshchat may be just what you need. This customer messaging software for businesses and their teams brings together live-chat capabilities with campaign management, self-service integration, a dynamic conversation flow that adapts based on visitor activity (e.g., where they're at the website), and intelligent message routing.
With these features in place, expectations are set and met more quickly than ever before – making it easier for your visitors to find information or make purchases without having to wait around extended periods while chatting back and forth with representatives.
If you're looking for an alternative to live chat or other legacy customer engagement platforms, then click the button below!
---
Conclusion
We hope you've found some of these sales strategies informative and actionable, but we know there are more out there. So if you have any tips or tricks that work for your business to help increase your revenue, please share them in the comments!
This blog post is the first in a series on how entrepreneurs can take their sales strategy from good to great – stay tuned for our next article about tools that will make your life easier when it comes time to execute an idea.