Disclaimer: We sometimes use affiliate links in our content. For more information, visit our Disclaimer Page. 
If you're looking for a powerful marketing tool that can help you connect with customers and grow your business, Sprout Social is a great option to consider. In this Sprout Social review, we'll discuss this platform's pricing and top features to help you decide if it's right for you.
Overview
Sprout Social is an all-in-one platform that helps businesses grow their social media presence. It provides a suite of tools to help businesses schedule posts, analyze social media analytics, and monitor keywords and competitor activity.
Sprout also offers a team collaboration tool that allows businesses to manage multiple social media accounts and team members from one location.
This makes it easy for businesses to see how their social media campaigns are performing in one place and make changes quickly if needed. Sprout Social is an excellent option for companies that want to streamline their social media management and get more out of their social media marketing budget.
Features
Dashboard
The Sprout Social platform is an all-inclusive system that lets you manage everything related to social media in one place. It provides insightful analytics, customer engagement metrics, and team collaboration tools so that your content can reach its full potential.
You can easily collaborate with colleagues, launch new campaigns, and measure results across all of your networks simultaneously, from scheduling social media posts to measuring conversions. All without ever lifting a finger!
Smart Inbox
The intuitive, easy-to-use interface lets you see all of your social media feeds in one place, so you can quickly respond to comments and messages. Sprout Social also offers a powerful suite of engagement tools.
The Engagement Reports show how well your content resonates with customers, and the Team Management tools make it easy to delegate tasks and collaborate with coworkers. With Sprout Social, you can easily manage your social media accounts and create engaging content that connects with customers!
Social Listening
Sprout Social's social listening capabilities help businesses track what customers say about them online. This allows companies to quickly and efficiently respond to any negative sentiment, turning unhappy customers into advocates.
Additionally, social listening can help businesses identify potential new customers and trends in their industry. The data gleaned from monitoring social media can create more effective marketing campaigns, improving ROI.
Social media Scheduling
Sprout Social makes it easy to publish and schedule posts across your social media profiles. You can create a library of content then queue it up for release at the best times to reach your audience.
Sprout also tracks performance to see how well each post is doing. This helps you fine-tune your strategies to ensure that your time and money are being put to the best use.
Team Features
The team features in Sprout Social allow businesses to collaborate and manage their social media accounts efficiently.
The platform allows users to create and share reports, assign tasks, and track progress. It also provides a central location for all messages and comments across all social networks.
This enables businesses to answer customer questions quickly and effectively. Additionally, the team features make it easy for companies to identify who is responsible for each task, ensuring that no task falls through the cracks.
Add-Ons and Utilities
Sprout Social's Add-Ons and utilities make finding, getting data, and collaborating on social campaigns a breeze.
You can find the right contact at the right company with ease thanks to natural language searching or by analyzing their digital footprint.
The domain analytics offer a complete overview of the industry landscape and help you benchmark against key competitors.
Saved Replies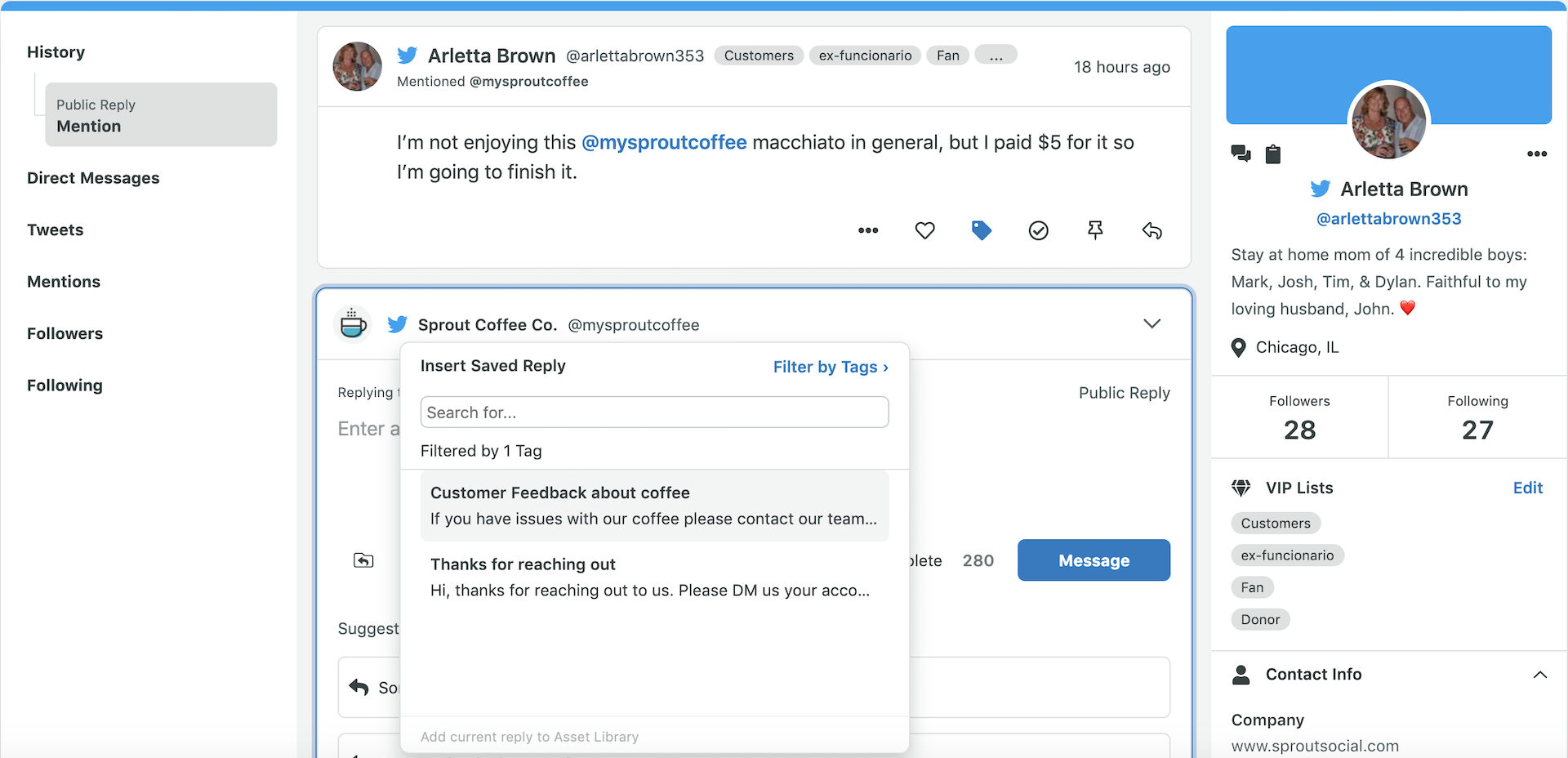 Saved Replies is a time-saving feature that allows you to create and store pre-written replies to commonly asked questions.
This can be especially helpful if you frequently receive the same messages on social media. With Saved Replies, you can quickly respond to your customers without having to type out the same response every time.
Chatbots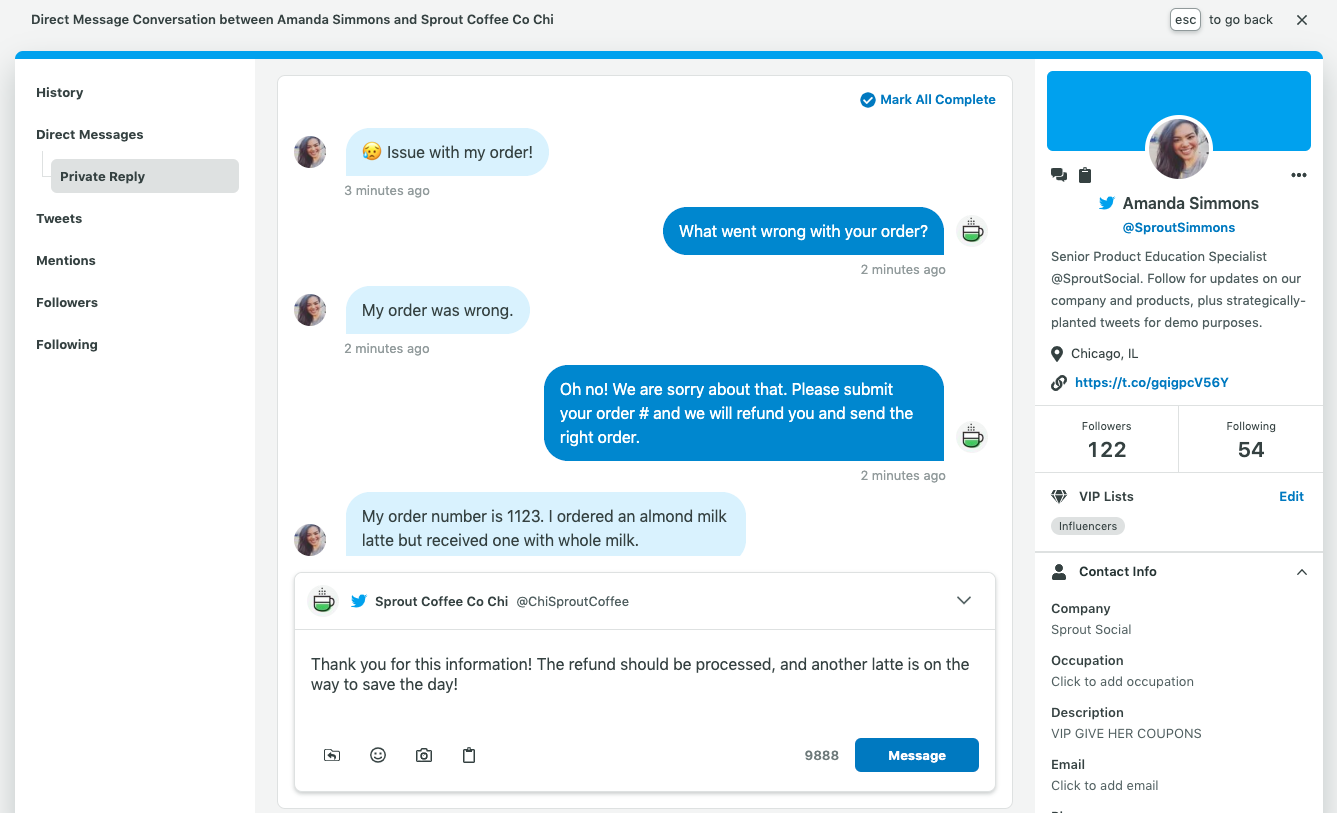 Chatbots are artificial intelligence programs designed to simulate customer conversations in a virtual environment. These chatbots exist on social media and through text messages or telephone calls.
Chatbots are a great way to improve customer service because they allow customers to get help without waiting on hold or going through a long series of menus. They also provide businesses with an opportunity to collect valuable data about their customers.
For example, if you're a clothing company and want to start targeting men, you can use Sprout Social's gender targeting feature to create a campaign that specifically reaches out to men. The best part about chatbots is that they are available 24/7, which means that your customers can get help even when you're not available.
Analytics & Reporting
Sprout Social features an analytics section that lets you view stats on all social media networks, including which posts have gathered the most engagement.
You can use this to find out what types of content your followers are more likely to engage with or learn more about potential customers by looking at where they're active online and following them there.
This will make it easier for you to determine what content performs best in your niche or industry.
Auto-Generated In-Depth Reports
Auto-generated in-depth reports offer an analysis of your social media activity that is comprehensive and easy to understand. They give you a snapshot of how you perform on various platforms and insights into your audience and their interactions with your content.
The reports are updated daily and customized to reflect your specific needs. They can help you track your progress over time, identify areas that need improvement, and make data-driven decisions about your social media strategy.
The auto-generated reports are just one of the many powerful features offered by Sprout Social.
If you want to improve your social media marketing, this is a platform you need to check out. With its robust suite of tools, you can take your social media game to the next level.
User-friendly Interface
The Sprout Social interface is designed to be user-friendly and efficient. You can easily navigate between tabs and screens, making it easy to access the information you need. The platform also gives you the ability to schedule posts ahead of time, saving you a lot of time in the long run.
Apps and Integrations
Sprout Social is a powerful suite of software that streamlines social media efforts. It offers collaborations and real-time integrations with Instagram, Facebook, Google Apps, Twitter, LinkedIn, and other platforms.
With Sprout Analytics available as an add-on service or purchase option for features like engagement tracking capabilities on your profile pages and post reports on the wall to ensure your messages are reaching their intended audience in the best way possible, Sprouts Social quickly proves its value by simplifying marketing efforts where it counts.
Customer Support
Email support
Email support allows users to contact customer service with any questions or problems. Emails are typically answered within one business day, though sometimes it may take a little longer, especially busy times. Sprout social support is available in English and Spanish.
Support Request
The sprout social support team is on-call and prioritized. Real-time metrics, detailed reports, and live chat are available to handle every need.
You can also count on Sprout Social being industry experts and your team members, not a faceless corporation or an offshore call center with little command of the nuances in your vertical.
Live chat support
Sprout Social's live chat support allows businesses to communicate with their customers in real-time. This feature provides a personal connection and builds trust between customers and companies.
It is also an efficient way to handle customer inquiries, as agents can help more than one customer at a time. In addition, the live chat support team is available 24/7 and is happy to help with any question or issue.
Plans & Pricing
Sprout also offers a variety of pricing plans to fit the needs of businesses of all sizes. The most basic plan starts at $99 per month and includes access to all the platform's features. Larger companies can opt for a more expensive plan that provides additional features and technical support.
Sprout Social also offers a free trial so businesses can test out the platform before committing to a subscription.
The trial includes all the features of the paid plans, so it's a great way to see if Sprout is right for your business. Overall, Sprout Social is an affordable and comprehensive solution for companies looking to grow their social media presence.
Pros
1. Feature-rich dashboard
Sprout Social enables users to manage their social media channels and brands in a cohesive, powerful dashboard. With Sprout, businesses can publish content, measure performance, track keywords and hashtags, and more.
2. Strong social CRM
Sprout Social offers a wide range of features, including powerful reporting and analysis tools, as well as extensive CRM capabilities. You can also use Sprout Social to provide customer support, as the platform includes a built-in help desk.
The reporting and analysis tools offered by Sprout Social are second to none and allow you to track your progress and performance across all your social media channels.
The CRM features are also highly robust, allowing you to effectively manage your relationships with customers and prospects. And if you need help getting started, Sprout Social offers a wealth of resources, including tutorials and guides.
Cons
1. Adding multiple users can get expensive
Sprout Social is a helpful marketing platform, but the need for multiple users can be expensive. If you are a small business owner, the monthly price tag for adding just one more user can be cost-prohibitive.
The platform also doesn't have a free plan like other social media management tools. This can be a barrier for businesses that are on a tight budget.
Sprout Social alternatives
Socialbee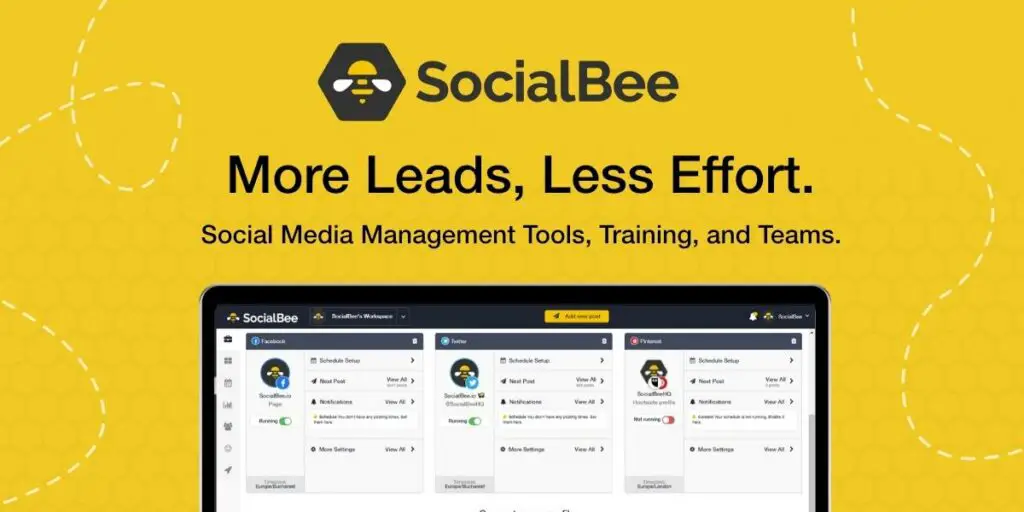 SocialBee is a social media monitoring, analytics, and marketing software solution that allows social media managers to run campaigns across Facebook Pages, Twitter Streams, LinkedIn Groups, and Google+ Communities.
It includes content sharing tools such as photo blogging and has introduction capabilities for page owners to promote their products on the other platforms in this suite. This social media marketing tool also provides detailed statistical reports of posts, tweets, and other interactions on social media platforms.
SocialBee also has a team feature that allows users to collaborate with colleagues by assigning tasks, setting due dates, and commenting on posts.
The pricing for SocialBee ranges from $19/month for individuals to $149/month for teams of up to five people. If you are looking for a more affordable social media management tool, SocialBee is worth considering.
Agorapulse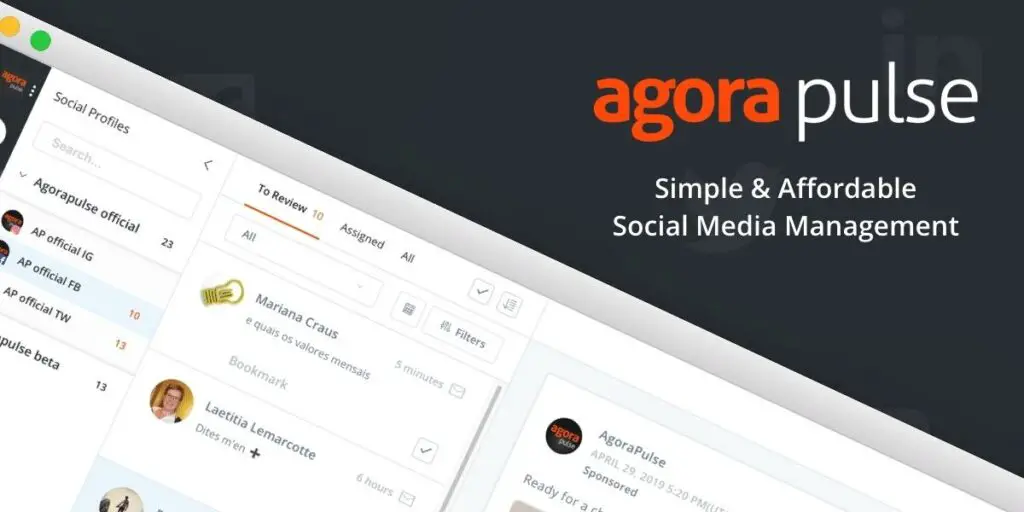 Agorapulse is a great social media management platform that helps businesses grow their presence on social media. It offers a wide range of features, including scheduling posts, analyzing social media analytics, and managing customer interactions.
Agorapulse also offers a variety of tools specifically for Facebook, Twitter, Instagram, LinkedIn, and Google+. This allows businesses to effectively manage their social media accounts on all platforms from a single dashboard.
Sendible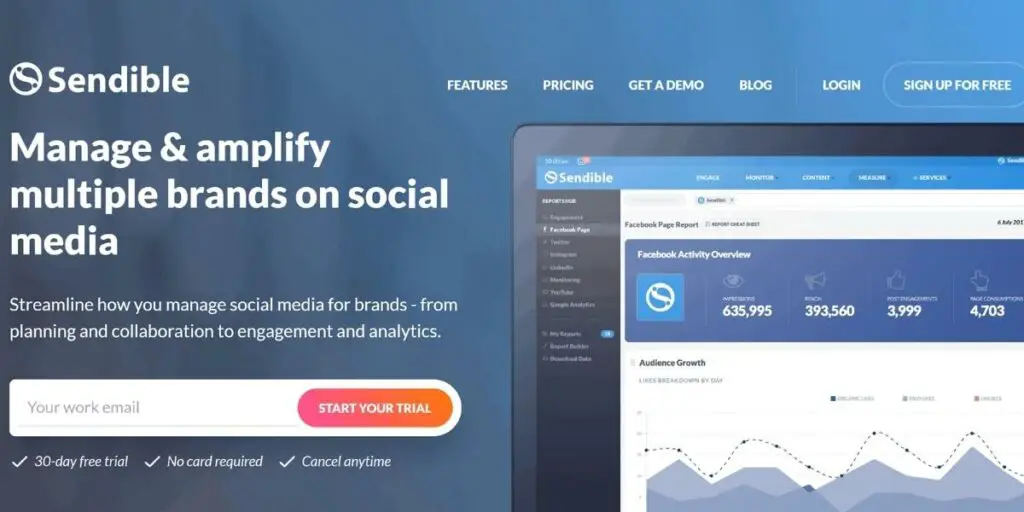 Sendible is the world's leading social media management tool, catering to a wide range of social profiles. Sendible powers brands on Twitter, Facebook, Instagram, and many more channels.
Every platform you manage on Sendible minimizes the amount of time spent managing each social media account and cuts down your workload by sending notifications when alerts are triggered.
One of Sendible's most powerful features is the ability to create and manage multiple teams. This allows you to give different team members access to specific social media profiles or pages, perfect for larger businesses.
You can also delegate tasks such as posting and responding to comments, giving your team more control over specific areas of social media management.
Sendible also integrates with many third-party tools, making it the perfect platform for businesses that want to consolidate all their marketing efforts into one place.
This includes popular CRMs like Salesforce and HubSpot and email marketing platforms like MailChimp and Campaign Monitor. You can even connect your social media accounts with Google Analytics, giving you detailed insights into how each post is performing.
Related: SocialPilot Review
Closing Thoughts
Sprout Social is a social media management program that includes many tools for managing your social media channels. The desktop and mobile applications are user-friendly, making it easy to stay on top of your marketing strategy's different aspects. One of the best aspects of this platform is delegating tasks among team members or assigning them as priorities. You can also create detailed reports, which is a great way to track your progress and measure your success on social media.
Overall, Sprout Social is an excellent platform for businesses of all sizes who want to manage their social media accounts more effectively. The features are comprehensive and easy-to-use, and the price is very reasonable for the value you get. So if you're looking for a social media management tool, definitely check out Sprout Social!
Related: Sprout Social vs Hootsuite