Disclaimer: We sometimes use affiliate links in our content. For more information, visit our Disclaimer Page. 
Embarking on new job opportunities often involves reflecting on past experiences, particularly when they weren't ideal. If you're grappling with explaining leaving a negative work environment on application, rest assured that you're not alone.
Navigating the complex waters of addressing negative work experience on a job application can be challenging. Still, with thoughtful preparation, it's possible to transform this delicate subject into a testament to your professional resilience. It's about crafting an effective explanation for leaving a toxic work environment that respects your past and accentuates your readiness for a brighter future.
You maintain your integrity and demonstrate reflective growth without casting shadows on prior employers or roles.
Key Takeaways
Expertly articulate reasons for leaving, focusing on positive change and future ambitions.
Maintain a professional tone while being candid about your previous job circumstances.
Frame your past experiences as a springboard for personal and professional development.
Use discretion in sharing details without compromising on honesty and authenticity.
Transform a potentially negative talking point into a display of character strength.
Prepare to continue the discussion in interviews with poise and sincerity.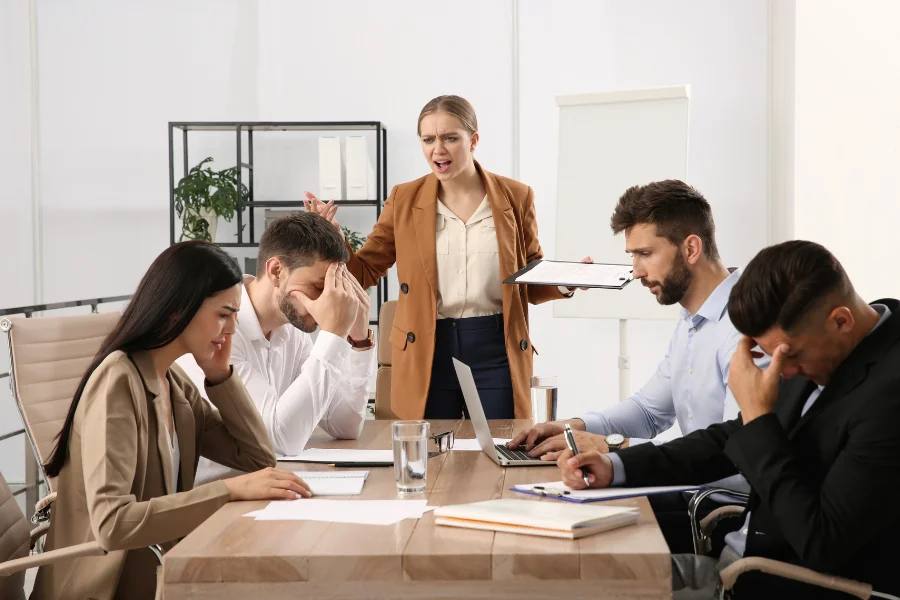 Understanding How to Explain Leaving a Negative Work Environment on Application
When filling out a job application, the tug-of-war between being open about one's work history and maintaining a professional façade can be daunting. Transparency on job applications does not equate to full disclosure of every workplace conflict or managerial misstep.
However, an honest explanation for leaving a negative work environment can strengthen your candidacy. Employers value authenticity and the ability to address difficult situations with maturity and insight.
The wisdom in balance between honesty and discretion is well-recognized in the professional world. Offering a clear rationale for leaving your last job—without disparaging former colleagues or the company—conveys integrity and confidence.
Beyond fostering trust, this transparency is a signal to potential employers that you are someone who learns from experience and is focused on positive future contributions.
Remember, your job application is the first impression you make on a potential employer. How you handle delicate topics reflects not only your past but also how you approach challenges ahead.
An honest explanation for correctly leaving a negative work environment can transform a potential red flag into a green light. Most hiring managers will appreciate honesty if paired with a forward-looking, constructive outlook. This strategic transparency can enhance your professional reputation, solidifying your status as a reflective and adaptive candidate—a valuable trait in today's unpredictable job market.
Be factual and concise in explaining reasons for leaving a job.
Illustrate your commitment to professional growth and positive change.
Avoid negative language that can reflect poorly on you as a candidate.
Practical Example: Crafting Your Explanation
Let's consider an example to illustrate better how to navigate this tricky conversation. Imagine you worked in a role where the work environment became increasingly negative due to a lack of communication and support from management. Here's how you might explain this situation on an application:
"In my previous role, I was fortunate to be part of a project that challenged and honed my skills significantly. However, over time, I realized that the communication channels and managerial support within the organization were not conducive to my professional growth. Seeking a more collaborative and supportive environment, I decided it was time to explore new opportunities where my abilities could be better utilized and where I could continue to grow both professionally and personally. This decision was not made lightly, but it was an important step for me to find a role that aligns more closely with my career aspirations and values."
This explanation focuses on personal growth and the search for a more supportive work environment rather than dwelling on the negatives of the previous job. It portrays a proactive approach to professional development and a commitment to finding a workplace where you can thrive.
Strategies for Communicating Reasons for Leaving
Focusing on Future Goals Instead of Past Negatives
When communicating reasons for leaving a toxic workplace, pivoting the conversation toward constructive aspects of your career journey is essential. Candidates should effectively redirect their explanation from past dissatisfactions to their aspirations and what they seek in their next role. Emphasize how past challenges have honed your skills and how they have become the foundation for your aspirations.
Shift focus from negative past experiences to professional growth opportunities.
Illustrate how overcoming past challenges propels you towards future success.
Express enthusiasm for finding a company with values and goals that align with your own.
Highlighting one's desire for growth and alignment with forward-thinking organizations can resonate well with potential employers, demonstrating a commitment to contribute positively to their team.
Using Constructive Language to Describe Your Decision
Choosing words that exude a positive, forward-thinking mindset is crucial when addressing negative work environments on job applications. It's about framing your narrative to avoid negativity while being honest about your reasons for seeking new opportunities. Articulate a job application response for leaving a negative workplace that focuses on your journey towards professional fulfilment and a better fit for your skills and values.
| Proceed with.. | Instead of… |
| --- | --- |
| "Leaving because my skills were undervalued." | "Aspiring to work in a collaborative and innovative environment." |
| "The previous workplace lacked teamwork and creativity." | "Aiming to contribute to a company's success while growing my expertise." |
With carefully selected language, your explanation can convey resilience and adaptability—characteristics highly valued in the modern workforce. By talking about a negative work environment on the application in a discreet manner, you can position yourself as a proactive and thoughtful professional, ready to contribute positively to your potential new employer's company culture.
Highlighting the Positive Outcomes and Learnings
Addressing negative work environments on job applications becomes a pivotal skill in career advancement. Rather than dwelling on the past, the aim is to illuminate the positive outcomes and the essential lessons that arise from overcoming professional hurdles. It requires crafting an effective explanation for leaving a toxic work environment that provides closure and showcases your ability to thrive in adversity.
Embarking on this narrative transformation, seeing past experiences as growth catalysts is important. Below, we unravel the process of turning what could be perceived as a blemish on your career into a spotlight on your personal development:
Reflect on the challenges faced and articulate how these experiences have enriched your professional toolkit.
Emphasize how specific skills—such as resilience, conflict resolution, or adaptability—were honed during your tenure.
Discuss how navigating a difficult work environment has offered unique insights into workplace dynamics and team collaboration.
By focusing on how you've emerged stronger and more equipped for your future career, you transform a potential weakness into a compelling highlight of your professional journey.
To effectively communicate these learnings, consider how each experience has propelled you towards the role you are now pursuing:
| Experience | Positive Outcome | Relevance to New Role |
| --- | --- | --- |
| Managing tight deadlines in a high-pressure environment | Enhanced time management and prioritization | Ability to tackle fast-paced projects with efficiency |
| Navigating complex team dynamics | Improved communication and mediation skills | Aptitude for fostering a cohesive team environment |
| Adapting to shifting project goals | Developed flexibility and solution-oriented approach | Preparedness to embrace change and drive innovation |
| Working with limited resources | Creative problem-solving and resourcefulness | Capability to optimize resources and deliver results |
Each of these examples underscores the critical aspect of your evolution: by extracting the educational kernels from less-than-ideal situations, you've laid a strong foundation for future success. This narrative is a powerful testament to your resilience, sharpened analytical abilities, and unwavering commitment to professional growth.
As you move forward, remember that addressing negative work environments on job applications is an art form that balances candid self-reflection with strategic foresight. By understanding the lessons learned, you distinguish yourself as a reflective practitioner, fully prepared to contribute positively to a new—and hopefully more nurturing—work environment.
Preparing for Potential Follow-Up Questions in Interviews
It's common for interviews to include questions about previous employment, and it's crucial to be well-prepared for these conversations, especially when they touch upon a toxic work culture. Proper preparation ensures you provide an honest explanation for leaving a negative work environment while highlighting your professional capability.
Anticipating Concerns About Your Previous Work Environment
Employers might probe past work experiences to gauge how you handle workplace issues. Handling questions about toxic work culture requires foresight and understanding of potential employer concerns. The table below provides a guide on how to anticipate and respond to such scenarios:
| Employer Concern | Anticipated Response |
| --- | --- |
| Worry about your ability to handle conflict | Concern about resilience in the face of adversity |
| Questioning commitment to roles amid challenging environments | Demonstrate your dedication to growth and learning despite difficult conditions |
| Assessing potential negative impacts on team dynamics | Discuss your proactive steps to foster positive interactions and team solidarity |
By preparing responses to these areas of concern, you can provide thoughtful and reassuring answers that reflect positively on your professional character.
Developing Honest but Tactful Responses
Providing an honest explanation for leaving a negative work environment during an interview means balancing candour with professionalism. How you communicate reasons for leaving a toxic workplace can either reassure the employer of your integrity or raise red flags.
Focus on what you learned from the experience rather than assigning blame.
Convey your desire for environments that support your career goals.
Emphasize your proactive decision to seek opportunities better aligned with your values.
Keep the tone positive and reaffirm your commitment to being part of a productive and harmonious work environment.
Addressing a negative work environment on the application or in an interview does not have to be daunting. With careful phrasing and a focus on the positives from the experience, you can transform a potential obstacle into an opportunity to shine.
Conclusion
Navigating the complexities of job applications, especially when probing into past negative experiences, can seem daunting.
Yet, with the employment landscape being as dynamic as it is, having the prowess to turn a less-than-favourable work history into an empowering narrative is worth honing. Applicants need to recognize that addressing issues like a toxic work culture with honesty, yet without disparaging previous employers, can significantly elevate their professional profile.
By employing the job application tips discussed throughout this article, candidates can strategically present their experiences as catalysts for growth and learning, painting a picture of resilience and adaptability.
FAQs
How should I address why I leave a negative work environment in a job application?
It's important to be honest yet professional. Mention your desire for career growth and seek an environment that aligns better with your professional values and skills. You can state that you are looking for new challenges and opportunities for development.
Is it okay to be transparent about leaving a toxic workplace when filling out a job application?
Yes, transparency is important but it should be balanced with discretion. You can be honest about why you left without providing excessive details that may cast a negative light on you or your previous employer.
What if the interviewer asks directly about the negative aspects of my previous job?
Acknowledge the difficulties succinctly and then pivot to discussing how you've learned from those experiences. Keep the conversation geared towards how you can contribute positively to the new role, based on those learnings.
How can I highlight the positive outcomes and learnings from my negative work experience in my application?
Emphasize the skills and resilience you developed in the face of challenges. Talk about how overcoming these situations has made you a stronger candidate and how it can add value to your potential new role.
How do I prepare for potential interview questions about a toxic previous work environment?
Anticipate concerns interviewers might have, and prepare honest but tactful responses. Practice framing your experiences positively, focusing on your growth and readiness for new opportunities. Always bring the focus back to why you're a great fit for the new role.