Disclaimer: We sometimes use affiliate links in our content. For more information, visit our Disclaimer Page. 
In today's fast-paced business environment, fostering a growth mindset within your team is crucial for success and innovation. A growth mindset empowers individuals to embrace challenges, learn from their mistakes, and continuously develop their skills.
In this blog post, we'll explore the importance of cultivating a growth mindset in the workplace and share practical strategies you can implement to help your team thrive.
Key Takeaways
Foster a growth mindset in the workplace, which empowers individuals to embrace challenges, learn from their mistakes, and continuously develop their skills.
Encourage continuous learning and development by offering training opportunities, creating a culture of learning, setting achievable goals, providing constructive feedback, and recognizing achievements.
Embrace failure as a learning opportunity by reframing it positively. Promote collaboration and support among team members.
Overcome challenges such as resistance to change or lack of confidence through clear communication about change benefits and involving employees in decision-making processes while creating safe spaces for risk-taking & mistake-making.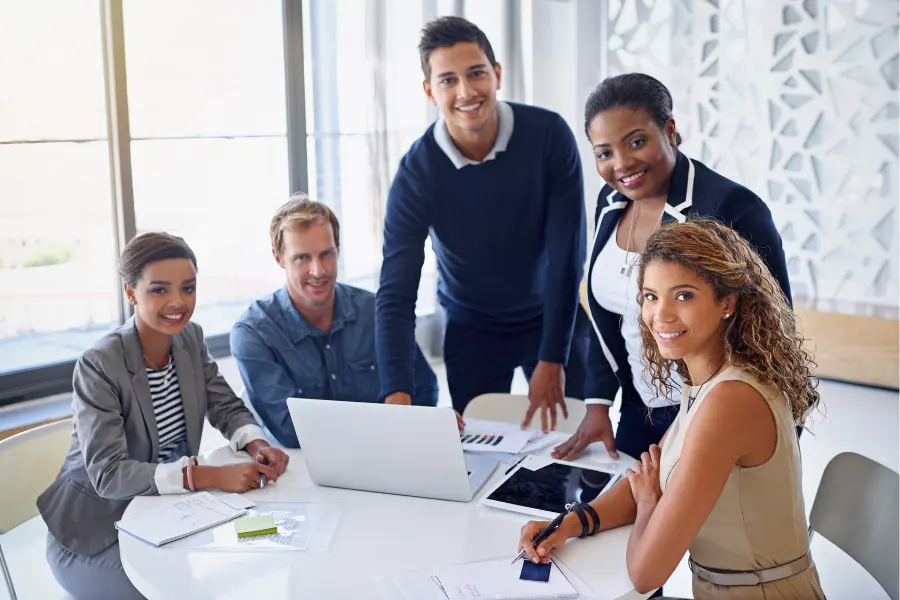 The Importance Of A Growth Mindset In The Workplace
A growth mindset is crucial in the workplace as it allows individuals and teams to approach challenges with a positive attitude, embrace failures as opportunities for learning, and continually develop their skills and knowledge.
Fixed Mindset Vs. Growth Mindset
In the realm of personal and professional development, it's essential to understand the distinct differences between a fixed mindset and a growth mindset. A fixed mindset is characterized by the belief that our abilities, intelligence, and talents are set in stone – implying that there isn't much room for improvement or growth.
On the other hand, individuals embracing a growth mindset believe that their abilities can be developed through dedication and hard work. They see brains and talent as just starting points for their journey toward mastery.
For instance- seeing someone excel at public speaking doesn't lead them to think they could never achieve such prowess; instead, they learn from others' achievements to improve themselves constantly.
Take an example of two employees working on challenging projects: one employee may have a strong background in the skills required but lacks confidence due to their fixed mindset; while another employee might come from an unrelated field but has sheer determination to compensate for any knowledge gaps because they possess a growth mindset.
Benefits Of A Growth Mindset For Individuals And Teams
Adopting a growth mindset can lead to many benefits for both individuals and teams in the workplace. By embracing the idea that challenges and setbacks are learning opportunities, employees become more adaptable, persistent, and innovative.
Team members who share a growth mindset also tend to collaborate more effectively, drawing upon each other's strengths to achieve shared goals. As they work together towards success, they celebrate each other's successes rather than competing against one another.
Strategies For Cultivating A Growth Mindset In Your Team
Encourage continuous learning and development, embrace failure as a learning opportunity, promote collaboration and support, set clear goals and expectations, and provide access to resources and opportunities for growth.
Encourage Continuous Learning And Development
As someone who values growth and development, I know how important it is to foster continuous learning and development in a team. Here are some effective ways to encourage it:
Offer training and development opportunities: Providing access to workshops, online courses, or mentorship programs can help team members upskill and continuously develop their expertise.
Create a culture of learning: Encouraging curiosity, asking questions, and sharing knowledge can create a culture where everyone is constantly learning from one another.
Set achievable goals: Setting challenging yet attainable goals can motivate team members to learn new skills and grow professionally.
Provide constructive feedback: Regular feedback that focuses on specific areas for improvement helps team members understand how they can continue to develop their skills.
Recognize learning achievements: Celebrating successes and recognizing employees who have taken steps towards personal growth can motivate others to do the same.
By encouraging continuous learning and development, teams can stay relevant, adapt to changes in the industry, and continuously improve their output.
Related: Teamwork and Collaboration Strategies
Embrace Failure As A Learning Opportunity
One of the most powerful aspects of fostering a growth mindset in your team is encouraging them to embrace failure as a learning opportunity.
Rather than fearing mistakes and feeling discouraged when things don't go as planned, team members should be encouraged to view these moments with curiosity and an openness to learning.
For example, suppose an employee was tasked with spearheading a project that ultimately failed to meet its goals. While it might be tempting to dwell on what went wrong or place blame on others, adopting a growth mindset means taking responsibility for mistakes and using them as motivation for improvement moving forward.
Whether through additional training or seeking feedback from colleagues, there are always ways to learn from setbacks and come back stronger.
Promote Collaboration And Support
Collaboration and support are essential components of a growth mindset culture. When employees work together and help each other, they learn from one another's strengths and weaknesses.
This collaboration can lead to innovative solutions for complex problems that might have otherwise been impossible to solve alone.
For example, at our company, we promote collaboration by organizing monthly cross-functional meetings where different departments come together to share successes and failures.
We also encourage peer-to-peer feedback sessions so that employees can receive constructive criticism from their peers in addition to their managers.
Set Clear Goals And Expectations
As a team leader, one of the most important things you can do to foster a growth mindset in your team is to set clear goals and expectations.
When you clearly define what success looks like and provide a roadmap for achieving it, your team members are more likely to feel empowered and engaged in their work.
For instance, when I worked as a project manager at XYZ Company, I made it my top priority to set clear goals for my team. We had quarterly project milestones that we wanted our development teams to achieve.
By breaking down these larger objectives into smaller tasks with specific timelines, our developers could easily see the progress of their work while aligning with the priorities of our clients.
Provide Access To Resources And Opportunities For Growth
As a leader, it's essential to provide your team with access to resources and opportunities for growth. This can be anything from training courses and online webinars to mentorship programs or networking events.
By providing these resources, you are demonstrating your commitment to employee development and helping them build their skills and knowledge base.
Offering these resources not only benefits the individual but also the team output. For instance, by having someone take an Excel course or learn graphic design basics through an online tutorial, they can then apply those new skills when working on projects with the rest of the team.
Related: Collaboration Strategies
Overcoming Challenges In Fostering A Growth Mindset
Fostering a growth mindset in your team can encounter challenges such as resistance to change, fear of failure, and lack of confidence.
Dealing With Resistance To Change
As a leader, it's important to anticipate resistance when trying to cultivate a growth mindset in your team. Some team members may be hesitant or skeptical about adopting new practices and ideas because they're comfortable with the current way of doing things.
To overcome this, you need to approach change strategically and communicate why it's necessary.
It's also essential to create an environment where people feel safe expressing their concerns or sharing feedback openly. Encourage discussions about potential roadblocks or challenges that may arise during implementation and brainstorm solutions together as a team.
Providing support and resources for employees who are struggling with adapting can help ease any fears or insecurities they may have.
Addressing Fear Of Failure And Lack Of Confidence
As a leader, it's important to address the fear of failure and lack of confidence that can hold back team members from embracing a growth mindset. One effective strategy is to create a safe space where individuals feel comfortable taking risks and making mistakes.
Providing constructive feedback is also key in addressing these fears. Encourage team members to see mistakes as part of the learning process and provide specific ways they can improve going forward.
It's also important to recognize that building a growth mindset takes time and effort. Empower your team by providing them with resources, training, and support so they have the tools they need to succeed.
Providing Effective Feedback And Recognition
As a leader, one of the most important things you can do to foster a growth mindset in your team is to provide effective feedback and recognition. Here are some ways to do it:
Be specific: Provide detailed feedback that highlights what went well and where there is room for improvement. Avoid generalizations. Specific feedback enables employees to focus on specific areas for growth and improvement.
Be timely: Provide feedback as soon as possible after an event or project, while the details are still fresh in everyone's memory. Delayed feedback may not be as meaningful or useful.
Be constructive: Feedback should aim at identifying strengths, challenges, and areas for growth while providing actionable steps and support to tackle those challenges.
Start with positives: Begin your feedback by highlighting what went well before discussing areas that need improvement. This approach sets a positive tone and encourages employees to continue doing what they have done well.
Foster ownership of employee development: Encourage employees to take ownership of their development by letting them know that you value their ideas and insights about how best to grow their skills.
Providing regular opportunities for growth, recognizing successes, celebrating failures as learning opportunities, setting achievable goals together with the team members, soliciting feedback from all levels of the organization, and collaborating cross-functionally will help create a culture of continual learning with a focus on personal growth that can boost employee engagement and satisfaction while driving business outcomes.
Related: Pros and Cons of Decentralized Decision-Making
The Role Of Leadership In Fostering A Growth Mindset
Leadership plays a crucial role in fostering a growth mindset by modeling the behavior, coaching and providing training to employees, encouraging ownership and accountability, and creating a feedback culture; read on for practical strategies to help your team develop this important trait.
Modeling Growth Mindset Behaviors
As a leader, it's important to model the behaviors and attitudes you want to see in your team. Adopting a growth mindset yourself can help inspire and motivate your employees to do the same.
One way to model growth mindset behaviors is by being transparent about your own personal development goals and progress. Share with your team what you're working on improving in yourself or where you've struggled in the past.
Encourage them to do the same so that everyone feels empowered to learn from each other.
Providing Coaching, Mentoring, And Training
I've found that coaching, mentoring, and training are essential in fostering a growth mindset within your team. Here are some ways you can implement them effectively:
Provide regular coaching and feedback: Personalized coaching sessions can help employees identify their strengths and areas for improvement, while constructive feedback can help them grow and develop. Encourage managers and senior staff members to schedule regular check-ins with employees to discuss progress and provide guidance.
Offer mentorship opportunities: Mentors can share their experiences and knowledge with those who seek guidance, helping them develop new skills or overcome challenges. Encourage cross-functional mentorship relationships to promote collaboration across departments.
Invest in training programs: Continuous learning is a key component of a growth mindset. Providing access to relevant training programs or courses can equip employees with the necessary skills to succeed in their roles and beyond.
Providing coaching, mentoring, and training opportunities within your team, not only fosters a growth mindset but also empowers employees to take ownership of their personal development and professional growth.
Related: Types of Leadership Coaching
Encouraging Ownership And Accountability
Encouraging ownership and accountability is crucial to fostering a growth mindset in your team. Allowing your employees to take charge of their work, projects, and responsibilities while holding them accountable for the results can spark creativity, motivation, and innovation.
By creating an environment that empowers employees to take ownership and be responsible for their output, you are instilling a sense of pride in what they do.
When people feel part of something bigger than themselves, their motivation grows exponentially; they become self-directed learners who seek out growth opportunities rather than waiting for someone else to tell them what needs doing.
This approach can drive productivity through employee engagement as they know they will have skin in the game when it comes down to decisions that affect the business's success.
Creating A Feedback Culture
Creating a feedback culture within a team or organization is essential in fostering a growth mindset. It encourages continuous learning and development by providing employees with constructive criticism that not only helps them improve but also builds their confidence and motivation.
In this culture, feedback is seen as an opportunity to learn, grow, and excel — rather than as something negative or critical.
Providing regular feedback can be achieved through various methods such as performance reviews or one-on-one meetings between managers and employees. These sessions should aim for open communication where both parties listen actively to each other's perspectives and experiences.
Including examples of specific successes or failures during these conversations highlights what works well for the employee while providing areas for improvement in personal growth goals.
Related: Feedback Loops
Conclusion
In conclusion, fostering a growth mindset in your team is vital for personal and organizational success. By promoting continuous learning and development, embracing failures as opportunities to learn and grow, promoting collaboration and support, setting clear goals and expectations, providing access to resources and opportunities for growth, overcoming challenges of resistance to change or lack of confidence, and creating a feedback culture you can cultivate a productive team that constantly improves.
It all begins with leadership modeling the right behaviors through coaching, mentoring, and training methods while encouraging ownership accountability.
FAQs
What is a growth mindset, and why is it important for teams?
A growth mindset refers to the belief that abilities and intelligence can be developed through dedication and hard work. When teams adopt this perspective, they are more likely to take on challenges, learn from mistakes, and continually improve their performance.
How can I encourage my team members to develop a growth mindset?
Start by modeling a growth mindset yourself – talk about your failures and what you've learned from them. Offer feedback in a constructive way that focuses on improvement rather than criticism. Encourage your team members to set challenging goals and provide support as they work towards achieving them.
What are some common obstacles that prevent individuals from adopting a growth mindset?
Fixed mindsets, or the belief that abilities are innate and unchangeable, can be difficult habits to break. Fear of failure or negative feedback may also hold individuals back from taking risks or embracing challenges.
How can I create an environment that supports a growth mindset in my team?
Encourage collaboration among team members so they can learn from each other's strengths and weaknesses. Provide opportunities for training and professional development so employees feel empowered to expand their skill sets over time. Celebrate successes along the way but also embrace setbacks as learning experiences rather than failures to be ashamed of.