Disclaimer: We sometimes use affiliate links in our content. For more information, visit our Disclaimer Page. 
Investing in employee training is one of the most effective ways to improve the skills and productivity of your team. However, not all training methods are created equal. The key to success lies in using effective methods and strategies that align with the needs of your organization.
In this article, we will explore various methods of employee training that can help you develop high-performing teams. From traditional classroom training to innovative approaches such as simulation learning and gamification, we will cover the most effective ways to enhance your employees' skills and knowledge.
Key Takeaways:
Using effective methods of employee training can improve team skills and productivity.
It's important to align training programs with the needs of your organization.
From traditional classroom training to innovative approaches such as gamification, there are various methods of employee training available.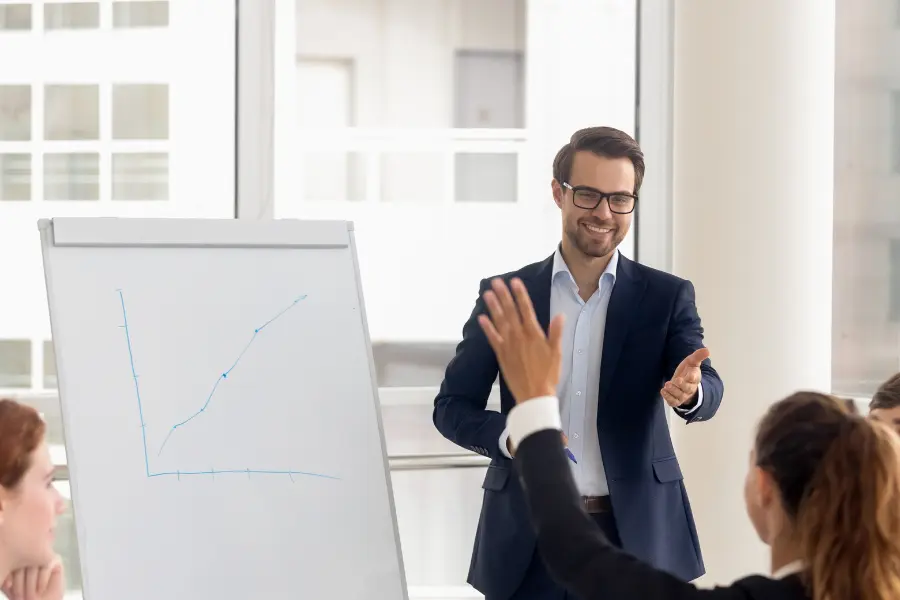 Training Needs Assessment: Identifying Skill Gaps
Before designing any training and development programs, it is crucial to conduct a training needs assessment to identify skill gaps. This process involves assessing the skills and knowledge of employees to determine what areas need improvement. By identifying these gaps, targeted training programs can be designed to address the specific needs of each employee.
There are several methodologies that can be used to assess the training needs of employees. One approach is to conduct surveys and interviews with employees to gather feedback on their current skills and knowledge. Another method is to review performance evaluations and job descriptions to identify areas that employees may need additional training in.
Regardless of the method used, a training needs assessment is an essential step in designing effective training programs. By tailoring training to the specific needs of each employee, organizations can ensure that their training efforts are efficient, relevant, and impactful.
Classroom Training: Traditional Approach with Modern Benefits
Classroom training is a classic method of employee training that can provide a solid foundation of knowledge and skills. Traditional classroom training techniques, such as lectures and slide presentations, can still be effective when complemented with modern approaches.
Interactive sessions, role-playing exercises, and group discussions can make training more engaging and interactive. These methods can allow employees to apply the knowledge learned in real-life scenarios, promoting better retention and practical application.
Hands-on learning experiences, such as technical workshops and on-site practice, are also essential in this training method. These activities can help employees develop the skills they need to perform their jobs more efficiently.
On-The-Job Training: Learning While Doing
On-the-job training is a highly effective method of employee learning that involves performing work tasks while simultaneously developing relevant skills. This training approach creates a practical learning environment that enables employees to apply newly acquired knowledge in real-world scenarios.
With on-the-job training, employees can learn through observation, shadowing, and hands-on practice, including drilling, simulations, and role-playing exercises. The mentor-mentee relationship is also crucial in this training method, as experienced employees can guide and support others, nurturing knowledge transfer and expertise development.
E-Learning: Flexibility and Convenience
With the rise of technology, e-learning has become an increasingly popular method of employee training. Online courses, webinars, and interactive modules provide employees with the flexibility and convenience to access training materials anywhere and anytime. This type of training is ideal for remote workers, those with busy schedules, or those who prefer self-paced learning.
E-learning also allows for a more personalized learning experience. Employees can choose the courses that best fit their skill level and interests, and can revisit materials as needed. Additionally, e-learning provides a cost-effective solution for organizations that want to train employees without incurring travel or instructor fees.
Simulation Training: Real-Life Scenarios for Effective Learning
Simulation training is a method of employee training that provides a realistic learning environment where employees can practice and enhance their skills. This type of training allows employees to experience real-life scenarios in a controlled and safe setting, improving their problem-solving abilities and decision-making skills.
Simulation training is highly effective in industries that require critical thinking and quick decision-making, such as healthcare, aviation, and engineering. Employees can practice emergency procedures, handle complex equipment, and respond to challenging situations, preparing them for real-life scenarios.
Gamification: Engaging and Motivating Training
Traditional employee training programs can be boring and ineffective. However, gamification provides an innovative solution that engages and motivates employees.
Gamification is the process of incorporating game elements into non-game contexts, such as employee training. By adding rewards, challenges, and leaderboards, gamification can make training more enjoyable and interactive.
Incorporating gamification elements in training programs can boost retention rates and increase participation. This approach can also create healthy competition among employees, encouraging collaboration and teamwork.
When implementing a gamified training program, it is crucial to align the game elements with the learning objectives. The games should challenge employees to apply the skills they are learning, rather than just testing their knowledge.
Gamification can be applied to various types of employee training, including classroom training, e-learning, and on-the-job training. The key is to design a game that aligns with the specific goals of the training program.
By incorporating gamification into your employee training programs, you can create a fun and engaging learning experience that enhances employee skills and productivity.
Mentoring and Coaching: Developing Expertise and Leadership Skills
Employee development is not just about building technical skills but also about developing leadership qualities. Mentoring and coaching are effective methods of employee training that can help develop expertise and leadership skills.
Mentoring involves an experienced employee providing guidance and support to a less experienced employee. It allows for personalized feedback and advice and can be an effective way of helping employees work through challenges. Coaching involves a manager or supervisor providing guidance to an employee to help them develop their skills and improve performance.
Additionally, mentoring and coaching can help develop expertise in specific areas, build self-confidence, improve communication skills, and foster leadership qualities. It allows for personalized guidance and feedback, which helps in the overall growth of an employee.
Employees who receive mentoring and coaching are more likely to stay in their jobs longer and be more engaged at work. By investing in employee development through these methods, organizations can build a more skilled and engaged workforce and develop future leaders.
Cross-Training: Broadening Skills and Enhancing Collaboration
In today's dynamic work environment, cross-training has become a popular method of employee training. This approach involves providing employees with opportunities to learn skills and perform tasks outside of their traditional roles. Cross-training helps to broaden employees' skill sets, making them more versatile and adaptable to changing situations.
A major advantage of cross-training is that it promotes collaboration and teamwork. When employees are trained in different roles, they gain a better understanding of the organization's overall operations, leading to improved communication and problem-solving abilities. This approach also fosters a culture of mutual respect and understanding among colleagues from different departments.
Continuous Learning and Development: Lifelong Growth
Continuous learning and development should be an integral part of every employee's career journey. With rapid changes in technology, business models, and customer needs, it is essential to keep up with the latest industry trends and best practices.
Training and development programs should not be limited to new hires or specific job roles. Instead, organizations should encourage a culture of lifelong learning, where employees are provided with resources and opportunities to develop their skills on an ongoing basis.
This can be achieved through various methods, such as:
Tuition assistance programs encourage employees to enroll in courses or certifications relating to their job roles.
On-the-job training opportunities, where employees can learn new skills through shadowing or cross-training.
Regular skill-building workshops or webinars to keep employees up-to-date with the latest industry trends and best practices.
Conclusion
Effective employee training is an essential tool for boosting team skills and productivity. As discussed in this article, there are a variety of training approaches available, each with its own set of benefits.
Identifying skill gaps through a training needs assessment can help to create targeted training programs. Classroom training can be enhanced with modern approaches such as interactive sessions and role-playing exercises, while on-the-job training provides hands-on learning experiences.
E-learning offers the convenience and flexibility of self-paced learning, while simulation training provides a realistic learning environment. Incorporating gamification can make training more engaging and motivating while mentoring and coaching provide personalized guidance and feedback. Cross-training can broaden skills and enhance collaboration, while continuous learning and development foster a culture of lifelong growth.
By implementing these effective employee training methods, organizations can achieve business growth and success. Customization based on organizational requirements is essential, and ongoing evaluation of training programs is necessary to ensure their effectiveness.
FAQ
What are the five important methods of training?
The five important methods of training include technology-based learning, simulators, on-the-job training, coaching/mentoring, and instructor-led training.
What are effective methods of employee development?
Effective methods of employee development include peer-to-peer learning, on-the-job training, simulation training, video training, and cross-training.
What are the three main methods of training?
The three main methods of training are instructor-led training, eLearning, and simulation-based employee training.
How do you choose effective training methods?
Choosing effective training methods involves considering the learning objectives, employee preferences, available resources, and the nature of the skills being taught.
What are 4 methods used to know that training was successful?
Four methods used to assess the success of training are evaluating employee performance improvements, measuring knowledge retention, gathering feedback from participants, and tracking key performance indicators related to the training objectives.