Disclaimer: We sometimes use affiliate links in our content. For more information, visit our Disclaimer Page. 
No one enjoys dealing with an argumentative employee. It can be frustrating, and it often feels like you are walking on eggshells around them. However, there are ways to deal with this type of employee that can help make the situation more manageable for everyone involved.
This blog post will discuss the nine best ways to deal with an argumentative employee. We will also provide valuable tips on handling these types of employees effectively!
What is the importance of managing argumentative employees?
An argumentative employee can be a real asset to a workplace if their behavior is managed effectively. An employee who is always challenging the status quo and offering up new ideas can help to stimulate creativity and bring about positive change.
However, an argumentative employee who interrupts other team members or constantly disputes their ideas can quickly become a nuisance and decrease morale.
As a manager, it is important to establish ground rules with an argumentative employee to maintain productivity and prevent disruptions. It would be best if you also took care to show support to the other members of your team, as an argumentative employee can quickly wear down their patience.
With a little effort, you can help argumentative employees adjust their attitudes and behaviors to succeed in the workplace.
Related: How To Handle Employee Conflict in the Workplace
9 Ways on How to Deal with an Argumentative Employee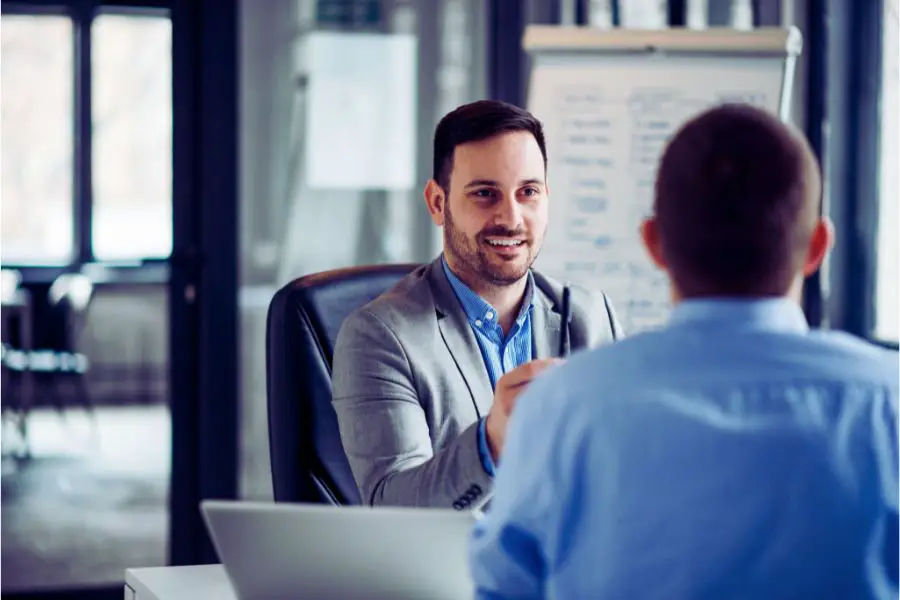 Argumentative employees can be a real pain to deal with. They are often quick to anger and can be very combative when discussing work-related issues.
Here are nine of the best ways to deal with an argumentative employee:
1. Avoid getting into arguments with them
It can be frustrating dealing with an employee always looking for a fight. They seem to disagree with everything you say and are quick to defensive counter-attacks. Engaging in a battle of wills can be tempting, but this will only worsen the situation.
Argumentative employees are often looking for validation and attention. If you engage in an argument, you are only playing into their hands.
Instead, walk away and diffuse the situation. This will take the wind out of their sails and hopefully get them back on track. Remember, getting into an argument will only make the situation worse.
2. Try to see things from their perspective
As a manager, it's essential to see things from your employee's perspectives. After all, they are the ones who are doing the work. It can negatively impact workplace productivity if you don't understand where they are coming from.
Try to put yourself in their shoes and see things from their point of view. This can help you understand their motivations and how to better deal with them.
With empathy, you can build a better working relationship with your employees and create a more positive workplace for everyone.
3. Schedule one on one meeting with an employee
When communicating with an argumentative employee, it's essential to be as clear and concise as possible. This will help ensure that there's no misunderstanding and that your employee knows what you expect from them.
One-on-one meetings are an excellent opportunity to do this, as they allow you to talk openly and honestly about your expectations.
By being clear about what you want from your employee, you can help avoid arguments and ensure everyone is on the same page.
4. Engage in active listening
It's important to remember that even though you're leading the meeting, you should still use active listening skills when an employee speaks about their perspective and experiences. It also means summarizing the other person's words to show your understanding.
Active listening helps employees feel heard and understood, even if you disagree with their approach. It shows respect for their feelings and beliefs and allows you to work with them toward developing solutions acceptable to you and the other team members.
5. Seek advice from your employee handbook
In most workplaces, the employee handbook outlines specific protocols and procedures for handling co-workers' disagreements.
Suppose the argumentative employee in question is causing sufficient disruption or negatively affecting productivity.
In that case, your workplace likely has an explicit course of action to deal with such a situation. For example, this may involve reporting the employee in question's behavior to a superior or the Human Resources department.
By reporting the disruptive employee and getting your concerns on the record, you alert your superiors to a potential issue and provide documentation if the situation escalates.
6. Make a contingency plan
When dealing with an argumentative employee, it's essential to have a contingency plan in place. This may involve removing employees from the workplace for a cooling-off period or reassigning them to another area or team.
In extreme cases, termination may be the best course of action. However, having a plan can deal with disruptive employees quickly and efficiently without letting their behavior impact the rest of your workplace.
It's also essential to identify counter-attacks that the employee may use, such as claiming they're being mistreated or discriminated against. By being prepared for these arguments, you can more easily defuse and resolve the situation in the best way for your business.
7. Practice responding to questions
Anyone who's ever been on stage knows that the key to a successful performance is a good rehearsal. The same is true of difficult conversations. If you want to come across as confident and in control, it's important to rehearse what you'll say ahead of time.
That doesn't mean memorizing lines verbatim, but it does mean thinking about the overall structure of the conversation and what points you want to make. It also means considering your tone of voice and physical posture.
It would help if you didn't try to have a difficult conversation without running through it in your head first. Doing so will help you build confidence and ensure the conversation goes as smoothly as possible.
8. Make sure you are prepared and stay calm
In any professional setting, it is essential to remain calm and level-headed when addressing a problem. This is especially true when confronting an employee about a negative issue.
If you are feeling stressed or anxious about the meeting, try to do some breathing exercises or mindful visualizations beforehand. This will help you to remain calm during the discussion and set the tone for the conversation.
It is also essential to be prepared before the meeting. Review your notes and key points to feel confident about the material you need to cover. You might even want to rehearse the session with a friend to practice your key points.
9. You can help them if they need it
If the employee is argumentative because they're feeling overwhelmed, see if there's anything you can do to help them.
Sometimes, all it takes is a little bit of assistance to get an employee back on track. If their workload is excessive, see if there's anything you can delegate to someone else. If they're struggling with a particular task, offer guidance and support.
By helping them to feel more confident and capable, you may find that the arguments dissipate.
Related: How To Handle Employees With Bad Attitudes
Conclusion
Dealing with an argumentative employee can be difficult, but it is not impossible. Following the tips provided in this blog post can create a more positive and productive work environment for everyone involved.
Have you tried any of these methods to deal with an argumentative employee? Let us know in the comments section below!
FAQ
How do you stop an employee from arguing?
There are a few ways to stop an employee from arguing. One way is to set clear boundaries. If the argumentative behavior crosses the line, tell the employee calmly that their behavior is unacceptable. Another way to handle this situation is by providing specific examples of what you expect from them. This could involve outlining what's appropriate for email communication or what kind of language is allowed in the office.
How do you handle a pushback employee?
If you're a manager, you'll have to deal with a pushy employee at some point. Here are some tips on how to handle them:
• First, define what the issue is.
• Second, talk to the employee about the issue in private.
• Finally, come up with a plan to address the issue.
What do you say to an argumentative person?
In an office environment, you could say, "I understand that you may have a different opinion, but I would appreciate it if we could keep the discussion respectful." This allows the conversation to continue without becoming heated or argumentative. It also shows that you respect the other person's point of view, even if you disagree with it.
How do you avoid arguments in a meeting?
The best way to avoid arguments in a meeting is to be prepared with data and information to support your position. Anticipate what could be controversial and come up with three or four main points that you can live with. Then, have a short explanation for each main point. Chair the meeting; bonus points if you take suggestions from everyone in the room before making decisions.
How do you deal with an employee who always thinks they are right?
The most important thing is to set clear expectations and behavior standards upfront and ensure everyone is on the same page. You might also want to consider having a conversation with the employee to discuss their attitude and see if there is anything you can do to help them change their perspective. 
What do you say to a disrespectful employee?
It depends on the severity of the disrespect and your relationship with the employee. If it's a one-time thing that's not too serious, you can talk to them privately and tell them that their behavior was inappropriate. However, if it's something more severe or a regular occurrence, you may need to take more formal action, including termination. Either way, it's essential to be clear with the employee that respect is a necessary part of being part of your team.