Disclaimer: We sometimes use affiliate links in our content. For more information, visit our Disclaimer Page. 
In today's competitive job market, standing out as a high-performing employee is more important than ever. Understanding the essential qualities of a good employee can not only lead to career success but also create a positive impact on your entire workplace.
This blog post will explore essential employee qualities such as work ethic, communication skills, problem-solving abilities, and adaptability that contribute to long-lasting success in various professional environments.
Key Takeaways
Essential qualities of a good employee for career success include reliability, accountability, work ethic, communication skills, teamwork abilities, problem-solving and critical thinking abilities, adaptability, and positivity.
Possessing these qualities can lead to increased productivity and performance as well as stronger relationships with colleagues and superiors.
These attributes also open opportunities for advancement and leadership roles while providing job security and better work-life balance.
Cultivating these traits through continuous learning and improvement is crucial for achieving long-term career success.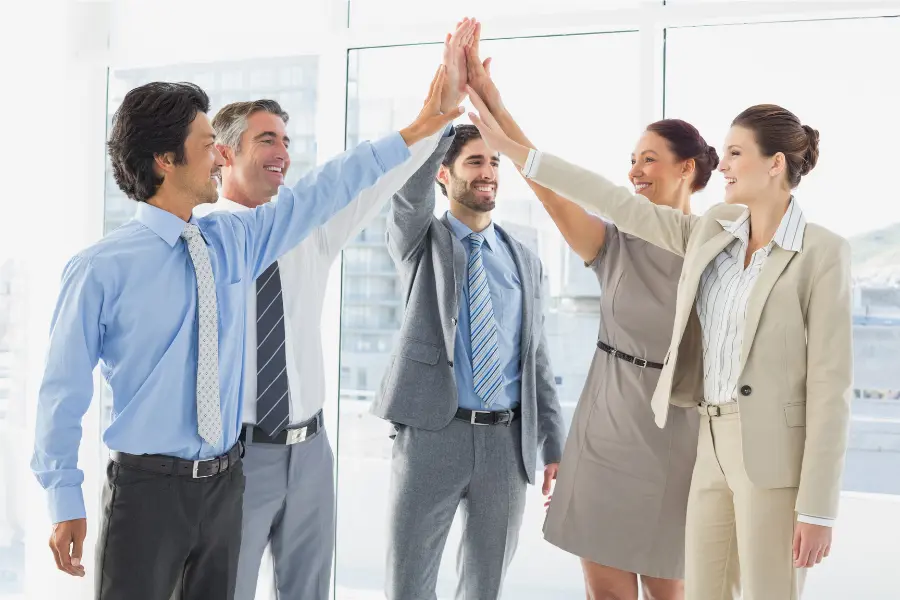 Essential Qualities Of A Good Employee For Career Success
Good employees possess essential qualities such as reliability, accountability, work ethic, communication skills, teamwork abilities, problem-solving and critical thinking abilities, adaptability, and a positive attitude to succeed in their careers.
Reliability, Accountability, And Work Ethic
In pursuing career success, reliability, accountability, and a strong work ethic are essential qualities employers seek in their employees. These attributes reflect an individual's professionalism and contribute to a positive work environment.
An employee who consistently arrives on time meets their deadlines, and follows through on tasks demonstrates reliability.
Accountability goes hand-in-hand with reliability as it encompasses owning one's actions and responsibilities. A good example is when employees acknowledge a mistake they made in a project while taking corrective measures to rectify it promptly.
Furthermore, possessing a robust work ethic means delivering high-quality results driven by discipline, dedication, and commitment to one's job. Employees who exhibit these qualities often outperform others in productivity levels, leading to increased job security and opportunities for growth within the organization.
Communication Skills And Teamwork Abilities
Good communication and teamwork abilities are essential qualities that make an employee successful. Employees who can communicate effectively with colleagues, superiors, and clients will always be in high demand.
Clear communication eliminates misunderstandings and ensures everyone is on the same page, leading to better decision-making and improved productivity.
In addition, good teamwork abilities enable employees to collaborate effectively with others toward a shared goal.
For instance, imagine you're working on a project that requires input from multiple departments within your organization; practical communication skills play a vital role in ensuring everyone is aware of what's needed from them before delivering their contributions promptly.
Similarly, when working as part of a team towards achieving specific objectives or goals like meeting deadlines or targets at work, excellent teamwork remains crucial for ensuring tasks are completed efficiently while prioritizing each other's strengths and weaknesses.
Problem-solving And Critical Thinking Abilities
Problem-solving and critical thinking abilities are essential qualities of a good employee for career success. These skills involve identifying, analyzing, and solving problems using logic and reasoning.
Good employees should be able to think creatively and develop innovative solutions that boost productivity and efficiency in the workplace.
Critical thinking involves evaluating information objectively by analyzing data and making judgments based on facts rather than assumptions or feelings. A good employee must have critical thinking abilities because they will need to make crucial decisions in their job roles that positively impact their organization's success.
Employers look for employees who can think critically because they trust them more to work independently without constant supervision effectively.
Adaptability And Positive Attitude
Adaptability and a positive attitude are crucial qualities for any good employee. In today's ever-changing work environment, adjusting to new situations and challenges is essential for success.
An adaptable employee can handle unexpected changes in the workplace with grace and ease rather than becoming overwhelmed or frustrated.
A positive attitude is critical as it helps maintain motivation, enthusiasm, and resilience throughout challenging times. A good employee with a "can-do" attitude strives to overcome obstacles instead of getting bogged down by setbacks.
Additionally, they make practical contributions in team settings by positively inspiring others.
Goal-oriented Mindset And Strong Character
A good employee must possess a goal-oriented mindset and a strong character. This includes setting clear objectives, prioritizing tasks, and working towards achieving their goals.
With these qualities, the employee focuses more on delivering high-quality results while staying within deadlines and budget constraints.
A person with a strong character displays honesty, integrity, determination, and perseverance in all aspects of their work.
A goal-oriented mindset coupled with a robust character is vital for career success as it demonstrates dedication to learning new skills, improving productivity at work, and seeking professional growth opportunities.
Developing this mindset early on in one's career journey while upholding the highest standards of ethical behavior can help secure better job prospects or even lead to advancement opportunities within an organization.
The Importance Of These Qualities In Career Success
Strong employee qualities such as reliable work ethics, practical communication skills, problem-solving abilities, and a positive attitude can increase productivity, better job security, personal growth opportunities, and advancement in leadership roles.
Increased Productivity And Performance
Good employee qualities are crucial for success in any career. Increased productivity and performance stand out among the essential qualities that make a good employee.
Employees who possess these qualities go above and beyond to meet their targets, producing excellent results consistently. They take pride in their work and always strive to improve their output by enhancing their skills or exploring new ways of doing things.
Moreover, employees who demonstrate a strong work ethic tend to meet expectations and often exceed them. They arrive on time daily, ready and eager to tackle their assignments head-on while maintaining attention to detail.
Stronger Relationships With Colleagues And Superiors
Developing solid relationships with colleagues and superiors is an essential quality of a good employee for career success. Good employees understand the importance of building professional networks, cultivating trust, and demonstrating mutual respect in the workplace.
For example, when employees demonstrate teamwork skills and communication proficiency while supporting their colleagues' projects or initiatives, they are more likely to receive organizational recognition from stakeholders.
This recognition helps them build credibility within the company and increases their potential for promotion to leadership roles or opportunities for job advancement.
Opportunities For Advancement And Leadership Roles
A good employee's essential qualities open up opportunities for advancement and leadership roles. Employers often look for individuals who demonstrate reliability, accountability, teamwork abilities, problem-solving skills, adaptability, and a positive attitude.
By consistently demonstrating these qualities, employees may be considered for promotions or leadership positions within the company. They may also be given added responsibilities that can help further develop their skill sets and prepare them for future career growth.
Additionally, having strong relationships with colleagues and superiors creates a sense of trust that can lead to increased job security and better work-life balance.
Better Job Security And Work-Life Balance
Good employee qualities not only benefit the company but also provide job security and a better work-life balance for the employee. An individual with strong problem-solving skills, a positive attitude, and a reliable work ethic is likelier to maintain their position and advance in their career.
Companies value employees who can adapt to new challenges and responsibilities while maintaining high-performance levels. This growth mentality leads to greater job satisfaction, resulting in improved overall well-being outside of work.
For example, an efficient worker may have more leisure time or be able to pursue hobbies they enjoy due to effectively completing tasks within working hours.
Enhanced Personal And Professional Growth
Developing the essential qualities of a good employee can significantly enhance personal and professional growth. For instance, an employee's ability to communicate effectively, work with colleagues efficiently, and solve problems proactively can help them hone their skills and boost their confidence level at the workplace.
Additionally, employees with a positive attitude towards learning new things are often viewed as high-potential candidates by employers for leadership roles.
When personal growth is enhanced in this manner, it helps individuals create value for themselves while also contributing positively to their organization's overall success.
How To Develop And Demonstrate Good Employee Qualities In The Workplace
Set clear objectives and priorities. Seek continuous feedback and improvement. Cultivate strong relationships and networks. Embrace new challenges and responsibilities.
Set Clear Objectives And Priorities
One of the essential qualities that a reasonable employee should possess is the ability to set clear objectives and priorities. A clear understanding of what needs to be done and when it needs to be completed helps employees stay focused on their tasks and achieve their goals.
Employees can track their progress toward achieving specific outcomes by setting measurable targets.
For instance, if an employee has several tasks assigned for the day, they can prioritize them according to which task will have the most significant impact and which ones need immediate attention.
Then, they can allocate time accordingly so that each task gets the necessary attention and is accomplished within its given timeframe.
Seek Continuous Feedback And Improvement
In order to become a great employee and achieve career success, it's important to seek continuous feedback and improvement. This means regularly asking for feedback from colleagues and superiors and setting personal goals for growth and development.
By actively seeking feedback on your performance, you can identify areas needing improvement and work to address them.
One way to seek feedback is through regular one-on-one meetings with your supervisor or mentor. Use these meetings as an opportunity to discuss both successes and challenges, ask for constructive criticism, and set goals for the future.
You can also take advantage of training opportunities offered by your employer or industry associations to expand your skill set and knowledge base.
Cultivate Strong Relationships And Networks
Developing strong relationships and networks is crucial to succeeding in any career. Good employees understand that building strong connections with colleagues, superiors, and clients helps them achieve their goals and creates opportunities for growth and advancement.
By maintaining positive relationships, employees can enhance their reputation as reliable team players who are willing to collaborate and support others.
In addition to professional benefits, cultivating strong relationships also has personal rewards. Strong bonds with colleagues can lead to lasting friendships that offer emotional support during stressful times at work.
Furthermore, networking events provide opportunities to learn about new industries or job openings outside one's current organization – something that could jumpstart an employee's career growth.
Embrace New Challenges And Responsibilities
Embracing new challenges and responsibilities is a crucial quality of a good employee for career success. Employees who take on new tasks demonstrate their willingness to learn and grow in their roles.
They show initiative and enthusiasm, which can lead to increased job satisfaction and professional growth opportunities.
For example, an employee who takes on a project outside of their usual scope may discover a hidden talent or interest that they can pursue further. Alternatively, tackling a difficult challenge head-on may require collaboration with colleagues from different departments, leading to stronger team relationships.
These experiences enhance personal development and contribute positively to the organization's overall success by fostering innovation and collaboration.
Stay Inspired And Motivated
Staying inspired and motivated is essential for any employee who wants to succeed in their career. Inspirational leadership, positive reinforcement, and opportunities for personal growth can all help keep employees engaged and excited about their work.
For example, an employee who receives recognition for a well-done job is likelier to stay committed and dedicated to the organization's goals. Likewise, being part of a supportive team that encourages one another through difficult times can increase morale and motivation levels.
Conclusion
Discovering and developing the essential qualities of a good employee is crucial for career success. A combination of excellent work ethic, communication skills, problem-solving abilities, positivity, and adaptability will take you far in your professional life.
By cultivating these traits through continuous learning and improvement, you can achieve better job performance, stronger relationships with colleagues and superiors, opportunities for advancement and leadership roles, and enhanced personal growth.
Remember to set clear objectives for yourself while staying motivated by embracing new challenges with a positive attitude.
FAQs:
What essential qualities make a good employee for career success?
A good employee possesses qualities such as reliability, strong communication skills, adaptability, problem-solving abilities, a positive attitude toward work, and the ability to work independently or in a team environment.
Why is having strong communication skills necessary for career success?
Strong communication skills are essential to building relationships with colleagues and clients, leading to better collaboration, increased productivity, and job satisfaction. Good communication also helps employees express their ideas effectively in meetings or presentations while avoiding misunderstandings or conflicts.
How can an individual showcase their adaptability in the workplace?
Adaptability means adjusting quickly to new situations or challenges encountered on the job. Employees who show adaptability may take on new tasks outside of their usual responsibilities or be willing to try new completion methods when necessary.
Can negative attitudes at work affect one's career success?
Yes! A negative attitude can hinder an individual's progress because it affects overall productivity levels and hampers organizational teamwork. Being optimistic and maintaining a positive outlook creates a more productive working environment where workers feel comfortable expressing themselves openly without fear of retribution or condescension from others around them. This ultimately leads to career advancement opportunities over time with consistent performance metrics achieved regularly through hard work & dedication!