Disclaimer: We sometimes use affiliate links in our content. For more information, visit our Disclaimer Page. 
In today's fast-paced world, achieving harmony between work and passion is essential for a fulfilling life. By skillfully integrating your interests into your career, you can unlock new levels of job satisfaction and professional growth.
In this blog post, we'll explore the importance of combining your work and passion, share practical tips to help you succeed, and provide real-life examples that inspire pursuing this path.
Key Takeaways
Combining work and passion leads to increased fulfillment, motivation, job performance, and work-life balance.
To successfully combine work and passion, individuals should identify their passions and strengths, look for ways to integrate them into their work, set boundaries and prioritize self-care, seek support and mentorship, and continuously learn and grow.
Common challenges such as fear of failure or judgment, time management issues, and financial concerns can be addressed by reframing negative thoughts, creating a schedule with realistic priorities, and finding creative solutions like taking on side projects. Balancing multiple passions requires identifying core values and prioritizing activities that align with them.
By achieving harmony between work and passion using the tips mentioned above in this article, one can lead a fulfilling life while avoiding burnout or stress from overworking.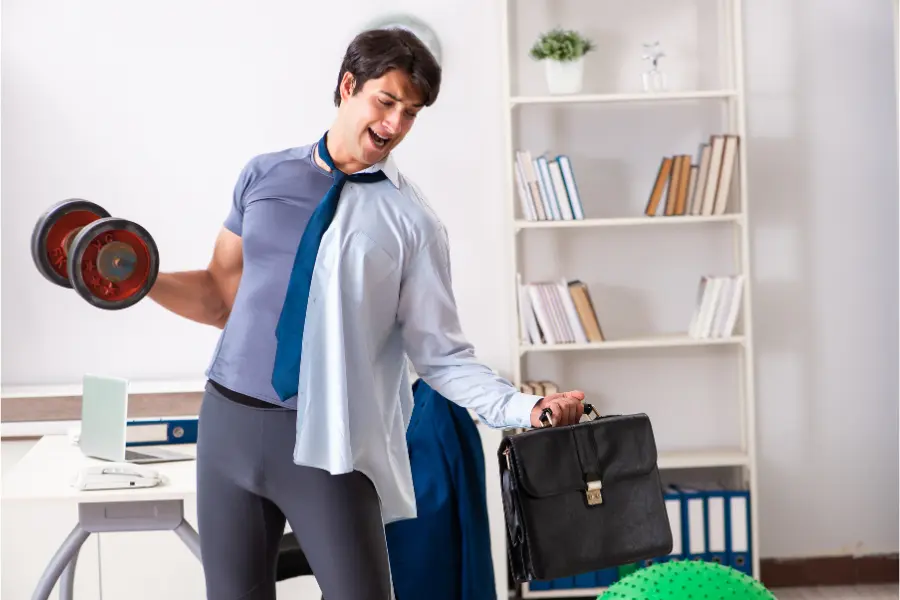 Why Combining Work And Passion Is Important
Combining work and passion is essential, leading to increased fulfillment, motivation, improved job performance, and better work-life balance.
Increased Fulfillment And Motivation
Combining your work and passion can lead to a tremendous boost in both personal fulfillment and motivation. When deeply invested in your career due to genuine interest, it becomes more than just a job – it transforms into an essential aspect of your identity.
For example, imagine a talented graphic designer who loves creating digital art in their spare time. Suppose they incorporate this passion into their professional work by taking on design projects for clients or companies they genuinely admire. In that case, there's a high likelihood that they'll experience increased job satisfaction and be motivated to give their best efforts consistently.
As noted earlier, pursuing passions outside of work can add meaning and depth to one's life, ultimately leading to harmony between professional and personal interests.
Improved Job Performance
Integrating your passion with your work can lead to improved job performance. When you enjoy what you do, staying motivated and engaged in your work is more accessible.
This often translates into higher productivity levels and better quality output. Additionally, pursuing new skills related to your passions can expand your knowledge base and make you a valuable employee.
For example, if photography is one of your hobbies, learning Photoshop can help you create better marketing materials or social media posts for the company.
Better Work-life Balance
Achieving a better work-life balance is essential for successfully combining your work and passion. When you're passionate about something, it can be easy to let it consume every aspect of your life, including work.
Setting boundaries is crucial in achieving a better work-life balance. This means prioritizing self-care activities like getting enough rest, exercising, and taking breaks when necessary.
It also means setting a clear line between work hours and personal time to avoid burnout or fatigue from overwork.
One example of achieving a better work-life balance is taking advantage of flexible working arrangements such as remote working or flextime schedules that allow more time spent with family or pursuing hobbies outside of work hours.
Tips For Successfully Combining Work And Passion
Identify your passions and strengths, then look for ways to integrate them into your work; set boundaries and prioritize self-care to avoid burnout and maintain balance; seek support and mentorship from like-minded individuals who can offer guidance on achieving career satisfaction while pursuing personal fulfillment.
Identify Your Passions And Strengths
To successfully combine your work and passion, it's essential to start by identifying those passions and strengths. Here are some steps to help with this process:
Take a personality or strengths assessment test, such as the CliftonStrengths assessment, to better understand your natural talents and abilities.
Reflect on activities that bring you joy and fulfillment outside of work. Consider hobbies, volunteer opportunities, or causes you feel passionate about.
Think about tasks at work that energize and excite you and those where you excel.
Consider feedback from others on what they perceive to be your strengths and passions.
Evaluate potential career paths or job opportunities through the lens of your passions and strengths.
By identifying your passions and strengths, you can integrate them into your work life in ways that will lead to greater fulfillment and success.
Look For Ways To Integrate Your Passions Into Your Work
Integrating your passion into your work can bring more meaning to your career and improve job satisfaction. Here are some tips for integrating your passions into your work:
Identify tasks that align with your interests and strengths.
Find ways to incorporate your hobbies or areas of interest into workplace projects.
Use creative problem-solving skills to approach challenges that align with your values or passions.
Volunteer for opportunities that match your interests, such as leading a team-building activity centered around an activity you enjoy.
Seek mentorship from someone who has successfully integrated their passion into their work.
Set Boundaries And Prioritize Self-care
To successfully combine work and passion, it's essential to establish boundaries and prioritize self-care. Here are some tips:
Learn to say "no" when necessary. Avoid overcommitting yourself at work or in your personal life.
Take breaks throughout the day to recharge your energy and focus.
Set designated times for work-related tasks and stick to them as much as possible.
Create a separate workspace at home if working remotely to better distinguish between work and personal time.
Prioritize self-care activities such as exercise, meditation, or hobbies that bring you joy.
Make sure to get enough sleep each night to maintain good mental health and avoid burnout.
Consider seeking support from a therapist or counselor if needed.
By setting boundaries and prioritizing self-care, individuals can avoid overwhelm and achieve a healthier work-life harmony.
Seek Support And Mentorship
Seeking support and mentorship is essential to combine work and passion successfully. A community of like-minded individuals can provide valuable resources, insights, and feedback that aid personal and professional growth.
Mentors can offer guidance and help navigate challenges, providing perspectives from their own experiences.
For instance, entrepreneurs in the tech industry may seek advice on balancing business operations with their passion for innovation from experienced startup founders or CEOs.
Individuals working in service-oriented roles could join interest groups tailored to their sector or volunteer for relevant causes beyond the workplace to build connections within the community.
Continuously Learn And Grow
One of the keys to successfully combining work and passion is to learn and grow continuously. This means staying up-to-date with industry trends, attending conferences and workshops, taking professional development courses, reading books and articles on relevant topics, etc. Continuously learning keeps you informed about the latest developments in your field and expands your knowledge and skillset, making you more valuable as an employee or entrepreneur.
For example, if you're a graphic designer passionate about sustainability, taking a course on sustainable design principles can help integrate your passions into your work while improving your job performance.
Alternatively, attending networking events related to social entrepreneurship can connect you with like-minded individuals who share similar interests and might lead to new career opportunities.
Common Challenges And How To Overcome Them
To overcome the fear of failure or judgment, it is essential to reframe negative thoughts and focus on the positive aspects of pursuing one's passion; for time management issues, creating a schedule and setting realistic priorities can help in achieving work-life harmony; financial concerns can be addressed through finding creative solutions such as taking on side projects or exploring different income streams; finally, balancing multiple passions requires identifying core values and prioritizing activities that align with them.
Fear Of Failure Or Judgment
Many individuals hesitate to pursue their passions because of the fear of failure or judgment from others. Overcoming this challenge takes courage and confidence, but it is possible with the following tips:
Define success on your terms: Instead of comparing yourself to others or seeking validation from external sources, define success based on your values and goals.
Take small steps: Break down your passion into smaller, manageable tasks you can accomplish without feeling overwhelmed. Celebrate each milestone along the way.
Surround yourself with supporters: Seek out people who will encourage and uplift you in pursuing your passion. Avoid those who consistently bring negativity or doubt.
Embrace failure as part of the process: Failure is a natural part of any personal growth and development journey. Treat failures as learning opportunities rather than setbacks.
Stay focused on your "why": Remember often why pursuing this passion is essential, and don't let the fear of failure or judgment distract you from reaching your goals.
By implementing these strategies, individuals can overcome their fear of failure or judgment and successfully combine their work and passion for a more fulfilling life.
Time Management Issues
Managing time effectively is crucial when combining work and passion. Here are some tips:
Set clear goals and priorities for both work and personal life
Use a planner or calendar to schedule time for both work and passion activities
Avoid multitasking and dedicate focused time to each task or activity
Learn to say no and delegate tasks when necessary
Take breaks regularly to avoid burnout
Find ways to streamline tasks, such as automating specific processes or outsourcing non-core activities.
Remember, finding a balance between pursuing your passion and meeting work responsibilities is essential. Effective time management can help achieve this balance.
Financial Concerns
Managing finances can be a significant challenge when combining work and passion. However, careful planning and intelligent smart decisions can overcome financial concerns. Here are some tips to help you manage your finances while pursuing your passions:
Create a budget by tracking all of your expenses and income. Be mindful of where your money is going, and look for areas where you can cut back.
Consider finding ways to monetize your passion, such as creating an online course or selling products related to your passion.
Start small and consider taking on side gigs or part-time jobs to supplement your income while you build up your passion project.
Look for opportunities to network with others in your field or industry who can offer advice or financial support.
Be realistic about your financial goals and adjust accordingly. Don't sacrifice paying bills or saving for long-term financial stability to pursue a passion.
Remember that achieving harmony between work and passion takes time and effort, including managing financial concerns. With discipline and strategic planning, however, achieving both personal fulfillment and long-term financial stability is possible.
Balancing Multiple Passions
Successfully balancing multiple passions can be challenging, but it's not impossible. Here are some tips to help achieve harmony:
Prioritize your passions: Determine which passion or passions are most important to you and focus on those.
Find commonalities: Look for ways your passions can overlap or complement each other. For example, if you love photography and hiking, consider combining the two by taking nature photos while hiking.
Manage your time effectively: Set aside dedicated time for each of your passions and stick to a schedule.
Continuously learn and grow: Pursuing multiple interests can be overwhelming, but continuously learning and growing in those areas can help prevent burnout.
Be open to change: It's okay if your passions shift over time – be open to exploring new interests and adjusting your priorities accordingly.
Seek support: Connect with other individuals who share similar interests or find a mentor who can guide how to balance multiple passions successfully.
Remember, finding harmony between multiple passions takes time and effort, but it is possible with dedication and a balanced approach.
Real-life Examples Of Successfully Combining Work And Passion
Learn from inspiring entrepreneurs, freelancers, and individuals working for a cause how they successfully combined their work and passion – discover how it can be done in real life.
Entrepreneurs
Entrepreneurs are individuals who start and run their businesses. Combining work and passion is especially important for entrepreneurs as they pour much time, effort, and resources into their ventures.
Many successful entrepreneurs have turned their passions into profitable businesses, such as the founder of Airbnb, who started the company because he loved traveling and wanted to make it easier for others to connect with hosts around the world.
Despite the numerous benefits of combining work and passion as an entrepreneur, it can also come with challenges. Balancing multiple responsibilities can be tricky when starting a business while pursuing one's hobbies or interests.
Additionally, financial uncertainties may arise during startup phases that require long hours without immediate rewards.
Freelancers
Freelancing offers a unique opportunity to combine work and passion seamlessly. As a freelancer, you can choose projects that align with your interests and skills, giving you greater control over your career path.
Being your boss also means prioritizing self-care and creating boundaries for personal growth outside work. However, freelancing can come with its own set of challenges, such as financial uncertainty and isolation.
Finding a supportive community through networking events or online groups can help overcome these obstacles.
Individuals Working For A Cause
Working for a cause can be a fulfilling way to combine work and passion. These individuals are often driven by a desire to impact society or the environment positively.
They may work for non-profit organizations, social enterprises, or advocacy groups. Some examples of successful integration of work and passion in this area include environmental activists who work for conservation trusts or renewable energy companies or advocates who use their legal skills to fight for human rights causes.
Working towards making the world a better place can provide deep satisfaction and meaning that goes beyond mere financial compensation.
Conclusion
Finding harmony between work and passion is a journey worth embarking on. While it may seem challenging, integrating your interests with your career can lead to greater fulfillment and satisfaction in life.
Remember to identify your strengths, set boundaries for self-care, seek mentorship and support, continuously learn and grow, and most importantly, prioritize what matters most.
With these tips in mind, you can achieve sustainable work-life integration that allows you to pursue professional growth and personal fulfillment.
FAQs
How can I find a career that aligns with my passions?
One approach to finding a career that aligns with your passions is to identify the skills, interests and values that drive you and explore industries or fields where those qualities are valued. Additionally, informational interviews with professionals and learning new skills through courses or training programs can help individuals narrow down their options.
What are some ways to balance work commitments while pursuing personal passions?
Effective time management strategies such as setting priorities, creating daily schedules and delegating tasks can help individuals balance their work commitments and personal pursuits. It may also be helpful to set realistic goals for both areas of life and communicate any scheduling conflicts or needs for flexibility with employers or colleagues.
How important is it to have a supportive network when pursuing a passion alongside professional responsibilities?
Having a support system of friends, family members or mentors who understand the importance of your passions can provide motivation, encouragement and valuable insights into managing the demands of multiple roles. Seeking out like-minded communities online or in-person can also provide additional resources for guidance during challenging times.
Can pursuing hobbies outside of work enhance job satisfaction?
Pursuing hobbies outside of work has been shown to improve mental health, reduce stress levels and develop new skills that may translate positively into one's professional life. When individuals feel fulfilled in their personal lives, it often carries over into greater energy, focus, and productivity on-the-job, thereby leading to improved overall job satisfaction levels too!