Disclaimer: We sometimes use affiliate links in our content. For more information, visit our Disclaimer Page. 
If you are a startup, you know that time is of the essence. You must focus on your core business and leave the logistics to someone else.
That's where fulfillment service providers come in. They can take care of everything from shipping and handling to returns and customer service. But with so many providers, how do you choose the right one for your business?
This blog post will discuss the nine best fulfillment service providers and their features. We will also give tips on choosing the right provider for your business.
What is a fulfillment service? 
The fulfillment service is a third-party warehouse that picks, packs, and ships your orders at its physical warehouse to fulfill the order. 
It is excellent to have fulfillment services for businesses that want to avoid handling the logistics of shipping their products or that have outgrown their warehousing capabilities to such an extent that they can no longer fulfill orders themselves.
The benefits of using third-party logistics
It is evident that outsourcing fulfillment to a third-party logistics (3PL) company saves you from doing the work yourself, but there are other benefits. The growth of your business can be significantly influenced by outsourcing warehousing and fulfillment. Here are some:
→ Avoid long-term leases
It is common for logistic companies to offer flexible pricing, which means that as your needs change over time (or as you go through slow periods), they can adjust their costs accordingly. However, if you rent your own warehouse space, it usually requires a more lengthy commitment.
→ Get the experts on board
When you hire an outsourced fulfillment services provider, you get warehouse space and the right people to run the fulfillment center. Ecommerce businesses can face a lot of supply chain issues. You'll likely need to hire staff. It takes time to manage staff. 
There may be times when you are hesitant to offer someone a job as your business is in flux. Instead, you can hire a third-party logistics company to handle the work for you and let them do the job of finding and hiring the right people.
A whole team of logistics experts and support staff at every 3PL is there to help you. It gives you a new level of agility you may need help achieving because they handle all your receiving, inventory management, order processing, and shipping labor. 
You may even consider the addition of software like Locate2U to help streamline services.
→ Use your time to optimize 
Managing and optimizing across your company is more important than being bogged down in the logistics of order fulfillment. You didn't start your business because you're great at packing boxes. The more you let someone else handle logistics details, the more you can focus on what matters.
→ Become more agile
Even though doing things yourself is primarily free, it can cost you in the long run since consumers expect faster shipping times from you. Doing everything in-house could lead to you falling short of these expectations and delivering a better customer experience to your customers. 
As a result of partnering with a 3PL to outsource fulfillment services, you will be able to take advantage of its efficiencies and leverage its buying power on packaging and shipping costs. Some even provide real-time stock information so you can remain proactive at all times.
Here is a quick go-through of best fulfillment services
The 9 best fulfillment services for startups and small businesses
Choosing the right fulfillment company to partner with takes time and effort. To choose the best fulfillment company, first identify your needs. Below, we summarize the top 9 leading fulfillment providers worldwide. 
1. ShipBob
ShipBob is a well-known and trusted company that offers shipping costs and logistics services at affordable prices. ShipBob's experience dates back to 2014, and the company has rapidly grown every step of the way. 
ShipBob offers many tempting eCommerce features, which is why online businesses frequently choose it as a fulfillment provider. From eCommerce inventory features to advanced filter capabilities, ShipBob has thought of it all. 
One thing that sets ShipBob apart from other fulfillment companies is its commitment to customer service. ShipBob takes pride in its highly acclaimed customer service, and this dedication has earned the company a top spot on the list of best USA fulfillment companies. 
If you're looking for a fulfillment company that can provide you with an array of features and excellent customer service, look no further than ShipBob.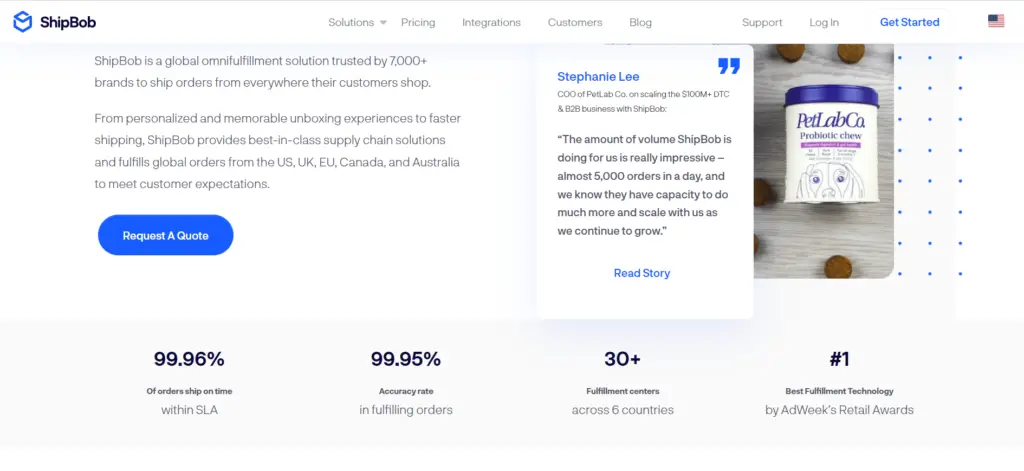 Why choose it?
There are many reasons to consider ShipBob when looking for an eCommerce fulfillment company. One key reason is that ShipBob offers easy access to many online integrations. This makes it easy for you to connect your online store to ShipBob. 
Another reason to consider ShipBob is that they offer competitive pricing. This makes it possible for all-size eCommerce businesses to use their services. In addition, ShipBob offers excellent customer service. 
They provide each eCommerce business with its dedicated account manager. This ensures that you will always have someone to help you with any questions or concerns that you may have. 
If you are looking for an eCommerce fulfillment company that is the best overall and checks many of the boxes on the list of your must-have features, ShipBob is one to explore.
Features
Inventory Management and Tracking: With ShipBob, you can track and manage inventory in real-time, get inventory alerts to avoid stockouts, and integrate with many eCommerce platforms to make automation possible. Historical data shows you can make better inventory decisions based on customer demand and order trends.
2-Day Shipping: Merchants can offer fast shipping to customers with ShipBob's 2-Day Express program. In real-time, ShipBob validates the zip code and checks inventory at the nearest fulfillment center once customers enter their shipping destination. Using ground shipping only, the 2-Day Express program saves merchants money compared to air shipping. This allows eCommerce shop owners to provide customers with an experience similar to Amazon Prime.
Global Warehouses: There are multiple ShipBob warehouse locations worldwide so that you can keep inventory anywhere. With our split inventory system, you can get your inventory from the warehouse that is closest to your customers. In addition, you can track how much inventory you have in each location from your dashboard.
Best-in-Class Technology: It is essential to know that ShipBob owns its entire technology stack. You can access a real-time dashboard to monitor inventory and orders as a merchant. ShipBob's warehouses are managed with an enhanced warehouse management system (WMS) to pick, pack, and ship orders efficiently. A merchant dashboard is linked to the warehouse management system, so you can have complete visibility into everything that happens in your warehouse. 
Fulfillment process: Due to the cloud-based platform, you can access the customer portal and check stock levels from any device connected to the internet to overview your stock levels.
Returns Processing: With ShipBob, merchants can efficiently process customer returns, so products are back on the shelf faster. In addition, ShipBob gives customers a return link to create their return labels without getting in touch with you. So from start to finish, you'll be able to track the return process.
Ecommerce Integrations: ShipBob can help you manage your online store regardless of which eCommerce platform you use.
Pricing:
There is no pricing available on their official website. You can message them to request fulfillment pricing.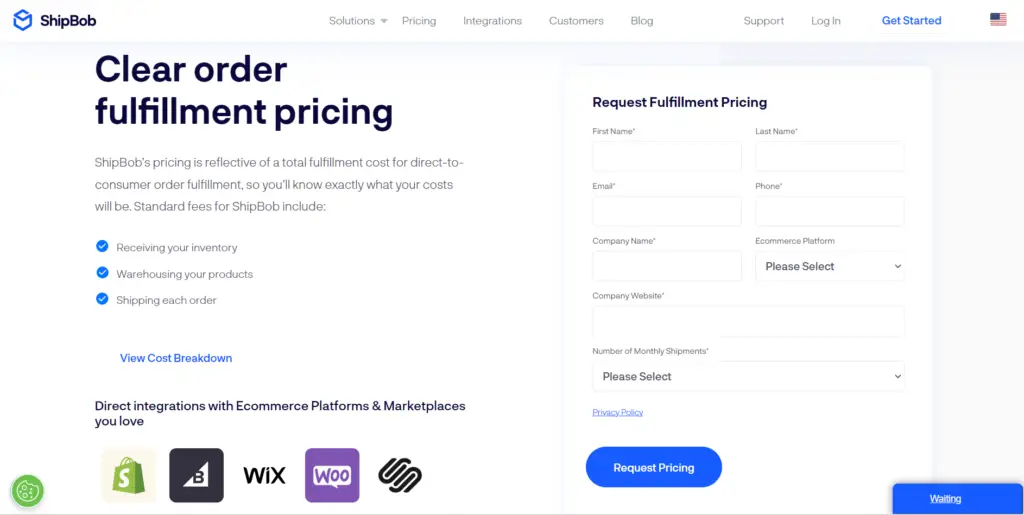 There are multiple ShipBob locations across the country

Helpful tools on a user-friendly dashboard.

Inventory distribution across multiple locations.

Tracking of orders and inventory in real-time.

Two-day express shipping is available.
Refrigeration is not one of ShipBob's services.

B2B eCommerce fulfillment is not a specialization.
2. Deliverr
As a relatively new player in the fulfillment scene, Deliverr has rapidly gained traction with its innovative approach to shipping, which has quickly earned it a reputation. 
Their transparency in pricing is one of the things that makes them different from their competitors. You can enter the product information into the cost calculator on their website to determine how much you will have to spend on the product. This level of transparency is rare in the fulfillment world, and it's something that Deliverr takes pride in. 
In addition to their competitive pricing, Deliverr offers a robust set of features that make it easy to get started with 2-day shipping. So if you're looking for a fulfillment partner to help you take your business to the next level, Deliverr is worth checking out.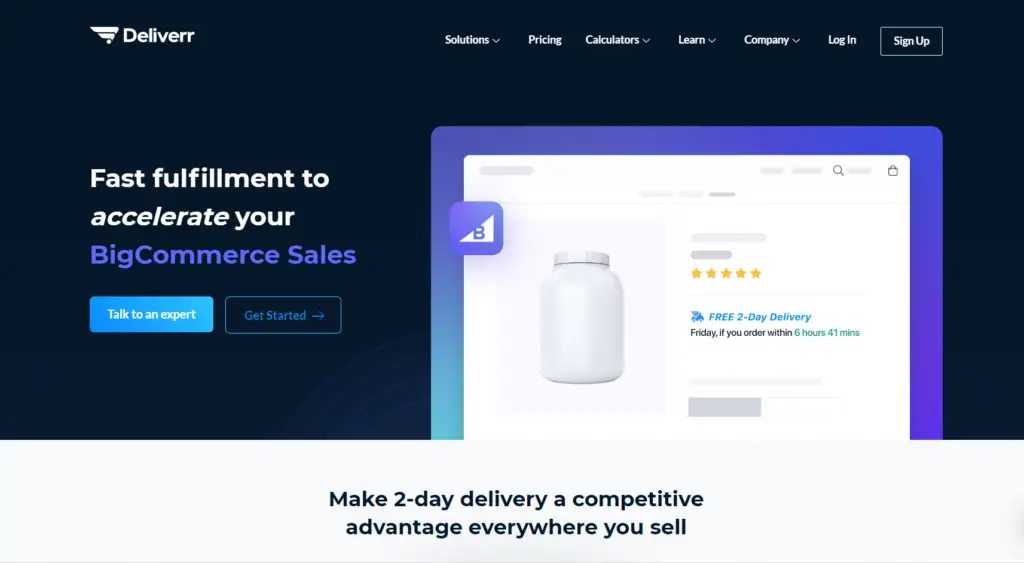 Why choose it?
The company offers several unique features that set it apart from its competitors, including its focus on delivering orders in two days or less. 
In addition, Deliverr provides customers with a map of their inventory, so they can see where their products are and how many units are in each location. This feature is handy for businesses that sell products in multiple states or regions. Delivery offers a built-in inventory buffer to prevent stockouts, ensuring customers always have access to the products they need. 
With its combination of features, Deliverr is an ideal choice for businesses looking for a reliable and efficient way to fulfill orders.
Features:
Fast Shipping: You may see 1-day shipping on your products, website, and sales funnel. Deliverr's hallmark is that it gives you a 2-day shipping badge. When you add fast shipping tags to your products, you can include the free and fast shipping features in your product filters, so your customers know which products they can order quickly.
Real-Time Inventory and Order Tracking: Deliverr's dashboard will enable you to track inventory status and order tracking information at a glance. Since all the systems talk, you can see everything in real time.
Efficiently Allocate Inventory Across Deliverr's Network: As soon as you send inventory to a Deliverr cross-dock, the platform will automatically send it to four fulfillment centers in its network. The idea here is to ensure that most of your customers are covered. In other words, you will no longer have to worry about making sure that you send enough inventory to each location – you will send everything to one place, and Deliverr will take care of the rest of the process.
eCommerce Platform Integrations: To get the most out of Deliverr, check to see if it integrates with the platforms you're already using. You will find it super easy to integrate Deliverr with Shopify, BigCommerce, or Woocommerce.
Pricing:
Their fulfillment price starts at $4.15 per unit.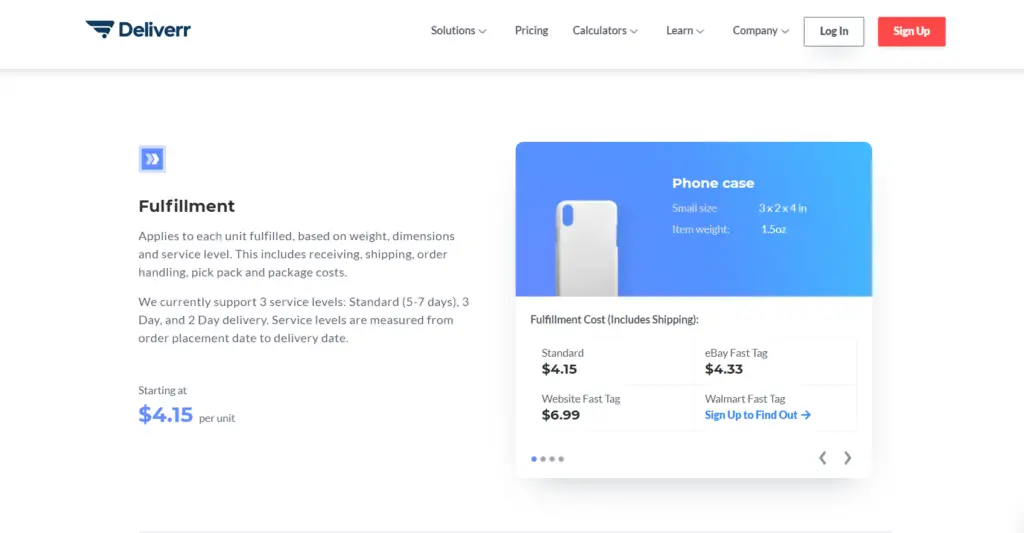 Connects to major online marketplaces and eCommerce platforms – Shopify, BigCommerce, WooCommerce, Amazon, Wish, Walmart, etc.

Receiving and fulfillment are included in the all-in-one fee.

Tracking of orders and inventory in real-time.
Processing of returns is not available.

Kitting is not available for subscription boxes.
3. Simpl Fulfillment
It is a company founded in 2016 in Austin, Texas, that provides an eCommerce fulfillment service that works well for small and large businesses. Simpl Fulfillment, based in Austin, Texas, is a company that is scaling to provide services to more companies daily. 
In addition to custom packaging, the company offers crowdfunding campaign fulfillment and many other services. This may be the best solution for companies dealing with fragile or hazardous materials.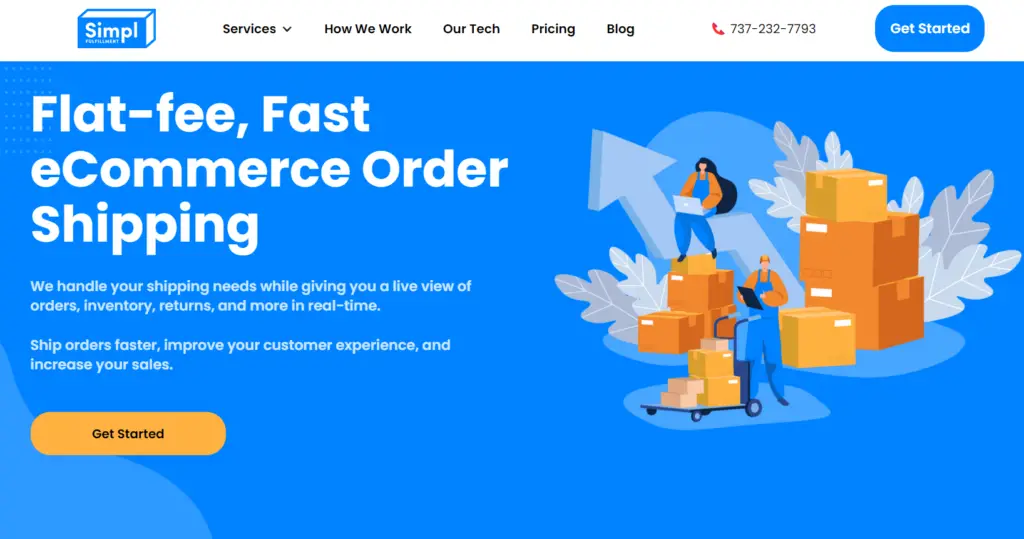 Why choose it?
Simpl Fulfillment is an excellent option for businesses of all sizes because it offers customizable pricing and no monthly order minimums. The company is also constantly scaling to provide services to more companies each day. 
In addition, Simpl Fulfillment offers support for custom packaging, crowdfunding campaign fulfillment, and more. This may be your best option if your company deals with fragile or hazardous materials.
Features:
Amazon FBA Prep Services: One of the additional services Simpl Fulfillment offers is preparing your inventory for shipping to Amazon FBA warehouses. The Amazon FBA program has a strict packing process. After the inventory is prepared and shipped to an Amazon fulfillment center warehouse, Amazon receives it and fulfills orders.
Kitting and Subscription Box Fulfillment: It could work well for you if you sell product bundles or subscription boxes. Simple Fulfillment's kitting services allow you to group your products into groups to make them easier to sell as a whole.
Supports Fragile and Hazmat Material: The fulfillment services Simpl Fulfillment offers can be used for the handling of fragile as well as hazardous materials sold by your business. Unfortunately, only some 3PLs are equipped with the capabilities to handle these complex requirements.
Audit Trail: The audit trail feature allows you to verify what actions were taken and when. In addition, it enables you to see who took those actions – so everyone can be held accountable no matter what happens with an order.
Support for Crowdfunding Campaigns: A crowdfunding platform integrates with all the major crowdfunding platforms, so it's easy to automate crowdfunding fulfillment when you get funding for your new project. Shipping out rewards from your project can be a hassle.
Real-Time Analytics: In addition to offering advanced cloud-based software, this system provides real-time analytics for easy monitoring of the number of items you have in stock, any orders that have been filled, and any orders that are being processed.
Simpl Fulfillment Ecommerce Integrations: Several e-commerce software integrations are available to facilitate the integration of Simple Fulfillment with various eCommerce software applications.
Pricing: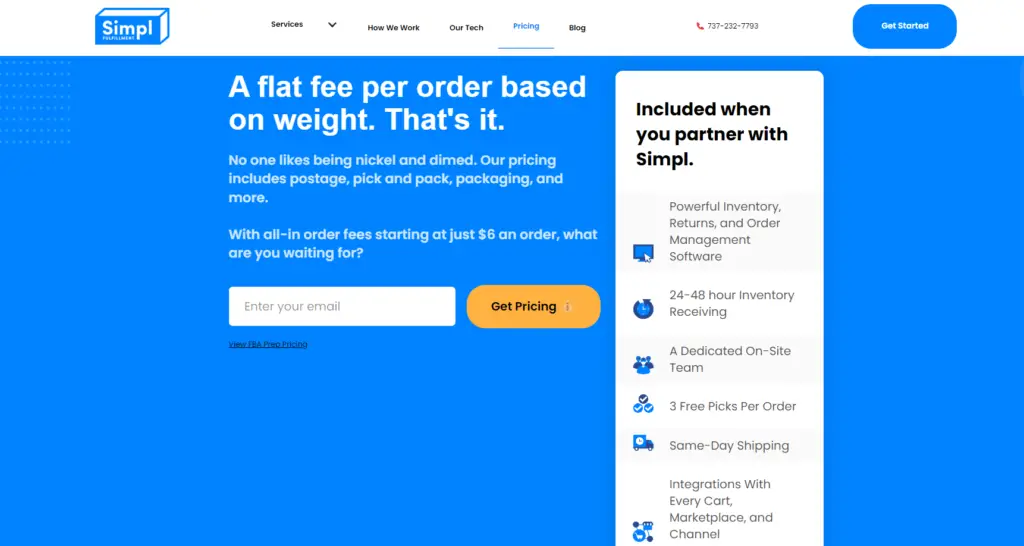 It provides a flat fee per order based on weight, making it easy to budget for your fulfillment needs. With no hidden and all-in-order fees starting at just $6 an order.
Keeping warehouses at a constant temperature.

Preparation for Amazon Fulfillment by Amazon.

Guaranteed pick accuracy of 99.98%.
Amazon FBA clients do not have access to account managers.

In the United States, there is only one warehouse location.
4. Rakuten Super Logistics
Besides being a part of the vast commerce and retailing group containing more than 70 businesses worldwide, Rakuten Super Logistics possesses a strong presence in technology, communication, and logistics, which allows the Rakuten Group to leverage enterprise-level tools and networks to bolster its eCommerce fulfillment business.
Rakuten Super Logistics is a high-level wholesale logistics service provider with 15 warehouses in the United States and offers low-cost access to its proprietary FirstMile shipping service. RSL offers lightning-fast delivery to 98% of the US with 100% accuracy guaranteed and virtually unlimited resources, making it an excellent option for high-level growth projects.
Why choose it?
Regarding fulfillment services, Rakuten Super Logistics (RSL) is a company that deserves a closer look. They are known for supporting enterprise-level clients but only require 250 orders per month – making them accessible and scalable for many small businesses. 
RSL's pricing is custom-quoted, so it's difficult to tell whether or not they're a cost-effective option for low-volume sellers – but they offer various integrations and customizable fulfillment services. Rakuten Super Logistics is worth checking out if you are considering using a fulfillment service. 
Features:
Fulfillment network: Through ground shipping, our 15 strategically placed warehouses can reach 98% of the US within two days if you choose to ship via ground.
Shipping carriers: As part of its shipping services, RSL works with UPS, USPS, DHL, and FirstMile (A Rakuten Company).
Integrations: You can choose from 19 turnkey integrations, including Shopify, BigCommerce, WooCommerce, Volusion, Amazon, and more.
Customer support: As part of standard business hours, clients can contact the company via live chat, phone, or email to receive assistance.
US-based client service: The customer service department at Rakuten Super Logistics is not outsourced to any other country as many large 3PLs do.
Ecommerce innovative tools: With RSL, you will have access to online tools, including a shipping optimizer and a customs guide with support for customs clearance.
Lot tracking: To increase the efficiency and effectiveness of the supply chain, manufacturers and retailers can work alongside RSL to track, fulfill expiration/freshness dates, and recall products on time.
Freight forwarding: Whether you are transporting domestic or international freight, RSL's freight experts can handle it.
Temperature control: The company manages several facilities that offer climate control and refrigeration.
Shipping savings: If you want to reduce your shipping costs, you can take advantage of discounted rates and ground coverage that lasts one to two days.
Guaranteed accuracy: Rakuten Super Logistics offers the following services in addition to 100% order accuracy and delivery within a day of the order placement.
Subscription box fulfillment: A variety of inventory management programs are available with specialized functions.
Pricing:
You can request a quote.
A range of tailored services to suit the needs of enterprises.

The company offers merchants a range of integrated marketing services.

The United States is home to several fulfillment centers.

In the United States, shipping takes 1-2 days by ground.

Fulfillment centers that specialize in a particular field.
Fulfillment centers are not located globally.

Packaging is not customized.

There is no integration with DHL.
8. Amazon FBA
Amazon's fulfillment network is the most advanced in the eCommerce industry. Amazon FBA (Fulfillment by Amazon) is used by online retailers who sell all types of inventory. 
Amazon FBA is also a top choice for eCommerce business owners specializing in high-volume inventory and high-margin products. The Amazon name is one many individuals know and one that eCommerce businesses trust for their inventory handling needs and products.
They have an FBA calculator that you can use to guesstimate fulfillment costs. It's straightforward to use; you have to find a similar product (or the exact one), and Amazon calculates fulfillment costs according to its size. So it makes it easy for businesses to decide if Amazon FBA is the right choice.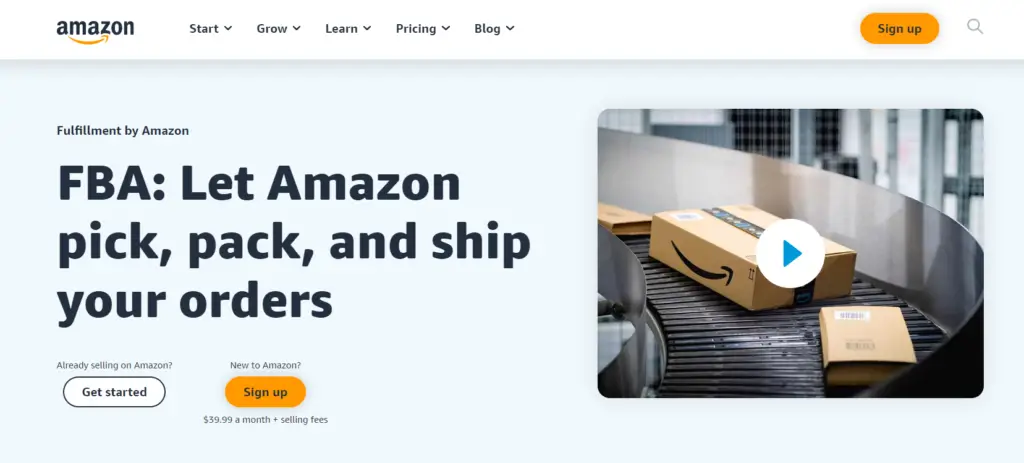 Why choose it?
This fulfillment company offers several tempting features that online sellers are sure to love. Perhaps best of all, businesses that choose Amazon FBA have the popular name of Amazon handling their packing, product shipping, returns, and customer service. This is sure to be a selling point for many customers. 
In addition, there are additional benefits for Amazon Prime customers. This makes it an even more enticing option for online sellers. With so much to offer, it's no wonder that Amazon FBA is becoming an increasingly popular option for third-party logistics providers. 
Features:
Fulfillment network: As of today, Amazon has over 110 domestic warehouses and 75 international fulfillment centers under FBA's umbrella.
Quick delivery: Customers can choose their delivery speed too, and Amazon orders mostly arrive within the timeframe they expect, so the delivery times are primarily determined by the Amazon Prime shipping guarantees, which have set the industry standard.
Scalability: Those who sell 10 to millions of products monthly can use Amazon FBA. It is essential to monitor stock levels closely as your business grows to optimize your costs, but you will never have to worry about being unable to fulfill orders.
Integrations: As well as fulfilling orders placed on Amazon, FBA also offers a multi-channel fulfillment service, meaning you can send orders from other channels, such as eBay, Etsy, or your online store, as well as from Amazon, along with orders placed on Amazon.
Specialty services: FBA is not a full-service fulfillment warehouse, so your items will ship precisely as FBA received them. Amazon's gift services can be offered on FBA items, which does not increase your fulfillment costs. In addition, Amazon manages customer service and refunds for orders it fulfills, which is unusual.
Search rankings: Your products can be more visible and more likely to sell if fulfilled by FBA, which is why Amazon's algorithm favors products fulfilled by FBA.
Pricing:
There are two plans available: The individual plan starts at $0.99 per item sold or the professional package for $39.99/month (additional fees included in both packages).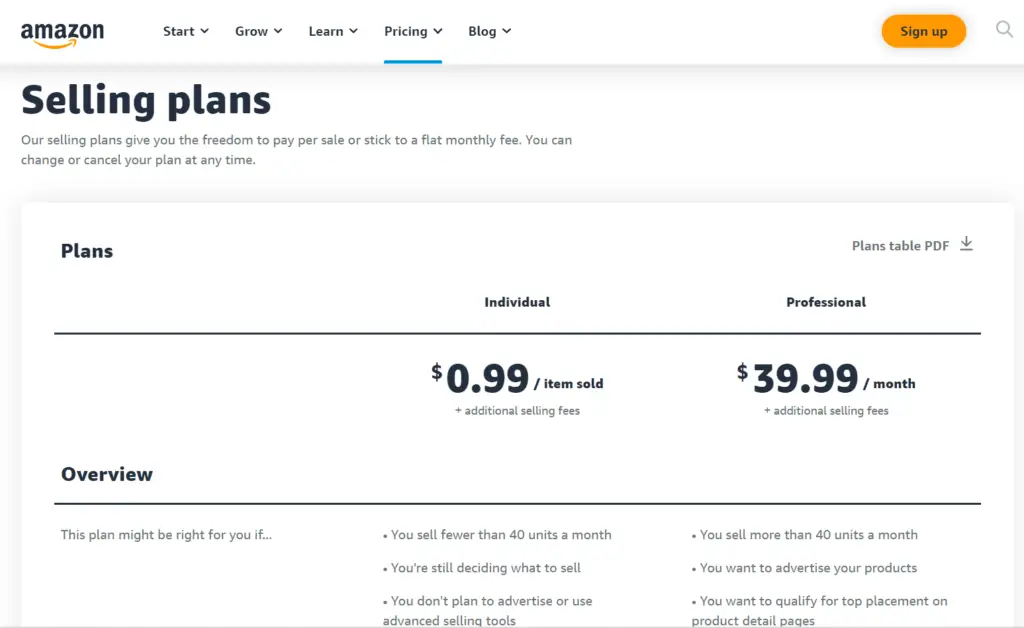 Inventory management solution for high-volume businesses.

It is helpful for e-commerce stores and brick-and-mortar shops that sell online.

Handles a variety of inventory types.

Prime provides shipping of inventory.
There is a constant change in inventory fees and other fees.

Amazon collects data about your customers.
9. FedEx Fulfillment
If you ship internationally quite often, you know how difficult it can be to manage everything. You must keep track of customs regulations and ensure that your packages arrive on time. It can be a lot to handle, especially if you're also trying to run an eCommerce store. 
That's where FedEx Fulfillment comes in. They're a third-party fulfillment service provider specializing in international shipping and order management. They'll take care of all the details for you, so you can focus on running your business. 
Plus, they have an excellent reputation for reliability and customer service, so you can rest assured that your customers will be taken care of. Choosing FedEx Fulfillment as your provider is the best way to streamline your operation and make your life a little easier.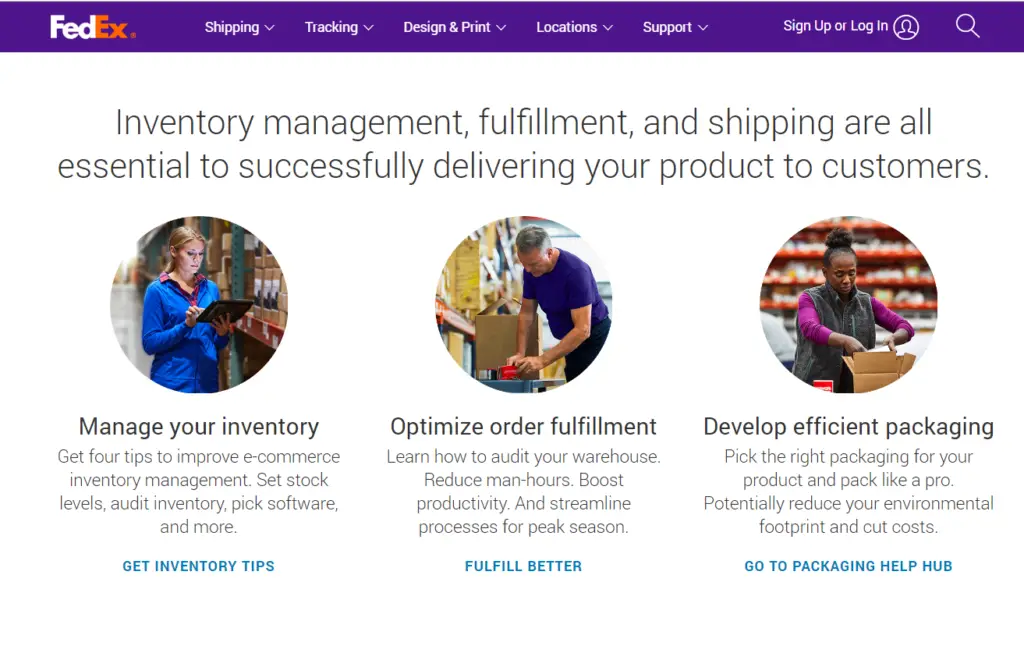 Why choose it?
FedEx Fulfillment is a great option for large businesses with a customer base nationwide or globally. One appeal of choosing FedEx is that the company has some of the lowest shipping rates. Furthermore, FedEx Fulfillment gives business owners access to the company's robust shipping and tracking systems. 
Another advantage to using FedEx is that orders are typically fulfilled quickly. In the past, FedEx has been able to fill orders within 24 hours. However, keep in mind that FedEx does have some product restrictions. 
Pricing: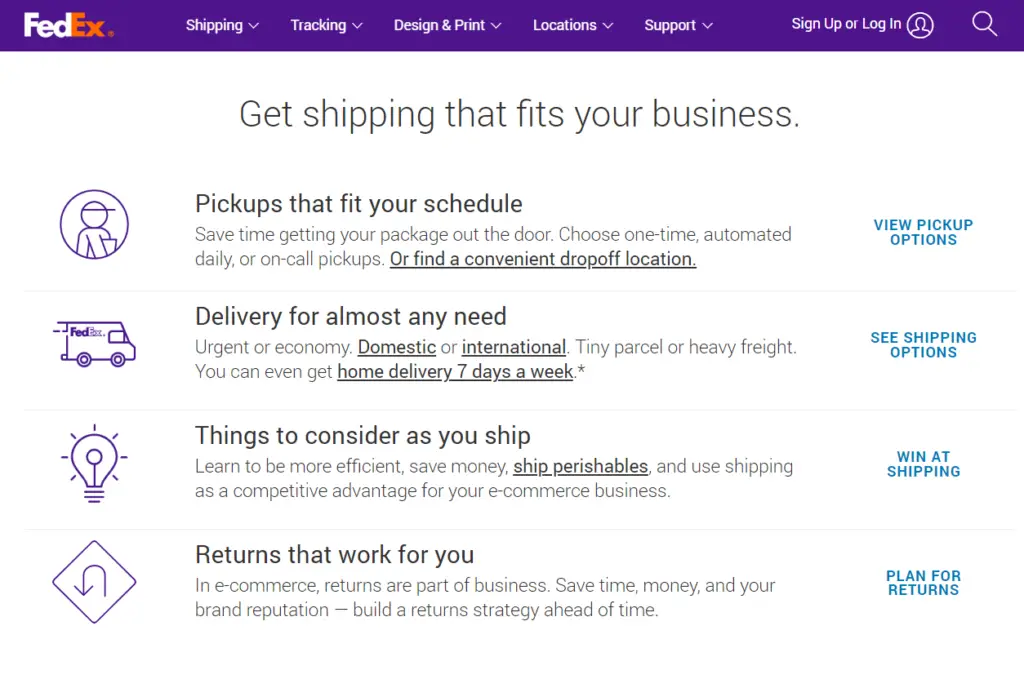 You need to create an account to see the charges.
Deals with international shipments regularly

Integrations with many eCommerce sites

The platform is easy to navigate

Network of delivery that is impressive
There is no product-based batch fulfillment

A lack of consistency in customer service
6. Red Stag Fulfillment
The Red Stag Fulfillment company might be a good option if you're an online retailer selling large, heavy items. Even though Red Stag Fulfillment fulfills various product orders, they excel at packing and shipping oversized, heavier items. 
Unlike other fulfillment companies, Red Stag Fulfillment can handle the needs of small businesses and large companies with exceptional scalability.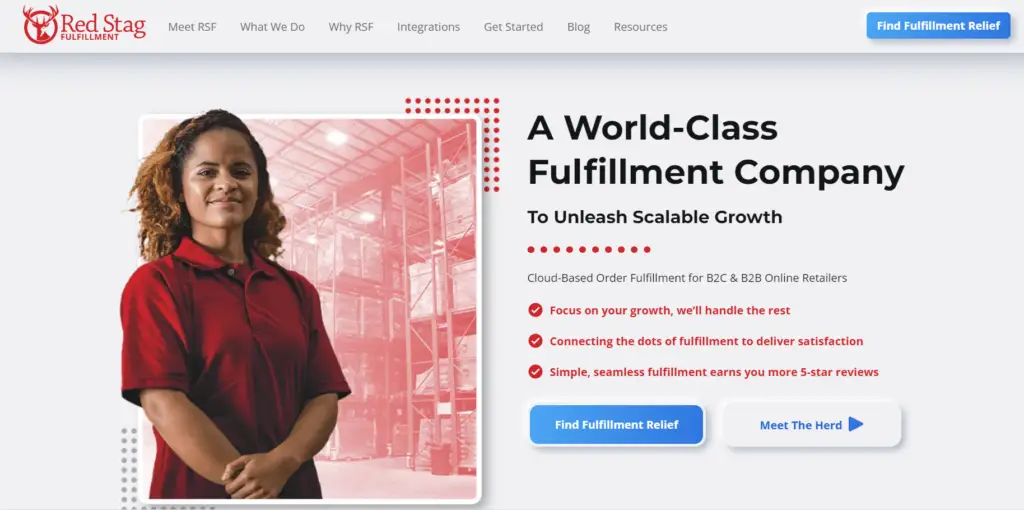 Why choose it?
Red Stag Fulfillment offers a wide range of services that can benefit eCommerce store owners. Their focus on speed and efficiency means that your inventory will get where it needs to go quickly and without hassle. 
Additionally, their ability to handle complex shipping needs and heavy items makes them an excellent choice for businesses with more challenging fulfillment requirements. Ultimately, if you're looking for a reliable and efficient fulfillment company, Red Stag is a great option to consider.
Features:
Fulfillment network: In addition to the existing warehouses in Utah and Tennessee, they will soon launch two coastal warehouses, which will be in addition to three existing warehouses in Utah and Tennessee.
Shipping carriers: OnTrac, UPS, USPS, FedEx, and Amazon are some of the freight companies.
Integrations: A wide range of turnkey integrations are available, including those for Shopify, BigCommerce, WooCommerce, Magento, eBay, and Amazon, in addition to custom integrations.
Service guarantees: The Red Stag company is so confident in its storage, packing, and tracking system that it will remedy any issues for free and give you $50 for any errors. They also guarantee to receive and unload inventory within 48 hours of delivery.
Turnaround and delivery times: It is possible to deliver orders same-day with an aggressive cutoff time (orders must be placed before 5 p.m. MST), and 97% of them are delivered within two days and 99% within three days of placing them.
Management and quality control: As part of Red Stag's commitment to preventing losses due to theft, mistakes, or damages to its warehouses, it employs video tracking throughout its facilities.
Pricing:
You can contact them to get a custom quote.
For example, the company was previously only able to accommodate products that weighed 50 pounds or less and had dimensions 18x14x8 inches or smaller. Although it's unclear if these restrictions are still in place, you must be aware before choosing FedEx as your fulfillment option. Nevertheless, FedEx is excellent for high-volume businesses selling small, lightweight products.
Features:
Fulfillment network: There are more than 30 FedEx warehouses in the United States and an international fulfillment center, all connected to the well-established FedEx transportation network.
Shipping carriers: Only FedEx shipping services are supported by FedEx fulfillment.
Integrations: It is possible to integrate Shopify, BigCommerce, WooCommerce, Magento, eBay, Walmart, Etsy, and many other platforms.
Reverse logistics: You will access FedEx's other services, including their industry-leading return management services. FedEx Fulfillment is just one part of FedEx's extensive logistics business.
Tracking and visibility: You can track orders and shipments for your customers and analyze inventory data in real time.
Climate control: In Memphis, the company's central fulfillment and distribution center, which is fully temperature-controlled and monitored via a temperature-recording system, is the company's principal fulfillment and distribution center.
Supply chain consulting: The logistics expertise of FedEx can help you identify opportunities for overcoming challenges and improving processes by identifying opportunities for improvement.
Experts can handle products that are heavy and bulky.

A video monitoring system.

Order completion and same-day shipping are guaranteed.

Logistics network for fulfillment warehouses.
3PL companies are more expensive than others.

A dedicated account manager is not available.

Walmart integration is not available.
3. Falcon Fulfillment
Falcon Fulfillment was founded in 2015 to provide exceptional fulfillment services to eCommerce businesses. They are based in Salt Lake City, Utah, and have over 1 million cubic feet of warehouse space across multiple distribution centers. 
Their team of experts specializes in handling health and wellness and cosmetics products, and they are passionate about providing a streamlined fulfillment experience for their clients. 
In addition to its impressive warehousing capabilities, Falcon Fulfillment offers a wide range of value-added services, including packaging and labeling, product photography, and customer service. As a result, they have become a go-to fulfillment provider for businesses of all sizes.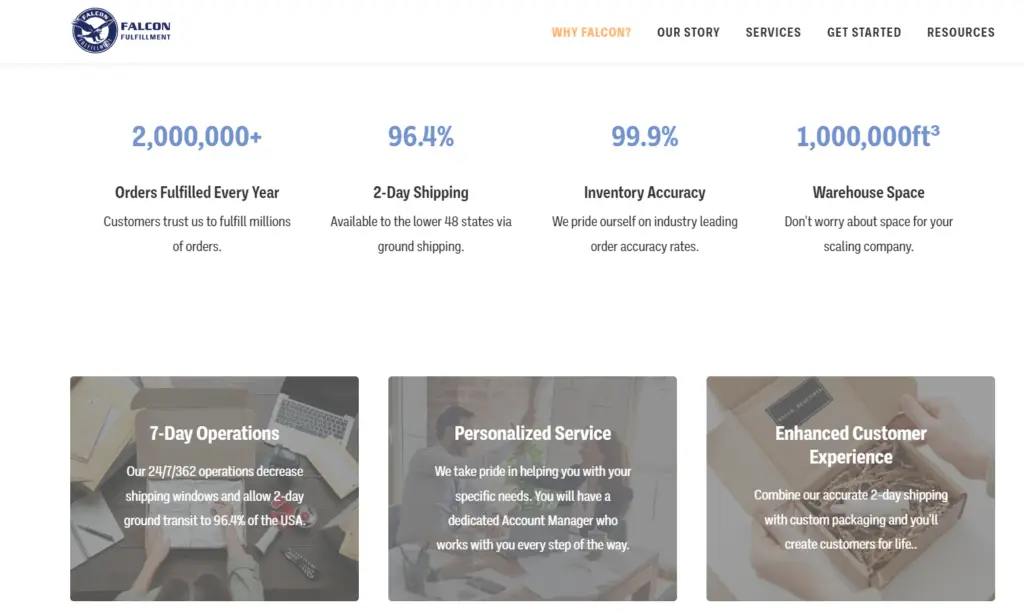 Why choose it?
They are an ideal choice for established eCommerce businesses with US-based customers. This is because of the 4,000 minimum monthly order requirement and the fact that there are no international warehouses. As a result, your customers will always receive their orders quickly and without issues. 
In addition, Falcon Fulfillment offers a wide range of services, including order management, warehousing, pick and pack, and shipping. They also have a dedicated customer service team that is always available to help with any questions or issues you may have. 
So, if you're looking for a reliable and affordable fulfillment partner, Falcon Fulfillment is worth considering.
Features:
Supply Chain Management: Managing your supply chain removes your business management. A 3PL can manage your entire supply chain, delivering your products to your customers via sea, air, rail, and truck. In addition, they use a variety of transit methods to move products.
Inventory Management and Tracking: Your account manager will notify you if you run low on stock with plenty of time to replenish before your customers see the difference.
Live Order Editing: A brief delay before processing begins allows Falcon to modify orders after they've been submitted, unlike the 3PL industry, where most orders cannot be changed after they're placed.
Custom Packaging: Clients can choose the materials, sizes, styles, inserts, packing tape, and more using Falcon Fulfillment's custom packaging. Stickers and promotional materials can also be included.
State-of-the-art Technology: Using an in-house tech team allows Falcon Fulfillment to solve tech issues faster, build custom integrations, and have a robust backend that customers can access at any time to view stats.
Kitting Services: Want to offer a product bundle as part of your subscription box? Kitting services are available to help with that as well. Kitted products can be given their own SKU and can even be unknitted to return to their original SKU.
Returns Management: Returns will be handled by your company's return policy. Falcon will accept returns in whatever packaging the customer returns and process them according to your policy.
Integrations: Falcon offers a wide range of integrations that will help you to run your business smoothly, including integrations with the most popular eCommerce platforms, marketplaces, shipping companies, and others.
Pricing:
For more information, you'll need to create an account according to your requirements.
Editing of orders in real-time.

Options for custom packaging are available upon request.

Eco-friendly packaging options are available.

Services related to kitting.

Management of the return on investment.
Startups cannot meet the high minimum order volume.

There are no international warehouses.

ShipStation is required for some integrations.
5. Ryder E-Commerce by Whiplash
Ryder E-commerce is an excellent option for businesses looking for a reliable e-commerce platform. The company is based in California and has 24 US-based warehouses and two international options. 
This makes them well-equipped to handle any growing business. In addition, they use a 4PL partner network to handle accounts with 500 to 2,500 orders. This ensures that your account will be in good hands.

Why choose it?
One of the main reasons to choose Ryder is the technology platform. The platform has many great features, including support for dropshipping orders. In addition, the automation rules make it easy for you to control the packaging, shipping carriers, and order routing from within a single dashboard. 
This simplifies the process and saves you time. There's also support for lot number control, which is helpful for businesses in the health and beauty industry. Overall, Whiplash is an excellent option for businesses of all sizes.
Features:
Rules Engine: It is possible to create granular rules that suit your business operations. For instance, you could create a rule: For packages with over four items but fewer than eight items, you should use Polymailer 10×13.
Live Order Editing: During the gestation period, customers can edit the order within a specific timeframe, during which the order itself can be edited. Once the gestation period has ended, the shipping address can be edited up until the shipping label is purchased, during which the shipping label can be altered.
Dropshipping: The Whiplash platform also offers support for dropshipping. In the case of dropshipping from another merchant, such as Kohl's, you can manage the orders while Kohl's handles the shipping from their warehouse to achieve transparent reporting. 
Audit Trail: On all main screens of the Whiplash dashboard, there is an audit trail, so employees can see exactly who has made decisions regarding each order and when they made them.
Returns Management: Using Whiplash, you will have a simple way of managing your returns. It integrates with three of the top apps on the market today.
Bundling and Kitting Services: The kitting services offered by Whiplash make it easy to sell subscription boxes and product bundles. If you want to sell a group of items but you also want to sell them individually, you can create a product bundle to keep inventory flexible. You can sell the bundles individually or as a set. Each bundle is assigned an SKU and serves as an inventory item.
Integrations: There is a wide range of channels that Whiplash integrates with, including eCommerce platforms, online marketplaces, payment systems, shipping software, and applications for handling returns.
Shipping Method Mapping: Depending on how your business operates, each account can create rules for shipping methods that are unique to it.
Pricing:
No pricing option is available on their official website. You can contact them to get a custom quote.
Regulations for automation.

Support for dropshipping is available.

Editing of orders in real-time.

Tracking of audits.

Management of the return on investment.

Packages and kits are bundled and kitted according to customer requirements.
It is not practical for small businesses.

There is limited availability of customer support.
How to choose a fulfillment services provider
If you want to hire an eCommerce services company, you'll likely first go to Google for recommendations. If you're lucky, you may have a friend or colleague who can make recommendations. So how do you pick the right company? Here are some things to consider.
→ Similar industry experience
Find the right fulfillment company for your business as much as you can. Just as every eCommerce system functions a little bit differently, so do fulfillment companies. In addition, many providers offer services in various packages that cater to specific niches within a particular industry or business type. As a result, fulfillment companies are plentiful out there—each of them has its unique expertise.
→ Similar existing clients
Consider working with a logistics company already working with businesses like yours. This is particularly important if you are an e-commerce merchant. 
In addition to fulfilling your orders accurately and on time, the company has experience in this area, so it can also provide strategic guidance and advice throughout the partnership. Furthermore, due to its understanding of the nuances of eCommerce in general, it will be better prepared to assist you with business challenges.
The best way to get started is to call or email someone. Ask as many questions as you need, and don't be afraid to request references. Most importantly, be upfront and clear about your needs so there are no surprises.
→ Look beyond the price
It's easy to look at the price tag when choosing a fulfillment services company, but you need to think about more than just that. Cost is one of the most common shipping problems. Unfortunately, it is common for companies to select a service provider solely based on price, only to discover that quality is absent. 
Choosing a company that is the right fit for your needs can be just as important as finding a great price. These unhappy customers are likely to spend more in the long run, so you should consider multiple options and rates but keep in mind that they should only be one factor in your decision-making process. 
→ Technology and integrations
Many eCommerce companies use a full tech stack, so you need fulfillment services that can fit seamlessly into them. In addition, when you sell on multiple eCommerce platforms, it is imperative for smooth logistics across multiple channels, including wholesale channels and vendor management systems. 
For those looking for even more advanced fulfillment services, the Shopify Fulfillment Network has machine-learning capabilities that provide recommendations to help keep your inventory close to your customers, saving you time and money on shipping and handling. 
According to sales trends, days on hand, and seasonal trends, intelligent replenishment tells you which SKUs should be restocked in each fulfillment center based on how often they are sold.
→ Data and analytics
You can learn a lot about your business by tracking your fulfillment services in real-time and making informed decisions about inventory allocation, purchasing, and many other things by collecting data. The Shopify Fulfillment Network is another example of a service that provides customer data and end-to-end tracking of packages. 
→ Take your time
When selecting a logistics company, do your due diligence. If you choose the right one, you may avoid switching companies after three months. 
Check out the company, speak with them, and make sure the two of you are compatible. Verify the claims the company touts and talk to customers and trade references. 
When it comes to third-party warehousing and fulfillment, this is especially important if you're not sure if you want to switch. When you are a potential customer, you should ask many questions before selecting a company. Then, be bold and leave if the company feels like a good match.
Related: Best Shipping Companies for Small Business
When is the right time to switch to outsourced fulfillment?
Knowing when to switch from fulfilling orders to a third-party solution can be challenging, especially if you're bootstrapping.
The truth is that businesses of all sizes can benefit from warehousing and fulfillment services. Various companies are available, some of which specialize in smaller or larger-scale operations.
Despite this, there are clear signs that outsourcing is time for you.
1. Cyclical or uneven sales
A fulfillment company can adapt to your needs if you process many orders throughout the year. In the same way, unexpected spikes in sales can compromise your delivery promise. Having an expert on hand will allow you to deliver it consistently and efficiently.
2. You're too busy
Order fulfillment takes so much time that you cannot focus on growth. You have to be able to devote time to your business if you want to stay in business for a long time, including expanding to other eCommerce platforms and sales channels, finding new products and ideas, and improving it in other ways.
3. Lack of infrastructure
When you grow geographically, your current infrastructure may outgrow it before you can adapt. Logistics issues, such as increased shipping costs and shipping times, can hinder large-scale growth if you ship to locations across the country or even the world. 
By leveraging multiple locations and optimizing fulfillment accordingly, a global fulfillment partner is better equipped to serve a high-volume customer base. 
Third-party warehousing and fulfillment aren't suitable for everyone. Still, if you find yourself in one of these situations, it might be time to start calling and chatting with logistics companies.
Related: Best CRMS for Startups
Conclusion
If you are a startup, it is essential to focus on your core business. A fulfillment service provider can take care of everything else for you. This blog post discussed the nine best fulfillment service providers and their features.
We also gave you tips on choosing the right provider for your business. Now it's your turn: tell us in the comment section which provider you chose and why.
Related: Best Security Software for Small Business
FAQ
What is order fulfillment in business?
Order fulfillment is the process of completing an order from a customer. This usually includes receiving the order from the customer, picking and packing the items for shipment, and sending the package out to the customer.
How do fulfillment services work?
Fulfillment services work by storing and shipping products for companies when a company receives an order, the fulfillment service packages, and ships the order to the customer.
What is the difference between a distribution center and a fulfillment center?
There is a big difference between a distribution center and a fulfillment center. A distribution center typically handles the storage and shipping of products from manufacturers to retailers, whereas a fulfillment center is responsible for packaging and shipping products directly to customers.
How do fulfillment centers make money?
Fulfillment centers make money by taking a commission on every sale that is made through their facility. They also charge a fee for each package that is received and processed.