Disclaimer: We sometimes use affiliate links in our content, meaning, at no additional cost to you, we will earn a commission if you click through and make a purchase. For more information, visit our Disclaimer Page. 
Most startups don't have the time or money to invest in a CRM, yet they still need one to manage customer data and communications. 
A CRM is essential for any business that wants to grow, but most startups can't afford the high price tags of traditional CRMs.
We've put together a list of the seven best CRMs for startups. These CRMs are affordable and easy to use, and they offer all the features a startup needs to manage customer data and communications.
So if you're looking for a great CRM that won't break the bank, then this guide will help you choose the right one for your business.
Benefits of using CRM for startups
1. Helps to get organized
Startups are often bootstrapped and run by a small team, making it difficult to keep track of customer interactions and sales opportunities. A CRM system can help startups organize by consolidating customer data in one place.
This central repository of information makes it easier for team members to access the data they need and provides a clear overview of customer activity. In addition, a CRM system can automate repetitive tasks such as sending thank-you emails or generating follow-up reminders.
This frees up time for the startup team to focus on more strategic tasks, such as developing new products or marketing campaigns. In addition, by using a CRM system, startups can gain a competitive edge by becoming more efficient and organized.
2. Better collaboration & transparency
A CRM system can help startup businesses better collaborate and communicate with their customers, improving relationships. Additionally, a CRM system can provide transparency into the customer interaction process, making it easier to identify areas for improvement. Ultimately, using a CRM system can help your startup business better serve its customers and grow its relationships.
3. Increase efficiency & productivity
Any startup can benefit from using a CRM system to increase efficiency and productivity. A CRM system centralizes all customer data, making it easy for startups to track customer interactions and follow up on leads. Moreover, a CRM system can automate repetitive email marketing and appointment scheduling tasks, freeing employees to focus on critical tasks. Perhaps most importantly, a CRM system can help startups understand their customers better, identify sales trends, and make smarter decisions about allocating resources. In short, a CRM system is a valuable tool for any startup looking to increase efficiency and boost sales.
4. Increase revenue & profits
A good CRM will help you nurture your relationships with customers and clients, leading to increased sales and profits. In addition, a CRM system can help you manage your time and resources better, making your business more efficient and effective. CRM system also provides valuable insights into your customer base, allowing you to identify trends and make better decisions about growing your business.
Related: CRM Benefits
7 best CRMs for Startups
A CRM is a valuable tool for any business, but it can be especially beneficial for startups. A CRM system helps companies organize customer data, increase efficiency and productivity, and understand their customers better. In addition, a CRM system can automate repetitive tasks and help businesses increase sales and profits.
Given this information, we've compiled a list of the seven best CRMs for startups. These CRMs are affordable and easy to use, and they offer all the features a startup needs to manage customer data and communications.
So if you're looking for an affordable and effective CRM solution for your startup, then take a look at our list of the top seven options below. Whether you need a simple CRM to get started or a more robust solution to scale your business, we're confident you'll find the right CRM on our list.
HubSpot CRM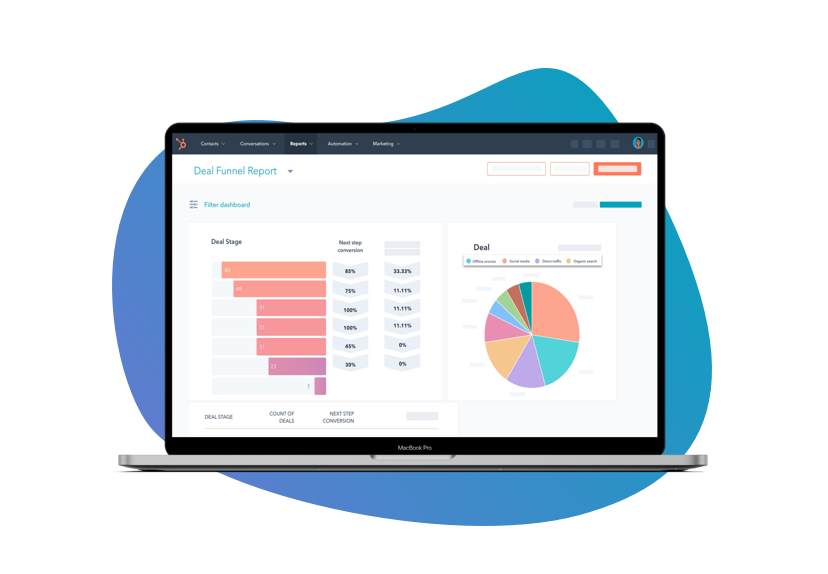 The HubSpot CRM is a free, robust solution for tracking all of your contacts and interactions. The marketing tools in the suite make it easy to follow your campaigns and see how they are performing. It also gives you access to data to analyze trends and optimize your strategies.
These features allow business owners to determine which avenues bring them the most success. The HubSpot CRM is an excellent choice for startups that want to focus on their growth.
Click-to-Call and Call Recording
The click-to-call feature in the CRM system is valuable for sales organizations. Allowing agents to call clients directly from the CRM interface helps streamline the sales process and make it more efficient.
Additionally, the call recording feature ensures that all calls are properly documented and can be easily accessed for future reference. This is especially useful when tracking down information about a specific client or account.
Marketing Hub
The Marketing Hub allows you to access the lead analytics dashboard, attribution reports, and blog and content creation tools. The lead analytics dashboard provides a clear overview of your marketing campaigns and their performance, while the attribution reports show you which channels are most effective in driving leads. With the blog and content creation tools, you can quickly generate high-quality content that will engage your audience and help to promote your brand.
Pipeline Tracking
HubSpot's Pipeline Tracking feature is an essential tool for small businesses. It automatically populates data from new deals and eliminates manual entries in forms. This allows sales reps to focus on selling rather than data entry.
Moreover, users can add, edit and delete stages and properties from entered deals without technical. This makes it easy to keep deals organized and accurately tracked. As a result, the Pipeline Tracking feature helps sales teams close more deals and improve their overall performance.
Pricing:
Hubspot's Starter plan is their most basic pricing option. It includes forms, email marketing, landing pages, and live chat. Hubspot's Starter plan is an excellent option for startups just getting started with inbound marketing.
The forms and email marketing features are very basic, but they're still powerful enough to generate leads and nurture them through the sales process.
The landing page builder is also fairly basic, but it can still be used to create effective lead capture pages. And the live chat feature is a great way to provide customer support and generate leads simultaneously. Overall, Hubspot's Starter plan is an excellent value for startups that need a little bit of everything.
Professional – $800/month
Hubspot's Professional plan is a great choice for businesses looking for omnichannel marketing automation. With this plan, you'll get access to Hubspot's powerful ABM tools and automation, which will allow you to personalize your marketing campaigns for each customer dynamically.
You'll also be able to manage multiple language versions of your content, making it easy to reach customers in different countries. In addition, the Professional plan includes campaign management tools that will help you keep track of your campaigns and measure their success.
Enterprise – $3,200/month
Hubspot's Enterprise plan is their most expensive pricing plan. Still, it includes crucial features for large businesses, such as single sign-on, hierarchical teams, field-level permissions, and an email send frequency cap. For example, single sign-on allows employees to use one set of credentials to access all of their Hubspot account's features and data. This is convenient for both the employer and the employee, as it eliminates the need for the employee to remember multiple sets of login information.
The hierarchical teams feature businesses to create a company hierarchy within their Hubspot account so that each team has its own set of permissions and access levels. This is important for companies that need to keep specific teams separate from others to protect sensitive data. Furthermore, the field-level permissions feature allows businesses to give particular employees access to specific fields within their contact database.
This is important for businesses that need to restrict access to certain data points, such as credit card numbers or social security numbers. Enterprise plan users can also cap the number of emails sent per day. This is important for businesses that don't want their email server overloaded with messages. Overall, Hubspot's Enterprise plan is an excellent choice for large companies that need a lot of features and flexibility.
Pros
Flexible Pricing
Outstanding email integration features
The intuitive user interface makes it easy to get up and run
Tons of Free Tools
24/7 support for paid users
Cons
No Customer Support on Free Plan
Pricing can add up once premium functions are added
Zoho CRM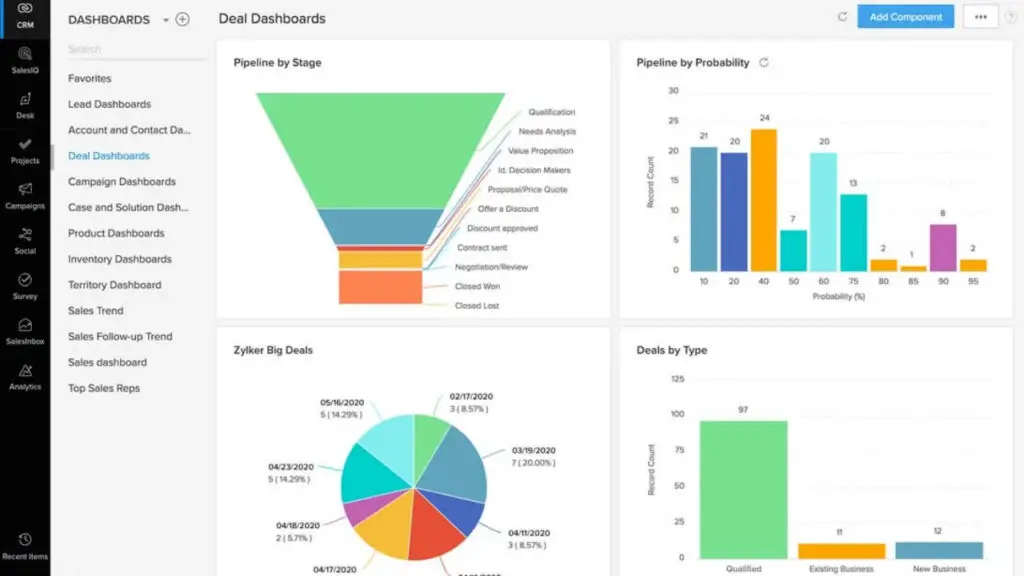 Zoho CRM is a comprehensive CRM software that helps businesses manage customer data, interactions, and sales processes. It offers a wide range of features that cater to the needs of small businesses, including marketing automation, lead management, and sales pipeline reporting.
Additionally, Zoho CRM is highly customizable and scalable to grow your business. It integrates with various business applications, making it ideal for companies that want to consolidate their customer data into one system.
Contact Management
Zoho CRM's Contact Management offers users a variety of features to help them better manage their contacts.
Contact Profiles provide users with a detailed view of each contact, including information on contact history, interaction history, and any custom fields that have been created.
Contact Storage gives users the ability to store their contact information in the cloud, making it accessible.
Contact Activity Feed provides users with a timeline of all activities related to a contact, including notes, tasks, and calls.
Contact Scoring helps users prioritize contacts by assigning a score to each contact based on their engagement level. These features make Contact Management a powerful tool for managing customer relationships.
Salesforce automation
Zoho CRM's sales force automation (SFA) feature is a game-changer for sales teams. It automates critical sales tasks, such as scheduling appointments, sending follow-up emails, and tracking contacts. This frees sales reps to focus on more critical tasks, such as creating and nurturing leads, closing deals, and growing customer relationships.
In addition, SFA allows you to track your sales pipeline and measure key performance indicators (KPIs), such as win rate and close rate. This valuable data can help you optimize your sales process and increase your overall success rate.
Automated Lead Generation
With Zoho CRM, you can automate lead generation from various sources, including online chats, social media, websites, and trade shows.
Additionally, you can use lead scoring to distribute leads to the right reps and make sure you don't miss any quality leads. Finally, automated lead generation software like Zoho CRM can save time and increase sales productivity.
Automated lead generation aims to identify potential customers early in the sales process and then engage with them through targeted marketing communications to move them further down the funnel.
Pricing:
Zoho CRM's Standard plan is the best selling plan, and for a good reason. It includes all of the essential features businesses need to manage customer relationships at a very competitive price. For example, the Standard plan includes unlimited users, so companies can add as many employees as required. It also comes with Zoho's powerful workflow engine, which helps automate tasks and keep teams organized.
In addition, the Standard plan includes multiple pipelines, so businesses can track sales from initial contact to close. And finally, it comes with mass email capabilities to reach a large number of customers with ease!
The Zoho CRM Professional plan features help businesses close more deals and manage their customer relationships effectively. For example, SalesSignals gives users real-time insights into their sales pipeline, Blueprint lets them streamline their sales process, and Web-to-Case Forms make it easy to capture customer inquiries from the web.
Moreover, Validation Rules ensure that data is entered correctly, and Inventory Management keeps track of stock levels and pricing.
Finally, the Professional plan includes three Canvas views per organization, so users can customize their CRM experience to suit their needs. The Zoho CRM Professional plan provides everything businesses need to manage their customer relationships effectively with all these features and more.
Zoho CRM's enterprise plan is designed for larger businesses that need advanced customization and mobile capabilities. With this plan, you can access CommandCenter, which lets you manage multiple users and portals. You can also customize your Zoho CRM instance to fit your business needs better.
In addition, the Mobile SDK & MDM feature gives you the ability to develop custom mobile apps and manage mobile devices. This plan is perfect for businesses that need a little extra power and flexibility for their CRM solution.
The Ultimate plan is an all-in-one solution that includes multi-user Portals, Advanced Customization, Mobile SDK & MDM. This plan is best for businesses that need a highly customized and scalable CRM solution. With CommandCenter pro, companies can monitor and manage their entire Zoho CRM system from a single console.
Additionally, Multi-user Portals allow businesses to create custom portals for different teams or departments, each with its own set of permissions and data. And with Advanced Customization, companies can tailor Zoho CRM to their unique needs by modifying field properties, record ownership, and much more.
Pros
Stellar feature set
Gamification modules
Powerful email marketing tools.
Easy to Set Up
Cons
Workflow automation limited to Professional Tier
Related: Zoho CRM Review
EngageBay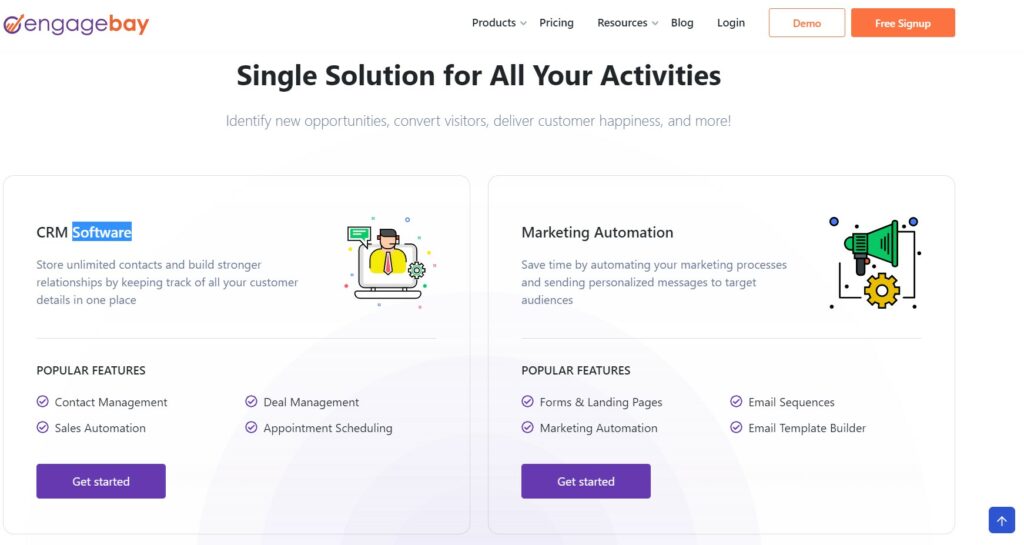 Engagebay is the fastest and most affordable way for startups to manage their marketing, sales, and service departments. With Engagebay, you can streamline your processes by integrating email with live video chat so that customers feel instantly connected and will be more responsive to your call-to-action.
You can also set up gamified triggers to automatically reward customers for their loyalty and keep them coming back for more. Furthermore, you can use the built-in CRM to keep track of all your customer interactions in one place. This will help you build a better relationship with your customers and increase your sales conversions.
Contact management
A contact management feature is a unique tool for business owners. It allows you to have a clear and concise view of every interaction with a lead.
This information can be used to track the level of interest that the lead has and what kind of questions they have asked. This feature can also be used to build a database of customer contact information.
This can be extremely useful for follow-up purposes or simply keeping track of your customers' preferences. In short, Contact management is a powerful tool that can help you build a stronger relationship with your leads and customers.
Pipeline visibility
Knowing where your deals stand at any given time is critical to closing more business and hitting your targets. With Engagebay, you can see every component of your deal pipeline in one convenient location.
This way, you can quickly identify which deals are closing soon, which ones need more attention, and where you might need to make adjustments to hit your goals. It also helps you keep an eye on your sales team's performance and ensure that they meet their quotas.
In addition, pipeline visibility allows you to forecast future sales and make informed decisions about resource allocation.
Sales reporting
The reporting feature in Engagebay is designed to help you boost your revenue. By creating graphs, charts, and other visual representations of data, you can quickly and easily see which areas of your business are doing well and which areas need improvement.
Additionally, the reporting feature allows you to track your progress to see how your sales numbers are trending. With this valuable information at your fingertips, you can adjust your sales strategy and ensure that you are effective enough to achieve your desired results.
Pricing:
Engagebay offers a free plan for email marketing that includes autoresponders, email broadcast, sequences, lead grabbers, and landing pages. The free plan is a great way to get started with email marketing, and it provides all the features you need to create and send successful email campaigns. However, there are a few limitations to the free plan. For example, you can only send 2,000 emails per month, and you can only create ten landing pages. Nonetheless, the free plan is a great way to get started with Engagebay and begin reaping the benefits of email marketing.
With the Engagebay Basic plan, you'll get access to all the essential features you need to grow your business. For just $11.99/month, you'll be able to create beautiful email templates, add web pop-ups to capture leads, build landing pages to drive conversions, score leads to prioritize follow-up, and send SMS marketing messages.
Plus, you'll be able to connect with popular software like Salesforce and Zendesk for a Seamless experience. With so much included in the Basic plan, it's easy to see why Engagebay is the fastest-growing CRM.
The Growth Plan from Engagebay offers a suite of powerful marketing automation tools to help businesses improve their online visibility and reach more customers. With features like push notifications, site messages, and broadcast A/B testing, the Growth Plan provides enough features businesses need to take their marketing efforts to the next level.
And with Engagebay's custom domain feature, businesses can create a branded landing page that reflects their unique style and personality. In addition, the Growth Plan includes calling records so companies can track their progress and ensure that they're making the most of their marketing budget. These features make the Growth Plan an essential tool for businesses.
The Pro Plan from Engagebay is the perfect solution for businesses that need a little bit more from their customer engagement platform. With features like Single Sign-On, Role Management, and custom reporting, it has everything you need to streamline your customer engagement strategy. Plus, with a dedicated account manager and uptime SLA, you can be sure that your platform will always be up and running.
And if you ever need any help, the phone support team is always available to lend a hand. For businesses that need a complete solution, the Pro plan from Engagebay is worth giving a try.
Pros
Easy integration with popular CMS
Free trial signup and onboarding
Rich functionality
Responsive customer support team
360-degree contact view
Flexibility With the pricing model
Cons
Limited templates
The training manuals could be improved
Keap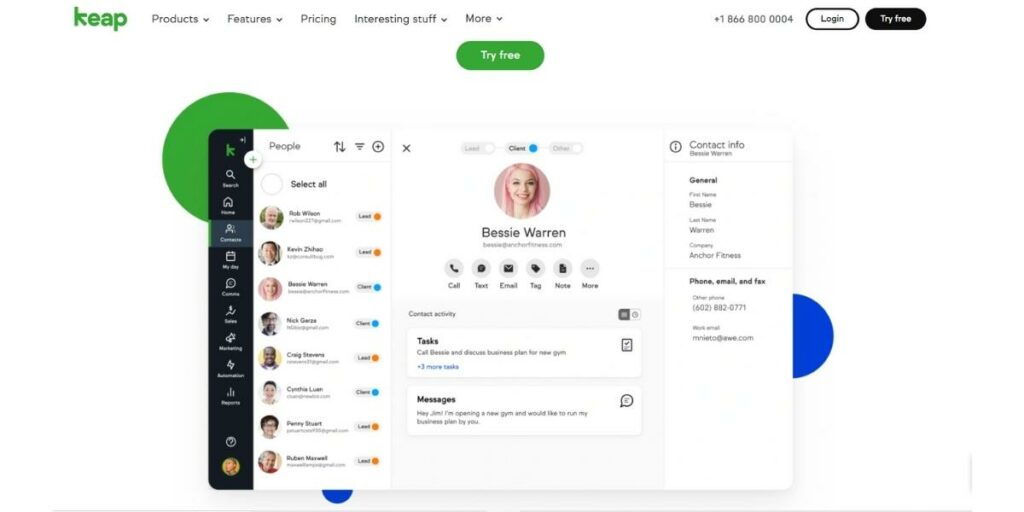 Keap CRM is an intuitive customer relationship management (CRM) tool that makes it easy to collect more leads and convert more clients. It helps you manage your leads and customers, track interactions and sales, and measure your marketing performance.
With Keap, you can easily create custom workflows to automate your sales and marketing processes. In addition, the built-in reporting features help you track your progress and improve your results.
Broadcasts
Keap's email marketing tools save users time while still delivering high-quality results. Quickly access to templates is ideal for users who want to get started quickly, while the segmentation and engagement suggestions are perfect for those who want to fine-tune their email campaigns. In addition, Keap's broadcasting feature makes it easy to stay in touch with large groups of contacts.
Users can send out mass emails without worrying about the details with just a few clicks. Keap makes it easy to create high-quality email campaigns that drive sales with these powerful tools at your disposal.
Payments
Making and receiving payments should be simple and easy – that's what Keap is all about. So whether you're building and sending personalized quotes with preconfigured services and costs or just keeping track of payments you've received, Keap makes it easy.
You'll get real-time activity updates when a lead views your quote and accepts, ensuring that your payment has been received. With Keap, making and receiving payments is a breeze.
Sales Pipeline
The Sales Pipeline feature in Keap is designed to give managers a complete view of every opportunity throughout the sales process. By creating new deals and attaching them to leads, managers can ensure that team members understand the potential sale value entirely. This Kanban-style pipeline lets you track every opportunity in a single view, making it easy to monitor the progress of each deal.
In addition, the Sales Pipeline feature provides you with a valuable tool for forecasting future sales. By understanding the current status of each deal in the pipeline, you can make more accurate predictions about future sales. As a result, the Sales Pipeline feature can help you manage your sales strategies better and achieve your sales goals.
Pricing:
The Keap Lite plan is a great solution for small businesses just getting started with email marketing and lead capture. With accessible automation features and a mobile app, it's easy to keep your business running smoothly.
Plus, the Lite plan includes appointments to keep track of your schedule on the go. And with a business line included, you can always be easily approachable by your customers.
In addition, Keap offers a wide range of integrations and plugins to extend the platform's functionality. With its affordable price and wide range of features, Keap is an ideal solution for small businesses looking to streamline their operations and grow their customer base.
Keap's Pro Plan offers a variety of features to help businesses automate their marketing and sales processes. For example, landing pages can capture leads and generate sales, while advanced automations help nurture leads and close deals. In addition, the sales pipeline feature gives businesses a visual overview of their sales process, and text message broadcasts make it easy to stay in touch with customers.
Automated text messaging can also send appointment reminders and follow-up messages. A/B testing is also available to help businesses optimize their campaigns for maximum results.
The Keap Max Plan is ideal for businesses looking to increase sales and improve marketing performance. The plan includes sales funnels, lead scoring, 1-click upsells and cross-sells, recurring upsells, promo codes, marketing performance analytics, and engagement analytics.
Businesses can increase sales conversion rates and optimize their marketing campaigns for better results with these tools. In addition, the Keap Max Plan provides access to 24/7 support from a team of experts. This allows businesses to get the help they need when they need it to focus on running their business effectively.
Pros
Excellent coaching and support options
Combines CRM with email marketing.
Workflow automation
Cons
Limited reporting
Template designs are limited
SugarCRM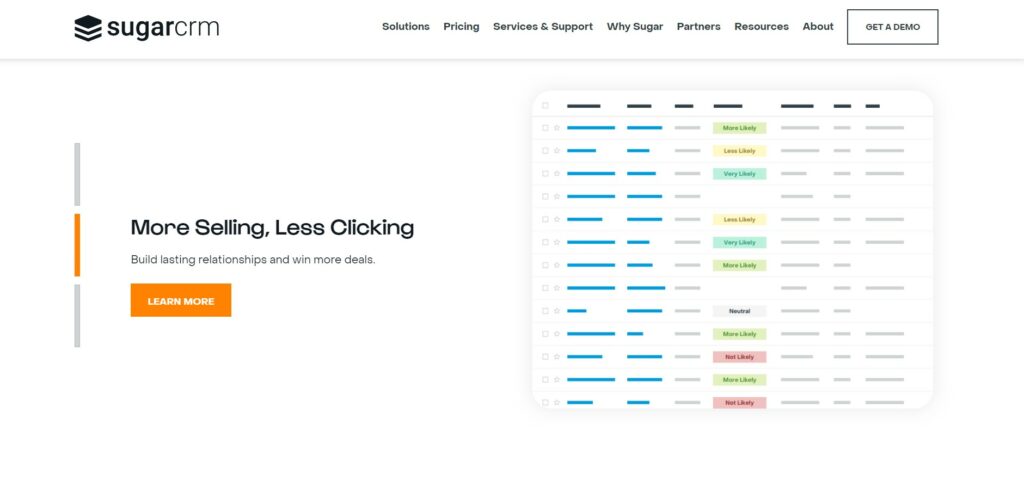 SugarCRM is a comprehensive customer relationship management (CRM) platform that helps businesses manage their interactions with external and internal customers.
The service integrates well with many third-party platforms, making it easy to transfer data into and out of SugarCRM. It also offers a wide range of features to help your marketing and sales teams work more productively.
For example, SugarCRM can track customer interactions and communications over time, manage leads and opportunities, and create custom reports. Additionally, the platform offers a wide range of customization options, so you can configure it to fit your specific needs.
Reporting
SugarCRM's reporting and dashboard features are designed for sales teams. You can get a snapshot of your sales performance, consumer trends, and easy-to-understand sales forecasts with them.
This makes it easy for sales teams to stay on top of their game and keep their finger on the market's pulse. Additionally, these reports can help identify areas where improvements can be made.
Sales automation
With automation, you can assign leads automatically, send quotes and approvals with the click of a button, and even send customer emails automatically. This can save you a lot of time and hassle and help you close more deals. In addition, with automation, you can keep track of your sales process and ensure that nothing falls through the cracks.
SLA management
SugarCRM helps you create templates that set the required standards for your customer service cases. This ensures that every rep meets your company's service level agreements (SLAs).
You can customize the templates to fit your business needs, and you can also choose to require approval from a manager before a case is closed.
This feature is an essential tool for ensuring that your customer service team meets your company's standards. SugarCRM makes it easy to manage your SLAs and ensure that your customer service team provides the best possible service.
Pricing:
Sugar Market Edition – $1400 (AUD)
With features like effective campaign management, optimized lead nurturing, lead capturing, lead scoring, and landing pages, this plan has everything you need to get the most out of your marketing campaigns.
Its search engine optimization and interactive dashboard make it easy to track your progress and see where you need to make improvements.
And if you need to integrate Sugar Market with another CRM, its custom integration option makes it easy to do so. However, keep in mind that its pricing is on the higher end, so it may not be the best option if you're working with a tight budget.
Sugar CRM Sell Edition – $68.60/user (AUD)
Sugar's Sell Edition features are designed to give sales teams the tools to succeed. Accurate sales forecasting and quote management help teams close deals, while easy access to product catalogs and 360-degree views of customer information makes it easy to upsell and cross-sell.
Additionally, personalized dashboards and critical metrics for custom reporting allow managers to track progress and identify areas for improvement. With all of these features, it's no wonder that Sugar's Sell Edition is one of the most popular CRM plans.
Sugar CRM serve Edition – $112/user (AUD)
The serve edition of SugarCRM is an excellent option for businesses that need robust customer service features. Companies can provide exceptional customer service with case prioritization, intelligent case management, and knowledge management with complete customer history.
Additionally, the serve edition includes 60 out-of-the-box reports that can be customized to meet specific business needs. Finally, SugarCRM pricing is very affordable, making it an excellent option for businesses.
Sugar CRM Enterprise Edition – $119/user (AUD)
The Enterprise Edition of SugarCRM is the company's most comprehensive and feature-rich CRM solution. It includes all the features of the Professional Edition, plus advanced features like revenue line item-level tracking and forecasting, product level quotes, role-based views, 100 concurrent customer portal users, support for Oracle and DB2, 12 hours of email and phone support for five days a week, and 60GB of storage.
SugarCRM also provides mobile features like Studio editor and Sugar Logic with this edition. The Enterprise Edition is the perfect choice for large businesses or businesses with complex sales processes with all these features.
Pros
Highly customizable
A lot of third-party integrations
Impressive customer support
Easily implemented marketing campaigns
Cons
Only a 7-day free trial
At least ten users required
Bitrix24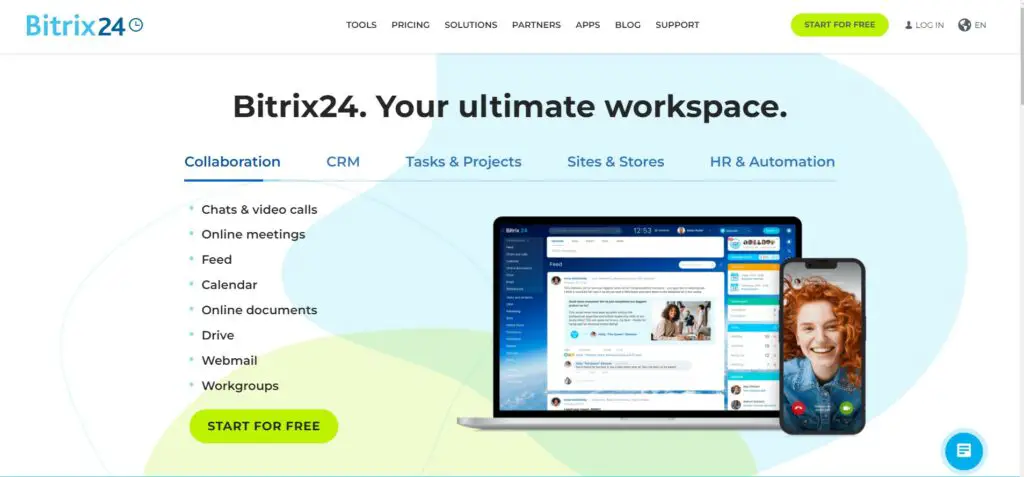 Bitrix24 is a cloud-based CRM that offers a wide range of features for sales and marketing teams. It handles everything from contact management to lead capture and pipeline tracking, making it an ideal solution for businesses that want to stay organized and efficient.
Additionally, the collaboration features in Bitrix24 allow team members to work together effectively, regardless of location. One of the best things about Bitrix24 is that it's so versatile. It can be used for various businesses, from small startups to large enterprises.
Furthermore, several different pricing plans are available to find the perfect option for your budget and needs. Overall, Bitrix24 is an excellent choice for businesses that want a powerful CRM with all the features they need to succeed.
Reporting and Third-Party Integration
Bitrix24 is a CRM that integrates with many popular tools, such as Basecamp, MailChimp, and Zoho CRM. In addition, you can choose to connect the software with your Gmail account so that you'll be notified within Bitrix24 CRM when you receive an email.
The reporting and third-party integration feature allow you to track your sales and marketing activities and your customer service interactions in one place.
This can be a valuable time-saving tool for businesses that use multiple software programs to run their operations. In addition, the ability to integrate Bitrix24 with other tools can help you streamline your processes and make your data more accessible.
Contact center
The contact center helps you keep in touch with your clients and provide them with their support. The live chat feature allows you to have a conversation with your clients in real-time, and the social networking tools allow you to keep the communication active even when you're not online.
The contact center also provides several other features, such as creating a custom menu, setting up automated messages, and tracking client activity. As a result, a contact center is a valuable tool to help you grow your business and build customer loyalty.
Tasks
Tasks are an essential feature that allows you to plan and execute projects properly. It offers a group task manager that will enable you to monitor time spent on projects and who is working on what at each point. The most important thing you can do is hold employees accountable to give yourself peace of mind.
You can use this feature to monitor your team's progress and ensure that everyone is on track. This will help keep your employees motivated and ensure that your projects are completed on time.
Pricing:
Bitrix24's free all-in-one business productivity platform provides businesses with a wide range of tools to manage tasks, projects, CRM, drive, and contact center. The free plan includes unlimited users and offers various features, including task management, project management, and website builder.
The free plan is ideal for small businesses or teams who need a simple and effective way to manage their work. Bitrix24 helps companies save time and money by providing a centralized platform for their business needs.
The Basic Plan from Bitrix24 allows up to 5 users. It includes task templates and recurring tasks, chats, HD video calls (1-to-1), videoconferencing (up to 48 people), online storage, and a calendar. The features included in the Basic Plan are designed to help small businesses manage their work more efficiently.
For example, creating task templates and recurring tasks ensures that tasks are carried out consistently and on time. Similarly, the chat function allows team members to communicate quickly and easily without scheduling meetings.
Bitrix24's Standard Plan is perfect for small businesses that need a robust CRM system. With this plan, you'll have everything you need to get started with Bitrix24 and begin managing your projects more efficiently.
The autofocus mode is a great feature that will help you stay on top of your work, and the post view indicator will let you see how popular your posts are.
With the Standard Plan, you'll be able to get the most out of Bitrix24 and make sure that your projects are well-organized and running smoothly.
The Professional Plan from Bitrix24 is an all-in-one solution for businesses of any size. It offers 1,024 GB of storage, unlimited users, and a wide range of features, including sales intelligence, business process automation, HR, customer support, and administration.
With the Professional Plan, businesses have everything they need to streamline their operations and improve their bottom line.
The only downside is the price: at $159 per month, it's one of the most expensive options on the market. But for businesses that need a comprehensive solution, the Professional Plan from Bitrix24 is well worth the price.
Pros
Constant notification of opportunities, tasks, and activities
Kanban user interface available
Comprehensive business suite
Free domain and website tools
Cons
Premium packages are a little pricey
Complex user interface
Social networking limitations
Agile CRM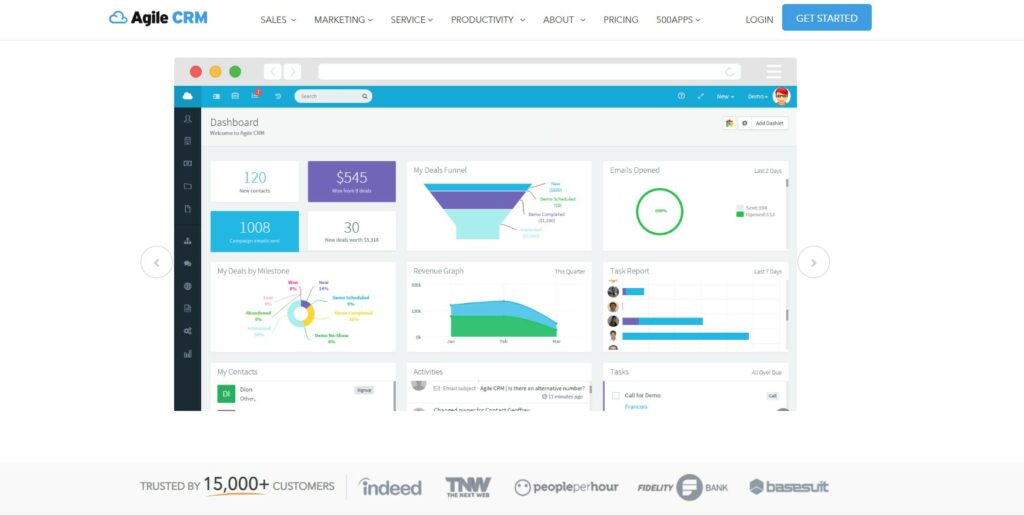 Agile CRM is a comprehensive, cloud-based CRM system that helps small businesses manage customer relationships and sales pipelines. It offers contact management, lead tracking, opportunity management, project management, and task automation features.
Agile CRM also integrates with other business applications such as Google Apps for Business, Salesforce Chatter, and Zendesk. As a result, agile CRM helps you keep track of your customers' interactions across all channels, including email, phone, social media, and your website.
You can also use it to create custom workflows to automate tasks such as lead management or customer support. Additionally, Agile CRM's built-in reporting tools give you insights into how your business is performing so you can make better decisions about where to allocate your resources.
Project management
Good project management is essential to the success of any project. It ensures that everyone on the team is aware of their responsibilities and that tasks are completed on time and within budget.
Agile's project management tools are designed to prevent miscommunication and help teams stay in sync throughout the project. With these tools, you can easily assign tasks, track progress, and see at a glance who is working on what.
This makes it easy to identify potential problems early on and keep the project on track. In addition, Agile's project management tools offer a variety of reports and dashboards, so you can always see how the project is progressing.
Schedule appointments
With just a few clicks, you can send out a list of potential dates and times and receive confirmations back from your contacts.
This way, you can be sure that everyone is on the same page and that there won't be any schedule conflicts. Plus, with Agile's integration with Google Calendar, it's easy to keep track of all your upcoming appointments in one place.
Create custom reports
Agile CRM makes it easy to create custom reports so you can track the progress of your sales pipeline and see how your business is doing at a glance.
You can filter data by date, contact, product, or any other critical criteria and export the reports to Excel or PDF for further analysis.
Contact management
Agile CRM allows you to store essential information about your customers, such as their contact details and communication history. You can also customize your contacts with additional information, such as their interests and how they interact with your brand. This feature is handy for sales and marketing teams, who can use it to segment their customer base and target specific individuals with tailored messages.
Moreover, the contact management feature can track customer satisfaction levels over time. By understanding your customers' needs and preferences, you can ensure that they always have a positive experience with your brand.
Pricing:
Agile CRM's free plan provides users with 1,000 contacts and companies, custom data fields, lead scoring, unlimited deals, tasks and documents, appointment scheduling, custom deal milestones, email tracking, and more. This is a highly generous free plan compared to similar products.
With Agile free CRM, users will have everything they need to start their customer relationship management without making any upfront investment.
The only downside of the free plan is that it limits users to ten users, which may be too low for some businesses. However, the free plan is more than sufficient for small businesses or businesses just starting.
The Starter Plan from Agile CRM is an excellent way to get started with email campaigns, web engagement, contact level analytics, and form building. This plan includes 5,000 branded emails and access to the email templates and landing page builder.
With this plan, you'll be able to create and track unlimited forms and get detailed analytics for each contact. Plus, you can use the web engagement features to add live chat, call button, and more to your website.
The Regular Plan from Agile CRM is an affordable way to access powerful customer relationship management tools. For just $29.99 per month, you'll get everything you need to streamline your customer communications, including helpdesk support, groups, and labels for organization, canned responses for efficiency, views, and reports for tracking progress and activity logs to keep everyone on the same page. Plus, you'll get access to their priority support team. With the Regular Plan from Agile CRM, you can rest assured that you're getting the best value.
The Agile CRM Enterprise plan is the most comprehensive offering, designed for businesses that need enterprise-level functionality and support. This plan includes all of the features from other plans, plus one plugin, email support, Google Sync, Chrome Extension, and basic reports. So if you're looking for the most feature-rich solution on the market, the Agile CRM Enterprise plan is the right choice.
Pros
Helpful automated features
Importing contacts is quick and easy
Set up and onboarding are relatively straightforward.
Great email analytics and reporting, especially with open and click-through rates
Cons
Lack of tutorials for advanced features
Automation features are challenging to understand
Related: Pipedrive CRM Review
Critical features of startup CRM
1. Forecast your sales accurately
One of the critical features of startup CRM is its ability to forecast your sales accurately. This is done by considering various factors, such as your historical sales data, current pipeline, and the specifics of your products and services. As a result, startup CRM can give you a realistic idea of how much revenue you can expect to generate in the future.
This information is essential for making sound business decisions, such as investing in marketing or hiring new staff. Additionally, accurate forecasting can help you avoid financial problems by ensuring enough cash flow to cover your expenses.
2. Manage contacts data
Managing contacts data is one of the most critical features of any CRM. This includes storing information such as names, email addresses, phone numbers, and social media profiles. In addition, CRM software often allows users to upload attachments such as images and documents.
This data can create targeted marketing campaigns and track customer interactions. Furthermore, by storing contact information in a CRM system, businesses can better understand their customer base and build long-term relationships.
3. Cross-team alignment
CRMs should have features that allow for cross-team alignment. This way, different teams can work together efficiently and ensure that everyone is on the same page. For example, a good CRM will have a shared calendar, task management, and communication tools.
This way, teams can easily see what other groups are working on and stay up-to-date on tasks. Furthermore, a good CRM will have a data visualization tool so that teams can quickly see how their work is impacting the company as a whole. By having these features, a startup CRM can help to ensure that different teams are aligned and working towards the same goal.
Related: Types of CRM Software
Final Thoughts
When it comes to managing customer relations, startups have a lot to think about. But with the right CRM in place, they can streamline processes, stay organized, and even get a leg up on the competition.
The best CRMs for startups offer a variety of features that can be tailored to the specific needs of a company, and they scale well as businesses grow.
In addition, many top CRMs now offer affordable monthly subscription plans that make them more accessible for small businesses. A good CRM is essential for building strong customer relationships and a successful business.
Related: Best Free CRM Software