Shipping is integral to any business but can be incredibly challenging for small businesses. There are a lot of different shipping companies out there, and it can be challenging to decide which one is right for your business.
This article will discuss six of the best shipping companies for small businesses and their features, pros, and cons. We will also provide tips on choosing the exemplary shipping service for your small business.
Listed below are our top six recommendations if you're in a hurry!
The 6 best shipping companies for small business
Here are some of the best shipping companies for small businesses.
1. United States Postal Service: Best Overall
The US Postal Service (USPS) offers several excellent shipping solutions for small businesses. It is an innovative and fast-acting company that provides high-quality shipping services to customers. USPS delivers packages from all over the nation to all parts of the world.
As far as small businesses go, we think the United States Postal Service is the best overall shipping company because it provides discounts and loyalty credits to small businesses, ships both domestically and internationally, and delivers goods within 2 to 8 days on average, a number that makes it our top pick. Small businesses can also easily add shipping tools to their websites using accessible application programming interfaces (APIs) provided by the USPS.
There are even some major U.S. markets where you can get home delivery on Sundays and holidays for an additional fee.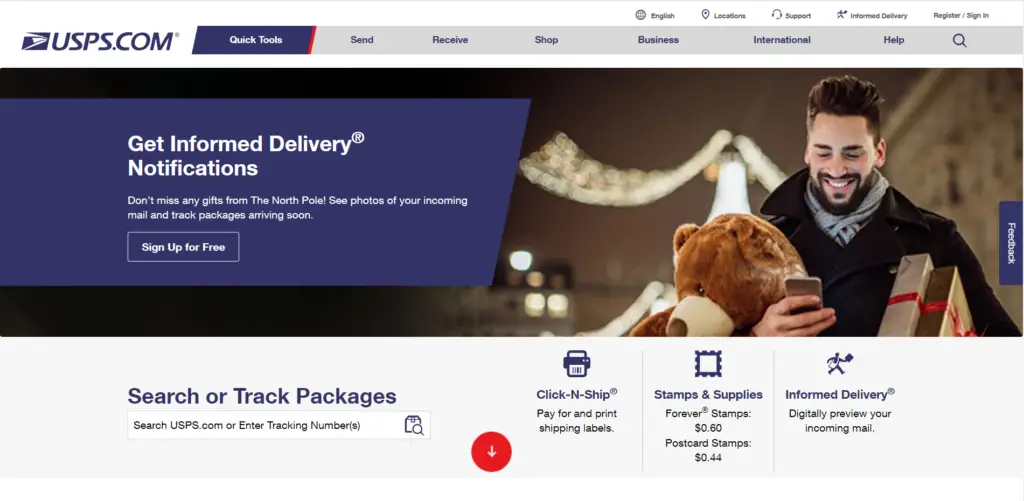 Why We Chose It
As a long-standing company that has been around since 1775, the USPS is not going anywhere anytime soon. The USPS has not given up on the shipping business.
USPS shipping costs vary depending on the package's size, the delivery's location, and the delivery's speed. Businesses can also receive discounts on shipping and loyalty credits based on their spending. For instance, companies using Click-N-Ship from the USPS can collect credits based on their spending.
Features:
Automation: Drop shipment mailings can be scheduled automatically by using our automated scheduling system
Electronic documentation: Documentation and postage statements that are submitted electronically
Reduced hardcopy: Paperwork and handling costs were reduced as a result of the reduction of hardcopy paperwork
Efficiency: Improved operations efficiency by implementing a mail induction process that resulted in greater productivity
Tracking: Improved access to mailing information and a tracking system for jobs has been implemented
Management: An enhanced account management capability has been implemented
Mailing: Providing quality online mailings and complete reporting services to clients
Pricing:
You can check out their prices on their official website.
There is a lot of longevity in the shipping industry

Discounts based on volume and loyalty credits are available to customers

Affordable rates.

Shipping tools can be integrated into the websites of small businesses with the help of free APIs

Wide range of services.

Tracking and visibility
Limited international options.

Size and weight limitations.
2. Sendle: Best for Small Packages
As an eco-friendly option for those looking to ship small packages, Sendle is an excellent choice. In addition to being 100% carbon-neutral, Sendle also offers competitive pricing for domestic shipping on packages up to 20 pounds. 
Sendle ships to all U.S. states, including Alaska, Hawaii, Puerto Rico, and the Virgin Islands. And for businesses that ship at least 200 packages a month, Sendle offers volume-based discounts of up to 70%. There are no contracts or subscription fees required. 
As a result, Sendle is an excellent option for those looking for an eco-friendly and affordable way to ship small packages.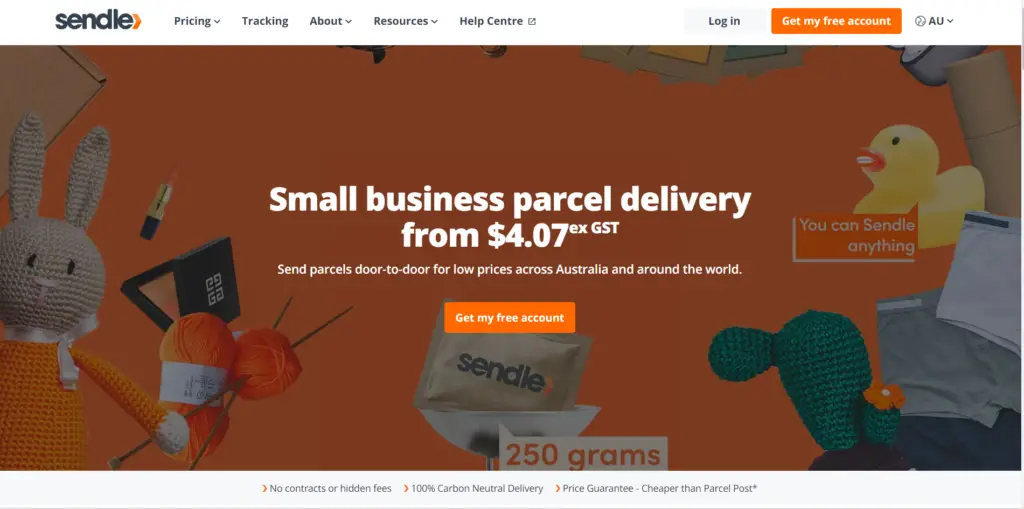 Why We Chose It
Regarding shipping, we all wanted an affordable service that could scale with our business. Although Sendle doesn't offer express shipping, most packages are delivered within 1 to 4 business days, which was fast enough for our needs. Sendle also makes it easy for us to use its shipping service, offering free integrations with Shopify, eBay, WooCommerce, and Etsy. We chose Sendle because it was the best option for small packages.
Features:
Free pickup: You spend less time on the boring stuff and more on the fun stuff – they pick up your packages and deliver them to your customers across Australia.
Powerful tools: You will find everything you need in one place – book in seconds, manage your deliveries promptly, and stay in contact with your customers.
Fantastic support: It is easy to get access to detailed advice and support powered by real people who are always happy to be of assistance.
Tracking: After receiving the tracking number from Sendle, store the tracking information on the order and shipment.
Accurate time tracking: With the Sendle API, you can display real-time tracking information in your admin and customer accounts.
Sandbox mode: An administrator can set this app to be used in sandbox mode by selecting the option in the admin area.
Pricing:
You can check out their prices on their official website.
You do not have to pay any subscription fees or sign any contracts

There is a price guarantee available to you

It is 100% carbon-neutral when it comes to shipping

This company has been certified as a B Corporation after undergoing a rigorous certification process
There are no international shipping services available at Sendle.

The weight of the package must not exceed 20 pounds

It is not possible to integrate with Amazon
3. UPS: Best for Large Packages
UPS is a great shipping option for small businesses because it offers competitive rates and excellent resources. In addition, the company has a great reputation and tools specifically designed for small businesses, making it one of the cheapest shipping options for large packages. 
Shipping incentives depend on the desired shipping speed and the small business's average weekly shipping volume, making UPS an excellent choice for companies looking to save on shipping costs. 
In addition, UPS offers guidance on preparing your goods for shipment, including step-by-step instructions for palletizing your shipments. This makes UPS an excellent choice for businesses that need assistance preparing their goods for shipment. When shipping large packages, UPS is a perfect option for small businesses.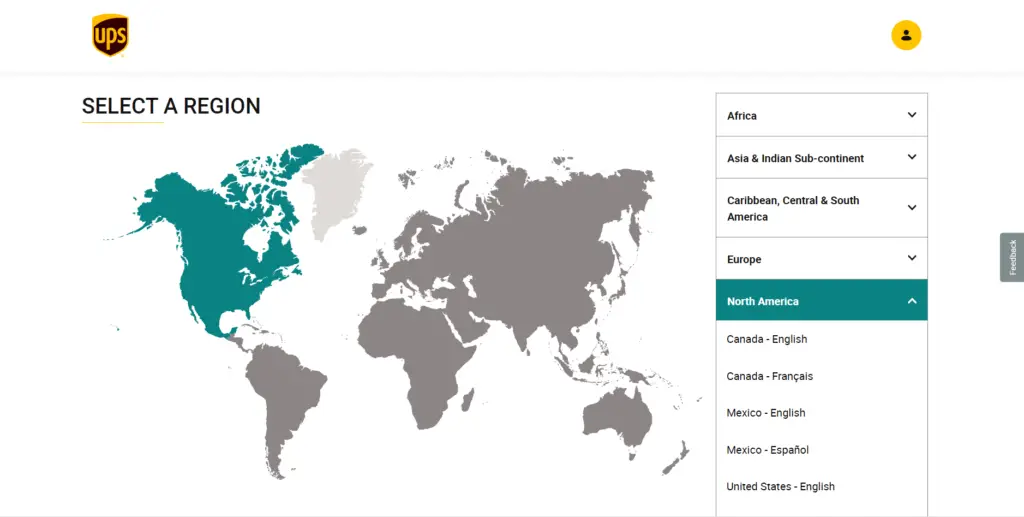 Why We Chose It
UPS is one of the world's most prominent package delivery companies, so it's no surprise that they offer a wide range of shipping options. We chose UPS because they provide an excellent mix of value, reliability, and customer service. While their rates are not the cheapest, they are competitive, and their delivery times are consistently reliable. 
Perhaps most importantly, UPS offers excellent customer service. Their representatives are always willing to help resolve any issues you may have with your shipment. Overall, we believe that UPS is the best option for most small businesses regarding oversized shipping packages.
Features:
Predictive alerts: With bright UPSes, parts are monitored for degradation or failure potential, so an early warning is sent when they need to be replaced. If a battery fails, you can perform preventive maintenance to replace the bad battery to prevent the system from switching to an underpowered, overcharged, or nonexistent backup power supply in the event of a failure.
Remote power management: Using smart UPSs, you can manage power remotely over a network, integrating UPS management into your data center infrastructure management system, allowing you to manage everything remotely.
Intelligent battery: Charge voltage can be adjusted based on battery temperature to prolong battery life with this feature by extending maximum performance and life from your battery.
Advanced power conditioning: With an intelligent UPS, your equipment will no longer be susceptible to unexpected outages, power spikes, or minute power disturbances. Smart UPSes deliver a balanced and matched power supply to any load.
Modular design: The battery modules come in several types, but a modular UPS design protects against isolated failures, which leads to higher availability and redundancy, the key to UPS success. You can also scale modular power systems if you have to add batteries or capacity without expanding the UPS footprint by adding batteries or capacity.
Intelligent paralleling: This feature optimizes performance at partial loads based on load demand. It adjusts device energy consumption to boost efficiency. Even though a small change like this may not seem significant, it can result in superior cost savings compared to older units if you spread it across your power infrastructure.
Pricing:
You can check out their prices on their official website.
Wide range of shipping options.

Reliable and efficient delivery.

Extensive global network.

Tracking and visibility.

Customer service.
Cost.

Size and weight limitations.

Limited Saturday delivery.
4. ShipBob: Best for eCommerce Business
ShipBob is a third-party fulfillment company that provides warehousing and fulfillment services to e-commerce businesses. he company offers a range of fulfillment services, including warehousing, inventory management, and order fulfillment, as well as shipping and returns management.
ShipBob works with businesses of all sizes and across a variety of industries, helping them to streamline their fulfillment and logistics processes and improve customer satisfaction.
They offer a full suite of e-commerce logistics services, including warehousing and inventory management. Plus, small businesses may pay less for shipping than they would on their own since ShipBob has negotiated bulk discount rates with the four major carriers. 
After obtaining a quote, you'll pay a one-time implementation fee to sign up, plus fees for ShipBob to receive your inventory, warehouse your inventory, and ship each order (discounted carrier rates, free packing after the first five orders). Plus, shipping boxes are free. 
This makes ShipBob great for e-commerce businesses, particularly those needing logistical help. So if you're looking for the best e-commerce shipping company, look no further than ShipBob.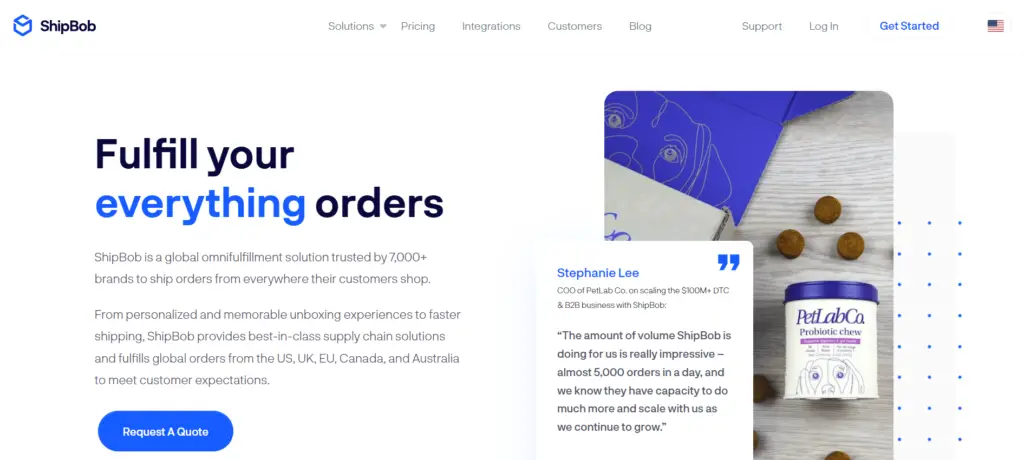 Why We Chose It
We chose ShipBob because of the e-commerce software offered by ShipBob. This software is free, with integrations to many critical e-commerce applications. This includes integrations to e-commerce platforms and marketplaces like Walmart, eBay, Shopify, WooCommerce, Squarespace, Wix, and more. 
ShipBob has negotiated discounted bulk rates from USPS, UPS, FedEx, and DHL for domestic and international shipping that might be less than we could get on our own. And ShipBob gives us a quote from all the major carriers for each order, making it easier to find the best shipping rate. In addition, shipping before noon is the same available day with two-day delivery.
Features:
Fulfillment platform: Your unfulfillment needs can be seamlessly handled by a single trusted partner with ShipBob's web-based platform, which serves as your back office for logistics. For unlimited users at no extra cost, ShipBob's fulfillment platform allows you to manage, edit, and customize orders, track real-time stock levels from anywhere, and receive notifications when inventory needs to be reordered.
2-Day Shipping: ShipBob offers customers a 2-day shipping guarantee across the continental United States, even though they only have one fulfillment center.
Omnifulfillment: Regardless of where people purchase your goods, ShipBob assists you in providing a consistent customer experience.
B2B Fulfillment: EDI-automated workflows, packing slips compliant with retailers, and EDI-connected wholesale and retail workflows are all possible with ShipBob.
Pricing:
You'll need to request fulfillment pricing by contacting them.
Fast delivery times due to multiple fulfillment centers.

Easy integration with e-commerce platforms.

User-friendly dashboard with real-time tracking and analytics.

The range of services includes order fulfillment, returns management, and white-label shipping.
It may be more expensive than other options.

Some businesses may not desire outsourcing fulfillment to a third party.

Reports of issues with accuracy and customer service (though the company has worked to address these concerns).
5. FedEx: Best For Quick Shipping
Small businesses have many different factors to consider when it comes to shipping. First, the cost is always a significant concern, but speed is essential, especially if selling time-sensitive or perishable products.
That's why we've decided to look closely at FedEx, one of the most popular shipping companies for small businesses. FedEx not only ships internationally and to all 50 U.S. states, including home deliveries on Saturdays and Sundays, but domestic FedEx Ground delivery takes 1 to 5 days in the contiguous United States and 3 to 7 days for Alaska and Hawaii.
In other words, with FedEx, you can expect your packages to be delivered quickly and reliably, which is essential for small businesses that need to compete in today's fast-paced marketplace.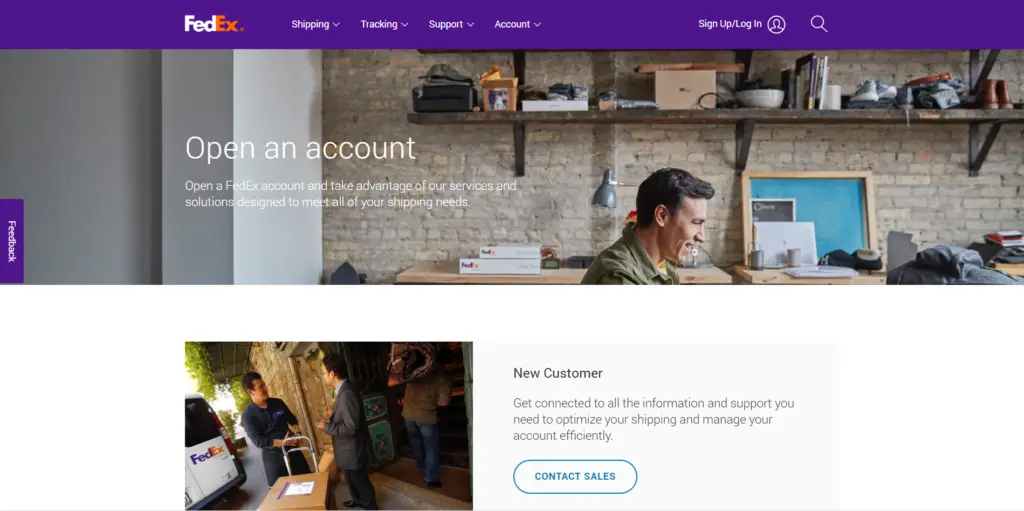 Why We Chose It
We chose FedEx because of its precise shipping costs and commitment to small businesses. Their website makes it easy to see how much it will cost to ship your goods, and they offer various value-added services to help small businesses grow their online presence.
FedEx also has a strong track record of delivering shipments on time and providing excellent customer service. As a result, we believe they are the best option for businesses that need quick shipping and reliable service.
Features:
Thorough Documentation: You can gain greater awareness of customers' shipping activity through daily shipping reports and access to detailed user documentation.
Self-Contained Shipping: Performing vital shipping functions does not require constant communication with FedEx systems since all shipping functionality is contained within FedEx Ship Manager Server. Electronic point-to-point communications improve application performance and decrease security risks.
Global Availability: Whether you're shipping to or from any FedEx-served origin and destination, you can also take advantage of our fast, global return service to assist you with streamlining your international shipping operations.
Inbound Tracking: As part of your FedEx ShipAlert® subscription, you will receive notifications about pickups, deliveries, and exceptions in addition to various tracking options.
Standard Rates: You can predict shipping costs by comparing discounts and standard rates from a single-rate request.
Pricing:
There is no pricing option on their website; you have to contact them for pricing.
Deliveries to your home every day in the United States.

A variety of discounts and perks are available

Grants are awarded annually to small businesses
Shipping costs for small packages are higher than those for USPS
6. EasyPost: Best Affordable Option
EasyPost is our winner for the best affordable option for small business shipping because it's a platform that allows you to compare the shipping costs and speeds of more than 100 carriers.
EasyPost's API is free for up to 120,000 shipments annually, making it easy for small businesses to find the most affordable shipping option. In addition, there's no cost for businesses shipping 120,000 or fewer packages a year.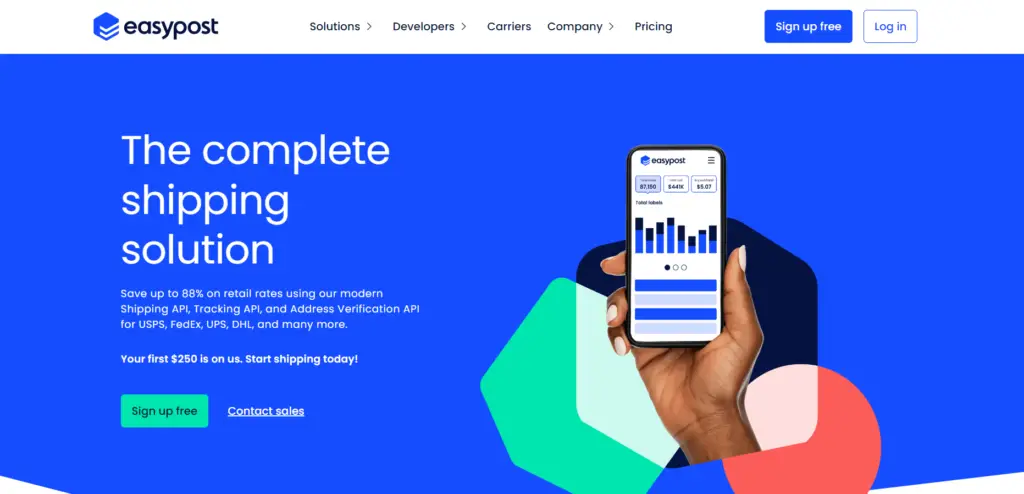 Why We Chose It
We chose EasyPost because it offers a free Developer package that allows you to check prices, review shipping speeds, create shipping labels, and track shipments for 120,000 packages a year. This should be sufficient for most small businesses.
In addition, the base Developer package is free and can be set up and integrated daily. You will need to build an integration to access the API. However, this should not be a problem for most businesses. We believe EasyPost is the best affordable option for small businesses.
Features:
Rating: Calculate UPS rates quickly and easily using this tool.
Shipping: You can purchase shipping through your UPS account if you have one.
Tracking with Webhooks: Set endpoints that update without requiring repeated polling and request package statuses via our API in real-time.
Address Verification: The address verification process is performed in real-time.
Customs: As well as export and import customs and paperless invoicing, they can facilitate all of that.
Batch Shipping: Batch processing labels can process high-volume shipments.
Pricing:
There is no pricing option on their website; you have to contact them for pricing.
You can use the API for up to 120,000 shipments per year for free

100+ carriers available for comparison shopping

Reduces shipping costs, automates processes, and improves control
The company does not directly handle shipping

A quote is required for more than 120,000 shipments
How to Choose the Right Shipping Service for Your Small Business
If you're a small business owner, are you wondering how to find the best shipping rates? Or are you looking for a 3PL partner and want to find out which shipping company is best for small businesses? We're here to help! Ultimately, the choice of shipping strategy will be driven by your company's needs. 
As you choose your small business shipping solution, there are a few factors that you need to keep in mind.
→ Order Volume
While you may not move products as quickly as Amazon, you need to think about the number of orders you ship each month in the meantime. The DIY route is probably the best option if you're still getting started and shipping low volumes. Just buy packages, print labels, and head to the post office.
Nevertheless, suppose your order volume continues to increase month after month. In that case, you might want to consider a fulfillment solution that will ease the burden on your shoulders and can also offer shipping discounts if your order volume is increasing month after month.
→ Delivery Time
Consumers expect their orders to arrive on schedule when they place them online unless it's a custom product or something from overseas. Speed is, therefore, an essential factor when choosing a carrier.
There are times, however, when you may want to bend the rules a bit regarding the speed of your delivery. For example, if you wish to offer free shipping, you might have to opt for a slower, less expensive delivery method to avoid breaking your budget.
→ Packaging Material
The US Postal Service, UPS, and FedEx offer flat-rate boxes for shipping some items. First, however, you should consider your product's fragility. If it's fragile (like glassware or ceramics), you'll need more packaging materials than a T-shirt. 
Alternatively, custom packaging may be the best method to showcase your brand if you're looking for something more in-depth. In that case, even a t-shirt may need attention-grabbing packaging, such as colored boxes and inserts, which these services aren't usually able to do. 
→ Package Dimensions
It is essential to consider how bulky your products are when calculating the cost of your shipment. Dimensional weight, or DIM, calculates the weight of your shipment. Of course, the larger the item, the larger the box, which means a higher DIM will be calculated. You can make things even more expensive by adding air-filled cushions, bubble wrap, or Styrofoam peanuts to the list.
→ Package Weight
You should know that the heavier or bulkier your package is, the higher the shipping cost you will have (unless you use flat-rate shipping). If you are still in a DIY mindset, purchasing a postage scale for your "shipping center," whether a bedroom or a garage, will help you predict costs more accurately.
→ Shipping Destination
The distance of your package impacts shipping rates and the speed at which you can deliver your product to the customer's doorstep. Distance, of course, plays a vital role in determining shipping rates. Startups will likely be forced to accept the costs, but other small businesses can benefit from fulfillment centers that are more conveniently located in the vicinity of their customers. 
→ Package Tracking
Your package needs to be tracked at every stage of its journey. Choose a carrier that offers free tracking online. Some will even give you automatic updates via text or email. Additionally, you can provide tracking information to the customer so that they can follow the product's journey, which will save them the trouble of wondering where it is, especially if it will take a long time to arrive.
→ Fragile Items
The most important thing to remember when shipping breakable items are that you will need a sturdy box that can support the weight of your item and cushioning material that will prevent the items from moving around. Always pack fragile items separately, seal the box tightly, and mark it with the word "fragile."
→ Perishable Items
Perishable items used to be restricted to local and regional customers for shipping, but these days they can be shipped worldwide with expedited delivery services. You can use a refrigerant that will be able to keep products within your required temperature range if they are traveling within the United States. These items must withstand a minimum transit time of 24 hours longer than the delivery commitment. 
→ Third-Party Insurance
Insuring your shipments is wise, but the cost can be high if you use the carrier's insurance. You may consider using a third-party insurance company instead of paying the carrier's insurance premiums. Third-party insurance companies usually charge about half as much for $100, whereas carriers charge about $1 for $100 of insurance. 
Related: Best Fulfillment Services for Startups and Small Businesses
Conclusion
Shipping is a crucial part of any business, but it can be tricky to navigate for small businesses. The good news is that there are plenty of options when it comes to shipping companies. This article has discussed six of the best shipping companies for small businesses and highlighted their key features.
Now we want to hear from you: which shipping company do you use for your small business? What has been your experience? Let us know in the comments section below!
FAQ
What is the best way to ship a small business?
A shipping company specializing in small businesses can help you package your products correctly and choose the correct shipping option for your needs.
How do I get better shipping rates for my small business?
One way is to become a member of a business organization like the Chamber of Commerce. This will often give you access to special rates negotiated by the organization. You can also try negotiating directly with shipping companies or using a shipping broker who can get you better rates than you would be able to negotiate on your
How do small businesses save on shipping?
Small businesses can save on shipping costs by taking advantage of free shipping offers, combining orders to qualify for free shipping, and finding discounts on shipping services.
Is FedEx or UPS better for small businesses?
It depends on what you are looking for in a shipping company. For example, FedEx is better if you need help with packaging and shipping materials, while UPS is better if you need help with tracking and delivery confirmation.