Disclaimer: We sometimes use affiliate links in our content. For more information, visit our Disclaimer Page. 
In today's fast-paced work environment, it's normal to feel a sense of job insecurity or worry about your professional future. But how can you tell if you're genuinely at risk of being let go or falling victim to your overthinking? This blog post will help by revealing eight key signs to look out for in your job that could indicate an impending termination or self-induced anxiety.
Understanding these potential red flags is essential for taking the necessary steps toward safeguarding your career and maintaining peace of mind.
Key Takeaways
Decreased workload or responsibilities, exclusion from essential meetings/projects, damaging feedback/criticism without constructive guidance, lack of communication, and change in the boss's attitude may indicate job insecurity.
Discussions on job security and layoffs among colleagues or the HR department could reflect potential workforce reductions. Personal insecurities or anxiety can also contribute to overthinking job security issues.
Understanding the root cause(s) such as past trauma/experiences, anxiety/fear of failure/negative self-talk & doubt/lack of communication with the employer is necessary to navigate professional challenges with clarity and confidence better. Seeking support from friends/therapists is beneficial—openness for proactive communication with superiors is critical.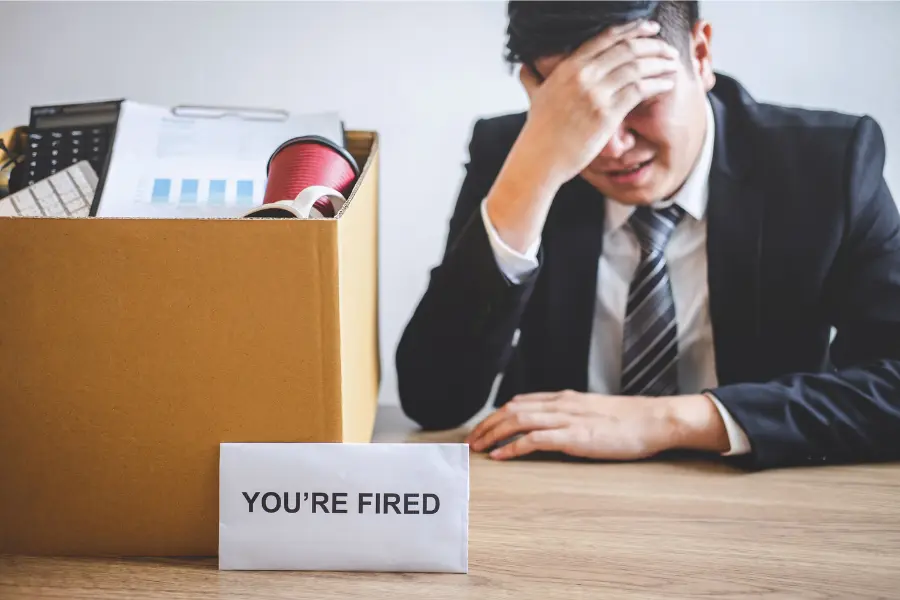 Signs That You May Be Getting Fired Or Overthinking
– A decrease in workload or responsibilities could be a sign that your job is at risk.
Decreased Workload Or Responsibilities
A sudden decrease in workload or responsibilities can be an alarming sign that something is amiss in your job. This may manifest as tasks being reassigned to other team members, a lack of new projects coming your way, or even having some of your duties taken away entirely.
However, if you notice this trend continuing without any clear explanation from management, it might indicate concerns about your performance and ability to handle the workload effectively.
In this situation, proactive communication with your supervisor is crucial. Schedule a meeting to discuss the changes and determine whether they are due to issues with your performance or external factors beyond your control.
Exclusion From Important Meetings Or Projects
If you find yourself being excluded from important meetings or projects at work, it could be a sign that your job security is in jeopardy. Being left out of these critical events can indicate that your employer may no longer see you as an integral part of the team.
It's essential to address this issue with your superiors and understand why you are no longer included. For instance, if a colleague received recognition for finishing a project on their own after failing several times with other colleagues yet never invited anyone else to attend important meetings afterward, there might be doubts about someone's ability or skills.
Negative Feedback Or Constructive Criticism
One sign that you may be facing job insecurity is receiving negative feedback or constructive criticism not aimed at helping you improve.
This can take the form of your boss criticizing your work without providing specific examples or guidance on how to improve.
Alternatively, if you feel singled out for criticism while others are praised, it could indicate an underlying issue with your job security. Negative feedback can be demoralizing and lead to self-doubt in the workplace, so addressing any concerns head-on with your supervisor is essential.
Lack Of Communication With Your Boss
Another sign that may indicate you are getting fired or overthinking is a need for more communication from your boss. It could be a red flag if you notice that your supervisor needs to provide feedback on your work, give clear directions, or pay attention to your messages.
For example, if you used to have weekly check-ins with your boss, but suddenly those meetings stopped happening, and they don't respond to emails or calls as quickly as before, it's worth considering why this change has occurred.
Change In Your Boss's Attitude Toward You
Changing your boss's attitude towards you is another sign to determine whether you're getting fired or overthinking. If your ordinarily positive and supportive boss suddenly becomes distant or dismissive, this may be cause for concern.
They may avoid eye contact, interrupt you frequently during conversations, or give short and vague responses to your inquiries. In some cases, they may even begin to criticize your work without offering any constructive feedback on how to improve it.
Job Security Being Discussed
If you hear discussions about job security at your workplace, it could be a sign that layoffs are imminent. This may include hearing rumors or emails from the company's HR department discussing potential workforce reductions.
Another indication of job insecurity is if your employer discusses cost-cutting measures to maintain profitability. For example, they may reduce employee benefits or stop hiring new staff.
Suppose you are unsure what these discussions mean for your specific role in the company. In that case, it's essential to speak with your supervisor and clarify your concerns about jumping to conclusions or unnecessarily stressing yourself out.
Co-workers Are Being Laid Off
If you notice your co-workers being laid off, it can be a worrying sign that your job may be at risk. It could mean the company is going through tough times and needs to cut costs or restructure and eliminate certain positions.
However, it's essential to only jump to conclusions with further information. Try to have an open conversation with your superiors about the changes happening in the company and how they may affect your role.
Personal Insecurities Or Anxiety
Personal insecurities or anxiety can play a significant role in fueling job insecurity and termination anxiety. Insecurities about one's abilities, skills, or past experiences can lead to self-doubt in the workplace and create an atmosphere of apprehension.
This feeling is often magnified when there needs to be more communication from employers.
For example, if an employee has experienced failure or criticism, they may become anxious whenever new projects require their expertise. The fear of being judged negatively can cause them to avoid risks and limit professional growth opportunities.
It's essential for employees dealing with these challenges to seek support rather than struggle alone silently.
Recognizing The Root Of Overthinking
To understand why you may be overthinking your job security, it's essential to recognize the root causes, such as past trauma, anxiety or fear of failure, negative self-talk, and lack of communication with your employer.
Past Trauma Or Experiences
Past traumas or experiences can significantly affect how an individual perceives job security and performance. For example, someone fired from a previous job may be more likely to overthink the signs of potential termination in their current position.
Additionally, past negative experiences with employers or co-workers can create a sense of distrust and anxiety at work. Individuals must address these underlying issues and seek necessary support to prevent them from negatively impacting their current employment situation.
Anxiety Or Fear Of Failure
Anxiety or fear of failure is commonly why people overthink their job security. It can be challenging to distinguish between real signs that you may be getting fired and an overactive imagination fueled by anxiety.
These feelings can stem from past traumatic experiences, negative self-talk, or doubt in one's abilities. For example, suppose you receive constructive criticism on a project. In that case, your anxiety may cause you to interpret it as a sign of impending termination rather than an opportunity for growth and improvement.
Lack Of Communication From the Employer
One of the signs that you may be getting fired or overthinking your job is a need for more communication from your employer. If you notice that your boss is not keeping you in the loop about important company news, changes to projects or deadlines, or other crucial information, it could be a sign that something is amiss.
You may also need help getting feedback on your performance or feel there needs to be a clear direction for what you should be working on. This can be incredibly challenging if you're someone who thrives on constructive criticism and regular check-ins with management.
Negative Self-talk Or Doubt
Negative self-talk or doubt is common in many workplaces but can also be a sign of overthinking your job security. Constantly doubting your abilities or feeling like you're not good enough can lead to anxiety and stress at work.
This negativity can affect your productivity and affect how others perceive you. Negative self-talk often comes from past experiences or traumas, such as being criticized by former bosses or peers.
An example of negative self-talk could be if an employee receives praise from their boss for completing a project ahead of schedule but continuously downplays their achievements to themselves by thinking, "It was just luck" or "I got lucky this time." These thoughts create unnecessary stress and undermine confidence in one's abilities.
What To Do If You Think You're Being Fired Or Overthinking
Take proactive steps such as speaking to your boss, seeking support from friends or a therapist, improving your job performance, and exploring new job opportunities.
Have A Conversation With Your Boss
Having an open and honest conversation with your boss is essential if you suspect you may be getting fired or overthinking. Here are some tips on how to approach this conversation:
Arrange a meeting with your boss in a private and comfortable setting.
Come prepared with specific examples of your concerns, but avoid blaming or accusing language.
Ask for feedback on your performance and what you can do to improve.
Be willing to listen and take responsibility for any mistakes or areas for improvement.
If there are underlying issues, such as communication breakdown or lack of resources, communicate them clearly and suggest potential solutions.
Clarify your job responsibilities and ask for clear expectations moving forward.
Reassure your boss that you are committed to the company's goals and willing to work towards success together.
Remember that this conversation is not about defending yourself or proving your right. It is about seeking clarity and addressing potential issues before it's too late. By having an open dialogue with your boss, you can gain valuable insight into their perspective while also advocating for yourself as a valuable employee.
Take Steps To Improve Your Performance
Improving your job performance can help address any potential issues causing you to feel like you are getting fired or overthinking. Here are some steps you can take:
Ask for feedback: Seek constructive criticism from your boss and colleagues to identify areas where you can improve.
Set goals: Create achievable and measurable goals that align with your employer's objectives and work towards meeting them.
Take the initiative: Look for ways to add value to your company by taking on new projects or responsibilities.
Brush up on skills: If skills are needed for your role, find opportunities to develop them through training programs or online courses.
Stay organized: Prioritize deadlines and organize tasks efficiently to manage workload effectively.
Be proactive: Identify problems early on and develop solutions before they escalate.
Build relationships: Foster positive relationships with colleagues, clients, and superiors to build a network of support and trust.
Stay positive: Maintain a positive attitude towards work, even during challenging times, as it contributes significantly to overall performance and morale in the workplace.
Start Job Hunting Or Looking For New Opportunities
If you suspect you're facing an imminent job loss, it may be wise to start exploring other career options. Here are some steps you can take to begin your job hunt:
Update your resume and LinkedIn profile.
Research companies or industries that interest you.
Network with professionals in your field and attend industry events.
Apply for job openings that match your skills and experience.
Consider working with a recruiter or staffing agency to help you find opportunities.
Prepare for interviews by practicing common questions and researching the company.
Evaluate each opportunity carefully, looking at salary, benefits, culture fit, and growth potential.
Consider alternative work arrangements like freelancing or consulting if they suit your skills and lifestyle.
Remember that starting a job search while still employed requires discretion and professionalism. Keep your search confidential as much as possible, and avoid using work time or resources for personal activities. By taking proactive steps to explore new career paths, you'll feel more in control of your future regardless of what happens in your current job.
Seek Support From Friends Or A Therapist
It's essential to have a support system during periods of job insecurity or termination anxiety. Here are some ways you can seek support:
Talk to trusted friends or family members about how you're feeling and what you're going through. They may offer perspective, advice, or a listening ear.
Consider speaking with a therapist or counselor who can help you work through your emotions and develop coping strategies.
Join online forums or support groups for individuals going through similar experiences. Sometimes it helps to know that you're not alone in your struggles.
Take care of yourself by practicing self-care activities such as exercise, meditation, or hobbies that bring you joy.
Remember, seeking support is not a sign of weakness but rather a proactive step towards taking care of your mental health during a challenging time in your career.
Conclusion
It is essential to recognize the signs indicating you are at risk of losing your job. While dismissing negative thoughts or insecurities as overthinking can be easy, being proactive and addressing potential issues can save your job and improve your overall workplace experience.
Remember, communication with your superiors is critical, and seeking support from friends or a therapist can also be beneficial in navigating the stressors of employment uncertainty.
FAQs
What are some signs that I may be getting fired from my job?
Some signs that you may be at risk of losing your job include receiving negative feedback, being excluded from important meetings or projects, experiencing decreased communication and responsiveness from colleagues and management, as well as noticing a decrease in workload or responsibilities.
Is it normal to feel anxious about the possibility of getting fired?
It is natural to feel anxious when there are uncertainties about your employment status. However, if you find yourself constantly worrying or obsessing over the idea of being fired, it might be worthwhile to reach out to a trusted colleague or counselor for support.
How can I prepare myself if I suspect I may be on the verge of getting let go from my job?
To prepare yourself for the possibility of losing your job, consider updating your resume and LinkedIn profile and reaching out to professional contacts who might have leads on other opportunities. Additionally, start budgeting and cutting expenses where possible so that you can sustain yourself financially until finding another position.
Should I confront my boss directly if I suspect they are planning to fire me?
Confrontation is generally not recommended unless you have concrete evidence, such as an HR notice indicating termination plans. If you're still unsure about what's happening within an organization after observing one or several potential indicators related specifically to discharge procedures, then it's best practice to seek guidance from someone else internally (such as Human Resources) before making any major moves on your own accord– especially since these types actions could lead ultimately worsen upsetting circumstances more than helping them get better suited toward beneficial outlooks overall by negatively affecting work relationships between employer/employees alike.