Disclaimer: We sometimes use affiliate links in our content. For more information, visit our Disclaimer Page. 
Finding the perfect words to wish your boss a happy birthday can be challenging – after all, you want to strike the right balance between professional and personable.
That's where our list of 40+ best birthday wishes for a boss comes in! We've compiled thoughtful and creative messages that cater to various personalities and professional relationships, ensuring you find the ideal way to celebrate your supervisor on their special day.
Key Takeaways
The article provides 40+ birthday wish options for bosses, including warm and heartfelt messages, funny and creative greetings, personalized wishes, formal messages, and inspirational quotes.
Personalizing a message by acknowledging your boss's unique qualities or achievements can build positive workplace relationships.
Writing a professional and respectful message that showcases gratitude for your boss's leadership style or guidance is an excellent way to celebrate their birthday. This type of message shows admiration while also maintaining professionalism in the workplace.
Celebrating your boss's positive impact on the workplace through appreciation messages reinforces their importance as leaders while creating a vibrant team culture.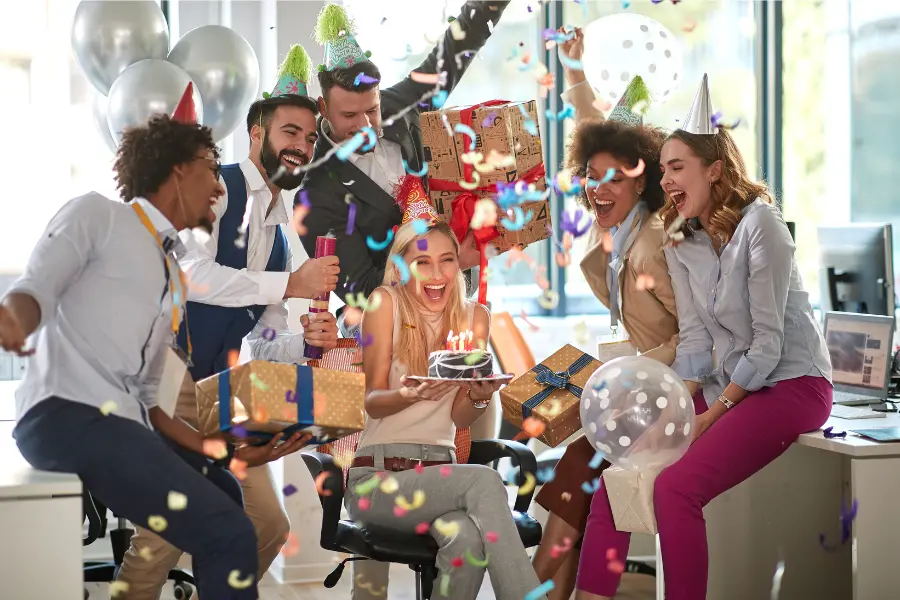 Warm And Heartfelt Birthday Wishes For Your Boss
Some warm and heartfelt birthday wishes for your boss include simple and sweet messages, funny and creative greetings, and personalized wishes that show appreciation for their unique qualities.
Simple And Sweet Messages
Starting with simple and sweet messages is an excellent way to convey appreciation for your boss on their birthday. Here are some suggestions that are straightforward yet heartfelt:
Happy Birthday! Wishing you a day filled with happiness and joy.
Thank you for being an amazing boss! Enjoy your special day.
May your birthday be as fantastic as you are!
Best wishes for a bright and prosperous year ahead.
Cheers to another great year of working together! Happy Birthday!
Have a fabulous birthday celebration, Boss!
Wishing you prosperity and continued success in the coming year.
Happiest of birthdays to the most supportive boss ever!
You deserve all the happiness life has to offer on your special day.
May this new year bring you joy, good health, and many accomplishments.
Using these simple yet genuine messages can go a long way in demonstrating your admiration for your boss's leadership qualities while professionally celebrating their birthday.
Funny And Creative Greetings
Are you looking to add humor and creativity to your boss's birthday wishes? Check out these funny and witty greetings that are sure to bring a smile to their face:
Happy birthday! Don't worry; I won't tell anyone how old you are unless they ask.
Congratulations on another year of being the most incredible boss around. It's a tough job, but someone has to do it!
Another year of outstanding leadership? You must be aging like fine wine, sir/ma'am.
Here's wishing you a happy birthday filled with lots of cake and zero work emails…at least for 24 hours.
Cheers to another year of meetings, deadlines, and office drama! Just kidding.
Happy birthday, boss! May your day be filled with Starbucks runs, office karaoke sessions, and no emergency fire drills.
Time flies when you're running a successful company – but don't worry, we'll keep reminding you how old you are every year!
Another trip around the sun means more experience under your belt – or wrinkles on your face…either way, happy birthday!
Congrats on turning another year older without pulling out all of your hair (yet). Keep up the excellent work!
We appreciate all you do for us in the workplace – even if we forget to say it before singing off-key during your birthday celebration.
Remember to keep the tone light-hearted and fun while showing appreciation for their leadership and hard work in the workplace!
Personalized Birthday Wishes
Personalized birthday wishes are a great way to make your boss feel special on their big day. Here are some ideas:
Include something personal in the message, such as mentioning a hobby or interest your boss has.
Find out what kind of cake or treat your boss likes and incorporate that into the message.
Writing a poem or song for your boss's special day.
Mention a specific achievement or project your boss led that you appreciate.
Acknowledging how much your boss has taught you and how they have helped you grow professionally.
Personalizing a birthday wish shows your boss that you put effort and thought into their celebration, which can go a long way in building positive workplace relationships.
Formal Birthday Wishes For Your Boss
Craft professional and respectful messages acknowledging your boss's accomplishments, leadership, and guidance on their special day.
Professional And Respectful Messages
A professional and respectful message is always a safe choice if you are trying to decide what to write in a birthday message for your boss. Here are some ideas to consider:
I wish you a happy birthday! May this year bring you continued success and happiness?
Your leadership and guidance continue to inspire us all. On your special day, we wish you all the best.
Happy birthday to an exceptional boss who leads by example. May your day be filled with joy and celebration.
It's an honor to work under someone as inspiring as you. We hope today brings you all the happiness you deserve.
I wish my boss a pleased birthday! Thank you for constantly pushing us to be our best and setting such a great example.
Remember, when writing professional messages for your boss's birthday, it's essential to keep the tone respectful yet celebratory. Add a personal touch – perhaps mentioning a specific project or accomplishment they helped you with over the past year. And don't forget to sign off with a warm closing, such as "Best wishes" or "Cheers."
Thanking Your Boss For Their Leadership And Guidance
As an employee, it's essential to recognize your boss's impact on your professional growth. Take this opportunity on their birthday to thank them for their leadership and guidance with these messages:
Thank you for showing me what it means to be a great leader.
I appreciate all the support and encouragement you've given me throughout my time at this company.
Your leadership style has inspired me, and I'm grateful for everything you've taught me.
I can't imagine having a better boss than you. Thank you for always being there to guide us in the right direction.
Your expertise and guidance have helped our team achieve great things. We're lucky to have such a phenomenal leader.
You've always believed in me, even when I didn't believe in myself. Thank you for pushing me to be my best self.
These messages show appreciation for your boss's contributions as a leader and mentor while expressing gratitude for their investment in your success.
Acknowledging Their Accomplishments
Bosses are often the driving force behind the success of a company. Show your appreciation for their hard work and dedication by acknowledging their accomplishments on their special day. Here are some ways to do it:
Thank them for their leadership and guidance in achieving team goals.
Mention specific projects or initiatives that they have spearheaded successfully.
Highlight any accolades or awards they have received for their contributions to the company.
Recognize their impact on the workplace culture and morale.
Refer to any personal or professional milestones they have achieved during the past year.
Remember, acknowledging your boss's accomplishments shows your gratitude and motivates them to continue leading by example.
Inspirational Birthday Messages For Your Boss
Encourage your boss to keep inspiring you and your team with uplifting messages that celebrate their positive impact on the workplace and share motivational quotes and sayings.
Encouraging Your Boss To Keep Inspiring You And Your Team
To show your boss that they inspire you and your team, consider adding these encouraging birthday messages:
"Happy birthday to a boss who inspires us every day. Keep leading the way and motivating us to achieve great things!"
"Wishing a happy birthday to the most inspiring boss, I know! Your dedication to excellence is infectious, and we're lucky to have you as our leader."
"As you celebrate your special day, know that you've inspired us all to be better colleagues and human beings. You truly are an amazing leader!"
"Thank you for inspiring us with your wisdom, guidance, and passion for this company. Wishing you a fabulous birthday full of joy and inspiration!"
"Your positive attitude and unwavering dedication continue to motivate us all. Have a fantastic birthday, boss!"
Remember that showing appreciation through such messages can make a tremendous difference in workplace relationships. It creates positivity that gradually boosts professional etiquette while fostering growth in career development.
Sharing Motivational Quotes And Sayings
Motivational quotes and sayings are an excellent way to inspire your boss on their birthday. Here are some great examples:
"Leadership is not about being in charge. It's about taking care of those in your charge." – Simon Sinek
"The greatest leader is not necessarily the one who does the greatest things. He is the one that gets people to do the greatest things." – Ronald Reagan
"Don't watch the clock; do what it does. Keep going." – Sam Levenson
"Success is not final, failure is not fatal: it's the courage to continue that counts." – Winston Churchill
"Believe you can, and you're halfway there." – Theodore Roosevelt
"You don't have to be great to start, but you have to start to be great." – Zig Ziglar
"It always seems impossible until it's done." – Nelson Mandela
Sharing inspirational quotes with your boss can help them gain motivation and inspiration on their special day while showing appreciation for their leadership qualities and accomplishments at work.
Celebrating Their Positive Impact On The Workplace
The boss's birthday is an excellent opportunity to celebrate their positive impact on the workplace. Here are some ways to do it:
Thank your boss for their unwavering support and encouragement over the years.
Acknowledge how they have created a positive work environment by fostering teamwork, trust, and respect among colleagues.
Highlight how they have mentored you and others in the team, helping with career development and personal growth.
Recognize how their leadership style has led to success and prosperity for the company, making it a great workplace.
Share examples of how they have inspired you to perform better at your job, bringing out the best in yourself.
Emphasize how they lead by example, setting high standards regarding ethics, professionalism, and excellence.
By celebrating your boss's positive impact on the workplace, you make them feel appreciated and create a more vibrant and motivated team culture. It demonstrates that everyone values your boss's contribution to creating a great work environment.
Tips For Writing A Memorable Birthday Wish For Your Boss
Consider your boss's personality and preferences to create a personalized message.
Understanding Your Boss's Personality And Preferences
It's essential to consider your boss's personality and preferences when writing a birthday wish. This will help you tailor your message to something that will resonate with them.
For example, if your boss is known for having a good sense of humor, consider adding a funny or witty element to your message.
Taking note of their likes and dislikes can also help craft the perfect birthday wish. Maybe they love golfing or are passionate about their favorite sports team – incorporating these interests into your message can show that you put thought into creating something personal and meaningful.
Showing Gratitude And Appreciation
Showing gratitude and appreciation is essential to writing a special birthday wish for your boss. It helps to acknowledge their hard work, commitment, leadership, and guidance in the workplace.
You can start by expressing gratitude for everything they've done for you and the team.
You can also show appreciation by highlighting specific accomplishments or positive qualities attributed to your boss. For example, "Your exceptional leadership skills have inspired me every day" or "I appreciate the way you always go above and beyond in everything you do." These types of personalized messages not only demonstrate gratitude but also make your boss feel valued as an individual.
Keeping The Tone Professional
When writing a birthday wish for your boss, it is essential to keep the tone professional. Your message should reflect the respect and admiration that you have for your boss as a leader in the workplace.
For example, you might write something like: "Wishing you all the best on your special day! Your leadership and guidance have been instrumental in our team's success, and we are grateful to have you as our boss." This message balances warmth and professionalism, acknowledging your boss's contributions while maintaining an appropriate level of formality.
Adding A Personal Touch
When writing a birthday wish for your boss, adding a personal touch can make it more meaningful and memorable. It shows that you have taken the time to think about what your boss would appreciate on their special day.
One way to do this is by mentioning something you admire or appreciate about your boss.
Another way to add a personal touch is by including an inside joke or reference that only your boss would understand. This can show that you share a unique bond with them beyond just being colleagues.
However, it's essential to keep the tone professional and avoid anything inappropriate or offensive.
Conclusion
Take the chance to show your boss how much you appreciate them on their special day. Whether you choose a warm and heartfelt message or a formal and respectful greeting, birthday wishes are an opportunity to celebrate your boss's accomplishments and leadership skills.
Whether You Choose To Write A Warm, Formal, Or Inspirational Message, Birthday Wishes For Your Boss Are A Great Opportunity To Show Appreciation For Their Leadership And Celebrate Their Special Day.
Birthday wishes for your boss are more than just a nice gesture. They are an opportunity to express gratitude and admiration for their leadership and guidance throughout the year.
Whether you opt for a heartfelt message, a formal greeting, or an inspiring quote, your boss will appreciate the effort that went into making their day special. Remembering your boss's personality and preferences when crafting your message is essential, but don't be afraid to add a personal touch as well.
FAQs:
What are some excellent examples of birthday messages and greetings for a boss?
Some great examples include wishing them a wonderful day filled with joy, expressing gratitude for their guidance and leadership, and acknowledging their hard work and dedication to the team.
Is it appropriate to give a gift to your boss on their birthday?
It is not required or expected to give a gift to your boss on their birthday, but if you choose to do so, keep it professional and thoughtful. A small gesture such as a card or flowers can be appreciated.
Should I send my boss's birthday wishes via email or in person?
It depends on your office culture and relationship with your boss. It's always best practice to wish them happy birthday face-to-face if you have that opportunity. However, if that is not feasible due to distance or office protocol, then sending an email and any other formal communication channels would also work.
How far in advance should I plan for my boss's birthday celebration?
The timeframe depends on the size of the planned celebration; generally speaking – try giving yourself two weeks lead time as this will allow enough time for organizing gifts/food/etc. While still meeting deadlines associated with daily responsibilities. However, basic well-wishing (card/email) can be done anytime leading up to the birth date without much planning effort beyond drafting message content, so don't hesitate to reach out when inspiration strikes!