Disclaimer: We sometimes use affiliate links in our content. For more information, visit our Disclaimer Page. 
At work, we all want to make a positive impact and stand out from the crowd. Whether you're striving for a promotion, seeking more responsibility, or simply looking to increase your influence, the power to make a difference lies in your hands.
In this article, we will provide you with a comprehensive set of strategies and tips to help you transform your career by making an impact at work. From effective workplace strategies to enhancing your leadership skills, setting and achieving goals to cultivating strong relationships, we'll cover everything you need to know to succeed in your professional life.
Key Takeaways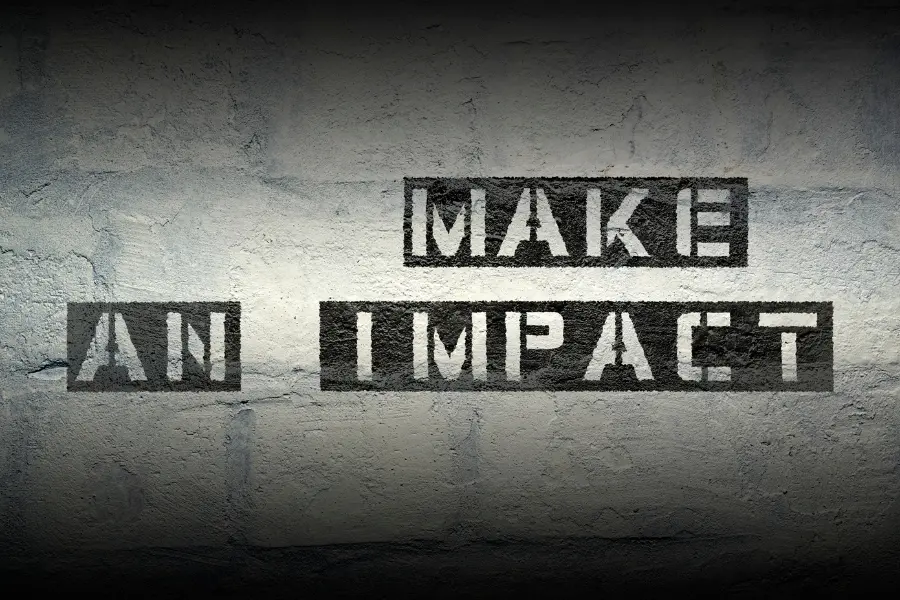 Understanding the Power of Making an Impact
It's no secret that making an impact at work is essential for career success and professional growth. When you take steps to make a difference in your workplace, you can open doors to new opportunities, enhance your reputation, and develop your skills and abilities.
But why is making an impact so crucial? Simply put, it allows you to stand out from the crowd and demonstrate your value to your employer and colleagues. By taking initiative and making a difference, you can position yourself as a leader and influencer, paving the way for continued growth and success.
How Making an Impact Can Lead to Professional Growth
When you make an impact at work, you not only enhance your current role but also set the stage for future growth and advancement. By demonstrating your value and capabilities, you can position yourself for new opportunities and promotions, enabling you to take your career to the next level.
Furthermore, making an impact allows you to develop critical skills and abilities that are essential for long-term success. Whether it's leadership, communication, problem-solving, or creativity, the process of making a difference can help you hone these skills and enhance your overall competency.
Remember that making an impact doesn't always have to involve big, flashy accomplishments. Small, consistent actions can add up over time and make a significant difference in your workplace and career.
Developing Effective Workplace Strategies
Boosting productivity and achieving career advancement are essential for making an impact at work. Here are some strategies to help:
1. Set clear goals
Goal-setting is essential for focusing your efforts and achieving success. Set goals that are specific, measurable, achievable, relevant, and time-bound (SMART). Write them down and track your progress to stay motivated.
2. Develop time management skills
Time management is critical for staying organized and on track. Prioritize your tasks, eliminate distractions, and use tools like calendars and to-do lists to manage your time effectively.
3. Enhance your skills
Continuous learning and development are essential for career growth. Seek out training opportunities, attend conferences and workshops, and stay up-to-date on industry trends.
4. Build strong relationships
Positive relationships with colleagues and supervisors are critical for workplace success. Network, collaborate, share knowledge, and seek feedback to build strong, supportive relationships.
5. Communicate effectively
Effective communication is essential for success in any role or industry. Listen actively, express your ideas clearly, and be open to feedback to build trust and credibility with your colleagues.
Enhancing Your Leadership Skills
Leadership skills are essential to making an impact at work. Whether you're managing a team or looking to influence colleagues, developing effective leadership abilities is key to achieving career success.
One crucial aspect of leadership is effective communication. Emphasize active listening, clarity, and transparency in all your interactions. Make sure you're understood by using clear, concise language and providing context when necessary. Additionally, make an effort to understand others' perspectives and show empathy when appropriate.
Another crucial aspect of leadership is the art of influence. To be an effective leader, you must be able to persuade and motivate others to take action. Focus on building trust and establishing your credibility, and use data and logic to support your ideas.
Finally, investing in ongoing leadership development is crucial for continued growth and impact. Seek out mentorship opportunities, attend leadership training programs, and regularly reflect on your strengths and areas for improvement to enhance your leadership skills over time.
Setting and Achieving Goals
To make a significant impact at work, setting and achieving goals is essential. By doing so, you can stay focused, and motivated, and track your progress toward career advancement. Here are some practical tips for successful goal-setting:
Be specific: Clearly define your goals, including what you want to achieve, when you want to achieve them, and how you plan to achieve them. This will give you a clear target to work towards.
Make them measurable: Create specific metrics and milestones to track your progress toward your goals.
Ensure they are attainable: Your goals should be challenging but achievable. Be realistic with the timeline you set, and consider the resources you have available to you.
Relevant: Align your goals with your overall career aspirations, and ensure they align with your employer's goals and objectives.
Time-bound: Set a deadline for when you want to achieve your goal. This will help you stay focused and motivated.
Once you have set your goals, it's essential to take action and work towards achieving them. Here are some practical tips:
Break them down: Break down your goals into smaller, more manageable tasks. This will help you stay focused and motivated, and you'll be able to measure your progress more easily.
Stay motivated: Find ways to stay motivated, such as visualizing success, rewarding yourself for progress, and reminding yourself of your long-term career goals.
Track your progress: Regularly review your progress towards your goals, and be willing to adjust your approach if necessary.
Cultivating Strong Relationships at Work
Building strong relationships with colleagues and supervisors is essential in making a difference at work. Effective networking, collaboration, and positive interactions can help foster a productive and supportive work environment.
Networking
Networking is a crucial aspect of building relationships at work. Whether attending events, reaching out to contacts, or connecting on professional social media platforms, building a network of contacts can lead to new opportunities, increased visibility, and valuable information and resources.
Collaboration
Collaboration is another key factor in relationship building. Working effectively with others, sharing ideas, and offering support and assistance can not only lead to increased productivity and success but also foster a positive work environment.
Positive Relationships
Fostering positive relationships with colleagues and supervisors can help build trust, support, and respect. Encouraging open communication, recognizing and appreciating others' contributions, and offering assistance can create a positive work culture, improve morale, and increase overall workplace success.
Embracing Continuous Learning and Development
Continuous learning and development are critical for long-term success in your career. Work environments and job requirements are consistently evolving, making it vital to keep up with new skills, technologies, and practices.
Staying updated and seeking new skills is essential for professional growth and career advancement. It demonstrates your commitment to personal development and displays your versatility, adaptability, and willingness to learn.
Seek Out Growth Opportunities
You can embrace continuous learning and development by seeking out opportunities for growth. This can include attending workshops, taking courses, pursuing new certifications, or participating in seminars or webinars that align with your career goals.
You may also consider expanding your job duties or volunteering for new projects to gain experience and broaden your skillset. Additionally, seek out mentorship or coaching to learn from seasoned professionals in your industry.
Stay Up-to-Date with Industry Trends
Keeping up-to-date with industry trends and changes is vital to remain competitive in your field. You can do this by subscribing to relevant publications or e-newsletters, attending industry conferences, joining professional organizations, or networking with others in your industry.
By staying informed and knowledgeable, you can provide informed insights and recommendations, propose new ideas, and offer valuable contributions to your team or organization.
Embrace a Growth Mindset
Finally, embracing a growth mindset is crucial for continuous learning and development. This means adopting an attitude that embraces change, challenges, and learning opportunities. It entails being open-minded, resilient, and self-motivated, seeking feedback and using it constructively, and continuously striving to improve.
Overcoming Challenges and Adversity
Making an impact at work may seem daunting when faced with challenges and adversity. However, it is within these challenges that we find opportunities to grow and thrive. By embracing these obstacles with a positive mindset and strategic approach, you can continue to make a difference and achieve workplace success.
Resilience is key in navigating these challenges. Take time to assess the situation and determine the best course of action. Seek out support and resources when needed and stay focused on your goals.
Problem-solving skills and adaptability are also essential in overcoming challenges. Approach problems with a creative and analytical mindset, seeking out innovative solutions. Embrace change and stay flexible to pivot strategies when necessary.
Remember that challenges and adversity are temporary and can often lead to new opportunities and personal growth. Keep pushing forward and use these experiences to become a stronger and more effective contributor in the workplace.
Embodying Professionalism and Integrity
Being recognized as a professional and trustworthy individual is essential for making an impact at work. Ethical behavior, maintaining a positive reputation, and embodying professionalism create a lasting impression in the workplace.
One of the key elements of professionalism is dressing appropriately for the job. Dressing in business attire creates an impression of seriousness and respect for the job. Additionally, it's important to arrive on time, fully prepared for meetings and appointments.
Integrity is also important when it comes to making an impact at work. Always follow through on commitments, and communicate honestly and transparently with colleagues. When faced with conflicts, handle them in a professional and respectful manner.
Finally, it's crucial to maintain a positive attitude and demeanor in the workplace. Keep a level head, even in stressful situations, and refrain from gossip or negative talk about colleagues. A respectful, professional approach will help you make a difference and achieve workplace success.
Leveraging Technology and Innovation
Technology and innovation have revolutionized the workplace, transforming how we work and interact with others. To make an impact and advance your career, it's essential to leverage existing tools, adopt new technologies and embrace innovation.
Whether you're working remotely or in the office, technology can enhance your productivity and efficiency. From online collaboration platforms like Microsoft Teams and Zoom to project management tools like Trello and Asana, there are various ways to streamline your work processes and achieve more in less time.
In addition, staying up-to-date with the latest technological trends and advancements can give you a competitive edge. Attend virtual conferences, webinars, and workshops to learn about new tools and techniques that can help you achieve your goals.
Moreover, don't be afraid to embrace innovation and propose new ideas or solutions for your organization. Whether it's implementing a new customer service strategy or developing a more efficient workflow, demonstrating your ability to think creatively and solve problems can make a significant impact on your career.
Demonstrating Initiative and Going the Extra Mile
When it comes to making an impact at work, demonstrating initiative and going the extra mile can set you apart from the crowd. Whether it's taking on extra responsibilities or consistently delivering high-quality work, going above and beyond is a hallmark of those who make a difference.
Initiatives can come in many forms, such as identifying areas for improvement and creating new processes, volunteering for projects outside of your regular role, or suggesting new ideas for the company's growth. These actions showcase your dedication and willingness to contribute to the organization's success.
Going the extra mile also means being willing to work outside of your comfort zone. Taking on tasks that may be outside of your direct responsibilities and looking for ways to add value to your team and company can help you grow and develop new skills.
However, it's important to strike a balance between taking initiative and not overcommitting yourself. Be mindful of your workload and communicate with your supervisor about your capacity to take on additional tasks.
When you consistently demonstrate initiative and go the extra mile, you will gain the respect and trust of your colleagues and supervisors. This can open up new opportunities for networking, leadership positions, and career advancement.
Conclusion
Take Action and Transform Your Career, by understanding the power of making an impact, developing effective workplace strategies, enhancing your leadership skills, setting and achieving goals, building strong relationships, embracing continuous learning and development, overcoming challenges and adversity, embodying professionalism and integrity, leveraging technology and innovation, and demonstrating initiative and going the extra mile, you can transform your career and make a real difference.
So why wait? Start implementing these tips today and watch as you begin to make an impact at work, achieve your goals, and create a lasting impression.
FAQs
What does it mean to make an impact at work?
Making an impact at work involves actively contributing to your workplace by initiating positive changes that influence the environment, colleagues, and overall outcomes. It entails going beyond routine tasks, taking the initiative to enhance the organization, fostering teamwork, and driving meaningful progress. This can be demonstrated through innovation, effective communication, leadership, and a commitment to achieving both personal and collective goals.
How do you create impact in the workplace?
Creating an impact in the workplace requires several strategies: Proposing and sharing innovative ideas that contribute to the company's growth and development. Communicating effectively with coworkers, listening actively, and providing valuable insights. Cultivating a positive attitude that encourages collaboration and a supportive atmosphere. Taking on responsibilities that demonstrate reliability and enable colleagues to rely on you. Engaging with colleagues, paying attention to their input, and valuing their feedback. Speaking up about important matters, contributing your thoughts, and participating actively. Going beyond expectations by taking on additional tasks and displaying dedication to your role.
How do you deepen impact at work?
Identify your unique strengths and skills that can contribute to meaningful changes. Build strong relationships with coworkers, offering support and guidance to foster collaboration. Seek opportunities to lead projects, mentor colleagues, or tackle challenging tasks. Continuously enhance your skills and knowledge to align with your role and organizational goals. Demonstrate dedication and resilience in your work, inspiring others through your commitment to growth and development.
How can I make a good impact?
Making a positive impact involves: Treating coworkers with respect and empathy, and creating a positive and inclusive work environment. Engaging in open and effective communication, actively listening to diverse perspectives. Exemplifying integrity, accountability, and a strong work ethic in your daily tasks. Taking initiative to support team members and contribute positively to collective efforts. Striving to exceed expectations, seeking opportunities for personal and collective growth.
What is a good example for impact?
A compelling example of making an impact could include: Identifying an inefficient process within your team and proposing a streamlined solution. Participating actively in brainstorming sessions, offering creative ideas that lead to improved outcomes. Volunteering to take on additional responsibilities during busy periods to support your team. Initiating cross-functional collaborations that enhance communication and teamwork. Sharing your expertise through workshops or presentations, contributing to colleagues' skill development.