Disclaimer: We sometimes use affiliate links in our content. For more information, visit our Disclaimer Page. 
In today's ever-evolving job market, finding long-term professional fulfillment requires more than following a traditional career path. This article delves into the importance of exploring diverse experiences and cultivating new skills that can unlock unimagined opportunities for growth and self-discovery.
Key Takeaways
Career experimentation involves exploring new career options, acquiring new skills and experiences, and discovering personal and professional growth opportunities.
Engaging in deliberate career planning through experimenting with different roles or industries promotes continuous learning. It increases job satisfaction and engagement while enhancing one's skill set that can be applied across various professions.
Strategies for mastering career experimentation include setting clear goals and objectives, gathering feedback through networking, shadowing, volunteering, or pursuing education/training opportunities. Embracing failure as a learning experience is essential while being resilient towards future setbacks on the path towards success.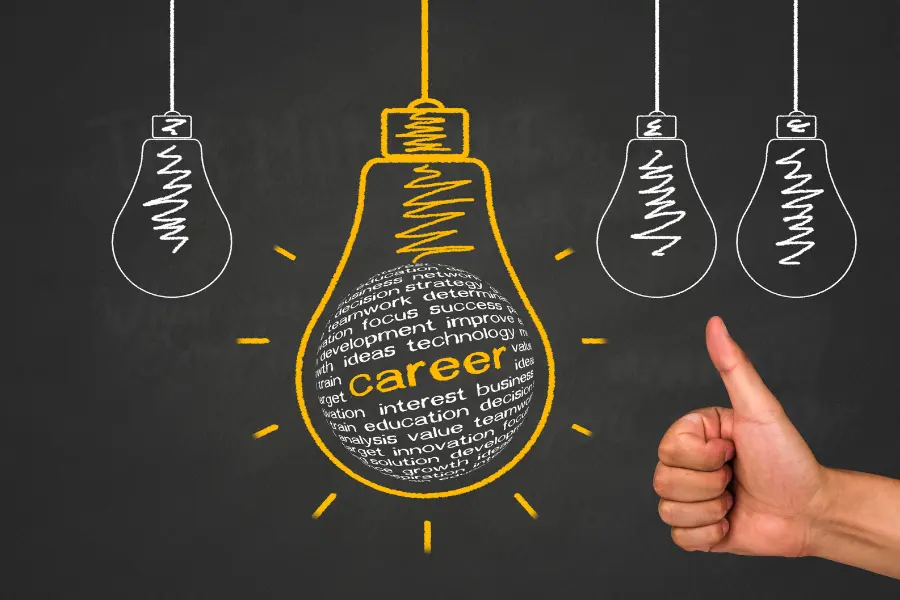 Defining Career Experimentation
Career experimentation is exploring new career options, acquiring new skills and experiences, and discovering personal and professional growth opportunities.
Understanding The Concept Of Career Experimentation
Career experimentation is a proactive approach to personal and professional development involving various job roles, industries, or skills to gain insight into one's career preferences and strengths.
By engaging in diverse experiences, individuals can identify potential interests and avenues for growth while enhancing their resume with new competencies.
For instance, someone looking to discover if they enjoy working in marketing might experiment by taking on freelance projects or volunteering for non-profit organizations where they can apply their creativity in creating promotional materials.
With each new experience gained through career experimentation, individuals deepen their self-awareness regarding their unique attributes and capabilities, ultimately leading them toward fulfilling work opportunities.
In an ever-evolving job market with emerging technologies and shifting skill demands across industries, mastering the concept of career experimentation has become even more crucial as part of holistic career planning efforts.
The Importance Of Exploring And Learning For Personal And Professional Growth
Exploring and learning are essential for personal and professional growth because they help individuals discover new interests, develop new skills, and increase job satisfaction.
By constantly experimenting with different career paths through education, training, shadowing, or volunteering, individuals can actively engage in self-discovery, leading to a deeper understanding of their unique attributes and skill sets.
Active exploration allows individuals to identify potential career paths by exposing them to different fields while developing valuable experiences. These experiences can be applied when seeking jobs or building new careers—expanding possibilities beyond the conventional route of a single profession.
By combining traditional forms of knowledge acquisition, such as internships, with deliberate practice—committing oneself to improvement—individuals can gain exposure across various industries.
Benefits Of Career Experimentation
Career experimentation offers numerous benefits, including discovering new interests and passions, developing new skills and experiences, increasing job satisfaction and engagement, and identifying potential career paths.
Discovering New Interests And Passions
Career experimentation allows individuals to step outside their comfort zones and explore new interests and passions. By trying out different roles or industries, they can discover what truly excites them and find fulfillment in their work.
For example, someone who has always worked in finance may take a risk and try working in creative writing.
Furthermore, by discovering new interests and passions through career experimentation, individuals can also gain a sense of purpose in their work. When one is passionately engaged with the tasks at hand, it creates enthusiasm that leads to greater productivity and job satisfaction.
Developing New Skills And Experiences
Engaging in career experimentation allows individuals to develop new skills and experiences that can enhance their professional growth.
Whether by pursuing a different role, attending conferences, or taking courses, experimenting with different career paths allows you to expand your knowledge and skill set.
For instance, if you are working in marketing but are interested in graphic design, taking related courses at a local college or volunteering for design projects can help you acquire new skills transferable to your current job.
Learning a new language or software program could provide additional opportunities within the company or even better-paying jobs elsewhere.
Increasing Job Satisfaction And Engagement
Mastering the process of career experimentation can increase job satisfaction and engagement. When individuals engage in deliberate career planning, they have a better understanding of what motivates them and what their values are.
As they gain more knowledge, they can more clearly articulate what types of work environments and roles will make them happier and more fulfilled.
Moreover, trying out various career paths through experimentation provides an opportunity to explore different fields without committing to one permanently.
This approach allows exposure to new experiences, challenges, and growth opportunities. By finding fulfilling work that aligns with personal goals, skills are honed in areas with genuine motivation.
Keywords: Career Planning; Skill Acquisition; Job Satisfaction; Engaged Workforce; Self-Improvement
Identifying Potential Career Paths
Identifying potential career paths is essential for anyone who wants to plan their professional trajectory. A great way to begin this process is by reflecting on your interests, skills, and values.
Start thinking about what you enjoy doing and what motivates you at work. Once you have a general idea of your career preferences, research different industries and occupations that match those interests.
Another helpful tool in identifying potential career paths is networking with professionals in the industry or field you are considering. Reach out to people on LinkedIn or through job fairs and informational interviews to learn more about what they do, how they got there, and the skills required for success in their role.
You may find that many roles require a combination of skills from different fields or industries, allowing you to explore new opportunities outside your current expertise.
Strategies For Mastering Career Experimentation
Set clear goals and objectives, and break them into actionable steps.
Setting Clear Goals And Objectives
One of the most critical steps in mastering career experimentation is setting clear goals and objectives. It's essential to identify your career aspirations, understand what you want to achieve, and create a plan to reach those goals.
To set practical goals and objectives, start by decluttering your mind. Identify areas where you'd like to improve and break them down into measurable targets.
For example, if you're interested in becoming an expert copywriter with SEO skills, list all the skills required for that job and prioritize them based on importance.
Next, create a timeline for achieving each objective.
Remember that setting concrete aims will help you stay motivated throughout the experimentation.
Gathering Information And Feedback Through Networking, Shadowing, Volunteering, And Pursuing Education And Training Opportunities
To effectively experiment with different career paths, gathering information and feedback from various sources is essential. Here are some strategies for doing just that:
Networking: Reach out to professionals in your desired field or industry. Attend industry events, connect with alumni associations, and use social media platforms like LinkedIn to establish connections.
Shadowing: Spend time observing and learning from someone currently working in the job or industry you're interested in pursuing. This can provide invaluable insight into the day-to-day responsibilities of the role.
Volunteering: Consider volunteering for organizations or causes that align with your interests and career goals. This can help you gain relevant experience and make valuable connections.
Pursuing education and training opportunities: Take courses, attend workshops or conferences, or pursue a degree program in your desired field. These opportunities can help you build your skills and knowledge and make connections within the industry.
By using these strategies to gather information and feedback, you can better understand the demands and requirements of various careers. This knowledge will enable you to decide which paths best fit you.
Embracing Failure As A Learning Opportunity
One of the essential strategies for mastering career experimentation is embracing failure as a learning opportunity. It's essential to recognize that taking risks and trying something new is an integral part of experimentation, and failures may happen along the way.
By analyzing what went wrong and identifying areas for improvement, individuals can gain valuable insights into their strengths and weaknesses. These experiences allow professionals to adjust their approach in future experiments and continue to refine their skills until they achieve success.
Furthermore, embracing failure allows individuals to develop resilience. By accepting setbacks with a growth mindset instead of giving up entirely, professionals become better equipped to overcome challenges in all aspects of life.
Overcoming Fear And Developing Resilience
Developing resilience and overcoming fear is an essential components of career experimentation. Fear can often hold individuals back from taking risks or trying new things, which are crucial for personal and professional growth.
One way to overcome fear is by gradually testing the waters, starting with small experiments and building up to more significant career moves. Additionally, embracing failure as a learning opportunity rather than a source of shame or embarrassment is essential.
For instance, psychologists suggest using positive self-talk to reframe negative thoughts into constructive ones that help overcome fears. This might include practicing affirmations such as "I am capable" or "I can learn." Moreover, seeking support from mentors or like-minded peers can provide encouragement and helpful feedback during the experimentation.
Embracing Career Experimentation For Personal And Professional Growth
To truly unlock personal and professional growth, embracing career experimentation is essential. By keeping an open mind, learning from mistakes, and exploring different paths, you can discover new interests and skills that will lead to greater fulfillment in your career.
Making Informed Decisions By Conducting Experiments And Analyzing Data
One of the key strategies for mastering career experimentation is making informed decisions through conducting experiments and analyzing data. This involves creating a hypothesis about a potential career path and testing it, collecting data, evaluating results, and adjusting accordingly.
For instance, if someone is interested in pursuing a career as a software developer but needs to decide whether it's the right fit, they could take relevant online courses or attend coding boot camps to see how they enjoy working with code.
Another example of experimenting with careers would be shadowing someone currently doing the job you're interested in. This will give an insight into what that particular position holds daily while allowing people who work there to provide personal stories of successes and challenges faced in such roles.
Keeping An Open Mind And Exploring Different Career Paths
One crucial aspect of career experimentation is keeping an open mind and exploring various pathways. Often, individuals limit themselves to a specific career choice or field, which can hinder personal and professional growth and lead to dissatisfaction in the long run.
By remaining open-minded, individuals can explore different career paths and discover new interests and passions they may not have previously considered.
Moreover, exploring different careers allows individuals to gain insights into the skills required for each job sector and identify transferable skills from one position to another while presenting opportunities for personal fulfillment through work that aligns with core values.
One's journey in discovering their passion could be multifaceted, involving mentorship programs like shadowing senior professionals in their preferred niche area or enrolling in online courses related to other fields such as data analysis or software engineering.
Fostering A Growth Mindset And Learning From Mistakes And Setbacks
Fostering a growth mindset is critical to mastering the process of career experimentation. By adopting this approach, individuals can learn from their mistakes and setbacks instead of being discouraged.
Learning from mistakes involves analyzing what went wrong and taking actionable steps to prevent it in the future. For example, if an individual fails at landing a job interview, they may use the experience to improve their resume or practice interviewing skills.
Bouncing back from failures also requires resilience, which can be achieved through mindfulness practices like meditation or exercise.
Conclusion
Mastering the process of career experimentation is a continuous journey filled with self-exploration, learning opportunities, and growth. By setting clear goals and objectives, gathering information and feedback through networking and other means, embracing failure as a learning opportunity, overcoming fear, and developing resilience, individuals can uncover new passions that lead to personal and professional fulfillment.
Remember to keep an open mind when exploring different career paths through deliberate practice.
FAQs
Why should I consider career experimentation?
Career experimentation allows you to explore new fields, discover your strengths and passions, and identify what type of work will bring you the most fulfillment and success in your professional life.
How do I get started with career experimentation?
Start by identifying your interests and skills, researching potential careers that align with those interests, networking to gain insights into those fields, and testing out different jobs or internships through volunteer work or side projects.
How long should a career experiment last before deciding if it's right for me?
The length of time for a career experiment depends on various factors such as the nature of the job or industry you are exploring, how much experience you have within that field already, and how much time you can dedicate to experimenting alongside other commitments such as school or family obligations. It is recommended to give yourself at least several months in order to fully immerse yourself in the experience.
What happens if I try something new but don't like it?
If attempting a new job/industry/career path doesn't turn out as expected – there are always options available for shifting focus back towards passions/interests previously established, so worries about "failure" shouldn't stop anyone from trying something out once they feel ready/as curious learners though some may find themselves drawn back towards previous areas regardless! The point here is simply staying focused & determined during exploration phases until discovering suitable paths forward which match individual talents/skill sets/aptitudes etc.