Disclaimer: We sometimes use affiliate links in our content. For more information, visit our Disclaimer Page. 
Choosing a career is a significant decision that requires careful consideration. It involves identifying your passions, strengths, and interests to pursue a fulfilling career. However, choosing a profession is just the beginning. Sticking to a chosen career path is crucial for achieving long-term success, professional growth, and personal fulfillment.
Career commitment is the cornerstone of a successful career. It requires dedication, perseverance, and hard work to overcome obstacles and achieve professional goals. Staying focused and committed to a chosen career path is essential for building expertise, expanding skills, and advancing in the industry.
Key Takeaways
Choosing a career is just the beginning of a successful career path
Career commitment is crucial for achieving long-term success and professional growth
Staying focused and committed to a chosen career path builds expertise and skills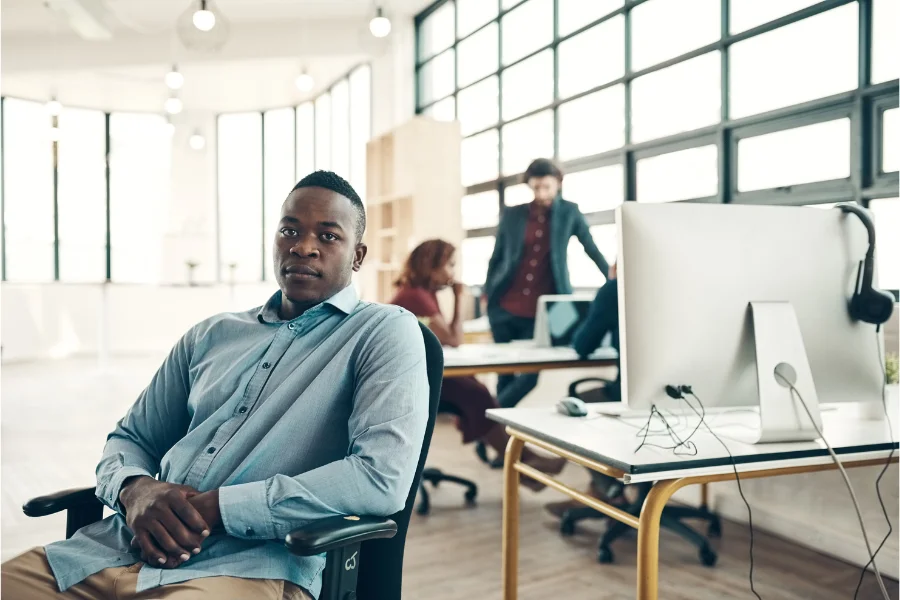 Understanding the Significance of Sticking to a Chosen Career Path
Career commitment is a vital aspect of achieving job satisfaction and professional growth. Committing to a career path means dedicating yourself to pursuing excellence and striving for long-term success. It involves developing a mindset that embraces challenges, pursues opportunities, and consistently works towards achieving your goals.
One of the key benefits of career commitment is the potential for career longevity. By staying dedicated to a chosen path, you increase your chances of success in your field. This dedication can also lead to greater job security, as employers tend to value employees who show long-term loyalty and dedication to their work.
Career commitment also involves high dedication to developing and improving your skills. By staying focused on your career, you can identify areas where you need to improve and seek out opportunities to enhance your knowledge and expertise. This drive for self-improvement can help you stay competitive in the job market and advance in your career.
Ultimately, career commitment is about dedicating yourself to your work in a way that brings you fulfillment and satisfaction. It means finding a career path that aligns with your passions and strengths and pursuing it with dedication and perseverance.
Choosing the Right Career Path
When it comes to career choice, it's important to identify the path that aligns with your passion and strengths. Many people make the mistake of choosing a career based solely on financial gain or societal expectations, leading to dissatisfaction and burnout. To avoid this, take the time to reflect on your interests, skills, and values. Consider what motivates and excites you, and explore careers that align with those factors.
Staying focused on your chosen path is essential once you've identified it. It's easy to get distracted by other opportunities or discouraged by setbacks, but maintaining a clear vision of your career goals can help you stay on track. Set specific, measurable objectives to work towards and hold yourself accountable for achieving them.
Additionally, seek out guidance and advice from mentors and colleagues in your field. Networking and building relationships with individuals with experience and insight can provide valuable perspective and support as you navigate your career path.
Developing Career Self-Discipline
A successful career requires discipline and dedication. Developing career self-discipline is crucial to achieving professional goals and maintaining focus. Here are some strategies for staying motivated and disciplined:
Create a routine: Establishing and following a daily routine helps to maintain focus and productivity. Allocate time for work, breaks, and personal activities.
Set goals: Set achievable short-term and long-term goals. Break larger goals into smaller, manageable tasks.
Avoid distractions: Identify and eliminate sources of distraction in the workplace, such as social media or personal devices. Stay focused on work-related tasks.
Take breaks: Taking short breaks throughout the day can help improve focus and prevent burnout. Utilize break periods to recharge and refocus.
Maintain a positive attitude: A positive attitude can help to overcome obstacles and maintain motivation. Focus on the possibilities, and avoid negative self-talk.
Effective time management is also crucial for developing career self-discipline. Here are some tips for managing time effectively:
Prioritize tasks: Determine which tasks are most important and prioritize them accordingly.
Delegate: Delegate tasks to colleagues, when possible, to help manage workload.
Avoid procrastination: Procrastination can lead to stress and missed deadlines. Stay organized and tackle tasks as soon as possible.
By developing career self-discipline and effective time management skills, individuals can improve their productivity, maintain focus, and achieve long-term success in their chosen careers.
Overcoming Challenges and Obstacles
Perseverance is key when it comes to a successful career. However, obstacles and challenges can often arise, and knowing how to overcome them is important. Here are some tips to help you persevere through difficulties:
Set realistic goals: Break down your long-term goals into smaller, achievable steps. This will help you stay motivated and focused on the bigger picture.
Stay positive: Practice positive self-talk and surround yourself with supportive individuals who encourage and motivate you.
Learn from failures: Don't be discouraged by failures or setbacks. Instead, view them as opportunities for growth and learning.
Seek advice: Don't hesitate to reach out to mentors or colleagues for advice and guidance. They can provide valuable insights and help you overcome challenges.
Remember, obstacles and challenges are a normal part of any career journey. You can achieve long-term career success by staying motivated and persevering through difficulties.
Nurturing Professional Growth
A successful career is not just about achieving goals and reaching milestones but also about continuous learning and professional growth. To stay relevant and competitive in today's job market, individuals must be willing to expand their skills and adapt to new trends in their industry. Here are some tips for nurturing professional growth:
Seek out opportunities for learning and development, such as attending conferences, workshops, and online courses.
Take on new projects or responsibilities that challenge you and allow you to develop new skills.
Stay up-to-date with the latest industry news and trends by following relevant publications, social media accounts, and thought leaders.
Network with other professionals in your field to gain insights, advice, and potential job opportunities.
Consider seeking mentorship or guidance from more experienced professionals to accelerate your learning and growth.
By consistently nurturing your professional growth, you can position yourself for long-term success and satisfaction in your career.
Building a Supportive Network
Success is not achieved in isolation. A supportive network can provide guidance, inspiration, and opportunities for professional growth. Building and nurturing relationships is essential for career success.
The Benefits of Networking
Networking is a valuable tool for expanding professional connections and gaining insights into industry trends. Joining professional associations and attending industry events can help establish meaningful relationships and create opportunities for collaboration.
The Importance of Mentorship
Mentorship can be a powerful tool for career growth. A mentor can provide guidance, advice, and support, helping individuals navigate challenges and accelerate their professional development. Seeking a mentor with similar career interests and goals can be particularly beneficial.
The Value of Collaboration
Collaboration can help individuals broaden their skill sets, gain new perspectives, and achieve shared goals. Seeking out opportunities to work with peers and colleagues can lead to new insights, innovations, and career opportunities.
Maintaining Work-Life Balance
It's easy to get caught up in the demands of work and neglect other important aspects of life. However, maintaining a healthy work-life balance is crucial for long-term career satisfaction and overall well-being. Here are some tips for achieving work-life balance:
Set boundaries: Establish clear boundaries between work and personal time. Disrupting from work and focusing on other activities that bring joy and relaxation is important.
Delegate tasks: Don't be afraid to delegate tasks or ask for help when necessary. This can help reduce the workload and free up time for other activities.
Prioritize self-care: Self-care is essential for overall well-being. Make time for activities that promote physical and mental health, such as exercise, meditation, or hobbies.
Manage time effectively: Use time management strategies to maximize productivity and minimize stress. This may include creating a to-do list, prioritizing tasks, and avoiding unnecessary distractions.
Remember, achieving work-life balance is an ongoing process and may require adjustments as priorities and circumstances change. Individuals can maintain a healthy balance between work and personal life by prioritizing self-care and creating boundaries.
Embracing Lifelong Learning
The world is constantly changing, and so is the workplace. Embracing lifelong learning and continuous education is crucial to stay competitive and relevant.
Continuous education helps individuals keep their skills up to date, adapt to new technologies, and stay ahead of industry trends. It also shows a commitment to personal and professional growth.
Fortunately, there are many ways to pursue continuous education. Attending conferences and workshops, taking online courses, and participating in professional organizations are just a few examples. It's important to find the methods that work best for individual learning styles and schedules.
Additionally, being proactive in seeking new learning opportunities is essential. Look for ways to expand skills, take on new responsibilities, and gain experience in various areas. This can include asking for feedback from colleagues, taking on challenging projects, and seeking out mentorship or guidance from industry experts.
Embracing lifelong learning helps individuals stay competitive in the job market and leads to personal fulfillment and growth. By continually seeking out new knowledge and skills, individuals can enhance their career prospects and achieve long-term success.
Conclusion
Sticking to a chosen career path is crucial for achieving long-term success. Career perseverance and dedication are key factors in realizing professional growth and fulfillment in one's work. Choosing the right career path that aligns with your passion and strengths is as important as staying focused on it with self-discipline.
Every career has its own set of challenges, but it's important to overcome them with perseverance and maintain a positive attitude. Building a supportive network and nurturing professional growth by continuous learning are essential to career success. At the same time, maintaining a healthy work-life balance is vital to avoid burnout and sustain job satisfaction.
Remember to never stop learning and adapting to evolving industry demands. Continuous education and embracing lifelong learning can help you stay relevant and advance in your chosen career. By following these principles, you can achieve the success and fulfillment you desire in your professional life.
FAQs
Why is career commitment significant?
Career commitment is significant because it leads to career longevity and dedication. It helps individuals stay motivated, overcome challenges, and continuously improve their skills, ultimately leading to professional fulfillment and success.
How do I choose the right career path?
Choosing the right career path involves identifying your passion, strengths, and interests. It's important to consider your long-term goals and the opportunities available in the field. Seek guidance from mentors or career counselors to ensure a well-informed decision.
How can I develop career self-discipline?
Developing career self-discipline requires setting goals, creating a routine, and managing time effectively. It involves staying focused, avoiding distractions, and continuously pushing yourself to maintain a disciplined approach to your work.
How can I nurture my professional growth?
To nurture professional growth, engaging in continuous learning, seeking advancement opportunities, and staying updated with industry trends is important. Networking, seeking mentorship, and taking on new challenges can also contribute to professional development.
Why is building a supportive network important for my career?
Building a supportive network is important because it can provide valuable insights, mentorship, and collaborative opportunities. It can help expand your professional connections, provide support during challenging times, and open doors to new career prospects.
Credits
Featured Image: Credits shapecharge via Canva.com
In-article Image: Credits PeopleImages via Canva.com