Disclaimer: We sometimes use affiliate links in our content. For more information, visit our Disclaimer Page. 
Micromanagement can have devastating psychological impacts on employees. Constant surveillance, lack of autonomy, and overbearing control can lead to discontent, burnout, and lower productivity. Folks may perceive a lack of trust in their managers, leading to decreased morale and confidence. This can, in turn, cause higher employee turnover.
This leadership style is widely seen as unfavorable and can hurt an organization's success. So, it's essential for managers to comprehend how their behavior affects their team and strive to produce a more positive work environment that encourages teamwork and collaboration.
The effects of micromanagement are not limited to the workforce but also extend to the entire organization. Stifling creativity and innovation due to micromanagement can block growth opportunities for the company. Thus, missed chances for progress and expansion.
Take Steve Jobs, for instance. He was once known for micromanaging, which induced stress among his associates. Eventually, he realized its adverse effects on company culture and shifted to a more delegation-focused leadership approach.
Employers should make it a priority to create an atmosphere that empowers their employees while still providing guidance and oversight when necessary. Doing this will prevent the unfavorable psychological effects of micromanagement and create a more pleasant working experience for all parties involved.
Understanding Micromanagement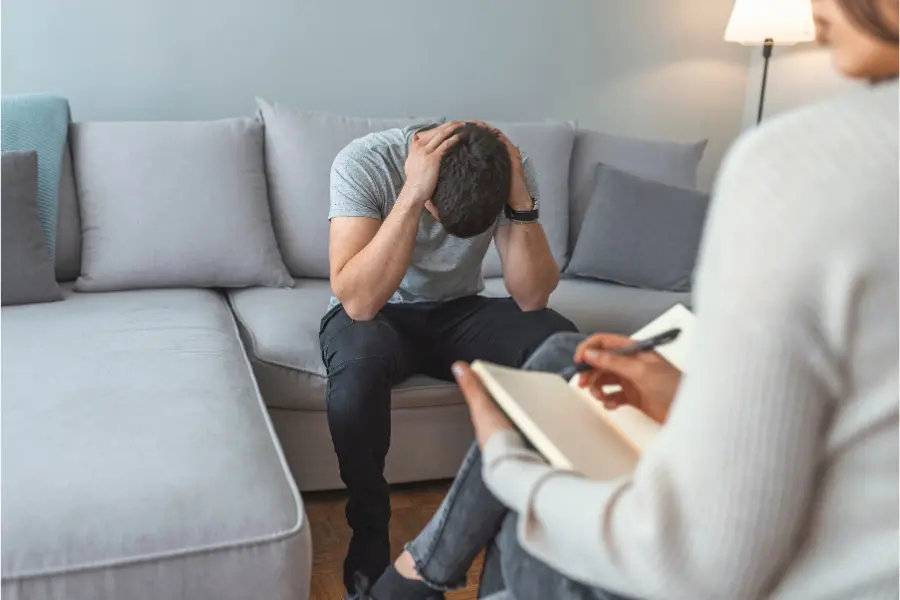 Micromanagement is a leadership style that involves the manager having control over every part of an employee's work. This causes anxiety, stress, burnout, and low satisfaction levels. It also reduces productivity by making employees too dependent on the manager for decisions and actions.
Micromanagement causes mistrust between managers and employees. Managers don't trust their employees to do tasks correctly, and employees feel like their managers don't value them.
It also leads to learned helplessness. Employees feel like they have no control over their work, resulting in frustration and demotivation.
Conclusion: Micromanagement can have severe effects on employees. So, if you want to feel mentally suffocated, try working under a micromanager!
The Negative Psychological Effects of Micromanagement
Micromanagement can have detrimental effects on employees' psychological well-being. Constant supervision and lack of autonomy can increase stress and anxiety, decrease motivation, and decrease overall job satisfaction.
Furthermore, micromanagement can lead to feelings of distrust and resentment towards the manager, causing a breakdown in the employer-employee relationship. If not addressed, these negative effects can ultimately result in decreased productivity and employee turnover.
When micromanagement kills motivation, it's like telling a runner to sprint through quicksand.
Decreased Job Satisfaction and Motivation
Employees suffering from micromanagement often experience a decrease in job satisfaction and motivation. This can be due to increased vulnerability, mistrust from management, or a lack of autonomy. These issues can cause employees to feel disconnected from their work, leading to low productivity and burnout.
The loss of job satisfaction can arise from feeling powerless over the work process or believing that their skills are not trusted. This can cause a lack of motivation and apathy towards tasks, resulting in poor performance.
Furthermore, low job satisfaction can lead to employees feeling undervalued, creating an atmosphere where turnover rates are high.
Pro Tip: Businesses should aim for a leadership culture that builds trust and encourages autonomy. This will prevent micromanagement, helping employees stay engaged and motivated to achieve shared goals.
Increased Stress and Anxiety
Excessive Control & Its Impact on Mental Health
Bosses' over-controlling can cause employees immense stress and anxiety. Being monitored all the time leads to a loss of trust and competence. This makes one's self-esteem and sense of autonomy plummet.
The constant interference in one's work can be overwhelming. This hinders one's ability to concentrate or make decisions. Moreover, the pressure to perform perfectly can worsen the situation.
Negative emotions can give rise to physical symptoms like headaches, exhaustion, sleep disorders & even depression. It also erodes team trust and reduces productivity.
To ease these issues, employers should set clear expectations from the start. Delegate tasks based on strengths, offer support through training programs and strengthen each employee's knowledge. This paves the way for team success.
Reduced Creativity and Innovation
Excessive control and direction from a micromanager can stifle employee creativity. This reduces creative expression due to limited autonomy, with employees forced to follow their superior's pre-determined actions.
Further, micromanagement can make employees feel undervalued and unappreciated, leading to less motivation and risk-taking.
Studies have shown that a micromanager is unlikely to change their approach as they focus on controlling every aspect of an employee's work.
Organizations now understand that personal freedom and initiative are vital to promoting innovation and good teamwork. A Harvard Business Review study declared, "Managers should allow subordinates the space and freedom to experiment."
It's clear that micromanagement can negatively affect employee satisfaction and organizational growth.
Decreased Trust and Loyalty
Excessive Control Ruins Worker-Manager Bond.
Micromanagement can be a major hindrance to any working relationship. It affects work productivity and morale and gives employees a sense of disrespect, inadequacy, and discouragement.
When managers observe their staff's every move, it implies that they don't trust their capability to complete tasks. This behavior can cause negative emotions; each action reminds them that the two have no trust or loyalty.
The environment gets too much for employees. They start to avoid their manager's advice as they think it is dominant, not supportive. Consequently, communication breaks down when staffs feel unvalued. Quitting the job seems the only way out.
Micromanagement: the most effective tool to turn pros into emotional toddlers.
Reduced Emotional Intelligence
Micromanagement can have a damaging effect on emotional intelligence. Micromanaged people tend to have lower self-esteem, lack autonomy, experience anxiety, and have difficulty making decisions. This affects their ability to develop and reflect on themselves.
This can also impair their ability to understand and empathize with others' emotions. Supervisors who micromanage ignore their employees' feelings, and this can lead to poorer interpersonal skills.
Pro Tip: As a supervisor, focus on setting clear expectations and goals rather than directing every step of an employee's work. You'll create a positive workplace culture that encourages emotional intelligence by offering guidance while allowing space to grow.
Specific Cases of Psychological Effects of Micromanagement
Micromanagement can have a range of negative psychological effects on employees. For instance, employees may experience reduced motivation and job satisfaction, loss of trust in management, and increased stress and anxiety. This type of management style can also lead to decreased creativity and innovation in the workplace and hinder teamwork and collaboration among employees.
It is essential for managers to be aware of the potential psychological effects of micromanagement and find ways to manage their team while allowing for autonomy and independence effectively. A balanced and adaptive leadership style can provide positive outcomes for both employees and the organization.
In addition, micromanagement can lead to feelings of disempowerment and helplessness among employees, as they may feel that their opinions and ideas are not valued. This can result in a lack of job satisfaction and reduced commitment to the organization.
Furthermore, micromanagement can impair the development of employees, as they may be less likely to take risks or make decisions without direct guidance from management. This can limit their personal and professional growth, ultimately harming the organization's performance.
It's important to note that the psychological effects of micromanagement can be long-lasting and difficult to reverse. For example, one employee was so micromanaged in their previous job that they could not trust their decision-making abilities, which impacted their future career prospects.
Employers must recognize the potential damage caused by micromanagement and prioritize employee empowerment and trust in leadership to promote a healthy and productive work environment.
"Who needs a psychology degree when you have micromanaging bosses providing on-the-job training in Industrial and Organizational (IO) studies?"
Industrial and Organizational Psychology Studies
Organizational Psychology topics help to unleash potential and increase employee job satisfaction, retention, and company growth. Studies prove the importance of workforce planning, performance management, and career development to improve working conditions.
Micromanagement is a type of leadership with negative impacts, such as employee stress and lower productivity. Industrial and Organizational Psychology research shows that it decreases job satisfaction and motivation.
Excessive focus on task control or outcome monitoring can make employees feel suffocated. This leads to a lack of empowerment which affects teamwork and progress.
The effects of micromanagement on organizational success should not be ignored. It is essential to detect bad leadership and take action quickly. Transparent communication allows collaboration and boosts employee engagement by giving them a voice. If micromanagement is part of company culture, long-term disempowerment will decrease profits. Bad management is like a horror movie, except the monster is your boss.
Real-life Examples from Business and Management
This part looks into the consequences of micromanaging in real-life companies. The table below shows different ways micromanaging can have a negative effect on business and management:
| | |
| --- | --- |
| Example | Impact |
| A manager who continuously checks in on their staff and doubts they can do their jobs | Lowered morale and motivation, reduced efficiency |
| An executive who orders every detail of a project without allowing any input from team members | Stifled imagination, decreased creativity, reduced job pleasure |
| A supervisor who tracks employees' every move and constantly criticizes | Raised stress and anxiety, lowered self-belief |
It is essential to acknowledge that each case is one-of-a-kind, as is the real impact on people. But, usual topics across these samples include reduced autonomy for staff and amplified pressure to reach unrealistic aims.
The influence of micromanaging can be particularly damaging when they go unnoticed by management. For example, an ex-colleague felt daily annoyance due to a micromanaging boss but could not speak up for fear of revenge. This led to their decision to leave the organization entirely.
To sum up, it is essential for managers to be aware of the adverse effects of micromanaging and take steps to build a more trusting and enabling work atmosphere for their teams. And sometimes, the best way to cope with micromanaging is to nod and smile like a bobblehead.
Coping Mechanisms for Micromanagement
Coping with Overbearing Supervision:
When working with a micromanager, coping mechanisms become essential for maintaining productivity and sanity. One approach is to tactfully communicate with the manager, clarifying goals and expectations without passing blame or questioning authority. Another tactic is to focus on one's own performance while avoiding the temptation to avoid or conceal mistakes.
Finally, minimizing personal stress through time management, self-talk, and relaxation activities can help individuals maintain composure and job satisfaction.
Furthermore, it is crucial to identify whether the micromanaging behavior is a long-term pattern or a quick response to stress or organizational pressure. In the former case, it may be worthwhile to seek out alternative employment opportunities.
Alternatively, if the behavior is temporary, individuals may benefit from patiently working through the challenges while maintaining open and transparent communication with the manager. Developing empathy for the manager can help individuals cope with the psychological effects of micromanagement.
"Trying to negotiate with a micromanager is like trying to convince a toddler to eat their vegetables – it's a battle you're probably not going to win."
Communication and Negotiation
Communication is essential for managing micromanagement. Talk about both parties' worries, divide tasks, and assign duties to decrease unnecessary interferences while ensuring accountability. Feedback should be constructive and positive.
Agreeing on what is expected helps with effective negotiation. Talk about leadership styles, job descriptions, and performance metrics in a playful way to stop unnecessary monitoring. Work out ways to build trust, such as having regular contact or routinely scheduled check-ins.
The psychological impacts of micromanagement include burnout and low morale. When talks don't go well, think about introducing communication systems or centralized communication, which takes away control from too-involved managers without influencing project goals.
Pro Tip: Guidelines and communication paths can help set boundaries and reduce the risk of excess control. Conflict resolution is like hide and seek – only the stakes are higher, and nobody wants to be found!
Conflict Resolution Skills
Managing Conflicts in Professional Settings? Sure Thing!
Effective communication and problem-solving skills are essential for handling conflicts in the workplace. Assertiveness, active listening, and emotional intelligence are key to alleviating tense situations. Understanding the issues at hand and respecting diverse perspectives is also essential to come to an agreement.
When emotions heat up, it's essential to stay calm. Using "I" statements instead of being accusatory can help lower defensiveness. Taking a break is also an option to revisit different points of view later.
Conflict resolution is not about winning or losing. It's about finding common ground for both parties to move forward amicably. Establishing strong relationships with colleagues based on trust and respect will help teams work more efficiently towards organizational goals.
Stay up-to-date with conflict resolution trends; attend workshops or take training programs to enhance your skills further. Always keep an open mind to learning new methods that could be useful for resolving conflicts creatively.
Emotional Regulation Techniques
Affective Modulation Techniques can help manage emotions in response to micromanagement. Proactive expression without getting too emotionally involved is essential. Focus on controlling reactions to external actions that cannot be changed. Breathing exercises and meditation can reduce the impact of micromanagement.
Judicious Attention Allocation Techniques can be used too. This involves recognizing what you can control, like your attitude, and directing attention toward action-oriented persuasion instead of negative feelings.
Pro Tip: Address issues early before they worsen and raise stress levels. Seeking professional help does not mean you must give up control – assign it to someone else.
Seeking Professional Help
Combatting micromanagement is easier with the help of a professional. They have the skills to help people manage difficult circumstances. Consulting a specialist can offer new insights and approaches. It can also help people become more aware of their emotions and develop better ways of dealing with situations.
To protect yourself, it is important to get professional guidance. This will help you become more independent and give you the skills to complete tasks under the policies of your manager.
Conclusion
The Implications of Micromanagement on Psychological Well-being
Micromanagement has serious consequences for staff mental health and well-being. This leads to lower job satisfaction and poorer performance. It affects organizational productivity and can create tensions in the workplace.
Micromanaged employees often feel anxious, depressed, stressed, and frustrated. Studies show they are three times more likely to seek medical help for psychological issues. These effects increase over time, making it difficult for employees to stay motivated and committed to their work.
Managers need to give staff training on leadership skills. Or, look for opportunities to let them work autonomously. Allocating tasks to suit an individual's capabilities can improve mental health and enhance productivity, creativity, and decision-making.
Pro Tip: Micromanaged situations can be improved by open communication to state expectations clearly.
FAQs
What are the psychological effects of micromanagement?
Research shows that micromanagement can cause stress, anxiety, low job satisfaction, and decreased employee motivation. It can also lead to feelings of mistrust and resentment towards the manager.
Can micromanagement lead to burnout?
Yes, micromanagement has been linked to burnout in employees. When employees feel that they have no control over their work and are constantly being scrutinized by their manager, it can lead to exhaustion and a reduced sense of accomplishment.
How can I cope with a micromanaging boss?
Communicating clearly and assertively is one way to cope with a micromanaging boss. It's important to set boundaries and express your needs and preferences. Another approach is building a positive relationship with your manager by finding common ground and demonstrating competence.
Why do some managers micromanage?
There are many reasons why managers might micromanage, but some common reasons include a lack of trust, insecurity, perfectionism, and a desire for control. In some cases, micromanagement may also stem from a lack of communication or unclear expectations.
How can organizations prevent micromanagement?
Organizations should develop a culture of trust and empowerment to prevent micromanagement. This can be achieved by ensuring that employees are trained and skilled in their roles, providing clear expectations and feedback, and fostering open communication and collaboration between managers and employees.
What are some alternatives to micromanagement?
Alternatives to micromanagement include delegation, coaching, and mentoring. These approaches involve giving employees more autonomy and responsibility while still providing guidance and support to help them succeed.