Disclaimer: We sometimes use affiliate links in our content. For more information, visit our Disclaimer Page. 
To be successful in life, you need more than just good education and experience. You also need interpersonal skills. This term can be defined in many ways, but at its core, it simply means the ability to communicate and interact with others effectively.
This blog post will discuss what is meant by interpersonal, why are interpersonal skills important, and demonstrate interpersonal skills examples that will help you succeed in life!
What is meant by interpersonal?
When we talk about interpersonal, we refer to the relationships and communication between people. This can include both verbal and non-verbal communication and the different ways in which people interact with each other.
Interpersonal relationships can be either positive or negative, depending on the level of communication and connection between the individuals involved. Positive interpersonal relationships are those in which there is a high level of communication and mutual respect. In contrast, negative interpersonal relationships are characterized by little to no communication and a lack of mutual respect.
It is an essential component of successful relationships, whether professional, platonic, or romantic. Good communication helps individuals to understand each other better and build strong bonds. Without effective communication, it can be challenging to maintain healthy relationships.
What are interpersonal skills and their importance?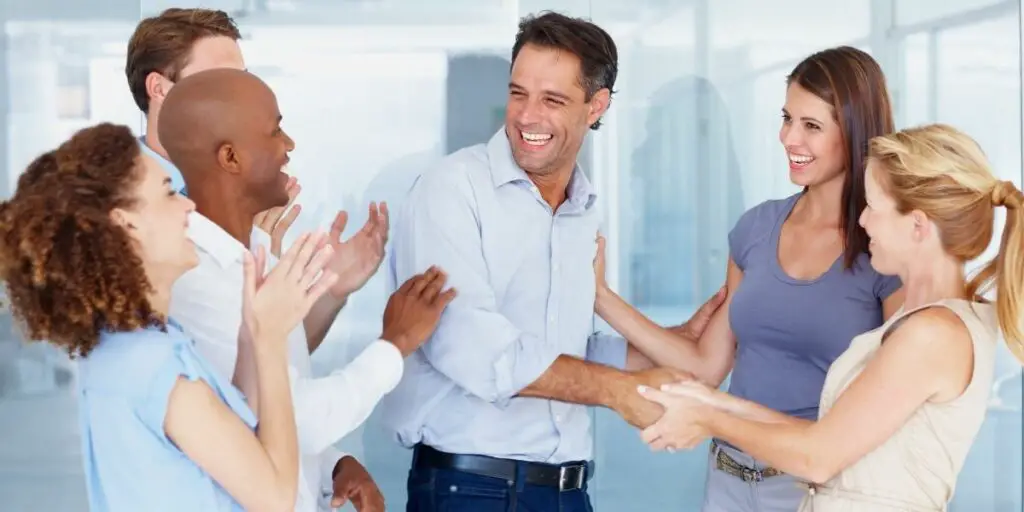 Interpersonal skills, also known as people skills, soft skills, or emotional intelligence, are our abilities to interact with others. We use them every day, at work and in our personal lives.
Some people are naturally good at interpersonal mastery, but everyone can improve interpersonal skills with practice. Enhancing interpersonal skills can help us resolve conflicts, express appreciation, and listen effectively. The importance of interpersonal communication skills is in every aspect of our lives. Good interpersonal skills can help us succeed at work, make friends, and build strong relationships.
When we interact with others, we use a variety of interpersonal skills. Of course, each situation is different, and we might use different skills in different situations. But some interpersonal skills are fundamental in many cases. We listed some of the essential skills below.
What are the types of interpersonal skills?
There are four main types of interpersonal skills: verbal, listening, written, and non-verbal communication. Each one is important, and they all play a role in our everyday interactions with others.
Verbal communication is the most common form of communication, and it includes both speaking and writing. We use verbal communication skills every day to communicate our thoughts and feelings to others. It is essential to be clear and concise when communicating verbally so that the person you are speaking to can understand you.
Listening is another crucial form of interpersonal communication. We need to be able to listen carefully to what others are saying to understand them. Of course, there are times when we may disagree with what someone is saying, but it is important to respect their opinion and give them a chance to explain themselves.
Written communication is another way to share our thoughts and feelings with others. This can include emails, text messages, letters, or even notes. It is crucial to be clear and concise when writing so that the person reading your message can understand you.
Non-verbal communication is the final type of interpersonal communication. It is a powerful way to express ourselves and our feelings. It can build rapport, trust, and rapport, create an impression, and communicate messages without using words. Nonverbal communication includes social cues, kinesics, distance, physical environments/appearance, voice, and touch.
Related: Communication
Examples of Interpersonal Skills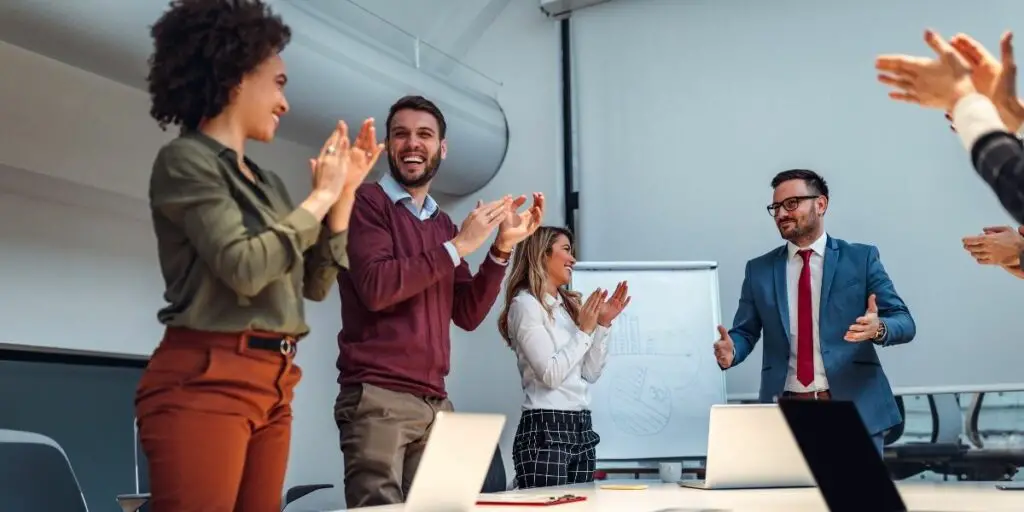 Interpersonal skills are the most critical skill to have in your repertoire. They're cross-industry, transferable, and will keep you working efficiently with a positive environment for everyone involved!
There are many different types of interpersonal skills. Some examples interpersonal skills include:
1. Leadership
Leadership is an important interpersonal skill for many reasons. First, leadership involves the ability to influence others. This is especially important in work settings, where persuading and motivating others can be crucial to task completion and productivity.
Additionally, leadership skills often include excellent communication. Good leaders can clearly articulate their vision and goals and then rally others around these objectives. Lastly, leadership also entails the ability to build relationships. Strong leaders are typically skilled at networking and developing positive working relationships with others. These interpersonal skills are essential in any leadership role.
2. Empathy
Empathy is the ability to understand and share the feelings of another person. It is a vital interpersonal skill that can help us build strong relationships, resolve conflicts, and show compassion.
While empathy is often a positive emotion, it is essential to remember that it can also be a double-edged sword. Too much empathy can lead to burnout, compassion fatigue, and depression. Therefore, it is vital to find a balance to use this skill effectively.
When used effectively, empathy can be a powerful tool for building solid relationships. If you find yourself struggling to empathize with others, you can do a few things to improve your skills. Practice active listening, pay attention to nonverbal cues and try to put yourself in another person's shoes. With a bit of practice, you can learn to use empathy.
3. Active listening
Active listening is another one of the most important interpersonal skills that involve paying attention to what the other person is saying, taking time to process and understand the information being communicated, and responding to clarify that the message has been received and understood. It can be used in personal and professional relationships to improve communication and build mutual understanding.
When active listening, it is essential to be aware of the verbal and nonverbal cues that the other person is giving off. The tone of voice, body language, and facial expressions can all provide valuable information about what the other person is thinking and feeling. Paying attention to these cues will help to ensure that you accurately understand the message being communicated.
It is also important to resist the urge to interrupt or interject while the other person is speaking. This can be difficult, especially if you feel passionate about the discussion topic. However, interrupting disrupts the flow of communication and sends the message that you are not interested in hearing what the other person has to say.
If you find yourself getting impatient or needing to jump in, try taking a few deep breaths and remind yourself that Active listening is a skill that takes practice. The more you can focus on truly understanding what the other person is saying, the your listening skills will be more effective.
4. Teamwork
Teamwork necessitates many interpersonal abilities, such as communication, attentive listening, adaptability, and duty. Working well with others to accomplish a common goal is essential in today's workplace. Good teamwork requires communication, cooperation, and a willingness to put the team's success above your interests.
Without teamwork, many businesses would simply not be able to function effectively. Teamwork is often the key to successful projects and can be a major donor to a company's overall success. If you want to be an asset to your team and help contribute to the business's success, focus on honing your teamwork skills.
There are several different ways to become a better team player. One of the most important things you can do is learn interpersonal skills to communicate effectively with your teammates. Make sure you listen carefully to what others have to say and that you're clear when sharing your ideas. It's also important to be cooperative and willing to compromise when necessary. Remember, the goal is to work together for the team's good, not to try to get ahead at the expense of others.
Related: Team Communication
5. Conflict resolution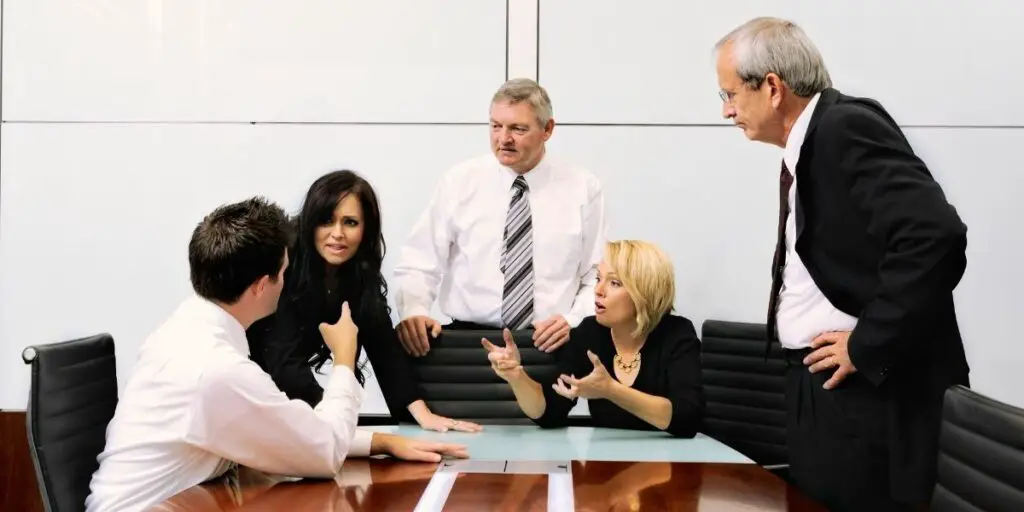 Conflict resolution is a critical interpersonal skill. It involves managing and resolving disagreements and differences between people effectively. When conflict is managed effectively, it can lead to positive outcomes such as improved communication, stronger relationships, and increased cooperation. On the other hand, when conflict is not managed effectively, it can lead to adverse outcomes such as damaged relationships, decreased communication, and reduced cooperation.
There are a variety of skills that are important for effective conflict resolution. These include:
Identifying and understanding the different types of conflict.
Communicating clearly and assertively.
Listening actively and empathically.
Finding common ground and compromise.
Handling emotions effectively.
6. Decision-making
Decision-making is another critical interpersonal skill. When we make decisions, we constantly interact with others and affect their lives. Therefore, the ability to make sound decisions is essential to our success as individuals and in society.
Many different factors go into making a decision, and the ability to weigh all of these factors effectively is a key interpersonal skill. For example, when deciding whether or not to accept a job offer, we must consider the financial implications of the decision, the impact on our family and friends, and our own goals and aspirations. Weighing all of these factors can be difficult, but it is essential to making a sound decision.
The ability to make decisions quickly and efficiently is another essential interpersonal skill. In today's fast-paced world, we often have to make split-second decisions that can significantly impact our lives. Making these decisions quickly and without hesitation is a critical interpersonal skill.
7. Problem-solving
When it comes to interpersonal skills, problem-solving is also a key ability to make all the difference. After all, we all encounter problems in our lives and relationships, and being able to solve them effectively can make a world of difference.
There are a few things to keep in mind when trying to solve problems with others. First, it's important to be open to different solutions and perspectives. Secondly, effective communication is crucial – you need to be able to listen and express yourself clearly. Finally, patience and flexibility are essential; remember that finding a solution that works for everyone involved may take time and effort.
With these tips in mind, you'll be well on your way to mastering the art of problem-solving and using it to improve your interpersonal skills!
8. Communication
The ability to communicate effectively is one of the most important interpersonal skills. Communication involves exchanging information between two or more people and can be verbal (using spoken words), nonverbal (using body language and gestures), or written (using documents and other tools).
It is important to understand the different communication skills or styles and how to use them in different situations to communicate effectively. For example, formal communication is typically used in business settings, while informal communication is more common in social situations.
It is also important to be aware of cultural differences in communication. For example, in some cultures, direct communication is considered rude, while in others, it is seen as the best way to get your point across. It is essential to learn about these differences to avoid misunderstandings.
Effective communication requires both parties to be able to understand each other. This can be a challenge when there is a difference in language or culture. It is often helpful to use a translator or interpreter in these cases.
9. Negotiation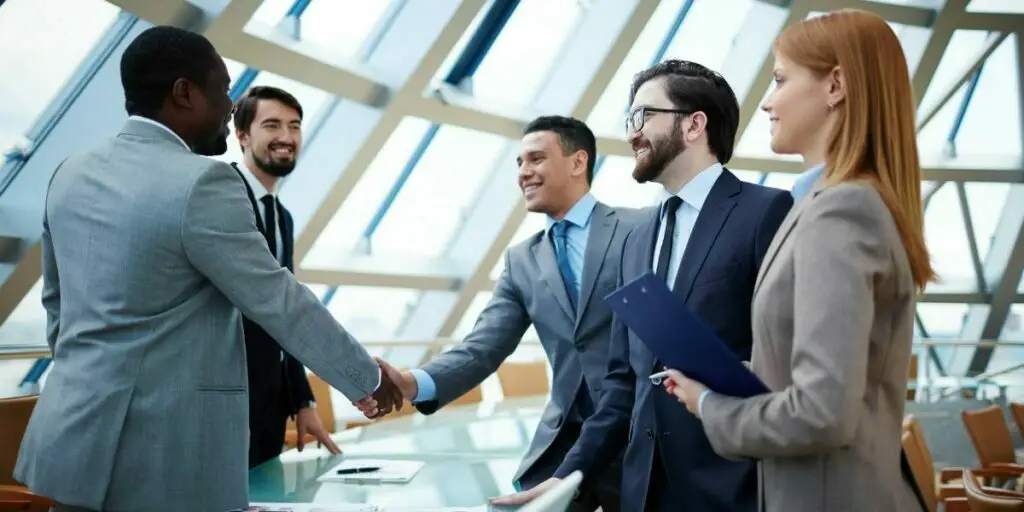 When it comes to negotiation, there are two types of people: those who are born hagglers and those who wish they were. If you're in the latter category, don't despair-negotiation is a skill that can be learned. And while some people may have a natural knack for it, anyone can improve their negotiation skills with a bit of practice.
One of the most critical aspects of negotiation is understanding what you want. Before entering any negotiation, you must have a clear idea of your goals. What are you hoping to achieve? What is your bottom line? Once you know what you want, you can begin to formulate a strategy to best achieve it.
It's also essential to understand the other side's objectives. What are they hoping to achieve? What are their bottom lines? By understanding their goals, you can see where there may be room for compromise.
Once you know what you want and what the other side wants, you can start to negotiate. The key is to find a middle ground that satisfies both parties. That might mean making some concessions, but it can be considered a successful negotiation as long as everyone gets something out of the deal.
Of course, not every negotiation will go smoothly. There will be times when tempers flare, and emotions run high. But if you keep your cool and remember your goals, you'll be more likely to come out of the negotiation with a favorable result.
10. Emotional intelligence
Emotional intelligence (EI) is the capacity to be aware of and manage one's own emotions and the emotions of others. So what does emotional intelligence have to do with interpersonal skills?
Well, EI is a significant part of successful communication and relationships. People with high emotional intelligence can navigate social interactions skillfully and often have better collaborative teamwork skills.
While emotional intelligence is not the only factor contributing to successful interpersonal skills, it is undoubtedly important. If you want to be a master of communication and relationships, start by working on your emotional intelligence!
11. Dependability
Are you dependable? Can others rely on you to keep your word and follow through on your commitments? If so, then you possess an essential interpersonal skill known as dependability.
Dependability is a quality that is highly valued in the workplace. Employers want to know that they can count on their employees to show up on time, complete assigned tasks, and be there when needed. This type of reliability is essential for businesses to run smoothly and efficiently.
Dependable individuals are often seen as being reliable and trustworthy. People know that they can count on them to do what they say they will do. This type of reputation can open doors and create opportunities in both personal and professional settings.
12. Positive Attitude
Having a positive attitude is an interpersonal skill that can help you in your personal and professional life. It can make you more likable and approachable, leading to better relationships. Additionally, a positive outlook can make you more likely to succeed in achieving your goals.
If you're looking to improve your interpersonal skills, start by focusing on developing a positive attitude. Here are some tips:
Be aware of your thoughts and language: Make an effort to catch yourself when you think or speak negatively. Replace negative thoughts with positive ones, and use affirmative language when talking to others.
Practice gratitude: One way to maintain a positive attitude is to focus on what you're grateful for. Make it a habit to regularly reflect on the things in your life that make you happy.
Seek out positive people: Surround yourself with people who have a positive outlook on life. These people can help contribute to a more positive mindset for you.
Be mindful of your body language: Nonverbal cues, such as your body language, can influence how others perceive you. Make sure that your body language conveys confidence and approachability.
Smile: Smiling is one of the easiest ways to show others that you have a positive attitude. Practice smiling throughout the day, even when you don't feel like it.
13. Patience
Patience is an interpersonal skill! After all, it is the ability to manage relationships effectively and patiently manage difficult situations. Patience also allows you to remain calm under pressure, a valuable trait in any situation.
Whether dealing with a demanding customer or managing a team of employees, patience will help you get through challenging situations more effectively. So, if you're looking to improve your interpersonal skills, focus on developing more tolerance. It's a skill that will come in handy in any situation!
14. Self-motivation
It's a capability to keep yourself going even when things are tough. When you're self-motivated, you don't give up easily. Instead, you're always looking for ways to improve and learn. Self-motivation is vital in any area of life. It can help you succeed at work, in your relationships, and in your personal life.
If you want to be successful, it's crucial to develop your self-motivation skills. Here are some tips:
Set goals for yourself: Having something to work towards can help you stay motivated.
Find a role model: Look for someone who is successful and has the qualities you want to develop.
Be positive: Belief in yourself and your ability to achieve your goals.
Take action: Don't wait for things to happen; make them happen.
Persevere: When you face setbacks, don't give up. Keep going and learn from your mistakes.
15. Awareness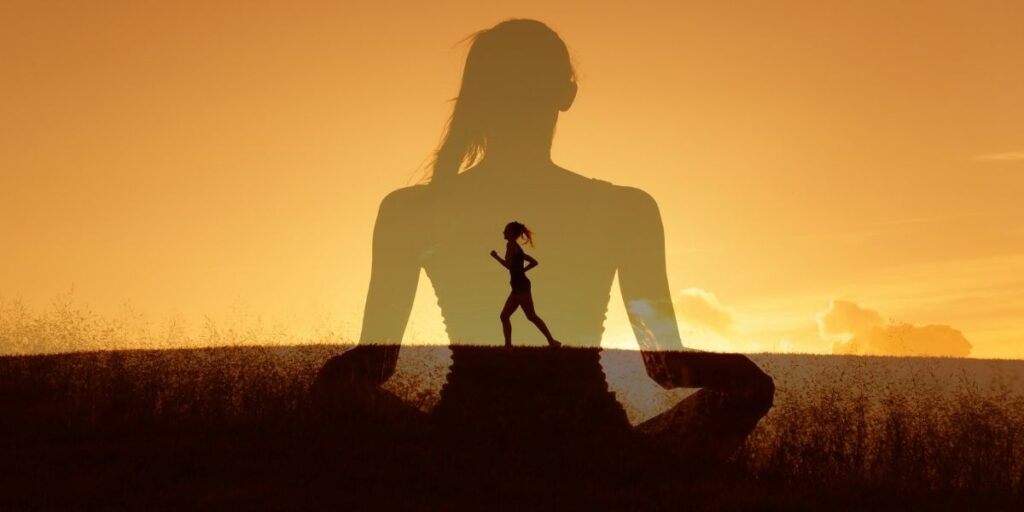 It's been said that awareness is the key to success in any endeavor. After all, if you're not aware of what you're doing, how can you hope to achieve your goals? The same is true of interpersonal skills. Building relationships will not be easy if you're not mindful of how your words and actions affect others.
Fortunately, awareness is a skill that can be developed with practice. By paying attention to your interactions with others and taking note of the impact of your words and actions, you can gradually become more attuned to the needs and feelings of those around you. With time and effort, you can learn to use your interpersonal skills more effectively and make a positive difference in the lives of those you care about.
Related: Teamwork in the Workplace
How do you describe your interpersonal skills on a resume?
One of the most important aspects of any job is having strong interpersonal skills. This means being able to communicate and collaborate with others effectively. Therefore, when writing a resume, you want to ensure that your interpersonal skills are front and center. Here are some tips for job seekers on how to add you're relevant interpersonal skills to a resume:
Use strong action verbs: When describing your interpersonal skills on a resume, use strong action verbs such as "collaborated," "communicated," and "negotiated." This will make your skills stand out and show that you can work well with others.
Include examples: Whenever possible, include specific examples of instances where you utilized your interpersonal skills. For instance, you could mention a time when you successfully negotiated a contract or collaborated on a project.
Focus on the positive: When describing your interpersonal skills, focus on the positive. For instance, rather than saying "I'm not shy," say "I'm confident in my ability to communicate with others." This will show employers that you're a team player capable of working well with others.
Use keywords: Many companies use applicant tracking systems (ATS) to screen resumes. To ensure that your resume makes it through the ATS, be sure to include keywords such as "team player," "collaborative," and "good communication skills."
By following these tips, you can ensure that your interpersonal skills are front and center on your resume. This will show employers that you're a team player capable of effectively communicating and collaborating with others.
Related: List of Skills for Resume
Difference between Interpersonal and Intrapersonal
As we have already learned, Interpersonal communication is defined as the process of exchanging messages between two or more people. This type of communication can occur in person, by phone, or online. In order to be effective, interpersonal communication must be both clear and concise. The sender of the message must be able to state their thoughts and feelings clearly, and the receiver must understand the message.
On the other hand, intrapersonal communication is defined as the process of exchanging messages between yourself and yourself. This type of communication occurs inside your head and is usually triggered by an event or situation. It can be positive or negative; you can talk to yourself to calm yourself down or speak to yourself to motivate yourself. Either way, intrapersonal communication is a valuable tool that can help you to understand your thoughts and feelings.
Related: Intrapersonal Vs Interpersonal Communication
Final Thoughts
So what are some of the best interpersonal skills to have? We've highlighted a few examples here, but we want to hear from you! What has been your experience with successful people, and what do you think are the key interpersonal skills that help them succeed?
Let us know in the comments below – we can't wait to hear from you!
FAQs
What are some examples of interpersonal situations?
There are many different types of interpersonal situations, but they all involve communication between two or more people who have some kind of relationship with one another. For example, a father and son may have an interpersonal communication situation when discussing the son's plans. Likewise, an employer and employee may have an interpersonal communication situation when talking about work-related issues.
Two sisters may have an interpersonal communication situation when arguing about something. And teachers and students may have an interpersonal communication situation when discussing a class assignment. Ultimately, any situation in which people communicate with one another can be considered an interpersonal situation.
What are personal and interpersonal skills?
There are a variety of skills that fall under the umbrella of personal and interpersonal skills. Personal skills are those you use to interact with the world around you. This can include everything from time management and decision-making to communication and problem-solving. On the other hand, interpersonal skills are those skills that you use to interact with other people.
This can include everything from active listening and conflict resolution to public speaking and negotiation. Both personal and interpersonal skills are essential for success in your personal and professional life. So whether you're looking to build better relationships or simply get ahead in your career, honing your personal and interpersonal skills is a great place to start.
What is interpersonal Behaviour?
The study of interpersonal behavior aims to understand how people interact with one another. This can involve understanding both the words that are spoken and the nonverbal cues that are used.
Body language, for example, can often convey more meaning than the words that are spoken. In addition, how people communicate can vary depending on the relationship between the individuals involved. The study of interpersonal behavior can help us better understand human relationships and how they are formed.
What are interpersonal relationship issues?
Interpersonal difficulties are often at the root of relationship issues. If you have trouble bonding with others, it can be difficult to form close relationships. When interpersonal challenges arise, they may be due to underlying issues with communication, trust, or other vital areas in relationships.
If left unresolved, interpersonal difficulties can lead to problems in all areas of your life. Fortunately, many resources help you overcome interpersonal problems and improve your relationships. With the proper support, you can learn how to manage interpersonal difficulties and build healthier, more satisfying relationships.
What causes interpersonal conflict?
Interpersonal conflict often arises when people have different approaches to solving problems. For example, perhaps one person is more logical and likes to take a step-by-step process, while another is more spontaneous and creative. Or maybe one person is more risk-averse while the other is more likely to take risks.
Whatever the differences may be, they can often lead to conflict when both parties are trying to solve a problem. In some cases, each person might be convinced that their approach is the best, and neither is willing to budge. In other cases, both parties might be willing to compromise, but they can't seem to agree on a middle ground.
Either way, it's easy to see how interpersonal conflict can quickly escalate if left unchecked. However, with open communication and a willingness to compromise, most interpersonal disputes can quickly be resolved.
What are the four interpersonal behaviors?
Four essential interpersonal behaviors are respect, understanding, communication, and turning a conflict over to a third party when those involved cannot agree on a solution. Respect is essential in any interaction because it creates a foundation of trust. Once respect is established, understanding can develop.
This involves taking the time to see things from the other person's perspective truly. Communication is key to maintaining understanding and resolving conflict. Lastly, turning a conflict over to a third party can help fix it when all else fails. While all four of these behaviors are important, they will not always be effective in every situation.
The best course of action will vary depending on the situation and the people involved. However, by being aware of these four behaviors, we can be better prepared to navigate complex interactions.