Disclaimer: We sometimes use affiliate links in our content, meaning, at no additional cost to you, we will earn a commission if you click through and make a purchase. For more information, visit our Disclaimer Page. 
SMS marketing is a great way to connect with your customers and promote your business. However, to get the most out of SMS marketing, you need to use a platform designed specifically to meet the needs of your business.
This guide will discuss the best SMS marketing platforms and how they can benefit your business. We will also provide tips on choosing the right platform for your needs.
What is SMS marketing?
SMS marketing is a type of direct marketing that allows businesses to send promotional text messages to customers' mobile phones. It is an efficient way to reach out to many people quickly, and it can be used to promote sales, events, and special offers.
SMS marketing is an opt-in service, which means that customers must give their permission to receive messages from a business before receiving them.
This permission can be obtained through various methods, such as signing up for a text message list or opting in to receive messages when making a purchase. Once authorization has been granted, businesses can send out text messages.
However, it is important to avoid sending too many messages, as this can be perceived as intrusive and lead to customers unsubscribing from the SMS service. Nevertheless, when used correctly, SMS marketing can be an effective way to reach out to customers and promote your business.
Related: Mobile Marketing
What makes a good SMS marketing software?
There are a few key factors to consider when choosing an SMS marketing software:
1. Bulk SMS marketing messages
Bulk messaging is one of the most popular features of SMS marketing platforms. It allows businesses to send large numbers of text messages to their customers.
This can be a great way to promote sales and special offers or keep your customers up-to-date on your latest products and services.
In addition to being quick and convenient, bulk messaging can also be very cost-effective since businesses only have to pay for successfully delivered messages. As a result, it is no wonder that so many companies rely on SMS marketing platforms that offer this feature.
2. Two-way conversation
One of the best features of SMS marketing platforms is having a two-way conversation with your customers.
This means you can send them messages, but you can also receive messages back from them. This allows you to keep track of customer sentiment in real-time and change your campaign based on feedback.
Additionally, two-way communication can help to build relationships with your customers and create loyalty. Ultimately, SMS marketing platforms with two-way conversation capabilities can help you understand your customers better and provide them with the best possible experience.
3. MMS
Businesses can send images, videos, and even audio files to their customers' phones with MMS. This allows companies to provide a more engaging and interactive customer experience.
Moreover, MMS can be used to send coupons, promo codes, and other special offers. Customers can redeem these offers simply by showing their phones at the checkout. As a result, MMS provides businesses with a powerful tool for driving sales and fostering customer loyalty.
4. Opt-out management
An opt-out management system lets subscribers unsubscribe from your messages with a simple keyword, making it easy to stop receiving texts if they no longer want to hear from you. This ensures that your messages are always welcome and helps keep your list of subscribers up-to-date.
An opt-out management system can also provide valuable insights into why people unsubscribe from your messages. This information can help you refine your SMS marketing strategy and ensure that your messages are always well-received.
5. List building
A good SMS marketing service will make it easy to import and export phone numbers and track who opts in and out of your list. Additionally, the platform should allow you to segment your list to send targeted messages to different groups. List building is a crucial part of any SMS marketing strategy, so choose a platform that makes it easy.
6. Automation
Automation can help you schedule messages in advance, send out messages automatically in response to specific triggers, and manage your contact lists more efficiently. This can save you a lot of time and effort and stay in touch with your customers without sending out each message manually.
In addition, automation can also help you track the results of your campaigns so that you can see what is working and what is not. With so many benefits, it is no wonder that automation is one of the most popular features of SMS marketing platforms.
7. Integrations
 Integrations allow businesses to connect their SMS marketing platform with other software programs, making it easier to manage contacts, send messages, and track results. For example, many platforms offer integrations with CRM systems, making it easy to add new contacts and manage existing ones.
Others offer integrations with email marketing platforms, allowing businesses to send mass texts and one-off messages. And still, others offer integrations with social media platforms, making it easy to share links and images with customers and followers. 
8. API
With an API, you can automate some of the tasks associated with SMS marketing, such as sending out mass texts or setting up text-based reminders. Additionally, an API can provide valuable insights into how your text message marketing campaigns perform, allowing you to adjust your strategy as needed. While not all SMS marketing platforms offer an API, those that do can provide a significant advantage.
Best SMS marketing services
SMS marketing is an effective way to reach out to customers and promote your business. It can send reminders, promotional messages, and other important information. If you're looking for a reliable and affordable SMS marketing service, here are some of the best options:
1. TextMagic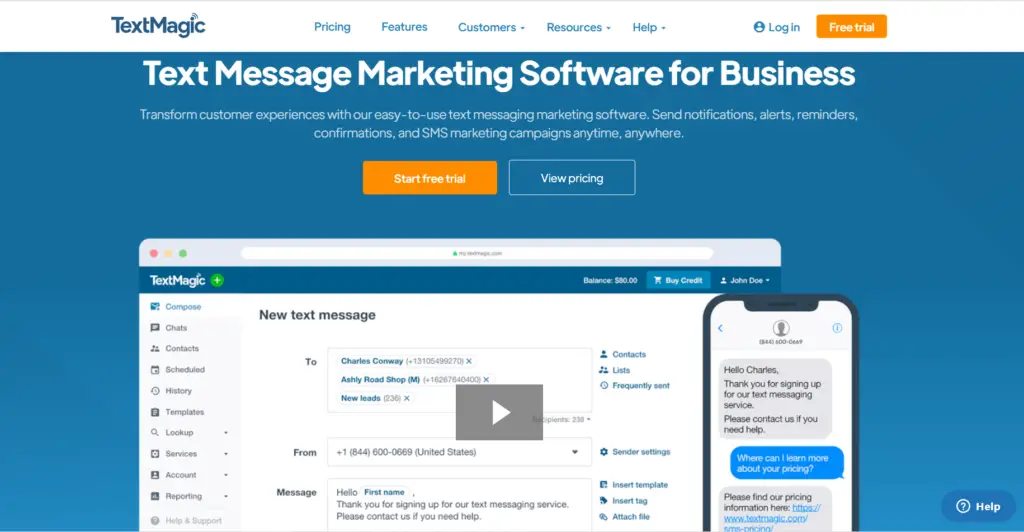 TextMagic is a versatile SMS marketing platform that enables businesses to reach out to their customers in several ways. You can create and send text messages, automated messages, and even manage your contacts using TextMagic.
Moreover, TextMagic offers a variety of features that make it easy to track the success of your campaigns and optimize them for better performance. For example, you can use the platform's reporting tools to see how many people opened your texts, clicked on links, and responded to your call-to-action.
You can also set up automatic A/B testing to try different versions of your message and see which one performs best. With TextMagic, you have everything you need to launch successful SMS marketing campaigns that reach and engage your audience.
Overall, TextMagic is an excellent choice for businesses using SMS marketing to reach their customers.
→ Personalized bulk messaging
TextMagic's Personalized Bulk Messaging feature allows you to send individualized texts to large groups of people. This can be useful for various purposes, such as sending out reminders or updates to customers or members of an organization.
Also, you can easily add each recipient's name or other information to the message, making it feel more personal and helping to ensure that the message is received and read. This can be a great way to improve customer satisfaction or maintain communication within a large group.
→ Team features
With TextMagic, you can add an unlimited number of users (or sub-accounts) to your account for free and monitor their SMS history and costs. You can manage their future activities and ensure that your credits are used efficiently.
Furthermore, you can also share your credits with other users, making it easy to collaborate on SMS campaigns. Whether you're managing a team of marketing professionals or simply need to keep track of your SMS activity, TextMagic's team features are an essential tool.
→ Phone number/email validation
This feature allows you to check whether a phone number is valid quickly and, if not, correct it automatically. This can be a valuable time-saver when sending out mass texts, as it ensures that your messages go to the right people.
Plus, TextMagic's email validation feature can be used to verify email addresses before sending out emails. This helps ensure that your messages reach their intended recipients and that bounced emails are kept to a minimum.
→ SMS surveys
TextMagic's SMS survey feature is easy to collect feedback from your contacts. You can create automated SMS flows and add multiple steps and questions. This makes it quick and easy to get the necessary information without sending out surveys or following up with people individually or manually. Plus, with the ability to target specific groups or segments of your contact list, you can make sure you're getting the most relevant feedback possible.
→ Pricing
TextMagic offers a pay-as-you-go pricing model designed to be both simple and affordable. For each text message you send, you will only be charged a small fee of £0.04 (UK) & £0.033 (US). In addition, there are no monthly fees or hidden charges, and you can use all of TextMagic's premium features free of charge.
In addition, you can try TextMagic risk-free with the no-obligation 30-day trial and free credit for testing. So why not sign up today and see how easy and cost-effective it is to send text messages with TextMagic?
Pros
Easy to set up
Two-way conversations
Seamless integrations
Excellent support team
REST API
Cons
MMS messages are sent as links instead of actual media
2. SimpleTexting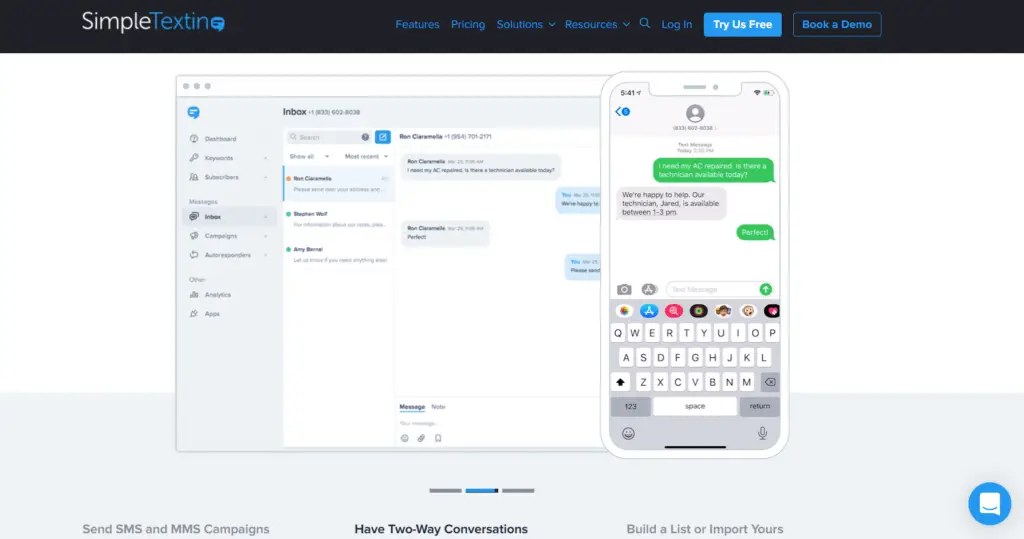 SimpleTexting is a top SMS marketing platform that helps businesses connect with their customers through text message marketing.
It offers an easy-to-use interface, robust reporting capabilities, and the ability to send automated messages. In addition, it allows you to segment your lists and target specific recipients with customized messages.
This platform also integrates with many popular CRMs. So whether you're looking to send out coupons or reminders, SimpleTexting makes it easy to get your message in front of your customers.
And with its robust tracking and reporting features, you can be sure that your campaigns are performing as well as they can. So if you're looking for a top-notch SMS marketing platform, SimpleTexting is worth trying!
→ Multiple keywords
With SimpleTexting, you can have multiple keywords for your phone numbers at no extra cost. Other platforms typically limit this number for their base plans, but with Simple Texting, you can have as many keywords as you need. This is an excellent feature if you have multiple businesses or want to track different campaigns.
Multiple keywords also allow you to segment your audience and send targeted messages. For example, you can use keywords to track which contacts are interested in offers and send them more information.
This way, you can ensure that everyone gets the information they want and that they're not being bombarded with irrelevant messages. Ultimately, this flexibility gives you more control over your campaigns and helps you to better connect with your contacts.
→ Advanced automation
Automation is one of the most powerful features of SimpleTexting. With automation, you can send a series of messages after someone joins your list.
This reduces drop-offs and helps you keep your audience engaged. You can also generate an automatic response when someone texts a particular keyword to your number.
This allows you to quickly respond to leads and customers without manually replying to each text. Automation is a powerful tool that can save time and money while helping you build better relationships with your audience.
→ Great analytics
With SimpleTexting, you can access detailed analytics that will help you fine-tune your campaigns. For example, you can see how many subscribers you have, how many people click on your links, how many messages are sent per list, etc. This data is invaluable for ensuring your campaigns are performing at their best.
You can easily tweak your campaigns to get the best results with data like this. So if you're looking for a way to improve your campaign performance, check out SimpleTexting's great analytics features.
→ Link shortening
SimpleTexting automatically replaces your long URLs with a short bit.ly link. This is a great feature if you run out of message space and need to shorten your URL.
The system will automatically shorten the URL for you so that it takes up less space in your message. Shortened links can only take up to 20 characters of your message space.
This makes it easier to track your links and ensure that they are not too much space in your message. The link shortening feature is a great way to save space in your messages and keep your links organized.
→ Pricing
For businesses that want to integrate text messaging into their customer outreach strategies, SimpleTexting offers an affordable and feature-rich solution. For just $29 per month, companies get 500 credits toward outgoing SMS messages.
Additional credits can be purchased for just 5.5 ¢ each, and incoming SMS messages are free. Businesses also get unlimited contacts, keywords, and support from a dedicated account manager seven days per week.
SimpleTexting integrates with over 400 popular business applications, making adding text messaging to any existing workflow quickly. With its competitive pricing and powerful features, SimpleTexting is the perfect text messaging solution for businesses.
Pros
Custom integrations
No limits on your number of keywords
Dedicated account managers
Affordable
Cons
Analytics is very basic for eCommerce and retail businesses.
3. SlickText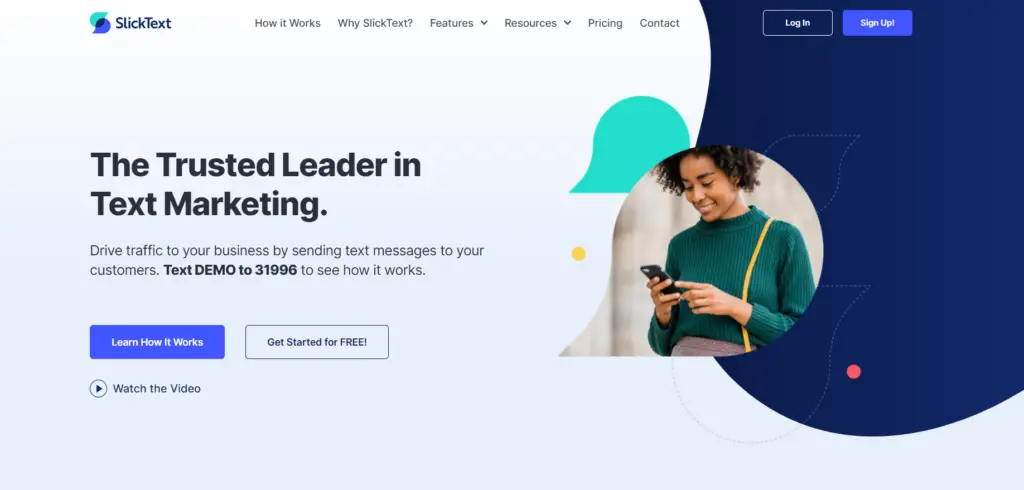 SlickText is an easy-to-use SMS marketing platform that lets you send bulk text messages to your customers and subscribers. You can create lists of contacts, design custom messages, and track the success of your campaigns.
SlickText also provides various tools and resources to help you grow your business. These include a keyword tool that lets you track which keywords are being used most frequently and a message builder that makes it easy to create and send custom messages.
Additionally, SlickText offers some templates and resources that you can use to design your campaign, including graphics and photos. SlickText makes it easy to create and manage an effective SMS marketing campaign with these features.
→ Automated workflows and drip campaigns
SlickText's automated workflows and drip campaigns are some of the best in the business. You can quickly build a message sequence that engages and qualifies potential customers and then send them out based on time delays or other actions. This is an extremely powerful way to provide personalized and timely offers that can help increase conversion rates.
Additionally, tracking results and performance is essential for any marketing campaign, and SlickText provides great insights into how your campaigns are performing. Overall, if you're looking for a robust tool to help your marketing efforts, SlickText is worth checking out.
→ Double Opt-in
The double opt-in is a great way to ensure you're not accidentally spamming people or adding invalid numbers to your list.
By requiring subscribers to confirm their subscription, you can ensure that everyone on your list is there willingly and that you're not wasting time and money sending messages to people who will never see them. In addition, this feature is easy to use and can be turned on with just a few clicks.
→ 100% Carrier & CTIA Compliance
One of the most important features is their 100% carrier and CTIA compliance. This means that they guarantee the delivery of messages and maintain compliance with cellular carriers and the CTIA (Cellular Telecommunications Industry Association).
As a result, businesses can focus on their message without worrying about legal issues. In addition, SlickText offers several other features designed to help companies succeed.
These include a wide range of templates, a powerful autoresponder system, and detailed tracking and reporting. As a result, businesses that use SlickText can be confident that they are getting the most out of their text messaging campaigns.
→ Self-cleaning subscriber lists
SlickText's self-cleaning subscriber lists are a huge benefit for businesses that rely on SMS marketing.
The system constantly detects invalid numbers and removes them from your list, so you don't have to worry about manually keeping your list clean. This can save you time and effort, ensuring that your messages always go to the right people.
In addition, SlickText's self-cleaning subscriber lists can help to improve your deliverability rates and ensure that your messages are always getting through. Ultimately, this feature is valuable for ensuring that your SMS marketing campaign is as effective as possible.
→ Pricing
SlickText offers a free 14-day trial with 50 free text messages (no credit card needed). Their paid plans differ based on the number of messages you can send monthly and the number of keywords you need. So their Basic plan ($29/month) offers 500 messages and two keywords. You simply need to upgrade to the next plan if you reach your limit. Their Monstro plan is $1,250/month and offers 50,000messages and 30 keywords.
You can access all their features in their plans — so it's pretty straightforward. And if you need more than 50,000 messages, they have a custom plan option. SlickText also offers Auto-Reply, which allows you to automatically reply to texts from new contracts with a message of your choice.
This could be useful for businesses that want to automate their customer service. But, overall, SlickText seems like an excellent option for companies or individuals who need to send mass texts.
Pros
Unlimited custom fields
SlickText's web forms are highly effective for capturing subscriber information.
Analytics is highly detailed, with individual pages dedicated to every campaign and automation you build
Cons
Expensive
It does not offer a diverse selection of native integrations
4. Textedly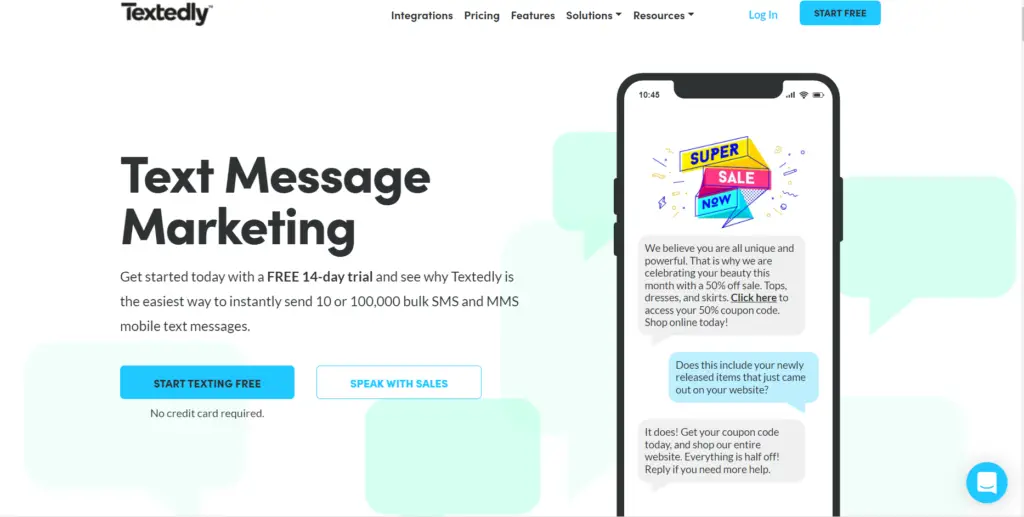 Textedly is a powerful SMS marketing platform that makes reaching your customers and followers easy.
You can create custom messages, target specific demographics, and track the success of your campaigns. Textedly also offers various integrations, so you can connect with other applications and platforms to get even more out of your marketing efforts.
Textedly offers a free trial to try out the platform before committing to it. Textedly is an excellent option for businesses of all sizes looking to reach their customers through SMS marketing.
→ Instagram texting
Textedly has great integration with Instagram. You can add a "text us" button to your Instagram profile, which lets your followers text you when they click on it. This is a great way to stay in touch with your followers and ensure they can always reach you.
Additionally, it offers several other features that make it an excellent choice for businesses and individuals. They offer a wide range of templates, making creating beautiful, professional-looking texts easy.
And they offer various customization options, so you can tailor your texts to match your brand's voice and style. So if you're looking for a great way to stay in touch with your customers and followers, Textedly is worth checking out.
→ Text Message Data Collection
With Textedly, businesses can collect text message data from subscribers. This data can track customer behavior, improve marketing strategies, and more.
Textedly allows businesses to add custom data fields such as first and last name, email address, state, city, and ZIP code.
This makes it easy for businesses to segment their audiences and target them with personalized messages. As a result, Textedly is an incredibly powerful tool for business owners who want to get the most out of their data.
→ Multiple User Support
Textedly offers a great way to stay connected with your team by providing multiple user support. This means you can add as many users to your account as you need, free of charge.
This is a fantastic feature for sharing your account with your team members. With this feature, you can easily keep everyone on the same page and ensure everyone has the most up-to-date information.
This feature also allows you to track who is using the account and how often they access it. This is a great way to monitor your team's activity and ensure everyone stays on top of their work.
→ Incoming MMS messaging
Textedly offers several features designed to make it easy and convenient for businesses to stay in touch with their customers. One of these features is incoming MMS messages.
Like SMS messages, businesses will receive all MMS messages in their inbox. This makes it easy to keep track of customer communication and ensure that no message goes unread. Additionally, businesses can reply to MMS messages like any other text message.
This makes it easy to have a conversation with customers regardless of their message type. With Textedly, businesses have everything they need to stay connected with their customers through text messaging.
→ Pricing
Textedly offers a 14-day free trial with 50 text messages and one custom keyword. Their premium plans differ based on the number of text messages and keywords.
They offer 12 plans ranging from $24 to $2,800 per month. The most expensive plan gives you unlimited texts and keywords, while the cheapest only allows for 500 texts and one keyword.
However, all plans come with Textedly's features, such as auto-responders, schedulers, and follow-ups. As your business grows, you can always upgrade to a more expensive plan to accommodate your needs. With Textedly, you're only limited by your budget.
Pros
Cost-effective
Robust analytical tools
Message Scheduling
One-to-one texting
Built-in calendar
Cons
Canceling your subscription can be tough
5. SMSBump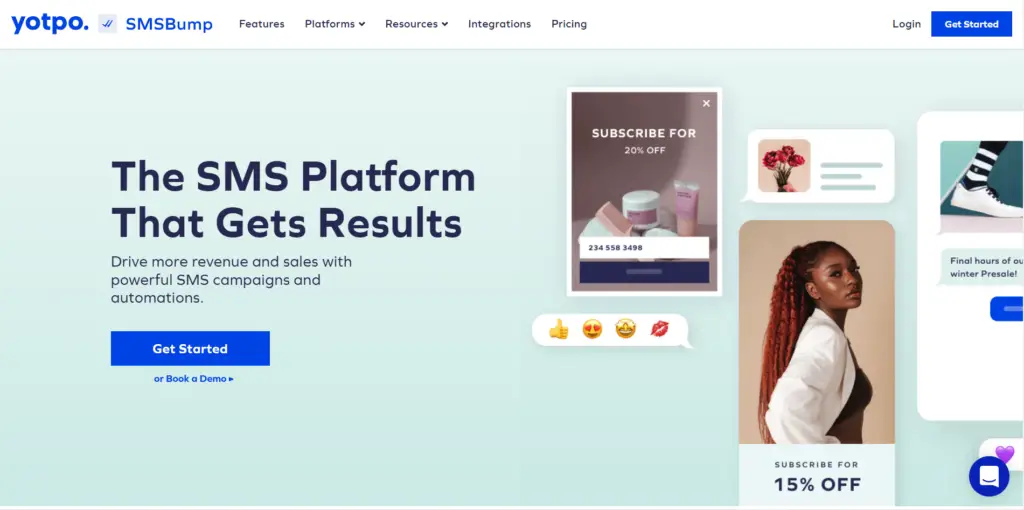 SMSBump is a comprehensive SMS marketing platform that makes it easy to reach your target audience with text messages. It offers a variety of features, such as automated SMS marketing, A/B testing, campaign analytics, and more. This allows businesses to create and track successful SMS campaigns with ease.
Additionally, because SMSBump integrates with many other platforms (such as eCommerce platforms, CRMs, and more), it is easy to add SMS marketing into your existing marketing mix.
→ Automated SMS flows
SMSBump's automated SMS flows are a powerful tool for online businesses. Companies can keep their customers informed and engaged at every sale funnel stage by setting up a sequence of automated actions based on different triggers.
SMSBump's automated SMS flows can be customized to send messages after actions such as new registrations, orders, shipping confirmations, and more.
This provides a convenient way for businesses to communicate with their customers and helps to create a seamless customer experience.
Furthermore, SMSBump's automated SMS flows can help businesses save time and money by reducing the need for manual communication. As a result, SMSBump's automated SMS flows have become an essential tool for companies to optimize customer communication.
→ A/B testing
With A/B testing, you can send out two (or more) different versions of a message to a small subset of your audience and then compare the results to see which version performed better.
This lets you decide which messages will most likely resonate with your audience and get the results you're looking for.
SMSBump's A/B Testing feature makes it easy to test different messages and find the ones that work best for your business. So, if you're not already using A/B testing, now is to start!
→ Campaign scheduling
The SMSBump Campaign Planner is an excellent tool for anyone who needs to send out campaigns regularly. With it, you can schedule your messages in advance and set them to go out on a specific day and time.
This way, you can ensure that your campaigns are sent out at the optimal time for maximum impact. The Campaign Planner is also great for keeping track of your campaigns and their performance over time.
With its built-in reporting features, you can quickly see how your campaigns perform and make changes accordingly. As a result, the SMSBump Campaign Planner is an essential tool for anyone who wants to make the most out of their SMS marketing campaigns.
→ International sending
With SMSBump, businesses can send texts to customers in the US, Canada, United Kingdom, Australia, and France.
This is a valuable tool for businesses that want to expand their customer base or reach out to international customers. Additionally, SMSBump offers MMS messaging in the US, allowing companies to send images and other multimedia content along with their texts.
This feature is handy for businesses that want to send coupons or promotions to their customers. All in all, SMSBump's international texting feature is a valuable asset for any business that wants to stay connected with its global customer base.
→ Pricing
Are you looking to get started with SMSBump? Their pricing plans make it easy to find the perfect match for your needs. The Free Plan gives you access to SMS Flow Builder, SMS Campaigns & Automations, and Primary Subscription Tools.
If you're looking for more features, the Growth Plan is only $19 and includes 1:1 SMS Conversations, Keyword and Social Subscriber Collection, Advanced Analytics, etc. For even more power, the Prime Plan is $59 and includes all of the features of the Growth Plan plus Timezone-based Messages and Click to Buy.
And for the ultimate in SMS power, their Powerhouse Plan is only $199 and includes all of the features of the Prime Plan plus Conversational SMS Flows and Unlimited A/B Testing. So no matter your needs, SMSBump has a perfect plan for your business.
Pros
Flow builder
Relevant and helpful templates
Increases click-through rate
Boosts investment returns
Smooth integration and setup
Cons
Lower-priced plans can feel limiting
SMS vs.Text Messaging vs.MMS
SMS is older and more limited in scope than either text messaging or MMS. For example, messages are limited to 160 characters in length with SMS, and there is no way to send multimedia content like photos or videos.
SMS is generally slower than text messaging or MMS since it uses the older GSM network instead of the faster 3G or 4G networks.
However, SMS has one significant advantage over the other two types of text messaging: it is supported by nearly all cell phones, regardless of make or model.
This makes it a good choice for sending messages to people who may not have newer smartphones with text messaging or MMS support.
Related: How to Promote Your Business Locally
Benefits of Text Message Marketing Software
Text message marketing software provides businesses with a convenient way to communicate with customers and promote their products or services. Companies can reach a large audience with little effort by sending text messages directly to customers' phones. Additionally, text message marketing software can target audiences, which helps ensure that your message reaches the people most likely to be interested in it.
There are numerous benefits of using text message marketing software for your business. Here are just a few of them:
– Unparalleled reach
With nearly everyone carrying a cell phone these days, you can reach a wider audience with your messages. In addition, unlike other marketing channels, people are generally more likely to read a text message as soon as they receive it. This means that you can ensure that your target audience sees your message.
And because people can opt-in to receive texts from your business, you know they're interested in what you have to say.
So if you're looking for a way to reach more customers and ensure that your messages are being seen and read, text marketing is the way to go.
– SMS marketing among marketers
Marketers are always looking for new ways to reach their target audiences, and text marketing has become an increasingly popular option in recent years.
There are several reasons for this: first, text messages have a high open rate, which means more people are likely to see your message.
Second, texts are personal and can be customized to each recipient. And third, text messages are immediate, so you can be sure that your audience will see your message right away.
SMS marketing is an incredibly effective way to reach your target market. It can be used for various purposes, from promoting sales and discounts to sending reminders and updates. So if you're not already using text marketing, now is to start!
– Preferred by customers
A study by ExactTarget found that 57% of customers prefer to receive offers and coupons via text message.
This is likely because text messages are more personal than other forms of marketing, such as email or direct mail. They also offer a sense of urgency that can encourage customers to take advantage of a sale or promotion.
Text messages are also generally brief and to the point, making them easy for busy customers to read and digest.
Related: Best Marketing Automation Software for Small Businesses
Closing Thoughts
SMS marketing platforms provide an effective way to reach out to potential customers and promote your product or service. In addition, these platforms can help you customize your campaigns, track results, and stay within your budget with various features and capabilities.
Consider your needs, objectives, and overall cost when choosing an SMS marketing platform. By considering these factors, you can find the right solution for your business.