Disclaimer: We sometimes use affiliate links in our content. For more information, visit our Disclaimer Page. 
SMS marketing is a great way to reach out to customers and promote your business. It's a personal form of communication that can be very effective in getting your message across.
This blog post will discuss 6 of the best SMS marketing platforms available today. We will look at the pros and cons of each platform, as well as the features and prices.
So, whether you are just starting in SMS marketing or are looking for a new platform, read on for information about the best SMS marketing platforms available today!
What is an SMS marketing platform?
An SMS marketing platform is a tool that allows you to send SMS messages to your contact lists of phone numbers. They are also known as text messaging software. SMS marketing software often includes automation, integrations, contact management, segmentation, two-way messaging, scheduled texts, shortcodes, personalization, and chatbots. 
These features make sending messages at scale and prioritizing the customer experience more accessible. In addition, SMS marketing platforms can help you track results and measure the ROI of your text messaging campaigns.
With so many benefits, it's no wonder that SMS marketing platforms are becoming increasingly popular among businesses of all sizes. 
If you are in a hurry, here are our top pics!
6 best SMS marketing platforms
Here are the 6 best SMS marketing platforms:
1. TextMagic
The TextMagic platform is, without a doubt, the right choice for you if you want to send global SMS marketing messages with a transparent pricing policy and an all-in-one solution.
It is a text messaging service for businesses that allows you to send notifications, alerts, reminders, and SMS marketing messages to your clients.
To reach many people, you can use TextMagic to send bulk texts online through their desktop, browser, or mobile applications. You can have a two-way conversation with your customers, too. You can even send and receive texts through your email account.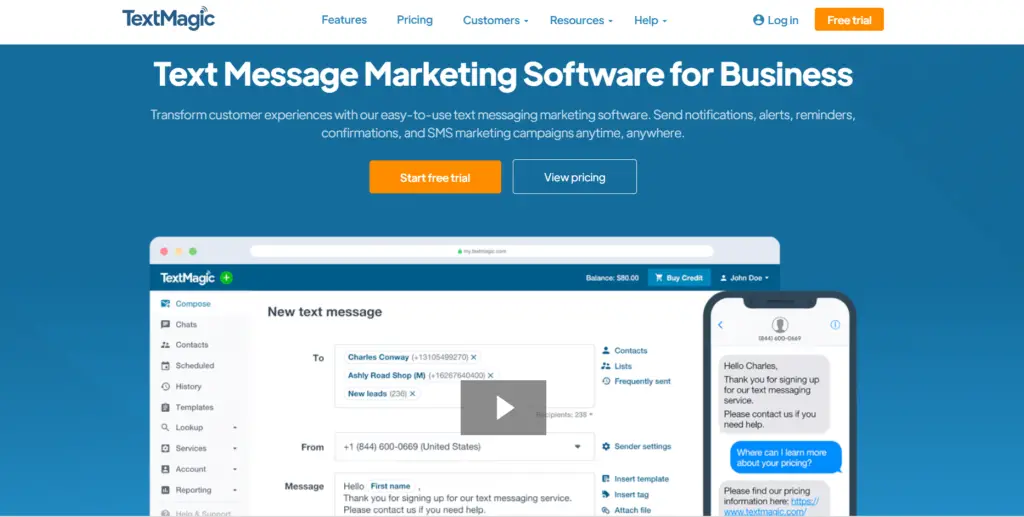 Why choose it?
There are many reasons to choose TextMagic as your business's text messaging service. First and foremost, its user interface is easy to navigate, making it simple and quick to send texts to contacts. 
Additionally, creating premade templates and files in your texts can save time and hassle. Importing contacts is also a significant plus, as it eliminates the need to input phone numbers manually. 
Another great feature is the ability to hold two-way conversations via text with customers. And finally, being able to share inboxes with other team members is always a handy tool. Overall, TextMagic's pricing structure is catered toward smaller businesses, making it a cost-effective option.
Features
Other essential features of TextMagic include the following: 
Personalized bulk messaging: You can send bulk messages using TextMagic's web app. The best feature is that you can create templates with customized tags.   
Emailing: You can send SMS messages to the people you know as emails, just as you can send emails to them as texts.
Zapier integration: Using TextMagic, you can automate many tasks and save time and money by connecting them to your favorite applications.
Features for teams: You can add an unlimited number of users to your account at no additional cost. In addition, you can control the amount of SMS you send and receive and monitor each user's SMS activity. 
Phone number/email validation: They provide a validation service and API that allows you to identify invalid phone numbers and email addresses, improving deliverability and reducing costs. 
Collecting feedback via SMS: By adding multiple steps and questions to an SMS flow, you can gather feedback quickly from your contacts.
Pricing
TextMagic price is $0.04 per text message.
It has a simple yet versatile UI that won't take long to get used to.

It is also straightforward to set up message templates and import contacts.

You can integrate TextMagic with other apps using extensive API tools.

Collaborating on SMS marketing campaigns with the help of subaccounts is possible.
Text messages can be expensive if you send a lot and receive a lot of replies.

Due to the lack of pricing tiers, the pay-as-you-text model sacrifices scalability.
2. EZ Texting
EZ Texting is a text messaging service that allows businesses to send short or multimedia text messages to promote, inform, and entertain their customers, staff, and other people.
Sending SMS marketing texts is accessible no matter your experience level. Their easy-to-use UI, robust and straightforward customer education database, and complementary toolkit allow you to build sign-up forms, enable keywords, create QR codes, and shorten URLs from one place.
It's easy to use EZ Texting on desktop, mobile, or even through their application on the iPhone, as well as checking out analytics and responding to individual contacts to increase engagement and return on investment. It can also be accessed through a browser or even through their app on mobile.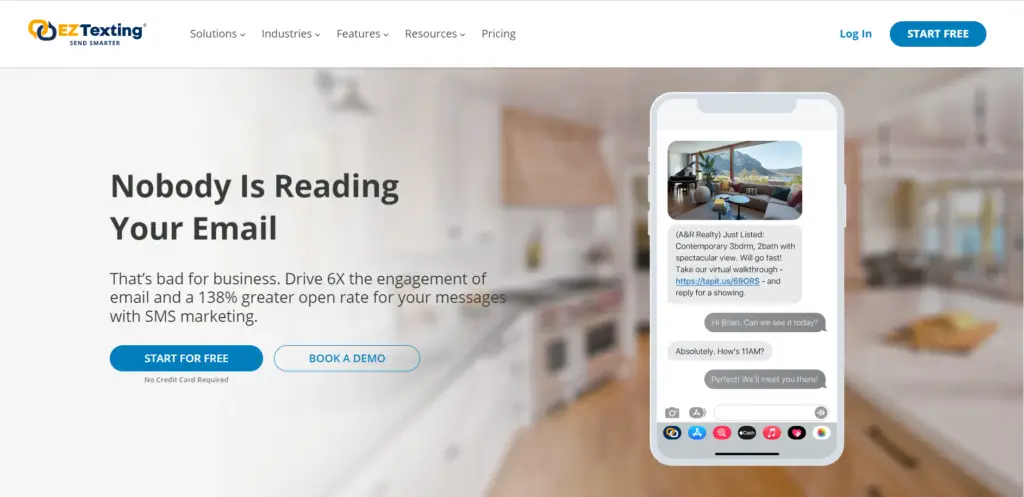 Why choose it?
EZ Texting is a powerful tool that can help businesses of all sizes connect with their customers. With its easy-to-use interface and ability to scale over time, EZ Texting is ideal for businesses that want to stay in touch with their customers. 
In addition to marketing, EZ Texting can also be used for employee outreach, reminders, and company-related events. With so many uses, it's no wonder that EZ Texting is one of the most popular texting platforms on the market today.
Features
Dedicated short codes and Toll-free numbers: With EZ Texting, you can choose from dedicated five or six-digit numbers with unlimited keywords, guaranteed deliverability, and low messaging fees. 
Text to Landline: The customer can text your phone number whenever they want and receive a response from your team anytime by setting up two-way texting on your phone number. 
SafeStop: Customers can also report unwanted messages and set preferences for future communication directly from the opt-out feature. This is a compliant opt-out feature.
Message Statistics: With Analytics & Reporting, you can view how many messages you send and receive, how often engagement spikes happen, and click-through rates.
Team management: User and team invites are easy to do. Communication between internal and external teams is seamless. And permissions for specific tasks can easily be assigned.
Pricing
EZTexting has four pricing options. Yearly plans include:
Value ($20/month): Notifications and alerts can be sent via SMS text message
Essentials ($29/month): You'll get everything in essentials plus MMS and list-building tools
Premium ($49/month): The Essentials Package comes with API access and an upgraded number.
Custom ($299/month): You can get a custom quote according to your requirement.
SMS is valid for smaller businesses that don't send as frequently as larger ones.

If you are interested in doing a few smaller SMS marketing campaigns per year, buying 500 credits can be a good option.

You can send SMS campaigns using photos, videos, or audio files with MMS messaging.

Easy-to-use UI and intuitive processes.
On-the-go use of EZ Texting's iOS mobile app is slightly more challenging than using the browser version.

International customers are not offered SMS services.

Reviewers mention the platform's push for increased monthly features, add-ons, and higher prices.
3. Textedly
As a cloud-based mass text messaging service, Textedly enables businesses to send many messages to existing and prospective customers, clients and prospects. Moreover, this can be done quickly and easily. 
You can use Textedly to send all kinds of text messages, such as order updates, automated messages, payment reminders, and any other type of text message that a company may need to send to many customers.
In addition to providing a comprehensive overview of SMS and MMS analytics, Texttedly allows companies to see how well their SMS and MMS messages perform. In addition, their simple, straightforward dashboard page offers a wide variety of other unique services, which are readily accessible.
As a result, it is also a perfect solution for a company's internal and business-to-business communication needs, making it the perfect solution for all of its communication requirements.
Why choose it?
Texted is a good choice for SMS marketing software for various reasons. It is user-friendly, easy to start, and effective for retail, hospitality, and more sectors. 
In addition, Textedly is excellent for recruitment purposes as it allows recruiters to contact candidates and new hires quickly. SMS marketing software is also helpful for maintaining communication with customers and clients. 
All in all, Textedly is an advantageous tool that provides many benefits. Consequently, it is a wise choice for those seeking an SMS marketing solution.
Features
Voice services: A voice call center can be established using a toll-free number, a long code number, or even an extended area code number. Simply put, this enables your customers to make calls using the same number they use for texting.
Incoming MMS messaging: You'll receive all the multimedia messages your customers send you right in your email inbox, and you'll be able to respond to them right away. 
Instagram texting: Your Instagram profile can be customized to include a "text us" button. When people click this button, they can text you.
Integrations that work well: With their direct integrations, you can automatically add people to your list after filling out your web form.
Text Message Data Collection: It is possible to add more custom data fields to the platform, such as First and Last name and email address, which will be collected and input as part of the subscription process.
Multiple User Support: There is no charge for adding more than one user to your account. This is an excellent feature if you want to share your account with your team members in a group setting. 
Pricing
It is possible to purchase their Bronze plan ($24/month) for 1,200 messages per month with one custom keyword, but if you need to get more, you can purchase the Plus plan ($39/month), which offers 2,400 messages per month and two custom keywords. For $50, you can receive 4,200 messages per month, three custom keywords for free, and incoming messages.
Texted also offers custom templates and the ability to schedule mass messages in advance.

Connecting Textedly to other software your company already uses ensures that communication runs smoothly and cohesively.

Customer service is available 24/7, which most people appreciate.
The biggest complaint that users have with Textedly is the upfront payment requirement.
4. Postscript
Postscript is a tool that helps you grow your subscriber list and effectively engage them. You can use various popups, banners, QR codes, and keywords to get subscribers. 
Moreover, you can engage these subscribers by creating innovative campaigns to convert them into customers. Postscript uses powerful automation and segmentation features that allow you to target your customers precisely. 
You can further monitor your strategies' effectiveness by using the message and subscriber analytics to get reports. Postscript prioritizes creating a TCPA-compliant list to avoid illegally or unethically engaging your customers.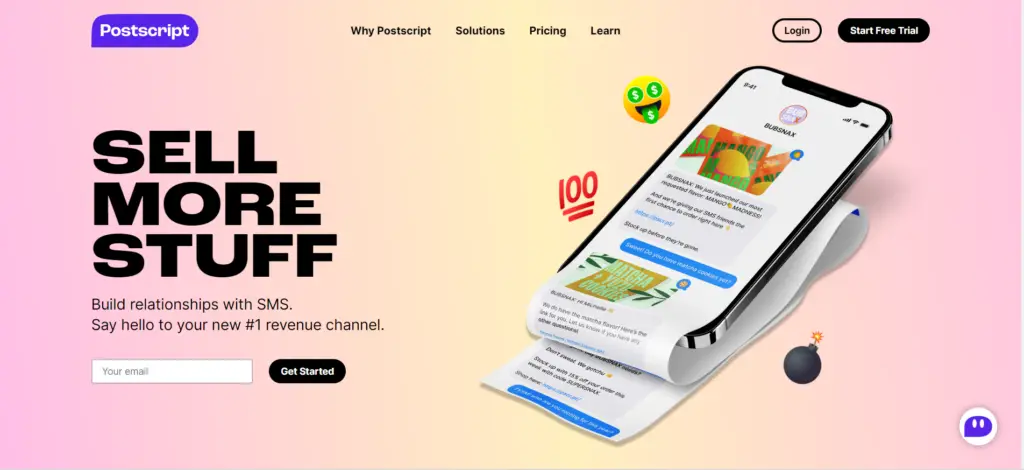 Why choose it?
There are many reasons to choose Postscript as your text message marketing app. First, Postscript is deeply integrated with Shopify, meaning you can use Shopify data for text messaging. 
This allows you to segment and targets your customers according to what they have bought, how much they have spent, and where they came from. 
In addition, Postscript offers many features, including automating text messages, scheduling messages in advance, and tracking results. With so much to offer, Postscript is an excellent choice for Shopify stores looking to take their marketing to the next level.
Features
Postscript offers some great features for eCommerce businesses. 
Deep Shopify integration: Customers can be segmented based on their orders and orders can be used for SMS marketing campaigns using Shopify data.
Manage and grow your list: A list can be created manually using popups, keywords, opt-in forms, QR codes, or checkout collections if you don't already have one.
Text compliance: There is no legal risk involved in using these services because they comply with US TCPA regulations and automate compliance in the background to ensure compliance. 
Analytical tools: It is possible to view data on two levels, messages and subscribers. You can view data on automation, keyword responses, confirmed opt-in messages, and responses to customers.
Pricing
Their growth pack starts at $100/month for $0.01/SMS, $0.03/MMS +Carrier fees (avg. $0.0025/msg) with Unlimited opt-in keywords, Live chat support, and Unlimited opt-in keywords. With a Professional package, you'll be able to get an Onboarding Launch Specialist Dedicated Customer Success Manager for SMS strategy, and you'll pay $500/month for $0.007/SMS, $0.024/MMS + Carrier fees (avg. $0.0025/msg. $0.0025/msg).
Starting with the trial period, Postscript provides you with onboarding support.

Use CSS Code to customize your popup if you're unhappy with the customization options.

Subscriptions and customers can be segmented as narrowly as you like in Postscript.
Instead of standard pricing packages, Postscript charges by message volume. 

Shopify and Shopify Plus are the only e-commerce platforms where Postscript is available.
5. SMSBump
This is yet another SMS marketing software platform designed specifically for eCommerce stores. However, in addition to Shopify and Shopify Plus, this platform integrates with Bigcommerce so that you can utilize both platforms.
There are many features in SMSBump that can help you build subscriber lists, create campaigns, and segment your subscribers. With SMSBump, you can send relevant, targeted messages to your business. 
SMSBump combines an intuitive user interface with robust features to make SMSBump a breeze for experienced and new SMS marketers alike.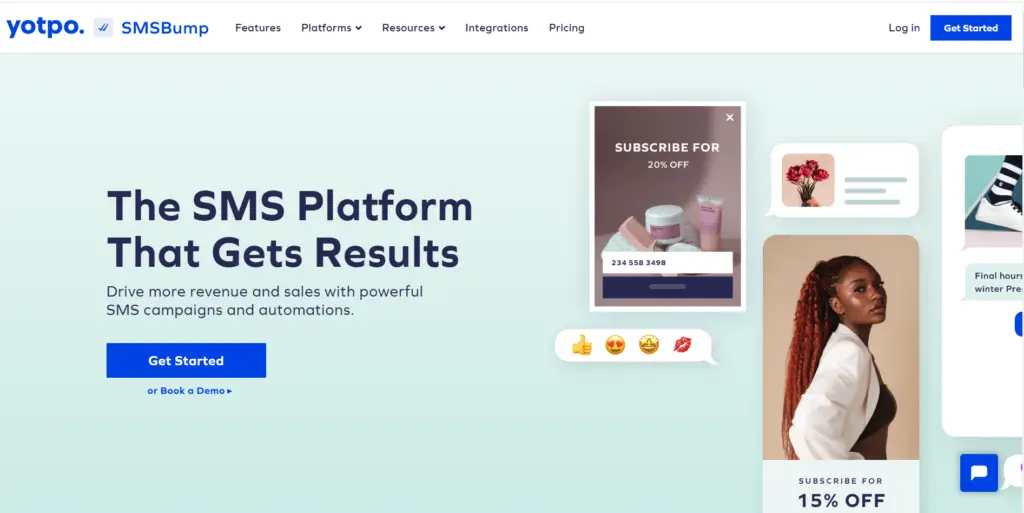 Why choose it?
If you're looking for an SMS marketing platform that covers all the basics, SMSBump is an excellent choice. It's easy to use, offers a diverse range of subscriber list-building options, and has impressive segmentation and analytics features. 
Plus, it integrates seamlessly with Shopify and BigCommerce businesses. In other words, it ticks all the boxes. So if you're looking for an SMS marketing platform that can do it all, SMSBump is worth considering.
Features: 
Many list-building and growth features: These tools offer you a variety of ways to take advantage of to grow your lists, such as popups, floating buttons, embedded forms, footer forms, and social media opt-ins.
Automated SMS flows: Different events usually trigger automated actions. They usually encompass the entire sales funnel. For example, you can send messages after new registrations, orders, shipping confirmations, etc.
A/B testing: You can run A/B tests on your messages before you decide how to use them in your campaign to ensure they are the right fit. The A/B testing feature is only available to users who have purchased a Powerhouse plan or higher.
Campaign schedule: Using the Campaign Planner, you can schedule the time and date you want your message sent.
International sending: Besides SMS messages, MMS messages can only be sent to US mobile phones.
Pricing
A growth package costs $19/month and comes with unlimited free opt-in keywords and unlimited A/B testing. A Prime package costs $59/month and comes with Click to Buy, Branded Custom Short URL, and Shopify POS integration. A powerhouse plan costs $199/month, which includes an Onboarding Specialist and a Monthly SMS Strategy session.
A powerful SMS marketing campaign builder can be found in SMSBump's flow builder.

E-commerce businesses can use SMSBump's segmentations to their advantage.

Both segmentation and automation templates are provided.
Alternative customer information cannot be stored in custom fields.

Only SMSBump's most expensive plan allows A/B testing.
6. Octane AI
For eCommerce store owners looking to tap into the power of chatbots, Octane AI is a great option. This platform offers both Facebook Messenger and SMS chatbot solutions, making it easy to reach your customers no matter how they prefer to communicate. Octane AI also offers Facebook messenger solutions and SMS marketing services.
With Octane AI, you can run abandoned cart campaigns, answer customer questions, create conversational FAQs, send receipts and shipping notifications, and help your audience identify products to purchase. 
Best of all, Octane AI's chatbot solutions are specifically tailored for Shopify stores, so you can be sure that your chatbot will integrate seamlessly with your existing eCommerce infrastructure. 
If you're looking for a chatbot solution that can take your D2C business to the next level, Octane AI is worth considering.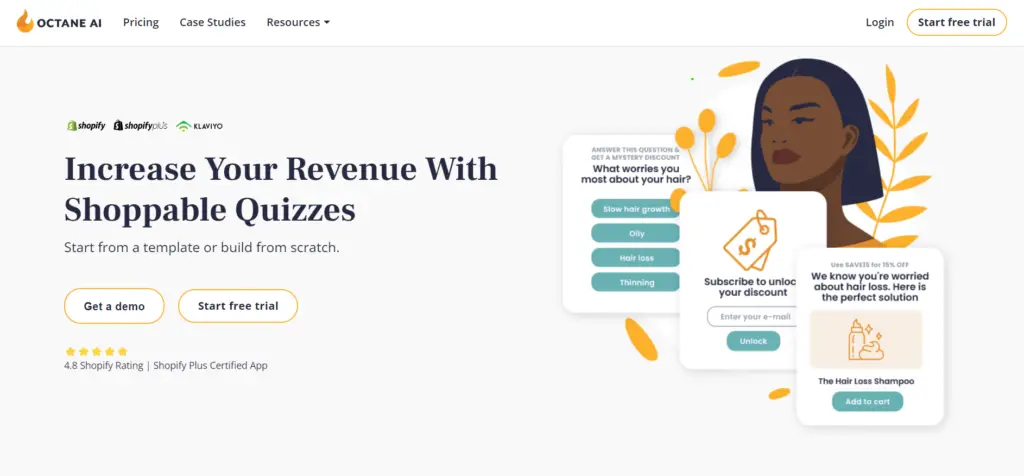 Why choose it?
Octane AI is an excellent choice for gathering customer data and sending personalized text messages. The quizzes and interactive popups are great ways to engage customers and collect data. 
Text message marketing services are easy to send out mass texts without inputting each number. Octane AI is a powerful tool that can help you increase sales and build customer relationships.
Features
Quizzes and interactive popups: It's easy to create quizzes or interactive popups using these tools to engage customers and collect contact information. Once that information has been gathered, targeted text message marketing campaigns can be sent to your customer.
SMS + Facebook Messenger: The Octane AI team offers Facebook messenger solutions and SMS marketing solutions. Because of this, all your data can be synchronized between these two channels. 
Integration: This data can also be integrated with email marketing using Klaviyo. Octane AI is deeply integrated with Klaviyo. 
Custom messenger/SMS automation: Automate your message system using their service. It can be used to win back customers, send order confirmations, and send abandoned cart messages.
Pricing
The Octane AI pricing plan consists of two levels: Octane ($50/month) and Octane Plus ($200). These two plans generally differ according to which features they offer and are tiered based on a site's revenue in steps of 5M.
It includes an abandonment cart, browses abandonment, post-purchase flows, and anything else you need.

In less than 10 minutes, you can launch your first Facebook Messenger chatbot.

Facebook Messenger and SMS marketing campaigns are tracked well by Octane AI.
In terms of pricing, Octane AI seems to be priced so that most startups can afford it.

There is no API for Octane AI yet.
What to Look For in SMS Marketing Software?
The effectiveness of SMS marketing can be seen by the fact that businesses can choose from a wide selection of SMS programs or service providers because SMS has proven effective.
There are several software and services available for SMS marketing. Still, the most important thing is to get the best SMS marketing software and services so that your text marketing strategies will be foolproof. We've narrowed down the four most important things to look for in an excellent SMS marketing program.
→ Ease of use
Although this can vary from company to company, plenty of companies want to integrate SMS marketing into their strategies but lack the technological ability to implement the service properly. There are many reasons for the importance of ease of use, as if you have the right tools, you will be able to create a functional SMS service with little or no development or coding experience, which will make the whole process much easier to complete.
Suppose you have an in-house developer or experienced coder on your team. In that case, they should also be able to work with the SMS marketing software and develop the ideal SMS marketing service without a problem.
Furthermore, in case the software is installed and the service is up and running, all employees of your business should be able to access the programs without any issues once the installation is complete.
→ Integration with other apps
There is a good chance that your business uses a variety of other programs and third-party applications to handle its business needs, meaning your SMS strategy should not be mutually exclusive from those programs.
To execute your SMS marketing program, it may be necessary to integrate your text-marketing program with more than one application, such as Google Calendar, Outlook, Salesforce, MailChimp, or some other application. Connecting your text-marketing program with more than one application will be critical.
→ Mass texting and 2-way communication
The ability to send your latest marketing information to thousands of people at once makes SMS marketing such a powerful tool. Finding the software that enables this is key.
Texting is all about the conversation. Programs enabling businesses to communicate with their customers after sending a text are essential for maintaining effective customer relationships.
→ Pricing and scalability
There should be no doubt that taking up SMS marketing is a big step, but it is also important to find services that offer scalable plans, especially when you are just getting started and may not have a large customer base yet. 
It is not ideal to pay for a service that large companies primarily use. Still, if you choose a program that allows you to pay according to your number of customers, you will be rewarded with more significant benefits.
Related: Best Small Business Website Builder
Conclusion
So there you have it! The six best SMS marketing platforms are available today. Each platform has its own set of pros and cons, as well as features and prices.
So, whether you are just starting in SMS marketing or looking for a new platform, check out all the options before making your final decision. And if you have any questions or comments, please feel free to leave them in the comment section below!
Related: Best POS System for Small Business
FAQ
What type of marketing is SMS?
SMS is a type of direct marketing that employs wireless communication technology to deliver commercial messages directly to consumers' mobile phones.
An SMS campaign is a marketing effort that uses text messages to reach out to customers. Businesses often use SMS campaigns to promote new products or services, offer discounts or special promotions, or remind customers about upcoming events.
Why is SMS marketing the best?
SMS marketing is the best because it's an incredibly effective way to reach customers. In addition, SMS has the best response rate, meaning nearly all recipients will open and read your message.
Yes, SMS marketing is legal. However, there are some restrictions on how you can use SMS marketing. For example, you cannot send unsolicited messages to customers without their consent.