Disclaimer: We sometimes use affiliate links in our content. For more information, visit our Disclaimer Page. 
Employee reward programs are a great way to show your employees that you appreciate their hard work.
By offering rewards such as gift cards, merchandise, or even cash bonuses, you can show your team that you value them and want to keep them motivated.
This blog post will discuss the benefits of employee reward programs and how to create a suitable program for your business.
What are employee incentive programs?
Employee incentive programs encourage employees to meet or exceed specific goals. Typically, these programs offer meaningful rewards such as cash bonuses, gift cards, or paid time off.
While the specifics vary from company to company, employee incentive programs typically focus on performance metrics such as sales volume, customer satisfaction, or safety.
In some cases, companies may also offer team-based incentives, which can help to foster a sense of competition and camaraderie among employees.
Companies can boost morale and motivation by offering employees a financial incentive to excel in their jobs, improving performance across the board.
Related: Incentive Theories of Motivation
How to Design a Reward and Recognition Program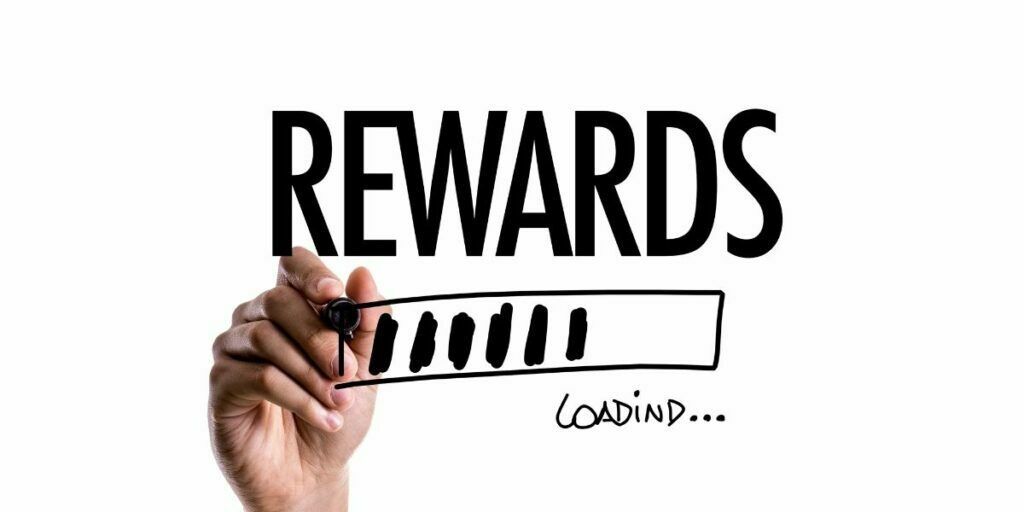 Designing an effective reward and recognition program can be challenging, but it's definitely worth the effort. Here are a few things to keep in mind when creating your program:
#Start by understanding the different types of employee recognition.
Recognizing and rewarding employees is crucial for effective management, yet knowing where to start when designing a program can be challenging. An excellent place to begin is by understanding the different types of employee recognition.
Public recognition is any form of acknowledgment shared with the rest of the team, such as announcing someone as Employee of the Month. Private recognition is a more personal form of praise, such as a handwritten note or a one-to-one conversation.
Promotion is another way to reward employees by giving them additional responsibility or a higher salary. And finally, monetary rewards are always popular, whether a bonus, commission, or gift vouchers.
#Ask for feedback
One crucial aspect of designing a reward and recognition system is asking for feedback. It can be tempting to simply put together a program and then set it in stone, but this inflexibility can lead to problems.
By soliciting employee feedback, you can better understand what type of recognition is most valued and ensure that the program meets its goals.
Furthermore, regularly asking for feedback can help keep the system fresh and prevent employees from becoming complacent. In short, incorporating feedback into the design process is essential for creating a successful reward and recognition system.
#Determine the criteria for rewarding employees.
Determining the criteria for rewarding employees is an important first step in designing a reward and recognition program. The requirements should be based on the organization's goals and values and should be aligned with the organization's strategy.
They should also be objective and measurable so that employees can be fairly evaluated. Once the criteria have been established, the next step is selecting the rewards.
The rewards should be meaningful to the employees and motivate them to achieve the organization's goals.
Finally, the program should be communicated to the employees to understand their expectations. By following these steps, you can create a reward and recognition program that will help to motivate and engage your employees.
#Educate your employees about the program.
A successful reward and recognition program should be designed to motivate employees and encourage positive behavior. However, before launching a program, it is essential to educate employees about how it works and what they can do to earn rewards.
The best way to do this is to hold a company-wide meeting to introduce the program and explain the rules. Alternatively, you can distribute an informational pamphlet or post details of the program on an intranet site.
Once employees are familiar with the program, they will be more likely to participate actively and strive to meet their goals. With some planning and effort, you can create a reward and recognition program that benefits your employees and your business.
#Evaluate the program.
After a business implements a reward and recognition program, it's essential to take some time to evaluate how effective the program is. This can be done in several ways, such as surveying employees or looking at employee retention or engagement metrics.
If the program does not have the desired effect, it may need to be tweaked or completely redesigned. However, if the program is working well, it's important to keep doing what you're doing to maintain employee satisfaction and motivation. Regular evaluation is essential for keeping a reward and recognition program effective.
Related: Collaboration Strategies
10 must-have employee rewards programs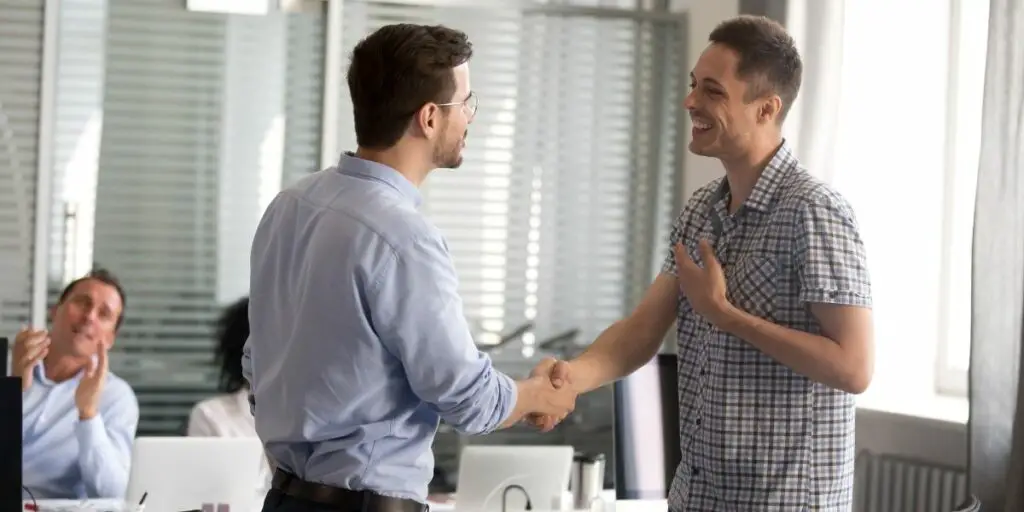 There are many different things that companies can do to reward their employees. However, here are ten employee rewards programs that we think are essential:
1. Recognition and rewards
– Social recognition
Social recognition is a low-cost way to allow everyone at your organization to publicly express their gratitude for other team members. Even a simple thank you can be enough to keep someone motivated. Also, it's a great way to show your employees that you appreciate their hard work and let them know that their efforts are noticed and valued.
Additionally, social recognition can help to build team morale and create a positive work environment. When employees feel appreciated, they are more likely to be productive, happy, and engaged in their work. So, if you're looking for a way to show your employees some extra appreciation, consider implementing a social recognition program at your organization.
– Points-based recognition
A points-based reward system can be a great way to show your employees how much you appreciate them. It lets them choose their rewards, but it also helps build camaraderie and morale by giving them something to work towards together.
In addition, a points-based system is flexible and can be tailored to your company's budget and needs. For example, you can choose to give out more points for long-term goals or exceptional performance.
Points-based recognition is an excellent way to show your employees that you value their contributions and are committed to providing them with the best possible working environment.
2. Referral programs
A referral program is an employer-sponsored benefit that encourages employees to refer friends and acquaintances for open positions at the company. Referral programs are often very successful, as employees tend to be familiar with the skills and qualifications of their referrals. Moreover, employee referrals typically result in a higher hire rate than other recruiting methods.
For these reasons, employers often offer financial incentives for successful referrals, such as bonus pay. If you are an employee, ask your HR department about your company's referral program. You may be surprised at how much you can earn by referring qualified candidates for open positions.
3. Professional development
By investing in their employee's professional growth, companies can foster a sense of loyalty and dedication while increasing productivity. Professional development programs can take many forms, from tuition reimbursement to funding for conferences and workshops.
Perhaps the most crucial benefit of these programs is that they show employees that their company is invested in their future.
When employees feel valued and supported, they are more likely to stick with a company for the long haul. As a result, professional development programs can be a powerful tool for retaining top talent.
4. Profit sharing
Profit-sharing programs give employees a portion of the company's profits based on individual or company performance. This can provide robust financial motivation for employees to work hard and contribute to the company's success.
In addition, profit sharing can help to create a sense of ownership and responsibility among employees. When workers feel they have a stake in the company's success, they are more likely to be engaged and invested in their work. As a result, profit sharing can be an effective tool for businesses looking to boost morale and increase productivity.
5. Health and wellness
Employee recognition programs are a great way to promote health and wellness in the workplace. By offering incentives for employees to stay healthy, companies can encourage them to take care of their physical and mental health.
Wellness programs can include anything from fitness challenges to nutrition education, and they can be tailored to the needs of each company.
Incentives don't have to be expensive; even simple things like gift cards or extra paid vacation days can be motivating. The most important thing is that employees feel supported to stay healthy. Companies can create a happier and more productive workforce by investing in employee wellness.
6. Tuition reimbursement
Tuition reimbursement is a great way to attract and retain top talent. Not only does it help employees cover the cost of their education, but it also helps them improve their skills.
A tuition assistance program can be an important part of your employee incentive program, and it's a benefit that your employees are sure to appreciate.
In addition to attracting and retaining employees, tuition reimbursement can also help improve employee morale and motivation.
Employees who feel like their employer is investing in their education are more likely to be engaged and motivated at work. So investing in your employees' education is a smart business move that can pay off in many ways.
7. Bonuses and raises
Bonuses and raises based on personal performance are especially effective in encouraging employees to work hard and achieve results.
A survey conducted by Payscale found that 65% of U.S. employees prefer bonuses based on personal performance. Incentive programs can help improve employee morale and retention and boost productivity and company growth.
When designing an employee incentive program, it is crucial to consider your organization's specific needs and goals.
What type of motivation is most likely to achieve results? What can you afford to offer? By taking the time to create a well-rounded program, you can reap the many benefits of a motivated and engaged workforce.
8. Fun gifts
Celebrating your employees through gift-giving is a great way to show you care. In addition, gifts are great incentives for company-specific holidays, like work anniversaries, customer service week, global wellness day, or boss's day.
Giving employees fun gifts is a great way to show their appreciation for their hard work and dedication. Some great gift ideas include gift cards, branded merchandise, or even tickets to a special event. Whatever you choose, make sure it is something that will put a smile on your employee's face.
9. Additional time off
Most people have experienced the feeling of being overwhelmed at work. With deadlines looming and a never-ending to-do list, it can be easy to let your personal life fall by the wayside. However, this is where time off can be hugely beneficial.
By taking regular breaks, whether it's a long weekend or an extended vacation, employees can come back to work feeling refreshed and motivated. Not only does this lead to better work quality, but it can also help to prevent burnout.
In addition, time off gives employees the chance to focus on their personal lives and maintain a healthy work-life balance. With so many benefits, it's no wonder that time off is often one of the most prized employee perks.
10. Choice of projects
Studies have shown that when employees are allowed to choose their projects, they tend to be more engaged and motivated. This makes sense when you think about it: who knows better than the employee what they are interested in and what they are good at?
Employees feel ownership and responsibility when they are empowered to make decisions about their work. This benefits not only the employee but also the company as a whole.
After all, happy, engaged employees are more productive employees. So if you want to get the most out of your high-achievers, give them the freedom to choose their projects. It's a win-win for everyone involved.
Related: Examples of Positive Reinforcement
5 best practices for employee incentive programs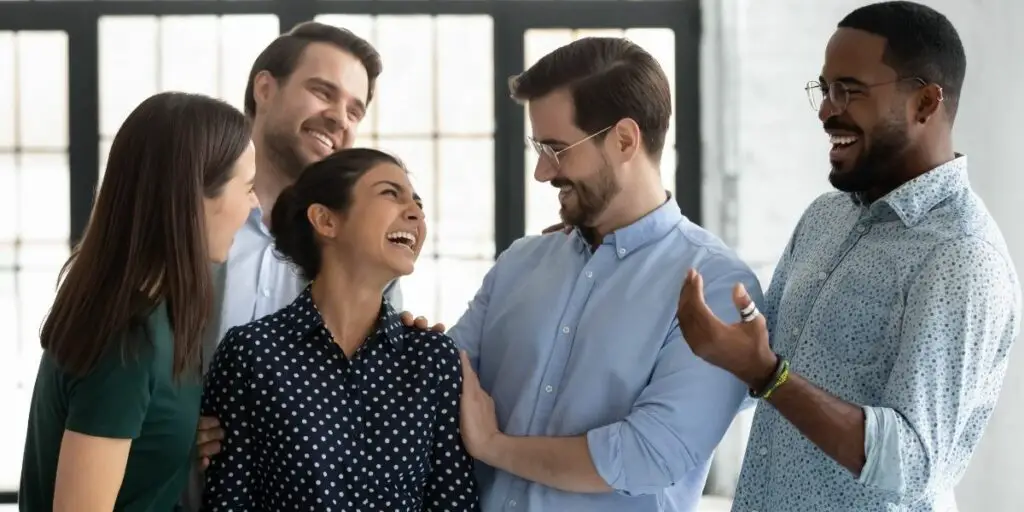 1. Make your program inclusive
By implementing various programs that fit every area of your business, you can ensure all team members have access to the programs and feel like they are a part of the company. Different programs also allow you to tailor the incentives to each team, making the programs more impactful.
For example, if you have a customer service team, you might offer a program that rewards employees for going above and beyond for customers.
If you have a sales team, you might offer a program that rewards employees for meeting or exceeding their sales goals. By taking the time to implement inclusive incentive programs, you can create a culture of inclusion within your organization.
2. Promote your incentive programs
Promoting your company's incentive programs is essential to ensure that all employees know the available programs and encourage company-wide participation. To accomplish this, HR should build a promotion and communications plan to make every employee aware of the available incentive programs.
Promoting the programs may include sending monthly emails highlighting different programs, displaying posters in common areas, or giving presentations at company-wide meetings. In addition, promoting the incentive programs will encourage more employees to participate, leading to a more engaged workforce.
3. Have leaders show the way
Leaders play an essential role in the success of employee incentive programs. By actively participating in and advocating for incentive programs, leaders can set the tone for their teams and help to build awareness of the programs.
In addition, leaders can help ensure that incentive programs are designed and implemented to maximize their effectiveness. Finally, by showing the way, leaders can help to ensure that employees are motivated to participate in incentive programs and that they can realize the full benefits of these programs.
4. Personalize your incentives
Tailoring your incentives approach each employee is the best way to ensure that your team members are motivated to achieve their goals. By considering each person's unique skills, interests and motivation, you can design an incentive plan to maximize their efforts.
For example, if you have a particularly competitive team member, you may consider offering an incentive that includes a contest or leaderboard.
On the other hand, if you have someone more motivated by recognition, you may want to incorporate elements such as spot bonuses or awards. By personalizing your incentives, you can ensure that each team member is working towards a goal that is truly relevant to them.
5. Ask for feedback
In order to ensure that your incentive programs have the desired effect, it is vital to ask for feedback from your employees. Listening to those participating in the program can you get a real sense of how well it is working and what changes need to be made.
This feedback can be gathered in many ways, such as through one-on-one conversations, focus groups, or surveys. Once you have collected this information, take the time to review it carefully and make any necessary adjustments to your program.
By taking the pulse of your workforce regularly, you can ensure that your incentive programs are always squeezed for maximum impact.
Related: Teamwork in the Workplace
Top 7 Employee Recognition Platform
When it comes to employee recognition, there are a lot of platforms to choose from. So, how do you decide which one is best for your company?
Each platform has its features, and each company has different needs. That's why it's important to do your research before making a decision.
Here are seven of the most popular employee recognition platforms, along with a brief description.
1. Nectar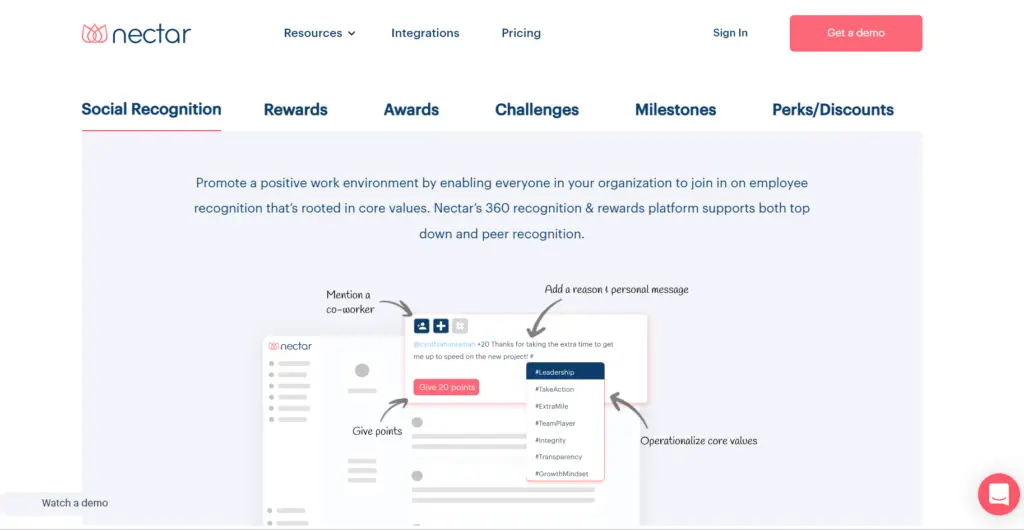 Nectar is the perfect way to show your employees how much you appreciate their hard work. With the 360 recognition & rewards platform, team members can feel valued, connected, and engaged no matter where they work. In addition, Nectar makes it easy to build camaraderie and celebrate big and small wins.
Whether you're sending a simple thank-you note or recognizing someone for going above and beyond, Nectar helps you show your appreciation in a rooted way in your company's core values. As a result, your employees will feel appreciated and motivated to continue doing their best work.
2. Reward Gateway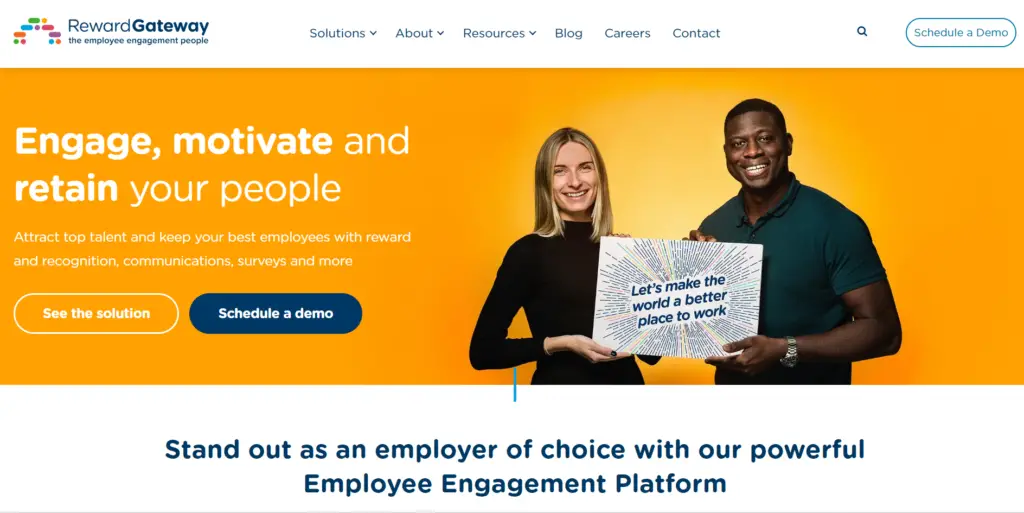 Reward Gateway is an employee recognition program that helps businesses improve communication, recognition, and employee discounts. The SmartHub combines all of these features into a single solution, making it easy for companies to manage and increase employee engagement.
The platform offers a variety of features, including instant vouchers and cashback offers, that can help businesses save money and improve employee satisfaction.
Additionally, the platform provides data analytics to help businesses identify trends and improve their overall employee engagement strategy. As a result, Reward Gateway is a powerful tool that can help companies improve their bottom line by improving communication and recognition among employees.
3. Bucketlist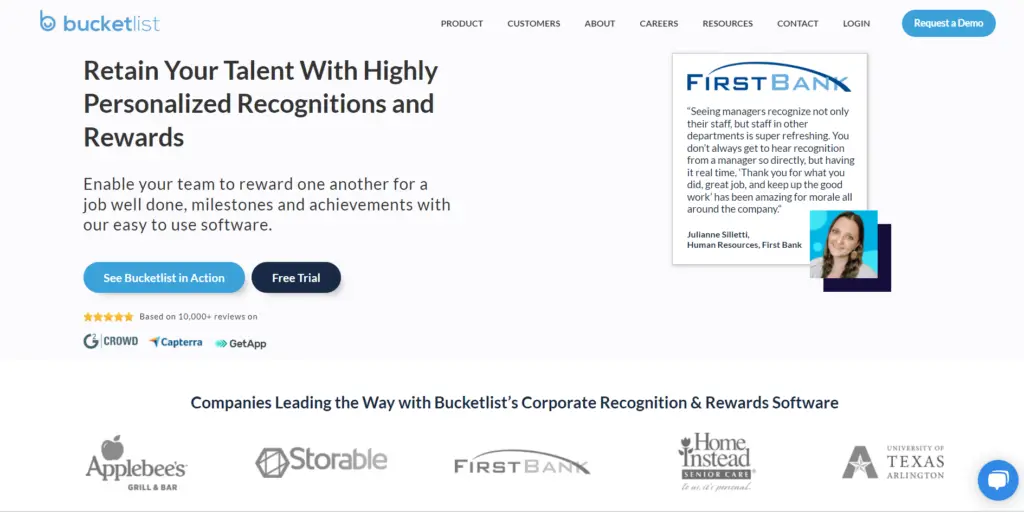 The Bucketlist platform makes it easy for HR teams to engage employees through customizable rewards and recognition programs. By integrating with popular apps like Slack, Teams, and Outlook, Bucketlist makes it easy for employees to stay connected and motivated.
With Bucketlist, HR teams can create custom reward programs that fit the unique needs of their organization. Additionally, the platform offers a variety of ways to recognize employees for their hard work and achievements.
Furthermore, companies can easily design and implement employee engagement programs that fit their unique needs and budget. As a result, Bucketlist is an essential tool for any HR team looking to boost employee engagement.
4. Bonusly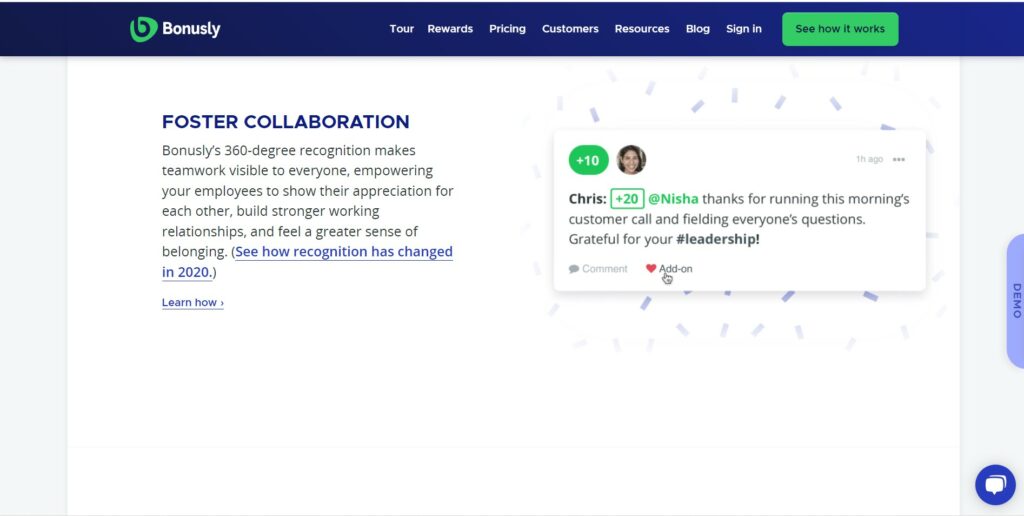 Bonusly is one of the best peer-to-peer recognition platforms available. It's easy to use and set up, has an extensive rewards catalog, and is simply a great platform. With Bonusly, you can give recognition points to anyone in your organization for any reason.
The recipient can then redeem their points for rewards from the catalog. There are many different types of rewards available, so there's something for everyone. Bonusly is also constantly adding new rewards to the catalog, so there's always something new to choose from.
5. Kazoo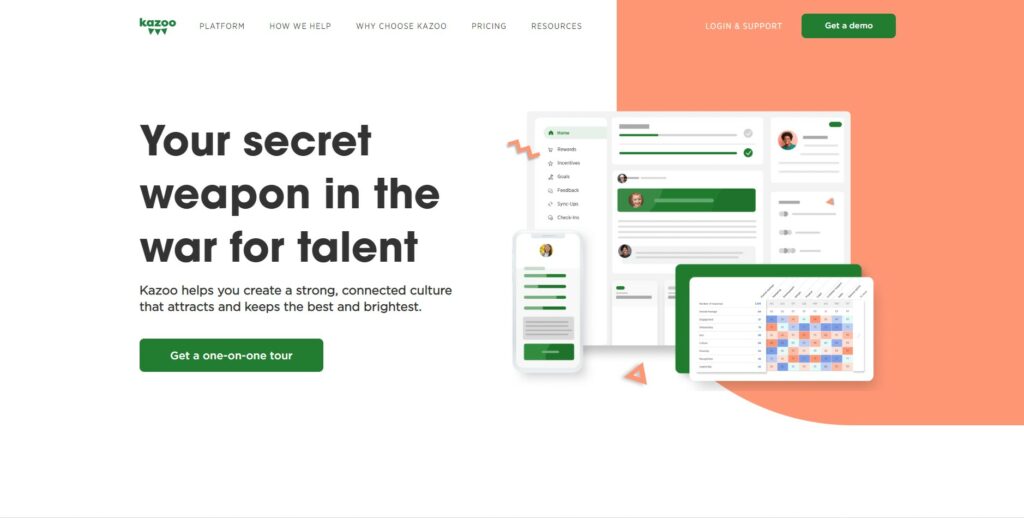 Kazoo is a powerful employee recognition software that helps companies improve employee experience and company culture. Kazoo combines continuous performance management, employee recognition, rewards, and engagement surveys into one platform.
This allows managers to get a 360-degree view of employees and identify areas for improvement. In addition, Kazoo provides a library of best practices and resources to help companies build a strong foundation for their employee experience programs.
Finally, Kazoo offers a free trial so companies can test the platform before committing to it. As a result, Kazoo is an important tool for any company looking to improve its employee experience.
6. Blueboard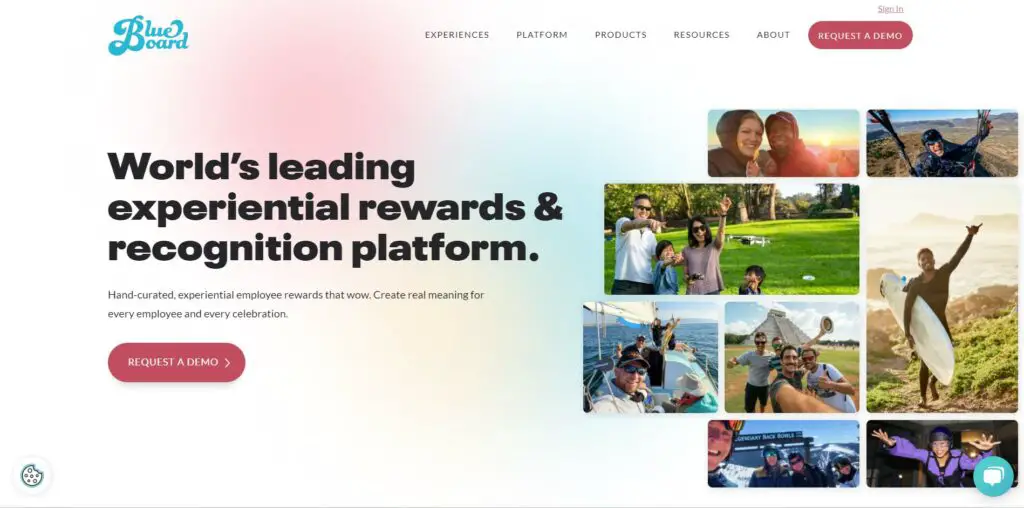 Blueboard is the world's top all-in-one experiential rewards and recognition platform. Companies use Blueboard to recognize their employees at scale by sending them unique and personalized in-home or out-in-the-world experiences.
Blueboard makes it easy to quickly send employees anniversary awards, employee referrals, spot recognition, sales incentives, President's Club awards, and more.
Experiences can be redeemed online or through the Blueboard mobile app. With Blueboard, companies can show their employees how valued they are while building a stronger sense of culture and community.
7. Fond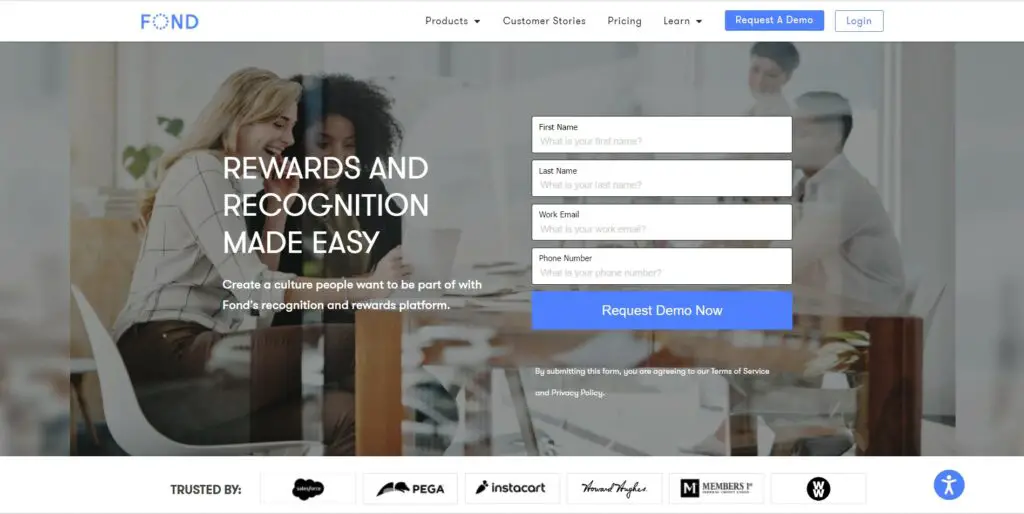 Fond makes company-wide recognition easier than ever. With a social feed that can be accessed from any device, anywhere, this employee reward system supports virtual, global recognition for diverse teams.
Fond has everything you need to keep your team engaged and motivated, from leaderboards and personalized recognition to badges and rewards.
And with integrations with popular communication tools like Slack and Microsoft Teams, Fond makes it easy to show your appreciation for a job well done.
Benefits Of Implementing an Employee Rewards Program
Employee rewards programs have been shown to have several benefits for both employees and employers. Some of the key benefits include:
1. Increased productivity
Employee productivity is the lifeblood of any organization. The amount of work that an employee completes on a given day directly impacts the bottom line. That's why it's essential to have a system that incentivizes and motivates team members to be as productive as possible.
An employee reward system is a perfect way to do this. By providing rewards for employees who meet or exceed their productivity goals, you can create a culture of excellence that will help to drive your business forward.
Additionally, tracking productivity levels over time can identify areas where your team may need additional training or support. Ultimately, an effective employee reward system is essential for any organization that wants to maximize productivity and profitability.
2. Better company culture
Creating a positive company culture is essential for any business that wants to succeed. Rewarding employees for exhibiting desired behaviors is one way to reinforce your company's culture and values.
Employees are recognized and rewarded for living up to your standards; it helps create a positive reinforcement loop that encourages them to continue exhibiting those behaviors. In addition, an effective employee reward system can help you attract and retain top talent.
By offering rewards aligned with your company culture, you can attract like-minded individuals who are more likely to be a good fit for your organization. Therefore, investing in an employee reward system is a critical step Toward creating a thriving company culture.
3. More collaboration
One of the most commonly cited benefits of employee reward systems is that they lead to more collaboration. Employees who work towards a common goal are more likely to share information and resources, leading to more creative solutions.
Moreover, team-based reward systems can help build relationships between workers, fostering a sense of camaraderie and cooperation. Collaboration is an essential ingredient in any successful organization, and employee reward systems can be a powerful tool for promoting it.
4. Better retention
Employee retention is a significant challenge for many businesses. The cost of turnover can be staggeringly high, often amounting to hundreds of thousands of dollars per year. One way to combat this problem is to implement an employee rewards system.
By offering incentives for workers who stay with the company for an extended period, businesses can encourage loyalty and decrease turnover. Additionally, employee rewards systems can help to boost morale and increase productivity.
Workers feel appreciated and valued more likely to be engaged with their work and committed to their company. In short, employee rewards systems offer a win-win solution for both businesses and workers.
5. Fewer work silos
Work silos often occur when there isn't the proper infrastructure to help one department communicate with another. Employee reward systems help eliminate silos by allowing employees from one department to share with their coworkers easily.
By eliminating silos, communication improves, which can impact employee satisfaction. Poor communication is often the root cause of silos forming in the first place. Effective communication can help break down barriers and improve collaboration.
When departments work together, it can lead to a more positive work environment and increase employee satisfaction. Good communication is key to breaking down silos and improving collaboration in the workplace.
6. Improved relationship with coworkers
Employee reward systems can help to improve relationships by giving teammates extra opportunities to encourage and uplift one another. These culture-building platforms remind employees of the importance of supporting their colleagues, and they can help create a more positive work environment.
Furthermore, employee reward systems can also help build camaraderie among coworkers by giving them extra opportunities to interact with one another. Employee reward systems can help create a more positive and productive work environment by improving relationships between coworkers.
7. Follow the values of your business
By setting up rewards based on your company values, you can encourage your team to live those values every day. This will help improve morale and performance, but it will also help to create a strong culture within your organization.
This can lead to more customers and clients wanting to do business with you, as they will know that you operate in a way that aligns with their values. So if you're looking for a way to reinforce your company values, implementing an employee reward system is a great place to start.
Related: The Importance of Relationships Within the Workplace
Closing Thoughts
Employee reward programs are a valuable tool for any business. By providing motivation and incentives, these programs can help to increase productivity and encourage employee loyalty.
While there are many different types of programs available, the most important thing is to tailor the program to the specific needs of your business.
With a little planning and creativity, you can develop a meaningful employee reward program that will yield positive results for your company.