Disclaimer: We sometimes use affiliate links in our content. For more information, visit our Disclaimer Page. 
You will be asked to collaborate with others on a project at some point in your career. This can be a daunting task, but it doesn't have to be. This blog post will discuss 15 collaboration strategies to help you work more productively with your team. By following these tips, you'll be able to produce excellent results and avoid any potential conflicts. Let's get started!
What is a collaboration strategy?
A collaboration strategy is how businesses approach teamwork within their organization. It refers to how a company promotes or requires employees to work together to meet goals and complete projects. A well-designed collaboration strategy can help businesses improve communication and problem-solving, increase creativity and innovation, and boost productivity.
It can also foster a greater sense of cooperation and camaraderie among employees. Businesses should consider their specific needs and objectives when creating a collaboration strategy. For example, a company hoping to encourage more outside-the-box thinking may promote informal brainstorming sessions. At the same time, a business that wants to improve its customer service may implement team-based customer service training. Companies can reap successful teamwork by carefully crafting a collaboration strategy that meets their needs.
Related: Teamwork in the Workplace
Why is collaboration essential?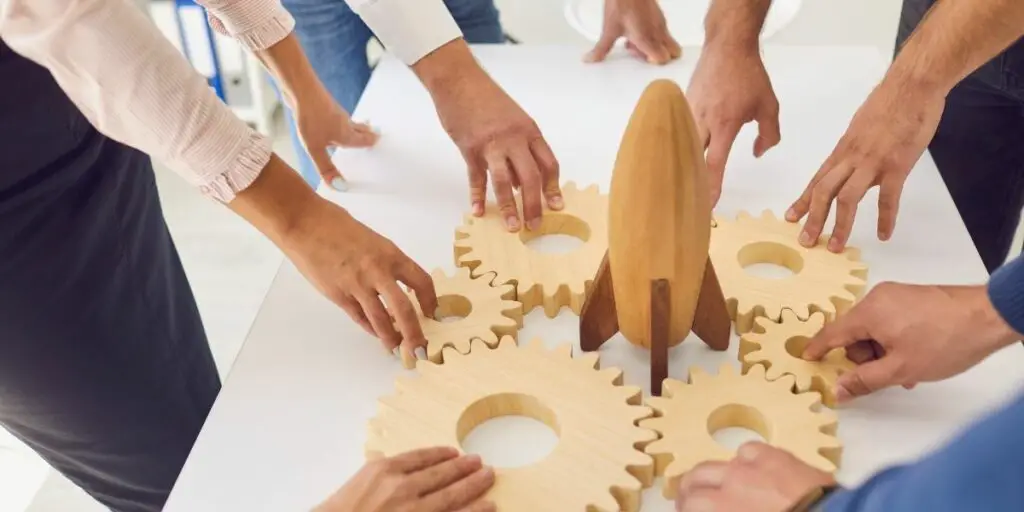 In today's workplace, collaboration is more critical than ever. With the rapid pace of change and the increasing complexity of problems, businesses need employees who can work together effectively to find creative solutions. Moreover, by its very nature, collaboration encourages different points of view and allows for sharing of knowledge and expertise.
This leads to more innovative thinking and the development of more efficient processes. In addition, collaborating with others can help build strong working relationships and improve communication skills. Collaboration can increase success for both individuals and organizations when done right.
Related: Communication Competence
15 collaboration strategies for the workplace
There are many different ways to promote collaboration in the workplace. Here are ten of the most effective strategies:
1. Encourage open communication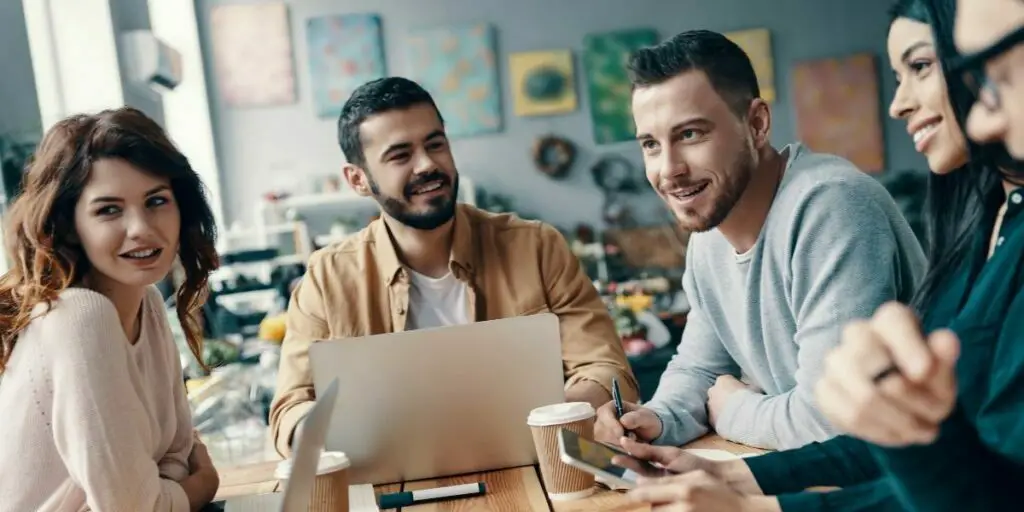 Open communication is essential for any team or organization to function correctly. It allows different individuals to share information and ideas, and it helps build trust and understanding.
There are many ways to encourage open communication in the workplace. One way is to create an environment where people feel comfortable expressing themselves. This can be done by providing avenues for employees to give feedback, such as open-door policies and anonymous suggestion boxes. Additionally, managers should make an effort to listen to their employees and take their concerns seriously.
Another way to encourage open communication is to have regular team meetings. These meetings provide a space for people to share updates on their work, discuss any problems facing, and brainstorm solutions. Additionally, team meetings can help build relationships and trust between team members.
Open communication is essential for any team or organization to function properly. It allows different individuals to share information and ideas, and it helps build trust and understanding. There are many ways to encourage open communication in the workplace.
Related: Team Communication
2. Create a collaborative environment
The physical space you work in can significantly impact how well you collaborate with others. If your office is set up in a way that encourages collaboration, you'll find it easier to communicate and work together effectively. For example, open floor plans and common areas are great for encouraging teamwork, as they provide opportunities for informal meetings and breaks.
You can also encourage collaboration by setting up dedicated spaces for team projects, such as whiteboards and brainstorming corners. By creating an environment that supports collaboration, you'll be able to foster more productive and creative working relationships.
3. Use Technology
Today's business world is more connected than ever before, and employees are often expected to collaborate on projects with colleagues in different parts of the world. While this can be a challenge, many kinds of software can help facilitate collaboration.
For example, project management tools can help team members keep track of tasks and deadlines, chat apps can provide a space for real-time conversation, and video conferencing platforms can allow for face-to-face meetings even when team members are geographically dispersed. By utilizing these tools, businesses can make it easier for employees to work together on projects and improve communication and collaboration across the organization.
4. Set clear goals
As any manager knows, setting clear goals is essential for motivating employees and ensuring everyone is on the same page. Getting employees to work together effectively can be challenging without a clear sense of purpose. That's why it's essential to set clear goals for each project.
You'll ensure that everyone knows what they're supposed to be working towards, and you'll be more likely to achieve your desired results. Of course, it's also important to be flexible and adapt your goals as needed. But as long as you keep the overall goal in mind, you'll be able to ensure that your team is working towards something meaningful.
5. Assign roles
In any team or organization, it's vital to have a good system of roles and responsibilities in place. This ensures that everyone knows what they should be doing and that tasks are carried out efficiently. When team member roles are appropriately assigned, it can help to improve collaboration and communication within the team. Let's take a closer look at how assigning roles can help to enhance collaboration.
When roles are assigned, it helps to give people a sense of ownership over their part of the project. This can lead to greater motivation and a willingness to see the project through to completion. People are also more likely to take responsibility for their own mistakes if they feel that they are in charge of their roles.
Having distinct roles also helps to improve communication. When everyone knows their role, they can focus on carrying out their task without worrying about what everyone else is doing. This can lead to a more streamlined and efficient workflow. On the other hand, if people are unsure of their roles, it can lead to confusion and frustration, hampering progress.
Related: Organizational Leadership
6. Provide training and resources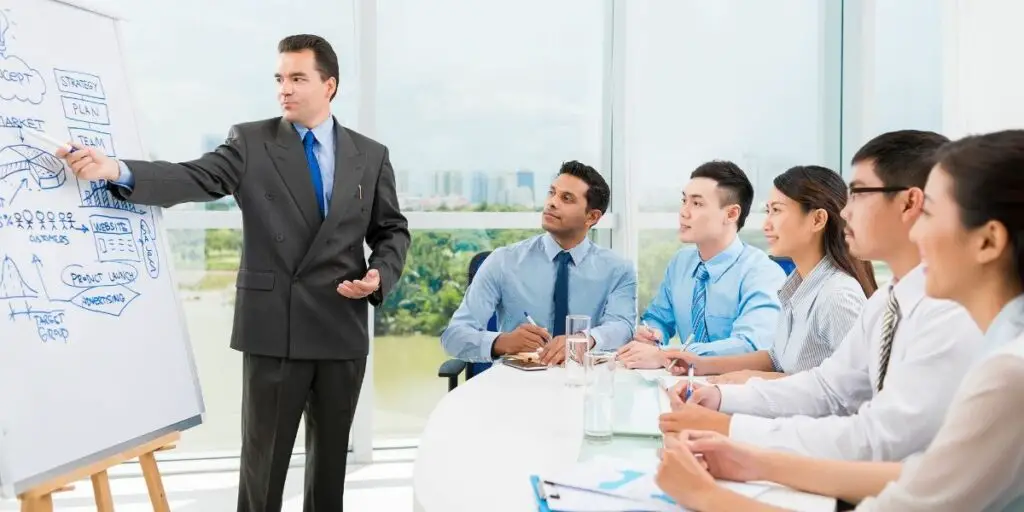 Organizations that provide training and resources for their employees to collaborate effectively are more likely to see improvements in workplace collaboration. Training can help employees learn the necessary skills for working together effectively, while resources can help employees feel more comfortable and confident when collaborating.
By investing in both training and resources, organizations can improve collaboration among their employees and see positive results in terms of productivity and creativity.
One way that providing training and resources can improve collaboration is by increasing trust between employees. When employees feel like they have the skills and knowledge to collaborate effectively, they are more likely to trust their colleagues and work together more effectively. Trust is an essential ingredient for successful collaboration, and by investing in training and resources, organizations can help build trust between employees.
Encourage team members to socialize because there are many benefits for businesses. When employees feel comfortable socializing with one another, they are more likely to share information and ideas. This can lead to better communication and collaboration within the workplace. Additionally, socializing can help build relationships and trust between employees, improving teamwork.
Managers can do a few things to encourage socializing in the workplace. First, they can create opportunities for employees to interact with one another through team-building exercises or company-sponsored events. Additionally, they can create an open and welcoming environment by encouraging employees to socialize during breaks or after work hours.
Finally, managers can incentivize employees to socialize by offering prizes for the most active participation in company-sponsored events.
Related: How to Improve Teamwork?
8. Use diminishing involvement
Diminishing involvement is a strategy that can improve collaboration by encouraging team members to take on less responsibility over time. This can help create a more level playing field, where everyone has an equal say in decisions, and no one feels overwhelmed by their workload. It can also help foster a sense of ownership and buy-in from team members, as they feel more invested in the project's outcome.
There are a few different ways to go about implementing diminishing involvement. One is to gradually reduce the number of tasks or responsibilities assigned to each team member. Another is to give everyone a chance to lead or take on special projects, rotating who takes the lead so that everyone feels equally invested.
Whatever approach you take, the goal is to create a more collaborative environment where everyone feels comfortable contributing, and no one is carrying the weight of the project on their shoulders. Reducing responsibility can help achieve this by removing some pressure and creating a more level playing field. So next time you're working on a project with a team, give it a try!
9. Recognizing successes
Successful collaboration depends on effective communication. When entire team members feel like they are being listened to and their successes are being recognized, they are more likely to trust and cooperate.
Recognizing successes – whether big or small – is crucial to building trust and cooperation within a team. By acknowledging the accomplishments of individual team members, you show that you are paying attention and that you value their contributions. This, in turn, encourages team members to continue working hard and collaborating effectively.
So, if you want to improve team collaboration, make sure to take the time to celebrate everyone's successes – no matter how big or small. Doing so will go a long way in building trust and cooperation within your team.
10. Encourage creativity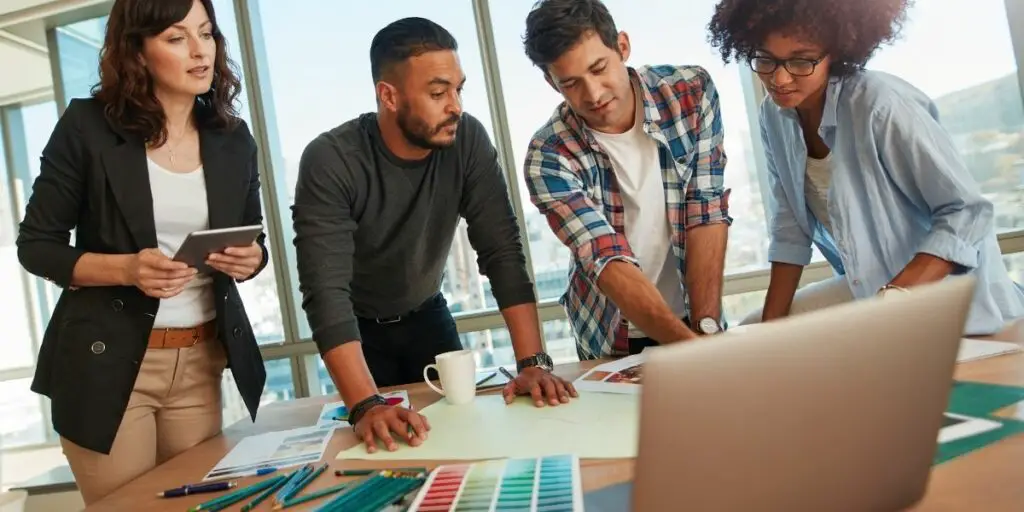 Encouraging creativity in the workplace can benefit both employees and employers. It can increase job satisfaction and a sense of ownership over their work for employees. For employers, it can improve team collaboration and increase productivity.
There are some ways to encourage creativity in the workplace. One way is to provide employees with opportunities to work on projects that interest them. Another way is to give employees the freedom to experiment and try new things. Finally, employers can encourage creativity by prioritizing it and providing resources for employees to be creative.
When creativity is encouraged in the workplace, it can lead to a number of benefits for both employees and employers. These benefits include increased job satisfaction, improved workplace collaboration, and increased productivity. In addition, employers can create a more positive and productive work environment by encouraging creativity in the workplace.
11. Model the behavior
Modeling the behavior of others can help us to understand better and predict their actions. This, in turn, can improve communication and collaboration. For example, if we know that a colleague is likely to respond positively to compliments, we can be sure to praise them more often. Similarly, if we know that someone is likely to react negatively to criticism, we can avoid critiquing their work too harshly. In general, by understanding the behavior of others, we can learn to interact with them more effectively.
One way to model the behavior of others is to observe their actions and try to infer the underlying motives. Another way is to ask them directly about their goals, preferences, and so on. Either way, the goal is to develop a shared understanding of each other's behavior.
Of course, it is not always possible to accurately model the behavior of others. People are complex and often unpredictable. However, even a rough understanding of another person's collaborative behavior can help improve communication and collaboration.
12. Lead by example
One of the most important things you can do is lead by example to improve team collaboration. Show your team members how important collaborating is to you and that you're willing to put in the work to make it happen. This will go a long way in fostering a culture of collaboration within your team. Additionally, leading by example will also help to ensure that everyone is on the same page and working towards the same goal.
There are a few key things you can do to lead by example and improve collaboration within your team:
Be an active listener
Make sure that you're listening to what others have to say. This means giving them your full attention, not just waiting for your turn to speak. Active listening will help to foster better communication and understanding within your team.
Be respectful
Respect is vital in any relationship, including your relationships with your team members. Showing respect for others will help create a more positive and productive team environment.
Be open-minded
Try to be open to new ideas and perspectives. This doesn't mean that you have to agree with everything, but it's essential to be willing to consider other points of view. Being open-minded will help to promote creativity and innovation within your team.

Be willing to compromise
There will be times when you'll need to compromise to reach a consensus. This doesn't mean that you have to give up everything you want, but it's important to be willing to meet in the middle. Compromise will help ensure that everyone feels heard and that the final decision is one that everyone can agree on.

Be a team player
Remember that it's called "teamwork" for a reason. Everyone needs to do their part for the team to be successful. So be willing to pitch in and help out whenever you can. Leading by example is a great way to improve team collaboration within your team. By being an active listener, respectful, open-minded, and willing to compromise, you can set the tone for a more positive and productive team environment.

Related: Team Leadership Style
13. Communicate your expectation for collaboration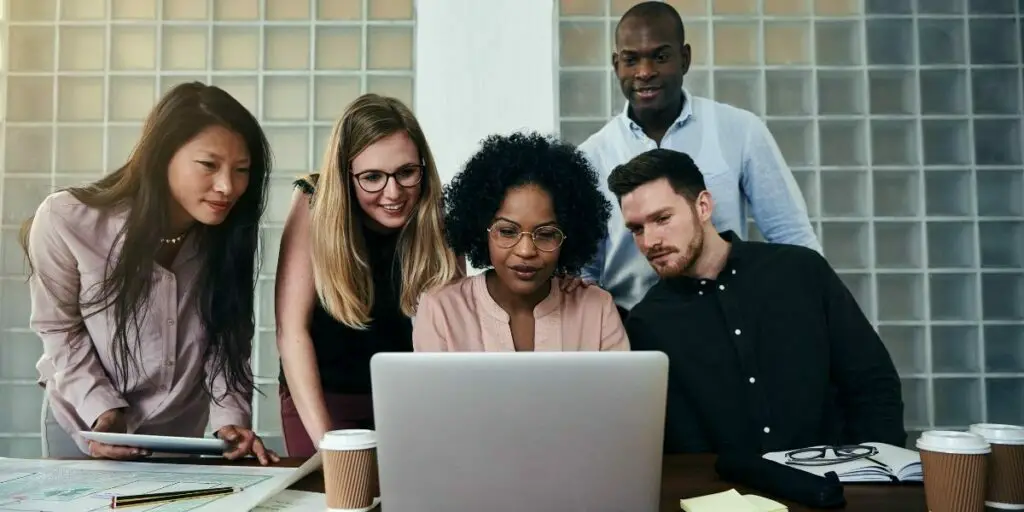 It is vital to communicate your expectations early on for team collaboration. By doing so, you set the tone for how you expect things to go and what kind of contributions you are looking for from each team member. This helps ensure that everyone is on the same page and working towards the same goal. Additionally, it can help to prevent misunderstandings and disagreements down the road.
When you are clear about your expectations, team members are more likely to:
Understand what is expected of them.
Feel comfortable contributing their ideas.
Be willing to compromise and work towards a solution that everyone can agree on.
Related: Group Communication
14. Highlight individuals' strengths
When individuals can highlight their strengths for collaboration, it can improve the overall quality of the collaboration. This is because individuals can focus on what they do best and contribute their unique skills to the team. In addition, when everyone works together towards a common goal, it is much easier to achieve success.
Furthermore, highlighting individual strengths also allows team members to learn from each other and grow. This type of collaboration usually results in a more positive work environment and higher employee satisfaction levels.
15. Review the company's mission and values
A company's mission and values statement can guide employees on how they are expected to work together. Collaborative teams can help ensure that everyone is aware of the company's mission and values and that these are adhered to in the workplace.
By working collaboratively, employees can help to ensure that the company's mission and values are upheld and that everyone is working towards the same goals. This can create a more positive and productive workplace and can help to ensure that the company is successful in its endeavors.
Related: Teamwork Makes the Dream Work
What are team collaboration tools, and how can they boost collaboration?
There's no doubt that team collaboration is essential for businesses. After all, teamwork is often the key to success, whether coming up with innovative new ideas or simply getting tasks completed efficiently. But what exactly are collaborative tools? And how can they help boost collaboration within your team?
Team collaboration tools are any software or technology that helps team members work together more effectively. This could include project management software that allows team members to keep track of tasks and deadlines, communication platforms that facilitate easy and effective communication between team members, or even simple document sharing tools that make it easy for team members to share information and work on projects together. It is the best team collaboration strategy ever in this fast world.
Many team collaboration tools are available on the market, so choosing the right ones for your team's needs is essential. However, once you have the right tools in place, you'll quickly see a boost in team collaboration and overall productivity.
Below are listed tools you can use for team collaboration:
1. Asana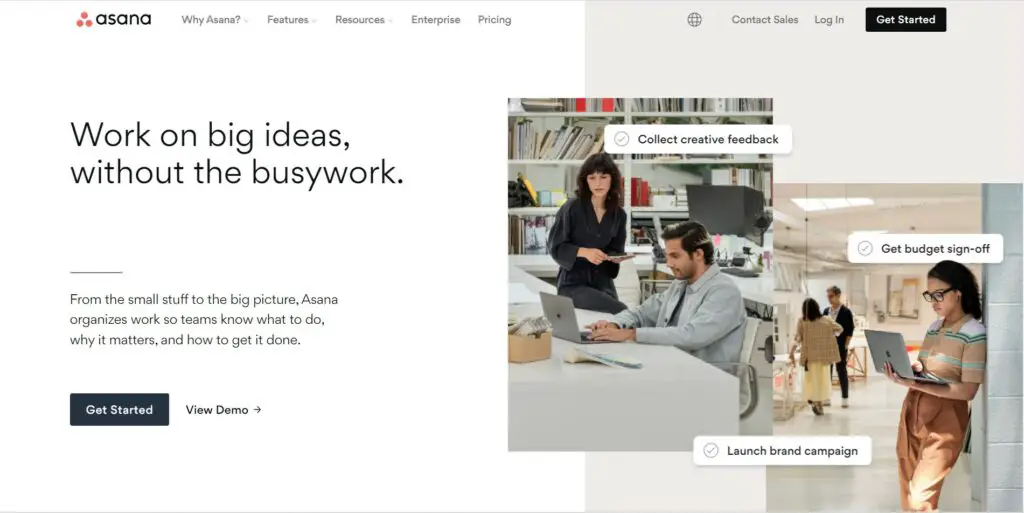 Asana is a customizable project management tool that helps streamline communication across companies and teams. Asana allows users to break down projects into tasks and set clear goals for teams. Asana also integrates hundreds of other businesses' apps, like Google Drive and Outlook.
It is designed to help businesses get work done more efficiently by keeping all team members on the same page. With Asana, companies can avoid the wasted time and lost productivity that often comes with traditional methods of communication, like email and meetings. Asana is a valuable tool for businesses looking to improve their workflow and get more done in less time.
2. Zoom
Zoom is a versatile communication tool that can be used for everything from one-on-one chats to large-scale webinars. It is easy to set up and use, and it offers a variety of features that make it ideal for personal and professional communications. Zoom is particularly well-suited for video meetings, as it allows up to 1,000 participants and 49 on-screen videos.
This makes it possible to connect with colleagues and clients worldwide in real-time. In addition, Zoom offers several collaborative features, such as screen sharing and group chat, that make it perfect for team meetings and projects. So whether you're looking to stay in touch with friends or colleagues or connect with new clients, Zoom is the ideal solution.
3. Google Drive
Google Drive is a cloud-based storage service that offers users a convenient way to store and share files. The service integrates with Google's suite of productivity tools, making it an ideal solution for teams who rely on Google Docs, Sheets, and Slides for their work. One of the key benefits of Google Drive is that it makes it easy for team members to collaborate on projects. Multiple users can access and edit the same document in real-time, and changes are automatically saved and synced across all devices.
This eliminates the need to email files back and forth or uses cumbersome version control systems. Another benefit of Google Drive is that it offers unlimited storage space. This means that teams can keep all of their project files in one central location, making it easy to find and share them. Finally, Google Drive offers robust security features, including encrypted file storage and two-factor authentication. This helps ensure that team members' data remains safe and secure. Overall, Google Drive is an incredibly powerful collaboration tool that can help teams work more effectively.
4. Slack
While there are many different team collaboration tools on the market, Slack is one of the most popular options, and for a good reason. Slack lets you communicate with anyone at your company via chat, making it easy to get answers to questions or collaborate on projects. Plus, you can set up team channels so that everyone stays up-to-date on what's going on. With Slack, there's no need to call meetings or run around the office – everything you need is right at your fingertips. That's why more and more businesses are turning to Slack for their team collaboration needs.
5. Google Calendar
Google Calendar is a service that provides a shared-calendar experience for your employees. They can log in when they're busy and free, making their schedules accessible to their coworkers. You'll know exactly when to hold a meeting because you'll see whether team members are available or not.
This is an important team collaboration tool for productivity and team performance because it helps to ensure that people are available to meet when needed. It's beneficial for organizing teams across departments where schedules don't always align. Using Google Calendar can help keep everyone on track and ensure that meetings are held at times that work for everyone.
Final Thoughts
For any business to be successful, employees must work together collaboratively. By utilizing the different collaboration strategies we've outlined, you can help create an environment where your team can successfully brainstorm ideas, share knowledge and skills, and resolve conflicts. Additionally, using team collaboration tools like those listed below can help increase productivity and improve communication among coworkers.
What strategy will you implement first? Let us know in the comment section.
FAQ
What are collaboration styles?
There are many different collaboration styles. The best one for any given situation depends on the goals of the project, the team dynamics, and the preferences of the individuals involved. One typical style is known as "divide and conquers," Each team member is assigned a specific task and then brought back together to share what they have accomplished. This can be effective when there is a clear goal, and everyone understands their role in achieving it.
Another style, known as "brainstorming," involves bringing the team together to generate ideas without critiquing or judging them. This can be helpful when trying to develop a large number of ideas or when looking for creative solutions. Ultimately, the best collaboration style allows everyone to contribute their ideas and talents in a way that leads to the best results for the project.
What is collaboration in a management information system?
Collaboration in a management information system is the process of uniting workers or managers working on the same task or related process. This is done with the help of IT-based software and tools, which assists in finishing the work and meeting objectives. The main benefit of this collaboration is that it allows for better communication and coordination between those involved, leading to a more efficient work process. Additionally, it can help avoid duplication of effort and ensure that everyone is on the same page.
What are collaborative arrangements?
Collaborative arrangements are popular among businesses because they provide a way to conduct business activities without forming a separate entity jointly. This arrangement is often used when two or more companies want to work together on a project or venture but don't want to go through the hassle and expense of setting up a new company. In a collaborative arrangement, the participants agree to share resources, responsibilities, and profits (or losses) from the venture.
This type of arrangement can be very beneficial for all parties involved, as it allows them to pool their resources and expertise to achieve a common goal. While collaborative arrangements don't have the same legal status as a formal joint venture, they can still benefit all parties involved.
Collaborative computing is often used in education as it allows students to work together on projects and share ideas quickly. Social networking sites like Facebook and Twitter have also made it easier for people to connect and share information. The use of collaborative computing and social networking has been shown to increase creativity and innovation and reduce the amount of time needed to complete tasks.
In addition, these platforms can help to build relationships and trust between users. As the world becomes increasingly connected, it is likely that collaborative computing and social networking will continue to grow in popularity.
What are collaborative computing examples?
Collaborative computing examples are software applications that allow users to communicate and work together on projects in real-time. Common examples include messaging apps like Slack, video conferencing tools like Zoom, and document sharing platforms like Google Docs. These tools have transformed the way we work, making it possible for team members to collaborate on projects regardless of location or time zone.
What do Team leaders do?
A team leader can provide guidance, instruction, and direction to a group of people to achieve the desired outcome. In addition, they need to be able to motivate individuals within the group and help them work together towards a common goal.
Team leaders also need to monitor the team's progress and identify any areas where improvements need to be made. Good team leaders are essential in any organization as they help ensure that projects are completed on time and to a high standard. Without them, it would be challenging for any organization to function effectively.
What are the benefits of diverse teams?
The benefits of this type of team are well-documented. Studies have shown that they are more innovative and creative and perform better than non-diverse teams. There are several reasons for this. First, they bring a more comprehensive range of perspectives and experiences. This allows them to identify problems and potential solutions that other teams might miss. Second, they are more likely to challenge assumptions and debate ideas, which leads to a deeper understanding of the issue at hand. Finally, diverse teams are simply more fun to work with! When team members feel like they can be their true selves, they are more engaged and invested in the work.
Creating a diverse team is not always easy, but it is worth the effort. By valuing and respecting the differences between team members, organizations can create an environment where all employees feel like they belong. This not only has benefits for the team itself but also for the organization as a whole. A diverse workforce is a critical ingredient in any successful company.