Disclaimer: We sometimes use affiliate links in our content. For more information, visit our Disclaimer Page. 
Video conferencing has become an integral part of modern business. There are many benefits to video conferencing, such as cost-effectiveness and efficiency. Video conferencing services also allow you to be more efficient by scheduling multiple meetings simultaneously. This is especially beneficial for small businesses that need to save time and cut costs.
Many different video conferencing platforms are available, so choosing the right one for your business can be challenging. To help you out, we've compiled a list of the best video conferencing for small businesses. This list includes both free and paid options, so you can choose the one that best fits your needs.
What is video conferencing?
Video conferencing is conducting a virtual meeting or conference with participants in more than one location. It allows people to share audio, video, and text content in real-time, making it an ideal communication tool for businesses. In addition to reducing travel costs, video conferencing can also improve team collaboration and better decision-making.
Related: Best Software for Small Business
Benefits
1. Increases Communication Reliability
Video conferencing is becoming an increasingly popular way for small businesses to communicate with their teams. By using video conferencing, companies can reduce the need for long-distance travel, which can be expensive and time-consuming. Video conferencing also provides a fast and secure way to communicate, which can help to improve communication reliability.
2. Simplify Management and Usability
Team members can focus on their meetings instead of troubleshooting every meeting by deploying a consolidated online meeting solution with a simple UI. This makes things more efficient and helps to ensure that meetings run smoothly. Additionally, central management of video conferencing solutions can help keep things organized and ensure everyone is on the same page.
3. Enables the Digital Workforce
Video conferencing is one of the essential tools for enabling a digital workforce. It allows team members to connect and collaborate no matter where they are. Video conferencing also helps to speed up decision-making. When team members can see and hear each other, they can communicate more effectively. This leads to quicker decisions and a more efficient workflow.
4. Recording and Playback Options
This allows businesses to review past meetings, learn from them, and improve future meetings. Additionally, it provides a way for companies to hold employees accountable for their performance in meetings. Recording and playback options also give business owners the ability to listen to past meetings at their convenience.
Related: Best Scheduling App for Small Businesses
5 Best Video Conferencing for Small Businesses
Best Overall: Zoom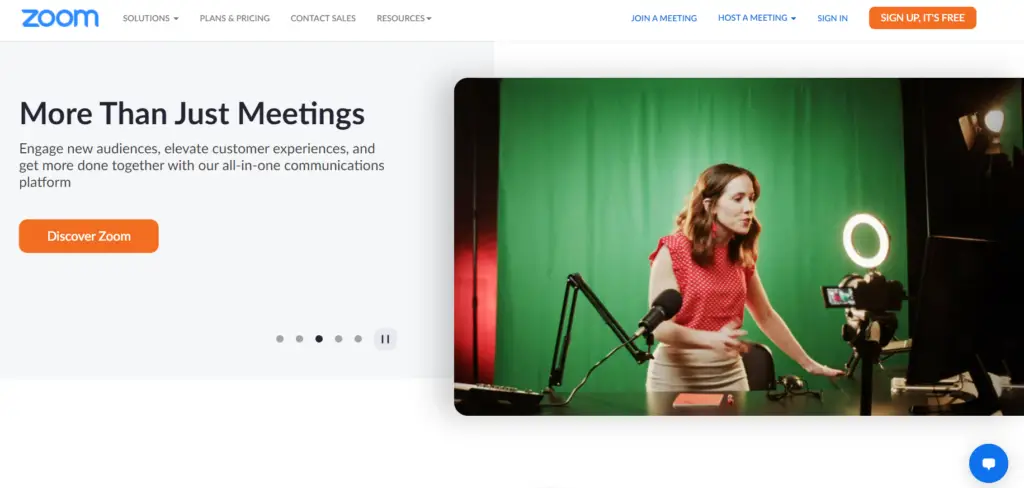 Zoom is the perfect video conferencing solution for small businesses. With its easy-to-use interface, fast setup time, and low price point, Zoom makes it easy for business owners to connect with their team members and clients from anywhere in the world. The platform also offers a variety of features such as screen sharing, recording meetings, and connecting with participants via video or audio-only. Zoom is a reliable, high-quality solution that small businesses can rely on to stay connected and productive.
Features:
Cross-platform messaging is a great way to stay connected with employees and customers who may be using different devices. Zoom allows you to send messages between different devices and platforms, making it an excellent choice for small businesses. You can send text messages, photos, and videos with cross-platform messaging. You can also do calls and video meetings with other users.
Zoom's personal meeting room feature lets you invite up to 100 people to join your meeting without using a conference call line. This eliminates passing around long, complicated dial-in numbers or pin codes. You can also share your personal meeting room link with clients and collaborators so they can quickly join your meeting. Plus, personal meeting rooms come with all the features of regular Zoom meetings, like HD video and audio, screen sharing, and recording.
Zoom's Calendar scheduling is a great way to keep track of your meetings and make sure that you are always on time. It is also a great way to share the meeting information with others. You can easily set up meeting reminders and send out invitations from Zoom. You can also manage scheduled meetings within any version of the client or app.
Meeting recordings allow you to capture all or part of a meeting to review it later. This is an excellent tool for businesses because it will enable them to review meetings for training purposes or to see what was discussed and decide whether or not they need to take any action. You can also use meeting recordings for archiving purposes.
Audio-only conferencing is a great option for small businesses that want to stay connected without the need for video. With audio-only conferencing, you can still hear and be heard by everyone in the meeting, but you don't have to worry about being on camera. This can be a great option if you're working from home and don't want to be on camera or if you're in a location with poor internet connectivity. Audio-only conferencing is also a great way to save bandwidth, as it requires less data than video conferencing.
Pricing:
Zoom BASIC is a low-cost plan that allows businesses to host up to 100 participants in unlimited group meetings for 40 minutes. The plan also includes unlimited one-to-one meetings with a 30-hour time limit per meeting, private and group chat, and HD video and audio quality. This is an ideal plan for small businesses that need to host occasional video conferences.
Zoom Pro is perfect for businesses that need to hold large meetings with up to 100 participants or have group meetings that last up to 30 hours. You can also use Zoom Pro to live to stream your meeting on social media and save the recording in the cloud. In addition, with 1 GB of cloud storage per license, you won't worry about running out of space.
With the Business plan, you can host up to 300 participants in a single meeting and enjoy features like recording transcripts, company branding, and managed domains. You can also purchase up to 99 licenses, making Zoom an ideal choice for businesses of all sizes.
The Zoom Enterprise plan is appropriate for organizations looking to temporarily or permanently connect remote or work-from-home employees. With this plan, corporations can be confident that their data will be stored in a secure location and can host up to 500 participants at once. The Zoom Enterprise plan also offers unlimited cloud storage.
Additionally, unlike other video conferencing solutions, you can search through past recordings for keywords with Zoom. This becomes an invaluable resource when trying to remember what was discussed in a previous meeting or brainstorming session. Lastly, recording transcripts provide another layer of accessibility for those who may not be able to attend a meeting or need to review the material at a later date.
Pros
Fully Scalable
Feature-rich free video conferencing software account
Supports Large Audience
Intuitive Design
Rich features for hosts and participants
Recording Features
Cons
Best for Cheap Video Meetings: Google Meet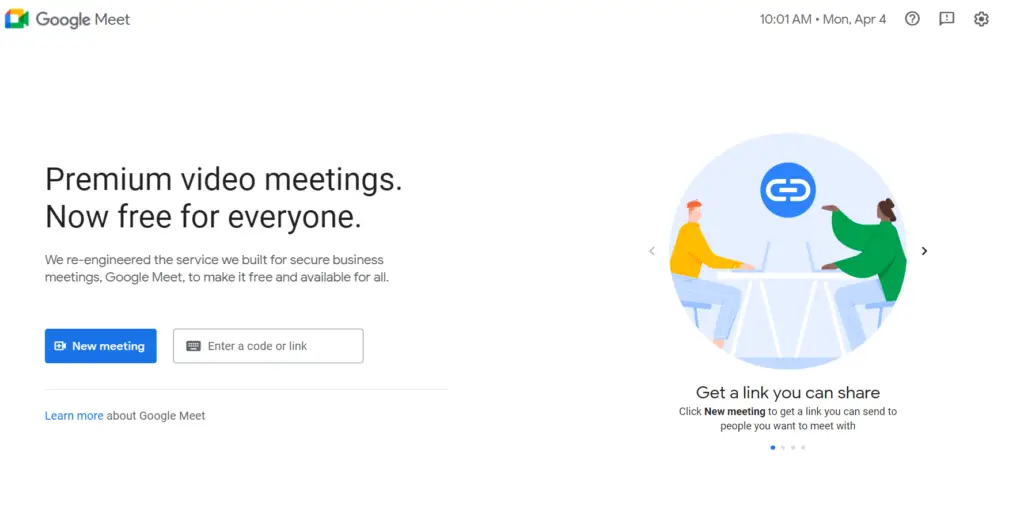 Google Meet is free to use and easy to set up, making it a great choice for companies that want to host online meetings without investing in expensive software.
Google Meet offers features like screen sharing and built-in chat, making it a versatile tool for online collaboration. Plus, with the recent integration of Google Meet with Gmail, it's easier than ever to start or join a meeting from your inbox.
Features:
Integrates with Google and Microsoft Office apps
Google Meet has seamless integration with Microsoft Outlook, Google Calendar, and YouTube apps. This means that you can use whatever version of Microsoft Office you want to manage your meetings. In addition, the application will work reliably whether installed on a PC or Mac, making it flexible for everyone's needs. You can also schedule in-person conferences by adding Microsoft Office users to an invite and seeing the meeting on their calendar.
Adjustable layouts and screen settings
Google Meet's flexible layouts and screen settings make it easy to optimize your video meeting for the best viewing experience. Whether holding a large meeting or a small one-on-one chat, Google Meet will automatically adjust to show the most active content and participants. You can also adjust the layout and screen settings to customize your meeting according to your needs.
Great video quality in low-light conditions
Google meet has been designed with improved video quality in low-light conditions. This makes it ideal for small businesses that often have to conduct video conferences in less than ideal lighting conditions. Furthermore, the enhanced video quality ensures that everyone on the call will be able to see each other. In addition to its exceptional video quality, Google Meet also boasts a user-friendly interface that makes it easy to use, even for first-time users.
Less audio distraction feature
This feature is handy in loud working environments to ensure that you can have a clear and concise meeting with your colleagues. In addition, this platform comes with all-inclusive features such as personalization tools and external access available on mobile devices. Moreover, you can have an adaptable meeting experience as the software is flexible to work with any network.
Tiled layout view feature
With this feature, you can see everyone in the meeting room. This makes it easy to follow along with the discussion and participate in real-time. The Tiled Layout View is also ideal for presentations, as you can quickly move around the slides and see who is paying attention.
To use the Tiled Layout View, click on the "Tile" icon in the bottom right corner of your screen. You can then choose how many tiles you want to see on your screen. The default is four, but you can increase or decrease this number. You can also adjust the size of each tile by clicking on the "Settings" icon and selecting "Tiled Size."
Compatible across devices
Google Meet is a video conferencing app that works across devices. You can join a meeting from your desktop/laptop, Android, or iPhone/iPad. You can also join a Google Nest Hub Max meeting if you're working from home. This makes it easy to connect with colleagues and clients no matter where you are. Meet is also integrated with G Suite so that you can join meetings directly from your Gmail inbox or calendar.
Pricing:
Google Meet free edition provides unlimited use to have as many meetings with clients, partners, or friends as necessary for your business's success. With Live Closed Captions in over forty languages available, this app accommodates many users. This multi-platform video conferencing app also has apps available for both iOS and Android devices. The flexible layouts allow you to optimize your experience on a laptop, tablet, or smartphone. You can also invite external participants to join your meeting without having them sign up for an account.
Google Workspace Individual – $7.99/month
Google's new Workspace Individual plan is perfect for small businesses and entrepreneurs who need a powerful yet affordable video conferencing service. You can easily host productive meetings with features like meeting recording, intelligent noise cancellation, and breakout rooms. You'll also have access to dial-in phone numbers in over 40 countries so that no one will be left out of the conversation. Plus, with Google's hand raise feature, you can make sure everyone has a chance to contribute. Finally, polls let you get instant feedback from your team on important decisions.
Google Workspace Enterprise plan – Custom pricing
The Google Workspace Enterprise plan is a perfect option for businesses with a small, remote workforce that requires constant video conferencing. It offers cloud storage to accommodate more collaboration tools, meeting rooms designed specifically for streaming meetings, unlimited conference calling in countries where the service is provided, and DLP technology to keep your company's data safe. DLP will help you prevent data loss by encrypting your data and making it inaccessible to unauthorized users.
In addition, it offers 24/7 online support and community forums to keep you up-to-date with the latest tips and tricks. You can also use live streaming in your domain to hold virtual events or town halls. Moreover, the attendance reports give you insights into who is attending your meetings and how often they participate.
Pros
Recordings to Google Drive
Integrates with Google Workspace and other Google apps
Great customer support options
Accessible and user friendly
Cons
Lacks built-in remote control
Best for Enterprise Conferencing: GoToMeeting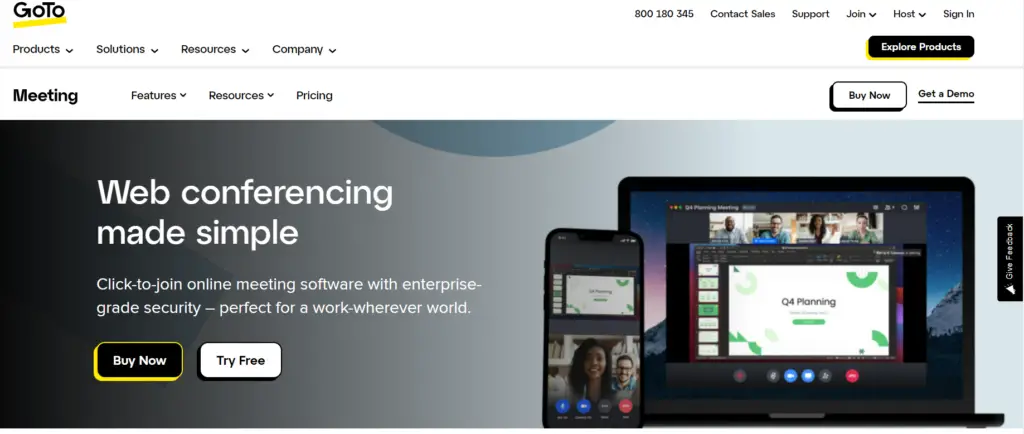 GoToMeeting is a web-based video conferencing tool that makes it easy for businesses to connect with colleagues, clients, and customers. The service allows you to host online meetings with up to 25 participants, sharing audio, video, and screen views in real-time. You can also record meetings for future viewing or use the chat function to communicate with participants in text.
Features:
Personal online meeting room
GoToMeeting lets you instantly start and join online meetings from your computer, smartphone, or tablet with up to 150 people. You can also use it to share your screen, collaborate on documents, and more. In addition, with the ability to create a custom meeting link, you can easily invite attendees to your meeting room, reserved just for you. This makes it easy to manage your meetings and ensures that only the people you invite can join.
Commuter Mode for mobile meetings
Commuter Mode turns your entire phone screen into a color-coded audio/mute button. This mode uses up to 90% less bandwidth, so you can have crystal-clear conversations without worrying about your data allowance. Commuter Mode is perfect for busy professionals who need to stay connected during their daily commute. Simply open the app and tap the "Commuter Mode" button to get started. You can also customize your settings to ensure that you're always on mute when you need to be.
Meeting diagnostic reports 
Meeting diagnostic reports give you instant insights into how your meetings are performing. In addition, you can view stats and analysis of meeting performance individually for quick troubleshooting. This information is also available as a downloadable report to share with other stakeholders in your organization.
Cloud Recording allows users to record meetings or webinars. This can be done either by recording the meeting locally and then uploading it to the cloud or by using a recording service. This is a great way to keep track of meetings, especially if you need to revisit them later. Additionally, it allows you to share the recordings with others who could not attend the meeting.
Pricing:
GoToMeeting's Professional Plan is designed for weekly or monthly hosts with sophisticated needs. It comes with the standard features of 15 participants, up to 150 participants during an event, unlimited meetings, and no meeting time limits. Plus includes dial-in conference line capability.
The GoToMeeting business plan is perfect for small businesses that need to hold online meetings with up to 250 participants. It includes all of the Pro plan features, plus unlimited cloud recording and drawing tools so you can make your presentations more dynamic. The Meeting Lock feature ensures that your meeting stays on track, while the Smart Assistant helps keep things organized. Of course, if you need to hold larger meetings, you can always upgrade to the Enterprise plan. But for most small businesses, the Business plan will be more than enough.
Enterprise plan – Custom packages
The GoToMeeting Enterprise plan is perfect for businesses that need to host large-scale webinars with 3,000 participants. It has a wealth of features and tools that make it easy to put on a successful event, including advanced webinar features, an admin center, and a customer success manager. On-boarding and training are also included to help you get the most out of your investment. With everything included, the Enterprise plan is a great value for small to medium-sized businesses.
Pros
Affordable Pricing
Unlimited Recording for Meetings
Flexible Features
Easy To Use
Large attendee numbers per plan
Cons
The Desktop version lags in UI design
Transcripts are English-Only
Best for Microsoft 365 Customers: Microsoft Teams
Microsoft Teams is a chat-based workspace in Office365 that allows users to collaborate quickly and efficiently. It's perfect for small businesses as it provides all of the features you need to communicate with your team, including video conferencing, messaging, file sharing, and more.
With Microsoft Teams, you can work from anywhere without worrying about being in the same office. Plus, it's integrated with all other Office365 products, so you can easily switch between apps and get work done faster.
Features:
Team meetings are an essential part of any business, but they can be hard to track. You can easily create meeting recaps that include notes, recordings, transcripts, files shared, and more with meeting recaps. This makes it easy to track what happened in your meeting and share it with your team. Meeting recaps also make it easy to find important information after a meeting. You can search for keywords, people, or topics to find what you're looking for. Meeting recaps are a valuable tool for any business.
Presenter mode combines your video feed with the content you're presenting. So if you are going through a report, presenter mode splits the screen in half and puts your presentation slides on one side of the screen while it shows a live view of you on the other so that everyone can see where you are pointing. With this added functionality, all participants can see both the presenter and the content being shared simultaneously without any disruptions.
A PowerPoint grid view is the best for viewing presentations, images, and other media. The layout displayed all slides in a row with your presentation's title and time-stamped below each slide. Grid views are ideal for single presenter shows or presenting to small groups of attendees. In larger conferences, you might consider using full-screen mode or tiled view for better visibility of your presentation to the audience.
Spotlighting allows you to highlight certain participants during the meeting while making everyone else 'invisible.' This helps in situations where there are three or four people on video conference and one person wants to have the visibility of an individual while interacting with another. You can also use this to avoid making people feel left out by not having their faces on video conference during the entirety of the meeting. All you have to do is hover over their video and click on the star icon to spotlight someone. The person will then be highlighted for everyone in the meeting. You can also use this feature to draw attention to a particular presentation or document that someone is sharing.
Dedicating chat channels to specific topics makes it far more accessible and more likely to keep messaging on a topic without distraction. This is especially beneficial for customer service teams that must handle multiple conversations at once. In addition, quickly resolving customer issues can help build brand loyalty and customer satisfaction.
Pricing:
Microsoft Teams is free to use for up to 100 participants per meeting, and it comes with 5 GB of cloud storage per user. This plan includes unlimited chat with coworkers and customers, file sharing, tasks, and polling. Microsoft Teams also encrypts data for meetings, chats, calls, and files. If you need more storage or features, you can upgrade to a paid plan.
Microsoft Teams Essentials – $4.00
Microsoft Teams Essentials is a great choice for small businesses looking for a video conferencing solution. It allows up to 300 participants per meeting and comes with 10 GB of cloud storage per user. This means that you can save all your important files in one place and access them from anywhere. Additionally, you'll have phone and web support anytime, so you can always get help when you need it.
Microsoft 365 Business Basic – $6.00
Microsoft 365 Business Basic provides small businesses with the latest Office applications, email, calendar, and chat. With 1 TB of storage per user, Teams meetings recordings with transcripts, and expanded cloud storage for files and photos, it's easy to keep your business running smoothly. Plus, you can access your information from anywhere, on any device.
Microsoft 365 Business Standard plan – $12.50
Microsoft 365 Business Standard plan is a comprehensive solution that provides all the features needed to get started with video conferencing for small businesses. It includes desktop versions of Office apps with premium features, webinar hosting, attendee registration, reporting tools, etc. Companies can communicate and collaborate effectively with their team members and clients with this plan.
Pros
Organized and focused chat capabilities
Seamless integrations
Easy to use externally
Advanced security and data protection
Included with Microsoft 365 business accounts
Cons
Most effective only in a Microsoft-centric environment
Requires good RAM and processor speed
Best for Free Tier of Service: Skype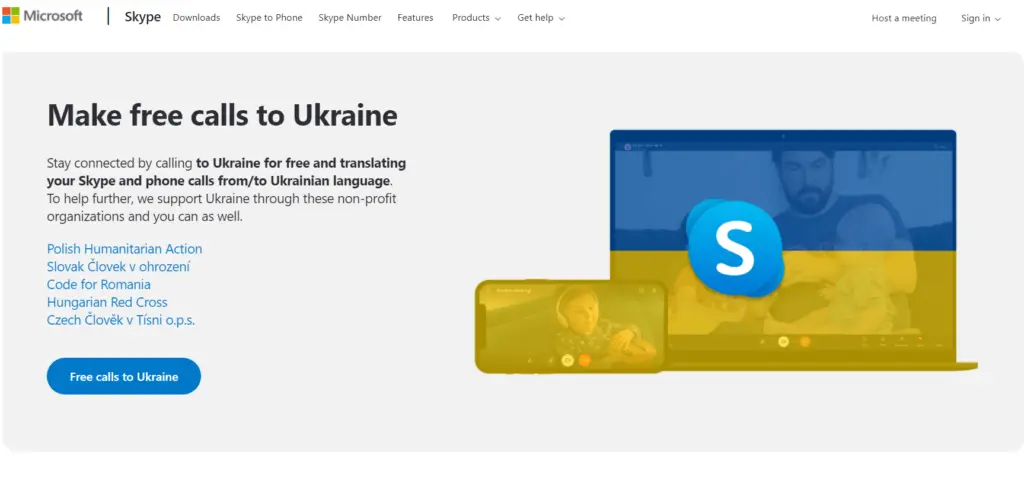 Skype is a video conferencing system that enables users to connect with others via voice and video calls. The software supports up to 50 meeting participants, making it a viable option for SMBs. Skype also allows users to share screens and collaborate on documents in real-time, making it an ideal solution for remote team management.
In addition, the platform can be used to engage with customers, providing a personal touch that is often lacking in today's digital world. Skype is a versatile tool that can be used for various purposes, making it a valuable asset for any small business.
Features:
Live subtitles provide the on-screen text of what other meeting participants say, which is excellent for individual and group calls. This feature eliminates any language barriers and makes sure that everyone can participate in the conversation. To enable live subtitles in a meeting, go to your "Meetings" tab and click the "Live Subtitles" button. You'll be able to see the live subtitle feed in the bottom corner of your screen. You can also use the keyboard shortcut "Ctrl + Shift + S" to turn live subtitles on or off.
Skype Translator is a feature that allows you to translate your voice and video calls and instant messenger chats in real-time. This makes it easier for people who are not native English speakers to communicate with people worldwide.
The translations are fairly accurate, but they are not perfect. Skype Translator also requires a good internet connection to work correctly. Nevertheless, Skype Translator is an excellent tool for non-native English speakers who need a little help communicating with others.
Instant messaging and group chat
Skype's instant messenger works well from within the app on both desktop and mobile and comes with emoticons, GIFs, reactions, message forwarding, quote messaging, and file sharing. In addition, users can record video messages from within this feature. This is a great feature for small businesses as it allows for quick and easy communication between employees. It is also a great way to stay in touch with customers and clients.
Skype's group chat feature is also very robust and allows up to 250 people to be in a single chat. This is perfect for small businesses that need to communicate with a large team or groups of people. Group chats can also be set up to have certain people in charge of specific tasks, which can help to keep everyone on track.
Pricing:
US subscription – £2.40 per month
The Skype Basic plan is a great option for small businesses that need to make occasional calls. With this plan, you can make calls to other Skype users for free and call any landline or mobile phone number for a fixed per-minute fee. You can also send unlimited text messages to other Skype users. In addition, you can make video calls or group calls with this plan, but your calls will be disconnected after three hours if you're using the Skype Basic plan.
Pros
Group and one-to-one free video calling
Inbound phone numbers
Messaging with photo and video sharing
Low-rate calls to mobile phones and landlines.
Cons
Simple chat without file transfer
Limitation to 50 minutes
Related: Best Instant Messaging Apps
Final Thoughts
Video conferencing is one of the most important tools in your business toolbox. It has many benefits that can help you save time and money while improving communication with clients, employees, and other stakeholders. It's also an excellent means of connecting with international colleagues or clients. Not only that, but video conferences are still more personal than emailing back and forth because you can read someone's body language and facial expressions.
We've compiled a list of the top five video conferencing apps so that you can find the right option for your business. While each has its individual features and capabilities, they all provide an easy way to connect and communicate remotely.