Disclaimer: We sometimes use affiliate links in our content. For more information, visit our Disclaimer Page. 
If you're a small business owner, you know that there are a lot of decisions to make when running your company. One of the most critical decisions is what phone system to use. Many options are available, and deciding which is right for your business can be difficult. 
In this blog post, we will discuss the nine best phone systems for small businesses and outline the pros and cons of each option. We will also help you figure out which features are essential to look for when shopping for a phone system. Let's get started!
What is a phone system for a small business?
If you've ever had to juggle multiple phone calls for your business, you know how frustrating it can be. So it would be best if you had a way to manage all of your calls efficiently, and that's where business phone systems come in. 
Business phone systems allow your company to make and receive outbound and inbound calls. However, you'll probably also need something that lets you forward and transfers calls to a personal cell phone.
So, if you're in a hurry, here is a quick go at our list of best phone systems.
9 Best Phone Systems for Small Business
The list below contains a detailed comparison among all the top business phone service providers, allowing you to decide which company will be the best fit for your business.
1. Ooma: Best Overall
Considering that Ooma Office Pro has one of the lowest price points of all the providers in this list, it's pretty obvious why we think that the service is the best VoIP provider for its price point. 
This is a good option for external connections and security if you cannot spend much money on a VoIP system. However, it is still a great alternative if you are not in a position to invest a lot of money in one.
It is important to note that Ooma is very easy-to-use, and you can get dedicated desk phones from Ooma that work right out of the box. These desk phones can be set up in less than fifteen minutes. A small business phone system from Ooma lets you communicate with your team members, work together, and collaborate efficiently.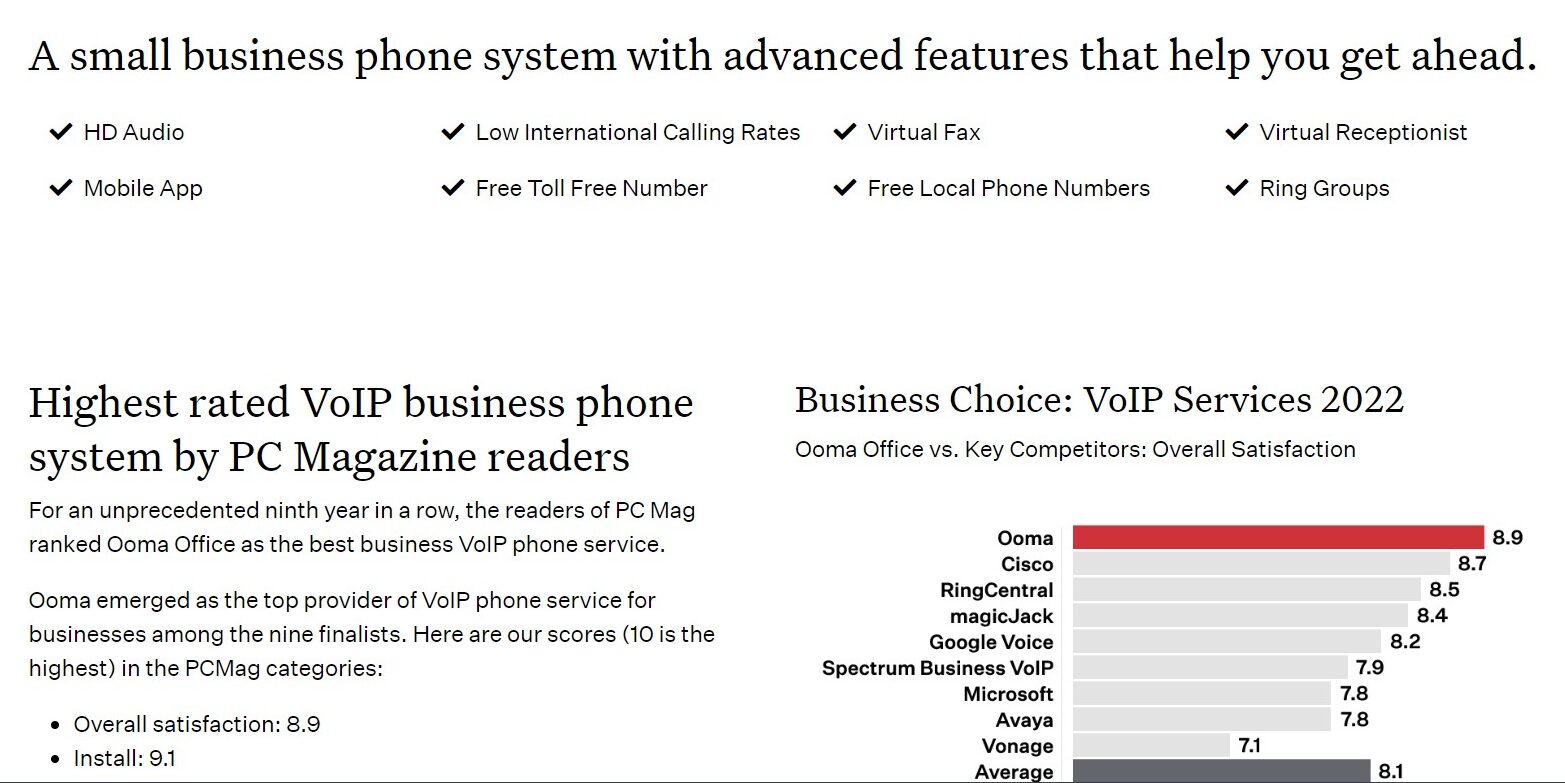 How Does It Help Small Businesses?
Ooma Office Pro offers call recording, customizable call routing, and analytics as its main management features. Call queue and team messaging are not included. However, it does provide ring groups and video conferencing. 
The lack of a call queue and team messaging limits Ooma Office Pro's usefulness in dealing with a high volume of calls. However, the ring group feature can be helpful for small businesses that need to manage a large number of calls.
Ooma Office Pro is one of the best and most decent options for small businesses that need basic call recording and management features.
Features:
End User Portal: Each user has their login to the End User Portal so that they can manage their extension preferences.
Ooma Office mobile app: From a smartphone, users can make and receive calls, manage their extensions preferences, and more with the Ooma Office mobile app.
Personal Directory: In the End User Portal, you can search and interact with contacts you add to your Directory.
Private voicemail: A personalized greeting can be added to every user extension's box.
Three-way conference calling: It is possible to hold a three-way conference call without using a conference server when two callers are on the same line.
Call forwarding: The forwarding incoming calls to a cell phone or landline number can be enabled for a user's extension.
Pricing:
Here is a table with the pricing for the three Ooma Office service plans:
| Service Plan | Price per user, per month |
| --- | --- |
| Ooma Office Essentials | $19.95 |
| Ooma Office Pro | $24.95 |
| Ooma Office Pro Plus | $29.95 |
All prices are in US dollars and do not include any applicable taxes.
Please note that these prices may vary depending on the location and are subject to change. It's always a good idea to check the Ooma website or contact Ooma directly for the most up-to-date pricing information.
Lots of great features

You are not locked into a contract – you can use the system for however long you need and cancel it at any time. 

Cost-effective pricing.

Provides exceptional customer service.

Set-up is easy and quick.
An extremely limited number of external connections are available.
2. RingCentral: Best for External Connections
RingCentral is a cloud-based communication and collaboration platform offering various features and tools for businesses, including voice and video conferencing, team messaging, and virtual meetings. It is widely used by businesses of all sizes, from small startups to large enterprises.
The RingCentral VoIP provider has built itself a reputation as one of the leading VoIP providers in the industry and has been trusted by companies like Waitrose & Partners, Costa Express, and Mobica, to name a few. Due to its wide range of management features, integration capabilities, and onboarding support, RingCentral has been a leader in cloud telephone services for nearly twenty years.
By providing customers with a more personalized, data-driven routing approach, you will be able to deepen your relationship with your clients. Moreover, with RingCentral's reports and intuitive dashboards, you can gain valuable insights that will guide your business-critical decisions.

How Does It Help Small Businesses?
RingCentral offers an impressive selection of small business features at its Premium and Ultimate subscription levels. These features include the ability to sync your phone system with over 90 CRM platforms, key Helpdesk integrations, analytics, and other platforms like Slack, WhatsApp, and Facebook. 
This makes the customer service arm of your business stronger and more efficient while also allowing you to instantly draw on customer-specific data to provide a better experience.
RingCentral also has an impressive offer for scalability, equipping you with all the right tools – call queue, ring groups, web conferencing tools, internal live chat, and pretty much all the management features you could ever need as a small business. 
In short, RingCentral is a great choice for small businesses that need a unified communications solution that is both powerful and easy to use.
Features:
Free meeting tools: Pay out of pocket for every service option is not necessary. For example, RingCentral offers free team messaging and video meeting tools. In contrast, other service options may offer free video messaging tools but with heavy limits to encourage customers to sign up for a premium service plan. This is a highly competitive advantage.
Highly scalable: While RingCentral may initially cater to small companies, their Solutions menu reveals that their services are flexible and can grow with your business.
Remote-friendly: Team members can collaborate worldwide thanks to cloud-based solutions. Since many employees began working from home during the pandemic, RingCentral provides high-definition audio and video, essential for facilitating smooth phone and video conferences.
Call forwarding and call transfer, so you can easily route calls to the right person or team.
Conference calls allow you to hold meetings with multiple participants.
Voicemail, so you can receive messages even when you're not able to answer the phone.
Pricing:
RingCentral is a cloud-based communication and collaboration platform that offers a range of pricing plans to suit different needs and budgets. The pricing for RingCentral varies depending on the features and services you want to include in your plan.
Here are some of the main factors that can affect the pricing of RingCentral:
Number of users: RingCentral pricing is based on the platform's number of users. The more users you have, the higher the price.
Features and services: The platform offers a range of features and services, such as phone numbers, voicemail, call routing, and more. The more features and services you want to include in your plan, the higher the price will be.
Contract term: RingCentral offers both monthly and annual pricing plans. Annual plans are generally cheaper than monthly plans, but you'll need to commit to a longer contract term.
Add-on services: RingCentral also offers a range of add-on services, such as call recording and virtual meetings, which can be added to your plan for an additional fee.
To get an accurate quote for RingCentral pricing, you'll need to contact the company directly or visit their website and use their pricing calculator. They will be able to provide you with a customized quote based on your specific needs and requirements.
Automated call distribution (ACD) and IVR are tightly integrated so that you can leverage customer information.

Cloud-based and accessible from any device

Scalable to accommodate changes in business needs

Flexible and customizable to suit your specific needs

Provides a wide range of features and options, making it a versatile choice for businesses of all sizes.
A higher price than some other business phone systems, especially for larger businesses with many users.

Reliability: RingCentral is a cloud-based solution that relies on internet connectivity. If your internet goes down, so will your phone system.
3. Nextiva: Best For Flexible Set Up
Nextiva is a popular VoIP provider that offers a variety of features and capabilities. One of the company's standout features is its compatibility with third-party desktop phones. This means you can use your existing phone with Nextiva's service, which is handy if you're not ready to switch to a Nextiva-branded phone. 
The company also has its first-party hardware line so that you can use Nextiva phones. Another benefit of Nextiva is its extensive customer support. The company offers 24/7 Live Support, live chat, and onboarding support to help you get started with the service.
Additionally, Nextiva has a 99.999% uptime guarantee, so you can be confident that the service will be available when needed.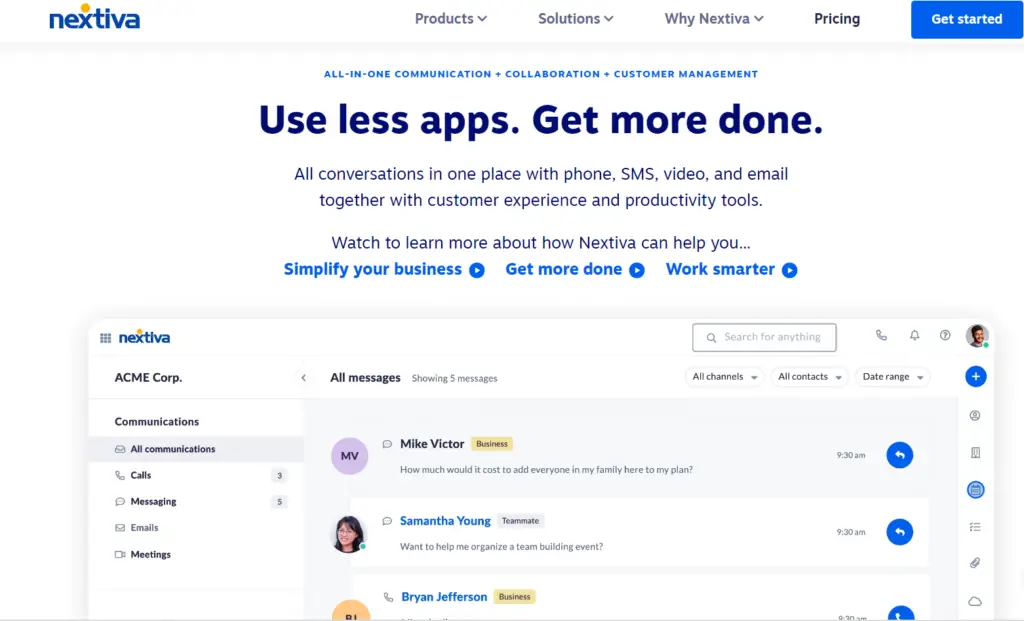 How Does It Help Small Businesses?
Nextiva Essential is a small business VoIP feature offering limited software integration. The company only offers Outlook email integration and Google Workspace Integrations. Nextiva Essential is not the most scalable solution because of its limited range of management features. 
If you choose to go for Nextiva, you'll only have access to customizable routing, call-flow designer, and team settings. You could access call monitoring and analytics, but both need add-ons that will cost you extra. The good news is that Nextiva Essential does offer ring groups and team messaging, both of which can be helpful for small businesses. 
Overall, Nextiva Essential may not be the most comprehensive or flexible solution, but it offers some basic features that may be helpful for small businesses.
Features:
Mobile and desktop apps. The Nextiva desktop and mobile apps allow you to make video and voice calls from various devices.
Exceptional customer support. All Nextiva plans include email, chat, and phone support; most VoIP providers don't offer this level of support for their lower-tier plans.
Call Pop. A customer's last interaction, account value, and last survey score are displayed by Nextiva's CRM Call Pop feature whenever they call your business.
Popular integrations. In addition to Salesforce, Zendesk, Google Contacts, Oracle Sales Cloud, ServiceNow, and Zoho, Nextiva's advanced plans integrate seamlessly with many other business apps and CRMs.
Telephone number variety. Nextiva offers local and toll-free numbers you can port over from another provider.
Custom reports and dashboards. Managing your organization's voice needs and workflow patterns is easier with Nextiva's Enterprise plan.
Secure and reliable. With Nextiva's uptime of 99.999%, it is one of the most reliable VoIP providers. Its services are monitored 24/7 and encrypted using TLS and SRTP.
Pricing:
Essential plan: $21.95/month, includes unlimited voice calls, video meetings for up to 45 minutes with up to 250 participants, team collaboration chat messaging, and a calendar and meeting scheduler.
Professional plan: $26.95/month, includes everything in the Essential plan, plus unlimited conference calls with up to 40 participants, a multi-level auto attendant, and desktop and mobile SMS/MMS (up to 1,000 messages per user)
Premium plan: $32.95/month, includes everything in the Professional plan, plus unlimited participants on conference calls, call recording, and direct routing integration between Microsoft Teams and conference calls.
Competitive pricing.

Customer service is excellent.

Advanced call management.

Collaboration functionality
The number of external connections is very limited.

Security is limited by the absence of multi-factor authentication and password rules.
4. Zoom Phone: Best for Beginners
Zoom Phone is a new entrant in the telephony software market. Unlike its competitors, Zoom Phone doesn't require a well-designed global voice network to function correctly. However, call quality may be variable, depending on your location and the person you're calling. 
Additionally, Zoom Phone's pricing model is different from most other providers. Instead of unlimited calling on a fixed monthly or annual plan, their minutes are metered on the basic plan.
This makes Zoom Phone a more affordable option for those who don't need unlimited minutes. However, it's important to consider your needs before signing up for any service, and unlimited minutes might be a better option for heavy users.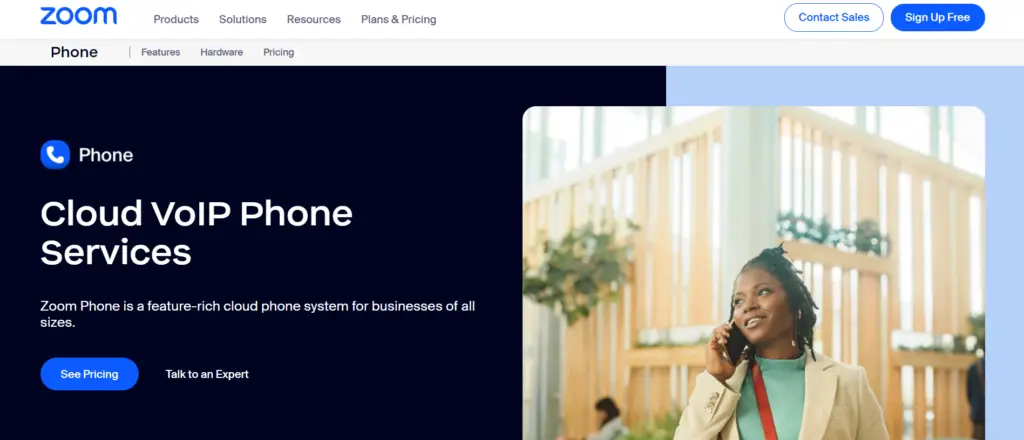 How Does It Help Small Businesses?
Zoom Unlimited is a reliable and scalable solution for businesses of all sizes. It offers various software integrations, including CRM, Helpdesk, Web Conferencing, Internal Live Chat, API, Email, Workspace, and SSO integrations. You only miss out on analytics and external live chat integrations. 
However, the unlimited number of users, call queues, ring groups, and wide range of management features more than make up for this. As a result, zoom Unlimited is a highly effective solution for businesses that need to be able to communicate easily and efficiently.
Features:
Intelligent Call Routing: When customers call, intelligent call routing ensures they don't go unanswered. Calls will not be missed if they hang up when they get tired of waiting in line for an agent or if the call gets dropped because it is rerouted too often when a good call routing system is used.
Call Recording: To ensure the quality of your calls remains the same across all of them, you can record them all. This will also allow you to archive the call logs and review them when needed. The option to record calls on demand is also available for agents who prefer only to record some calls.
Call Transfers and Forwarding: A call transfer can be made using any device or location so that if the agent is unavailable at their desk, they can answer the call from a mobile device.
Detailed Call Reporting: It is also possible to keep track of inbound and outbound calls using detailed reports. It includes information such as the caller's name, phone number, length of the call, etc. In addition, the calls can be monitored to see if there is a problem with the network or if the agent needs training in a particular area.
Coaching Tools: Contact center supervisors can use various tools to coach agents and ensure everyone is on the same page regarding contact centers. Zoom Phone comes with various integrations that make the experience more seamless right out of the box.
Integrations: Its purpose is to simplify communication and make it possible to do it from a single platform. Despite the service's audio-only design, it integrates well with Zoom Meetings video conferencing software, Zoom Rooms, Zoom Chats, and Zoom Webinars.
Pricing:
Call from the United States
US & CANADA METERED package: $120/year/user, includes a US & Canada number and domestic SMS & MMS.
US & CANADA UNLIMITED package: $180/year/user, includes a US & Canada number, domestic SMS & MMS, and unlimited calls within the United States and Canada.
PRO GLOBAL SELECT package: $240/year/user, includes an unlimited domestic calling plan in one of the 40+ supported countries and territories, a direct dial number, and the ability to make and receive calls from multiple devices and/or applications
Inbound communication features on offer are impressive.

A scalable solution with many management features.

The price point is competitive.
Security features are limited.

There is an additional charge for email, phone, and live chat support.
5. Nuacom: Best for Customer Satisfaction
Nuacom has a strong track record of customer satisfaction in the VoIP sector. Our in-depth research indicates that they are consistently one of the top-rated providers in customer satisfaction. 
Their features may be more limited than other providers, but key clients like Credit Union and Volkswagen have trusted them. If you're looking for a provider with a proven track record of pleasing its users, Nuacom is worth considering.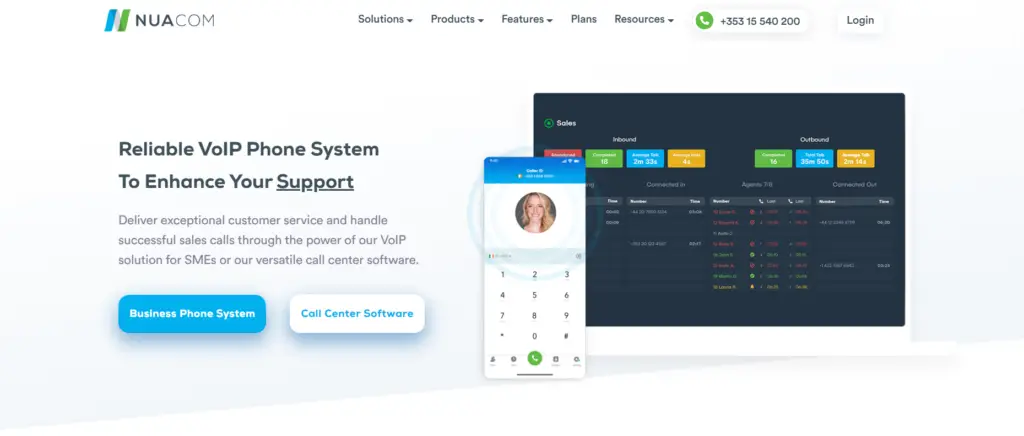 How Does It Help Small Businesses?
If you're looking for a small business VoIP system with robust integrations, Nuacom Unlimited might not be the right fit. Although it offers some basic integrations with Hubspot, Slack, and Google Workspace, it doesn't have the same range of features as some of its competitors. 
It also requires at least two users, which may not be ideal for businesses with a small staff. However, it does come equipped with a call queue and ring groups, which can help businesses manage a large call volume.
Overall, Nuacom Unlimited is a decent option for small businesses that don't require a lot of bells and whistles.
Features:
Smart Call Transfer: A single agent or a department should handle all internal and external calls.
Call Notes:: If you want to save important negotiation details during or after your call, make sure you take notes during the conversation.
Call Tags: It is easy to identify your calls from your call log using their tags to classify them by type.
Custom Call ID: Ensure your international clients receive a local call by matching your caller I.D. with their destination country.
SMS Tool: It is possible to send text messages to a single number or a group of numbers, schedule the time at which the message will be sent, choose a template or create your custom message.
Individual Voicemail: This feature allows you to view the mailbox number of each voicemail, as well as the time and date, mailbox type, the name of the caller, and the recorded message for each one.
Ring on Speaker: You can enable your team members to answer incoming calls on speaker instead of the headsets when they are away from their desks so incoming calls can ring loudly.
Speed Dial: Using the User Portal, you can set up a short code for each team member to add their number to the system's speed dial.
Pricing:
Essential: €9.99 per month

Free local number per user
Unlimited landline calls in Ireland and the UK
Free desktop and mobile
30+ other calling features and add-ons

Unlimited: €24.99 per month

Everything in the Essentials plan
Free VoIP phone
Unlimited mobile and landline calls
Unification of calls and emails with CRM integration
Over 40 other add-ons and features

Call Center: €34,99

Everything in the Unlimited plan
Advanced call reporting
Live call management wallboard
Live call coaching
More than 40 other calling features and add-ons
Again, it is important to note that this information is based on the information you provided and may not be complete or accurate. It is always a good idea to check directly with the VoIP service provider for the most up-to-date pricing and information about their plans and features.
Review collection with a lot of positive feedback.

Limitless number of users.

Communications features that are generous.
Analytical and email integrations are not available.

Neither provides multi-facet authentication nor password rules and is not transparent about its compliance certification.
6. Dialpad: Best for Conversational AI
With a foot in the present and a foot in the future, Dialpad uses conversational A.I. in a novel way. 
With Dialpad AI, your phone calls are accurately transcribed in real time, flagged for happy or frustrated customers, automatically compiled post-call summaries, and you can create notes with tips and advice that appear on the screen when specific words or phrases are spoken during a call. For more confidential conversations, you can turn off this feature.
Moreover, Dialpad offers a major advantage over other competitors: it is a cloud-native, true UCaaS solution where the same company handles all communication channels, maintenance, support, and upgrades.
Dialpad's contact center solution is built in-house. Dialpad's artificial intelligence is built in-house. Dialpad's phone system handles all of these things for small businesses, so no waiting is required.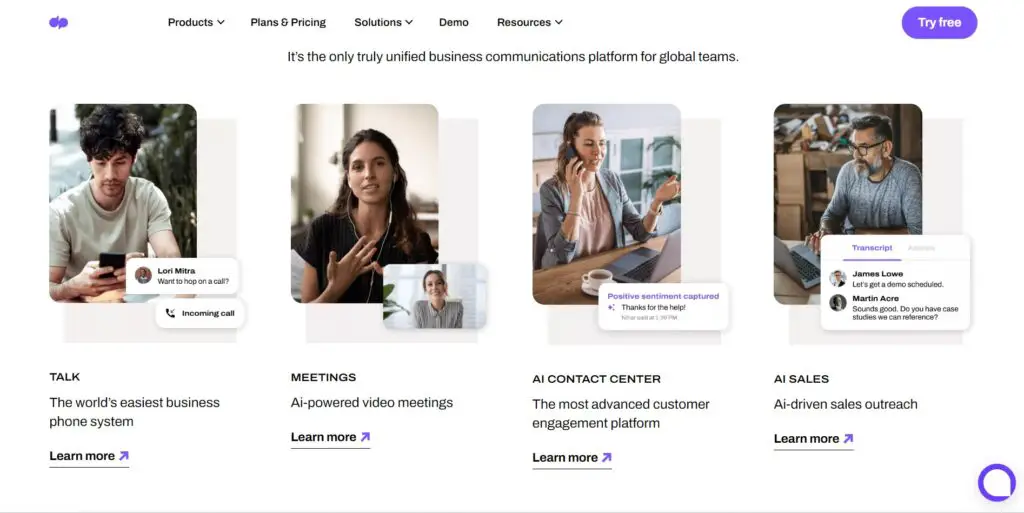 How Does It Help Small Businesses?
Dialpad Pro is a cloud-based VoIP phone system designed for small businesses. It offers a variety of features that can be used to improve call quality and management, including call recording, call queues, ring groups, and call transcripts. Dialpad Pro also provides access to call analytics and reports, so you can track call performance and identify areas for improvement. 
Additionally, Dialpad Pro integrates with various third-party platforms, including CRM, helpdesk, web conferencing, email, workspace, and internal live chat systems. This allows you to manage all of your communications from one central location.
Dialpad Pro is a powerful and versatile tool that can help you build a more efficient and effective small business communications system.
Features:
Administration: Dialpad's simplicity, ease of use, and ease of provisioning and managing users make it ideal for an enterprise.
Call Center Productivity: Among Dialpad's many features are tools to help address some of the challenges that call centers to face, such as inaccurate analytics and reporting.
Calling & Routing: With Dialpad, your organization can use features like calling the park, call transfer, and call forwarding to improve business communication.
Web Conferencing: With high-quality audio and video web conferencing, screen sharing, and advanced conference call settings, your online meetings will be better.
Reliability & Security: Dialpad's cloud phone system enables businesses to make secure, encrypted calls with redundancy and backup built into the platform.
Pricing:
A standard plan of $15 per user per month comes with unlimited calling, SMS, & MMS, AI-powered transcription of your calls & voicemails, Google Workspace integration, and Microsoft 365 integration.
With the Pro plan, which starts at $25 per user/month, you will get all of the features and benefits of the Standard plan, plus local phone number support in over 70 countries, multiple phone numbers on each account, and 25-ring groups (departments). You must contact them if you are interested in the enterprise plan.
There is great customer service, including a user forum, a knowledge base, and a live chat feature.

Excellent reputation with customers.

Features a wide range of benefits.
Scaling is difficult

At the Pro subscription level, there is no uptime guarantee.
7. Net2phone: Best for International Calling
Net2Phone provides unlimited U.S. calling at no extra cost, but what about calls to other countries? Most systems charge extra fees for them, but Net2Phone unlimited calling to more than 40 countries. This means speaking to clients and teams worldwide is free, allowing you to maintain and expand your international reach.
Net2Phone can also give you virtual phone numbers and dial tones in over 50 countries and 300 cities. So, your contact options are easily taken care of if you want to establish a presence in Europe or Asia. 
We're also quite impressed by Net2Phone's international presence as its offices and data centers around the globe host more than 33 billion international minutes every year – so we'd say they know a thing or two about international calling!
How Does It Help Small Businesses?
N2P Essentials is a small business communications platform that offers a limited number of features compared to other providers. While it includes some basic integrations, like customizable call routing and team messaging, it's missing key features like email, workspace, and call queue management. 
This severely limits the quality of your unified communications, making it difficult to effectively manage a large volume of calls. However, the team messaging and video conferencing features are helpful for remote working. 
Overall, N2P Essentials is a decent platform for small businesses with basic communications needs, but it falls short compared to other providers.
Features:
Calling Features: Call forwarding, transferring, and voicemail are some of the standard VoIP features, but there are also robust features such as welcome greetings, call recording, call queues and music on hold that are available.
Omnichannel Features: Easy-to-use web and mobile applications, video conferencing, text messaging, voicemail to email transcription, find me/follow me, and virtual office business phone systems will keep you connected at work on the go.
User-Friendly Portals: The web-based portal lets you manage all aspects of your business phone system, including VoIP features. You can view individual call records, departmental call statistics, detailed analytics, and reporting with both admin and user access.
Pricing:
Among the three packages available, the Office plan costs $24.99/user/month and includes Unlimited Nationwide Calling, Unlimited International Calling (40+ Countries), Video Conferencing, Web & Mobile App, and Call Recording.
In the Office Pro plan, you can get everything in the office plan along with SMS/MMS text messaging and the Receptionist Console (RCon) starting from $26.99/user/month. With the office power plan, you will also get everything in the office plan but a virtual fax machine.
When you switch to Net2Phone, you will get upgraded desk phones for free.

Contacting the company by phone or email is free, 24/7, and available throughout the U.S.

You can easily make changes to your system using the simple management console included in the system, which makes it very user-friendly.
It does not include audio conferencing or team messaging.

As compared to competitors, there are very few software integrations. 

It has limited management features and doesn't support call flip, barge, or whisper
8. Google Voice: Best for Security
Google Voice is known for its robust security features and its seamless integration with all other things Google.
But what makes this app stand out is the fact that it's so versatile. In addition to providing high-quality voicemail transcription, Google Voice also offers conference calling, call screening, and the ability to forward calls to another number. 
And if you're already familiar with Google's other tools, such as Gmail or Google Calendar, then using Google Voice will be a breeze. With seamless integration into your existing workflows and top-notch security features, it's no wonder that companies like Dow Jones and ZPG are choosing Google Voice as their go-to VOIP solution.
How Does It Help Small Businesses?
Google Voice Standard is a great way to start a small business. It offers the bare minimum of management features but has every security feature you'd need to feel confident your operation is properly protected.
It also includes web conferencing and internal live chat if you're happy to use Google Meet and Google Chat. Therefore, what it lacks in management features is made up for in terms of security.
Remember that this isn't a golden solution to scale up your business, but it's a solid foundation you can build. And, best of all, it's affordable! So if you're looking for a cheap way to start a small business, Google Voice Standard is worth considering.
Features:
Ring Groups: Ring groups allow administrators to set up multiple groups within their company to answer calls using the same Google Voice number.
Ring Groups: Agent Perspective: A ring group call can be navigated and accessed easily from an agent's perspective.
Auto Attendant: Users of Google Voice for business Auto Attendant can customize the call menu that anyone calling your business will hear. This feature is included in both Standard and Premier Google Voice plans.
Routing Options and Submenus: You can also branch off the main menu of your Google Voice auto attendant to access the submenus.
Local Phone Number: The number that Google Voice users choose must have a U.S. area code, but each company must have its number.
SMS Texting: SMS and MMS messages can be sent and received directly from the Google Voice webpage or mobile app for businesses.
Pricing:
Starting at $6/month, you get custom and secure business emails, 100 participant video meetings, 30 GB of storage per user, security and management controls, and standard support. Starting at $12/month, your business starter plan includes Custom and secure business email, 150 participant video meetings and recording, 2 TB of storage per user, Security and management controls, and Standard Support (additional Enhanced Support available upon request).
With the business plan, you'll be able to get business email + eDiscovery, retention, 500 participants along with recordings, attendance tracking, 5 TB of storage per user, and you'll also be able to provide custom labels. For the enterprise plan, you will need to contact them.
Google users will love this

Features that make security a priority
Other systems other than Google are difficult to integrate

The range of features available is limited
9. 8×8 Express: Best for all-in-one Communication
8×8 is a cloud contact center that offers audio, video, and text messaging solutions. Some customers have complained that there's no ability to automate the business phone app's deployment, making it a bit time-consuming to set up.
Another interesting thing about "long-established" phone system providers like 8×8 is that they have been around for a long time and position themselves as leaders.
Still, the flip side of that is these leaders' telephony infrastructure tends to be outdated, which can result in poor call quality and reliability. Just something to look out for if you're considering these options.
How Does It Help Small Businesses?
If you're looking for a small business phone system packed with features, 8×8 X2 is worth considering. Starting at the X2 subscription level, you get integrations with CRM, Helpdesk, Web Conferencing, external and internal live chats, email, and more. 
This makes 8×8 a powerful tool your team can leverage to create a quick and personalized customer experience. And if you need help getting up and running, 8×8 offers Customer Success Managers to assist you. However, it's unclear whether this comes at an additional cost. 
With 8×8 X2, you and your team can work remotely because it allows you to sync your internal communications with platforms like Slack, Telegram, and Teams. Plus, it's equipped with call queues, ring groups, analytics, customizable call routing, and call recording – all of which allow you to handle large numbers of callers and gather data to optimize your small business operation.
Features:
All-in-One Communications: Using a single app, employees and customers can communicate through voice, video, and chat, as well as other forms of communication. Reach customers in over 120 countries with guaranteed uptime and voice quality, and ensure data security with complete encryption and a high number of certifications. 
Business Phone: Utilize Cloud PBX technologies for managing voice services.
Video Conferencing: A single H.D. video conference call can accommodate 100 participants.
Team Chat: Share files securely with one or more members in a private, invite-only, or public chat room. Chat with anyone in the company's global Directory via one-to-one chat or with the entire team using team messaging features. 
Contact Center: Provide digital and voice channel support, efficient routing, and self-service capabilities to agents, employees, and customers through the cloud contact center.
APIs enable SMS, chat apps, call statistics, and more extended functionality to customers.
SIP Trunking: Improve call quality by replacing PSTN services with tier 1 carriers to provide emergency services and shortcodes, available in over 40 countries, and toll-free and local numbers available in over 90 countries.
Third-Party App Integrations: You can integrate Microsoft Teams, Salesforce, Google Workspace, and many more popular applications.
Pricing:
Starting at $15/month, the Express package offers a Basic communication package for small businesses. You can get the X2 package for $28/month for larger teams, including voice, video, and chat. For $57/month, you can get Advanced call handling and analytics with the X4 package.
Provide some of the best customer support in the VoIP world

Minutes to 48 countries (inbound and outbound) are unlimited.

Integrates seamlessly with a wide range of real-time dashboards
The coolest features are not available to subscribers of X2.

You can only see the Express subscription during the free trial. 
Types of business phone system options available to you
To understand the value of a phone system for your business, it's important to remember that it's more than just how you make calls or what devices you use to do them. You can use them to connect with clients, customers, partners, remote employees, and anyone who happens to be abroad.
As a result, they're at the core of a modern communications-based business. Business phone systems can be classified into the following types.
1. VoIP phone service
You can use your internet connection for calls, pay-per-call, and set it up in a few minutes. It's a more advanced, hands-on option. You can also find phone systems that describe themselves as "unified communications" platforms. Newer terminology and most of these systems also come with other communication channels, such as SMS and instant messaging.
2. PBX systems
You usually have to buy more hardware upfront and pay an I.T. professional to help add users or update voicemail settings. It is a more expensive option. Some PBX systems have become better at this, but in general, PBX systems are more time-consuming.
3. Virtual Phone System
There are also virtual phone systems for businesses. Virtual phone systems don't require any equipment – not even office phones. They work as a call-forwarding tree. These systems allow you to route all calls to your main business number to your employees' mobile phones.
You can decide where the calls will be routed and in what order they will be sent. These systems only charge a monthly fee.
Related: Best Shipping Companies for Small Businesses in 2023
Features to look for when shopping for a small business phone system
You have many options when it comes to buying a business phone service, and you have many factors to consider, from the type of system and features you are looking for to the cost and even the expectations of your customers.
When making a purchase, there are certain factors that you should take into consideration.
◈ Ease-of-Use
A VoIP service should never make you feel like you need to hire a switchboard operator to reach the right person. The simpler and more intuitive the service and its associated apps are, the more of a benefit they will be to you. A VoIP service should make it easy to make a phone call and send a text message. 
To make your life easier, you should seek a service that offers features that will make your life easier. This could mean offering automated transcripts, custom holds music, guaranteeing reliable voicemail functionality, or preventing spam.
◈ Flexibility
A small business needs to be flexible. Your VoIP service needs to scale with your business immediately, with easy-to-add lines and transparent pricing. Don't forget to take integrations into account, as well.
Before you decide which provider will provide your VoIP service, you should consider whether it will be compatible with a content management or help desk system.
◈ The number of users
Costs can add up depending on how many users your phone system will accommodate. Most providers charge per user, so the more you have, the higher the monthly fee. If you want a basic office phone system, a provider with a flat monthly fee might be a better choice.
◈ Video conferencing
Regarding your company's video conferencing usage, do you need a provider that allows you to take part in video conferences with clients or other employees? If so, you'll want to find a service that offers video meetings as part of its most affordable base plans. Companies that offer them as part of their high-level plans will drive up your cost per user significantly.
◈ Automated features
Choosing a provider that offers a wide range of automated call management features is important. These can include auto-attendant, voicemail-to-email, and voicemail-to-text, and hold music if you expect high calls. It is also worth considering a plan that includes intelligent call routing, forwarding, flipping, and transferring to avoid customers waiting.
◈ Remote employees
Managing many remote employees requires a service that provides strong team communication tools. A good cloud-based PBX system will support remote features such as an easy-to-use mobile app, team, and one-on-one messaging, file sharing, and video conferencing.
Make sure you choose one that can handle these remote features rather than one that is on-premise.
◈ Customer service
Choose a business that provides round-the-clock support for your phone system if your business relies heavily on it. In case your phone system goes down, the last thing you want to do is submit a support ticket. If your problem is urgent, you'll want to speak with a real person who can assist you. 
It is also wise to ask about its service-level agreements and whether the contract has any uptime-related clauses. Many business phone providers will refund customers if the system does not meet a certain level of uptime.
Related: Best Security Software for Small Business
Conclusion
Hopefully, this blog post has given you a better understanding of the different types of phone systems available for small businesses. While there are many factors to consider when choosing a phone system, the information provided in this blog will help you make an informed decision. 
As always, we would love to hear from you! If you have any questions or comments, please feel free to leave them in the comment section below.
FAQ
What is an SMB phone system?
An SMB phone system is a business phone system designed for small to medium businesses. SMB phone systems can range in size and capabilities, but typically they offer features like VoIP calling, auto attendants, voicemail to email, and call routing.
How much is a telephone bill for a small business?
Telephone bills for small businesses vary depending on the services that are included. To get an accurate quote for your specific business, it's best to contact your provider directly. They will be able to tell you the rates for the plans they offer and any discounts you may qualify for.
Is it cheaper to have a business phone?
Most business phone plans offer competitive rates and discounts for multiple lines, so it's often cheaper to have a business phone if you need multiple lines.
Is VoIP worth it for a small business?
VoIP is a great option for small businesses because it offers many beneficial features, such as making and receiving calls from your computer or phone, forwarding voice mail, and caller ID.
What is a PBX key system?
A PBX key system is a business telephone system that allows employees to make internal calls between extensions. It also allows employees to make external calls by dialing the main number and then the desired extension.