Disclaimer: We sometimes use affiliate links in our content. For more information, visit our Disclaimer Page. 
Time-consuming and error-prone scheduling processes can lead to lost productivity and unhappy employees. 
Managers have to track down shift availability, juggle different time zones, and make sure everyone is happy with their shifts. And if someone drops out at the last minute, it's up to you to find a replacement.
Fortunately, scheduling apps can help make the process easier. Scheduling apps can be beneficial for both employers and employees, as they allow them to view their schedule, request time off, and swap shifts with ease.
Here are five of the best free scheduling app for employees options available in 2022.
I will cover what each app does, how it works, and why it might be a good fit for your business. Hopefully, this will help you find the perfect app for your needs!
The 5 Best Free Scheduling App for Employees
1. Sling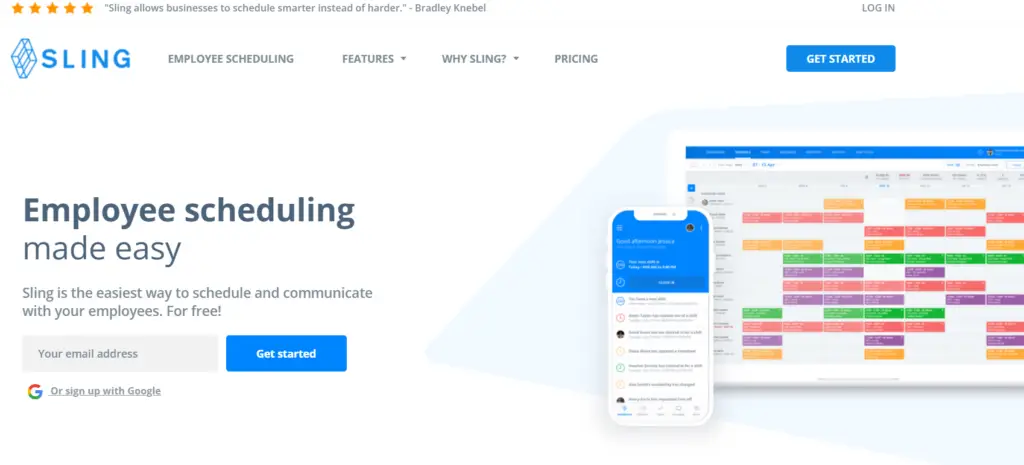 Sling is an intuitive employee scheduling software that makes it easy for businesses to manage their employee shifts, work hours, payroll, etc. Via the platform's centralized dashboard, companies can design custom shift templates, view employee availability, and handle time-off or shift swap requests.
Additionally, Sling offers robust reporting features so businesses can analyze data to improve their operations. Overall, Sling is an ideal solution for businesses of all sizes to optimize their workforce management.
Shift scheduling
With Sling, you can create and share custom shifts with your team and view the schedule for any given day or week. Sling also makes it easy to swap shifts with other team members and send reminders about upcoming changes. In addition, Sling's shift scheduling features allow you to track time off and vacation days, so you can always stay on top of your team's availability.
Reports
Labor reports are an essential tool for understanding your business's performance. By pulling reports for specific days, weeks, or months, you can get a granular view of your data and identify areas for improvement. With this information, you can adjust your staffing levels and schedules to improve efficiency and drive your business forward. The reports can also be customized to suit your specific needs, giving you the flexibility to track the data that is most important to you.
Labor cost optimization
Sling helps you optimize your labor costs by setting weekly budgets for your locations, preferred hours, and overtime thresholds for your employees. This way, you can keep an eye on your labor spending and make sure that you are staying within your budget.
Additionally, Sling will notify you if any employees work outside of their preferred hours or if any shifts are costing more than they should. This way, you can make adjustments to ensure that you are getting the most out of your labor force. Ultimately, this feature can help you save money and run your business more efficiently.
Pricing:
Sling's Free Plan is the perfect way to get started with the shift planning app. With Sling, you can easily create and manage shift templates, view available shifts, and submit time-off requests from your mobile device. Plus, with native iOS and Android apps, you can access your account on the go. And for businesses with complex employee scheduling needs, Sling offers long-term scheduling with unlimited employees.
The Premium Plan from Sling is the most popular option, and for a good reason. It includes everything you need to keep track of your employee hours, from timesheets to clock-in and clock-out history. Plus, with the early clock-in prevention and auto clock-out features, you can ensure that your employees are clocking in and out on time.
And if there are ever any discrepancies, the timesheet approvals feature lets you sign off on hours before they're finalized. As a result, the Premium Plan is the perfect solution for anyone who needs an easy and reliable way to track employee hours.
Sling's Business Plan is great for businesses that need extra help staying organized. Companies can ensure that tasks are always assigned to the right person with auto-assigning. PTO tracking makes it easy to track who is out of the office and when, and task management helps keep everyone on track. Moreover, Conversation restriction allows for keeping conversations focused.
Pros
Monitor employees with ease
Reduce operational costs
Create accurate schedules
Cons
Full integration is hidden behind a paywall
The web interface is clunky
2. Asana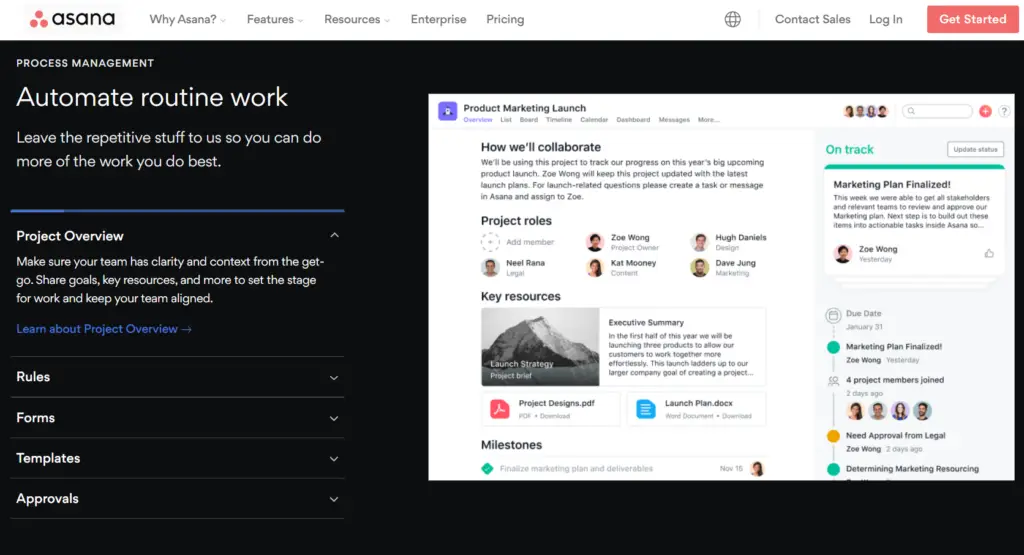 Asana is a task & schedule management app that helps you break down large projects into small, manageable tasks. You can then assign these tasks to different team members and track their progress. Asana also has a Kanban board view that lets you visualize your progress. This can be helpful when you're trying to stay on top of a complex project.
Asana is a versatile tool that can be used for personal and professional task management. Asana also offers other features such as task dependencies, custom fields, and schedule templates. These features make Asana an essential tool for team collaboration.
Process Management Automation
Asana tool makes it easy to create custom rules, triggers, and actions. The graphical workflow builder makes it easy to visualize the process and ensure that all steps are accounted for. Furthermore, Asana integrates with various other business tools, making it easy to keep all of your data in one place. As a result, Asana is a valuable asset for any business that wants to streamline its operations.
Multiple Project Views
With Asana, users can view projects and manage tasks in several ways, including Kanban boards, lists, calendars (google calendar integration), portfolios, workloads, and timelines.
This flexibility allows users to tailor the project management experience to their needs and preferences. In addition, Asana provides a variety of ways to customize views, such as the ability to filter and sort tasks, add notes and attachments, and create custom fields.
Powerful Integrations
Asana integrates with over 100 popular third-party apps, allowing users to customize their workflow and get the most out of Asana.
For example, integrating Asana with Slack can help team members stay up-to-date on project progress and deadlines while integrating with Dropbox can make it easy to share files and documents.
Asana also integrates with Zapier, allowing users to automate repetitive tasks like creating new tasks or sending notifications. In addition, Asana can be customized to fit any workflow with so many integrations available.
Pricing:
Asana's Basic plan is perfect for small teams just getting started with the software. The plan includes unlimited tasks, allowing workers to keep track of all the assigned projects in one place. In addition, users can view projects in list, board, or calendar format.
The Basic plan also includes unlimited file storage, making it easy to keep all project-related files organized and accessible. Moreover, the Basic plan allows 15 teammates to collaborate on projects, ensuring that everyone is always on the same page.
Asana's Basic plan is a great option for small teams looking for a simple and effective way to manage their work.
Asana's Premium Plan is their most popular plan, and for a good reason. It includes all of the features users need to streamline their workflows and get things done efficiently.
With unlimited dashboards, users can create custom views of their projects and tasks, making it easy to see what needs to be done at a glance.
A workflow builder is an essential tool for those who want to automate their workflows and conserve energy. And with reporting across unlimited projects, users can get insights into how their work is progressing and where they need to make improvements.
Lastly, the advanced search and custom field features help users find the information they need quickly and easily.
Asana is a work management platform that helps teams organize, track, and manage their work. The Asana Business plan is designed for larger businesses and organizations that need more advanced features and integrations. For example, a custom rules builder allows businesses to create custom rules and processes to streamline their workflows.
Forms branching & customization let businesses tailor Asana forms to their specific needs. Furthermore, Advanced integrations with Salesforce, Adobe Creative Cloud, Tableau, and Power BI give businesses the ability to connect their work with the tools they use most.
Pros
Feature-Rich Free Plan
Agile and Scrum Support
The timeline view makes it easier to manage dependencies
Flexible, fast, and modern design
Cons
Not ideal for graphics-intensive work
Can't Assign Tasks to Multiple Users
3. Wrike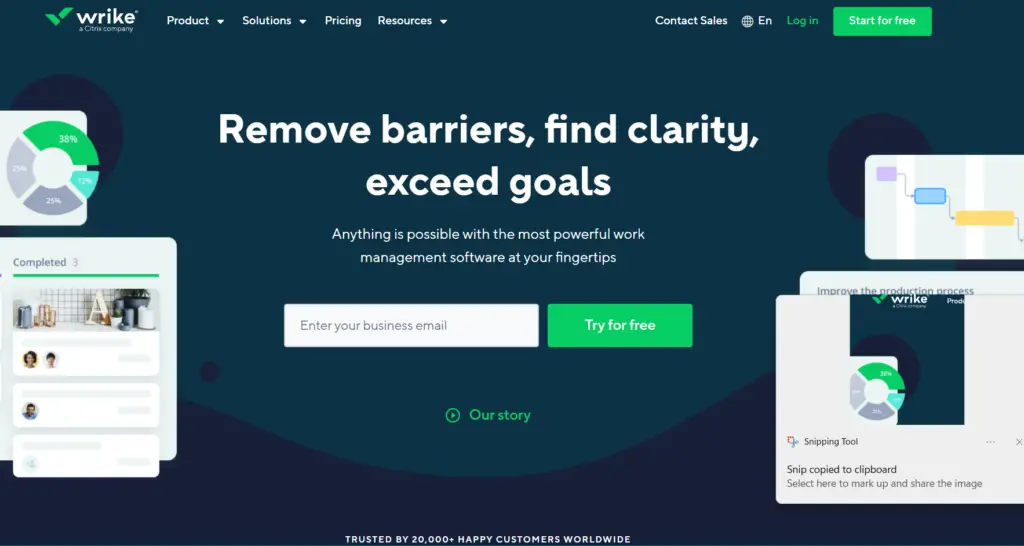 Wrike is a comprehensive employee management solution that enables businesses to manage employees from one single platform easily. With Wrike, users can drag and drop project timelines to update them quickly, collaborate among teams in real-time, and track the progress of individual tasks. Additionally, Wrike offers robust reporting features so businesses can track the performance of their workforce and identify areas for improvement.
Time Tracking
Wrike's time-tracking feature is valuable for businesses that need to keep careful tabs on employee productivity. The in-app timer makes it easy to record time worked on any task, and the manual logging option gives you the flexibility to input time worked even if you're not using the app.
This can be helpful for employees who may forget to start the timer when they begin working on a task. With Wrike's time-tracking feature, you can be sure that you're getting an accurate picture of how your employees are spending their time. This can help you identify areas where productivity can be improved and better use your team's time.
Team Collaboration Tools
With Wrike, you can create projects, set deadlines, assign tasks, and track progress. You can also easily invite clients, contractors, vendors, or other third parties at no additional cost to track the status of their projects and work with you towards project completion.
In addition, Wrike offers several integrations with popular productivity tools, making it easy to integrate into your existing workflow. Wrike is an essential tool for any team looking to improve their collaboration with its powerful features and easy-to-use interface.
Custom Request Forms
Custom form builder makes it easy to create forms for any purpose. You can add fields for text, numbers, dates, drop-down lists, and more with just a few clicks. You can also customize the layout of the form to match your branding or the look and feel of your website.
Once you've created the form, you can embed it on your website or share it via email or social media. And because all responses are stored in Wrike, you can easily track and manage them from one central location.
Pricing:
The free plan includes access to the web, desktop, and mobile apps and a personalized app experience via AI Work Intelligence. With the free plan, employees can manage tasks and subtasks and receive recommendations on improving their productivity. In addition, the free plan provides access to Wrike's support team and community forums.
The Professional Plan from Wrike is designed for small businesses and teams who need a little more power and flexibility from their productivity tools. In addition to all the features of the Basic Plan, the Professional Plan includes shareable dashboards, interactive Gantt charts, and integrations with popular productivity tools like Microsoft Project and Excel.
The Professional Plan also offers 1 to 2 GB of storage per user, making it easy to keep projects organized and accessible. Whether you're looking to improve communication and collaboration within your team or simply need a more robust tool for managing your projects, the Professional Plan from Wrike has you covered.
The Business Plan is Wrike's most popular option, and it includes some essential features for businesses, including custom workflows, branded workspace, and the Automation Engine. With the Business Plan, you can also take advantage of project and task approvals, guest approvals, and real-time reports.
Enterprise – Custom Plans
Wrike's Enterprise plan is specifically designed for large organizations that need extra security and administrative controls. Some of the features included in the Enterprise plan are Single Sign-On (SSO), Two-Factor Authentication (2FA), password policies, custom access roles, admin permissions, and user audit reports.
The Enterprise plan includes the Automation Engine, which allows organizations to automate up to 1000 actions per user per month. Each user on the Enterprise plan gets 10 GB of storage. These features make Wrike's Enterprise plan a great option for large organizations that need extra security and control.
Pros
Can manage both projects and employees
Department-Specific Solutions
Enterprise-Grade Functionality
New intelligent features flag projects at risk of slipping
Cons
Limited Mobile Functionality
Difficult to choose the right plan without customer assistance
4. Findmyshift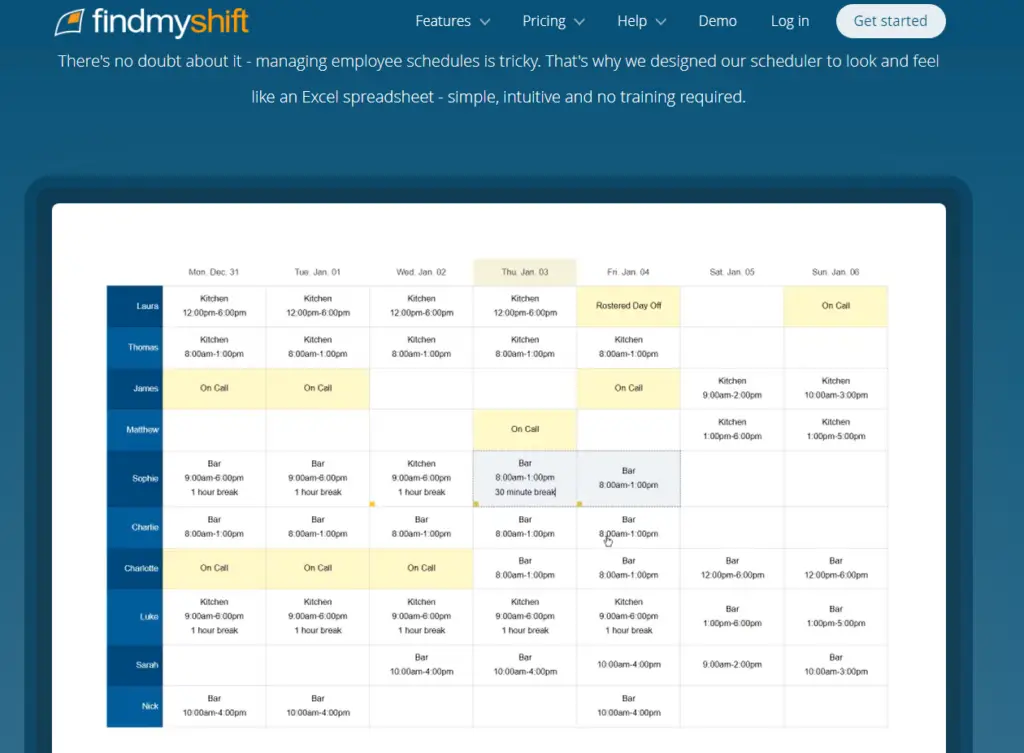 Findmyshift is a web-based employee scheduling software that helps managers quickly and easily create shift patterns for their staff. The intuitive drag-and-drop interface makes it simple to add or remove shifts, and the built-in conflict detection ensures that employees are not scheduled for more hours than they are available to work.
Findmyshift also offers a wide range of features to help managers stay organized, such as sending automatic text and email reminders to employees about upcoming shifts and the ability to track time-off requests. With Findmyshift, managers can save time and ensure that their staff is always aware of their upcoming shifts.
Reporting and Payroll
Findmyshift's reporting and payroll features are designed to help businesses forecast labor costs in real-time. With the ability to enter any combination of day rates, hourly rates, rate rules, overtime rates, ad hoc adjustments, split shifts, and more, Findmyshift provides businesses with a comprehensive tool for managing labor costs.
Additionally, the Findmyshift interface is designed to be user-friendly and easy to navigate, making it simple for businesses to get started with the platform. With its powerful reporting and payroll features, Findmyshift is essential for any business looking to manage labor costs effectively.
Employee Scheduling
Employee scheduling helps businesses create accurate schedules quickly and easily. The drag-and-drop scheduler has a spreadsheet-like appearance, making it simple to add or delete shifts, employees, and other schedule elements.
The free-form editor allows users to add unlimited options to cells, making it easy to customize schedules for each employee.
Findmyshift also offers a convenient shift copy feature, allowing users to create entire schedules for the future with just a few clicks. With its robust features and easy-to-use interface, Findmyshift is the ideal solution for businesses that need to streamline their employee scheduling process.
Reminders and Notifications
With Findmyshift, you can configure reminders up to 30 days in advance. In addition, team members will receive push notifications, emails, and text messages to ensure they're always aware of the latest schedule changes.
This can be an excellent feature for managers who need to keep track of multiple employees' schedules, and it's also a great way to avoid conflicts and surprises. Whether you're sending a reminder for an upcoming shift or updating the team on a last-minute change, Findmyshift's notifications will keep everyone in the loop.
Pricing:
With Findmyshift, you can view your schedule for the week and plan your shifts. Findmyshift's free plan includes five team members and one manager. You can view one week of historical data and one week of planning. Moreover, you can export your schedule as a PDF or Excel file.
The Starter Plan from Findmyshift is an all-in-one solution for small businesses with up to 20 team members. With this plan, you'll have access to 1 year of historical data and a six-week on-screen editor.
This will allow you to manage your team more effectively and make changes. The Starter Plan also includes a free 14-day trial to try out the features and benefits before committing to a long-term plan. You can cancel during the trial period if you're not satisfied.
Findmyshift's business plan is designed to meet the needs of businesses of all sizes. For a team of up to 100 employees, the plan includes access to Findmyshift's on-screen editor for 20 weeks. This allows businesses to create and edit their shift schedules in Findmyshift and view and monitor employee attendance.
Moreover, businesses can also access Findmyshift's historical data for five years. This data can identify trends and patterns in employee attendance and help with planning. For businesses with more than 100 employees, Findmyshift offers a discounted rate.
The Enterprise Plan from Findmyshift is the most comprehensive and feature-rich plan. It is designed for businesses with 300 or more team members and managers. With this plan, you can access ten years of historical data and do three years of planning.
The on-screen editor allows you to make changes to your schedule up to 52 weeks in advance. This is an invaluable tool for businesses that need to be able to plan their staffing needs well in advance. In addition, the Enterprise Plan gives you access to a dedicated account manager who can help you get the most out of the Findmyshift platform.
Pros
Great employee scheduling features
Easier payroll management with precise labor costs and time tracking
Straightforward pricing plans with no hidden costs
Simplified Scheduling
Automated reminders and notifications
Customizable Data
Cons
Exporting data from Excel is tedious
Notes on limited features on the mobile apps
5. 7Shifts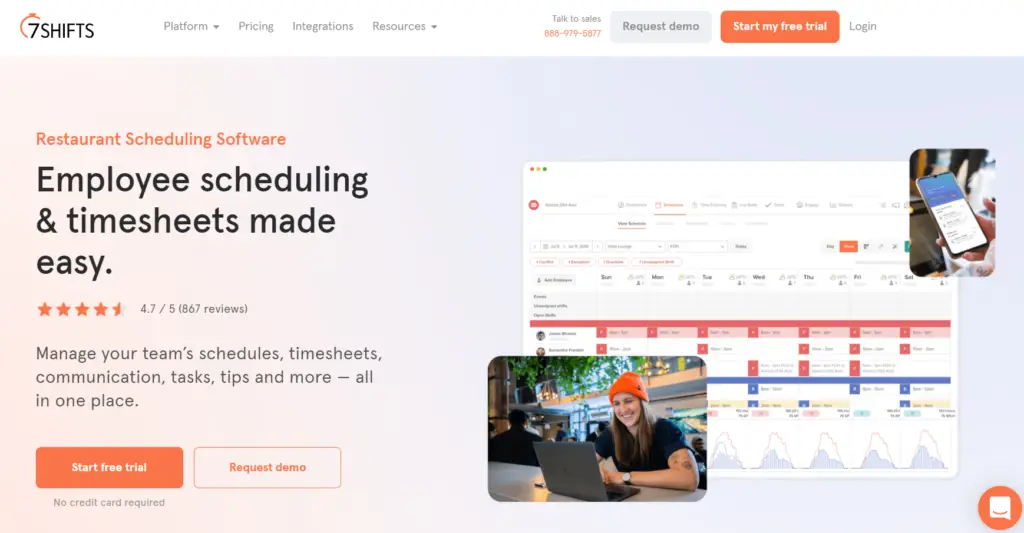 7Shifts is software that connects businesses with their employees. The intuitive SaaS has employee scheduling features like Employee schedule management, in-line approvals, and time-off requests. Companies can use 7Shifts to increase transparency and collaboration between managers and employees.
The 7Shifts platform makes it easy for businesses to manage employee shifts, communicate changes, and approve or deny time-off requests. This tool is beneficial for small businesses because it helps managers save time by avoiding manually scheduling each shift. In addition, the software helps to ensure that employees are properly compensated for their time by tracking their hours worked.
7Shifts also provides a mobile app that allows managers to view and edit employee schedules on the go. This is especially helpful for businesses with remote employees or employees who work irregular hours.
As a result, businesses can save time and money while reducing staff turnover. 7Shifts is an essential tool for small businesses that want to streamline their operations and improve communication with their employees.
Scheduling
7Shifts' scheduling feature is designed to make your life easier. With it, you can quickly and easily create a schedule for your team and add in special events, so everyone is prepared.
The calendar format makes it easy to see when each shift is, and you can even color-code different types of shifts to help your team keep track. In addition, the scheduling feature can help you avoid conflicts by letting you know when two employees are scheduled for the same shift.
Task Management
The task management feature helps address this problem by allowing managers to create and assign shift-based tasks. This ensures that everyone knows what needs to be done and when it needs to be done. Additionally, task templates make it easy to standardize processes and ensure that nothing falls through the cracks.
Time Tracking
Time tracking is an essential part of any business. You can track employee productivity and see where your team needs improvement with it. The time tracking feature in the app makes it easy to do this by allowing employees to clock in and out of their shifts. You can then view reports on how much time was spent on each task and make better decisions about allocating your team's time.
Pricing:
7shifts offers a comprehensive compensation plan that encourages employees to be punctual and productive. The plan provides employees with a time clock and timesheets to track their hours and team chat and announcements to keep them informed of company news. The plan also offers a variety of perks, including time off and availability, that encourage employees to stay with the company.
7Shifts'Entrée plan is the perfect solution for small businesses that need to streamline their scheduling and budgeting processes. With unlimited scheduling, you can create and edit employee schedules as often as possible without worrying about incurring additional costs.
And with labor budgeting and sales forecasting, you can make sure that your labor costs are always in line with your revenue goals. Plus, 7Shifts' tracking features make it easy to keep track of PTO, break, and overtime hours – ensuring that your employees are always paid fairly.
This plan is designed for businesses that need a comprehensive suite of tools to manage their labor force. It includes labor alerts, a manager log book, payroll integration, and state-based compliance tools.
Additionally, 7Shifts provides access to advanced reporting features that can help businesses track their labor costs and performance over time. For companies that need to optimize their labor force, The work from 7Shifts is an excellent option.
Pros
POS integrations
Unlimited text notifications
Instant alerts around overtime
Built-in manager logbook
Cons
Payroll integration and export only included in advanced plans
No ability to create recurring events (such as holidays) in the scheduling tool
Related: Best Softwares for Small Business
Free employee scheduling apps: Key features
1. Team Communication
One of the main benefits of using a scheduling app is that it can help to streamline communication between managers and employees. Look for an app that allows you to quickly send out updates and changes to the schedule.
The app should also allow employees to quickly and easily contact managers with any questions or concerns. By choosing an app that excels in communication, you can help to ensure that your team always has the most up-to-date information.
2. Attendance Monitoring
The Attendance Monitoring feature in a Scheduling App is designed to help you keep track of your team's attendance. With this feature, you can set up an attendance policy for your team, and the app will automatically track each member's attendance.
You can also use the attendance data to generate reports, which can help identify patterns or trends. If you have a team of employees who work different shifts, the Attendance Monitoring feature can also be used to schedule breaks and lunches. This way, you can ensure that everyone has a chance to take a break and that no one is overworked.
3. Third-Party Integrations
Most businesses need to integrate their work scheduling app with a payroll or accounting solution. However, this process can be difficult and time-consuming, so choosing an app with built-in integrations with popular solutions is essential.
Using an app that integrates with your existing payroll and accounting software can save you time and effort. In addition, these apps often offer other features that can make your life easier, such as the ability to track employee overtime and vacation days.
4. Time Tracking
Time tracking is critical functionality for any employee scheduling app. By tracking the time spent on each task, employers can more accurately estimate the time required for future projects. In addition, time tracking can help to identify areas where employees are spending too much time, allowing businesses to make necessary adjustments.
Employees can also use time tracking to improve their productivity and efficiency. By seeing how much time they spend on each task, they can identify areas where they need to cut back or work more quickly. Therefore, time tracking is an essential feature for any employee scheduling app.
Related: Best Scheduling App for Small Businesses
Final Thoughts
There's no denying that scheduling apps can be beneficial for employees. By giving employees the ability to view their schedule, request time off quickly, and swap shifts, scheduling apps can help to improve communication and increase productivity.
When choosing a scheduling app for your business, be sure to select one that is user-friendly and offers features that will meet the specific needs of your employees. With the right scheduling app, you can streamline communications and efficiently help your team.