Disclaimer: We sometimes use affiliate links in our content. For more information, visit our Disclaimer Page. 
Project management software is an essential tool for business owners and managers. They allow you to keep track of tasks, deadlines, and progress reports. Two of the most popular project management software today are Asana and Monday.
So, which one is right for you? This article will compare these two software programs and help you decide which one best fits your needs.
What is Monday.com?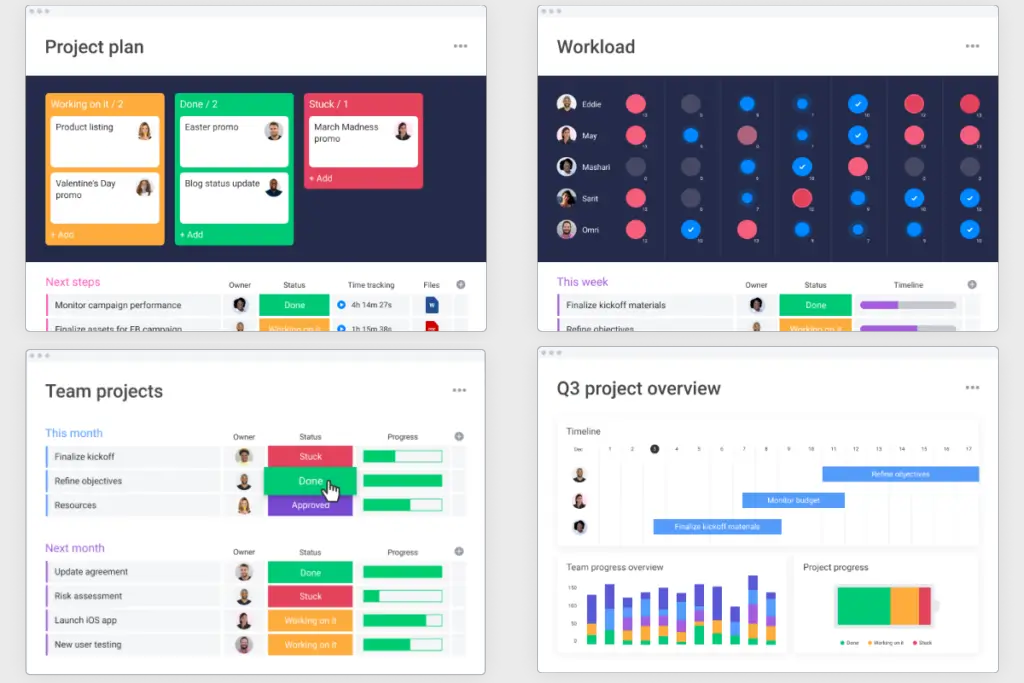 Monday.com is a perfect project management tool that uses Artificial Intelligence and file attachments to keep your team organized, on top of their tasks, and accountable for what they commit to. In addition, Monday notifies users when a task assigned to them is due via e-mail or in an upcoming "to do" Monday notification—detailed analytics are also included for your team's review.
Monday is the world's most competent productivity platform that runs on artificial intelligence, machine learning, and workflows that maximize your team's output. It lets you know what to work on next so you can crush it every time!
Monday even shows each team member how much their colleagues have accomplished so you can celebrate your wins and help each other grow. In addition, Monday is one of the only productivity tools on the market to allow users to attach files directly from Dropbox and Google Drive. Its AI is designed to not interrupt you with tasks that aren't important at that moment.
What is Asana?
Asana was created by Facebook co-founder Dustin Moskovitz and ex Product Director Justin Rosenstein. It's also among popular project management tools, enabling teams to track their work. It combines task lists and feeds into one place to see what everyone is working on in real-time.
It also uses tags to help keep track of task progress, organized by projects. The more organized your team becomes with tagging, the easier it is to get things done.
Many companies praise it for its simplicity and user-friendliness, but also for its speed at achieving results. This is due to how fast change can be made with Asana's drag and drop functionality which makes amendments very simple.
What type of tool are Asana and Monday?
Many companies are turning to automate project managers to handle all project-related activities and communications in one spot. Asana and Monday are good examples; it's popular tools for managing projects. Both are strong names in the field of project management software options.
Asana Vs Monday: Pricing and Plans
Asana Pricing
The free plan includes 15 members, unlimited tasks, projects, conversations, and attachments. After that, Asana Premium costs $10.99 per user per month when billed annually, or $13.49 per user per month when billed monthly and includes custom fields, workflow builder, reporting across unlimited projects, and an increase attachment size limit.
For businesses, Asana Business costs $24.99 per user per month when billed annually, or $30.49 when billed monthly and includes custom rules builder, workload, and advanced integrations with Salesforce, Adobe Creative Cloud, Tableau, Power BI.
Asana is available for free with up to 15 people on the team. You can also get Asana Premium. It costs $10.99 per user per month when you pay it for a year and $13.49 when you pay it monthly. The cost of Asana Business is $24.99 per user per month when paid annually and $30.49 when paid monthly.
Monday.com Pricing
While on the other hand, Monday costs a little less than Asana. Customers can choose from five different pricing tiers at the company. The Individual plan is free and may include up to 2 members unlimited projects and more than 200 templates.
The starting rate for the basic plan is $8 per person per month. There's also a regular account that costs $10 for each person every month. The Pro account costs $16 monthly, while enterprise solutions pricing varies depending on the package purchased.
Overall, Monday has better pricing than Asana. But if you prefer a free version, Asana takes the cake.
Asana Vs Monday: Collaboration Tools
Both Asana and Monday are excellent collaboration tools, featuring intuitive task management systems team management that allows you to assign tasks to team members along with due dates, comments, reminders, and files. In addition, Asana gives you the ability to create tasks from within a message, comment, or conversation thread view.
In addition, both tools have Kanban boards that allow users to keep track of projects through sticky note-style cards that can be moved across a board as needed. Mondays also hold a place for a "Today" list, which is similar to Asana's "Inbox" feature.
Asana Vs Monday: Communication Tools
Not only does Asana allow you to communicate with your team members through comments and messages, but it also gives you the ability to make announcements across your organization as well as share files with your teammates. In addition to these features, Asana also allows for file attachments to tasks and conversations.
Monday's communication features are more limited than that of Asana. For example, it only supports messaging and comments between team members, along with custom-designed forms that can be used for surveys or taking feedback on the product itself.
Portfolio Management
Many PM systems for small businesses don't include project portfolio management features, so it's great to see Asana and Monday.com do it.
Asana's portfolio feature, which is essentially similar to a regular project management software but for projects instead of individual activities, may come in very useful. This function lets you take a bird's eye view of your daily workstation and ensure you don't overlook any of your responsibilities.
Monday.com offers a similar feature called Groups, which was described previously. You may select the Group to which you want to add your new Pulse when you create it. Pulses do not have to be tasks or projects; rather, their open-ended framing frees you up to make them whatever you choose.
If you want to keep track of your project portfolio, create a Group for each Pulse. Managing your portfolio in this way does not give as much information or insight as Asana's portfolio feature, but it reduces the danger of tunnel vision.
Asana Vs Monday: Project Management Tools
Both Asana and Monday offer project and task management features. Asana offers two different types of projects: personal projects, which individuals can use to track their work, and team projects, where teams collaborate on a single project.
Monday also has a team-based powerful project management tool with the ability to sort tasks into lists that your teammates can see, create one-on-one conversations, or share files through their "Files" feature.
Asana Vs Monday: Additional Features
There are several additional features that both Asana and Monday have and task management. The first is time tracking. This allows users to monitor how much time they're spending on each project while also tracking the amount of time they've spent on similar tasks.
Monday offers time tracking as well but to a limited extent. It only allows users to track their daily tasks and project hours but does not offer any history or analytics as Asana does. The next feature is "Power Ups," which both platforms offer that allows users to track or manage social media accounts, create polls, and more.
The final feature is "Comments," which Asana offers in addition to messaging features. They allow you to tag colleagues in specific conversations directly, rather than including them all in one long string of messages that can quickly confuse everyone involved.
Asana Vs Monday: Integrations and Add-Ons
Although Asana and Monday integrate with other tools, such as Google Drive, Dropbox, Evernote, and Shopify, they do so differently. Asana allows you to connect with other apps by clicking on the gear icon in the top right corner of your browser window when you're in the app.
Monday, meanwhile, offers an "Apps" menu where you can connect with other apps, but it's located in the lower right-hand corner of your screen once you've logged into the platform.
Asana Vs Monday: Security
Monday.com and Asana offer two-factor authentication (2FA) for all their plans. This means that you have an extra layer of security to protect your account. In addition, Monday.com offers SSO with popular apps like Okta and One login, while Asana offers SSO through Google.
Support
You'll miss out on some features if you use free versions, such as advanced security options and priority support access. Asana's free tier, however, offers all the fundamentals you need to run basic projects for small teams, freelancers, and solopreneurs.
Both Asana and Monday have premium support, security, and governance plan as part of their enterprise pricing.
Lets Recap
Asana has several pros and cons, but unlike Monday.com, it requires users to be more present within the platform for their workflows to run smoothly. Unfortunately, this means that there may be a lack of communication outside of Asana itself which can cause problems when team members are completing tasks.
On the other hand, Monday allows for communication outside of their platform with features like e-mail notifications, commenting on work completed through Google Drive, and messaging capabilities. It is less organized than Asana since it is not task-oriented but communication-oriented. However, Monday's "Do Now" feature allows users to get tasks done while avoiding distractions.
The main benefit of Asana is that its user interface is more simple and more easy-to-understand than Monday.com, which may cause less confusion for people who are new to the platform. It also doesn't require many hours to learn how the platform works since it's an intuitive task management solution.
On the other hand, Monday offers many more features that may be useful for teams that work in specific industries such as healthcare or e-commerce. It also allows you to have a project plan ready from day one compared to Asana, which requires users to build their projects from scratch.
Asana offers integration with over 500 apps, while Monday's integration list has around 100 applications. Asana also allows for more customization across plans than Monday, which is relatively restricted to what you can do on the Free plan.
As one of the original task management tools that continue to be used in today's technologically-advanced world, Asana is a go-to solution for companies who are already comfortable using the platform.
However, Monday takes a more innovative approach to task management by changing how users communicate and accomplish tasks while offering many integrations that Asana lacks. This may benefit teams who want to send project updates outside the platform or integrate other apps into their workflow.
Conclusion
Both Asana and Monday offer complementary features that can enhance how your organization manages projects, files, tasks, time, communications, and more. However, while Asana and Monday offer many of the same features, they do differently. As we saw above, Asana focuses on team communication and time management. At the same time, Monday's main selling point is its file management capabilities (allowing larger files than Asana).
It boils down to what your organization needs to succeed when deciding between these two tools. If you're looking for a platform that offers modern team communication and time management, Asana is a great option. However, Monday may be better for those who work on more complex projects or larger files.
Thank you for reading our article on Asana vs Monday! We hope it was helpful and answered your question. Feel free to let us know if you have a data point that you would like to add or any additional information we can provide.
FAQ
Do they have mobile apps?
Yes, both have mobile apps for IOS and Android.