Disclaimer: We sometimes use affiliate links in our content. For more information, visit our Disclaimer Page. 
It is no secret that Monday.com has become one of the world's most popular project management tools. Project professionals have many software options when it comes to planning and managing a project's details, whether working with just a few other people or juggling multiple projects, teams, and vendors in multiple time zones. 
Monday.com is one of the most popular tools on the market, and for a good reason! This blog post will take a detailed look at all the features that Monday.com offers and its pricing structure. We will also discuss some pros and cons of using this tool for your business.
What is monday.com?
Monday.com is a project management and collaboration platform that helps teams and businesses manage their work and communicate more effectively.
It offers a range of tools and features that can be customized to fit the needs of each team or organization. These tools include task and project management, team communication, resource management, and reporting and analytics.
The platform is accessible through web browsers and mobile apps for iOS and Android, and it integrates with various tools and services, such as Google Drive, Slack, and Trello.
Monday.com is designed to be user-friendly, with a drag-and-drop interface and customizable views that enable users to quickly and easily see the status of their work and understand what needs to be done next.
As a result, many businesses and organizations, including startups, agencies, and large enterprises, use it. Its flexibility and versatility make it a popular choice for teams looking to streamline their workflows and improve productivity.
Benefits of Using Monday.com
Using Monday.com can provide many benefits to teams looking to improve their collaboration, communication, and project management. One key advantage of Monday.com is its ability to centralize all project-related information in one place. This can help team members stay updated with the latest updates and progress and easily see what tasks are assigned and when they are due.
Another benefit of Monday.com is its customization and flexibility. Teams can tailor the tool to fit their specific needs and processes, which can help streamline their workflows and increase productivity. Monday.com also offers a range of features for task assignment, prioritization, and progress tracking, which can help teams stay organized and on track with their projects.
In addition, Monday.com integrates with various other tools and platforms, such as Google Calendar and Slack, which can help teams streamline their workflows and stay connected. This can be especially useful for teams that use multiple tools and platforms to manage their work.
Overall, Monday.com can be a valuable tool for teams looking to improve their collaboration, communication, and project management. It offers a range of features and customization options to help teams work more efficiently and effectively.
Pros and Cons of monday.com
Customizable interface: The platform allows you to tailor the interface to fit your team's specific needs and workflow.
Intuitive design: The user interface is easy to use, which makes it easy for team members to get up to speed quickly.
Collaboration features: Monday.com includes tools for real-time messaging, task assignments, and file sharing to help teams work together.
Third-party integrations: The tool integrates with various popular tools, such as Google Drive, Slack, and Trello, making it easy to incorporate into your existing workflow.
Mobile app: A mobile app is available that enables team members to stay connected and stay up to date with their tasks and projects while on the go.
Cost: Monday.com may be expensive, particularly for larger teams or organizations.
Limited customization options: While the platform is customizable, there may be limitations to how you can customize workflows and processes.
Complexity: Depending on your team's needs, the tool may have more features and functionality than necessary, making it feel overwhelming or cluttered.
Limited integrations: While Monday.com does integrate with many popular tools, it may not integrate with everything your team uses.
Limited support: While support is available, it may not be as comprehensive as some users would like.
Features of Monday.com
Monday.com is a project management software that helps teams plan, organize, and collaborate on tasks. The software is designed to be flexible and easily customizable so that it can be used for various projects, from small personal projects to large corporate ones. In addition, Monday.com offers a variety of features that make it a powerful tool for managing projects, including:
→ Project Data Visualizations & Dashboards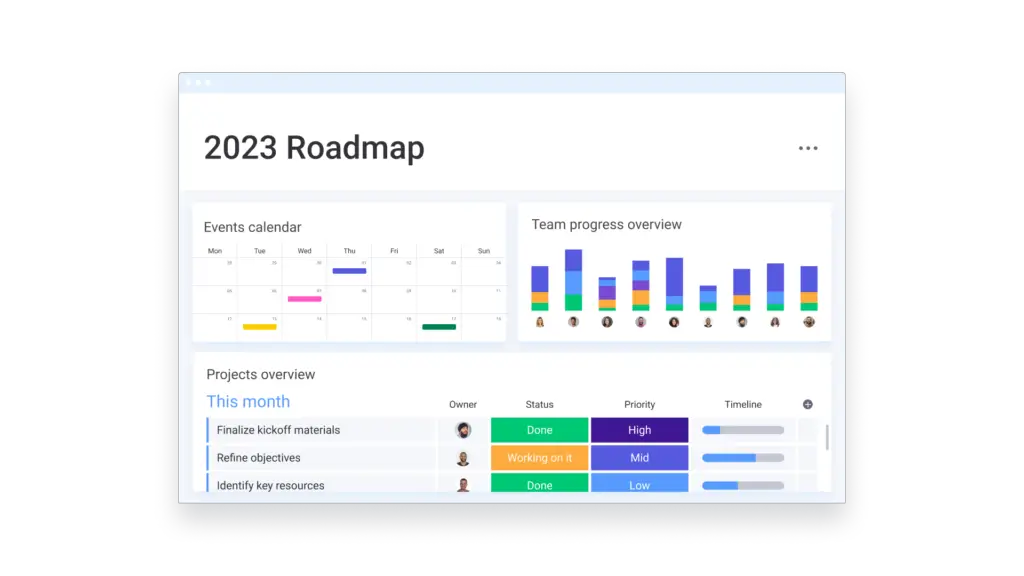 Using visual graphics, you can turn the data most relevant to your main KPIs into interesting visual representations in real time.
With only a few clicks of the Customize View menu, you can transform your charts, graphs, and timelines into the visualizations you want.
Monday.com allows you to view the same information in several different ways using different visualizations and dashboards. You can easily add a dashboard to a board with a few clicks. Select one of the available widgets for your dashboard, such as a battery, chart, or number, to get started. In addition to the dozens of widgets available in the dashboard, you will have access to more advanced plans that will allow you to pull together multiple boards into a single dashboard.
After creating a board, Monday.com will do all the heavy lifting for you about the data visualization, converting your inputs into different formats and allowing each team member to select the view they prefer to see the same information on their board.
→ Project Automation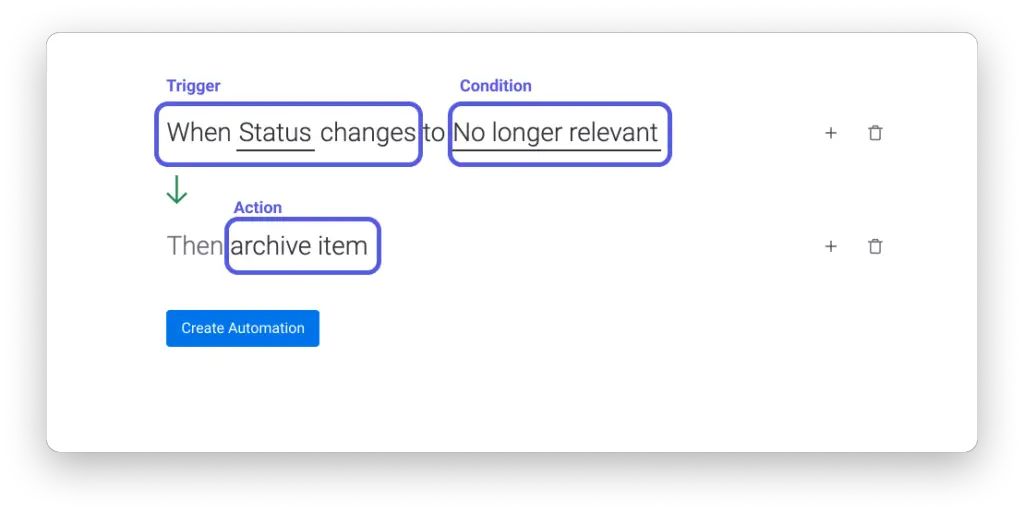 It is possible to automate everyday or recurring tasks with a series of when/if/then statements incorporated directly into the app, making it easier to use for the user.
You'll be able to automate the creation of tasks, notifications, changes to status, and other recurring workflow items by simply pointing and clicking.
With Monday.com, you can automate your workflow very user-friendly since it offers several automation "recipes" that include common triggers and actions built right into them. To make it easy to find the automation recipes you are looking for, they are sorted by type: send notifications, recurring items, assigning due dates, moving items according to a condition, adding subitems, and setting dependency triggers.
It is also possible to build your automation from scratch. The automation customization page guides you through the process step by step using conversational language buttons so that anyone can use it, regardless of their level of experience. Additionally, automation doesn't have to stop at one function, as a simple "and" command will enable multiple or simultaneous actions to be linked.
→ Deep and Extensive Integrations
You can connect your existing apps with those you are already using to expand functionality and include things such as a file library or email marketing campaigns.
You can integrate Asana, Basecamp, Jira, Todoist, Trello, Zoom, Slack, and a wide variety of other apps with our platform.
In addition to connecting with several third-party apps natively, Monday.com also offers a paid Zapier plan for those who wish to integrate with them. You can connect with standard project management tools such as Asana, Basecamp, Jira, Microsoft Teams, Todoist, and Trello. Furthermore, they integrate with all the tools you need to have a unified communication strategy and workflow: Gmail, Google Drive, Facebook, Slack, Mailchimp, Dropbox, Excel, Outlook, and Zoom.
Additionally, integration is very straightforward. You need to find the Integration Center icon in the menu, which will take you to a list of recommended apps and app types you can explore. In their Automations Center, they can connect to various integrated apps, so you can trigger a message from Monday.com to send to Slack, Gmail, etc.
→ Support and Learn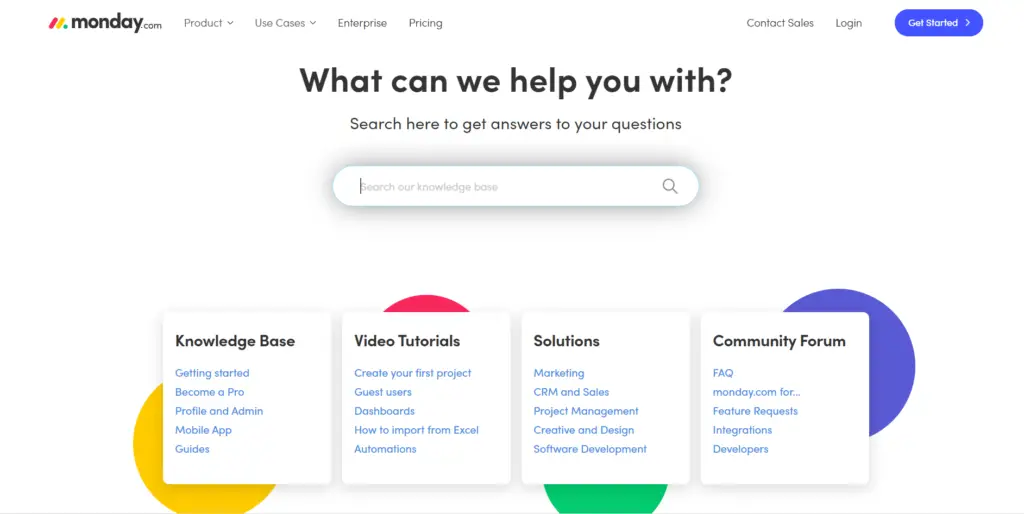 You can leverage the extensive knowledge base pre-built by the company to answer most of the FAQs, and you will always have access to 24/7 email support.
It is straightforward to access online guides, video tutorials, live webinars, a community forum, or direct email customer support through the company's website.
There is a 24/7 customer service team available at Monday.com, and you can reach them through a simple contact form found within the tool, and you can even send a quick video or screenshot to them. Most of your questions, however, will not need to go that far since they offer a substantial library of self-help and training tools at your disposal.
For example, you can access their YouTube channel for a basic overview or join a live webinar when available (you can find upcoming webinars in the webinar hub) to get a deeper understanding of the product. As well as their FAQ, a community forum, feature requests, and themed walkthroughs (creating your first project, Admin and Billing, and using the mobile apps, etc.), you will also have access to their FAQ, a community forum, feature requests, and feature requests.
→ Marketplace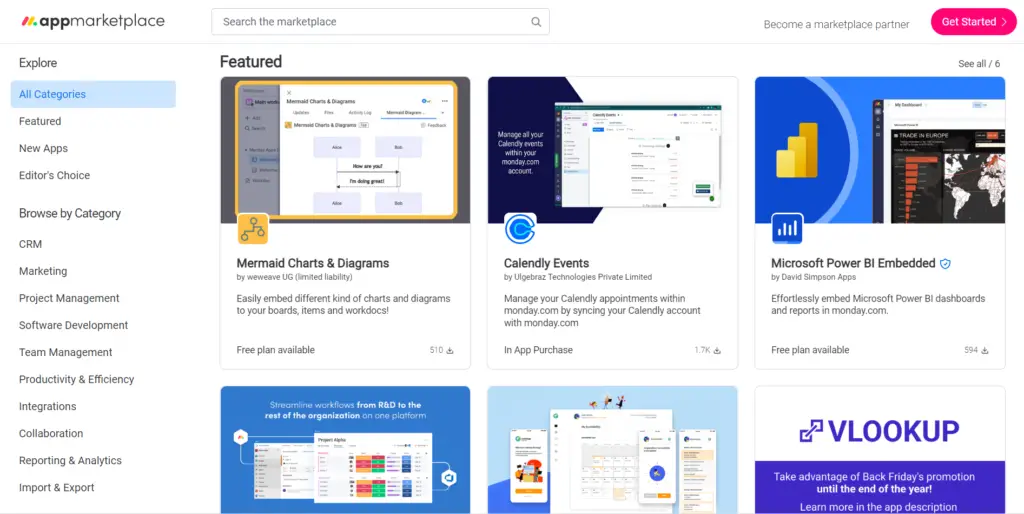 It is possible to customize your experience with Monday.com with free and paid apps by adding options that meet your needs and ignoring others that do not.
In the Monday.com app marketplace, you can enhance Monday.com's functionality with add-on tools developed specifically for the platform.
By using the Monday apps marketplace, you can extend the capabilities of your work OS with custom views, widgets, integrations, automation, and integrations. This software allows you to choose several add-ons to expand your calculation handling, form building, quotes, business intelligence reports, and more. There are free, freemium, and paid add-ons.
In addition to integrations with tools such as MailChimp, Facebook, and Hubspot, the app marketplace offers original, developed-for-Monday extensions that make it unique to the platform. In addition to API documentation, Monday also offers software developers the ability to build their integration tools using their APIs.
→ Monday.com Mobile App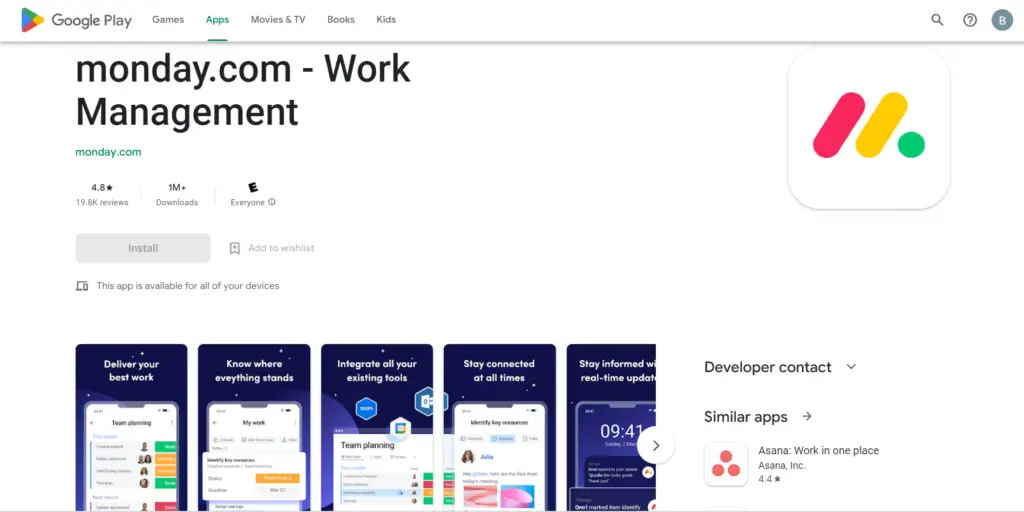 If you haven't yet found the app on the iOS app store or the Android app store, you can easily find the app by searching for "Monday.com" in either of these app stores. To find the app, search for "Monday.com" in either of these app stores. 
As soon as you are logged into your monday.com account through a web browser or desktop application, click on the profile picture in the lower left corner of your screen, and you will be directed to the appropriate store if you want to download the app. You will have the same functionality with the mobile app as the website or desktop app, so you can manage your account wherever.
→ User-Friendliness
Monday.com is a project management tool that is among the best to use. It is easy to understand and navigate with a pleasant experience. The main website is easy to understand, with a "get started" button that leads you to a plan selection screen. 
There is a 14-day free trial version of the Pro plan that you can try to see firsthand how the tool works without making any commitment. All you need to do is enter your email address and register for the trial; no credit card is needed. This project management tool is helpful and efficient from the start without being overbearing. 
You will never have to spend more than a few seconds trying to find anything in the software. It is possible to set up a sophisticated workflow quickly by following the tutorial on Monday.com. Overall, using monday.com is a pleasure and highly recommended for anyone who needs to manage projects professionally.
→ Security & Privacy
While it is true that Monday.com collects quite a bit of information, the company is committed to using it only for software development (to understand better how it works) and marketing its products to you. 
There's none in terms of third-party sharing, but remember that the data you provide as a regular employee can be shared with the account admin. It's not a huge deal, as your boss probably already knows all that information about you, but it's something to keep in mind. 
It is interesting to note that everything looks good from the Monday.com point of view. The company is SOC-2 Type II certified and uses TLS when transferring data to Amazon Web Services. As long as the intern dealing with monday.com's security keeps on top of things, your data should be protected. Here you can visit their security and privacy whitepaper.
Monday.com Pricing
The pricing options offered by Monday.com can be tailored to fit the users' needs.
→ Individual Plan
Monday.com's plan is the perfect way to stay organized daily. You'll have access to 3 boards, over 200 basic project templates, and 20 column types. Plus, you can use the iOS and Android apps to keep track of your tasks on the go. This plan is best for freelancers and individuals who need a simple way to get organized. Get started today and see how easy it is to stay on top of your projects with Monday.com.
→ Basic Plan
Starting from $8, a significant advantage of the basic plan is unlimited free viewers for guests and stakeholders. This is perfect for smaller teams who are just starting and require some support in project management. 
The basic plan comes with everything the individual plan offers, unlimited items, 5 GB of storage, and the ability to create a dashboard based on one of your boards. With all these features, the basic plan is perfect for teams needing extra help getting started on their projects.
→ Standard Plan
The standard plan is $10 per month. It is an excellent fit for small and medium-sized businesses that need access to complex calendar data and charts. The plan includes all the features that can be found in the individual plan, including unlimited items, unrestricted views, customer support, integrations & automation for 250 actions, five boards on a dashboard, and much more. 
You can also keep track of all the tasks that need to be done and their deadlines or look at what's coming up next week, month, and year. The standard plan allows you to keep track of your schedule and see what's coming up next week, month, or year. 
→ Pro Plan
The pro plan starts from $16 a month. It includes all the features listed in the first three subscriptions: private boards, chart views, time tracking, a formula column, 25,000 automation per month, 25,000 integrations per month, and more. The dashboard combines a maximum of 20 boards.
This plan offers many extras, particularly regarding time tracking, one of the most attractive features for larger, more dynamic teams.
→ Enterprise Plan
Monday.com offers custom enterprise plans for those who need a little more than the predetermined plans. This includes enterprise-scale automation and integrations, enterprise-grade security and governance, advanced analytics and reporting, multi-level permissions, tailored onboarding, and a dashboard that combines up to 50 project boards.
You will also have access to their premium customer support network. With all of these features, you can be sure that your business will be able to run smoothly and efficiently. So if you are looking for a little extra power and flexibility, be sure to check out monday.com's custom enterprise plans.
Alternatives to monday.com
The following are some other project management tools that you may find helpful:
1. ClickUp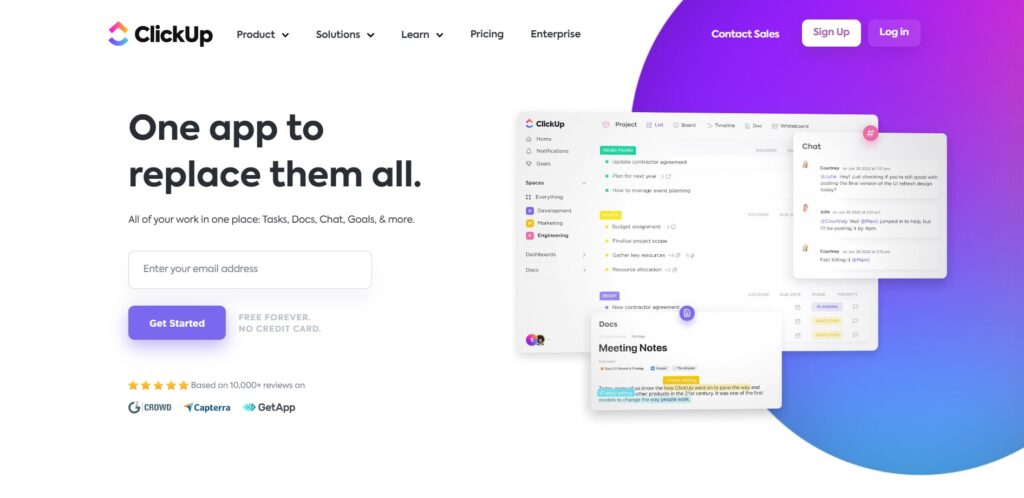 ClickUp is one of the most popular project management software with a wide range of features to offer. It provides features like task management, workflow visualization, Gantt charts, Kanban boards, real-time collaboration, and more.
One unique feature that ClickUp offers is its "100% customizability" interface which allows users to tailor the look and feel of their workspace to fit their individual needs. Additionally, ClickUp has a built-in calendar that can be used to track due dates and deadlines for tasks/projects.
ClickUp also integrates with several other applications (such as Slack and Google Drive), making it easy for users to manage all aspects of their work in one place. In addition, it has a free forever plan and paid subscription plans that start at $25/month.
2. Asana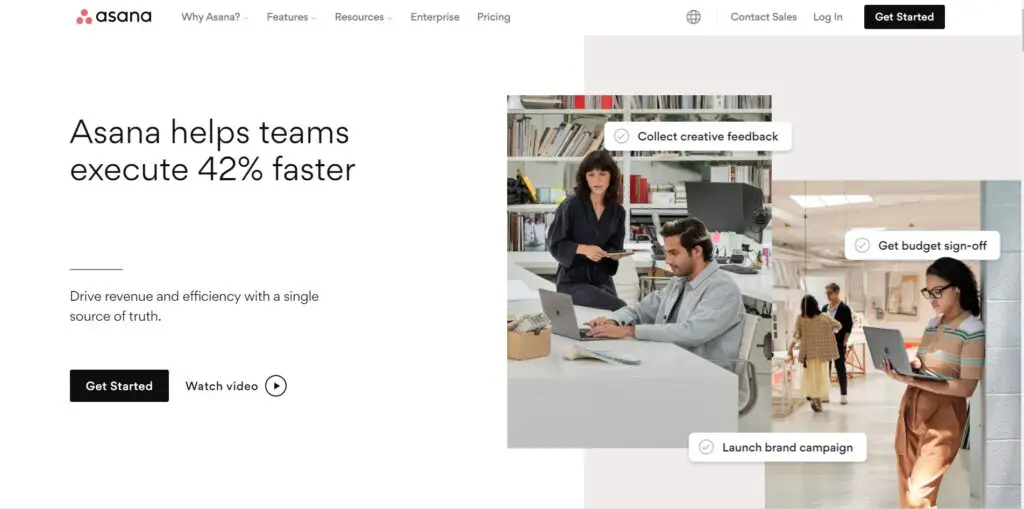 Organizing work can be challenging, especially when multiple team members are involved. That's where Asana comes in. Asana is a work management platform that helps teams synced and collaborate on a single platform. It provides automation, timeline, integration, boards, universal reporting, forms, calendars, portfolios, etc. 
In other words, it has everything you need to manage your work and achieve your goals. Asana is also flexible enough for project management, goal management, agile management, task management, project planning, and more. 
Related: ClickUp vs Asana
1. Project Insight

PI is a modular and scalable project management software that features automation, REST APIs, integrations, and a variety of other features that will help users to manage projects, workflows, and processes in one place.
As part of the project management functions, as well as helping you organize your portfolio, it can provide you with data insights and track your projects via time tracking, request tracking, intelligent scheduling, project templates, issue tracking, and approvals, among several other features.
2. teamgantt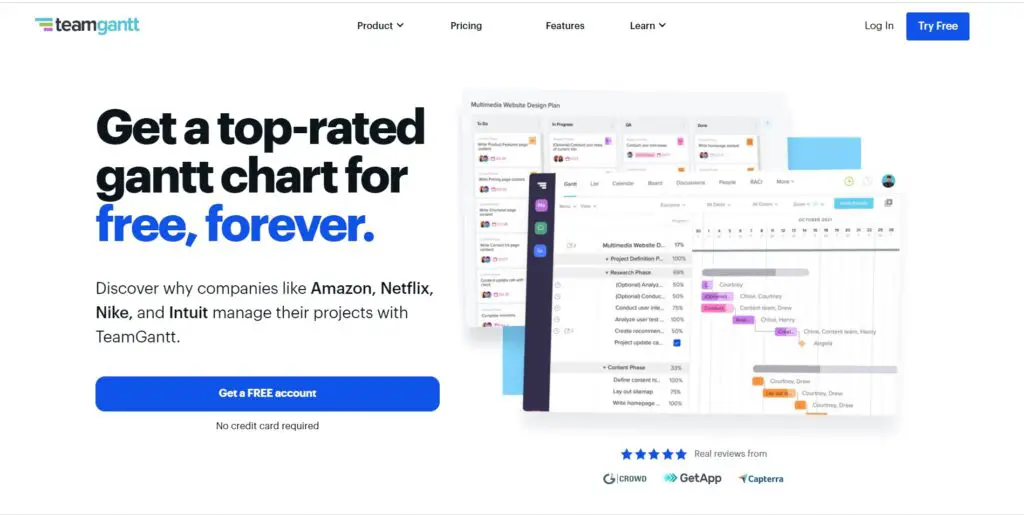 The TeamGantt software is an application that allows users to use Gantt charts to organize and manage projects. In addition to enabling fast drag-and-drop scheduling on charts, keeping teams updated, tracking time, and much more, it is used by many famous brands, including Nike, Netflix, and Amazon.
This software includes various essential features, including drag-and-drop functionality, team management, easy collaboration, organization, views, reports, time tracking, and many more.
3. Trello
Trello is a project management tool that enables users to collaborate and manage projects with their teams. 
It provides various features to make the business move forward successfully, such as boards, lists, and cards to organize tasks; automation to schedule assignments, surfacing deadlines, creating custom buttons, and so on; and integration with tools like Slack, Dropbox, Google Drive, Confluence, and Evernote. 
Trello is a versatile tool that can be used for various projects, from individual tasks to large-scale enterprise projects. Its easy-to-use interface and wide range of features make it an essential tool for any business.
5. Jira

The Jira software is another best project management software that agile teams can use to plan, track, release, and reliably report their projects or workflows.
This software provides Scrum boards, Kanban boards, roadmaps, agile reporting, automation, custom filters, rich APIs, and more. It integrates with software such as Zoom, Slack, Microsoft, and Google. It also provides features such as Agile reporting, agile planning, roadmaps, and agile reporting.
Related: Best Project Management Software For Small Business
Conclusion
Monday.com is a popular tool for project management because it offers a wide variety of features and is affordable for businesses of all sizes. While it does have some cons, such as the basic plan does not have some essential features, the pros far outweigh the cons.
If you are looking for a tool to help manage your projects, Monday.com is worth considering! Tell us in the comment below if you have used Monday.com before and what your experience was like.
Related: Best Team Collaboration Tools
FAQ
What kind of tool is Monday com?
Monday.com is a project management tool that allows for easy collaboration between team members. It includes various features such as to-do lists, calendars, and file sharing. It's great for keeping everyone on track and ensuring that tasks are completed on time.
Is Monday com a PPM tool?
No, Monday com is not a PPM tool. Monday com is a task management tool that helps individuals manage their tasks. It allows individuals to track and organize their tasks, set deadlines, collaborate with others, and receive reminder notifications.
Is Monday com owned by Microsoft?
No, Monday com is not owned by Microsoft. Monday com is a publicly held company headquartered in Tel Aviv, Israel.
Is Monday a good CRM system?
Monday is an excellent customer relationship management system for businesses looking for a comprehensive yet affordable solution. Monday offers everything from contact management to sales pipeline tracking and forecasting, making it the perfect choice for small businesses and startups.
What is Monday com good for?
Monday.com is a cloud-based tool designed to help businesses automate their workflows and manage their projects, tasks, and resources in one place, providing them with a single place to manage everything.
The Review
Project Management
Monday.com is the perfect project management tool for keeping things simple. With a user-friendly interface and plenty of features, it's easy to get started on your next project.
PROS
Attractive interface
Highly customizable
Supports integrations with other platforms
Includes templates
CONS
Confusing pricing and plans
Expensive if you have a large team
Lacks advanced task tracking
Review Breakdown
Ease of Use

Quality of Support

Ease of Setup