Disclaimer: We sometimes use affiliate links in our content. For more information, visit our Disclaimer Page. 
When it comes to online shopping carts, there are a few popular options. In this Samcart review, we'll take a look at what makes Samcart unique and how it can help you 3X your revenue. With its easy-to-use interface and powerful features, Samcart is a great choice for anyone looking to increase their online sales. So, let's take a closer look!
What is SamCart?
SamCart is an all-in-one shopping cart solution that helps businesses of all sizes streamline the checkout process and increase sales. It offers a range of features, including payment processing, shipping options, discount codes, and order management.
It also integrates with various payment processors and shipping providers, making it easy to get your store up and running quickly.
About SamCart
SamCart was founded in 2013 by Sean Fioritto and Brian Moran. The two entrepreneurs were looking for a solution that would make it easy for them to sell digital products, and they couldn't find anything that met their needs. So they decided to create their own shopping cart solution, and SamCart was born.
Since its inception, SamCart has been used by tens of thousands of businesses to process millions of transactions. And its popularity is only growing; the company is currently expanding its team and working on new features that will make it even easier for businesses to improve conversions and increase revenues to grow their businesses.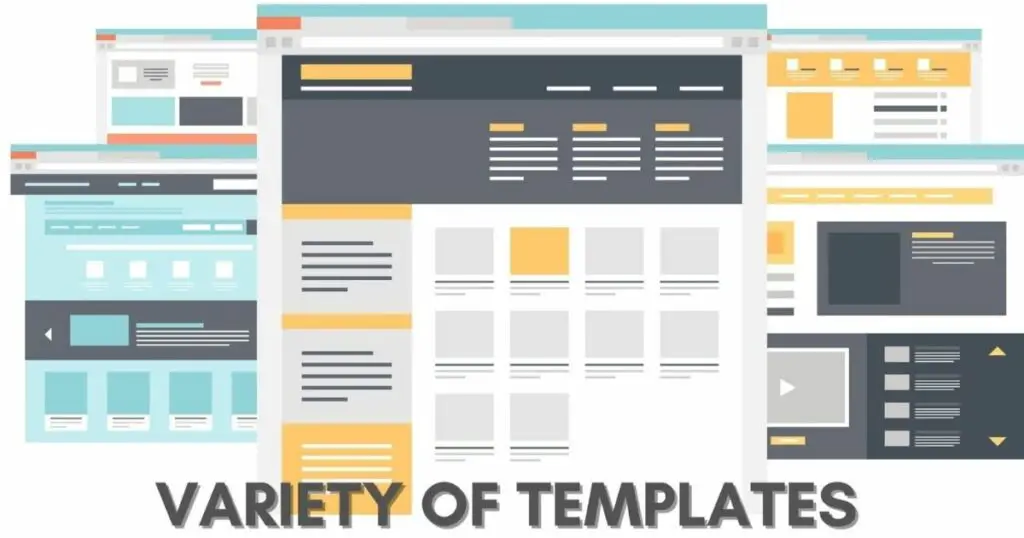 Who can benefit from Samcart?
Samcart is for anyone selling physical and digital products online. Whether you're a small business owner or a solopreneur, Samcart has the features you need to succeed. With Samcart, you can create beautiful checkout pages, manage your orders and customers, and even accept payments.
Moreover, Samcart integrates with all the leading email marketing platforms, so you can easily send your customers automated order confirmations, shipping notifications, and more.
Whether you plan to sell digital or physical products, Samcart is perfect for anything from T-shirts and coffee mugs to eBooks and online courses.
Pros for SamCart
User-friendly and easy to set up
SamCart is user-friendly and easy to set up. You can be up and running in minutes, and there are a variety of templates to choose from to get you started. You can also easily customize your shopping cart to match your brand.
Integrates with all the major marketing platforms
The SamCart all-in-one shopping cart software integrates seamlessly with IFTTT, Zapier, MailChimp, AWeber, Google Calendar, and more.
SamCart streamlines your online store experience by automating most of the tasks that are time-consuming for eCommerce merchants.
You'll find features like internationalization support for multiple currencies, automated inventory management, and customer tracking, to name a few, in this robust solution!
SamCart offers various features, including coupons, abandoned cart recovery, and product recommendations. It's been designed to make the checkout process as easy as possible for your customers, with a simple and intuitive interface.
Plus, there's no need to worry about security – SamCart is PCI compliant and uses state-of-the-art encryption technology to keep your data safe. In addition, it offers a 14-day free trial, so you can try it out before you buy.
SamCart is an excellent tool for businesses that want to start or grow their affiliate program. It has a built-in affiliate program that makes it easy to get started.
Affiliates can sign up and start promoting your products right away. In addition, several tracking and reporting features make it easy to see how your affiliate program is performing.
SamCart provides a variety of payment methods so that customers can choose the one that is most convenient for them.
These payment methods include PayPal, credit cards, and debit cards. This allows customers to pay for their purchases in the most comfortable way.
The SamCart app will help you keep a record of all purchases. You can also use it to generate detailed sales reports from those records.
It is an inexpensive way for small businesses to calculate their tax returns quickly and accurately and track what products are profitable for them or not.
Cons for SamCart
The pricing could be a bit more affordable, as small businesses might find it expensive compared to alternatives. There also needs to be more customizability like competitors such as Shopify offer.
Difficult to cancel an account
When you set up your SamCart account, you provide your contact and billing information. However, it can be a complex process if you need to cancel your account.
You can find instructions for canceling your account on the SamCart website. However, the process is not quick and easy, and you may need to contact customer service to cancel your account.
Unfortunately, SamCart does not currently provide a way to export data. This means that if you decide to leave SamCart or want to move your data to a different provider, you will need to copy all of this information over manually.
This can be a time-consuming process, so it's essential to consider this before choosing an eCommerce platform.
Top SamCart Features
One-Click Upsells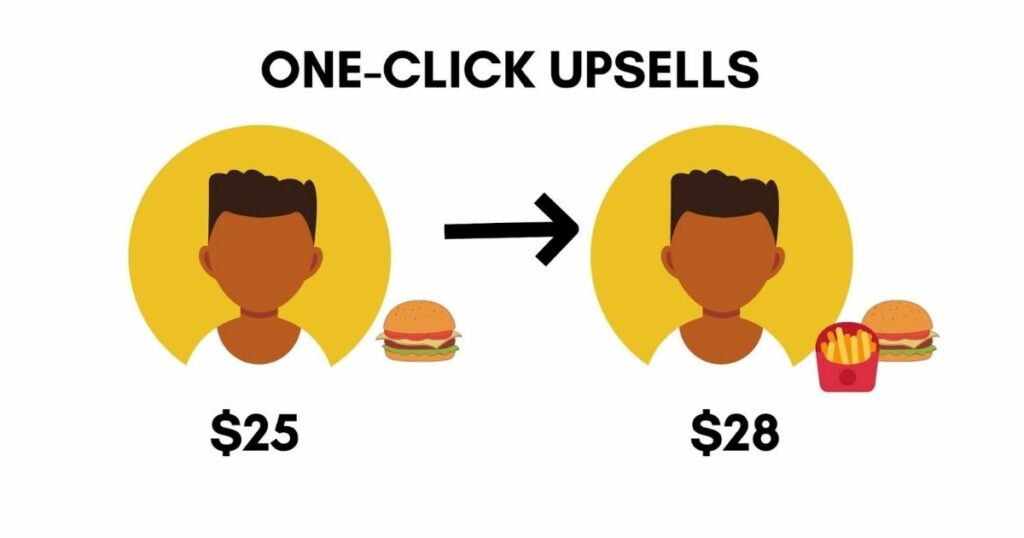 One-Click Upsells allow you to offer your customers the option to buy a related product or upgrade at the point of checkout.
This easy addition can increase your sales conversions by up to 20%, as it gives customers an easy way to get the products they want without having to leave your store.
SamCart's One-Click Upsells are simple and easy for customers to use, making them a powerful tool for increasing sales and improving customer satisfaction.
Bump Offers
With SamCart, you can create bump offers to increase your average order value and drive more sales. When a customer adds an item to their cart with a bump offer associated with it, they'll see an extra field asking them if they want to add the bonus product for a discounted price.
The bonus product will be automatically added to their cart if they do. Bump offers are a great way to increase your average order value without increasing your prices or annoying customers with pop-ups.
New Course Platform
SamCart's New Course Platform is an intuitive, easy-to-use system that makes launching a course quick and simple. The user interface has been designed to be responsive on any device so you can give advice or demonstrate skills from anywhere.
With SamCart, building an online curriculum is made simple with helpful tutorials and built-in functions like scheduling courses according to your content calendar.
Samcart Checkout pages
Creating a checkout page for your online store is essential for the sales process. Your checkout page should be easy to use and provide a smooth, seamless experience for your customers. SamCart is a tool that helps you create high-converting checkout pages for your business.
It provides a wide range of checkout templates and customization options so that you can create a store that matches your brand and meets your needs.
SamCart also offers built-in security features to keep your customers' data safe, as well as payment processing services so that you can start taking payments immediately.
With SamCart, you can create a professional checkout page quickly and easily without hiring a developer or design specialist.
One-Page Checkout
SamCart was designed and created to provide an online ordering solution for one-page checkout so you can start earning more money with an optimized online store.
Samcart affiliate center
Affiliate programs allow you to partner with other businesses and individuals, giving them a commission for each sale they generate through your affiliate link. This can be an effective way to increase sales and reach new customers.
SamCart makes setting up an affiliate program easy. You can create custom commission rates, track clicks and sales, and see how your affiliates perform.
Affiliates can also promote your products through social media, email campaigns, or their websites. For example, with SamCart's affiliate program, you can grow your online business by reaching more potential customers.
Custom subscriptions
Subscription Saver is a powerful feature of Samcart that allows businesses to offer discounts to customers who commit to a more extended subscription. This encourages customers to sign up for a longer-term subscription, providing stability and predictability for your business.
It also helps you lock in your customers, preventing them from switching to a competitor's service. In addition, Subscription Saver can increase customer loyalty and encourage word-of-mouth marketing.
A/B Testing
SamCart is a web-based app that makes it easy to create great-looking online carousels for any business. You can easily edit your slides, build captivating message sequences, and A/B test your designs with the click of a button.
SamCart also provides you with dashboard analytics to quickly see how each design performs according to metrics like sessions, conversions, revenue per visit, etc.
This way, you know which layouts provide optimum performance for your needs before running them on all slides or showing them live to customers.
Payment Methods
SamCart is a powerful, easy-to-use checkout solution that allows business owners to create and manage beautiful payment forms and checkout pages.
With SamCart, you can accept all major credit cards, including Visa, Mastercard, American Express, and Discover. You can also offer PayPal as a payment option. In addition to the built-in features, you can also add custom integrations with your email marketing service or shopping cart.
This allows you to keep all of your sales and marketing efforts in one place. In addition, SamCart integrates with dozens of popular services, including AWeber, Constant Contact, Infusionsoft, Shopify, and more.
SamCart also offers a variety of payment plans and methods. For example, you can choose to pay monthly, annually, or biannually.
SamCart also allows you to set up recurring payments and subscriptions. This makes it easy for your customers to regularly purchase your products and services.
Automated Coupons
Samcart is an eCommerce platform that lets you automate coupons on your site. You get the flexibility to create new coupon designs with pictures and descriptions, then use them for discounts on any of your products.
Samcart coupon codes can be shared across platforms like Facebook Advertising, Google Analytics, etc. In addition, coupons created in the system are dynamic, giving shoppers more savings when purchasing!
You can also limit how many active coupons are at one time to optimize your inventory accuracy.
For example, if it's December 25th and only 10 out of 50 coupons are active, you know where they went faster than anticipated, or occasion items sold better than planned. Depending on which product triggered the sale by being added to the cart, a different coupon code will automatically be generated.
Furthermore, you can also set up expiration dates for your coupons and configure when the codes become available or unavailable. So whether you want to run a Black Friday sale that lasts an entire week or wants a one-time promotion for Memorial Day weekend, Samcart has you covered!
User-friendly Seller Dashboard
SamCart is a user-friendly shopping cart that makes creating and managing your online transactions easy. With Seller Dashboard, you can keep track of all your sales in one place and quickly see how your campaigns are performing.
The intuitive interface makes adding new products easy, customizing your checkout process, and tracking payments. SamCart also integrates with a variety of payment processors so that you can accept payments from customers around the world.
Whether you're just starting or a seasoned pro, SamCart has the features you need to run your business. Try it for free today!
14-day free trial
SamCart is a fantastic eCommerce platform that provides everything you need to create and manage your online store. Not only does it have a 14-day free trial, but it's also packed with features like automated shipping, discount codes, and upsells and downsells.
Plus, SamCart is designed to increase your average order value (AOV) so that you can make more money from each sale. With SamCart, there's no need to compromise on quality or features – you can have both! Try it out for yourself today and see how much easier selling online can be.
Types of SamCart Integrations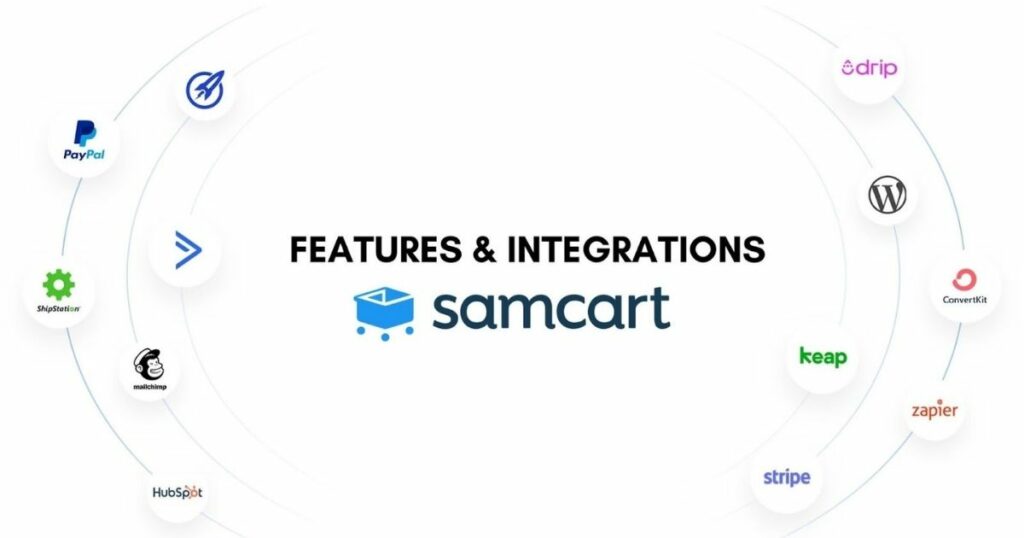 SamCart offers many different integrations to help you sell more products and services. These integrations include:
Google AdWords
Want to improve your conversion rate for your website? Samcart can help with the Google AdWords integration. You'll have access to a complete inventory of products and services from anywhere from all over the world, from the palm of your hand, with ads that are focused on what you're searching for just as soon as you type it in.
AdWords integration ensures that when someone actively seeks information about your products or services online, they won't have any trouble finding them because their queries will trigger prominently displayed ads by you on mobile screens.
It's a way for anyone who has an account with Google AdWords, even those with a low credit score, to bid on keywords related to subjects they know best so they don't miss out on any potential customers. Plus, with conversion tracking pixel installed on your website, you'll be able to see how well each ad is performing so you can continue to tweak and improve them for the best results.
Shopify
It helps you to connect your SamCart account with your Shopify account. This integration gives you access to Shopify's powerful eCommerce features, including order management, shipping, taxation, and more.
Samcart integrates with your Shopify store to provide you with all the important customer data for planning and executing highly targeted campaigns. If you are new to Samcart, this integration will allow you to transfer information like engagement levels, conversion rates, or purchasing tendencies into our suite of marketing tools.
Once there, it's simple enough to create a personalized lifecycle plan based on what has worked best for your customers in the past.
With more granular control over how different groups of shoppers behave while browsing on your site (by sending them offers tailored specifically to their needs), you can make sure that fewer potential leads escape without becoming paying customers.
If you are an experienced user of Samcart, this integration will give you even more power to fine-tune your marketing campaigns. The wealth of data available from Shopify will let you target customers with laser precision, sending them precisely the offer they need at precisely the right time.
You'll be able to see what products people are buying, how much they're spending, and even where they are in the world – all of which will help you create campaigns that are more relevant, timely, and profitable. In short, this integration is a treasure trove of information for anyone looking to improve their marketing results with Samcart.
WordPress
Samcart is the only software-as-a-service (SaaS) bundled with WordPress. It is an online shopping cart suitable for multi-vendor stores, allowing users to sell products on Facebook Marketplace or work as a storefront for subscription membership sites.
The addition of the Samcart plugin means that developers do not need to learn additional languages like PHP, SQL, etc., to create applications with JS frameworks.
The application extends its use by integrating analytics, so they do not need any complex tools for it.
Facebook
With this integration, you'll be able to create and manage ads out of the box in SamCart.
You will also be able to use this integration to run sales pages all from one place – your cart!
This makes it easy when building email lists, generating leads, and tracking conversion rates. Use the stats page within SamCart to see what advertising networks are working best for you and grow your revenue accordingly!
Clickbank
Samcart is a powerful shopping cart software that sells digital products through Clickbank. With this integration, you can add buy buttons to your site, manage orders, and more.
This integration allows you to tap into the massive Clickbank marketplace, where you can find thousands of digital products to sell.
PayPal
With PayPal integration, you can accept payments through PayPal – one of the most popular payment methods on the web. This makes it easy for customers to purchase your products and services online.
Plus, with PayPal's buyer protection policy, buyers are assured that their transactions are safe and secure.
Stripe
Samcart allows Stripe integration. SamCart integrates with one of the most popular payment processors globally, Stripe, which helps with processing payments faster and more securely.
Stripe has become a go-to eCommerce solution for many entrepreneurs who want to accept credit cards as a means of payment from their customers.
Processing charges through an aggregator service like Stripe means lower costs for business owners because card transactions are processed internally rather than directly going over a merchant account provider.
Logistics
SamCart connects merchants to fulfillment services to provide same-day delivery. Samcart is integrated with FedEx, USPS, and others for ground shipments and courier service.
The US Postal Service has daily routes in 92% of the country, so it's easier than ever to get your products delivered when you need them.
Creating a listing on SamCart takes just minutes, whether you're looking for an international courier or domestic carriers like UPS or USPS – ordering is simple with just three steps: specifying the weight of your parcel; selecting the desired service type (standard delivery vs. fixed time); then setting up general levels pricing details such as package size, weight and destination information at checkout survey.
Zoho and Mailchimp
You can integrate SamCart with both Zoho and Mailchimp, making it easy to keep your customer data updated and synced between all of your marketing platforms.
This integration allows you to create powerful automated marketing sequences that will help you convert more shoppers into buyers.
SamCart Alternatives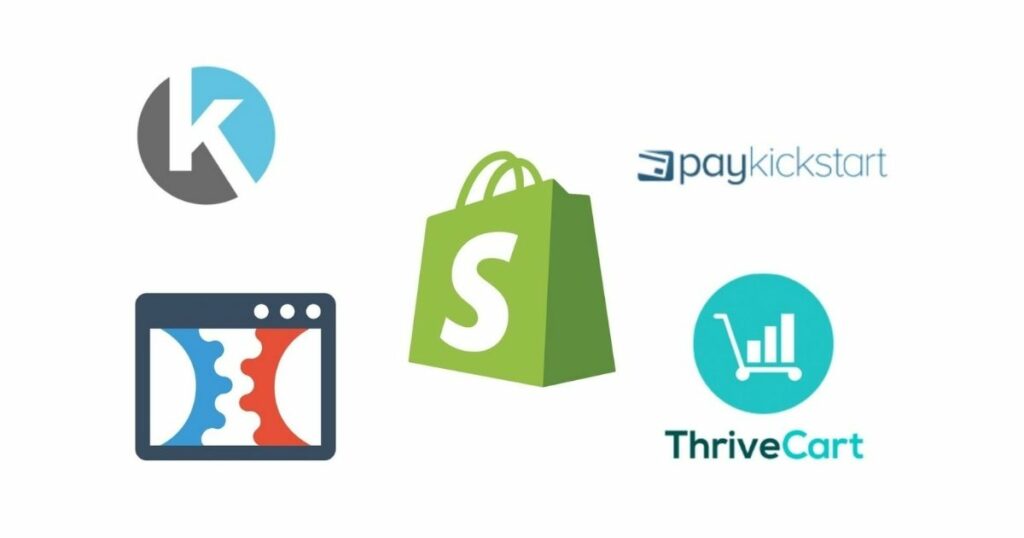 Shopify is a comprehensive eCommerce platform that enables businesses of all sizes to create and operate an online store.
Shopify offers users a wide range of features, including customizable templates, secure checkout, payment processing, shipping options, and more.
Additionally, Shopify offers a vast app store that provides users with add-ons and extensions for added functionality.
Shopify is an excellent alternative to Samcart for those looking for an eCommerce platform that has it all. With Shopify, business owners can create a professional and functional online store without worrying about the technical aspects of website development and management.
ThriveCart is like Samcart but better. In addition, ThriveCart has integrations with all your favorite apps, so you can get more done in less time.
All of the newest web technologies are powered by this cloud platform, including everything from marketing automation software to customer support offerings and beyond.
One membership plan gives you access to every app offered, making ThriveCart perfect for small or larger businesses looking for an easy-to-use solution that takes care of all their marketing needs without breaking the bank.
What sets them apart? Simple plans designed around your company's specific needs; no yearly contracts means you're never locked into anything; fully managed backups with automated restores ensure data security!
You'll love how professional it looks, too – with no coding required; you can quickly create a shopping cart that matches the look and feel of your website.
Clickfunnels is a comprehensive marketing platform that enables small businesses to create high-converting sales funnels membership sites and track their customer's behavior to optimize conversions and increase ROI.
It also includes various features for creating landing pages, opt-in forms, and other elements of a successful online marketing strategy.
Clickfunnels integrates with several other software solutions, including payment processors, email marketing providers, CRMs, and webinar platforms. This allows business owners to manage all aspects of their online marketing in one place.
PayKickStart is an all-in-one platform that makes it easy for business owners to create and track their sales funnels. It offers various features, including payment processing, shopping cart functionality, and autoresponder integration.
This makes it a great alternative to SamCart for businesses that want more flexibility and power in their sales funnel tools. PayKickStart also offers a lower cost than SamCart, making it affordable for small businesses.
SamCart cost & plans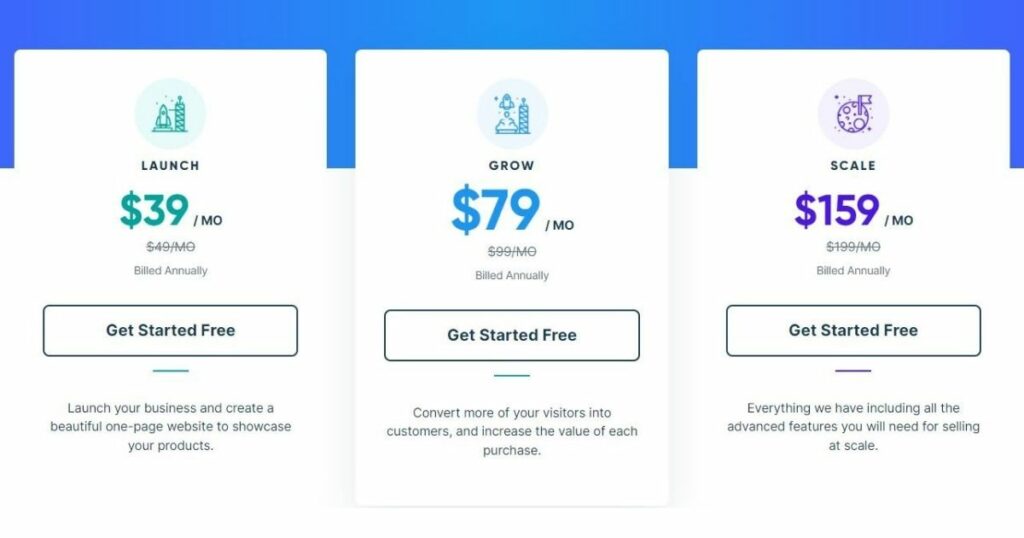 SamCart Launch Plan $49/month
The SamCart Launch Plan is an excellent option for businesses just starting. It offers all of the features of the regular SamCart plan but at a discounted price. This makes it a great way to get started with SamCart and see how it can help grow your business.
The Launch Plan includes all of the features you need to start processing payments and selling products online. It's a great way to get started quickly and easily.
SamCart Scale Plan $99/month
The SamCart Grow Plan is perfect for businesses seeing a lot of success and looking to scale their operations. With this plan, you'll get access to all the features of the Basic Plan, plus unlimited storage space, 500,000 monthly transactions, and dedicated account support. This plan is perfect for businesses ready to take their business to the next level.
SamCart Scale Plan $199/month
The SamCart Scale Plan is an excellent way for businesses to increase sales. It offers a lot of features that are helpful for companies, such as the ability to create custom discount codes, track customer purchases, and create order forms.
The Scale Plan also allows businesses to set up automatic billing, a great feature for companies that sell subscription services. Finally, the Grow Plan is a great value for businesses that want to increase their sales and grow.
Is Samcart legit?
There are a lot of online reviews of SamCart, and the consensus seems to be that it's a good platform with some great features. However, there are also some complaints about its customer service and support.
Overall, it seems like SamCart is a reputable platform with some minor issues. However, if you're considering using it, be sure to do your research and weigh the pros and cons before deciding.
Customer Support
SamCart provides a few different types of customer Product Support. The first type is email support. Customers can email SamCart support and receive a response within 24 hours.
The second type of support is phone support. Phone support is available Monday-Friday, 8 am-8 pm EST. The third type is chatting support. Chat support is available Monday-Friday, 8 am-8 pm EST.
The fourth type of support is a knowledge base. The knowledge base is a searchable article database that answers common questions about SamCart products.
SamCart also has a blog where customers can find tutorials, tips, and tricks for using SamCart products. The blog is updated regularly with new content.
Finally, SamCart offers online training courses that teach customers how to use SamCart products. The online training courses are available 24/7 and include video and text tutorials.
Is Samcart worth it?
Is SamCart worth it? That depends on your needs and what you're looking for in shopping cart software.
SamCart is a simple, effective cart that small business owners can sell products and services online. It's easy to use and helps you to keep track of your sales and customers.
With SamCart, you can accept payments via PayPal, credit cards, Apple pay, or even Bitcoin. So if you're looking for an easy way to sell online, SamCart is definitely worth a try!
The Review
SamCart is an all-in-one payment and shopping cart solution for businesses to streamline checkout and increase sales.
PROS
User-friendly and easy to set up
Integrates with all the major marketing platforms
Numerous features
Affiliate program
Payment methods
Detailed sales reports
CONS
A bit pricey
Difficult to cancel an account
Data can't be exported
Review Breakdown
Ease of Use

Customer Service

Ease of Setup