Innovation is key to the success of any small business. Without Innovation, businesses will stagnate and eventually die. That's why it's so crucial for small business owners to encourage Innovation in their companies.
In this article, we'll discuss the importance of innovation in small businesses and how you can encourage your employees to be more innovative.
What is Innovation?
Innovation can take many forms, including developing new products or services, improving existing ones, or entering new markets. It often requires taking risks and thinking outside the box.
What are different types of Innovation?
There are two main types of Innovation:
1. Sustaining Innovation
Innovation comes in many forms, but one type of Innovation that is often overlooked is sustaining Innovation. This type of Innovation focuses on improving existing products or services rather than developing new ones from scratch.
Sustaining Innovation can be as simple as making a small change to an existing product or something more significant, like adding a new feature to a service.
2. Disruptive Innovation
Disruptive Innovation is a term used to describe a new product or service significantly different from what's currently available. It often starts as small, niche products or services that eventually displace established ones.
The Benefits of Innovating Your Business
Innovation offers a range of benefits for your small business, including increased efficiency, improved customer satisfaction, and higher profits. By staying on top of changes in technology and customer preferences, you can ensure that your products or services remain competitive in an ever-changing market.
Additionally, innovation can help you uncover new opportunities for growth and progress. For example, suppose you can identify customer needs that aren't being met by current offerings in your industry. In that case, you could create a new product or service to meet those needs – ultimately helping your business grow.
Related: Benefits and Risks of Innovation
Why is Innovation Important for Small Businesses?

Innovation is the process of introducing something new and creative into a business. It is the ability to think outside the box or change the current systems to create something new, improved, and more efficient. For small businesses, innovation can be especially important because it allows them to stay ahead of their competition and remain competitive in their respective markets.
Let's explore why innovation is so important for small businesses.
✔️ Developing Your Unique Selling Point (USP)
Your USP is what makes your product or service unique from others on the market, and it's essential for standing out from competitors. No matter what industry you're in, there will always be competition that offers similar services or products to yours. That's why it's crucial to develop an innovative USP that can help you stand out from the crowd and attract more customers.
An effective USP should focus on how your product or service solves customer problems better than anyone else on the market. It should also highlight any features or benefits that make it unique compared to other offerings. Showcasing your USP through innovative marketing techniques like videos, infographics, or case studies can help further differentiate your product or service from others in the industry.
✔️ Innovation Drives Efficiency
Innovation isn't just about creating something new; it's also about improving existing processes and procedures within your business. By introducing innovative strategies into daily operations, you can streamline processes and create a more efficient workflow in every department – resulting in increased productivity and improved cost-effectiveness overall.
For example, implementing automation technology into everyday tasks like accounting or customer service can save time and money while still providing excellent results for customers – freeing up resources to focus on enhancing other key areas within your business like research & development or sales & marketing instead.
✔️ Enhanced Customer Experience
Innovation allows small businesses to create unique customer experiences, leading to greater loyalty and higher customer retention rates over time. For example, introducing automated chatbots into your customer service process could help you provide faster response times for customers who need assistance with a product or service quickly without having to wait on hold for support from a human agent.
Additionally, investing in new technologies like AI-driven analytics systems could help you get insight into customer behavior patterns quickly so that you can design marketing campaigns that are more effective than ever before at generating leads and conversions from potential customers visiting your website online.
These are just two examples of how innovation can positively impact customer experience, resulting in more satisfied customers who will likely return again and again due to the great experiences they receive when engaging with your brand online or offline!
✔️ New Markets & Opportunities
Innovation can also open up new opportunities for small businesses to enter different markets or develop products and services that weren't considered before. By introducing creative approaches to problem-solving, you can come up with ideas that create a much-needed solution in an industry – whether through developing a
new product or service, creating a new business model or leveraging existing technologies in unique ways.
By taking calculated risks and investing in innovation, you can unlock potential that wasn't previously considered – allowing you to expand into new markets and create new revenue streams for your business.
✔️ Increased Profitability
Ultimately, innovation can help small businesses become more profitable over time by introducing cost-effective solutions that drive efficiency and customer retention. By streamlining operations while still providing an excellent customer experience, you can lower costs while increasing revenue through enhanced sales & marketing strategies – leading to greater profits overall.
Innovation is never easy, but when done correctly, it can have profound effects on the long-term success of any small business. By investing in creative solutions that can open up new markets and opportunities, small businesses can have the edge over their competitors – creating sustainable growth and, ultimately, more profitability than ever.
Related: How Have Technological Innovations Helped Small Businesses
How to encourage Innovation in small businesses?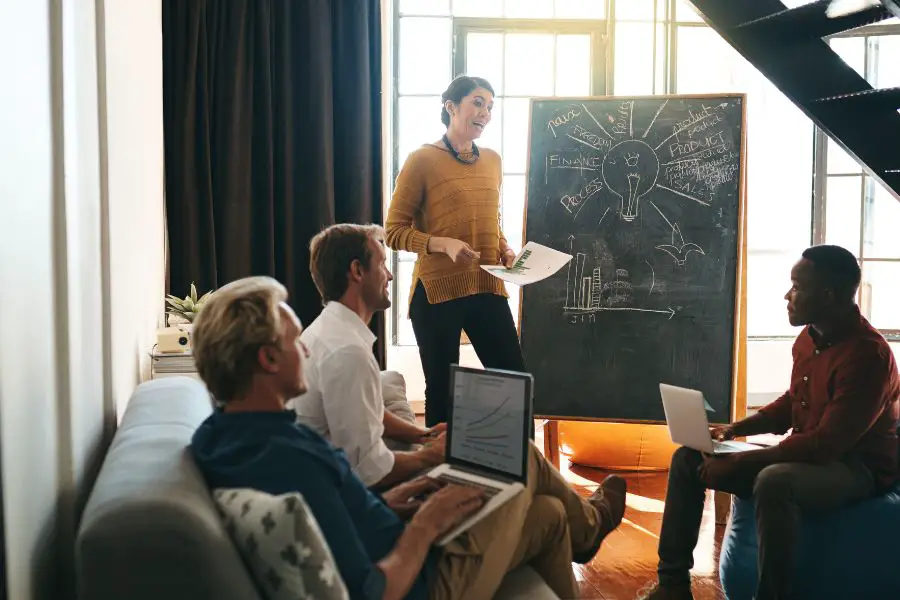 Many small business owners want their businesses to be more innovative but don't know where to start. If you're one of them, here are some tips on how to encourage Innovation in your business:
1. Create an environment that supports Innovation
To encourage innovation in your business, you need to create an environment that supports it. This means having a culture that values creativity and new ideas. It also means giving employees the freedom to experiment and take risks.
2. Encourage collaboration
Encouraging collaboration in the workplace is a great way to encourage innovation. When working together, employees can share ideas and come up with new solutions to problems. Additionally, collaborative work can help develop a sense of team spirit and improve employee communication.
3. Encourage employees to think outside the box
If you want your employees to be innovative, you must encourage them to think outside the box. This means encouraging them to challenge the status quo and develop new ideas.
4. Boost creative thinking
Creativity is the key to Innovation. If you want your own business to be more innovative, you need to encourage creativity in your employees. There are several ways to do this, such as offering creative problem-solving exercises, encouraging brainstorming, and providing opportunities for employees to work on creative projects.
5. Be open to new ideas
If you want your business to be more innovative, you need to be open to new ideas. This means listening to employees' suggestions and allowing them to implement their ideas.
Encouraging Innovation in your small business is essential if you want to be successful. By following these tips, you can create an environment that supports Innovation and encourages your employees to be more creative.
6. Embrace Failure
Finally, it's important for small business owners to embrace failure as part of the process when it comes to innovation. It's often said that success isn't final until you fail—so don't be afraid of failure! Embracing failure helps create a culture where taking risks is encouraged rather than punished, leading to innovative solutions being developed faster and more efficiently.
Related: Encourage Innovation
Conclusion
So there you have it – the importance of Innovation in small business and some tips on encouraging it. Innovation is essential for small businesses, as it allows them to create new products, enter new markets, and build a competitive advantage.
With these tips, you can surely generate successful Innovation and take your small business to new heights. We'd love to hear from you about how you encourage Innovation in your small business. Tell us in the comment section below!
FAQ
How do small businesses create Innovation?
Small businesses can create Innovation in several ways, such as by developing new products or services, improving existing ones, or entering new markets. It often requires taking risks and thinking outside the box. However, the rewards can be significant. Additionally, companies should be open to new ideas and allow employees to experiment with new idea-generation methods.
What are the benefits of Innovation to a business?
Innovation can allow businesses to create new products and services, enter new markets or lead in the existing market, and build competitive advantage. Additionally, it can help companies to improve existing products or services and increase efficiency. Ultimately, Innovation can help businesses to be more successful.
What are some challenges associated with Innovation?
One of the biggest challenges associated with Innovation is the risk involved. Innovation often requires businesses to take risks, sometimes leading to failure. Additionally, it can be challenging to encourage Innovation in companies, as it often requires thinking outside the box.
What are some excellent innovation ideas?
Some good innovation ideas include developing new products or services, improving existing ones, or entering new markets. Additionally, businesses can look for ways to increase efficiency or reduce costs.
What type of company has more Innovation, a small business or a large corporation?
There is no definitive answer to this question, as small businesses and large corporations can be innovative. However, small companies typically need to be more agile to compete, often requiring them to be more creative. Additionally, small businesses typically have fewer resources than large corporations, which can also encourage them to be more innovative.
What technologies do small businesses use?
There is no one-size-fits-all answer to this question, as small businesses can use various digital tools. Small companies use standard technologies such as customer relationship management (CRM), enterprise resource planning (ERP), and project management software.
How much should a small business budget for Innovation?
Businesses need to budget for Innovation based on their specific needs and goals. However, companies should expect to invest both time and money into Innovation.