Disclaimer: We sometimes use affiliate links in our content. For more information, visit our Disclaimer Page. 
In today's fast-paced world, innovation is more than a buzzword; it's a business imperative. Companies unable to innovate risk obsolescence or losing out to more nimble competitors.
So, why the fuss about innovation? Simply put, it's your ladder to climbing ahead of competitors and meeting evolving customer needs.
However, innovation doesn't always mean groundbreaking technologies or disruptive business models. Incremental innovation, the focus of this article, involves subtle, iterative changes to existing products or services. Unlike its radical and disruptive cousins, incremental innovation aims for steady, manageable growth with less risk.
Who needs to pay attention to this type of innovation? Virtually everyone, from startup founders to CEOs of legacy companies, especially product managers responsible for ongoing product improvements.
In the sections that follow, we will unpack the nuances and importance of incremental innovation. We aim to provide actionable insights for businesses looking to make small yet meaningful improvements to their existing offerings.
Key Takeaways
Incremental Innovation is Crucial: In today's competitive landscape, incremental innovation serves as a practical, risk-averse strategy for continuous improvement in products, services, or processes.
Role of Product Managers: Product managers are the linchpins in steering incremental innovation, serving as a bridge between customer needs and company capabilities.
Real-world Examples Abound: From Apple's continuous iPhone improvements to Toyota's Kaizen method in manufacturing, real-world examples illustrate the effectiveness of incremental innovation.
Implementation Strategies: Successful implementation involves a well-defined process, including an audit of current offerings, stakeholder involvement, and the adoption of best practices.
Business Growth: Incremental innovation is not just about small changes; it's about driving sustainable business growth by continually meeting and exceeding customer expectations.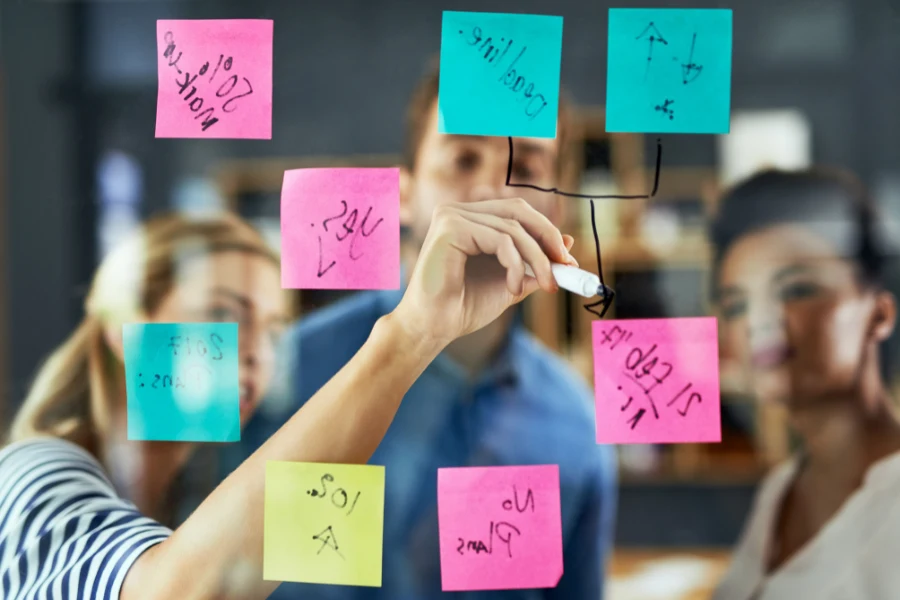 The Landscape of Innovation
Navigating the multifaceted world of innovation can be daunting, but understanding its landscape is crucial for any business aiming for long-term success. Let's start by demystifying what innovation really means and then delve into its various types, emphasizing the often underappreciated yet incredibly potent strategy of incremental innovation.
What is Innovation?
Innovation is the driving force behind any successful business in today's ever-changing market landscape. It encompasses the creation and application of new ideas, methods, or products that result in meaningful improvements.
Why is innovation indispensable in modern business? It's the key to outperforming competitors, satisfying customer needs, and capturing new opportunities, thereby ensuring your business's long-term health.
Diving deeper, it's crucial to recognize that innovation comes in different flavors: incremental, radical, and disruptive. Incremental focuses on enhancing what already exists, radical aims for industry-changing shifts, and disruptive creates new markets altogether. Each serves a unique role and carries its own set of risks and rewards.
Incremental Innovation vs Radical Innovation
While disruptive and radical innovations often grab the spotlight, incremental innovation tends to be more achievable and sustainable for the majority of businesses.
Why does incremental innovation often make more sense? It involves more manageable, smaller changes that can be more easily funded, making it a practical choice for companies that can't afford a major overhaul. These small changes often yield immediate advantages, such as enhanced features or a better user experience, leading to quick gains in market share.
To illustrate the contrast, consider the automotive industry. Tesla's introduction of electric cars was a radical innovation that shifted the industry's focus toward sustainability. On the other hand, traditional automakers like Ford have employed incremental innovation by gradually introducing features like adaptive cruise control, lane-keeping systems, and improved fuel efficiency to maintain their market position.
Each type of innovation has its merits, but they serve different purposes and offer varying levels of risk and reward.
Benefits of Incremental Innovation
Incremental innovation may not be as glamorous as its radical and disruptive counterparts, but its benefits are nothing to scoff at. One of the most significant advantages is cost-effectiveness. Making small, incremental improvements to existing products or services often requires less investment compared to launching an entirely new product. This lower financial risk makes incremental innovation a more attractive strategy for many businesses, especially those operating in highly competitive markets.
Another benefit is the potential for enhanced customer satisfaction and loyalty. When you make incremental improvements to existing products or services, you're directly addressing customer pain points or adding new features that enhance the user experience. Over time, these small changes can lead to big gains in customer loyalty and retention.
In summary, incremental innovation offers a practical, cost-effective approach for businesses looking to improve existing offerings and stay competitive in the marketplace. Through real-world examples and actionable insights, we aim to demonstrate that incremental innovation is not just a 'nice-to-have,' but a 'must-have' in your business toolkit.
Examples of Incremental Innovation
Before we dive into the actionable steps and best practices for implementing incremental innovation, it's valuable to explore some concrete examples that illuminate its effectiveness. These instances cut across various industries and product lines, demonstrating the universal applicability of this approach.
Product Changes
Recall your last smartphone upgrade. The new model likely featured incremental improvements like enhanced camera capabilities or a speedier processor, rather than being a complete overhaul.
How has Apple refined the iPhone over time? Through incremental innovations that focus on efficiency, user-friendliness, and quality.
The objective of these incremental changes is simple: improve product quality and features to boost customer satisfaction and loyalty.
Process Improvements
Incremental innovation extends beyond consumer products; it's prevalent in manufacturing and service sectors too.
Consider Toyota's Kaizen approach. This philosophy emphasizes "continuous improvement" and invites employees at all tiers to suggest small, manageable changes.
Over time, these incremental adjustments yield considerable benefits like cost reduction and operational efficiency. The Kaizen method has gained global adoption, showcasing the potency of incremental innovation in action.
Incremental Innovation in Action
Examine Google's handling of its search algorithms from another perspective. Google rarely introduces drastic alterations but focuses on continuous, minor tweaks.
What can we infer from this? Such incremental enhancements cumulatively transform a good search engine into an excellent one.
In essence, the strategy of making small yet effective changes to an existing product or service can position you as an industry leader over time.
Through these real-world examples, it becomes clear that incremental innovation is not just a theoretical concept but a practical strategy that has been successfully employed by industry leaders. Whether you're looking to enhance product features or streamline business processes, incremental innovation offers a viable and proven pathway.
The Role of Product Managers in Incremental Innovation
Product managers often serve as the linchpin in any organization's innovation strategy. They bridge the gap between various departments, from design and development to marketing and sales, ensuring that a product not only comes to life but thrives in the market.
Why is the role of a product manager so crucial in guiding incremental innovation? Product managers are uniquely positioned to understand both the customer's needs and the company's capabilities. They can identify gaps in the existing product and advocate for incremental changes that will fill those gaps without requiring a complete overhaul.
To get a sense of how integral this role is, consider companies like Amazon and Netflix. At Amazon, product managers are continually analyzing customer data to make small improvements to the user experience, whether it's one-click ordering or personalized recommendations. At Netflix, product managers play a key role in everything from tweaking the recommendation algorithms to optimizing streaming quality, all in the name of incremental innovation.
The examples are clear: product managers are instrumental in driving incremental changes that collectively have a significant impact on the product's success and, by extension, the company's bottom line. They are the unsung heroes who work behind the scenes to make sure that a product is always evolving, always improving, and always meeting the needs of the customer.
Implementing Incremental Innovation
Transitioning from the "why" to the "how," let's delve into the nuts and bolts of implementing incremental innovation in your business. From initiating the process to overcoming roadblocks, this section is your roadmap to actionable change.
The Innovation Process
Implementing incremental innovation starts with a well-defined process. This involves identifying areas for improvement, allocating resources, and setting clear goals.
How do you initiate and maintain the innovation process, especially for existing business models? The first step is to conduct an audit of your current offerings and operations. Identify the gaps or areas that could benefit from improvement. Then, involve key stakeholders in setting objectives and planning how to achieve them.
To ensure that the innovation process is both effective and sustainable, adopt best practices. This could mean instituting regular review meetings, leveraging customer feedback, or using specific methodologies like Agile or Lean to manage the innovation cycle.
Practical Tips for Implementing Incremental Innovation
Once you've got the process in place, the next step is execution. Best practices and methodologies are your friends here, and they often include listening to customer feedback and setting clear, measurable goals.
What stumbling blocks might you come across, and how can you overcome them? Resistance to change is a common obstacle. To counter this, communicate the benefits of the proposed changes clearly and involve team members in the innovation process to foster buy-in.
The ultimate aim of incremental innovation is to drive business growth. By making regular, small improvements to existing products, services, or processes, you not only meet customer needs more effectively but also increase your competitive advantage.
In a nutshell, implementing incremental innovation is a continuous cycle of planning, executing, reviewing, and refining. With a strategic approach and a focus on best practices, any business can harness the power of incremental innovation to achieve meaningful, sustainable growth.
Conclusion
Incremental innovation isn't just a business strategy; it's a necessity for survival in today's competitive landscape.
Why should businesses prioritize incremental over radical innovation? Radical or disruptive innovations may offer bigger headlines, but they also come with higher risks and costs. Incremental innovation, on the other hand, allows for calculated, manageable improvements that offer quicker returns and less financial risk.
As we've seen through real-world examples and practical insights, the power of incremental innovation lies in its simplicity and efficacy. So, here's our final call to action: don't wait for a groundbreaking idea to disrupt your industry. Start implementing incremental changes now to improve your existing products, services, or processes. By doing so, you'll be better positioned to meet customer needs, adapt to market changes, and ultimately, drive sustainable business growth.
FAQs
What is incremental innovation?
Incremental innovation is a series of small improvements or upgrades made to a company's existing products, services, processes, or methods. It aims to enhance development efficiency, productivity, and competitive differentiation.
What is an example of incremental innovation?
An example of incremental innovation can be seen in smartphones, where each new model typically includes minor improvements such as a better camera, faster processor, or longer battery life.
Is Coca Cola an example of incremental innovation?
Yes, Coca-Cola is known for incremental innovation. While the core product formula remains the same, the company constantly updates its bottle design for aesthetic and sustainability purposes.
What are some examples of incremental change?
Examples of incremental change include improvements in customer service within a company or minor changes within a software program as part of a broader process.
Why is incremental innovation good?
Incremental innovation is beneficial because it lowers risk, requires less time and money compared to developing entirely new products, and makes it easier to manage sunk costs if an upgrade doesn't succeed.