Disclaimer: We sometimes use affiliate links in our content. For more information, visit our Disclaimer Page. 
There are a lot of different task management apps on the market these days. So, how do you decide which one is right for you? In this Shift review, we'll look at some of Shift the top alternatives and integrations to help you make your decision. So, whether you're looking for an app that's more tailored to your specific needs or one that integrates with other productivity tools, we've got you covered. 
Let's get started!
What is Shift?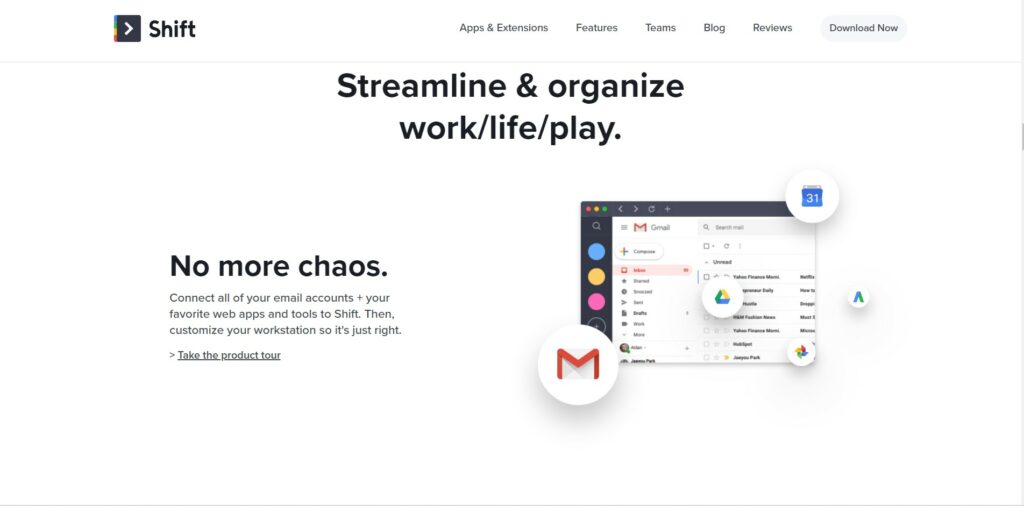 Shift is a productivity app for streamlining your accounts, software, and workflows. It helps you get more done in less time by bringing all of your important information into one place.
With Shift, you can easily access your contacts, files, and calendar from one central location. You can also connect to your favorite cloud storage services and easily manage your workflows. Shift is the perfect tool for busy professionals who need to stay organized and efficient.
How to use Shift?
Creating an account
Create a new account or sign in with your existing Google or Facebook account to get started. Once you're logged in, you'll be taken to the dashboard, where you can create new tasks, projects, and teams.
Creating a task
Click the New Task button and enter the required information to create a new task. You can add notes, due dates, tags, and other details to help you stay organized. When you're finished, click Save & Close.
Viewing your tasks list
To view your tasks list, click the Tasks tab at the top of the page. Here you can filter your tasks by status, project, tag, or due date. You can also export your tasks to a CSV file for offline use.
Creating a new project
Click the Projects tab to create a new project and enter the required information. For example, you can add notes, members, and multiple business accounts.
Related: Trello Vs Asana
Shift Features
Email Management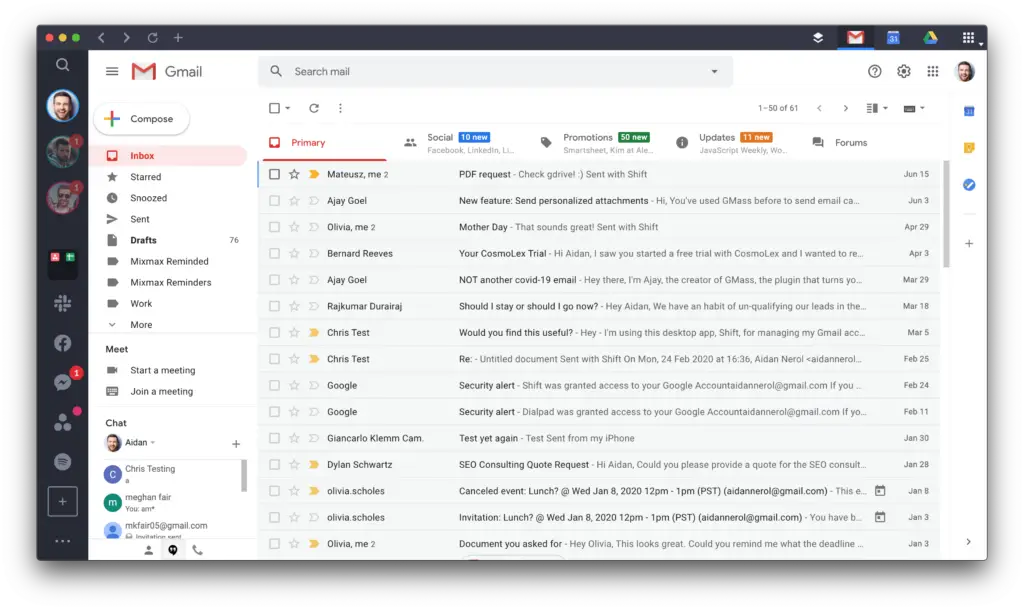 Shift email management allows you to manage multiple email accounts and easily organize them. This means that you can see all your sent, received, and archived messages in one location. You can set up filters to automatically sort your email into different folders, and you can also search for specific emails using the search bar. It also allows you to create email templates to use when sending out mass emails, and you can track open rates.
Email Management makes it easy to keep track of what's important to you and helps you to declutter your inbox. It allows you to manage multiple Gmail and social media accounts. These features work together to make your life easier and help you be more productive.
Workflow Management
Workflow management is the process of creating and managing workflows in a business. It allows companies to automate tasks and standardize procedures. This can help to improve efficiency and productivity, as well as reduce the need for manual input. In addition, workflow management software can make it easy to create, manage, and monitor workflows, saving time and money.
Several different features can be included in workflow management software. Some of the most common include:
Task automation: Automate tasks, such as sending emails or creating files. This can help to save time and improve efficiency.
Conditional logic: Create rules that determine what actions to take based on the results of previous steps. This can assist in increasing workflow efficiency.
Notifications: Receive notifications when particular events occur in a workflow so you can stay informed about the status of your projects.
Reports: Generate reports on the performance of your workflows to identify areas for improvement.
Workflow management software can be a valuable tool for businesses of all sizes. It can help to improve efficiency and productivity, as well as save time and money. When choosing workflow management software, it is crucial to consider the needs of your business and the features that are most important to you.
Productivity
Shift offers a variety of features, including task management, goal setting, schedule customization, and more. By providing users with an easily customizable platform and a wide range of features, Shift helps them take control of their productivity and get more done in less time.
Task management is one of the most important features of Shift. The app allows users to create and manage their tasks in various ways, including through the use of lists, kanban boards, and calendar views.
Users can also set deadlines and reminders for themselves and keep track of their progress over time. With this feature, users can ensure that they are always aware of what tasks need to be done and when they are due. Another important feature of Shift is its goal-setting capabilities. The shift app allows users to set goals for themselves in various areas, including health, productivity, finance, and more.
Users can track their progress towards these goals over time and receive helpful tips and advice to reach their goals. This feature can be beneficial for users looking to make a change in their personal lives or achieve a specific purpose. Finally, one of the best things about Shift is that it is entirely customizable. The app allows users to choose the layout that works best for them and the features that they want to use!
Pricing Plans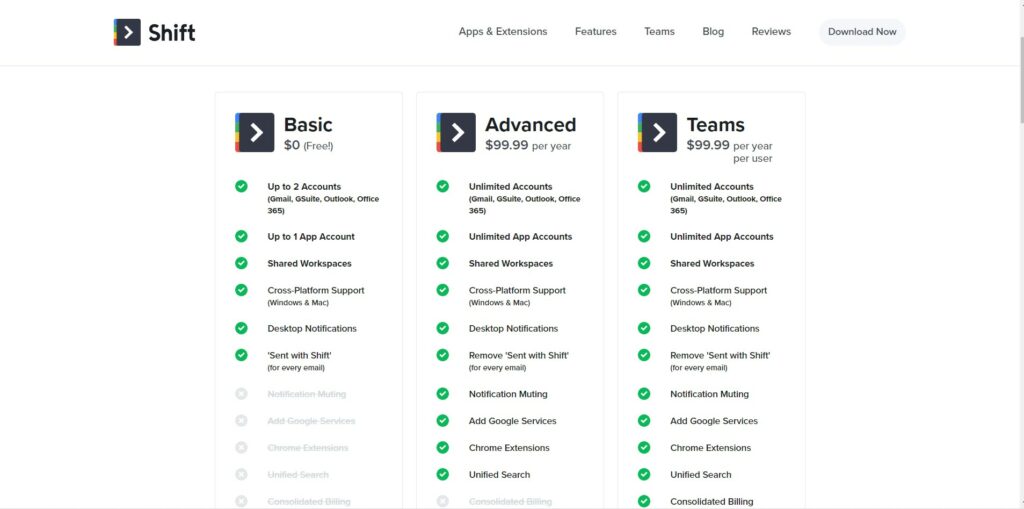 Basic Plan – Free
The Shift Basic Plan is an excellent option for small businesses & freelancers that want to get started with project management. It includes all of the features you need to manage your projects & tasks, plus limited storage for files & comments.
Key features:
Desktop Notifications: Stay organized and connected with desktop notifications. You'll never miss an important deadline or message again.
Shared Workspaces: Collaborate with colleagues in real-time by sharing workspaces. You'll be able to work on projects together and avoid overlap.
Cross-Platform Support: Use Shift on any device, including your computer, phone, or tablet. You've never locked into one platform again.
You can also use the Basic Plan to create custom reports to help you make decisions about your marketing strategy. This plan offers Up to 2 Accounts (and two desktop app accounts) for free!
Advanced plan – $99.99/year
The Advanced plan is perfect for businesses looking to expand and need efficient project management. It includes all of the features of the Basic plan, plus:
Notification Muting: You can now mute notifications for specific projects, so you only see the most important ones to you.
Additional Google Apps: You can now add your Google Calendar, Drive, and Gmail accounts to Shift, so all your important information is in one place.
Chrome Extensions: There are now Shift extensions for Chrome, so you don't have to leave your browser to get work done.
Unified Search: You can now search for anything in Shift to find what you need quickly and easily. The Unified search works like google searches, and you can search for any folder or information in the integrated apps!
Moreover, the Advanced plan offers unlimited storage and team members, so you can grow your business without worrying about running out of space or having to add more people to your account.
Team plan – $99.99/user
Team Plans allow you to create a team site by inviting your colleagues and adding employees. The main difference between the Team Plan and the Advanced plan is that all teammates have their personal accounts for access but can edit and publish pages together.
This allows them to share information more efficiently without any of the difficulty of divisional members in traditional teams. The Team Management Dashboard also enables the team captain to see all of the activity going on in one place and manage tasks & workflows.
Moreover, the Consolidated Billing feature makes it easy to keep track of your spending and get a breakdown of your subscription charges, add-ons, and usage limits!
Related: ClickUp vs Asana
Integrations
Shift is an incredibly powerful tool, allowing you to manage your workflows and keep all your accounts in one place. With Shift, you can track your time by project, client, or type of work, making invoicing and billing easy. But what really makes Shift stand out is its integrations with some of the most popular tools (office suite presentation tools, etc.) used by business owners and entrepreneurs. Shift integrates with:
Trello
Google Services (Gmail, GSuit, Docs, etc.)
Facebook Messenger, Whatsapp, Instagram, Discord
Paypal
Skype
Asana
Evernote
iCalendar
With Shift, you can easily access your most important accounts and workflows from a single desktop app. This makes it easy to stay organized and productive. Additionally, Shift now supports more than just Stripe and PayPal. You can also connect to your bank account and other financial institutions directly through Shift to manage all of your finances.
Drawbacks
The support team isn't responsive
The support team at Shift is unfortunately not as responsive as one would hope. It sometimes takes days for a response to come through, which can be frustrating when trying to get help with a problem. Additionally, the team doesn't always seem to be very knowledgeable about the product, making getting help even more difficult.
Shift Alternatives
Flowlu
Flowlu is a comprehensive suite of tools for managing your business operations. It includes a CRM, project management, invoicing, and time tracking features. Flowlu helps you streamline your workflow and keep your business organized. Flowlu also integrates with other popular tools such as Asana, Trello, GitHub, and Bitbucket.
Some of the key features of Flowlu include:
Task management: Easily create and manage tasks, subtasks, checklists, and set due dates and reminders.
File sharing: Upload files and share them with others, or download files they've shared with you.
Time tracking: Track time spent on tasks and projects and generate invoices based on that.
Gantt charts: View your project's progress at a glance with Gantt charts.
Flowlu offers a free trial, so you can try it before committing to a subscription. The software is available in monthly or annual subscription plans. Flowlu also gives discounts to nonprofit organizations and students. It offers three paid plans starting at $29/month and features like unlimited users, storage, and tasks.
Thunderbird
Thunderbird is a free, open-source email client that offers many features and customization options. For example, it has a robust spam filter multiple account support and integrates with various add-ons. You can also use it to manage your calendar and contacts. In addition, it offers a user-friendly interface and is easy to set up and use. With Thunderbird, you can take control of your inbox and get your email organized.
It's feature-rich and customizable, making it a good fit for power users. It's also available on multiple platforms regardless of your operating system. Add-ons such as calendar and contact management make Thunderbird even more versatile. In addition, Thunderbird allows you to customize your email experience with various themes and extensions, including support for Gmail accounts.
Mailbird
Mailbird is a desktop email client for Windows that offers a variety of features to make your email experience more efficient and productive. In addition to basic email functionality, Mailbird includes support for multiple accounts, search, keyboard shortcuts, and more.
One of the unique features of Mailbird is its ability to integrate with a variety of third-party services and apps, including Dropbox, Google workspace, WhatsApp, Facebook, and more. This makes it easy to keep all the apps in one place and easily accessible. In addition, it features a clean and modern interface that is easy to use and customizable to fit your needs. Moreover, Mailbird is free to use for up to three accounts. However, it is priced at $49.50 for a single-user license and $2.27/month when billed annually.
Related: Top 13 Project Management Software
Closing Thoughts
Overall, Shift is an excellent tool for managing all your email accounts in one place. With multiple features and integrations, you can keep all of your important information organized and easily accessible.
You can bring all your favorite apps to one place and manage them from its feature-rich dashboard! Furthermore, It has a free version that allows you to try all the features before investing in the paid plans.
However, Shift can be a bit laggy at times, and the interface doesn't provide a very smooth and user-friendly experience. In addition, glitches and errors usually occur when using the chrome extension, and it requires you to login again and sometimes even re-install it!