Disclaimer: We sometimes use affiliate links in our content. For more information, visit our Disclaimer Page. 
If you're a small business, you know that every penny counts. That's why finding the best voice for your small business is essential.
This article will discuss 8 of the best VoIP providers for small businesses. We'll also cover the benefits of using VoIP and how to choose the best VoIP system for your business. So whether you're just starting or looking for an upgrade, read on for the best VoIP options!
What is VoIP, and how does it work?
First, let's review what VoIP is. VoIP stands for Voice over Internet Protocol, a technology that allows voice communications over internet connections rather than over traditional telephone lines. 
In many ways, VoIP works the same way as a conventional phone system. However, it is usually much more affordable and more accessible to scale than the alternative. Moreover, VoIP technology offers a variety of advantages that traditional phone systems do not.
You can make or receive calls from virtually any device anywhere, as long as you have an internet connection and a link to the Internet. In addition to your smartphone, tablet, computer, or even dedicated VoIP hardware, you can always keep in touch.
8 Best VoIP for small business
We have compiled a list of some of the best VoIP business phone systems you will need for your organization.
1. Ooma Office: Best VoIP Service for Solopreneurs
Ooma is the best VoIP service for home offices because it has many features, and you do not have to worry about upgrading to expensive plans.
Therefore, we recommend it as one of the best VoIP services for home offices. If you cannot spend much money on a VoIP system, this is a good option for external connections and security. Despite this, it is still an excellent alternative if you can invest little money in one.
It is important to note that Ooma is very easy-to-use, and you can get dedicated desk phones from Ooma that work right out of the box. These desk phones can be set up in less than fifteen minutes. A small business phone system from Ooma lets you communicate with your team members, work together, and collaborate efficiently.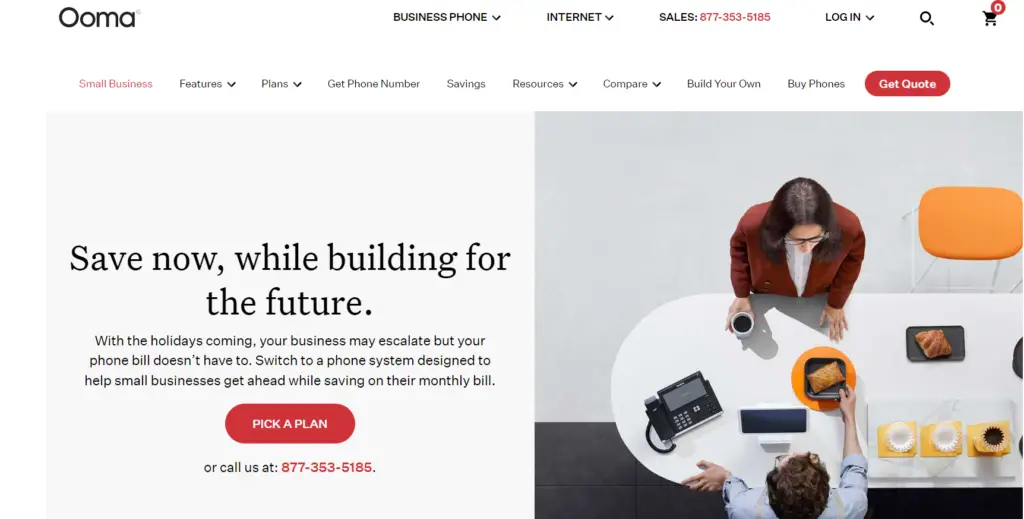 Key Features:
Overhead paging lets you integrate your third-party paging system with your telephone setup. An adapter will help you connect your paging system with Ooma Office.
Simultaneous ring: When a call comes in, all devices connected to the extension will ring, whether it's your IP, mobile phone, or even your Ooma Office app.
Virtual receptionist: With a professional call handling system, you can answer common questions about your company and direct incoming calls to the appropriate extension. 
End User Portal: Users can manage their extension preferences through the End User Portal.
Private voicemail: Every user extension can have a personalized greeting.
Personal Directory: Contacts added to your Directory can be searched and interacted with through the End User Portal.
Pricing:

Three plans are available with this system. Essentials: $19.95 per user includes unlimited domestic calling, virtual receptionist, online fax, text messaging, mobile app, one toll-free number, and music-on-hold.
The Pro package is $24.95 per user for a desktop application, 25-person video meetings, call recording, Google and Office 365 integrations, call analytics, voicemail transcriptions, and a 25-person video conference for up to four hours. You will be charged $29.95 per user for call queueing, hotdesking, 100-person video conferencing for up to 12 hours, and Salesforce integration.
The entry-level plan includes a free toll-free number and 500 minutes of inbound calling.

Rates for international calls that are budget-friendly.

A base plan includes basic dialing features like 7-digit dialing, ring groups, and call flipping.

Affordable plans with no contracts or hidden fees.

Easy to install and use with an intuitive interface.

Excellent customer service and technical support.
The basic plan does not support video meetings.

Only three integrations are available: Google, Office 365, and Salesforce.
2. RingCentral: Best Overall Small Business VoIP Service
A cloud-based business phone system, RingCentral is known for its feature-rich functionality and reliability. It offers a range of advanced features, including virtual meetings, an auto-receptionist, SMS and MMS, business faxing, and advanced call routing.
A company can benefit from RingCentral's virtual meetings feature. This way, employees can hold and participate in meetings with audio and video capabilities without purchasing expensive in-person or complex video conferencing equipment. In addition to saving time and money, remote employees will have an easier time participating in meetings.
Using RingCentral also provides the added benefit of the automatic receptionist feature, which automatically answers and routes incoming calls to the appropriate department or person.
As a result, implementing this technology can significantly improve a company's communication processes, ensuring that all calls are handled promptly and professionally and that a company's communication processes always work efficiently and effectively.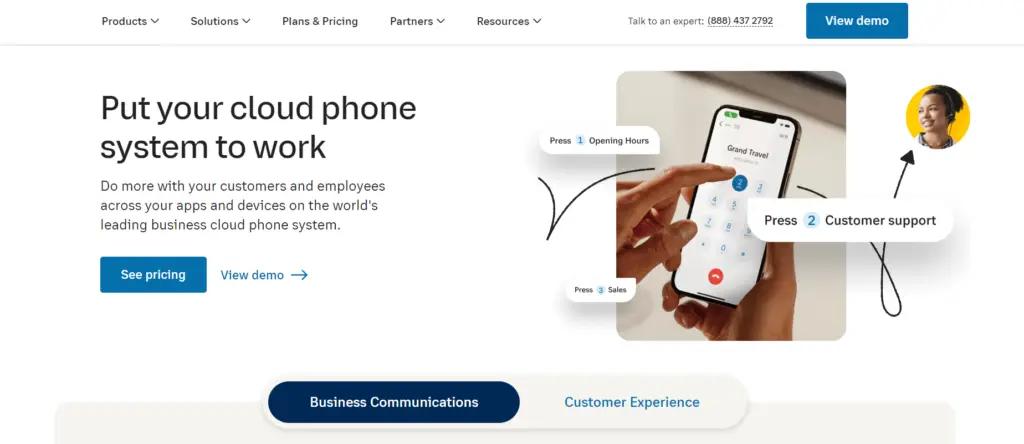 Key Features:
RingCentral's visual interactive voice response (IVR) editor lets account admins configure an account's multilevel IVR with an easy-to-use graphical interface.
Analytics portal: Get real-time insight into RingCentral adoption, usage, and service quality. Several call metrics are supported by it, including the number of rejected calls, the average speed of answering, and the number of missed voicemail calls.
Multisite management: Allows you to manage users, devices, and phone numbers across all your sites directly from the admin portal, reducing the need for external management tools.
Multilevel IVR: This tool allows you to create flexible IVR menus for handling inbound calls and assign IVR menus to extensions in minutes with its intuitive visual IVR editor.
Virtual meetings: Allows users to host and participate in virtual discussions with audio and video capabilities.
Auto-receptionist: Auto-receptionist feature automatically answers incoming calls and routes them to the appropriate person or department.
Virtual fax: Users can send and receive faxes digitally without needing a physical fax machine.
Business SMS and MMS: Allows users to send and receive text and multimedia messages as part of their business communications.
Call routing: Offers advanced call routing options, including setting up call queues and customizing call routing rules. This allows businesses to ensure that calls are always handled efficiently and effectively.
Pricing: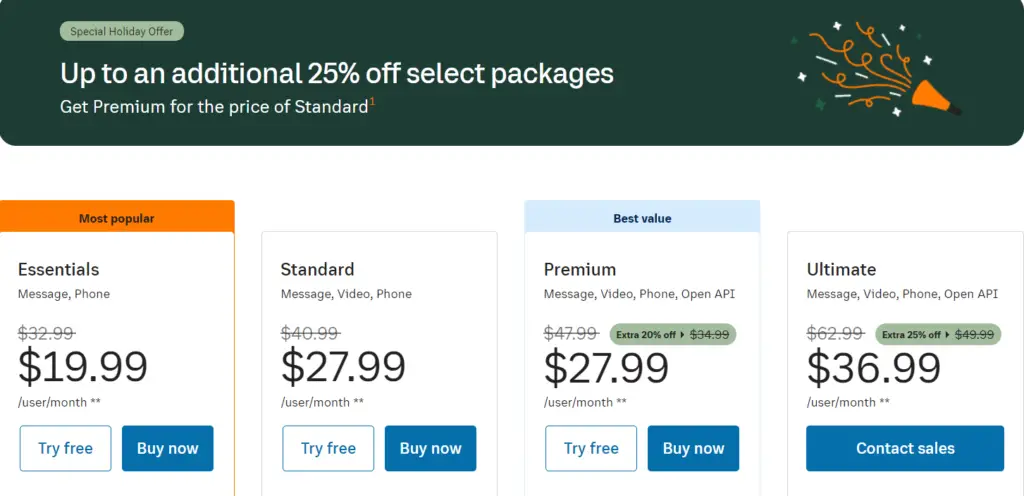 (Without the Special Holiday Offer)
As part of the Essential plan, you get up to 20 users, a business telephone number or toll-free number, unlimited calls throughout the United States and Canada, and the ability to send enhanced business SMS for a monthly fee of $32.99.
You can buy a standard plan for $40.99 a month, which includes everything in Essentials, unlimited users, 100 business phone numbers in over 100 countries, unlimited internet faxing, unlimited video meetings for 100 people, and unlimited audio conferencing.
The Ultimate plan, starting at $47.99/month, includes everything you get in Standard PLUS Automatic call recording, Multi-site admin and management, and extensions as large as eight digits. As a bonus to Premium, the ultimate plan includes device status reports, alerts, and unlimited storage, starting at $62.99/month.
There is a dedicated tool called CoSpace that helps you manage your workplace.

CRM platform built into the product

Easy to use with a straightforward, user-friendly interface.

Comprehensive feature set for business communication needs.

Voicemail-to-text feature.
The entry-level plan does not support conference calling, group video meetings, or mobile messaging.

Limited features included in its basic plans.

Slightly higher cost than some competitors.
3. Nextiva: Best for Its Team Productivity Tools
Nextiva is a business VoIP service that offers a wide range of productivity tools to help teams collaborate and improve their communication processes. It also provides professional voice-over recordings for voicemail messages and greetings and other features like the ability to host virtual meetings online and handle calls in an advanced way. These features are designed to help companies streamline their communication processes and improve their overall productivity.
Almost all business VoIP solutions allow you to record voicemail messages and greetings, but Nextiva provides professional voice-over recordings. Nextiva will handle all of that for you. You can also request a recording for your IVR, your after-hours greeting, your music on hold, or your auto-attendant. Provide the script and choose a voice talent; Nextiva will handle everything.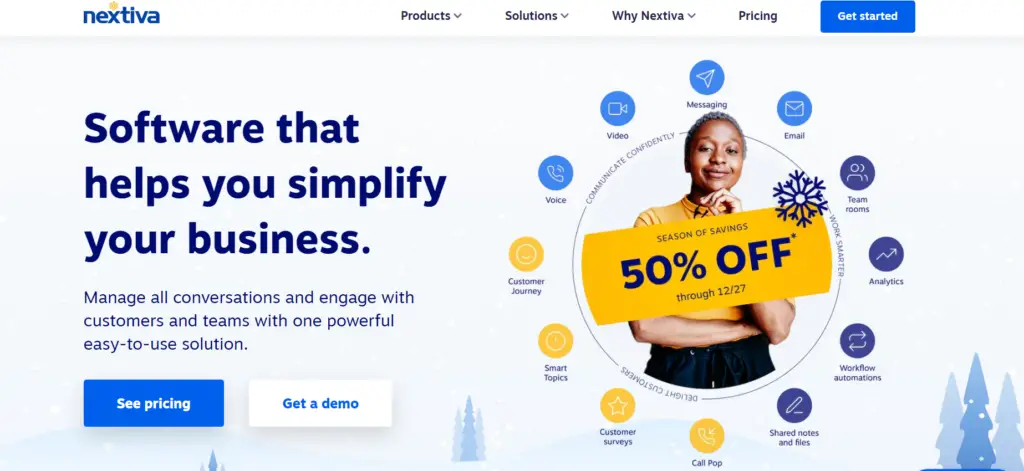 Key Features:
Nextiva's Call Pop tailors customer interactions by obtaining details of past interactions, the level of satisfaction, and how customers feel about the company.
Call Pop: This feature is designed to serve as a quick guide to the most critical information about the customer, including the sentiment of the last interaction, the experience score, and the account's value. Once the call is accepted, the screen switches to the customer's complete profile.
Automation tools: Automate aspects of customer service, such as workflow automation, chatbots, self-service help centers, and email automation, so your customer service teams can anticipate customer needs.
Nextiva CRM: CRM software that tracks and manages all customer interactions across the customer journey. Includes workflow automation and multichannel support.
Voice recordings: You can have professional voice-overs recorded for voicemail messages and greetings at your convenience
Pricing: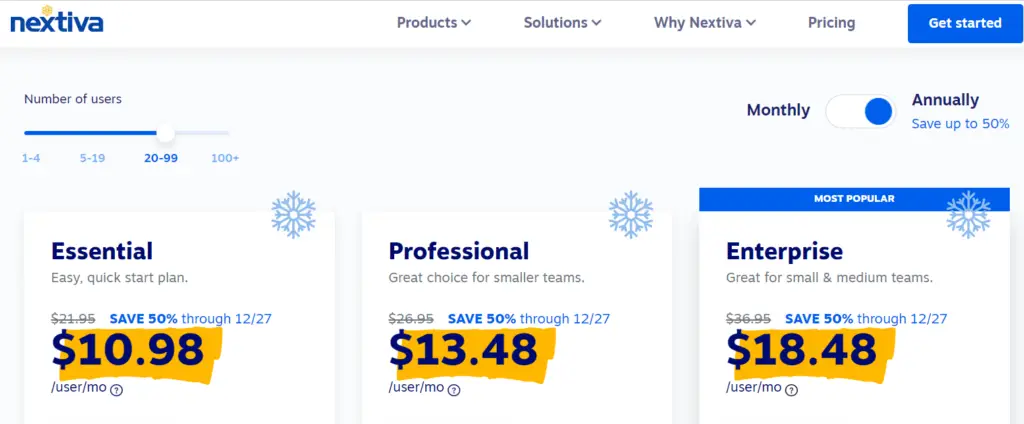 (Without the Special Holiday Offer)
For $21.95/month, you can get unlimited voice calls, unlimited video meetings for 45 minutes with 250 participants, team collaboration chat messaging, calendars, and meeting schedulers with the essential plan.
For $26.95/month, you get Everything in Essential, unlimited conference calls with up to 40 participants, a multi-level auto attendant, and an unlimited amount of SMS/MMS, with a maximum of 1,000 messages per user.
You'll get all the features of the Professional plan for $32.95 per month, plus unlimited conference call participants, call recording, and direct routing integration between Microsoft Teams and conference calls.
All plans include unlimited toll-free minutes.

Integrations with third-party apps that are robust

A high volume of calls can be managed using tools such as an auto-attendant or an interactive voice response (IVR).
The audio greetings are not professional

Subscriptions with advanced features and inclusions cost more
4. GoTo Connect: Best VoIP Service for Robust Video Conferencing Capabilities
A GoTo Connect VoIP phone service provides a full-featured video conferencing system that includes a business VoIP phone service. In addition to the ability to create custom backgrounds, share mobile screens and drawing tools, and control the keyboard and mouse with ease, it offers a variety of features designed to make meetings as interactive and efficient as possible. 
As well as offering a toll-free and vanity phone number service, it also provides number porting services to make it easy for businesses to switch their existing phone numbers to another provider while at the same time improving their communication systems and reducing their costs.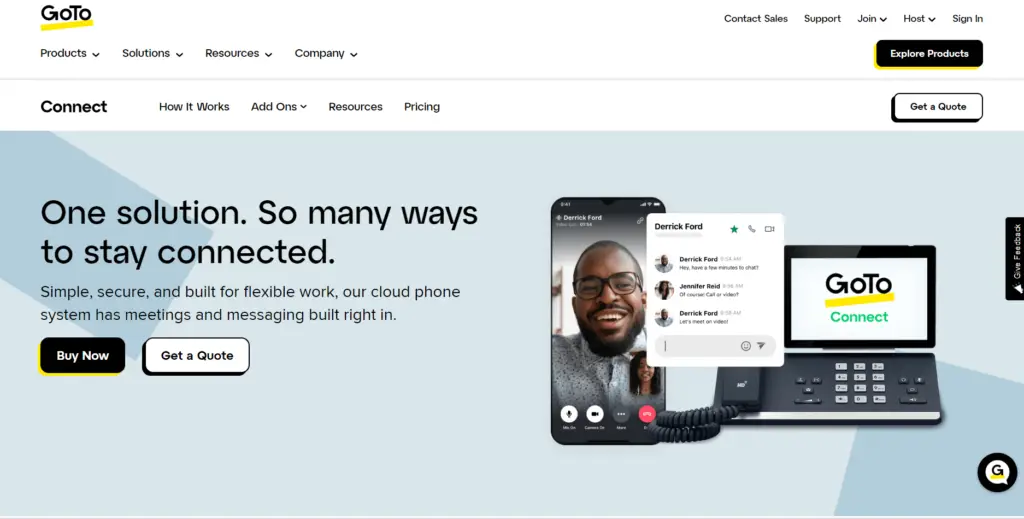 Key Features:
Screen sharing: The drawing tools let you mark up documents in real-time and edit, modify, highlight, and review them as you go along. It also allows meeting participants to share their desktops from their mobile devices.
Customized call flows: With the drag-and-drop interface, you can edit, update, and change call flows easily. You can set up multiple auto attendants and monitor how calls are routed to extension or department numbers.
Auto-attendants: Share important updates and keep callers engaged while waiting in a queue with the GoTo Connect desktop or web app.
Custom backgrounds: The software supports custom backgrounds, mobile screen sharing, drawing tools, and keyboard and mouse controls.
Pricing: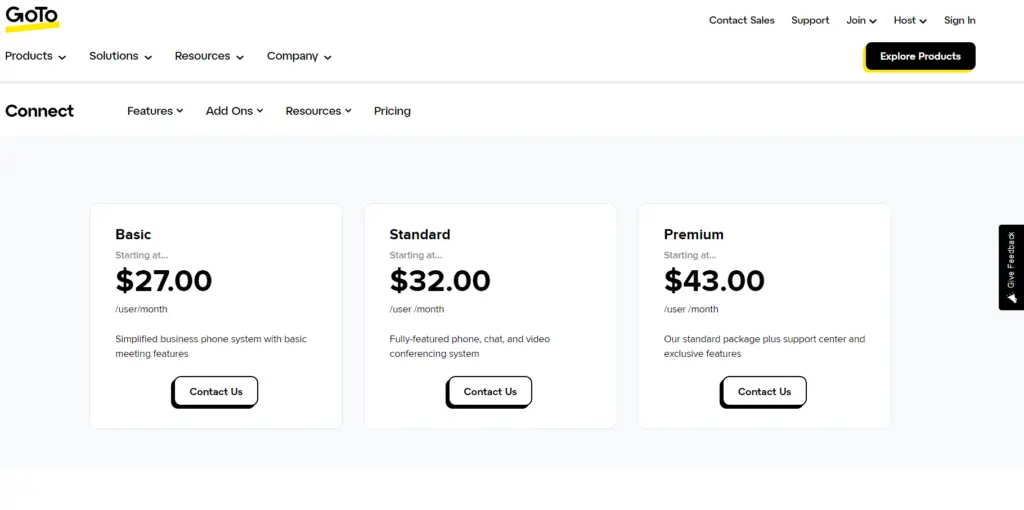 A basic plan costs $27 per user, which includes number porting, unlimited extensions, one custom greeting, and 40-minute video calls with four participants. A standard plan costs $32 per user, including eternal automated greetings, hotdesking, internet fax, endless call queues, 1,000 toll-free minutes, 150 meeting participants, and eternal auto-attendant greetings.
In addition to 5,000 toll-free minutes and 250 meeting participants, the premium plan comes with call analytics, call monitoring, and contact center tools for $43 per user.
Up to 50 countries are included in the free international calling plan

Extensions are included in all plans

It is possible to select a local, toll-free, or vanity number
As part of the basic plan, you will not be able to obtain toll-free minutes, and there is a limit of four people per meeting.

Supports only up to 30 third-party integrations at a time
5. Dialpad
Dialpad is a great option if you want to introduce AI into how you run your call center, with innovative routing features and other handy tools for analyzing the efficacy of the calls you receive. 
In addition to managing call flow, Dialpad's AI technology can also perform real-time transcription of calls and meetings (so you don't have to waste your time doing that manually), call summaries (where the platform pulls key nuggets from a call), real-time sentiment analysis, and even in-call recommendations for next steps.
Using Dialpad, you can manage larger call volumes, report on-call activity, and coach your reps more effectively.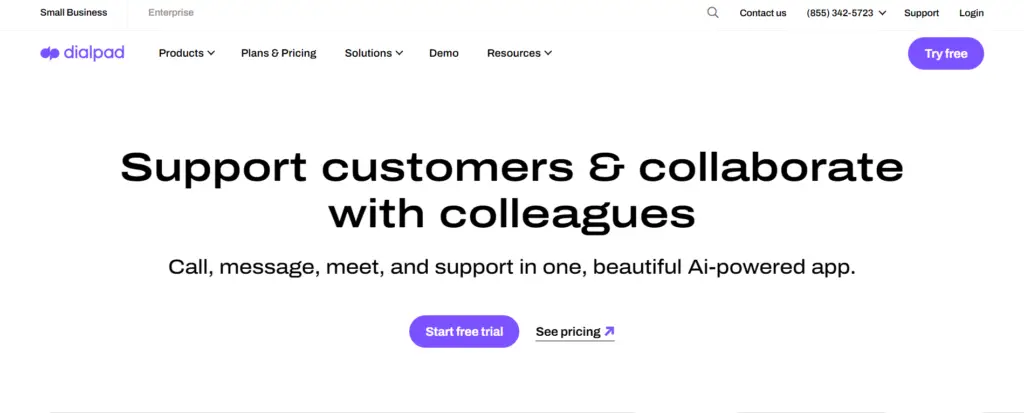 Features:
Administration: Dialpad's simplicity, ease of use, and ease of provisioning and managing users make it ideal for an enterprise.
Call Center Productivity: Call centers face many challenges, including inaccurate analytics and reporting, which can be addressed with tools on the platform.
Calling & Routing: To improve business communication, your organization can utilize features such as calling the park, call transfer, and call forwarding.
Web Conferencing: Your online meetings will be more productive with high-quality audio, video, and screen sharing.
Reliability & Security: Businesses can make safe, encrypted calls using Dialpad's cloud phone system, which includes redundancy and backup.
Pricing: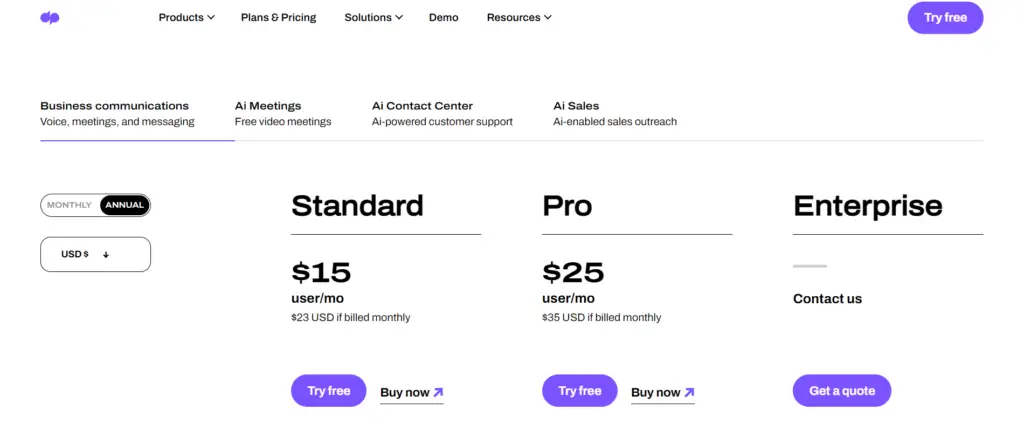 In the standard plan of $15 per user per month, you will have unlimited calling, SMS, and MMS, as well as AI-powered transcription of your calls and voicemails that will be sent to your phone, integration with Google Workspace, and integration with Microsoft 365.
It starts at $25 per user/month with the Pro plan, which includes all the features and benefits of the Standard plan, plus you will receive local phone number support in more than 70 countries, multiple phone numbers on each account, and 25 ring groups (departments) on each account. You need to contact them if you are interested in the enterprise plan.
The customer service is excellent, with a user forum, a knowledge base, and live chat available.

Exceptional reputation among customers.

Benefits from a wide range of features.
There is difficulty in scaling.

There is no uptime guarantee at the Pro subscription level.
6. Vonage: Best VoIP Service With a la Carte Services
As one of the best VoIP services for small businesses, Vonage can add features and integrations to the plan as needed, making it one of the best VoIP services for small businesses. Besides cloud-based phone systems and virtual meetings, Vonage provides companies with various business communication services. 
By using these services, companies can improve their communication and collaboration, so employees can stay connected and work together even when they are not in the same place. Voicemail, call forwarding, and internet-based call-making and receiving are some of the critical features of Vonage's services. 
Moreover, Vonage can help streamline workflows and improve productivity by integrating popular business tools like Salesforce and Microsoft Office.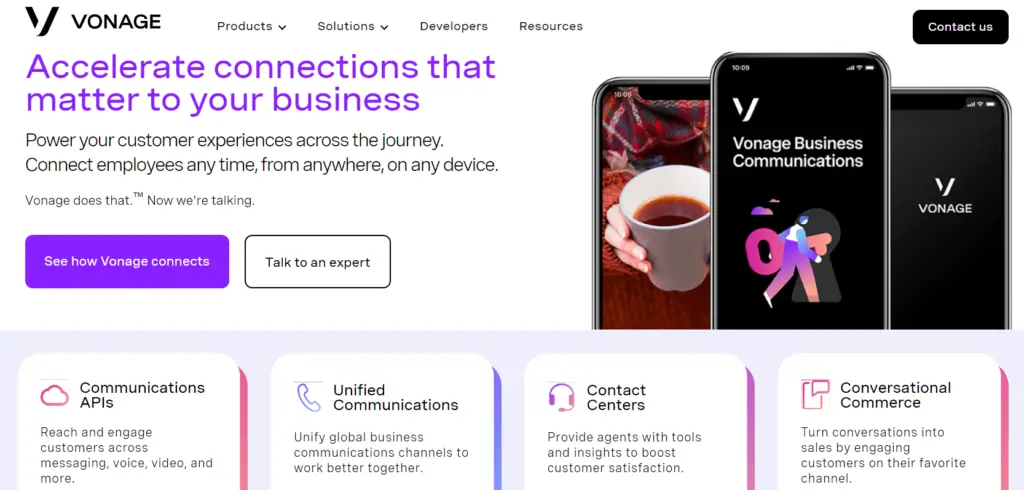 Key Features:
Admin portal: Easily manage your phone system and track account activity from one user-friendly portal. Admins can audit changes made to an account, add extensions, and access premium features.
App center: With a self-service ecosystem of essential third-party solutions and productivity tools, you can easily find and integrate the tools you need.
Business inbox: Organize customer requests in one unified inbox. Connect with customers through their preferred voice, SMS, MMS, or Facebook Messenger channels.
Pricing:
The mobile plan costs $19.99 monthly for unlimited calls, text messages, team messaging, mobile and desktop apps, and an app center with up to 20 integrations with third parties. With Premium, you will have unlimited video meetings with up to 100 attendees, a multilevel auto attendant, CRM integration, desk phone compatibility, and a multi-level auto-attendant.
With Advanced, you will be able to record 15 hours of calls, set up group calls, and view visual voicemails on-demand for $39.99 per user.
There are over 50 features included in all business phone plans

Add-on features available for customized plans

A user-friendly interface for desktops and mobile devices
The sales team must be contacted for a detailed comparison list of features.

Other providers include a toll-free number in their service package, while others charge an additional monthly fee for it
7. 8×8: Best VoIP Service for International Calling
8×8 is a VoIP phone system designed for small businesses with a global customer base and high international call volumes. It offers unmetered calling to 14 or 48 countries and allows firms to establish a virtual presence in over 100 countries. 
Additionally, it includes a multilevel auto-attendant, voicemail transcription, cloud media storage, and call queues, as well as support for video conferencing with up to 500 participants. 
It also has its virtual workspace app, the 8×8 Work app, which allows users to chat, collaborate, share documents, and participate in video or audio calls. These features are designed to help small businesses improve their communication processes and increase productivity.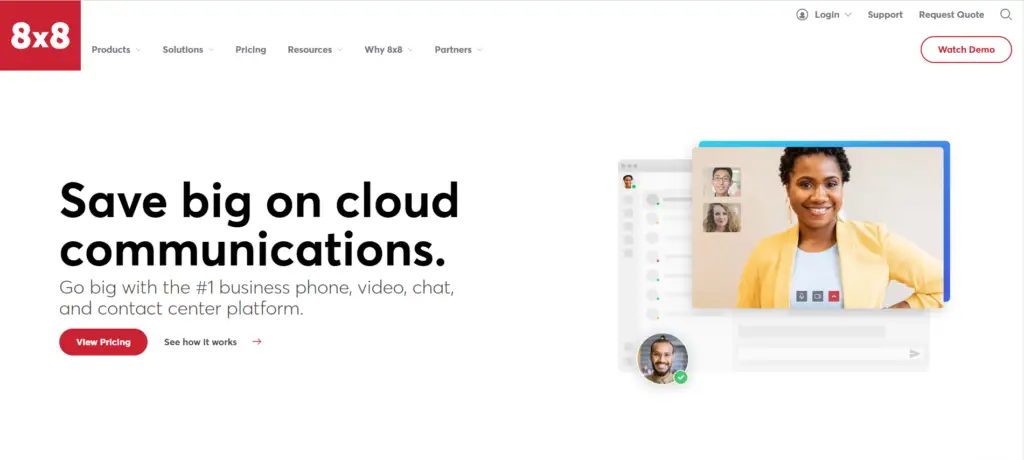 Key Features:
The 8×8 Frontdesk has an intuitive, easy-to-use interface that lets you manage calls effortlessly with a simple drag and drop.
8×8 Frontdesk: It enables receptionists and operators to handle high volumes of calls faster by providing faster call connections and contact resolutions. Various capabilities, such as presence synchronization, shared Directory, and call routing, help improve call handling efficiency.
Call monitoring: Utilize call monitoring tools to assist supervisors in improving quality control and evaluating employee performance. These tools allow supervisors to listen and barge into ongoing calls when necessary.
Team chat: Real-time team messaging lets you communicate instantly and share files in public or private rooms with your team.
Virtual workspace: This app allows you to chat, collaborate, share documents, and make video or audio calls in a virtual workspace
Pricing: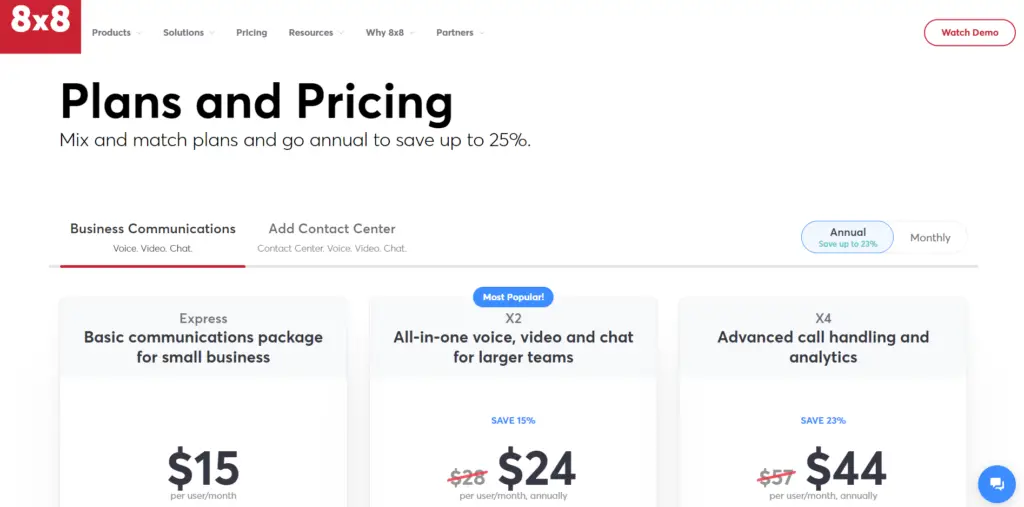 You can purchase a Basic communication package with the Express package starting at $15/month. For the more prominent teams, you can opt for the X2 package, which includes voice, video, and chat. With the X4 package, you can get Advanced call handling and analytics for $57/month.
You can call up to 48 countries internationally for free

All X-series plans include unlimited cloud media storage

Subscriptions can be mixed and matched by different users
There are no toll-free minutes available

Team messaging and content sharing are the only collaboration tools available.

Access to IVR requires upgrading to its contact center plan (X6)
8. Phone.com: Best for Metered Plans
Phone.com's small business VoIP phone system offers both metered and unlimited options at a reasonable price. It provides a range of subscription plans to ensure users only pay for what they need. In addition to virtual phone numbers, virtual call centers, and virtual fax numbers, it offers various services. 
These services are designed to help businesses improve their communication and customer service by providing them with various tools and features that can be accessed from any device with an internet connection. Some key benefits of using Phone.com for businesses include increased flexibility and mobility, lower costs, and improved customer satisfaction.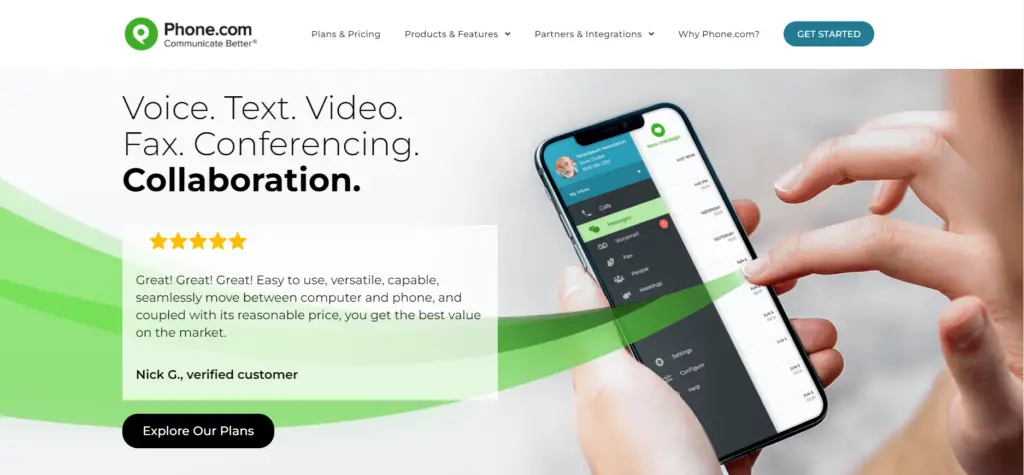 Key Features:
Voice tagging: You will hear the "Business Line" voice tag before answering a call if the caller has selected "Business Line" in the menu.
Call handling: Options include auto-attendant, dial-by-name Directory, forwarding, and scheduled routing for properly routing inbound calls.
Live receptionist: Boost your business with a live answering service that takes calls from various industries.
Call forwarding: Allows businesses to forward calls to any device, including mobile phones and landlines. This means that companies can receive calls on the go and never miss an important call from a customer.
Voicemail: Offers a professional voicemail service that allows businesses to manage their voicemails and access them from any device. This ensures that companies can always keep track of customer messages and respond promptly.
Auto-attendants: This provides businesses with an auto-attendant service to offer customers a customized menu.
Pricing: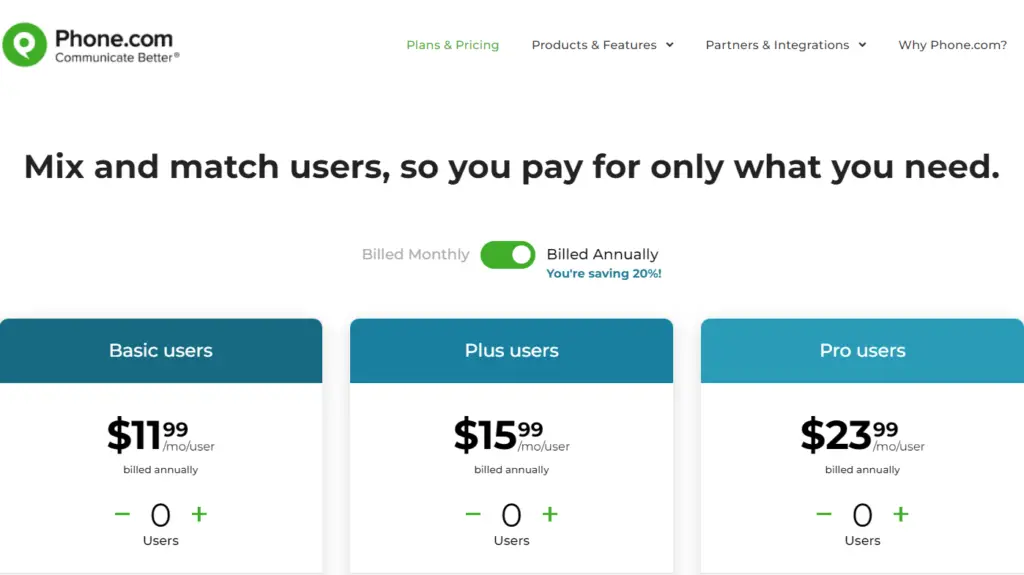 For primary users, it offers 500 pooled minutes, a phone number, 1,000 pooled text messages, ten video meetings, and call handling for $11.99 per user.
In addition to unlimited call minutes, one phone number, 25-person video meetings, video recording, and voicemail transcription, Plus Users receive $15.99 per user. Call analytics, CRM integration, 100-person video meetings, whiteboard, and video transcription are available to Pro Users for $23.99 per user.
Live receptionists, global numbers, and international calling are some add-on features.

Metered and unlimited plans can be mixed and matched

Local, international, toll-free, and vanity number pricing based on volume
The highest tier of programs offers CRM integration

There is no IVR option
What are the benefits of VoIP service?
You can handle a limited number of physical phone lines with business VoIP services. Even though VoIP services offer tons of benefits that small businesses love, the following are a few of the most common perks offered by VoIP providers.
Most of the time, these features come as part of the standard package; however, some will only be included with the more expensive plans.
1. Video and audio conferencing
Most VoIP handsets are equipped with screens and cameras built into them, so you don't have to use a laptop to video conference from your desk. Audio conferencing is a much more convenient option when not all call participants can use a camera-enabled phone.
2. Voicemail 
The voicemail function has become a vital part of our working lives, regardless of whether you use a traditional or a VoIP phone system. The great thing about VoIP voicemail is that you can access it anywhere and from any supported device, including a mobile phone or laptop. No matter where you are, you will never miss an important call again with VoIP voicemail.
3. Screen sharing
You can use screen sharing to view (and control) other people's computers for collaborative purposes, or it can be used to support a customer with a technical or sales issue. The process is simple, and there is no need to download additional software to the other computer.
4. Home/mobile working
Because VoIP uses the Internet, your VoIP phone account can be accessed from any supported device: for example, a phone, laptop, or tablet application. As a result, whether you work from home or visit a client, you can make and receive calls to and from your VoIP number.
5. CRM integration
It has become increasingly crucial for businesses to track their interactions with their customers and clients using a CRM system. You can improve customer relationship management efficiency by integrating VoIP CRM with your CRM system to track real-time calls, analyze customer behavior for marketing purposes, and provide better customer service.
6. Call monitoring
A VoIP system allows you to store voice (and fax) communications as digital data packets, making it easy to keep track of your calls. Managing performance and compliance with call monitoring keep business standards high, allowing managers to reduce liability and apply the training to improve performance.
7. Advanced call routing
Using VoIP technology's advanced call routing feature, you can direct inbound calls to any person or team in real-time, communicating business hours and managing long wait times by offering the option of leaving a voice message. Also, you can scale your call center as your organization grows.
8. Call recording
You can easily record any call over VoIP, so note-taking is a thing of the past. Calls are stored on the cloud so that they can be accessed at any time, and they can be accessed from anywhere in the world. You don't need to start recording the call from the beginning to get the entire ring – you can keep a recording at any time during the call.
9. On-hold music and messaging
Nothing is worse than being kept on hold in silence, which is why you can ensure your customers feel more secure by using the right on-hold music. Additionally, it is an excellent opportunity to promote special offers and advice on services while they are in line. You can usually use on-hold music provided by your provider, but you can also use third-party plug-ins to broaden your musical selection.
Related: Best Risk Management Software
How can you choose the best VoIP business phone system for your business?
Here are some questions you should ask yourself to determine the best VoIP phone system for your business.
→ How else might a VoIP system help my business?
The VoIP services offer more than just the ability to make and receive calls over the Internet. They provide advanced call management features and all-in-one voice, messaging, and video platforms. They can even automate tasks, coach employees, and provide dashboards to track issues and opportunities.
If you want to enhance your customer experience and increase your company's accessibility and responsiveness, don't just replace your phone system with a similar one.
→ What office and CRM software do I use?
Integrating VoIP phone services with your company's existing software and CRM systems is a potent tool for maximizing productivity. You must choose a design you can customize. 
In some VoIP services, custom integrations might be possible via APIs and webhooks, allowing you to access customer profiles, click to make a call, log call details into CRMs, and attach a call recording or transcript with no need to enter data manually.
→ How do employees and customers want to communicate?
According to Sansome, there is a need to choose a VoIP solution that caters to both of these needs. Employees today are increasingly using text and instant messaging as their primary means of communication. Would they prefer desk phones? Would they instead use smartphones and computer apps? Would they like to use team messaging and video meetings with coworkers? 
→ What are my basic phone system requirements?
You must determine the number of employees, departments, and office locations you will support, whether toll-free numbers or specific call management features are required, and your expectations regarding technical support and customer service.
→ Is my infrastructure adequate?
There is a requirement that all cloud-hosted VoIP phone services have a high-speed internet connection. It is recommended to have two separate links and run software-defined wide area networking, also known as SD-WAN, software to ensure call quality and reliability. SD-WAN is a traffic director that monitors the connections and routes calls to the best performing one.
You may also need to buy IP desk phones for an on-premises phone system, although some VoIP services allow you to adapt your existing analog phones to work with the VoIP system.
Related: Best Applications for Business
Conclusion
Now that you know some of the best VoIP providers for small businesses and the benefits and considerations for choosing a VoIP system, you're ready to decide for your business.
Comment below about which provider you went with and why. We wish you luck finding the perfect VoIP solution for your small business!
FAQ
Is VoIP worth it for a small business?
VoIP is an excellent option for small businesses because it offers many features to help your business run more efficiently.
Why do small businesses use VoIP?
VoIP allows businesses to make and receive phone calls using an internet connection instead of a traditional phone line. This can be a cost-effective option for companies looking to save on phone costs.
What are the disadvantages of using VoIP?
One disadvantage is that VoIP can be unreliable, especially if there is a lot of network traffic. Another disadvantage is that you need a good internet connection to use VoIP. And finally, some people find VoIP's sound quality inferior to traditional telephone service.
Do most businesses use VoIP?
Yes, most businesses do use VoIP. VoIP is an excellent way for businesses to save money on phone calls, and it's also a perfect way for businesses to stay connected with their customers.
Is VoIP reliable for business?
VoIP is an excellent way for businesses to communicate and collaborate. VoIP has become more reliable as technology has improved. VoIP is generally very reliable, and companies can count on it to provide their communication needs.