Disclaimer: We sometimes use affiliate links in our content. For more information, visit our Disclaimer Page. 
When starting a small business, one of the first things you need to do is create a website. A website is an essential part of any small business marketing strategy. It can promote your products or services, provide information about your company, and connect with customers. 
One of the decisions you will have to make when creating a website is what platform to use. Unfortunately, many different website builders are available, and deciding which is right for you can be challenging. 
This article will discuss the ten best small business website builders, their features, pros and cons, and prices. We will also provide tips on choosing the best website builder for your business.
What Is a Website Builder?
Website builders are platforms that offer users with little to no coding experience an easy way to create their websites with the help of a drag-and-drop interface. There are typically many features on these platforms, including integrated photo and video storage, the possibility of adding a custom domain, the ability to host websites, prebuilt themes, etc. 
Additionally, third-party integrations can be added to your website, allowing you to customize the website's features, including elements such as shopping carts and lead capture tools. Advanced plans can even tour email addresses and include SEO analytics tools, allowing you to run more effective marketing campaigns.
How Does a Web Builder Work?
With a website builder, you drag and drop commands on a canvas, transforming your website into code. Then, you can either have the web server hosting the website or connect to your hosting provider. Most website builders offer a variety of designs or templates that are suitable for different kinds of websites. 
The template for a portfolio would be different from the template for an e-commerce store. Once you choose a template, you can customize many of its features. For example, it may be possible to add contact forms, embed videos, and change the text and image's typeface, layout, and size.
Even though most popular web builders do not require coding knowledge to build a website, most platforms allow users to customize the HTML and CSS according to their requirements.
Here are the 10 best small business website builder
The following are some of the best website builders you need to see for your small business website.
1. Shopify: Best Overall
Shopify is an eCommerce giant that offers the perfect balance between customization and sales features, both online and offline. As a result, it has become one of the best website builders for small businesses that wish to sell big. Its beauty lies in its simplicity. It is straightforward to pick out a theme, spice up a few things, add your products, and then sell them to the best of your ability.
As far as Shopify's themes are concerned, they embody the term "quality over quantity". There are only over 70 options to choose from, and only nine of them are free of charge. Other themes cost nearly $200 – but this can be a worthwhile one-time investment if you choose wisely.
It is important to note that editing these themes to make them into a business page will be as simple as physically possible. As I noted in my Shopify evaluation, the theme is the crucial part here, and you will not be given a lot of choices.
To customize the site, you can drag, drop, and rearrange various sections that will be automatically tailored to match the theme that you select. However, a large portion of the customizations will need you to have some coding knowledge to complete.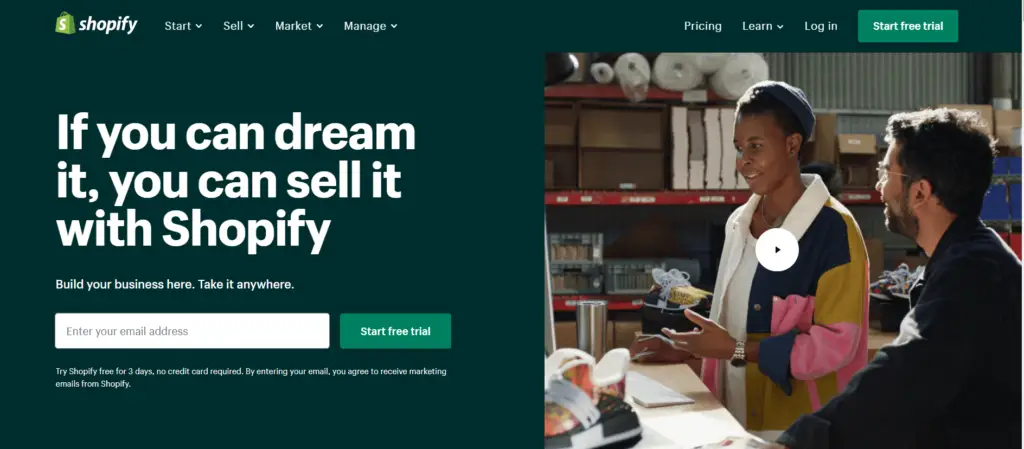 What businesses should use Shopify?
Shopify is an excellent option for businesses of all sizes. However, it is especially well-suited for bigger businesses due to its discounts for transactions and its advanced marketing and analytics tools. While it can be expensive, the investment is worth it. 
With Shopify, businesses can take advantage of all the features they need to succeed. From online payment processing to real-time shipping quotes, Shopify has everything businesses need to get started and grow. 
Plus, with Shopify's easy-to-use interface, businesses can start selling immediately without experience. So if you're looking for an eCommerce platform that can scale your business, Shopify is a perfect choice.
Features:
Essentials: There are a lot of elements that need to be taken care of when it comes to eCommerce, like adding products, shipping, abandoned cart recovery, managing inventory and orders, and even drop shipping.
Point of Sale: A Point of Sale (POS) system is also available on the platform, which allows you to sell your products in real life and use the platform's inventory management and payment capabilities seamlessly.
Payment gateway: Payments are also accessible with Shopify, which integrates over 100 different payment gateways. There are also PayPal and Apple Pay options.
Massive app store: A wide range of industries and goals are covered by over 5,000 apps, making it a vast collection.
Analytics: You will also find an extensive built-in analytics tool that looks at conversion rates, return rates, sales sources, and more – these are crucial data for improving your business and building your brand.
Pricing:
A Basic plan costs $29 a month for all the core selling features, a Shopify plan costs $79 a month for more features for larger businesses (2.6%+30c transaction fee), and an Advanced plan costs $299 a month for larger businesses with several employees.
The features of this eCommerce platform are excellent.

A good number of additional built-in and third-party features are available.

The larger the plan, the greater the discount on transaction fees.

An extensive library of apps to choose from.

Multiple Payment Processor

Hosting and Security

Easy To Use
The price is relatively high.

Limited options for customization

No Email Hosting
2. WordPress: Best for bloggers
You can do almost anything with WordPress. With a few plugins, you can provide robust eCommerce solutions that compete with the best eCommerce website builders, along with tons of themes for any website you want to build. It also offers exceptional built-in blogging. However, WordPress requires more work and web design expertise on your part.
Customizing your website on WordPress can be difficult and time-consuming if you're not a web developer. In addition, you'll need to spend time learning the ropes and maintaining your website. Despite these drawbacks, WordPress is still one of the most popular site builders because it's versatile. It's an excellent choice for anyone who wants full control over their website's design and functionality.
If you're looking for a WordPress platform that's easy to use and packed with features, then WordPress is a great option. Just be aware that it may take some time and effort to get the hang of things. But once you do, you'll be able to create any kind of website you can imagine.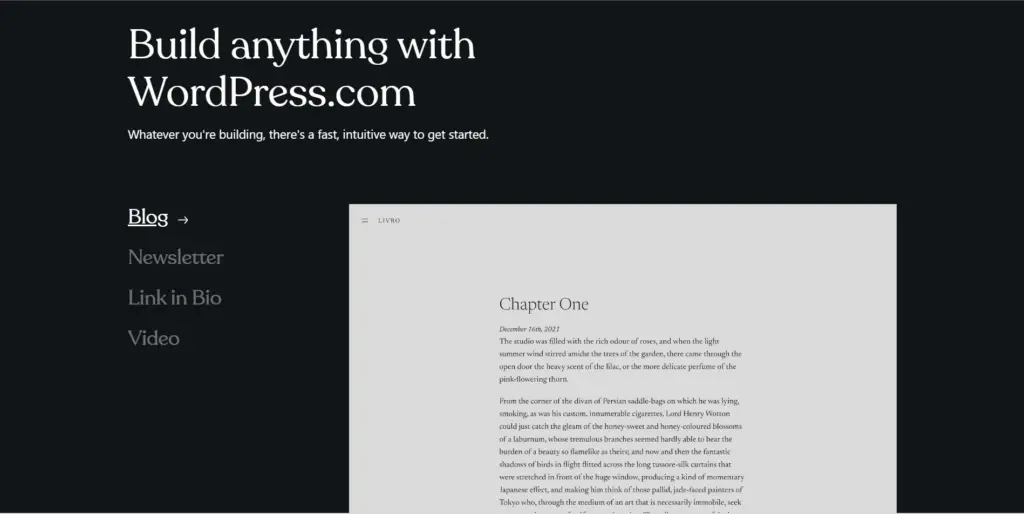 What businesses should use WordPress website builder?
Any business should use WordPress as its website builder for several reasons. For one, it is open-source software, so anyone can use it. It also has a very user-friendly interface. 
Additionally, there is a lot of support available for WordPress, both from the official WordPress forums and from other users who have created blogs, webinars, and courses about it. WordPress is also very versatile and can be used for a variety of different types of websites. 
Overall, it is an excellent choice for any business that wants to build a website.
Features:
Flexible Post Scheduling: It is possible to schedule posts to display at specific times/dates so that you can work ahead of time to create content and schedule it to go live. Create pages and posts and keep them as drafts until you publish them.
Easily Manage Your Website Content: With the intuitive WordPress content management system, you can make changes to any part of your website or blog, no matter where you are. With the powerful WordPress content management system, you can use almost any modern browser and change any part of your website.
Core Upgrades & Plugin Updates: You can avoid software obsolescence by applying updates and core upgrades to your website's CMS on an ongoing basis. With our team handling this for you, your website remains on the current stable release development track, so you never have to worry about getting out of the CMS upgrade cycle.
Automatic Backups: A primary part of our managed web hosting service is the automatic daily site-level backups and bare metal backups taken to prevent data loss during catastrophic failures.
WordPress Web Design: You can create customized websites that express your message and stand out from the crowd using WordPress web design. In addition, WordPress websites can be responsive, easy to update, and have all the features of static websites without sacrificing the benefits of dynamic WordPress websites.
Unlimited Pages, Posts, Products & More: Adding images, text, files, links, and embedding media to your page content is effortless, and there is no limit to the number of pages, posts, or products you can create.
Pricing:
The personal package costs $4 per month and is ideal for personal use; the premium package costs $8 per month and includes Live Chat Support, Ad Revenue, and Premium Themes. Plugins, advanced SEO, and site backups are included in the business package, starting at $25 a month. Besides accepting payments in 60+ countries and integrating with top shipping carriers, the eCommerce plan starts at $45 per month.
A nearly infinite amount of customization is possible.

Themes and plugins are available in thousands.

The company has an excellent reputation and a lot of positive reviews from its users.
A steep learning curve is to be expected.

The top-tier plan provides access to all the plugins and SEO tools.

For best results, extensive customization is required.
3. Squarespace: Best for artists and designers
The way your website looks is an essential aspect of its effectiveness. It can attract potential clients, increase the number of clients, and drastically change your business. Furthermore, a small business website should not just be about looks but also incredibly functional, making it great for running your business efficiently.
With over 110+ designer-built and carefully curated business templates, Squarespace has an excellent selection for anyone looking to create a website that looks good and helps their business shine.
Using these templates, you'll be able to create websites that will look good on any modern browser and device: they're built to meet the latest performance and design standards.
In addition, Squarespace is also an ideal business mission control center, combining marketing, analytics, and design features that are integrated into one simple and intuitive interface that simplifies the process.
In addition to installing a blog and uploading products, you can integrate your website with social media, manage your marketing campaigns, and connect your site with your social media accounts.
Squarespace already has prebuilt sections for your site, which will automatically adjust to your selected color scheme and site template.
Nevertheless, that does not mean that you are completely locked out design-wise – the platform offers several layouts for the same section, so you can mix and match to create a website that is more personal to you.
The Squarespace website building platform offers a modern and lightweight platform for building beautiful websites, which is excellent for businesses that want to build a beautiful website quickly and easily.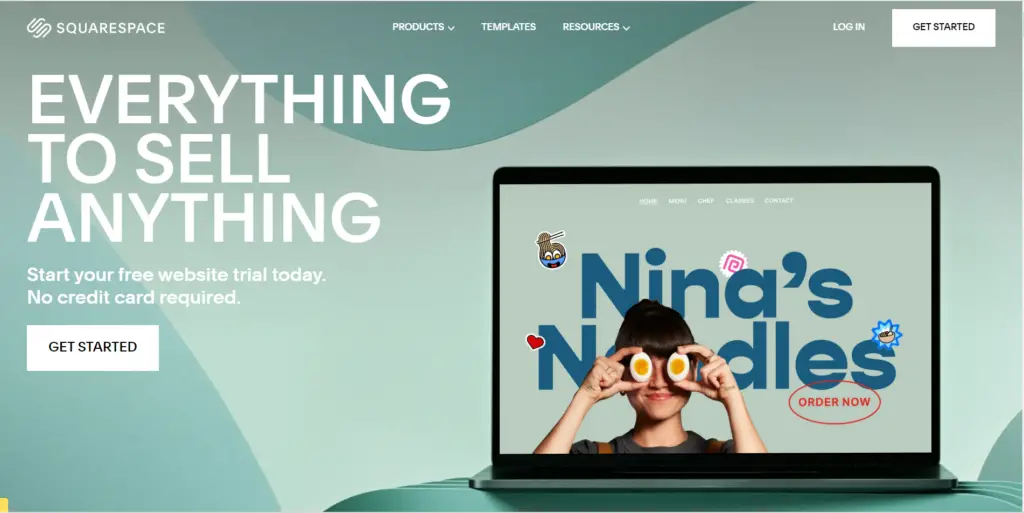 What businesses should use Squarespace?
Squarespace is an ideal platform for businesses focusing on social media and visuals. The themes are sleek and modern, and the tools allow you to reach broad audiences with consistent, professional-looking messages. 
In addition, Squarespace offers various features that make it perfect for businesses looking for an easy way to grow and manage their operations. From e-commerce capabilities to integrated calendars, Squarespace has everything you need to take your business to the next level. 
So if you're looking for a platform to help you reach your full potential, Squarespace is a perfect choice.
Features:
Solid eCommerce suite: There is no doubt that Squarespace is trying to make everything as easy and intuitive as possible. You'll receive an essential startup guide, which will teach you the basics of running a store and filling out a website with placeholder items. Depending on your chosen niche, you must create placeholder records and band shirts for your imaginary vinyl business.
Easy-to-use analytics solution: The Squarespace Analytics interface is straightforward but incredibly powerful. In particular, we liked the metrics for eCommerce, like the Purchase Funnel, which shows how you acquire customers. If you don't want Squarespace to work with Google Analytics, you can connect it to Google Analytics instead. It shows what pages they visit and where you can improve conversions.
SEO tools: The site's leading search engine optimization zone offers options such as a checklist that will be extremely useful to beginners as it allows editing the meta titles and descriptions individually for each page and post. Squarespace also offers the ability to add meta tags and descriptions to each page.
Social media integration: In terms of social media, Squarespace Unfold is a 'toolkit for storytellers', which allows you to create visual content and share it directly on social media. There's a free and premium version, which offers all the best templates and design options.
Email marketing: You can create good-looking, conversion-driven emails and track your business performance with an intuitive system. There are many excellent templates available, as you might expect from Squarespace. Unfortunately, email marketing cannot be done for free.
Pricing
There are four packages available.
Personal: Starts at $16/month for the Simple option, which is ideal for primary personal sites.
Business: With just $23 a month, you can optimize your HTML/CSS codes, get advanced analytics, and do a primary eCommerce store (with a 3% transaction fee applied).
Basic commerce: You can sell online for $27/month without transaction fees.
Advanced commerce: For businesses serious about selling subscriptions and shipping, it costs $49 a month.
The templates provided by this site are excellent.

A solid set of business tools are included as part of the package.

It is straightforward to use and very convenient.
Design flexibility is somewhat limited.

It may be necessary to subscribe to additional business tools.
4. Wix: Best for drag-and-drop editing and ease of use
Wix is very easy to recommend – to anyone. That's because it pretty much has everything. You can choose from over 700 templates covering a wide range of niches, handy tools for sales and marketing, a large app store, and two very different ways to build your website. In addition to what your small business desires, Wix has something for everyone.
From the beginning, it is apparent that you must "do things your way." You have a choice of two different website editors to choose from. The classic Editor offers excellent site-building tools in depth. There's also Wix ADI, a website generator that generates a website for you based on the information you provide and your answers.
The first option that we are going to consider is Wix ADI. This will simply ask for your name and the type of site you would like. Once you've chosen your preferred elements, selecting them from the available choices will only be a matter of selecting them.
It's a straightforward method, ideal if you are looking to build a website quickly – or if you do not feel confident in your design skills but are interested in having someone else make decisions for you. There are several options to choose from, so you can instantly create a website out of thin air.
Some basic edits can be done on the ADI, such as adding new pre-made sections, rearranging them, or picking a different layout according to your preferences. However, you can always switch to the classic Editor if you want to do the actual editing. It is somewhat more challenging to use, but the freedom that comes with it will make it worth the effort.
You should know that if you want to start with the Classic Editor, you will need to pick a theme from over 700 options that are categorized into multiple categories, so you might want to take your time and look over all the options.
In addition, you can create your elements using the same interface, such as text, images, shapes, and more, which are all available from the same area.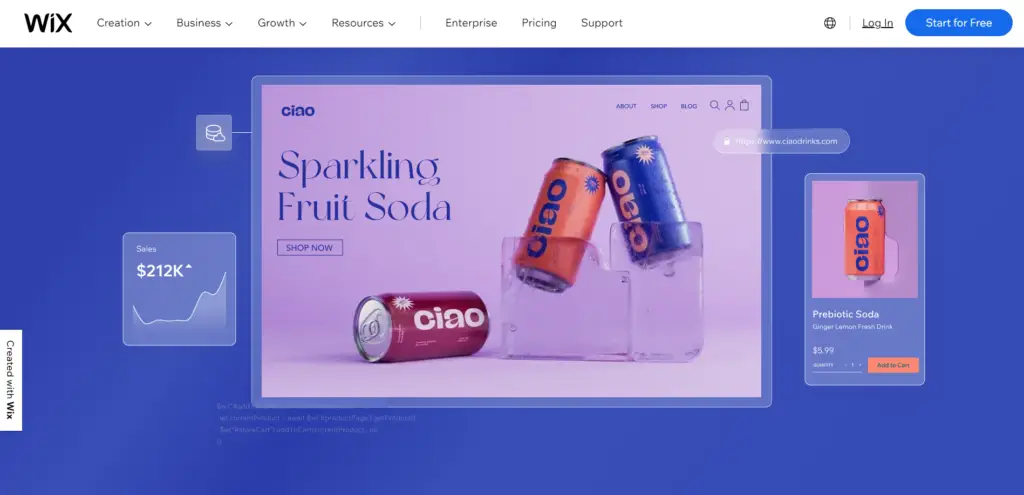 What businesses should use Wix?
Wix is an excellent option for businesses of all sizes. It offers a complete vision of how your site should look and behave. In addition, the builder has the best custom editing tools, and it won't take long to learn to use them. 
It's a Swiss army knife, and if that sounds like a good time – Wix is a builder for you. Fully endorse Wix if you have a complete vision of how your site should look and behave. This builder has the best custom editing tools, and it won't take long to learn to use them. 
Features:
A solid eCommerce platform: The eCommerce interface is convenient, offering easy product management options. For example, the interface makes setting up item variants and tracking inventory/orders possible.
Wix Ascend: Wix Ascend is a freemium application that allows you to easily manage your social media and email campaigns.
Custom emails: The platform lets you create customized emails, social media posts, and even videos quickly and easily using a wide range of creative tools. It's a solid, foolproof solution that might save money if you work with a digital designer.
Wix SEO tools: A solid SEO Wiz tool helps even the most inexperienced users optimize their sites to be found on Google. All Wix premium users have access to a full suite of Wix SEO tools that will help you optimize your site for better search engine rankings.
Logo design: You can only create so much content with Wix's free Ascend plan, and it will all be branded with Wix's logo. If you want your logo to be the only one displayed, you will need to upgrade.
Apps: You have plenty of options to choose from, including both first and third-party options for lead collection, analytics, online sales, site design, communication, and more.
Pricing:
The basic plan for businesses starts at $17/month and consists of all the necessary eCommerce features for effortless selling. The unlimited business plan costs $25/month and includes subscription sales, drop shipping, and product reviews. The business VIP plan costs $35 and offers everything you could need: a loyalty program, sales tax calculation, and priority support.
There are excellent templates available for download.

With the eCommerce plan, you will receive a free domain for one year.

There are two separate editors for the website.

Features that make a business successful.

The app store has a lot of great apps.
It may be intimidating at first to use the Classic Editor.

You have to pay for additional tools.
5. Zyro: Best Budget-Friendly
Zyro is an excellent website-building tool with two killer features in one package. First, there's the highly intuitive Editor that helps anyone create a modern-looking single or multi-page website. Then there are the prices – some of the cheapest in the whole industry, making Zyro an excellent option for aspiring entrepreneurs on a budget.
It has more than 130 templates divided into ten categories, giving you many options when you want to build something looking like a professional designer designed it. The templates are modern and friendly, perfect for someone who wants to create something that looks professional. 
There are many templates out there, so if you don't want to pick out a template, just allow the Zyro AI site builder to do the choice for you. The site builder will create a simple example website based on your responses to the questionnaire questions and preferences based on your answers.
You'll undoubtedly end up here one way or another – the Zyro site editor, which has a wide variety of simple elements that can be easily dragged and dropped on your page.
Although it uses a grid system to place each element, you still get plenty of real estate for your creative endeavors, despite the limitations on where to place each element.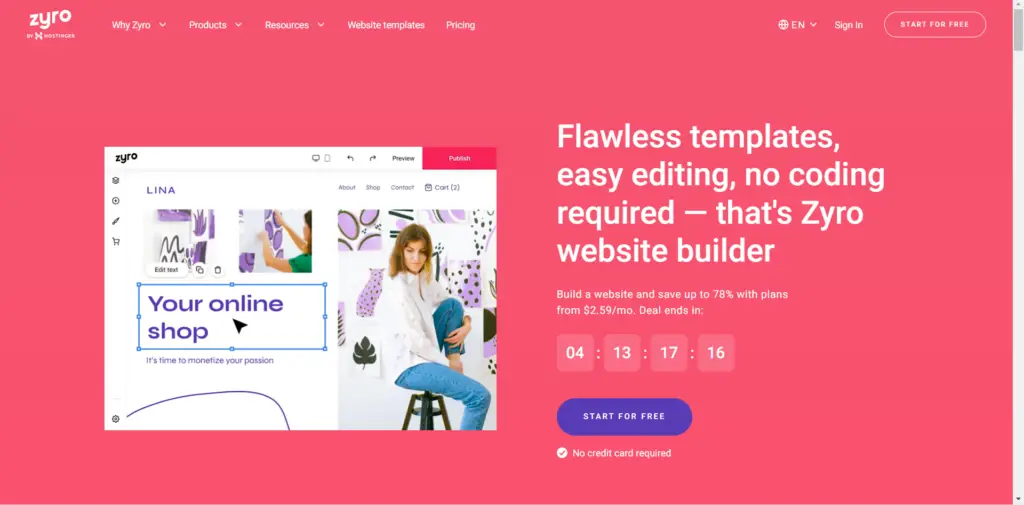 What businesses should use Zyro?
Zyro is the perfect solution for businesses that need a reliable option to make a simple website. While it might not have advanced third-party tools or design options, it's a top-class solution for product landing pages and small online stores. 
However, for some businesses, the lack of advanced features might be a deal-breaker. Ultimately, it's up to each business to decide if Zyro is the right fit for its needs.
Features
Ecwid eCommerce suite: As a part of the eCommerce suite of Zyro, you can use an online store straightforwardly. You can incorporate the online store as a section within the existing page and a separate page from that page.
Integration: Zyro is the only online store management tool that integrates with Ecwid. Ecwid is a popular online sales solution that's easy to use and fun. In addition, it contains a wide range of support options.
Smart AI content writing features: Zyro AI Writer automatically generates some copy for you to use and for you to take inspiration from to help you fill your website with SEO-friendly, engaging content. Filling your website with engaging, SEO-friendly content can be challenging if you are not a professional writer.
AI marketing and conversion features: The AI heatmap will analyze your website. This information will provide insight into what your prospective visitors will pay attention to most. Then, based on that information, you can adjust your website's design accordingly.
Analytics and marketing integrations: We will also be providing you with all of the optional features and data that your business may need, such as Google Analytics, Facebook Pixels, or even a Messenger live chat integration if you need them.
Pricing
You can choose between two plans – one for a personal website or blog, which starts at $11.99, and another for a business which starts at $14.99 and allows you to sell up to 500 products at a time.
You can sell 500 products in the business plan.

AI tools that are excellent for business.

It is straightforward to use and very intuitive.
There aren't many editing options in the grid editor.

A better understanding of business tools is needed.
6. GoDaddy Website Builder: Best for beginners
GoDaddy's "Websites+Marketing" product is a simple, effective website builder perfect for small businesses. It combines easy-to-use site-building features with an advanced marketing suite, making it an excellent choice for beginners and small businesses.
A couple of questions will be asked after you launch it, and then you will be asked a few questions about your business. Upon completion, a pre-made website will be returned with content and design options examples.
You can assemble a website using the near-perfect click-and-select Editor, which provides a silky smooth, but restrictive customizing experience. The Click-and-Select editor allows you to choose the sections you prefer and build a website using them.
While there isn't a whole lot of editing freedom, as you're only allowed to pick from four sections, each with its image, color, and font, this is one of the most straightforward web design solutions that you'll find out there, ideal if you're a small business that needs a simple, reliable website.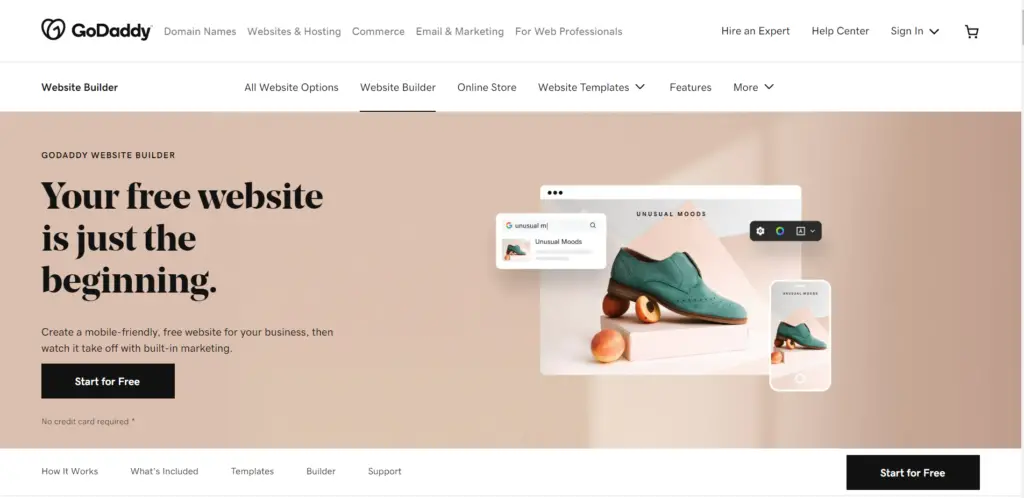 What businesses should use GoDaddy, the website builder?
It is an excellent option for beginners to choose GoDaddy because it simplifies the entire process.
Sure, it is nothing new to be able to build a website with ease – but the advanced marketing and design features make this an excellent all-around platform for those just starting in their business venture.
Features:
GoDaddy InSight: Aside from analytics, social media, SEO, email marketing, and blogging, GoDaddy InSight offers data-backed marketing advice on all aspects of your business site. Choosing your business goals is the first step: this is where you, as a business, decide what you want to accomplish. Then, you'll have an actionable list of your goals to follow to achieve them.
GoDaddy Studio: A Drag-and-Drop graphics creator created by GoDaddy Studio, formerly known as Over, will help you design digital posts for various marketing channels using a drag-and-drop format.
eCommerce suite: It is clear that GoDaddy wants to keep things simple, so the interface is lightweight, intuitive, and suitable for beginners.
Pricing:
A basic plan gets you started with a website, marketing, and payments for $9.99 / month; a premium plan boosts your marketing with online appointments and $14.99 / month, a Commerce plan for $16.99 / month for an online store, marketplaces, and a point of sale, and a Commerce Plus plan for $29.99 / month for expanded selling and time savings.
Tools that are excellent for business

Easy to use for beginners

The value for money was excellent
Only a few pre-made design options

There is a lack of customization in depth
7. Weebly: Best for local businesses
With Weebly, you don't have a lot of bells and whistles, but you can be sure that what you get is an incredible deal of value. Since most small businesses have to keep an eye on their budgets, Weebly's accessible and highly affordable premium plans are a welcome addition.
Although it has some advantages over its competitors, the builder saw the most significant score reduction in every category during our recent round of testing and research.
Using Weebly's drag-and-drop Editor, you can view your edits in real-time rather than switching back and forth between editing and previewing the page. As a result of the user testing that we conducted, Weebly turned out to be quite challenging to use compared to other website builders, and Wix and Duda came out to be the easiest to use of all website builders.
Rather than providing visual cues or intuitive design, Weebly leaves you to your own devices when designing your website.
Regardless of this, Weebly is still pretty easy to use. Even though its Editor isn't very intuitive, it's easy to use because customization is limited. Furthermore, it offers a good range of apps to complement its limited inbuilt features and performs well with SEO.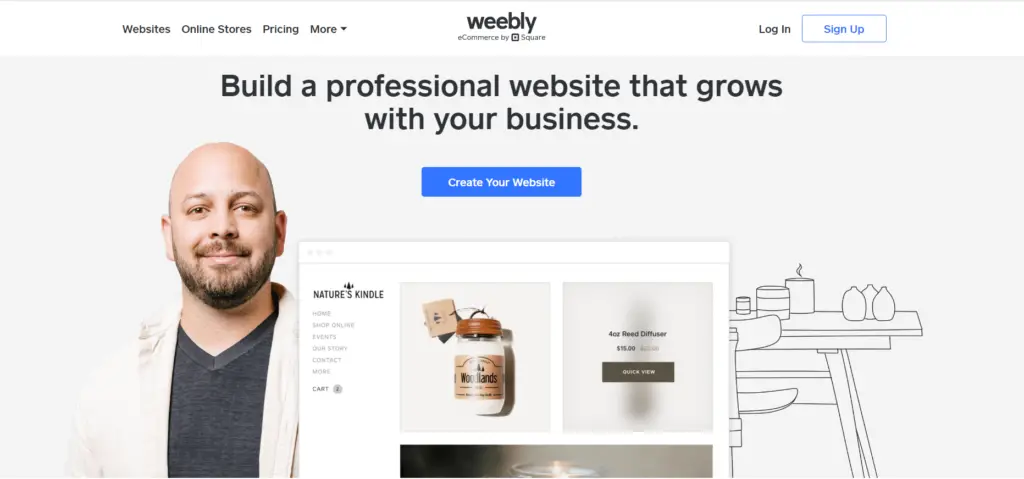 What businesses should use Weebly website builder?
With its robust e-commerce features and low costs (sometimes even for free), WEEBLY is considered one of the best website builders because of its e-commerce capabilities, making it a good website builder for online stores, restaurants, and other types of local service businesses, among others.
Features:
Massive App Center: There are more than 360 apps across different categories, such as marketing, communication, eCommerce, social media, and more. One of the best ways apps can help your website is by connecting your social media accounts, which makes it possible to chat with Facebook users from your website.
Membership Options: This feature is available on the Professional and Performance Plans if you want to create private clubs or share private information.
SEO: Several excellent SEO tools are available to help you optimize your website for search engines. Weebly allows you to edit your meta title, description, and URL, making your site more search engine friendly.
Pricing:
The Connect plan starts at $5 a month, the Pro plan starts from $12/month, and it is best for groups and organizations with a free domain and Google ads, and the Business plan starts from $25 a month and is best for businesses and stores.
A design that can be automatically generated by using the ADI option.

You can easily add custom code if you want to do so.

There is a huge market for apps that can be used to customize the site.
Customizing is not that easy.

Annual plans do not include a free domain.
8. Gator Website Builder: Best for budget-conscious users
HostGator's website builder is a shining example of simplicity done right. In addition, the quick Express site editor is an excellent tool for custom websites with all desired elements without any complex setup required.
When you choose the "Express" option, a series of choices must be made. First, there's stuff like picking a color scheme or a style for navigation, all of which require your input.
When everything is excellent and picked, you will be presented with a pre-made website, which you can set up according to your preferences regarding design.
It has dozens of pre-made sections that can be edited, enabled, and disabled using the side menu. There is also the option to use dozens of pre-made sections with several different layouts.
It's not easy to be able to do your design work, but Gator does an incredible job at doing it for you – while giving you enough choices and freedom to make it something genuinely customized without putting all the work on you.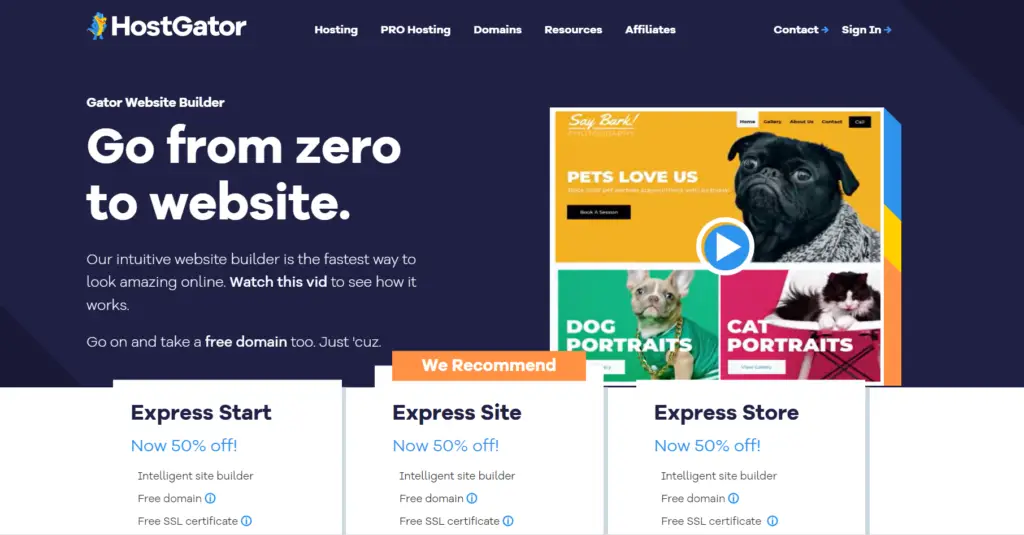 What businesses should use Gator website builder?
Gator can be a great way to get your business online if you are running a simple business and looking for a quick and easy way. Despite not having the most potent customization interface, this simple, easy-to-use software offers solid marketing and business features. 
It has a simple and affordable interface, but it does not come with any issues for most people.
Features:
Easy to use: The user interface of Gator can be pretty straightforward, so it should be delightful for beginners.
Email marketing: There is also a pretty good suite of tools available in Gator's suite, a designer with the same functionality as the website builder, available for all your custom design needs.
Analytics: With Gator, beginners can check out the number and behavior of their users with a solid built-in option.
Pricing:
With Express Start, you get 3 email campaigns monthly and a 3-product online store for $3.84/month. With Express Site, you get 5 email campaigns monthly, 10 products online store, Appointment booking, Express Store, and 10 email campaigns at $5.99/month. With unlimited product online stores, appointment bookings, and Priority support, this package starts at $9.22/month.
A simple and easy-to-use system.

Business features that are good value for money.

The introductory price is excellent.
There is a limited amount of flexibility in the design.

There is a somewhat limited selection of business tools available.
9. SITE123: Best for simple sites
When making a website, you need to consider many things, but if you are not an experienced designer or do not wish to be one, this whole "making a website" can seem a bit tedious. However, for those who care about results, SITE123 is an excellent option.
This rapid, easy-to-use program will take only a little effort from your end, but you'll end up with a fully customized, business-focused website in no time.
Setting up a business website is as simple as selecting the type of website you wish to create, typing in the name for your website, and then taking advantage of the results.
After that, you'll immediately get access to the Editor, where you can choose from several design options – the themes will automatically adapt to your content, so you'll be able to make sweeping changes to your content much more accessible than ever.
There is no doubt that SITE123 is a straightforward site to work on. You can add content and change the site design in minutes by browsing through the builder's library of sections. Furthermore, by mixing and matching these sections, you can create some seriously advanced websites in a concise amount of time.
The SITE123 platform can make creating a website as simple as possible for you. If that's your thing, then you should be using SITE123 as your platform of choice.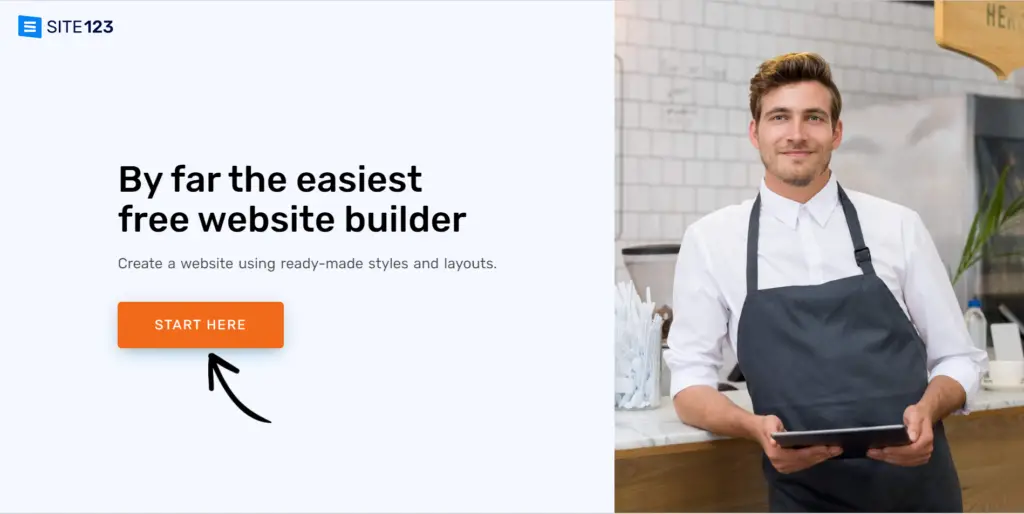 What businesses should use SITE123
SITE123 is the perfect platform for businesses that want to build a website quickly and easily without sacrificing quality or design. The SITE123 Editor is laser-focused on speed, allowing users to create a functional one-page website in just three clicks. 
And for businesses that need a little extra help, SITE123 offers expert assistance 24/7. With its simple interface and streamlined features, SITE123 is the perfect choice for businesses that want to get online fast.
Features:
A built-in eCommerce platform: This platform allows you to sell digital goods, create coupons, and use conversion codes to track orders, in addition to showcasing products and variants related to your product line.
Editable meta tags and titles. To optimize your website on-page, you can make use of them.
Automatically generated sitemaps. Search engines such as Google improve your site's indexation by allowing it to be crawled more quickly.
301 redirects. Identifies deleted pages so that search engines will ignore them and lets you route visitors around those pages.
Integration with Google's Webmaster Tools. This tool is free to use and will allow you to track your site's SEO performance and potential bugs.
Email marketing: The SITE123 dashboard has everything for email marketing, including a branded ID, forms for capturing user emails, and templates you can pick-n-play from.
24/7 multilanguage chat support: The SITE123 chat support is available at all times, 24/7, in several languages, so you won't have any problem accessing it if you get stuck during the process.
Pricing:
Starting at $5.80 a month, you can get a free domain for one year when you sign up for a premium package.
Platform with an easy-to-use interface.

The setup process is simple.

You will also receive free access to additional business tools.

A great customer service team that is available 24/7.
A limited number of customization options.
10. Square Online: Best for square online business
Square Online has created good eCommerce tools by combining its understanding of payment with Weebly's simple website builder.
In contrast to most website builders, Square Online doesn't have a vast library of templates that can be used to create your website. This can frustrate highly creative people who want to build something from scratch.
There are plenty of advantages to this approach as well, not the least of which is that you're building a site that takes into account best practices when it comes to eCommerce, specifically tailored to your industry, which is a central selling point from our perspective.
Square Online lets you add products, choose shipping options, and calculate taxes automatically.
Using Square Online Checkout Links, which you can add to your small business website for free, allows you to take payments directly from visitors if you have just a few products to sell. You don't have to start rebuilding your business website from scratch to accept payments if you already have one! This is very good to know if you already have a business website.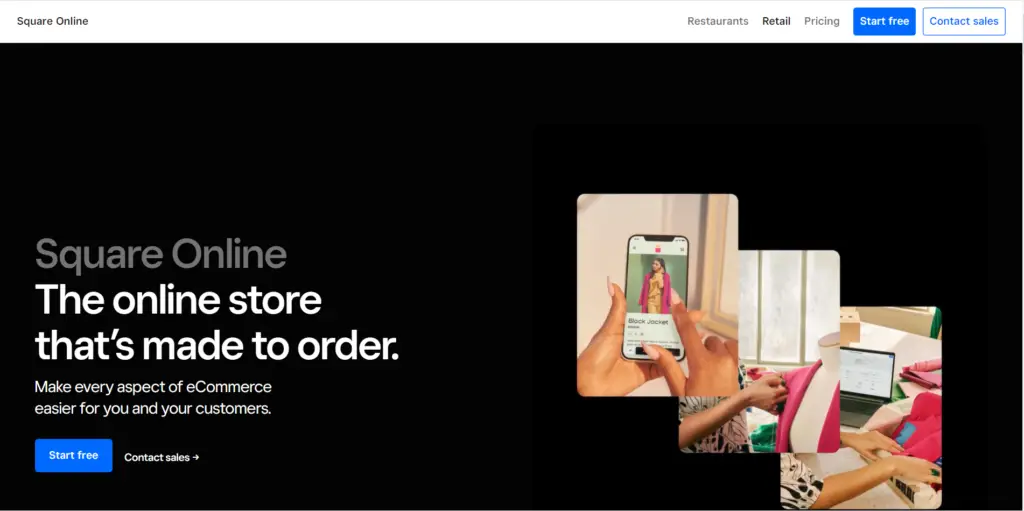 What businesses should use Square Online website builder?
Square Online is ideal if you are running a small brick-and-mortar business and looking for a quick and easy way to start an online presence. If you use Square POS as your point of sale system, you will find Square Online's integrations particularly useful.
Features:
Adding Products: You can add products and variations easily to your store, and you can even add modifiers that let customers personalize their products – ideal if you sell gifts.
Managing Stock: It is every store manager's worst nightmare to find out that you sold the last product in your store just moments ago while selling a product on your site. You need good inventory management tools to avoid embarrassing conversations, complicated returns, and unhappy customers.
Payment Processing: The only payment processing option with Square Online is – well – Square. If you have a Performance or Premium plan, you can also add PayPal.
Pricing:
Currently, there are three packages available: Free, Plus for $29/month, in which you will get advanced features designed specifically for restaurants, retailers, or appointment-based businesses, while Premium will let you customize a plan according to the complexity of your business.
A dashboard that is easy to navigate.

Marketing is built into the system.

The value for money is excellent.
Designs that are inflexible and outdated.

Square is the only payment method accepted.

It takes a lot of time to learn.
How to Choose the Best Website Builder
To choose the best website builder for your individual needs, here are some requirements you need to consider.
1. Explore Key Features
Here are some of the most popular features of website builders.
Drag-and-Drop Interface. Many website builders allow you to drag and drop components into a web page to look like collages when you put them together. Depending on the website builder, you may be able to add text, photos, videos, or other elements to your web page. In addition, different website builders offer different levels of flexibility for customization. While some websites use themes that are difficult to adjust, other websites allow you to customize nearly every aspect of the web page without any coding.
Pictures and Video Storage: You can upload pictures and videos to your website using website builders. This will allow you to edit and remove pictures and videos from different pages, but they will still be saved. The number of photos and videos available depends on your subscription plan.
Hosting and Domains: When building a website, it is essential to have a website host and a domain name (the URL used to navigate your site). Many website builders offer all three features. You must migrate your domain name to a different website builder if you already own a domain name but wish to use a different one.
Third-Party Integrations. Using website builders, you can easily add third-party applications such as social media feeds or shopping carts to your website. You can also integrate lead capture forms, which allow potential customers and clients to provide their information directly into your preferred CRM or data repository using lead capture forms.
Mobile Compatibility. Many website builders automatically integrate mobile compatibility into their websites and allow you to see a mobile version as you edit it. Because so many people browse the web on mobile devices, mobile compatibility is essential for any website. Sometimes, you can set up your site to work well on multiple devices by automatically adjusting the elements.
Business Email. With most website builders, you can create an email address with your domain name as the extension in your email address. Depending on the plan you choose, you should always be aware of the cost of using this feature, while other companies offer one or two emails for free and charge for each additional email you send.
SEO Analytics. Many people assess traffic using Google Analytics, but most website builders have their version of traffic analysis that is easier to use for most people. You will be able to find out from which websites your visitors are coming and how they found you by doing this. The need for specific software for analytics may arise if you are actively attempting to improve your SEO and reach more people through your website. Nevertheless, most individuals and small businesses can gain sufficient insight through their website builders.
2. Price
You should weigh your budget against the importance of your website to your business if you make the most of your money online. But, on the other hand, if your business makes most of its money online, it will be worth spending a little extra so that your clients enjoy the best possible online experience.
3. Ease of use
One thing that should never happen when it comes to website builders: they should make your life easier, not harder. Be sure to find one at the same level of knowledge as yours about website building-you don't want to spend hours and days learning how to create an excellent website; that's why you are using these builders.
Related: Best Software for Payroll
Tips to Build a Successful Website
You can create a successful website by following these tips:
→ Design for Desktop and Mobile Devices
When you have a mobile-responsive site, the images, text, and design elements are automatically adapted to appear quickly and appropriately on computers and mobile devices. 
You should always ensure that your designs are previewable on desktop and mobile screens of different sizes, even if most modern site builders are mobile-responsive. Be sure always to preview your designs on both desktop and mobile screens.
Depending on whether your designs contain errors, you may adjust them by changing the size of element elements or even by removing elements that do not fit specific screen sizes.
→ Use AMP
You should optimize your blog for AMP to ensure that it loads quickly on mobile devices. The AMP feature is an effort by Google (and many others) to improve the user experience on mobile devices. If your website builder offers an AMP feature, use it! You will likely rank higher in search engines if you use it, but you will also benefit from an improved user experience.
→ Consider Prebuilt Templates and Themes
It is common to interchange the terms theme and template. A template is a prebuilt page design that usually includes menu navigation containing the most common pages (home, about, contact, blog), a header, and a footer. A theme usually includes sample images and text that can be replaced with your own. You can also modify the global template to meet your needs.
Themes are available in a wide variety of free and premium formats from most site builders. These themes can help you get a well-designed site up and running much quicker than building it from scratch. Previewing all your pages as you add content is important to ensure no inconsistencies or errors.
→ Add An SSL Certificate
The secure socket layer (SSL) certificate encrypts data transfers between a website and its visitors. Therefore, the SSL certificate keeps the information you receive from your visitors private when they visit your secure website or enter data in any fields on your website (forms, usernames, passwords, credit card numbers).
It's essential to have security on your site for the end user, and having an SSL certificate can also boost your search engine ranking.
Related: Best Security Software for Small Business
Conclusion
While choosing the best small business website builder for your company may seem overwhelming, this article will hopefully guide you. Selecting a platform that is easy to use and provides the features you need will help ensure that your website is successful.
Do you have any other tips for choosing a small business website builder? Please share them with us in the comment section below!
FAQs
Is Wix good for a small business?
It depends on what you need and what you're looking for. Wix is an excellent platform for building simple websites, but it doesn't offer the same customization or features as more robust platforms like WordPress.
Is a website a good idea for a small business?
In general, having a website can be a good idea for a small business because it allows customers to learn more about the company and its products or services and provides a convenient way for customers to place orders or make reservations.
How can I create website for my business?
There are a few different ways to create a website for your business. You can hire a web design company to create and maintain the site for you or use a website builder to create the site yourself.
Which website is best for online business?
Several different websites can be used for online business. Some of the most popular ones include Amazon, eBay, and Etsy. These websites allow businesses to sell products and services online to customers worldwide.
What is the average cost of website design for small businesses?
A professional small business website typically costs $5,000 – $10,000. However, this can vary depending on the design's complexity and the features included.