Disclaimer: We sometimes use affiliate links in our content. For more information, visit our Disclaimer Page. 
As eCommerce continues to grow in popularity, it's no surprise that online retailers are faced with numerous challenges. From technological advancements to changing consumer expectations, eCommerce businesses have to adapt and navigate obstacles to succeed in the competitive industry. In this article, we'll explore the common challenges faced by eCommerce businesses and provide solutions to overcome them.
Key Takeaways:
eCommerce businesses face numerous challenges in the modern marketplace.
Adapting to technological advancements and changing consumer expectations is crucial for success.
Building and maintaining an effective e-commerce website, overcoming marketing challenges, managing inventory and fulfillment, dealing with intense competition, enhancing customer trust, and navigating the legal and regulatory landscape are all common e-commerce challenges.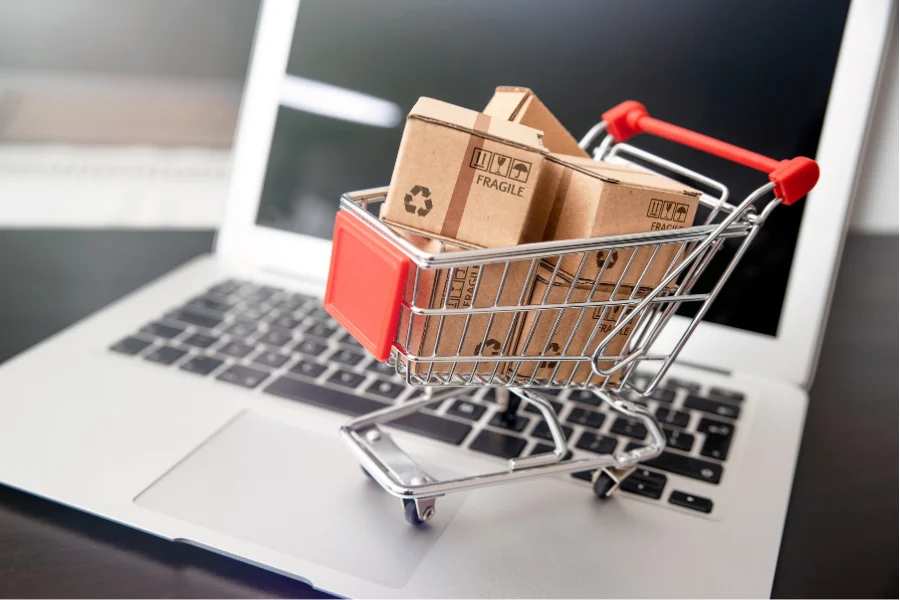 ECommerce is an ever-evolving industry, constantly shaped by technological advancements and changing consumer expectations. While these advancements have opened up new growth opportunities for businesses, they have also created unique challenges that must be overcome to stay competitive in the online marketplace.
One of the biggest eCommerce challenges is keeping up with technological advancements. As new technologies emerge, online retailers are forced to adapt quickly to ensure their websites remain up-to-date and user-friendly. Additionally, changing consumer expectations have raised the bar for eCommerce businesses, requiring them to provide exceptional customer experiences at every touchpoint to maintain customer loyalty.
To overcome these e-commerce challenges, businesses must be proactive in keeping up with emerging technologies and consumer trends. This requires an investment in technology and a willingness to embrace new tools and platforms to optimize the shopping experience for customers.
Creating Mobile-Optimized Websites
One of the technological advancements that has significantly impacted eCommerce is the rise of mobile devices. With more consumers shopping on their smartphones and tablets, businesses must focus on creating mobile-optimized websites that provide a seamless shopping experience across all devices.
In addition to creating mobile-friendly websites, businesses must also optimize their checkout processes for mobile devices. Long and complicated checkout processes are a major turnoff for mobile shoppers, so streamlining the checkout process is essential to prevent cart abandonment and improve conversion rates.
Meeting Customer Demands
Changing consumer expectations have also created new eCommerce challenges. Consumers expect fast, free shipping, hassle-free returns, and personalized experiences across all channels. To meet these demands, businesses must invest in technology that allows them to offer a seamless, omnichannel experience that meets the needs of their customers.
Businesses can overcome these challenges by leveraging data to understand their customers' needs and preferences better. Personalization is key to customer satisfaction, so using data to create targeted marketing campaigns, personalize product recommendations, and provide personalized customer service can help businesses stay ahead of the competition.
Building and Maintaining an Effective eCommerce Website
E-commerce growth has revolutionized businesses' operations and brought unique challenges to online retailers. Building and maintaining an effective eCommerce website that delivers a seamless user experience while meeting customer expectations and ensuring security is one of the biggest challenges.
The challenge of creating a user-friendly and visually appealing eCommerce website is real. A website that is visually unappealing or difficult to navigate can quickly drive away potential customers. Visitors to your website should be able to easily find what they are looking for within seconds of arriving. To overcome this challenge, businesses should focus on website design, ensuring that it is clean, modern, easy to navigate, and optimized for mobile devices. Another essential factor is website speed, ensuring that your website loads quickly, as slow loading times can lead to bounce rates.
When it comes to eCommerce, a mobile-friendly website is no longer an option; it is a must-have. As more and more customers shop online using their mobile devices, businesses need to ensure that their eCommerce website is optimized for mobile devices. Responsive design, which adapts to different screen sizes, is a must-have feature for all eCommerce websites.
Security is another vital aspect of eCommerce website maintenance and should be a top priority for all businesses. eCommerce websites deal with sensitive customer information such as payment details and personal data. Websites must be equipped with secure payment gateways and SSL certificates to keep customer information safe.
Site performance can be an issue for businesses, as an eCommerce website with slow performance can impact search engine ranking and customer satisfaction. To overcome this challenge, businesses can employ caching techniques that store website data to ensure faster access times for repeat visitors.
Building and maintaining an effective eCommerce website presents unique challenges, but businesses can overcome them by ensuring their website is designed to be user-friendly, mobile-optimized, secure, and fast-loading. With these strategies in place, businesses can provide their customers with a seamless online shopping experience and generate higher revenues.
Overcoming Marketing Challenges in the eCommerce Space
Marketing challenges can be a significant hurdle for eCommerce businesses seeking to grow and thrive. With so many companies vying for customers' attention, finding ways to stand out and make an impact is crucial. Some of the most common eCommerce marketing challenges include:
Low website traffic
Low conversion rates
Ineffective marketing channels
Difficulty in measuring ROI
Lack of brand awareness
Fortunately, there are several strategies that businesses can employ to overcome these challenges.
Increasing Brand Visibility
Building brand awareness is a critical factor in eCommerce success. Having a clear brand message and a unique value proposition is essential to set your brand apart from competitors. There are several strategies for increasing brand visibility, including:
Investing in SEO to improve website ranking
Utilizing paid advertising to reach a broader audience
Partnering with influencers to promote your brand
Creating shareable content to increase brand exposure
Driving Traffic and Optimizing Conversions
Driving traffic to your eCommerce site is essential, but it's only half the battle. The other half is converting that traffic into paying customers. Strategies for optimizing conversions include:
Implementing A/B testing to improve website design and functionality
Streamlining the checkout process to reduce cart abandonment rates
Offering incentives such as free shipping or discounts to encourage purchases
Utilizing Effective Marketing Channels
Choosing the right marketing channels is crucial to reaching your target audience and converting them into customers. Some of the most effective marketing channels for eCommerce businesses include:
Measuring ROI
Measuring eCommerce marketing efforts' return on investment (ROI) can be challenging. To overcome this challenge, businesses should track key metrics such as:
Website Traffic
Conversion rates
Revenue generated
Campaign costs
By carefully tracking these metrics, businesses can determine which marketing strategies are most effective and adjust their marketing efforts accordingly.
E-commerce marketing challenges can be overcome with the right strategies and tactics. By building brand awareness, driving traffic and optimizing conversions, utilizing effective marketing channels, and measuring ROI, eCommerce businesses can achieve success in the competitive online retail environment.
Managing Inventory and Fulfillment in eCommerce
ECommerce businesses face numerous challenges, including those related to inventory management and order fulfillment. Successfully managing these aspects of the business is crucial to providing customers with the products they need in a timely and efficient manner. Let's explore some common eCommerce business challenges and strategies for overcoming them:
Inventory Tracking
One of the biggest challenges eCommerce businesses face is managing their inventory. It's essential to have real-time insights into inventory levels so that you can avoid stockouts and backorders. Utilizing an inventory management system can help you keep track of stock levels and predict demand. Additionally, you can implement a perpetual inventory system, which continuously updates inventory levels with every transaction, providing accurate data on stock levels.
Shipping Logistics
Another inventory-related eCommerce business challenge is shipping logistics. Streamlining the shipping process and providing customers with accurate shipping information is essential. You can consider partnering with reliable, fast shipping carriers or leveraging third-party logistics providers (3PLs) to take care of shipping logistics. Implementing a shipping management system can also help you automate and optimize the shipping process, ensuring timely and accurate delivery.
Stockouts
ECommerce businesses need to avoid stockouts, as they can harm customer satisfaction and lead to lost sales. To prevent stockouts, you can maintain safety stock levels, which represent the minimum inventory levels required to keep up with unexpected demand. You can also track sales trends and use demand forecasting tools to predict demand and adjust your inventory levels accordingly.
Customer Expectations
Customers expect quick and efficient delivery of their orders. Fulfillment timeframes should be transparent and accurate so customers know when to expect their products. Implementing real-time updates on order status can help manage customer expectations and provide clear communication about shipping delays or fulfillment issues.
eCommerce Solutions
In addition to these strategies, leveraging an inventory management system and shipping management software can streamline the entire fulfillment process and help eCommerce businesses efficiently manage their inventory and order fulfillment. Other eCommerce solutions may include automating back-office processes, implementing a warehouse management system (WMS), and optimizing product listings and descriptions to ensure accurate order fulfillment.
Dealing with Intense Competition in the eCommerce Industry
E-commerce businesses are facing intense competition in today's market. As more businesses move their operations online, standing out in the crowd becomes increasingly difficult. To succeed in eCommerce, businesses must differentiate themselves from their competitors and offer unique and valuable products or services.
One of the most effective ways to overcome eCommerce business challenges is by developing a unique selling proposition. This can involve identifying a niche market or offering a product or service that is unavailable elsewhere. Businesses may also consider offering personalized services or bundling products to create unique offerings.
Pricing strategies can also be crucial in overcoming e-commerce challenges. Businesses need to find the sweet spot between competitive pricing and profitability. Regular price monitoring and targeted promotions can also help to draw customers away from competitors.
Customer loyalty is another key factor in succeeding in the eCommerce industry. Retaining customers through personalized experiences and exceptional customer service can help to create a loyal customer base. Offering loyalty programs, such as rewards points or discounts for repeat customers, can also encourage customer retention.
Staying up-to-date on industry trends and leveraging data analytics can also provide a competitive advantage in eCommerce. Businesses that monitor market trends and consumer behavior can adapt quickly to changing customer needs and preferences.
Enhancing Customer Trust and Addressing Security Concerns
The eCommerce industry's growth has been accompanied by a rise in the number of security incidents, causing customers to become more cautious when making online purchases. Building trust with consumers, therefore, is vital for eCommerce businesses and is a significant challenge. Customers must feel confident that their personal information and payment details are secure while doing business with an online retailer.
One way to enhance customer trust is by ensuring the use of secure payment gateways. Online businesses can do this by partnering with reputable payment gateway providers that provide encryption and fraud protection. It is also worth noting that payment gateways that support a wide range of payment options can help increase consumer confidence.
Customer reviews are another excellent way for eCommerce retailers to build trust with potential customers. They give potential customers insight into other customers' experiences, reducing the risks associated with buying from an unknown retailer. Businesses can incentivize customers to leave reviews by offering small discounts or loyalty points that can be redeemed for future purchases.
Data privacy is another crucial concern for customers when making online purchases. Businesses must ensure they are compliant with data protection regulations and clearly communicate their policies to their customers. Displaying clear and concise privacy policies, cookie use statements, and terms of service can go a long way in building trust with customers and enhancing their overall experience on the website.
Trust-building strategies such as ensuring transparent communication, easy returns, and excellent customer service can help customers feel more confident when doing business with online retailers. Investing in customer service training for online and offline support channels can improve customer satisfaction and help reduce negative feedback or reviews.
Adapting to Changing Legal and Regulatory Landscape in eCommerce
Running an eCommerce business comes with its unique legal and regulatory challenges. From taxes to data protection regulations, compliance with international laws, and keeping up with evolving legal landscapes, businesses need to take a proactive approach to overcome eCommerce business challenges. Here are a few eCommerce solutions to navigate these challenges effectively.
Understand Local Laws and Regulations
Understanding the laws and regulations that apply to your eCommerce business in your target market is important. From state to state, country to country, regulations may vary, so hiring legal counsel or a compliance officer who can guide you through the legal landscape and help you navigate the e-commerce challenges that arise is vital.
Stay Compliant with Tax Regulations
Tax regulations continue to evolve rapidly, and keeping up with changes is crucial for eCommerce businesses. Understanding the tax implications of selling to different states and countries and how your business can comply with them is essential. Failing to comply with tax regulations can result in significant fines and legal repercussions, creating significant eCommerce business challenges that must be addressed.
Ensure Data Privacy and Security
Protecting customer data is essential to build trust and comply with data protection regulations. eCommerce businesses must have a clear privacy policy, secure payment gateways, and employ robust data security protocols to build trust and prevent eCommerce challenges related to data protection.
Comply with International Laws
If you sell to customers outside of your home country, it's essential to understand and comply with international laws. International laws can vary depending on the country, and it's essential to ensure that your eCommerce business complies with the regulations in every region where you conduct business to avoid any eCommerce business challenges.
Adapting to eCommerce's changing legal and regulatory landscape requires a proactive approach and stay up to date with regulations that apply to your business. By following these eCommerce solutions, you can navigate eCommerce business challenges and achieve success in the competitive eCommerce industry.
Conclusion
eCommerce businesses face a range of challenges in the modern marketplace, from technological advancements and changing consumer expectations to legal and regulatory requirements. To succeed in this increasingly competitive industry, online retailers must navigate these challenges and find effective solutions.
Creating and maintaining an effective eCommerce website is crucial, including optimizing user experience and mobile responsiveness, ensuring site security and performance, and managing inventory and order fulfillment. Effective marketing strategies, such as increasing brand visibility and optimizing conversions, are also essential to overcome eCommerce challenges.
Building customer trust, addressing security concerns, and staying updated on changing legal and regulatory requirements are critical components of online retail success. E-commerce businesses can thrive in the ever-evolving digital landscape by addressing these challenges and finding effective solutions.
FAQs
What are some common eCommerce challenges?
Common eCommerce challenges include navigating technological advancements, building and maintaining an effective eCommerce website, overcoming marketing challenges, managing inventory and fulfillment, dealing with intense competition, enhancing customer trust, and adapting to legal and regulatory changes.
How can eCommerce businesses overcome challenges?
eCommerce businesses can overcome these challenges by staying updated on technological advancements, focusing on user experience and mobile optimization, implementing effective marketing strategies, utilizing inventory management systems, differentiating their brand, prioritizing data privacy and secure payment gateways, and staying informed about legal and regulatory requirements.
How can eCommerce businesses increase brand visibility and drive traffic?
eCommerce businesses can increase brand visibility and drive traffic by utilizing search engine optimization (SEO) techniques, investing in pay-per-click (PPC) advertising, leveraging social media platforms, creating valuable and engaging content, collaborating with influencers, and implementing email marketing campaigns.
What are some strategies for building customer trust?
Strategies for building customer trust and addressing security concerns include implementing secure payment gateways, utilizing SSL certificates, displaying trust badges and customer reviews, providing transparent privacy policy information, offering a hassle-free return policy, and promptly addressing customer inquiries or complaints.
What are some inventory management strategies for eCommerce businesses?
Some inventory management strategies for eCommerce businesses include implementing inventory tracking systems, conducting regular stock audits, utilizing demand forecasting tools, establishing relationships with reliable suppliers, optimizing warehouse and fulfillment processes, and offering backorder options when stockouts occur.
Credits
Featured Image: Credits Worawut via Canva.com