Disclaimer: We sometimes use affiliate links in our content. For more information, visit our Disclaimer Page. 
Effective communication is critical to professional success. Whether you are a team member, leader, or entrepreneur, communication skills are essential for achieving your goals and building strong relationships with colleagues, clients, and stakeholders. Improving your communication skills can boost your career prospects, enhance your leadership abilities, and improve your interpersonal skills.
This article will explore the fundamentals of effective communication and provide practical tips for becoming a more effective communicator. We will cover topics such as active listening, nonverbal communication, assertive communication, virtual communication, and overcoming communication barriers. By the end of this article, you will better understand how to improve your communication skills and achieve greater success in your professional life.
Key Takeaways
Effective communication techniques are crucial for professional success.
Improving communication skills can boost your career, enhance your leadership abilities, and improve your interpersonal relationships.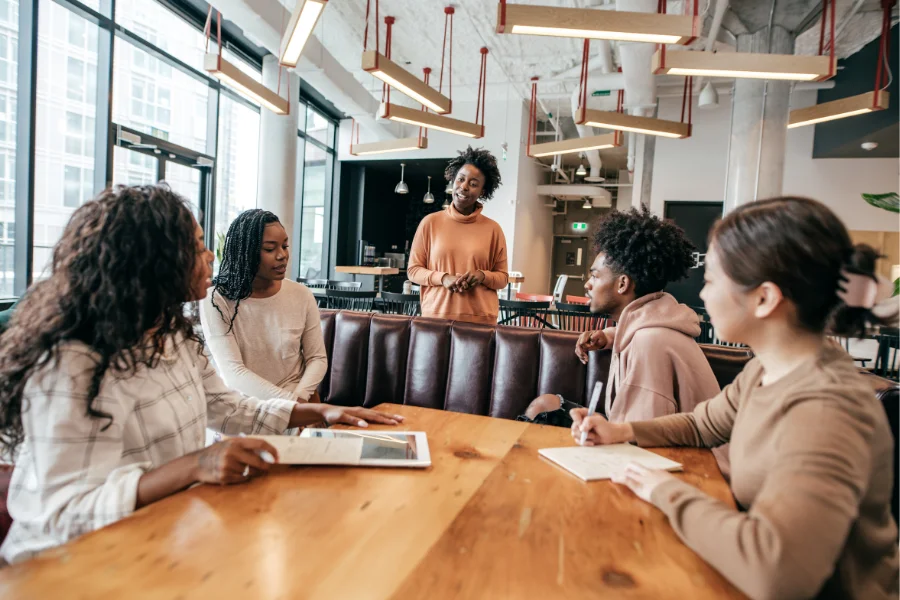 Understanding the Effective Communication Techniques
Communication skills are essential for professional success. Verbal communication is the most common form of communication, and it involves the use of words to express ideas, thoughts, and information. Nonverbal communication, on the other hand, refers to the use of body language, facial expressions, tone of voice, and gestures to convey meaning.
Clear communication is vital to building relationships and achieving goals. It is essential to ensure that your message is understood and interpreted correctly. Paying attention to verbal and nonverbal communication aspects is important to enhance communication skills.
Effective verbal communication involves using simple language, speaking clearly and concisely, and avoiding jargon. It is important to consider the audience and tailor the message to their understanding. Nonverbal communication plays a significant role in conveying emotions and building rapport. Maintaining eye contact, using facial expressions, and using appropriate gestures can help to convey messages effectively.
Active listening is an essential component of clear communication. It involves paying attention to the speaker, asking clarifying questions, and reflecting on what they have said. Active listening helps to foster understanding and promotes effective communication.
Overall, clear communication involves a holistic approach to verbal and nonverbal communication. Individuals can enhance their communication skills and promote effective communication by focusing on these aspects in any professional setting.
Developing Active Listening Skills
Effective communication involves not only speaking clearly but also listening actively. Active listening is crucial for anyone seeking to improve their communication abilities. It involves more than simply hearing what someone else is saying; it is about fully engaging in the conversation and seeking to understand the other person's perspective.
One way to become an active listener is by maintaining eye contact with the speaker. This demonstrates that you are focused and interested in what they say. Additionally, paraphrasing or summarizing what the speaker is saying in your own words can help ensure you fully comprehend their message.
Asking clarifying questions is another effective active listening technique. This shows the speaker that you are engaged in the conversation and that you care about understanding their message. Additionally, it helps avoid misunderstandings and ensures everyone is on the same page.
Clear communication is essential to building strong professional relationships. By developing active listening skills, you can foster deeper connections and build trust with colleagues and clients alike.
The Power of Nonverbal Communication
Effective communication techniques encompass not only verbal communication but also nonverbal communication. Nonverbal communication refers to the use of body language, facial expressions, gestures, and posture to convey messages. Clear communication requires aligning nonverbal cues with verbal communication to enhance clarity and avoid misunderstandings.
Body language is a crucial component of nonverbal communication. It includes posture, eye contact, facial expressions, and hand gestures. Maintaining eye contact during a conversation shows interest and engagement. Facial expressions can convey emotions and attitudes, such as smiling to show friendliness or nodding to indicate agreement. Hand gestures can emphasize points and add clarity to the message.
The tone of voice is also an essential aspect of nonverbal communication. The way someone speaks can convey emotions, attitudes, and even emphasis on specific words or phrases. Speaking with a monotone voice can indicate boredom or disinterest, while speaking in an enthusiastic tone can convey excitement and engagement.
Aligning nonverbal cues with verbal communication can enhance clear communication. For example, saying "I'm happy to see you" with a frown can confuse the listener. However, saying the same sentence with a smile can help convey the message effectively. Similarly, standing straight and maintaining eye contact while speaking can enhance the credibility of the speaker.
Overall, nonverbal communication is a powerful tool in effective communication techniques. Aligning nonverbal cues with verbal communication can enhance clear communication and avoid misunderstandings.
Assertive Communication: Finding the Right Balance
Assertive communication, a critical skill in effective communication, involves expressing oneself with confidence while respecting other people's views. Developing assertive communication skills can improve your interpersonal skills and boost your career.
One way to develop assertive communication skills is by respecting yourself and others. This means acknowledging your opinions and feelings without undervaluing other people's perspectives. It also entails using clear and concise language when communicating.
Another way to practice assertive communication is by making direct requests. This involves being clear about what you want and asking for it directly. Don't be afraid to ask for feedback or clarification when necessary.
However, it's essential to find the right balance when it comes to assertive communication. Being too aggressive can come off as confrontational while being too passive can lead to ineffective communication. Striking a balance between assertiveness and empathy can help you communicate more effectively and build stronger professional relationships.
Crafting and Delivering Effective Presentations
Effective presentation skills are one of the most valuable communication techniques in the workplace. Whether you are presenting a proposal to a client, pitching an idea to your team, or delivering a keynote speech at a conference, the ability to communicate confidently and persuasively can boost your career and enhance your professional reputation.
When crafting your presentation, it's essential to structure your content logically and engagingly. You should begin with a clear introduction that establishes your topic and engages the audience. From there, you can move into the body of your presentation, where you expand on the key points and ideas you want to convey. Visual aids, such as slides or videos, can be a powerful tool for enhancing your presentation and keeping your audience engaged.
As you deliver your presentation, it's important to maintain eye contact with your audience and speak in a clear, confident tone. A strong start and a compelling conclusion can leave a lasting impression on your audience, so carefully prepare these elements.
Effective presentation skills can help boost your career by demonstrating your ability to communicate with clarity and impact. By delivering engaging and persuasive presentations, you can establish yourself as a thought leader in your field and build strong professional relationships with your colleagues and clients.
Overcoming Communication Barriers
Effective communication techniques are essential for professional success. However, several barriers can hinder effective communication, especially in diverse workplaces. Overcoming these barriers fosters better interpersonal connections and enhances communication skills.
Language Differences
Language barriers are a common challenge in multicultural or multilingual workplaces. It is essential to maintain clear and concise communication to overcome language differences. Try to avoid using jargon, idioms, and slang that may be unfamiliar to others.
Using visual aids or written communication can also help overcome language barriers. For example, using flowcharts, diagrams, or pictures can make complex ideas easier to understand.
Cultural Diversity
Cultural differences can also affect communication in the workplace. It is essential to understand and respect cultural diversity to communicate effectively. Cultural awareness training can help team members understand each other's values, customs, and beliefs.
Be open-minded and willing to accept different perspectives and ways of communicating. Be respectful of different communication styles and avoid stereotyping individuals or groups based on cultural differences.
Distractions
Distractions can significantly impact effective communication. Ensure that communication takes place in an environment conducive to effective communication. Move to a quieter space, turn off electronic devices, and limit outside interruptions if necessary.
Practicing active listening skills can also overcome distractions. Ensure you give the speaker your undivided attention, maintain eye contact, and avoid interrupting or engaging in side conversations.
Emotional Barriers
Emotions can also be a significant barrier to effective communication. Individuals may shut down or lash out when angry or upset, leading to misunderstandings. It is essential to address emotional barriers when communicating.
Use empathy and active listening skills to understand the other person's perspective and feelings. Use language that acknowledges the other person's emotions and shows concern for their wellbeing.
Overcoming communication barriers requires practice, patience, and a willingness to improve communication skills continually. By identifying and addressing communication barriers, individuals and teams can enhance their interpersonal skills, boost their careers, and achieve professional success.
Enhancing Communication in Virtual Environments
Virtual work environments have become increasingly popular, and effective communication is crucial for success in such settings. Communication skills that work in face-to-face interactions may not always translate well to virtual communication. Therefore, developing and honing communication skills tailored to virtual settings is essential. Below are some effective communication techniques that can be useful in virtual environments.
1. Utilize Video Conferencing
Video conferencing is an excellent tool for virtual communication, as it allows team members to communicate face-to-face, enhancing engagement and understanding. It is crucial to ensure that all participants have access to reliable video conferencing tools and a stable internet connection.
2. Practice Active Listening
Effective listening is an essential component of communication; it becomes even more critical in virtual environments. Listening actively ensures that team members accurately understand each other's points of view and reduces misunderstandings. Active listening involves giving full attention, asking clarifying questions, and taking notes.
3. Use Clear and Concise Language
It is essential to convey ideas and information clearly and concisely in virtual environments. Avoid using jargon and complex words that may confuse team members. Use simple and straightforward language to ensure that the message is clear and easily understandable.
4. Establish Communication Protocols
Establishing and adhering to communication protocols can help mitigate confusion or misunderstandings that may arise in virtual communication. For instance, you can establish a protocol for responding to emails and messages, indicating the expected response time and medium of response.
5. Use Collaborative Tools
Collaborative tools such as shared cloud documents and project management software can enhance virtual communication by providing a common platform for team members to work on projects together. These tools can facilitate real-time updates, file sharing, and team collaboration.
6. Schedule Regular Check-Ins
Regular check-ins can help build trust and connection among team members in virtual environments. Schedule weekly or bi-weekly video calls to discuss progress and update team members about ongoing projects. Regular check-ins allow for real-time feedback and collaboration.
Employing these effective communication techniques in virtual environments can enhance communication, improve productivity, and foster a stronger sense of teamwork among virtual teams. With practice, these techniques can become essential tools in one's communication toolkit for virtual work environments.
Building Effective Communication in Teams
Effective communication is essential in building successful teams. Without clear and open communication, teams can struggle to achieve their goals, miss important deadlines, and may even experience conflicts that can negatively impact morale and productivity. However, building effective communication skills within teams can be a powerful way to boost your career, strengthen your leadership abilities, and improve your interpersonal skills.
Establishing Open Lines of Communication
One of the most critical steps to building effective communication in teams is establishing open lines of communication. This can involve regularly scheduled team meetings, one-on-one check-ins with team members, and establishing a culture of transparency and trust. When team members feel comfortable sharing their thoughts and concerns, it can strengthen the team dynamic and lead to more productive and successful outcomes.
Promoting Transparency
Transparency is key to effective communication in teams, and it involves being open and honest in all interactions. Encouraging team members to be transparent with their thoughts, concerns, and ideas can help create a more collaborative and supportive team environment. When everyone is on the same page and working toward the same goals, it can lead to more efficient and successful outcomes.
Resolving Conflicts
Even the most communicative and cohesive teams will experience conflicts from time to time. However, when conflicts arise, addressing them openly and honestly is essential. Encouraging team members to share their perspectives and actively listen to one another can help facilitate conflict resolution. Conflicts can lead to a stronger team dynamic and more productive outcomes when addressed effectively.
Effective communication is essential to building successful teams, enhancing leadership abilities, and boosting your career. By establishing open lines of communication, promoting transparency, and effectively resolving conflicts, teams can work together to achieve shared goals and objectives.
Conclusion
Effective communication is an essential skill for professional success. By mastering effective communication techniques, individuals can boost their career prospects, improve their leadership abilities, and enhance their interpersonal relationships.
Throughout this article, we have explored various aspects of effective communication, including verbal and nonverbal communication, active listening skills, assertive communication, and effective presentation skills. We have also discussed strategies for overcoming communication barriers and enhancing communication in virtual environments and teams.
It is crucial to implement these effective communication techniques continuously. Individuals can develop and maintain strong relationships with colleagues, clients, and stakeholders by doing so. Effective communication skills can help individuals stand out in their profession and achieve their goals.
FAQs
What are effective communication techniques?
Effective communication techniques refer to the strategies and skills that promote clear and impactful communication. These techniques include active listening, assertive communication, nonverbal communication, and effective presentation skills.
How does effective communication contribute to team building?
Effective communication contributes to team building by establishing open lines of communication, promoting transparency, and resolving conflicts. Strong communication skills within teams facilitate collaboration, trust, and collective goal achievement.
How can I overcome communication barriers?
It is important to be aware of common obstacles such as language differences, cultural diversity, distractions, and emotional barriers to overcome communication barriers. Strategies for overcoming these barriers include active listening, seeking clarification, adapting communication styles, and promoting open dialogue.
What is active listening, and why is it important?
Active listening is attentive and engaged listening to understand and respond to the speaker. It involves maintaining eye contact, paraphrasing, and asking clarifying questions. Active listening is important as it fosters understanding, shows respect, and builds stronger connections.
How can improving my communication skills boost my career?
Improving communication skills can boost your career by enhancing your ability to effectively convey your ideas, collaborate with others, and build strong professional relationships. Good communication skills are highly valued by employers and can lead to increased opportunities for advancement.
Credits
Featured Image: Credits Tinpixels via Canva.com
In-article Image: Credits kate_sept2004 via Canva