Disclaimer: We sometimes use affiliate links in our content. For more information, visit our Disclaimer Page. 
Making the most of your resources or maximizing your output from your inputs is the definition of business efficiency. You might be missing opportunities to reduce the amount of time you spend on a given work if you haven't considered how to increase efficiency in a firm. In the short- and long-term, this helps you save money and labor.
Efficiency is all about doing more with less effort and working smarter, not harder. Every sector needs it, but not all business owners are aware of how to accomplish it. The tips you may use to increase your production efficiency so you can manage your business effectively will be discussed in this article. 
1. Establish an effective team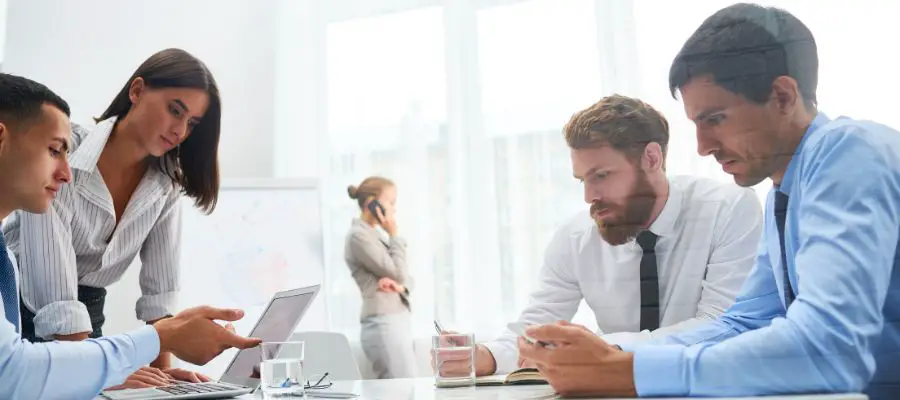 You may attain optimal production efficiency with the aid of your workforce. The objective in this situation is to promote teamwork among your personnel, improve their output, and emphasize team roles. Make sure they know their assigned duties and that you will hold them accountable for any assignments you give them. You must acknowledge their excellent performance and thank them for a well-done job.
2. Automate with software tools
As a manager, you must use your time wisely and focus on high-level issues. Automating as many business tasks as possible with business software can help you and your employees save time and better manage your priorities. Instead of manually performing administrative tasks, you use automated software systems to quickly perform pre-programmed tasks every time you enter new information.
Implementing automated systems can make business practice more reliable. Because business software uses computerized features, you don't have to worry about typos or human errors that occur between each step of a project. Some of the common types of business automation software:
Accounting software
Payroll software
Timekeeping software
Billing software
Contract management software
Customer Relationship Management Software. 
3. Make Your Technology Accessible 
Having up-to-date technology can make it easier for business employees to do their jobs and make company products more accessible to customers. Using outdated technology in the workplace can make it difficult for people to do their jobs, especially if they are more comfortable using other types of technology. For example, using a paper calendar to schedule meetings can be frustrating for employees who are used to using online scheduling software. Research what tech remote tools your team members and clients are using, and then try to integrate those technologies into the workplace.
It's also a good idea to hire an IT professional, like ones from Verticomm to keep your tech in the workplace always up to date. Just make sure that the person you'll be hiring, at least, has a Certificate III in Information Technology.
4. Check your budget regularly 
Having sufficient funds to run the department or company's operations is a crucial component of being a manager. To achieve the best effects, you must actively manage your budget. You can increase business efficiency by comparing your budget to your actual spending. 
During a budget audit, review real pay stubs, company receipts, and invoices to check expenses and identify possible sources of loss. Find where you can cut costs and identify which successful projects or initiatives may require additional funding. By adjusting your budget ahead of time, you can optimize efficiency and save money by being aware of changing financial needs.
5. Optimize your inventory
Inventory management is a major aspect of business operations and logistics. Your inventory management strategy should include both consumer goods and office supplies such as office equipment. Inventory optimization involves knowing the correct amount of consumables to order and when to order them.
To properly improve inventory methods, review each step of the supply chain. Consider storage and shipping costs to determine the maximum amount of inventory you can have available to prevent shortages of products, equipment, or consumables. Implement systems that allow you to track how much product you have at any given time and set up alerts when inventory levels fall below a certain amount.
6. Be aware of your corporate culture
The efficiency of business operations can be significantly influenced by corporate culture. You have a responsibility as a manager to influence the corporate culture of your staff. To determine the kind of business culture you want to develop, speak with team leaders and employees. Develop a plan for incorporating those values into work practices after determining the core values required to support the organization's mission.
For example, you can give your employees ongoing support and encourage them to support each other to create a sustainable corporate culture. Develop a system of rewards for achieving key performance indicators to promote work ethics as part of your corporate culture. As you implement your company culture plan, regularly review how your company culture initiatives are impacting performance.
7. Gather data for the review
Understanding your company is one of the greatest methods to run it. Do your best to learn about your company. Establish a set of KPIs to monitor employee happiness, revenue, social media engagement, and other factors. 
You can save time and resources in large-scale research projects by gradually gathering information. Even if you don't analyze the information immediately, having a database with useful business insights can allow you to complete data analysis projects in the future.
8. Develop understandable training materials 
One of the best ways to manage a business is to develop consistent training methods. A good training program allows all new employees to standardize their work processes. Your training materials can also serve as a reference resource when employees have questions about best practices in various workplace situations.
Create documents and handbooks that contain all the information new employees need to know, and then post them in an easily accessible place in the workplace. In addition to general training materials, develop training materials for specific departments or positions so that everyone on the same team understands their place in the company's work processes.
Related: How to Create a Lean Management Plan
Conclusion 
Being efficient in business helps you save money and time while still getting the same – or better – results. If you want to be more efficient in your business, start by trying out some of these tips. A combination of methods may work best for you and your company. Whatever you do, don't try to accomplish everything at once! Efficiency is a journey, not a destination.
What are some other ways you've achieved efficiency in your business? How did it impact your bottom line? Share your stories and advice in the comments below to help others learn from your experience.