Disclaimer: We sometimes use affiliate links in our content. For more information, visit our Disclaimer Page. 
Effective communication is critical in maintaining healthy relationships and fostering employee engagement within any organization. One of the primary channels of this communication is feedback. It's an integral part of the feedback process and the foundation for professional growth. However, providing feedback, particularly negative feedback, can often be challenging.
Negative feedback often carries a negative connotation, but it needn't be that way. The key to providing negative feedback lies in the delivery, which should be viewed as constructive criticism that aims to promote a growth mindset.
Here, we delve into negative feedback to manager examples and how they can be delivered appropriately, supporting a healthy work environment and enhancing company culture.
The Essence of Negative Feedback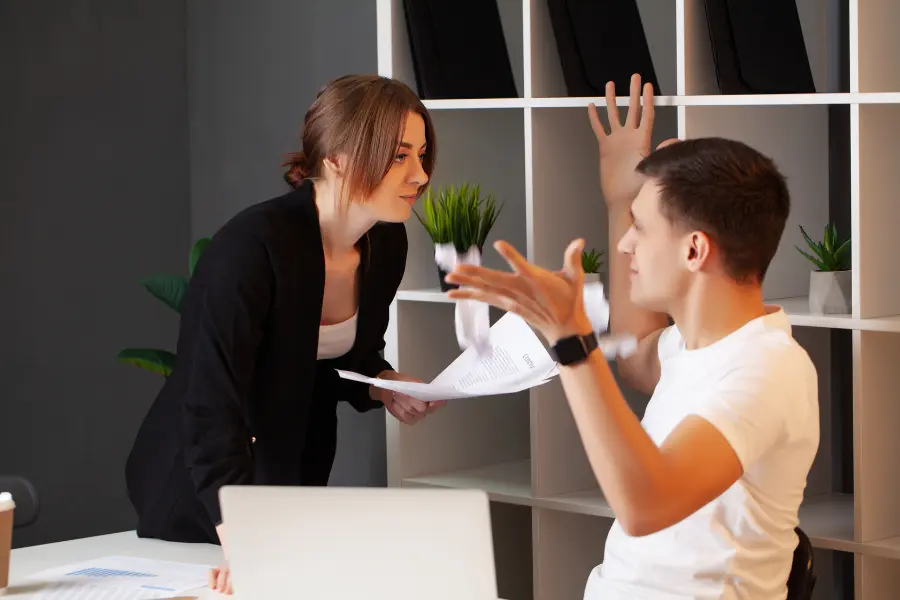 Negative feedback can seem daunting, both to provide and to receive. It is vital to understand that giving negative feedback is an essential communication skill, crucial for maintaining open dialogue and promoting improvement within your team.
Negative feedback can address issues such as unrealistic expectations, lack of support, or poor leadership skills. It can highlight specific areas where the manager can improve, ultimately enhancing the team's performance. It can also strengthen the working relationship between managers and their direct reports by fostering an environment where feedback is appreciated, accepted, and acted upon.
Negative feedback isn't about pointing fingers or criticizing harshly; it's about fostering a positive work environment where team members can openly discuss improvement areas. Remember, a team's strength lies in communicating effectively, addressing problems, and working towards shared goals.
Positive Feedback's Role in Feedback Conversations
In a feedback conversation, it's essential to balance negative feedback with positive feedback. A feedback sandwich is a popular strategy here, where you begin with positive feedback, follow it up with your critical feedback, and end on a positive note.
Positive feedback acknowledges your manager's positive behavior and accomplishments, reinforcing these actions and inspiring them to continue exhibiting such behavior.
For example, praising your manager for their time management skills during the last team meeting or their problem-solving abilities in dealing with a critical client can act as a great motivator. This balanced approach fosters a positive relationship and makes the negative feedback more palatable.
Preparing to Provide Negative Feedback to Your Manager
Before you proceed to provide feedback, it's crucial to prepare adequately. Reflect on the key points you wish to discuss and gather specific examples to support your claims. Active listening and proper body language can also go a long way in ensuring the feedback is delivered and received in a constructive way.
Negative Feedback to Manager Examples
Let's explore some real-life examples of how you can provide negative feedback to your manager.
Lack of Support: "I felt unsupported during our last sales team meeting when our team performance was criticized. I believe we could benefit from more guidance and practical solutions rather than focusing solely on the problems."
Unrealistic Expectations: "I appreciate your high standards, but I often find your expectations unrealistic. It would be beneficial to have a conversation about setting attainable goals for our team."
Poor Communication: "There are times when I'm unclear about my tasks due to the lack of detailed communication. I would appreciate it if we could establish a clearer communication plan moving forward."
Remember, the goal of giving feedback isn't to create tension, but to solve issues and maintain a healthy work environment. These examples are not meant to be copied verbatim, but to provide guidance on structuring your feedback.
Delivering the Negative Feedback
Once you've decided on your feedback, the next step is in the delivery. Here are a few points to consider while giving negative feedback:
Choose the Right Time and Place: Select a setting where your manager will be receptive to feedback and ensure there is adequate time for a discussion. Scheduling a meeting or requesting some time after a team meeting can be effective.
Use "I" Statements: Instead of starting with "You," begin your sentences with "I". This technique makes your feedback feel less accusatory and more personal. For example, "I feel unsupported when…" instead of "You never support us…"
Provide Specific Examples: Cite specific instances where you encountered the issue. This context helps your manager understand your perspective better and also indicates that your feedback is not baseless.
Stay Professional: Always remember, the goal of providing feedback is to improve the situation. Avoid letting emotions get the best of you. Stay calm, composed, and professional throughout the conversation.
Post-Feedback Process
Providing feedback is not the end, but a step in the entire feedback process. Here's what you can do after delivering feedback:
Follow-up on the Feedback: Plan a follow-up meeting to discuss any progress or changes since the feedback was shared. This step ensures your feedback wasn't ignored and shows your manager you're committed to improving the situation.
Provide Continued Feedback: Feedback isn't a one-time thing. Create an environment where ongoing feedback is encouraged. Regular feedback can prevent issues from escalating and promotes a healthy work culture.
Be Open to Feedback Yourself: If you're open to receiving negative feedback, it can encourage your manager and other team members to do the same. This openness helps build a strong feedback culture within the team.
Receiving Negative Feedback
Managers, like everyone else, are humans. They have their strengths and areas for improvement. As an employee, you may feel apprehensive about giving feedback to your manager, but remember, managers also need feedback to improve. Receiving negative feedback can be just as challenging as giving it.
As an employee, it's crucial to ensure your manager feels comfortable receiving feedback. Encourage them to view feedback not as criticism, but as an opportunity for growth. Highlight the benefits of the feedback process for the manager, including improved team performance, better employee engagement, and increased trust within the team.
Creating a Culture of Feedback
Feedback is a two-way street. For it to be effective, it needs to flow both ways: from employees to managers (upward feedback) and from managers to employees (downward feedback). Promoting a culture where feedback is encouraged can significantly enhance team members' overall satisfaction and performance.
Creating a feedback culture starts with making feedback a regular part of your team's operations. Be it in team meetings, performance reviews, or casual conversations – feedback should be woven into your team's fabric. Also, remember to give credit where it's due. Recognize and reward team members for their contributions to the team.
Future Feedback Considerations
The need for feedback isn't a one-time deal. As we navigate our careers, giving and receiving feedback will be an ongoing process. It's essential to view feedback as a growth tool, not as a form of criticism.
Embrace a Growth Mindset: Cultivate a mindset where you view feedback as a means to improve and grow. This attitude can help you and your team members face feedback with less anxiety and more openness.
Be Proactive: Don't wait for a feedback session. If you notice something that warrants feedback, take the initiative to address it.
Remember the Human Element: Behind every piece of feedback is a person with feelings and emotions. Regardless of whether you're giving or receiving feedback, always consider the human element.
Communicating Negative Feedback: Real-Life Examples
Understanding how to craft a feedback conversation is crucial, especially when delivering negative feedback. Let's explore a few more real-life examples that will help you in giving feedback to your manager more confidently and constructively.
Scenario 1: Manager's Poor Time Management
Suppose your manager has a habit of giving last-minute tasks, disrupting your planned workflow. Here's how you might give negative feedback:
"I've noticed that tasks are often assigned at the last minute, which can make it difficult to manage my time effectively and complete all assignments to the best of my ability. Could we consider discussing deadlines in our team meetings more in advance?"
This approach provides specific examples, communicates the problem, and proposes a solution.
Scenario 2: Manager's Unrealistic Expectations
If your manager sets unrealistic expectations leading to high-stress levels among the team members, you could phrase your feedback this way:
"Setting high standards can drive us to deliver quality work, which is positive behavior. However, the current expectations often feel unrealistic, leading to stress. Could we consider discussing these expectations in our next team meeting to ensure we're all on the same page?"
In this example, positive feedback precedes the negative feedback, softening the blow — a technique commonly known as the feedback sandwich.
Scenario 3: Lack of Manager Feedback
If your manager seldom provides feedback, leaving you unsure about your performance, you might say:
"As an employee, feedback from my superiors is crucial for my professional growth. I often find myself unsure about the quality of my work due to the lack of feedback. Could we perhaps establish a regular feedback process to facilitate more effective communication?"
This statement clearly expresses your needs and offers a potential solution, encouraging a constructive conversation about fostering a feedback culture.
Scenario 4: The Absentee Manager
Your manager is often unavailable or unresponsive, leaving you feeling unsupported. Here's a way to express your concern:
"I value your guidance in my work, but I've observed that you're often unavailable when I need assistance or approval. This sometimes impacts my efficiency and the team's performance. Can we explore a solution together, perhaps scheduled check-ins or using a shared calendar for better visibility?"
This example is objective, provides a specific scenario, and invites collaboration for a solution, which can help maintain a healthy working relationship.
These examples showcase the art of giving constructive criticism while maintaining healthy relationships within the workplace. You're not attacking your manager personally; instead, you're pointing out behaviors that impact you and your work negatively.
Remember, open communication is key. Both you and your manager are working towards the same goal — the success of your company. Regular, honest feedback, including negative feedback examples, can significantly contribute to a positive work environment where everyone feels heard and valued.
By embracing a culture of feedback, you'll be able to foster positive relationships, improve performance management, and contribute to your company's success. Being open and honest in your feedback conversations contributes to your team's overall effectiveness and your personal growth within the organization.
You might not see immediate change, but do not get discouraged. Your manager may need time to process the feedback and decide on the best course of action. If they value employee feedback, they will appreciate your honesty and strive to make the necessary changes for the betterment of the team.
Conclusion
Providing negative feedback to your manager can seem intimidating, but it is necessary for fostering a transparent, open, and effective workplace. Negative feedback, when provided constructively, can improve your manager's leadership skills, foster a stronger team, and improve overall performance. So, don't shy away from these conversations. Remember, your voice matters, and your feedback is invaluable.
We hope this guide provides you with the knowledge and confidence to navigate the challenging but essential task of giving negative feedback. After all, feedback is a gift—a gift of growth, development, and continuous improvement.
By mastering the art of providing feedback, you can contribute to a better working environment, not just for you, but for everyone in your team.
FAQs
How do you give constructive feedback to a manager examples?
 Constructive feedback focuses on improvement rather than criticism. For instance, "I believe I could benefit from more frequent communication regarding our project goals and deadlines. This will help me prioritize my tasks better and align my work with the team's objectives."
How do you tell your manager you don't feel supported? 
Open communication is crucial. You could say, "I felt a bit unsupported during our last team project. I believe I could benefit from more guidance and mentorship to help me better understand and meet my responsibilities."
What is an example of a negative performance review? 
Negative performance reviews typically highlight areas where the employee or manager has not met expectations. An example could be, "During this quarter, our team noticed that critical deadlines were often missed, which negatively affected the entire team's workflow and performance."
What is an example of feedback for a manager? 
An example could be, "Your leadership during the last project was greatly appreciated, especially your problem-solving skills. However, we could benefit from more frequent communication, especially regarding changes in project deadlines."
How do you write a negative feedback example? 
Writing negative feedback requires a careful approach to ensure the recipient understands the intention is an improvement, not criticism. For instance, "While your commitment to high standards is commendable, the team often feels overwhelmed by the unrealistic expectations set.