Disclaimer: We sometimes use affiliate links in our content. For more information, visit our Disclaimer Page. 
Providing effective leadership feedback is essential for managers to help their teams grow and develop. In this article, we'll explore leadership feedback examples for managers that cover positive, constructive, and negative feedback. By the end of this article, you'll have a wealth of knowledge to boost team performance and create a feedback culture within your organization.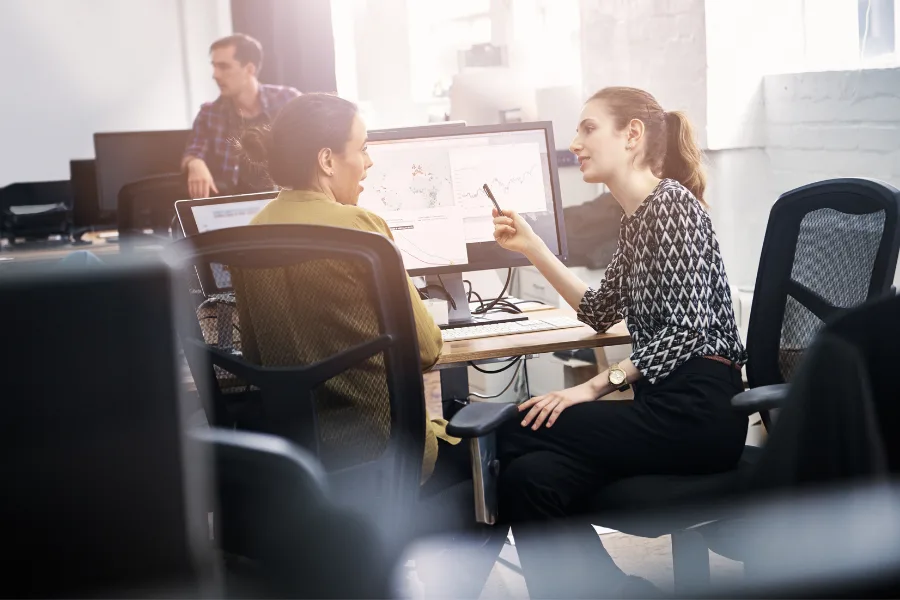 Leadership Feedback Examples for Managers
In this section, we will discuss different types of leadership feedback and provide examples for each type. These categories will help you better understand how to approach feedback in various situations and support the growth and development of your team.
1. Positive Leadership Feedback
Tip: Acknowledge specific achievements and qualities that make someone a good leader. Be genuine in your praise and focus on the behaviors that contribute to the individual's success.
Example: "You do a great job at leading by example. You're someone others want to follow. Well done!"
2. Constructive Leadership Feedback
Tip: When providing constructive feedback, be specific about the area that needs improvement and offer suggestions for how the individual can grow. Ensure your tone is supportive and non-judgmental.
Example: "I've noticed that you tend to dominate team meetings. It would be great if you could make an effort to involve others more and encourage them to share their ideas."
3. Goal-Oriented Leadership Feedback
Tip: Align feedback with the individual's goals and the organization's objectives. This helps the leader understand the importance of the feedback and how it relates to their overall success.
Example: "In order to achieve our target of increasing customer satisfaction, it would be helpful if you could invest more time in coaching and mentoring your team members on communication and problem-solving skills."
4. 360-Degree Leadership Feedback
Tip: Encourage open and honest feedback from all team members, peers, and supervisors. This holistic approach helps leaders gain a comprehensive understanding of their strengths and areas for improvement.
Example: "Your team members have mentioned that they appreciate your openness to their ideas and your supportive nature. However, they would also like to see you take more initiative in addressing and resolving conflicts within the team."
5. Timely Leadership Feedback
Tip: Provide feedback promptly after observing a specific behavior or event. Timely feedback allows the leader to better recall the situation and take appropriate action.
Example: "During today's meeting, I appreciated how you calmly handled the disagreement between team members and guided them towards a solution. Your ability to maintain composure during difficult situations helps keep the team focused and productive."
6. Regular Leadership Feedback
Tip: Establish a culture of continuous feedback by conducting regular check-ins and performance reviews. This helps leaders stay on track with their development and reinforces the value of feedback.
Example: "In our monthly one-on-one meetings, we can discuss your progress on leadership development goals, celebrate your accomplishments, and address any challenges or areas for growth."
Positive Feedback and Its Importance
Positive feedback plays a crucial role in employee engagement and motivation, highlighting leadership skills and boosting morale. It helps highlight leadership skills, boost morale, and reward performance. Here are some manager feedback examples that demonstrate how to provide positive recognition of effective leadership:
Communication skills: "Your clear and concise communication style during team meetings has improved our project coordination significantly."
Problem-solving skills: "I appreciate your creative approach to problem-solving, which has helped us overcome many challenging situations."
Team morale: "Your positive attitude and supportive nature have significantly improved team morale."
Remember to provide specific examples and give feedback in a timely manner. This will ensure that your employees understand the context and continue exhibiting positive behavior.
Related: Examples of Positive Feedback for Employees
Constructive Feedback and Its Significance
Constructive feedback, also known as critical feedback, is a valuable tool for promoting professional growth and development. By providing honest feedback, managers can help their team members identify areas for improvement and create a roadmap for success. Here are some constructive feedback examples that can help managers address leadership skills:
Decision making: "While your ability to make quick decisions is impressive, I would suggest taking more time to gather input from other team members before finalizing your choices."
Strategic vision: "Your strategic vision for our department is commendable, but it would be helpful if you provided clearer direction and more frequent updates to keep the entire team on the same page."
Remember that giving constructive criticism should be focused on improvement and not on merely pointing out faults. When providing feedback, use a supportive tone and emphasize your belief in the employee's potential.
Related: Leadership Vision Statement
Negative feedback is sometimes necessary to address performance issues or behavioral concerns. While it can be challenging to hear negative feedback, managers must approach these conversations with professionalism and empathy. Here are some tips for providing negative feedback:
Be specific: Use specific examples to explain the issue and its impact on the team's performance.
Focus on the behavior, not the person: Address the problematic behavior, rather than criticizing the individual personally.
Provide clear direction: Offer suggestions for improvement and provide resources to support professional development.
Remember that the goal of negative feedback is to help employees grow, not to demoralize them. Approach these conversations with the intent to guide and support, rather than to punish or humiliate.
Leadership Feedback in Performance Reviews
Performance reviews are an excellent opportunity for managers to provide feedback on leadership skills. By incorporating both positive and constructive feedback, managers can help their direct reports develop as leaders and contribute more effectively to the team's success.
When conducting a leadership performance review, consider these key points:
Review past performance: Discuss the employee's achievements and growth areas, focusing on leadership skills and their impact on the team.
Set clear expectations: Clarify the expectations for leadership development and discuss how they align with the organization's goals.
Identify strengths and weaknesses: Highlight the employee's unique strengths and address any areas that need improvement, providing specific examples.
Create a development plan: Collaborate with the employee to create a personalized development plan that includes opportunities for continuous learning, skill-building, and mentorship.
Follow up: Schedule regular check-ins to discuss progress, provide feedback, and address any challenges or roadblocks.
Related: Annual Performance Reviews Sample Comments
Promoting a Feedback Culture in the Workplace
Creating a feedback culture within your organization not only benefits your employees' professional growth but also contributes to a positive work environment. Here are some strategies for promoting a feedback culture:
Encourage upward feedback: Foster a culture where employees feel comfortable providing feedback for managers, which can help improve your own management style and create a more inclusive atmosphere.
Facilitate peer feedback: Encourage team members to provide feedback to each other, fostering collaboration and continuous improvement.
Recognize and reward feedback: Acknowledge employees who actively participate in the feedback process and demonstrate a commitment to professional development.
Involve Human Resources: Partner with your HR department to develop feedback training and resources to support managers and employees in providing effective feedback.
Lead by example: As a manager, demonstrate your commitment to feedback by actively seeking input from your team and implementing changes based on their suggestions.
By fostering a feedback culture and effectively giving feedback, you can help your employees develop their leadership skills, improve team performance, and drive overall organizational success.
Effective Leadership Feedback Methods
To provide effective leadership feedback, managers should adopt various techniques and methods that cater to individual preferences and circumstances. By incorporating these methods, managers can deliver feedback that resonates with their employees and fosters growth.
The SBI Model
The SBI (Situation-Behavior-Impact) model is a structured approach to providing feedback that helps maintain clarity and focus. When using the SBI model, managers should:
Describe the situation in which the behavior occurred.
Explain the specific behavior observed.
Discuss the impact of the behavior on the team or project.
Example: "During last week's team meeting (situation), you presented a well-researched proposal (behavior) that helped us make an informed decision, saving time and resources (impact)."
The 360-Degree Feedback Method
The 360-degree feedback method involves collecting feedback from multiple sources, including peers, direct reports, supervisors, and self-assessment. This comprehensive approach provides employees with a well-rounded understanding of their performance and leadership skills.
Managers can use the following steps to implement 360-degree feedback:
Identify the key competencies and leadership skills relevant to the employee's role.
Collect feedback from various sources, ensuring anonymity to encourage honest input.
Analyze the feedback to identify trends, strengths, and areas for improvement.
Share the feedback with the employee and collaborate on a development plan.
The Feedforward Technique
The feedforward technique focuses on future-oriented feedback that helps employees improve their leadership skills moving forward. Instead of dwelling on past mistakes, managers should:
Identify areas of improvement or desired changes in behavior.
Offer actionable suggestions and guidance for achieving those changes.
Encourage employees to reflect on their goals and create a plan for growth.
Example: "To enhance your decision-making skills (area of improvement), consider seeking input from a diverse group of team members and evaluating the pros and cons of each option (suggestions) before making your final decision (desired change)."
Overcoming Feedback Challenges
Managers may face various challenges when providing leadership feedback. By understanding and addressing these challenges, managers can ensure that their feedback is effective and well-received.
Resistance to Feedback
Some employees may be resistant to feedback, especially if it highlights areas for improvement. To overcome this challenge, managers should:
Foster a culture of trust and open communication.
Emphasize the purpose of feedback as a tool for growth and development.
Encourage employees to view feedback as an opportunity to learn and improve.
Difficulty Delivering Negative Feedback
Negative feedback can be challenging to deliver, as it may lead to discomfort or defensiveness. Managers can overcome this challenge by:
Focusing on the behavior and its impact, rather than personal criticism.
Providing specific examples to clarify the issue.
Offering support and resources to help employees improve.
Inadequate Training in Feedback Skills
Managers may lack the necessary skills and training to provide effective feedback. To address this challenge, organizations should:
Offer training programs and resources to help managers develop feedback skills.
Provide ongoing support and coaching for managers to continually refine their feedback techniques.
Encourage managers to seek feedback on their feedback-giving abilities to improve their approach.
Leadership Feedback in Remote Work Environments
Remote work environments present unique challenges for providing leadership feedback. Managers must adapt their approach to maintain effective communication and support employee development. Here are some strategies for delivering feedback in remote work settings:
Leverage technology: Utilize video conferencing tools to provide face-to-face feedback, even when physically apart. This allows for better communication and helps maintain personal connections.
Establish regular check-ins: Schedule consistent one-on-one meetings to discuss progress, provide feedback, and address any concerns or challenges. This helps ensure that remote employees receive the support they need.
Promote a culture of openness and transparency: Encourage remote employees to share their thoughts, ideas, and concerns with you and their peers. This can help foster a sense of community and collaboration, even when working remotely.
Track performance and goals: Use project management tools and performance tracking software to monitor employee progress, ensuring that remote employees receive timely feedback on their work.
Focus on communication skills: Effective communication is crucial in remote work settings. Encourage employees to develop their written and verbal communication skills, and provide feedback on how they can improve.
Provide opportunities for professional development: Offer remote employees access to online training, webinars, and mentorship programs to support their growth and development.
Related: Best Practices for Managing Remote Teams
Measuring the Effectiveness of Leadership Feedback
Evaluating the effectiveness of your leadership feedback can help you refine your approach and ensure that your employees receive the support they need. Here are some methods for measuring the impact of your feedback:
Employee performance: Track changes in employee performance over time to assess whether feedback has led to improvements in productivity, quality of work, or other relevant metrics.
Employee engagement: Assess employee engagement levels through surveys or informal conversations. Engaged employees are more likely to be receptive to feedback and committed to their professional growth.
Retention and turnover: Monitor employee retention and turnover rates to gauge the impact of your feedback on overall job satisfaction and employee commitment.
Feedback from employees: Seek input from your employees on the quality and effectiveness of the feedback you provide. This can help identify areas for improvement and ensure that your feedback is valuable and relevant.
Self-reflection: Regularly reflect on your feedback-giving practices, evaluating whether you are consistently providing clear, actionable, and supportive feedback.
Top Tips for Providing Effective Leadership Feedback
To maximize the impact of your leadership feedback, consider these top tips:
Be timely: Provide feedback as soon as possible after the event or behavior occurs. This ensures that the context is fresh in both your and the employee's mind, making the feedback more relevant and impactful.
Be specific: Avoid vague feedback and focus on specific behaviors, actions, or outcomes. This helps employees understand what they need to improve or continue doing.
Focus on growth: Frame feedback in terms of growth and development, emphasizing the opportunity for employees to learn and improve.
Balance positive and negative feedback: Provide a mix of positive and negative feedback, recognizing employees' successes while also addressing areas for improvement.
Offer support: Show your commitment to the employee's growth by offering resources, guidance, and assistance in addressing challenges and achieving their goals.
Related: Leadership Development Trends
Common Leadership Feedback Mistakes and How to Avoid Them
Managers may inadvertently make mistakes when providing leadership feedback. By recognizing and addressing these common errors, you can ensure that your feedback is more effective and well-received.
Mistake #1: Delaying feedback
Solution: Provide feedback in a timely manner, ensuring that the context is fresh in both your and the employee's mind. This makes the feedback more relevant and impactful.
Mistake #2: Providing generic feedback
Solution: Be specific in your feedback, focusing on particular behaviors, actions, or outcomes. This helps employees understand what they need to improve or continue doing.
Mistake #3: Focusing solely on negative aspects
Solution: Strive for a balance of positive and negative feedback. Recognize employees' successes while also addressing areas for improvement. This approach fosters employee motivation and commitment to growth.
Mistake #4: Ignoring employee input
Solution: Encourage employees to share their thoughts, ideas, and concerns. Open dialogue allows for more comprehensive feedback and fosters a sense of collaboration and trust.
Mistake #5: Failing to follow up
Solution: Regularly check in with employees to discuss their progress, offer additional feedback, and provide support as needed. This demonstrates your commitment to their development and success.
Conclusion
Leadership feedback is a critical aspect of employee development and organizational success. By understanding the various types of feedback, using effective methods, overcoming challenges, and adapting to remote work environments, managers can provide valuable input that fosters growth and improvement. Moreover, by measuring the effectiveness of feedback and incorporating best practices, managers can refine their approach to better support their employees and drive positive outcomes.
FAQs
How can I provide positive feedback without sounding insincere?
To provide sincere positive feedback, be specific about the employee's actions or behaviors you're praising, and explain the impact it had on the team or project. This demonstrates that you've noticed their efforts and appreciate their contributions.
How can I help employees who struggle with receiving constructive feedback?
Encourage open communication and create a safe space for employees to express their concerns. Offer support and resources to help them develop the skills necessary to accept and implement constructive feedback.
How can I balance the need for negative feedback with the risk of demoralizing my employees?
Focus on the issue at hand and its impact on the team, rather than criticizing the individual personally. Offer solutions and support to help the employee improve and emphasize your belief in their potential for growth.
How often should I provide feedback to my employees?
While formal performance reviews may occur annually or semi-annually, it's crucial to provide ongoing feedback throughout the year. Regular check-ins, team meetings, and informal conversations can all serve as opportunities to offer feedback and support.
How can I encourage my employees to provide feedback to each other?
Create a culture of open communication and trust by encouraging employees to share their thoughts and ideas. Offer training and resources to help employees develop the skills necessary for providing effective feedback to their peers.