Disclaimer: We sometimes use affiliate links in our content. For more information, visit our Disclaimer Page. 
E-commerce has revolutionized the retail industry and has made shopping more convenient and accessible for consumers worldwide. With close to five billion internet users, the number of people making purchases online is growing at an unprecedented rate. In 2021, e-retail sales surpassed 5.2 trillion U.S. dollars, indicating the increasing popularity of online shopping.
However, with this growth comes increased competition, making it more important than ever to have a solid marketing strategy in place. This article will discuss ecommerce marketing strategies to maximize online sales and help businesses thrive in the digital age.
Defining Your Target Audience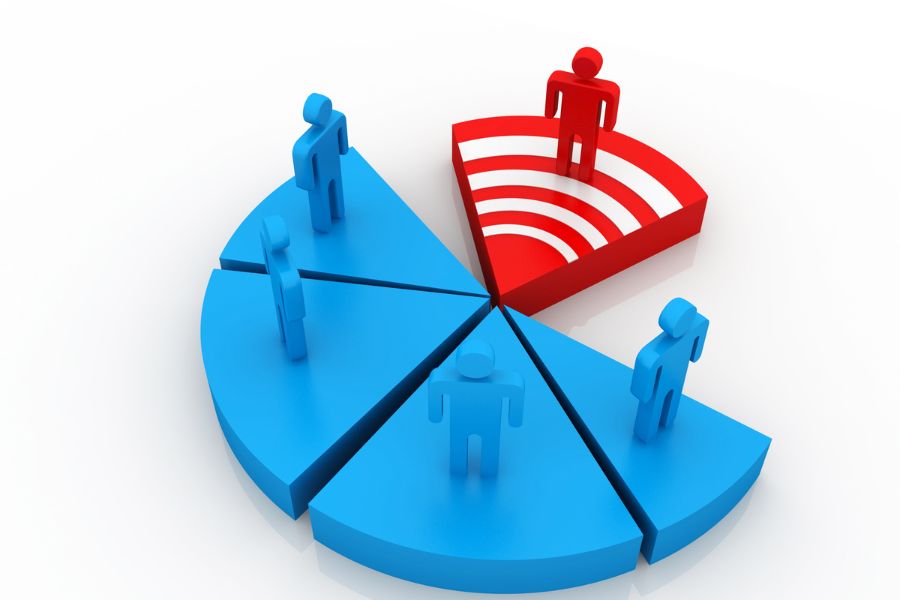 A target audience refers to a group of customers or potential customers with genuine interest or needs for your products or services. These individuals will likely seek out, engage with, and eventually purchase your offering.
Here are three key traits of a good target audience:
Specificity: You cannot appeal to everyone, and attempting to do so can negatively impact your marketing efforts. Instead, focus on a specific group of people more likely to engage with your business. Specificity is more effective than generalization in this case.
Data-Driven: Relying on intuition or assumptions is insufficient in defining your target audience. Inclusions and exclusions must be based on unbiased data collected through thorough market research. Initial assumptions can serve as a starting point but should not be considered the conclusion.
Customer-Focused: Your target audience should be individuals who benefit from engaging with your business rather than just those your business wants to reach. There should be a mutual advantage for your business and the potential customers.
Understanding Market Segmentation
Market segmentation is the process of dividing a large market into smaller, more targeted groups. For instance, if your target market consists of people interested in buying cars, the market could be further divided into consumers looking for fuel-efficient cars, luxury cars, or cars with advanced safety features based on their specific needs and preferences.
This approach can help businesses tailor their marketing strategies to better address the unique needs of each group, potentially increasing their chances of success.
There are four main types of market segmentation:
Geographic segmentation is based on geography and includes location-based criteria such as state, city, or street addresses.
Demographic segmentation focuses on characteristics such as gender, race, and age.
Behavioral segmentation concentrates on how customers use and benefit from products and services.
Psychographic segmentation examines personality, values, attitudes, interests, and lifestyles, such as being an avid runner or a political affiliation as a Republican.
To effectively segment your target market, you must consider several key questions, including:
What is the age range of your ideal customer?
What is their income level?
What is their gender or the gender of their household members?
Do they own a home?
Where do they typically shop?
Where do they live?
What is their education level?
What needs or wants does your product or service fulfill for them?
Tailored Marketing Strategy
The better you understand your target audience, the more successful your marketing efforts will be. You will know where to find your ideal customer, enabling you to get your business in front of them. Conversely, a broad marketing approach can dilute the impact of your message.
Knowing your target audience can create marketing messages and copywriting to attract and engage them. Your messaging will be tailored to their specific needs and offer a solution to their problem.
You will likely have multiple target markets, and targeting different segments can help mitigate the risk of losing business if one segment becomes less viable. However, it is crucial to market to each group specifically, as each may have different motivations.
Building a Strong Brand Image in Ecommerce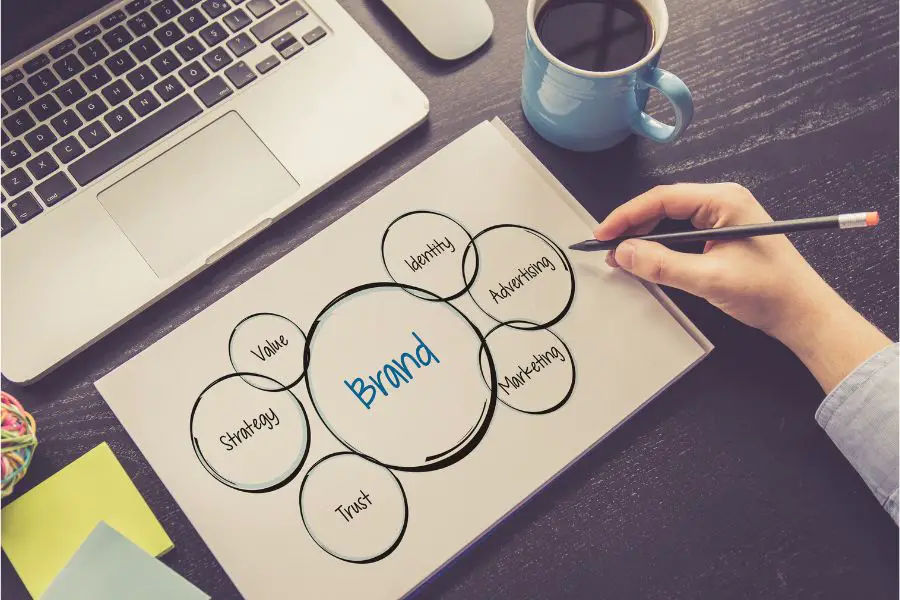 Ecommerce branding is the art of creating a distinct identity for a company that resonates with its target audience. A strong ecommerce branding strategy encompasses several aspects, including a memorable logo, a visually appealing design, a clear mission statement, and a consistent tone of voice.
Here are the 4 key benefits of ecommerce branding:
1. Increase Revenue
Consistent branding is essential to making your brand memorable and easily recognizable. A consistent brand identity, including brand guidelines and core values, helps ensure your brand is recognizable across all touchpoints and marketing channels. Research shows that consistent branding can increase revenue by an average of 33%.
2. Connects with Customers
Branding that resonates with customers can drive repeat purchases, increase purchase frequency, and boost average order values. When done right, ecommerce branding also helps establish an emotional connection with customers, resulting in higher brand loyalty and spending. Studies indicate that emotionally connected customers have a 306% higher lifetime value.
3. Lowers Customer Acquisition Costs (CAC)
Acquiring new customers is becoming increasingly expensive, with the average customer acquisition cost for small ecommerce businesses around $58.64. A strong branding strategy can help combat rising customer acquisition costs by increasing brand awareness and recognition, leading to higher conversion rates and reducing the need for expensive ads.
A good ecommerce branding strategy allows you to align with your customer's values. By highlighting your brand's unique qualities and impact, you can attract customers who share your values. A recent study commissioned by Google found that 82% of shoppers prefer to purchase from brands whose values align with their own.
Search Engine Optimization (SEO) in Ecommerce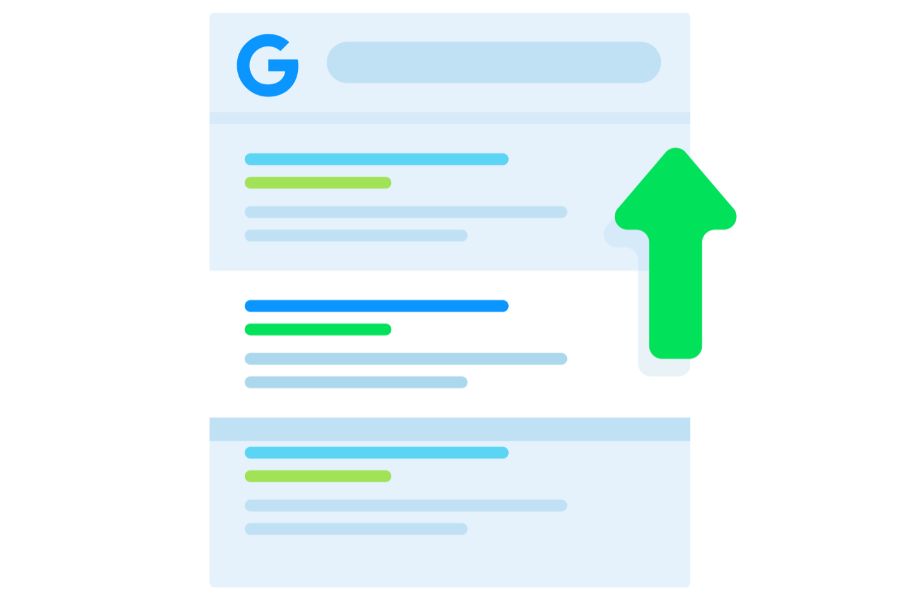 E-commerce SEO is a critical aspect of online business, as it helps increase website visibility and attract more organic traffic. The objective is to rank high on search engine result pages (SERPs), where a well-ranked website is more likely to receive more visits. To achieve this, e-commerce websites must be optimized for search engines by focusing on various technical and content-related factors.
Key Areas of E-Commerce SEO Optimization
Content optimization – The website's content should be optimized with relevant keywords and search terms in the URL, header, content, meta title, and meta description.
Technical setup – Ensure that your website has the right technical setup, including HTTPS security, mobile-friendliness, fast page loading speed, proper indexation, and an XML sitemap.
User experience – Google uses user metrics to determine a website's ranking, such as time spent on the page, bounce rate, conversion rate, and load time. The goal is to provide a good user experience to visitors.
Link building – Consider internal and external links to and from your website and ensure that authoritative sources link back to you.
Benefits of E-Commerce SEO
Improved user experience – Good user experience is a crucial ranking factor for Google. If your website provides relevant and valuable information, it will rank higher.
Expanded reach – E-commerce SEO helps increase website traffic, expanding your brand's reach, and allowing for targeted retargeting campaigns.
Increased brand awareness – Optimizing your e-commerce website for SEO can increase brand awareness without paying for advertisements.
Challenges of E-Commerce SEO
Lack of quality content – E-commerce websites often struggle with providing quality content, as product pages can be repetitive and lack originality.
Technical setup overlooked – Technical aspects such as HTTPS security, mobile-friendliness, and page speed are often neglected in the optimization process.
Keeping Up with Algorithm Updates – Search engines are constantly updating their algorithms, making it important to stay current and adjust your optimization strategies accordingly.
Competition – E-commerce is a highly competitive market, and ranking well for popular keywords can be difficult.
Limited resources – Smaller e-commerce businesses may have limited resources to invest in SEO, making it challenging to compete with larger companies.
Ecommerce Content Marketing
Content marketing is a powerful tool for ecommerce businesses to attract and engage with their target audience. It involves creating and distributing creative, relevant content through a blog or other medium to promote products and services, address customer needs, and build trust and loyalty.
Despite its potential, many businesses, especially smaller ones, are hesitant to try it out. Still, content marketing has proven to be an effective way to drive traffic and sales to online stores. 
Benefits of Content Marketing
Content marketing has a variety of benefits for businesses. Here are some of the most important:
Get noticed: Consistent publishing of fresh, search-engine-optimized content can improve search engine rankings and visibility.
Make yourself newsworthy: Google's algorithm views blogs as hot and newsworthy content, giving a temporary boost in rankings.
Offer value to customers: Content is a great way to offer customers valuable information for free, establishing your brand as an authority in the industry.
Build trust with customers: Quality content can build familiarity and trust with your brand, turning interested readers into engaged customers.
Establish brand awareness: Content marketing helps create a positive connection with customers and strengthens brand awareness.
Why Content Marketing and Ecommerce are a Perfect Match
Here are some reasons why content marketing is so essential to ecommerce success:
Educate customers: Content creation is the perfect way to keep your customers informed about your products or services, making it easier for them to make a purchase.
Increase conversion rates: Creating compelling content can encourage readers to take action, ultimately increasing conversions and revenue.
Improve SEO: Content marketing can provide SEO value to your website, ensuring your pages appear at the top of search engine results pages.
Build strategic relationships: Through content marketing, you can build and maintain strategic relationships with your target market and industry influencers, ultimately improving brand visibility and sales.
Tips for Successful Content Marketing
Set a goal: Determine what you hope to achieve with your content marketing, such as increased sales or brand awareness.
Speak to your audience: Create content that addresses your target demographics and their needs.
Include a call to action: Give customers something to do with your content, such as signing up for a newsletter or checking out new products.
Be consistent and integrate: Create high-quality content that is consistent and integrated across all platforms.
Share on social media: Encourage customers to share your content by sharing it yourself on social media platforms.
Find a partner: Partner with other companies in your industry to share content and boost SEO.
E-commerce Email Marketing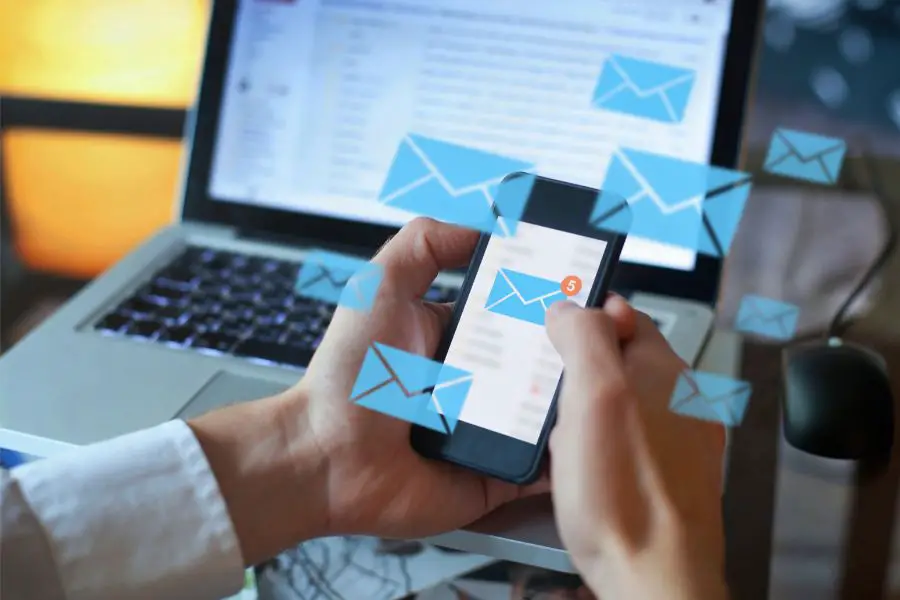 Email marketing can be highly effective for e-commerce businesses to connect with current and potential customers. By using this tool, businesses can boost customer engagement, drive conversions, and improve brand awareness. With over 4 billion daily email users, the reach potential is enormous. When executed with the right strategies, e-commerce businesses can experience a return on investment of up to 3600 percent.
Steps to Start Email Marketing
If you are new to email marketing, here are the essential steps to get started:
Set achievable goals to grow your business, such as building an email list or improving customer retention.
Choose a reliable email marketing software like MailChimp or Constant Contact.
Plan your initial campaigns, such as the welcome series, abandoned cart series, or new product launches.
Decide how to collect email addresses, such as offering a coupon in exchange.
Create landing pages for campaigns and set up tracking with your chosen analytics provider.
Best E-Commerce Email Marketing Strategies
Here are some of the most effective email marketing strategies for e-commerce businesses:
Welcome Series – Start with a welcome series to make a great first impression with new subscribers. The average open rate of a welcome series is 68.59 percent, and the click-through rate is 16.05 percent. A two or three-email series is ideal, where you can welcome the customer, invite them to connect and get to know them more personally.
Clear Call to Action (CTA) – Includes a clear call to action in your emails, asking subscribers to take a specific action, such as reading a blog post or buying a product. A clear CTA can boost clicks by 371 percent and sales by 1617 percent.
Personalization – Personalized emails lift transaction rates and revenue six times higher than non-personalized emails. There are three types of personalization: contextual, demographic, and behavioral. Contextual personalization depends on where the customer is in their journey. Demographic personalization uses demographic information such as age, gender, location, and household income level. Behavioral personalization uses past purchases or website behavior to inform recommendations.
Automation – Automated emails generate 320 percent more revenue than non-automated emails. Automated email campaigns can be a valuable tool in your overall marketing strategy.
Cart Abandonment Series – A cart abandonment series can be one of the most profitable series, with an average open rate of

41.18 percent and a click rate of 9.50 percent

. Consider the number of emails in the series, frequency, discounts, subject lines, and calls to action.
Split Testing – Split testing, also known as A/B testing, compares two or more similar variations of an element to find the best variations. Test elements such as subject lines, product imagery, layout, and more. Split testing can result in a 400 percent increase in conversion rates.
Exclusive Experiences and Rewards – Segment your email list to reward loyal customers with exclusive experiences that make them feel valued by your brand. Experiential rewards are more valuable than discounts, as

78 percent of millennials

would rather spend their money on an experience than a product.
Influencer Marketing for Ecommerce
Influencer marketing has become a crucial tool for ecommerce brands seeking to stand out in a crowded digital marketplace. By leveraging the influence of creators who align with the brand's values and vision, ecommerce brands can drive purchasing decisions and foster long-term customer relationships.
Here are five essential tips for ecommerce brands looking to launch an effective influencer marketing campaign:
Focus on engagement, not just follower count: The number of followers an influencer has is not the only metric to consider. Micro and nano influencers may have fewer followers but often have higher engagement rates with their audience. Brands can also negotiate with smaller influencers who may be more willing to work in exchange for free products.
Be selective and negotiate: Brands should partner with niche influencers who represent the specific needs of their target audience. After finding the right influencers, brands can negotiate with them, including offering product seeding campaigns, commission-based sales, or a mix of cash and perks.
Choose the right channels: Brands should be present on the channels where their target audience is active, such as Instagram or TikTok. Brands can collaborate with influencers to determine the best social channels based on the campaign's goals.
Ensure product integration: Influencer campaigns should feel seamless and natural within the creator's content. Brands should partner with influencers who believe in the brand and its products to ensure authentic and effective product mentions.
Utilize management tools: Brands can use spreadsheets or influencer management platforms to track data, manage their influencer program, and streamline their workflow. These tools should provide an extensive creator database, workflow management, advanced analytics, ecommerce integrations, and a custom CRM.
Finally, ecommerce brands should keep an eye on key trends such as "viral commerce," the rise of resale and sustainability, subscriptions, and augmented reality technology. These trends can help brands reach new customers, drive engagement, and increase sales.
Social Media for Ecommerce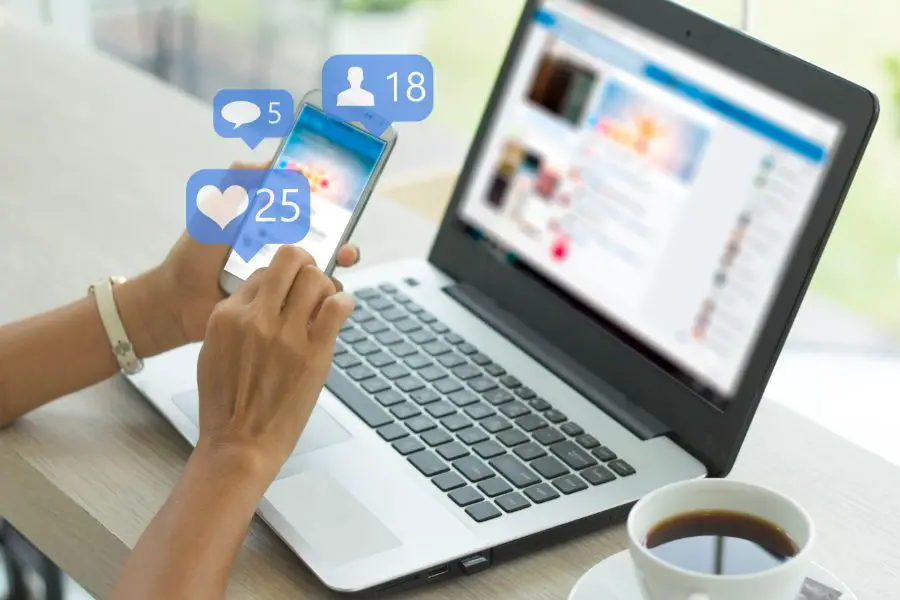 Social media is a crucial tool for ecommerce businesses to reach their target audience, build brand awareness, attract followers, and drive online sales. By leveraging social media platforms like Facebook, Twitter, and Instagram, ecommerce businesses can access a vast online audience and engage with them in a casual and interactive manner.
Benefits of Social Media for Ecommerce
Wider Online Reach: With 71% of internet users accessing social media, social media offers ecommerce businesses a vast audience to reach.
Targeted Audience: Social media allows businesses to reach their target audience, where they spend the most time online.
Casual Engagement: Social media offers a less formal way of communicating with potential customers, making it easy to engage in two-way conversations.
Increased Sharing: Social media enables current customers to share your brand with friends and family, expanding your reach further.
Requirements for Ecommerce Social Media To get the most value from social media for ecommerce, you need a well-defined strategy and tools like online scheduling and reporting. In addition, your strategy should detail your approach to marketing and advertising on social media and how you plan to engage and interact with your followers.
Maximizing Value from Ecommerce Social Media
Focus on the networks your audience uses
Respond to user comments, questions, and reviews
Post photos and videos for higher engagement
Boost or promote posts to increase engagement and conversions.
Partner with micro-influencers to reach your target audience cost-effectively.
By following these tips and dedicating time and resources to social media, ecommerce businesses can generate a higher return on investment and engage with their target audience effectively.
Ecommerce Paid Advertising
Ecommerce advertising refers to the display of paid promotional messages on online platforms such as social media, search engines, and online publishing sites to sell products. Brands pay publishers like Facebook, Instagram, YouTube, or Google for ad placements, impressions, and clicks.
Types of Ecommerce Advertising
There are several types of ecommerce advertising, each with its own unique characteristics and advantages. They include:
Paid Search: Also known as pay-per-click (PPC), this is when a brand pays for a sponsored listing on a search engine or online marketplace.
Paid Social: These are ads on social media platforms like Facebook, Instagram, Twitter, TikTok, Pinterest, and YouTube. They offer the most versatility in terms of ad format, content, visuals, and targeted audience.
Native Advertising: A form of paid content found on publisher sites, including articles, infographics, and videos that resemble native content on the platform.
Display Advertising: This is when a brand advertises its product on a publisher's site or app using a display ad, which can be text, images, video, or audio files.
Print Ads: A form of marketing that uses printed media to reach customers, such as newspapers, magazines, brochures, or direct mail.
Newsletter Sponsorships: A brand pays for a sponsored ad on an email newsletter from a publisher, influencer, or industry site.
Podcast Advertising: Advertisements in the form of programmatic audio placed within audio content on podcasts, music streaming apps, and online radio.
Outdoor Advertising: Any advertising displayed outdoors, such as billboards, bus benches, business vehicles, and signs.
Advertising Terms
CPC (Cost per Click): The price a brand pays a publisher for a single click on an ad.
CPM (Cost per Thousand Impressions): A measure of the efficiency of an ad.
CTR (Click-through Rate): A metric that measures the number of clicks an ad receives per number of impressions.
Impressions: The number of times an ad is seen.
Media Cost: The total cost of running ads on a specific channel.
ROAS (Return on Advertising Spend): A marketing metric that measures the revenue a business earns for each dollar spent on advertising.
ACOS (Advertising Cost of Sale): The ratio of ad spend to ad revenue (in %).
Paid advertising is an important tool for ecommerce businesses to reach a large, targeted audience and drive sales. Choosing the right advertising platform, creating a well-designed ad, and tracking the success of your campaign are all critical steps in a successful paid advertising strategy. With careful planning and execution, paid advertising can help you grow your ecommerce business and achieve your marketing goals.
Related: Strategies for Skyrocketing Your eCommerce Sales
Conclusion
Ecommerce marketing is a crucial aspect of any online business looking to succeed in today's competitive marketplace. Understanding your target audience, building a solid brand image, optimizing your website for search engines, and utilizing various marketing channels can help drive traffic and increase sales for your ecommerce business.
However, it's important to remember that the key to success in ecommerce marketing is constantly testing and refining your strategies based on data and results. Staying up-to-date with the latest trends and best practices is crucial for ecommerce businesses looking to achieve long-term success. By implementing the right strategies and tactics, ecommerce businesses can stay ahead of the curve and continue to grow and thrive in the online marketplace.
FAQ
What are the most effective ecommerce marketing strategies for increasing sales?
Ecommerce marketing demands smart strategies. Try SEO, social media, email, content, influencer, retargeting ads, and reviews for better results.
To attract sales and traffic, create engaging content and use targeted ads, social influencers, and shopping features on social media platforms.
What is the best way to optimize my ecommerce website for search engines?
Keep content relevant, design user-friendly, and optimize product pages with keywords and meta tags.
How can I use email marketing to engage with my ecommerce customers?
To engage ecommerce customers, send targeted and personalized emails, offer exclusive deals, and request reviews.
What role does content marketing play in ecommerce marketing strategies?
Content marketing plays a crucial role in ecommerce marketing strategies by educating customers, establishing your brand as an authority, and improving your search engine rankings.
What are the best ways to promote my ecommerce business through influencer marketing?
Connect with influencers, build relationships, and create engaging content to grow ecommerce businesses.
How can I use retargeting ads to bring back customers who have abandoned their shopping carts?
Retargeting ads work well for bringing back customers who abandoned their carts. Display relevant product ads, and offer personalized discounts and promotions.
What is the role of user-generated content in ecommerce marketing?
User-generated content is excellent for building trust, providing social proof, and improving search engine rankings.
What are the best practices for creating effective product descriptions on my ecommerce site?
Keep language clear and concise, highlight benefits and features, and incorporate keywords.
How can I use customer reviews to improve my ecommerce marketing strategies?
You can use customer reviews to improve your ecommerce marketing strategies by featuring them prominently on your website, responding to customer feedback, and using customer reviews to inform product development and marketing strategies.
What are the most effective ways to increase customer retention in ecommerce?
Attract customers by offering personalized promotions, discounts, and exceptional customer service. Implement a loyalty program to increase customer retention.
How can I use video marketing to boost my ecommerce sales?
You can use video marketing to boost your ecommerce sales by creating engaging product videos, using video ads on social media and search engines, and leveraging video content on your product pages.
What is the impact of mobile optimization on ecommerce marketing strategies?
Mobile optimization is crucial for ecommerce marketing strategies as more and more customers are using mobile devices to shop online. A mobile-friendly website can improve the user experience, increase engagement, and improve search engine rankings.
How can I use affiliate marketing to drive sales on my ecommerce site?
For affiliate marketing, partner with relevant marketers, offer high-quality product content, and track performance and payouts.
What are the best ways to measure the success of my ecommerce marketing campaigns?
Track website traffic, conversions, engagement metrics, and email open and click-through rates to measure ecommerce marketing campaign success.
How can I use personalization to improve the customer experience on my ecommerce site?
You can use personalization to improve the customer experience on your ecommerce site by offering personalized product recommendations, using customer data to tailor marketing messages, and providing a personalized shopping experience.
What role do promotions and discounts play in ecommerce marketing strategies?
Promotions and discounts attract customers, increase sales and conversions, and encourage loyalty.
How can I use customer data to improve my ecommerce marketing strategies?
You can use customer data to improve your ecommerce marketing strategies by analyzing customer behavior and preferences, creating targeted and personalized marketing campaigns, and improving product development and customer service.
What are the key trends in ecommerce marketing strategies that I should be aware of?
Ecommerce trends include social media and video marketing, mobile shopping, personalization and customer experience, and the growth of AI and chatbots.
How can I use chatbots to improve the customer experience and drive sales on my ecommerce site?
Use chatbots to provide instant customer support, automate common customer service inquiries, and offer personalized product recommendations and promotions.