Disclaimer: We sometimes use affiliate links in our content. For more information, visit our Disclaimer Page. 
Business writing is a form of communication widely used in professional environments such as workplaces or conferences. Its tone is generally formal and essential when writing any sales or strategy proposal, meeting memos, reports of any form, notices, service level agreements, and, most importantly, emails.
The nature of the content determines the style of business writing, which could be set to give instructions to perform a task, persuade the team to take a certain action, spread information or bring visibility to daily operations. Whether you are a manager or an employee, you will need to write emails, reports, and other business documents that are clear, concise, and effective.
Today, business writing has become an invaluable soft skill in every industry. It can help you build a professional image, communicate effectively with clients and colleagues, and advance your career.
In this ultimate guide, we will provide you with some tips and strategies on how to improve your business writing skills. From mastering the basics to advanced techniques, we will help you become a confident and effective business writer. So, let's get started!
8 Simple Tips to Improve Business Writing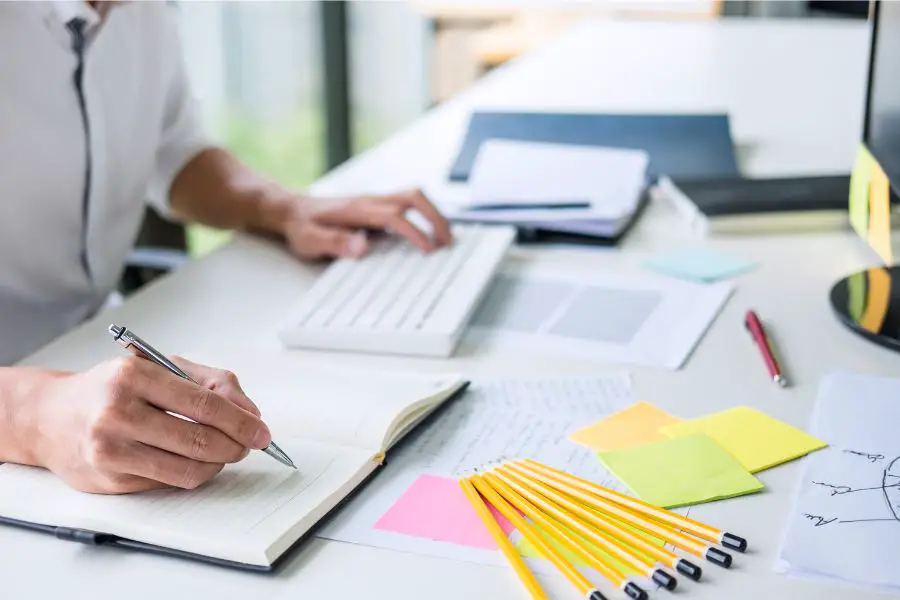 Here are eight tips that will help you write more effectively and efficiently:
#1 Be clear in your articulation 
The need to write in a complex way to impress is a myth. An audience always prefers simple and clear writing that is easy to follow. Use simple words, as there is no need to show off complex vocabulary to make a point. It is better to avoid jargon and technical terms as far as possible, as not everyone might be familiar with them. Additionally, one must be conscious of their sentence length also. Shorter sentences are easier to follow than long and winding ones. As a general rule of thumb, if a young child can understand an article, then that piece of writing is simple.  
#2 Think before you write
Thinking before writing is a wonderful way to ensure that you have plenty of ideas to pick from when you start writing. It also means that a blank paper or document is less intimidating to you. Finally, if you have thought actively before you start writing on a topic, you have already conditioned your brain to be in a productive mindset, making it easier for you to pump out ideas and arguments to structure your business writing.  
Non-native speakers of English might prefer to think in their mother tongues. This is not a problem. They can simply look through translation services reviews and pick the best one to translate their thoughts from their mother tongues to English before they start writing. This will also help them understand the correct vocabulary to use while writing, so they do not miscommunicate their ideas. 
#3 Summarize your idea first
Having thought about your ideas in detail, the next step to writing effectively is to put down a draft or summary. A summary captures your ideas in brief and helps you stay on track. You can refer to the summary to stay true to your topic and prevent yourself from getting sidetracked. Additionally, writing a summary will also help you remember all your ideas and the points that you want to highlight in your writing. Your summary can either be detailed or brief, based on your convenience. You can use phrases, flow charts, bullet points, and more to summarize your article and give it a clear structure. 
#4 Tell a story whenever possible 
Stories are a brilliant way to help your business writing stand out. In this context, a story does not mean a fiction piece of writing. It is merely a way to make your writing more engaging for a reader. When you structure your business writing in the form of a story, you will have a more natural segway between paragraphs and different ideas. This will keep your readers interested in it for longer. Having an introduction and conclusion in your business writing is also always good. Your introduction can provide context about your writing, and your conclusion can have a call to action.
#5 Research thoroughly your topic
Conducting primary and secondary research is important for any successful business writing work. Doing thorough research will give you ideas that you can then communicate through your writing. Furthermore, it will help you understand your audience better so that you are giving them only relevant pieces of Information and not wasting that time. If your research has been written in a language other than English, you can use the best human translation service to translate your work into English. Review the agencies with excellent reputations and qualified teams and choose the most suitable one for you.
#6 Edit your writing critically
Editing your business writing is very important. The best mindset to have when editing your work is thinking about whether a certain word or sentence adds value to your writing overall. When it comes to editing, what you remove from your work is even more important than what you choose to keep. This is because we often add unnecessary information in our first drafts, which we can later discard to make writing clearer and cater to the right audience effectively. Lastly, while editing, it is also best to check for any grammar and spelling mistakes and correct them.
#7 Try to use an active voice
Another way to improve your business writing is to use active instead of passive voice in your writing. Active voice is more direct and easier to understand. It focuses on the subject of a sentence instead of the action. This helps readers associate actions with a human and helps build trust through your business writing. For example, saying, "We will deliver your order within 7 days," is much better than saying, "Your product will be delivered in 7 days". In the latter case, customers do not know who will deliver their product. It lowers the visibility they get from a business. 
#8 Practice your writing regularly
Practice makes perfect. The best business writers and professional writers are the ones who practice their craft regularly. This will help them keep in touch with their writing style and grow as writers. All writers, including the ones at the best college admission essay writing service, are expected to continuously practice their writing skills. This helps them when they have to work on an admissions essay for a student or a research paper and enables them to produce high-quality work. Similarly, people who aspire to be business writers can also write regularly from their school or college days to get used to the craft of writing.  
Related: Importance of Writing Skills for Digital Marketing
A few concluding thoughts
To sum up, this article highlights some of the most popular tips business writers use to help their work stand out. However, no one solution fits everyone all the time. Different things work for different people in different situations. For this reason, it is advisable to continue to explore different ways of improving their business writing until they find a convenient technique. In this process, also remember to have fun. So, while business writing is an important skill, it is also easy to develop. With consistent practice, anyone can become a professional business writer.
William Fontes is a senior copywriter at an ed-tech firm. He has a natural talent for writing and marketing which motivated him to choose this profession for himself. He has always been interested in writing and started his first online blog when he was in high school. William continues to improve his writing skills by writing for his online blog and even published a book a few years ago.