Disclaimer: We sometimes use affiliate links in our content. For more information, visit our Disclaimer Page. 
Google Ads is an effective advertising platform for businesses to reach a relevant target audience. AdCreative.ai offers a $500 credit for Google Ads advertising efforts. Read this article for a step-by-step guide on how to get the credit and maximize your business's Google Ads success.
What is Google Ads and How Does it Work?
Google Ads is an advertising platform developed by Google. It allows businesses to create and run ads that appear in Google search results and on Google's partner websites.
When someone searches for a keyword you've chosen to target, your ad may appear in the search results. If someone clicks on your ad, they'll be taken to your website to learn more about your products or services.
Google Ads operates on a pay-per-click (PPC) model, which means you'll only pay when someone clicks on your ad. You can set a budget for your advertising campaign, and Google Ads will automatically stop showing your ads when you reach your budget for the day.
How to Get $500 Free Google Ads Credit
Here is a step-by-step guide to getting credits
Step 1: Sign Up for AdCreative.ai
Go to the AdCreative.ai website and click "Sign Up." Fill out your name, email, and password to create an account and access AdCreative.ai's features.
Step 2: Set Up a Google Ads Account
If you don't already have a Google Ads account, visit the Google Ads website and sign up. Provide your business information and billing details to complete the process.
Step 3: Connect Your Accounts
Next, log into your AdCreative.ai account and connect it to your Google Ads account. To do this, click the "Connect" button and enter your Google Ads login information. AdCreative.ai will then have access to your Google Ads data for optimizations.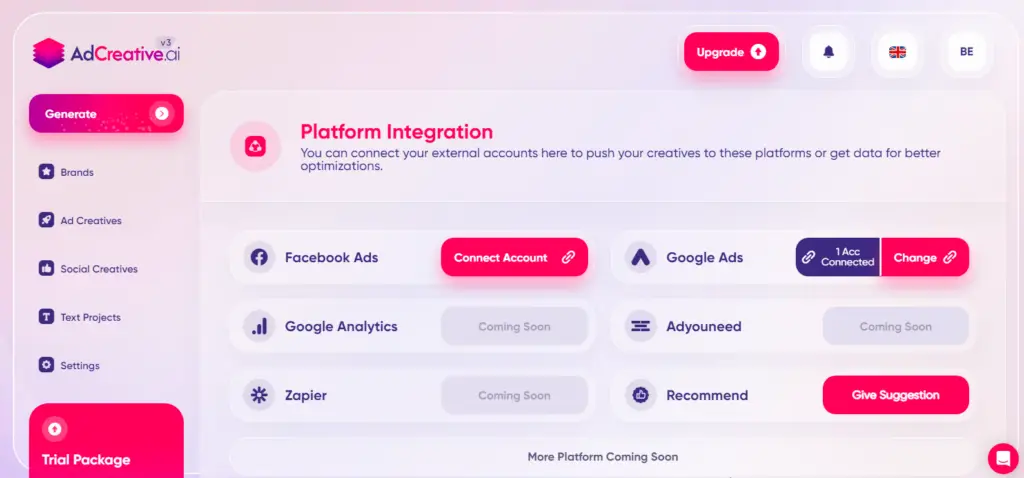 Step 4: Claim Your Credit
Finally, click the "Claim" button, and verify that you're a new Google Ads user. You'll receive $500 in Google Ads credit when you spend $500 within the first two months. Google will match the amount you spend up to $500, and credits will be added to your account in as little as three days.
Please note a paid subscription to AdCreative.ai is required to take advantage of this offer.
Maximize Your $500 Credit: Tips for High-Performing Ads
To achieve maximum results from your credit, it is crucial to focus on crafting ads that effectively connect with your target audience. Here are some proven strategies to help you optimize your credit utilization:
Targeted Audience Focus: Pinpoint your ideal audience and create ad content that appeals to their needs, interests, and preferences. To make a lasting impression, use visually captivating graphics, engaging ad copy, and other attention-grabbing elements.
Ad Format Experimentation: Experiment with different ad formats to determine which works best for your target audience. For instance, you may find that image ads have a higher conversion rate compared to video ads or that a specific format resonates better with your audience.
Performance Monitoring: Regularly monitor the performance of your campaigns and make necessary adjustments to optimize results. You may need to tweak your budget, target audience, or ad format to achieve the desired outcome.
Top Tips for Starting with Google Ads for the First Time
Starting with Google Ads can be a complex and challenging task, but with the right approach and persistence, you can achieve remarkable results for your business. To help you get started, here are some expert tips:
Know Your Target Audience: To create effective and relevant ad campaigns, it's critical to understand your target audience and what they're searching for. Knowing your target audience enables you to craft campaigns that resonate with them and drive meaningful engagement.
Define Your Goals: What do you want to achieve through your Google Ads campaign? Whether it's increasing website traffic, generating leads, or boosting sales, defining your goals upfront will help you stay focused and measure your success.
Choose the Right Keywords: Identifying the keywords that are most relevant to your business and that your target audience is searching for is crucial. This will help ensure that your ads reach the right people and increase your chances of success.
Craft Compelling Ad Copy: Make your ads stand out with clear, concise, and compelling ad copy that captures the attention of your target audience. Your ad copy should be attention-grabbing and encourage clicks to your website.
Utilize Ad Extensions: Ad extensions can help your ads stand out and provide more information about your business. They can include your address, phone number, or even customer reviews. This extra information can help build trust and credibility with potential customers.
Set a Realistic Budget: Determine how much you're willing to spend on your Google Ads campaign and allocate your budget wisely. This will help you ensure that your campaigns are cost-effective and maximize ROI.
Monitor and Adjust Regularly: Regular monitoring and adjustment of your campaigns are essential to their success. Keep an eye on your campaign's performance and make adjustments as needed to improve its effectiveness and drive better results.
Test, Test, Test: To get the best results, continuously test different strategies, ad formats, and targeting options. This will help you optimize your campaigns and ensure they deliver the best possible results.
Related: Generate High-Converting Ad Creatives with AdCreative.ai
Conclusion
With a $500 credit from AdCreative.ai, you can start advertising on Google Ads and reach your target audience. By following the steps outlined above and maximizing your use of credit, you can grow your business and reach new customers. So why wait? Sign up for AdCreative.ai today and start advertising with confidence!
FAQ
Does Google give free ad credit?
Yes, Google does offer free ad credit to new advertisers. The amount of credit can vary, but it is a common incentive for businesses to try Google Ads. Advertisers can use this credit to run their first advertising campaign and get a feel for the platform before committing to a larger budget.
How does Google free ad credit work?
Google's free ad credit works as an incentive for new advertisers to try the platform. The credit can be used towards running an advertising campaign on Google Ads. The advertiser is only charged for clicks on their ads, not the ad credit itself.
How can I get Google Ads cheaper?
One way to get Google Ads at a discounted rate is by taking advantage of free google ads promo codes. Promo codes are special offers and discounts that can be redeemed for credit towards your Google Ads advertising spend. These codes can be found through various channels, including Google Ads promotional emails, third-party websites, and online forums.