Disclaimer: We sometimes use affiliate links in our content. For more information, visit our Disclaimer Page. 
Effective workplace communication is essential to any successful career. Clear and concise writing skills not only improve communication but also enhance your professional reputation. Whether you're writing an email, a report, or a technical document, being a proficient writer can make a significant impact on your work.
In this article, we will cover the basics of workplace and technical writing, and provide tips and techniques for improving your writing skills. By following these suggestions, you'll become a more effective communicator and ultimately be better equipped to succeed in your career.
Key Takeaways:
Mastering workplace and technical writing skills can significantly improve your career prospects.
Being a proficient writer enhances workplace communication and can positively impact your professional reputation.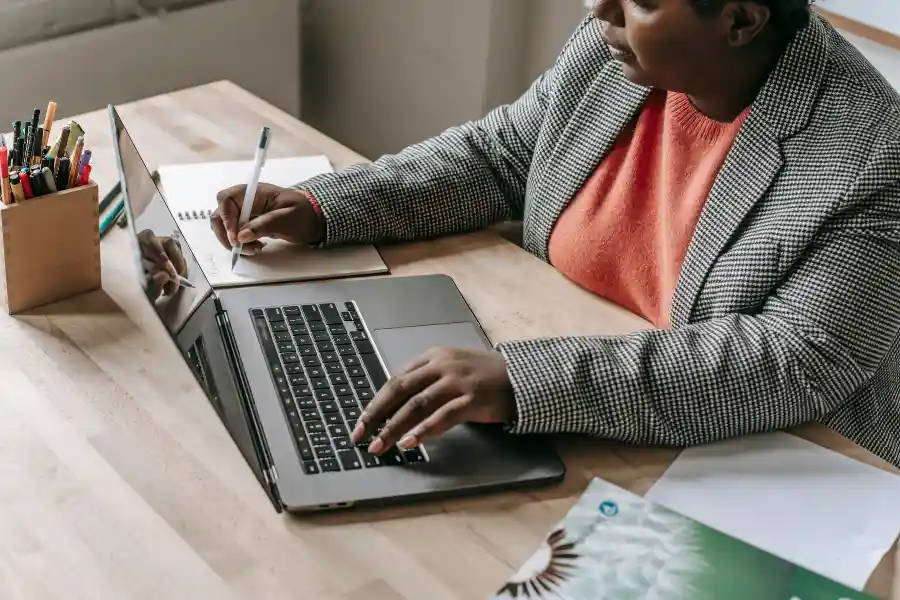 Understanding Workplace and Technical Writing
Workplace and technical writing encompasses a range of written communications that occur within a professional setting. Whether it be reports, emails, or instructional manuals, communication is crucial to the success of any business. Writing effectively allows one to convey the intended message clearly and concisely. This requires an understanding of the appropriate writing style based on the needs of the audience.
Workplace communication differs from technical writing, as the former is typically geared towards non-technical personnel and the latter towards a more specialized audience. Technical writing often involves complex and technical information, such as engineering specifications or software manuals. It is vital to tailor the writing style to the specific audience to ensure that the intended message is received in a manner that is easy to comprehend.
Understanding and adapting to different types of writing styles is crucial in various industries where effective communication is necessary. For instance, technical writing is used in engineering and medical industries where the safety and accuracy of information is paramount. In contrast, business writing is vital in industries like marketing, where sales copy and email marketing campaigns are prevalent.
Enhancing Workplace Communication
Effective communication is a crucial aspect of any workplace, and writing is the backbone of communication. Poorly written communication can lead to confusion, misunderstandings, and even costly mistakes. Therefore, it is imperative to have strong workplace writing skills and implement them in a professional setting.
Here are some essential tips to optimize your workplace writing skills:
Know Your Audience: Understanding who you are writing for is crucial to effective communication. Tailor the writing style to the intended audience, whether it is a colleague, client, or technical expert.
Keep It Simple: Avoid using complex words and jargon, which can be confusing to the reader. Stick to simple and concise language, and be direct in your communication.
Use Active Voice: Write in the active voice to make the message clearer and more impactful. Passive voice can be vague and ambiguous.
Proofread Your Work: Proofreading is crucial to eliminate errors and ensure clear communication. Take the time to go through your writing thoroughly.
By implementing these tips to enhance your workplace writing skills, you can communicate more effectively and efficiently, ultimately contributing to the success of your organization.
Best Practices in Technical Writing
Technical writing is a specialized form of writing that requires a unique set of skills. In this section, we'll explore some best practices to help you create effective technical documents that convey complex information to a technical audience.
Know Your Audience
One of the most important things to keep in mind when writing technical documents is to know your audience. Technical writing is often targeted toward a specific group of people who have a good understanding of the technical subject matter. Therefore, it's essential to tailor your writing to the needs and expectations of your audience.
When writing for a technical audience, it's important to use technical language and specific terminology related to the subject matter. However, it's equally important to avoid using jargon that might be unfamiliar to some readers.
Use a Clear and Consistent Structure
Technical documents can be complex, with many sections, subsections, and technical details. To ensure that your readers can follow along and understand your writing, it's crucial to use a clear and consistent structure.
Start your document with a clear and concise summary or abstract that outlines the purpose and content of the document. Use headings and subheadings to break up your writing into logical sections, and use lists and tables to organize and present complex information clearly and concisely.
Write Clearly and Concisely
Clear and concise writing is essential for effective technical communication. When writing technical documents, it's important to use simple and direct language that is easy to understand. Avoid using complex sentence structures, vague or abstract terms, and unnecessary technical jargon.
It's also important to be concise in your writing. Use short sentences to express ideas clearly and avoid unnecessary repetition. Choose precise words and avoid using adjectives or adverbs that don't add value to your writing.
Include Visual Aids
Visual aids, such as diagrams, illustrations, and photographs, can help to clarify complex technical information and make it easier to understand. When using visual aids, ensure that they are clearly labeled, well-designed, and relevant to the content of your writing.
Visual aids can also help to break up long blocks of text, making it easier for readers to follow along and engage with your writing.
Edit and Proofread Your Writing
Finally, it's essential to edit and proofread your technical documents thoroughly before submitting them. Technical writing often involves complex subject matter, which can make it easy to overlook errors or inconsistencies in your writing.
Take the time to read through your writing carefully, checking for spelling and grammatical errors, inconsistencies in formatting or style, and other issues that could detract from the clarity and effectiveness of your writing.
Business Writing Essentials
Effective business writing is critical for professional success. Whether you are drafting emails, memos, or business letters, there are certain writing principles that you should keep in mind to ensure that your message is clear and concise.
Here are some tips for improving your business writing:
Use a professional tone and avoid overly casual language.
Clearly state the purpose of your message in the opening sentence.
Use short paragraphs and bullet points to break up content and improve readability.
Include all relevant information and avoid leaving out details that could confuse the reader.
Proofread carefully for errors in spelling, grammar, and punctuation.
Additionally, workplace documentation is vital for keeping accurate records and ensuring legal compliance. Make sure you are familiar with your organization's documentation procedures and follow them consistently.
Mastering Professional Writing Skills
Clear and concise writing is essential for effective communication in the workplace. Whether it's drafting emails, memos, or reports, the ability to convey information professionally can make a significant impact on how one is perceived by colleagues and superiors. Here are some tips to help you master professional writing skills:
Simplify language: Avoid using technical jargon or overly complex words that may confuse readers. Use simple language that is easy to understand.
Eliminate redundancies: Keep your writing concise by eliminating unnecessary words or phrases that do not add value to the message.
Use active voice: Write in the active voice instead of the passive voice to make your message more engaging.
Proofread: Always proofread your work before submitting it. Check for grammar, spelling, and punctuation errors.
Edit: Edit your writing to ensure that it is well-organized and flows logically. Use headings and subheadings to break up a lengthy text.
Seek feedback: Ask colleagues or supervisors to review your work and provide constructive feedback. Use their comments to improve your writing skills.
By following these tips, you can enhance your professional writing skills and improve communication in the workplace. Remember to prioritize clarity and professionalism in all your written communication.
Overcoming Common Workplace Writing Challenges
Effective workplace communication requires consistent efforts and dedication, and it's not uncommon to face challenges along the way. Here are some common workplace writing challenges and strategies to overcome them:
1. Writer's block
Staring at a blank page can be daunting, but it's essential to avoid getting stuck in writer's block. To overcome this challenge, start by jotting down ideas and outlining your main points. Writing in short bursts can help you stay focused and avoid burnout.
2. Managing deadlines
Meeting deadlines is crucial in the workplace, and it's essential to be organized and plan your writing tasks. Break down larger projects into smaller, manageable tasks, and set achievable deadlines for each one. Prioritizing your writing tasks can also help you stay on track.
3. Dealing with feedback
Receiving feedback can be challenging, but it's an essential part of the writing process. Remember that feedback is intended to help you improve, and try to approach it with an open mind. Clarify any questions you have and take note of any suggestions offered.
4. Collaboration
Writing often involves collaboration with coworkers or team members, and it can be challenging to work effectively with others. It's crucial to communicate clearly and establish clear roles and expectations. Keep an open mind and be willing to compromise, and seek assistance when needed.
By understanding and overcoming these common workplace writing challenges, you can enhance your writing skills and become a more effective communicator.
Tools and Resources for Workplace and Technical Writing
Enhancing your workplace and technical writing skills involves more than just knowledge and practice. In today's digital age, there are various helpful tools and resources available to assist you in honing your writing proficiency. Here are some suggestions:
Software
There are numerous software programs available that cater to different writing needs. Some examples include:
| Software | Description |
| --- | --- |
| Grammarly | An app that checks grammar, spelling, punctuation, and style |
| Scrivener | A comprehensive writing tool for organizing and managing larger writing projects |
| Microsoft OneNote | A digital notebook that can be used for research, organization, and collaboration |
Online Courses
There are various online courses that teach workplace and technical writing skills. Some examples include:
Style Guides
Style guides provide important guidelines for workplace and technical writing. Some popular choices include:
The Chicago Manual of Style
The Associated Press Stylebook
The Microsoft Manual of Style
Additional References
Here are some additional resources to consider:
"The Elements of Style" by William Strunk Jr. and E.B. White

is a classic guide to writing well."
Remember, the key to developing strong workplace and technical writing skills is consistent practice and improvement. Utilize these tools and resources to enhance your writing abilities and achieve greater success in your career.
Conclusion
Mastering workplace and technical writing skills is essential for effective communication in today's job market. By understanding the nuances of workplace and technical writing, you can tailor your writing style to suit various scenarios and make a strong impression on your colleagues and superiors.
Enhancing workplace communication requires a combination of technical skills and creativity. Through careful attention to style, grammar, and clarity, you can produce writing that is crisp, professional, and easy to understand. Whether you are writing a technical manual or a business email, your writing should convey your message clearly and concisely.
To excel in workplace writing, it is important to stay current with industry trends and best practices. You can do this by taking advantage of the many tools and resources available online, ranging from style guides to online courses. By continuing to learn and grow in your writing abilities, you can stay ahead of the curve and remain a valuable asset to your organization.
Final Thoughts
In summary, mastering workplace and technical writing skills is an essential step toward advancing your career. By applying the tips and techniques discussed in this article, you can become a more effective communicator and make a lasting impact in your workplace. So why wait? Start honing your writing skills today and see the results for yourself!
FAQs
What is workplace and technical writing?
Workplace and technical writing refers to the process of creating, editing, and disseminating technical information within a workplace setting. It involves producing clear and concise documentation, such as manuals, instructions, reports, and other written materials, to convey complex technical concepts to both technical and non-technical audiences. Technical writers are responsible for communicating technical information effectively, ensuring that it is easily understandable by employees and customers.
What is an example of technical writing in the workplace?
An example of technical writing in the workplace could be the creation of a user manual for a new software product. The technical writer would need to break down complex software functionalities into step-by-step instructions that a user can easily follow. The manual may include screenshots, diagrams, and explanations to help users navigate the software effectively.
Why is technical writing important in the workplace?
Technical writing is important in the workplace because it enhances communication and ensures that employees have access to accurate and up-to-date information. It helps in clarifying complex concepts, reducing misunderstandings, and increasing productivity. Additionally, technical writing plays a significant role in delivering consistent and precise information to customers, which can lead to better customer satisfaction.
How important is technical writing in your future workplace?
Technical writing is highly important in any future workplace, especially in a rapidly evolving digital landscape. As technology continues to advance, the need for clear and concise technical documentation becomes even more critical. Whether you are working in technology, engineering, healthcare, finance, or any other industry, the ability to communicate technical information effectively will be a valuable skill.