Disclaimer: We sometimes use affiliate links in our content. For more information, visit our Disclaimer Page. 
Interview feedback is a crucial element in the hiring process. Providing candidate feedback can help candidates understand their strengths and weaknesses, enabling them to improve their interviewing skills and increase their chances of landing the job of their dreams.
In this article, we'll dive into examples of interview feedback, discuss positive and constructive feedback, and explore how to provide effective interview feedback to candidates. Buckle up and get ready to empower candidates and strengthen your hiring process!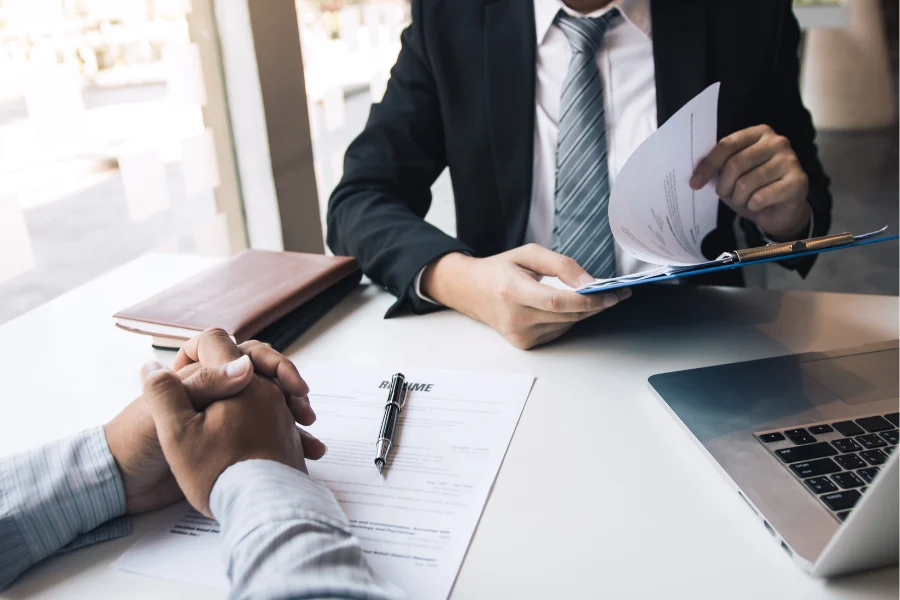 Examples of Interview Feedback
Before diving into interview feedback examples, it's important to understand that feedback can be both positive and constructive. Positive interview feedback focuses on the candidate's strengths, while constructive feedback highlights areas for improvement. Let's start with a few examples of each type of feedback:
Positive Interview Feedback Examples
Technical skills: "Your technical skills are impressive, and we appreciated your ability to demonstrate familiarity with our software tools. Your problem-solving skills were also a standout during the interview."
Communication skills: "You have excellent communication skills, and you were able to clearly articulate your thoughts and ideas throughout the interview process."
Company culture: "Your personal values align well with our company culture, and we believe you would make a great addition to our team."
Constructive Interview Feedback Examples
Job requirements: "While your background is impressive, we found that your experience does not meet the specific job requirements outlined in the job description."
Soft skills: "Your hard skills are strong, but we noticed that you could improve your soft skills, such as teamwork and adaptability, to better fit with our team dynamics."
Interview performance: "You seemed nervous during the interview, which made it difficult for us to gauge your true potential. Consider practicing more for future interviews to help alleviate nerves and present your best self."
Examples of Interview Feedback for Unsuccessful Candidates
Providing feedback to unsuccessful candidates is equally essential as it helps them understand where they can improve and grow in their job search. Here are a few examples of interview feedback specifically tailored for candidates who did not secure the position:
Interview preparation: "It seemed like you were not fully prepared for the interview, which affected your ability to answer some questions confidently. It's essential to research the company and role thoroughly for future interviews."
Relevance to the position: "While you have an interesting background, we found that your experience and skills do not align closely with the position's requirements. We recommend focusing on opportunities that better match your qualifications."
Presentation skills: "Your presentation skills could use some improvement, as you appeared hesitant when discussing your previous projects. Consider practicing and refining your presentation skills to help boost your confidence in future interviews."
Cultural fit: "We noticed that your approach and values may not align seamlessly with our company culture. When searching for new opportunities, consider researching the company culture to find a better fit for your personal values and work style."
Time management: "During the interview, you struggled with time management, taking too long to answer questions or going off-topic. For future interviews, practice concise and focused responses to showcase your skills more effectively."
Tips for Documenting Interview Feedback
The hiring team should document interview feedback throughout the recruitment process. Written documentation is crucial for providing consistent feedback to candidates, as well as informing hiring decisions. Here are a few tips for documenting interview feedback:
Take detailed notes: Capture specific examples, quotes, and observations during the interview. These notes will be invaluable when sharing feedback with the candidate and making hiring decisions.
Evaluate candidates against job requirements: Assess each candidate's performance against the job description and requirements, noting any discrepancies or areas where they excel.
Collaborate with team members: Encourage team members involved in the hiring process to provide their own feedback, ensuring a well-rounded perspective on the candidate.
The Do's and Don'ts of Providing Interview Feedback
To ensure your interview feedback is effective and productive, follow these do's and don'ts:
Do:
Be specific: Use specific examples from the interview to illustrate your points. This helps candidates understand exactly what they did well or where they need to improve.
Be timely: Offer feedback as soon as possible after the interview. Candidates will appreciate prompt feedback, as it shows respect for their time and effort in the job search process.
Be honest, but kind: Be truthful in your feedback, but also empathetic to the candidate's feelings. Constructive feedback should be delivered in a way that encourages growth, not demoralizes the candidate.
Don't:
Give false hope: Avoid implying that the candidate may be reconsidered for the position if they address the areas of improvement mentioned in your feedback. This can create false hope and confusion.
Be overly negative: Constructive feedback should focus on areas for improvement, but it's important to also highlight the candidate's strengths. A balanced approach will be more helpful for the candidate and motivate them to grow.
Make it personal: Keep your feedback focused on the candidate's performance during the interview, not on their personal characteristics or attributes. This ensures that the feedback is relevant and actionable.
How to Deliver Interview Feedback
Whether you're providing feedback to successful or unsuccessful candidates, it's essential to communicate effectively and respectfully. Here are a few best practices for delivering feedback:
Choose the right method: Depending on the nature of the feedback and the candidate's preferences, you may choose to provide feedback via email, phone call, or in-person meeting. Always consider the candidate's comfort level when selecting a method.
Prepare your thoughts: Before delivering feedback, review your notes and organize your thoughts. This ensures that your message is clear, concise, and helpful to the candidate.
Listen and encourage questions: When providing feedback, allow the candidate to ask questions and seek clarification. This fosters open dialogue and helps ensure the candidate fully understands the feedback.
Why is Interview Feedback Important?
Interview feedback is important for several reasons, including:
Candidate growth: Providing feedback enables candidates to learn from their interview experience, identify areas for improvement, and become better prepared for future interviews.
Employer brand: Providing thoughtful and constructive feedback to candidates reflects positively on your company and strengthens your employer brand, making it more attractive to potential candidates in the competitive market.
Recruiting process improvement: Consistent feedback from hiring teams helps identify trends and areas for improvement in the recruiting process, ensuring a more effective and efficient hiring experience for all parties involved.
How to Improve Actionable Feedback
To ensure your feedback is actionable and helps candidates improve, follow these tips:
Focus on specific behaviors: Provide specific examples of behaviors or actions that the candidate can work on. This helps them understand what to focus on for improvement.
Offer resources: Suggest resources, such as books, articles, or workshops, that can help candidates improve in the areas you've identified.
Set realistic expectations: Encourage candidates to set achievable goals for improvement, emphasizing that progress may take time and practice.
The Role of the Hiring Team in Providing Interview Feedback
The hiring team plays a crucial role in providing interview feedback. Here's how different team members can contribute to the feedback process:
Hiring manager: The hiring manager is responsible for overseeing the recruitment process and ensuring that all candidates receive helpful and constructive feedback. They should also collaborate with other team members to gather a well-rounded perspective on each candidate.
HR representative: HR representatives can help facilitate the feedback process by ensuring that all team members involved in the interview process provide their feedback in a timely and consistent manner. They can also assist in delivering feedback to candidates and answering any questions they may have.
Technical team members: Technical team members can provide valuable feedback on a candidate's hard skills, such as their knowledge of specific software or programming languages. They can also assess the candidate's problem-solving skills and ability to work well within the team.
Panel interview participants: In a panel interview, several team members interview the candidate simultaneously. Each panel member should provide their own feedback based on their unique perspective, helping to create a comprehensive evaluation of the candidate.
Negative Feedback: How to Handle It and Learn from It
Negative feedback can be difficult to hear, but it's essential for candidates to learn from it and grow in their job search. Here's how to handle negative feedback:
Don't take it personally: Remember that feedback is about your interview performance, not your worth as a person. Keep the feedback focused on specific behaviors or actions, and avoid dwelling on negative emotions.
Ask for clarification: If you're unsure about a specific point in the feedback, ask the hiring team for clarification. This will help you better understand the feedback and make a plan for improvement.
Develop an action plan: Based on the feedback you receive, create a plan to address the areas for improvement. Set achievable goals and identify resources that can help you improve your skills and performance.
How to Use Interview Feedback to Improve Your Job Search
Interview feedback can be a powerful tool to help job seekers improve their job search strategy. Here's how to use feedback to enhance your job search:
Refine your interview skills: Use the feedback to identify areas where you need to improve your interviewing skills, such as communication, problem-solving, or demonstrating familiarity with the job requirements. Practice these skills and seek out resources to help you improve.
Tailor your job applications: Use the feedback to better understand the types of positions and companies that are a good fit for your skills and experience. Tailor your job applications to focus on opportunities that align with your strengths and interests.
Leverage your strengths: Emphasize the positive feedback you receive in future interviews, showcasing your strengths and how they make you a strong candidate for the position.
How Feedback Benefits Hiring Managers and Teams
Hiring managers and teams can also benefit from the interview feedback process. Some advantages include:
Improved hiring decisions: Gathering feedback from multiple team members helps to create a comprehensive evaluation of each candidate, leading to more informed hiring decisions.
Consistent hiring process: By providing consistent feedback to all candidates, hiring teams can ensure a fair and efficient hiring process.
Better team dynamics: When hiring teams collaborate to provide feedback, they can better understand each other's perspectives and improve their overall teamwork.
The Impact of Feedback on Company Culture and Employer Brand
Providing constructive and positive interview feedback can have a significant impact on your company culture and employer brand. Here's how:
Attract top talent: By providing helpful feedback, your company will be seen as a supportive and growth-oriented employer, attracting top talent in a competitive market.
Foster a culture of learning and development: A company culture that values feedback and encourages continuous learning can help employees grow professionally and stay engaged in their work.
Enhance your employer brand: A positive employer brand is essential for attracting and retaining top talent. By providing constructive and supportive feedback to candidates, your company will be seen as a desirable place to work.
For additional resources on improving your interviewing skills, consider checking out the following:
Final Thoughts
Interview feedback is an essential part of the hiring process for both candidates and hiring teams. By providing constructive, honest, and specific feedback, you can help candidates improve their interview skills and better prepare them for future opportunities.
Additionally, effective interview feedback can lead to more informed hiring decisions, a stronger employer brand, and a more efficient recruitment process.
FAQs
How can I provide effective interview feedback to candidates who were not selected for the job?
When providing feedback to unsuccessful candidates, focus on constructive feedback that highlights areas for improvement. Be specific, honest, and empathetic in your delivery, and offer resources to help them improve in future interviews.
Should I provide interview feedback to candidates who receive a job offer?
Yes, providing feedback to successful candidates can help them understand their strengths and areas for growth, setting them up for success in their new role.
How can I ensure that my hiring team provides consistent feedback to all candidates?
Encourage team members to take detailed notes during interviews, evaluate candidates against job requirements, and collaborate with each other when providing feedback. This ensures a well-rounded and consistent approach to feedback.
Is it necessary to provide feedback to candidates who performed poorly in the interview?
Providing feedback to candidates who performed poorly can be extremely helpful, as it gives them the opportunity to learn from their mistakes and improve their interviewing skills for future opportunities.
Can interview feedback help improve the hiring process for my company?
Yes, consistently gathering and analyzing interview feedback from hiring teams can help identify trends and areas for improvement, ultimately resulting in a more effective and efficient hiring process.