Disclaimer: We sometimes use affiliate links in our content. For more information, visit our Disclaimer Page. 
As a manager, the pressure to make informed decisions, solve complex problems, and lead your team to success can be overwhelming. A key factor in being able to navigate these challenges is having strong analytical skills. In this article, we will explore how to improve analytical skills as a manager and why these skills are essential for success in leadership roles.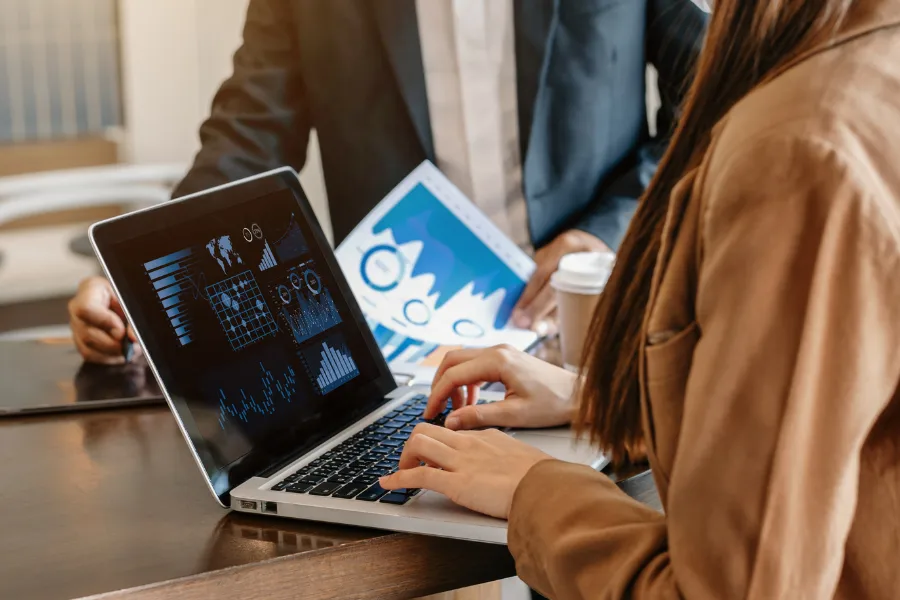 What are Analytical Skills?
Analytical skills refer to the ability to gather, interpret, and analyze information to solve problems, make decisions, and communicate results effectively. These skills include critical thinking, problem-solving, data analysis, and more. Developing strong analytical skills can make you a more effective leader and help you excel in your career.
Why are Analytical Skills Important for Managers?
Analytical skills are important for managers because they enable you to:
Solve complex problems: Managers often face complex problems that require creative thinking and the ability to identify relevant data, draw meaningful conclusions, and propose effective solutions.
Make rational decisions: Analytical skills help managers make logical arguments and rational decisions, considering multiple angles and opposing viewpoints.
Predict future trends: By analyzing data and considering future trends, managers can make informed decisions about business strategy, resource allocation, and more.
Communicate effectively: Managers with strong analytical skills can communicate complex ideas, persuasively, and concisely, ensuring that their team understands and supports their vision.
Now that we understand the importance of analytical skills for managers, let's dive into some strategies for improving these crucial abilities.
Related: Why Decision-Making is Important for Managers
Strategies for Developing Analytical Skills
To strengthen your analytical skills as a manager, we will focus on key techniques that encompass critical thinking, problem-solving, and data analysis, paving the way for enhanced effectiveness and professional growth in leadership roles.
1. Expand Your Knowledge Base
One of the best ways to develop analytical skills is to expand your knowledge base. This can be done by:
Reading books and articles related to your industry or areas of interest
Taking online courses, attending workshops, or pursuing additional certifications
Staying informed about current events and industry trends
Networking with professionals in your field to learn from their experiences and insights
The more you know about your industry and the challenges you face as a manager, the better equipped you will be to analyze information and make informed decisions.
2. Practice Critical Thinking
Critical thinking is a key component of analytical skills, and it involves the ability to:
Analyze information from multiple perspectives
Identify assumptions and biases
Evaluate the strength of arguments and evidence
Draw logical conclusions based on available information
To improve your critical thinking skills, try engaging in activities such as:
Debating with colleagues or friends to practice forming and evaluating logical arguments
Analyzing articles or news stories for their strengths and weaknesses
Reflecting on your thought processes and challenging your assumptions
3. Develop Problem-Solving Skills
Problem-solving skills are essential for managers, as they help you identify issues, analyze possible solutions, and implement the most effective course of action. To improve your problem-solving skills, consider:
Breaking complex problems down into smaller, more manageable parts
Brainstorming multiple possible solutions before settling on one
Actively engaging with your team to gather diverse perspectives and ideas
Reflecting on past experiences and learning from your successes and failures
4. Improve Data Analysis and Data Literacy
Data analysis is an important aspect of analytical skills, as it allows managers to make data-driven decisions and uncover valuable insights. To improve your data analysis skills, consider:
Familiarizing yourself with common data analysis tools and techniques, such as Excel or programming languages like Python or R
Taking courses on data analysis, statistics, or predictive analysis
Actively analyzing data in your day-to-day work and seeking opportunities to practice your skills
5. Strengthen Interpersonal and Communication Skills
Although analytical skills are often thought of as being separate from interpersonal and communication skills, these soft skills are essential for effective analytical thinking. To improve your interpersonal and communication skills, consider:
Actively listening to others and making an effort to understand their perspectives
Developing empathy and emotional intelligence to better understand the needs and motivations of your team and colleagues
Practicing clear, concise, and persuasive communication, both in writing and verbally
6. Seek Feedback and Learn from Others
One of the most effective ways to improve analytical skills is to learn from others, whether it's through mentorship, collaboration, or simply observing the analytical thinkers around you. To develop your analytical skills in this way, consider:
Seeking feedback from colleagues, supervisors, or mentors on your decision-making and problem-solving abilities
Observing and learning from analytical thinkers in your organization or industry
Participating in group discussions or forums to gain insights from others' perspectives and experiences
7. Engage in Brain-Boosting Activities
Engaging in activities that challenge your mind and improve cognitive function can also help develop analytical skills. Some fun ways to do this include:
Solving puzzles, such as crossword puzzles or Sudoku
Playing strategy-based board games or video games
Participating in brain teasers or problem-solving challenges
Reading mystery novels or watching films that require analytical thinking to decipher the plot
8. Build Your Analytical Toolset
To enhance your analytical skills, it's important to become familiar with the tools and software commonly used for data analysis and visualization. This might include:
Spreadsheet software like Microsoft Excel or Google Sheets
Data visualization tools such as Tableau or Power BI
Statistical software like R, Python, or MATLAB
Database management systems, including SQL, Oracle, or MongoDB
By mastering these tools, you will be better equipped to analyze data, identify patterns and trends, and communicate your findings effectively.
9. Embrace Continuous Learning
Developing strong analytical skills is an ongoing process that requires continuous learning and self-improvement. To keep your skills sharp and stay current with industry trends and best practices, consider:
Regularly attending conferences, workshops, or webinars related to your field
Subscribing to industry publications, blogs, or podcasts to stay informed about the latest developments and research
Participating in online forums or professional networks where you can share ideas, ask questions, and learn from your peers
10. Encourage a Culture of Analytical Thinking in Your Team
As a manager, you can help create an environment that fosters analytical thinking and problem-solving by:
Encouraging open communication and the sharing of ideas within your team
Providing regular opportunities for team members to collaborate on projects and problem-solving tasks
Offering training and professional development opportunities related to analytical skills
Celebrating and rewarding the use of analytical thinking and innovative problem-solving approaches
Related: Decision-Making Techniques
Applying Analytical Skills in Your Career
Having strong analytical skills can significantly improve your job search and career advancement prospects, as hiring managers often look for candidates with these abilities in job descriptions and interviews. To showcase your analytical skills during the job search process, consider:
Including examples of your analytical skills on your resume, cover letter, and LinkedIn profile
Preparing stories or anecdotes that demonstrate your problem-solving, critical thinking, and data analysis abilities for job interviews
Networking with professionals in your desired industry who value analytical skills and can potentially connect you with job opportunities
Analytical Skills in Different Industries
Analytical skills are valuable across a wide range of industries and job functions. Here are some examples of how these skills might be applied in different professional contexts:
Financial Analysis: In the financial industry, strong analytical skills are crucial for tasks such as budgeting, forecasting, and risk assessment. Financial analysts must be able to evaluate financial data, identify trends and potential risks, and make informed recommendations based on their analysis.
Business Strategy: Managers and business strategists must use analytical skills to assess market conditions, identify growth opportunities, and develop effective strategies to achieve their organization's goals.
Marketing: Analytical skills are essential for marketers, as they must analyze customer data, market trends, and the effectiveness of their campaigns to make data-driven decisions and optimize their marketing efforts.
Product Development: Product managers and engineers rely on analytical skills to evaluate customer needs, market trends, and technological advancements to inform the design and development of new products or improvements to existing products.
Human Resources: HR professionals use analytical skills to evaluate job candidates, assess employee performance, and make data-driven decisions about hiring, promotions, and other personnel matters.
Overcoming Challenges in Developing Analytical Skills
Developing strong analytical skills may involve overcoming certain challenges or obstacles, such as:
Limited access to relevant data: In some cases, you may not have access to all the information needed to make informed decisions or solve problems effectively. To overcome this challenge, consider seeking out alternative sources of data, collaborating with colleagues or departments that have access to the information you need, or using proxy indicators to approximate the missing data.
Cognitive biases: Human beings are susceptible to a range of cognitive biases that can interfere with objective analysis and decision-making. To combat these biases, strive to be aware of your own potential biases, actively seek out opposing viewpoints, and use structured decision-making processes to minimize their impact.
Time constraints: In fast-paced work environments, you may not always have the luxury of time to thoroughly analyze every decision or problem. In such situations, focus on prioritizing the most important issues and using a combination of intuition and analytical skills to make the best possible decisions under the circumstances.
Resistance to change: Developing strong analytical skills may require you to change your mindset or approach to problem-solving, which can be challenging for some individuals. Embrace the process of self-improvement and be open to trying new strategies and techniques to enhance your skills.
How to Measure Your Analytical Skills Progress
As you work to improve your analytical skills, it's essential to track your progress and measure the effectiveness of your efforts. Some strategies for measuring your analytical skills progress include:
Self-assessment: Regularly evaluate your performance in terms of decision-making, problem-solving, and data analysis. Identify areas of improvement and set specific goals to work on.
Feedback from others: Seek input from colleagues, supervisors, or mentors on your analytical abilities. Pay attention to any patterns or areas of consensus in the feedback you receive, as these can be valuable indicators of your strengths and weaknesses.
Benchmarking: Compare your performance and decision-making processes to industry best practices or the performance of colleagues with strong analytical skills. This can help you identify areas where you may need to improve.
Measurable outcomes: Track the outcomes of your decisions and problem-solving efforts over time. Look for improvements in key performance indicators, such as efficiency, profitability, or customer satisfaction, as evidence of your growing analytical skills.
The Impact of Analytical Skills on Your Professional Growth
Developing strong analytical skills can have a significant impact on your professional growth, opening up new opportunities and making you a more valuable asset to your organization. Some of the potential benefits of improving your analytical skills include:
Increased job security: Employees with strong analytical skills are in high demand across industries, making them less vulnerable to layoffs or job loss.
Better job performance: Being able to effectively analyze data and make informed decisions can lead to improved job performance, which may be recognized through promotions, raises, or other rewards.
Expanded career opportunities: As you develop your analytical skills, you may become qualified for new roles or positions that require these abilities, such as leadership roles or specialized positions within your field.
Enhanced professional reputation: Strong analytical skills can help you build a reputation as a knowledgeable and competent professional, which can lead to increased networking opportunities, invitations to speak at conferences or other professional recognition.
Related: Analytical Decision-Making
Conclusion
Improving analytical skills as a manager is crucial for success in leadership roles. By practicing critical thinking, developing problem-solving abilities, honing your data analysis skills, and building strong interpersonal and communication skills, you can become a more effective and analytical leader.
By continually seeking feedback and engaging in brain-boosting activities, you will strengthen these skills and enhance your career prospects.
Frequently Asked Questions (FAQs)
How can I demonstrate my analytical skills in a job interview?
During a job interview, you can demonstrate your analytical skills by providing specific examples of situations where you have used problem-solving, critical thinking, or data analysis to make informed decisions or solve complex problems. You can also discuss your approach to decision-making and the tools and techniques you use to analyze information.
Are analytical skills only important for managers and leadership positions?
While analytical skills are particularly important for managers and those in leadership roles, they are valuable for professionals at all levels. In today's data-driven world, the ability to analyze information and make informed decisions is essential for success in a wide range of industries and job functions.
Can analytical skills be learned, or are they innate abilities?
Analytical skills can be learned and developed through practice, education, and experience. While some individuals may have a natural inclination towards analytical thinking, anyone can improve their skills through dedication and effort.
What is the difference between analytical skills and critical thinking skills?
Analytical skills encompass a wide range of abilities, including critical thinking, problem-solving, and data analysis. Critical thinking is a component of analytical skills and involves the ability to analyze information, identify assumptions and biases, and draw logical conclusions based on available information.
How can I incorporate analytical skills into my daily work routine?
To incorporate analytical skills into your daily work routine, consider:
• Regularly setting aside time to review and analyze data relevant to your role
• Actively seeking feedback from colleagues and supervisors on your decision-making processes
• Reflecting on past decisions and problem-solving experiences to identify areas for improvement
• Participating in relevant training or professional development opportunities to build your analytical skills