Disclaimer: We sometimes use affiliate links in our content. For more information, visit our Disclaimer Page. 
Capturing the perfect job isn't just about your qualifications or years of experience in your field—it's about showcasing your interview skills. Your ability to effectively convey your talent and potential can drastically change your job search. Consequently, enhancing your interviewing skills has never been more crucial.
This article is your ultimate guide to mastering interviewing skills, offering detailed insights and practical tips to help you confidently navigate your next interview for the job you want. Ready to secure your dream job? Let's get started!
Understanding the Interview Process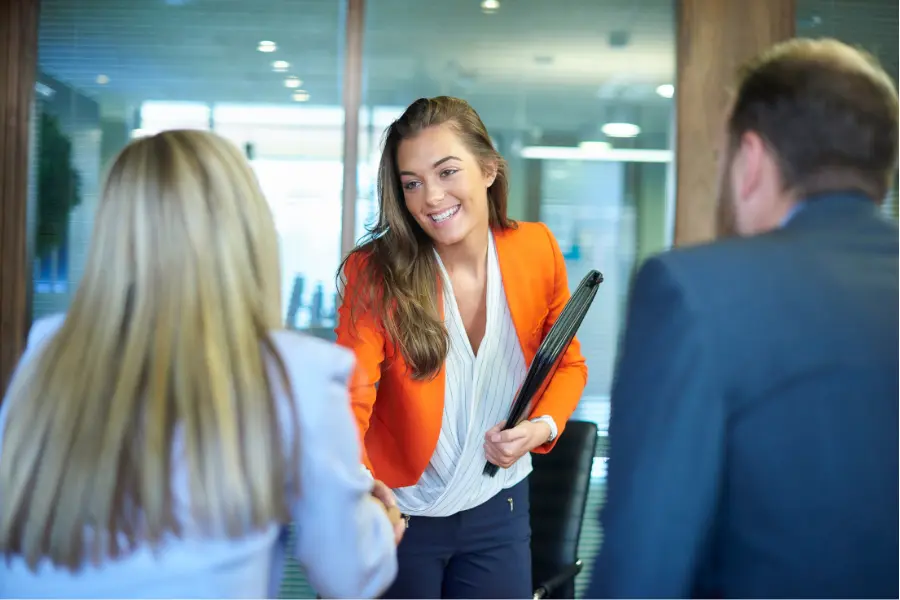 Interviewing is more than just a Q&A session. It's a structured interaction designed to assess if you're a good fit for a job description—and, simultaneously, if the company is a good fit for you.
It's essential to grasp the interview process when preparing for an interview. You'll encounter stages such as the screening interview (typically over the phone or via video call), the face-to-face interview with the hiring manager, and possibly a panel or group interview.
Knowing these stages helps you anticipate interview questions and align your responses to the company's needs. Preparation and understanding are key ingredients to successful interviewing.
Essential Interview Skills
To outshine other candidates in the job market, an understanding of the key interview skills is vital. We begin by unfolding the role of communication skills in setting you apart.
Communication Skills
Effective communication skills go beyond articulating your thoughts clearly—they involve nonverbal cues, active listening, and the ability to tailor your language to your audience.
Nonverbal Communication Skills
Body language can often speak louder than words. Maintain eye contact to display confidence and earnest interest in the conversation. Adopt an open posture—no crossed arms—and use gestures to emphasize points.
Active Listening
Showing that you listen attentively to the interviewer's questions communicates respect and engagement. Demonstrate active listening by nodding in agreement, summarizing points for clarity, and asking relevant follow-up questions.
Tailoring Your Message
Ensure your responses align with the job's requirements and the company's culture. This involves analyzing the job description, studying the company's values, and understanding the hiring manager's expectations.
Research Skills
Familiarizing yourself with both the company and the role can set you apart from other candidates. This involves studying the company's mission, values, products or services, and culture. Understand the specific skills required for the position and think of specific examples where you've displayed these skills in previous roles.
Problem-Solving Skills
Interviews often include behavioral questions aimed at assessing your problem-solving abilities. The STAR method can be an excellent framework for answering such questions. It stands for Situation (describing a scenario where you faced a challenge), Task (the responsibilities you had), Action (the steps you took to address the issue), and Result (the outcomes of your actions).
Perfecting Your Interview Skills
Skill is only half the battle won, the other half is knowing how to showcase these during an interview. Let's delve deeper into how you can ace the art of interviewing by starting at the very beginning – pre-interview preparation.
Pre-Interview Preparation
Knowing your resume like the back of your hand is crucial. Be ready to discuss any aspect of your work history, skills, or experiences listed on your resume.
Next, rehearse answers to common interview questions. This doesn't mean memorizing a script—it means having a clear idea of key points you want to convey.
Don't forget the significance of mock interviews. A family member or friend can simulate an interview scenario, providing valuable feedback and a safe space to improve your interview skills.
The Art of the Interview
Starting Strong
Making a great first impression is crucial. Begin with a firm handshake, introduce yourself with an elevator pitch, and engage in small talk to break the ice. A confident start sets the tone for the rest of the interview.
Answering Questions
When answering questions, stay focused and succinct. Use specific examples from your past experience to support your answers. Be honest, as hiring managers can often tell when a candidate isn't being genuine.
Remember, it's not just about what you say, but how you say it. Displaying a positive attitude, showing enthusiasm about the position, and demonstrating a willingness to learn can significantly impact the interviewer's perception of you.
Asking Questions
Remember, interviews are a two-way street. Prepare thoughtful questions that show your interest in the position and the company. This not only demonstrates your preparedness but also helps you gather information to decide if the job and company align with your career goals.
Closing the Interview
Towards the end of the interview, summarize your key strengths and reiterate your interest in the position. Ask about the next steps in the hiring process.
Post-Interview Follow Up
Send a follow-up email thanking the interviewer for their time. Highlight what you enjoyed learning about the job and the company, and restate your interest in the position. This gesture can leave a positive lasting impression on the interviewer and can set you apart from other candidates.
Handling Different Interview Scenarios
Each interview is a unique experience, shaped by factors such as the company culture, job level, and industry requirements. Adapting your approach to these varying formats is crucial. Now, let's talk about group interviews and how to handle them.
Group Interviews
Group interviews can be challenging, but with the right skills and strategies, you can stand out.
Be respectful and attentive when others are speaking.
Highlight your team collaboration skills by building on others' ideas.
Stand out by sharing unique insights and asking thoughtful questions.
Panel Interviews
Panel interviews involve multiple interviewers, which can be intimidating. However, the following strategies can help:
Engage with all panel members, not just the one asking the questions.
Take a deep breath and pause before responding to collect your thoughts.
Show appreciation for each panel member's questions, reinforcing your enthusiasm for the role.
Overcoming Common Interview Hurdles
Even the most prepared candidates can face obstacles during an interview. This section will guide you on handling some common interview hurdles and turning them into opportunities to showcase your skills and strengths.
Nervousness
It's normal to feel nervous before an interview. To overcome this, practice as much as possible—familiarity breeds confidence. On the day of the interview, arrive early to acclimatize to the interview room. Remember to take deep breaths before the interview to help calm your nerves.
Overqualification
Being overqualified for a job can sometimes work against you. Hiring managers may worry that you'll get bored or leave as soon as a better opportunity arises. If you're genuinely interested in a position for which you're overqualified, emphasize your earnest interest in the job and the company, and explain why the position fits your career goals.
Improving Your Interview Skills Over Time
Developing great interview skills is a continuous process. After every interview, reflect on your performance. What did you do well? What could have been better? Seek feedback from your interviewers to understand their perspectives.
Always be on the lookout for opportunities to practice. Even if you're not actively job hunting, consider going for an interview for a position that interests you. You'll gain more experience, become familiar with common interview questions, and may even land an unexpected job offer!
Remember, every interview brings you one step closer to your dream job. Stay motivated, and keep refining your interview skills.
Conclusion
Mastering your interviewing skills is not an overnight process. It requires consistent practice, self-reflection, and learning from each interview experience.
Remember, each interview brings you one step closer to landing your dream job. So, keep refining your job interview skills, stay positive, and confidently march forward. Your next job interview might just be the ticket to your dream job!
FAQs
What are the 4 key skills for interviewing?
The four key skills for interviewing are effective communication (verbal and nonverbal), active listening, problem-solving, and research skills. These skills help you convey your abilities, understand the interviewer's requirements, and provide thoughtful answers.
What are the 3 C's of interviewing? 
The three C's of interviewing stand for Confidence, Clarity, and Connection. Confidence shows you believe in your abilities, Clarity in your communication ensures your thoughts and responses are understood, and Connection means building rapport with your interviewer and showing fit with the company culture.
What are the 5 interview tips? 
Five key interview tips include: understanding the interview process, researching the company and role, preparing responses to common questions, practicing with mock interviews, and following up with a thank you note after the interview.
What is the STAR method when interviewing? 
The STAR method is a structured manner of responding to behavioral interview questions. It stands for Situation (describe the context), Task (explain your responsibilities), Action (detail the actions you took), and Result (share the outcomes of your actions).