Disclaimer: We sometimes use affiliate links in our content. For more information, visit our Disclaimer Page. 
In today's competitive business landscape, fostering employee motivation is no longer an option—it's a must. Companies are waking up to the undeniable truth that a highly motivated workforce can provide a strategic edge. The proper employee motivational strategies can propel business success and growth.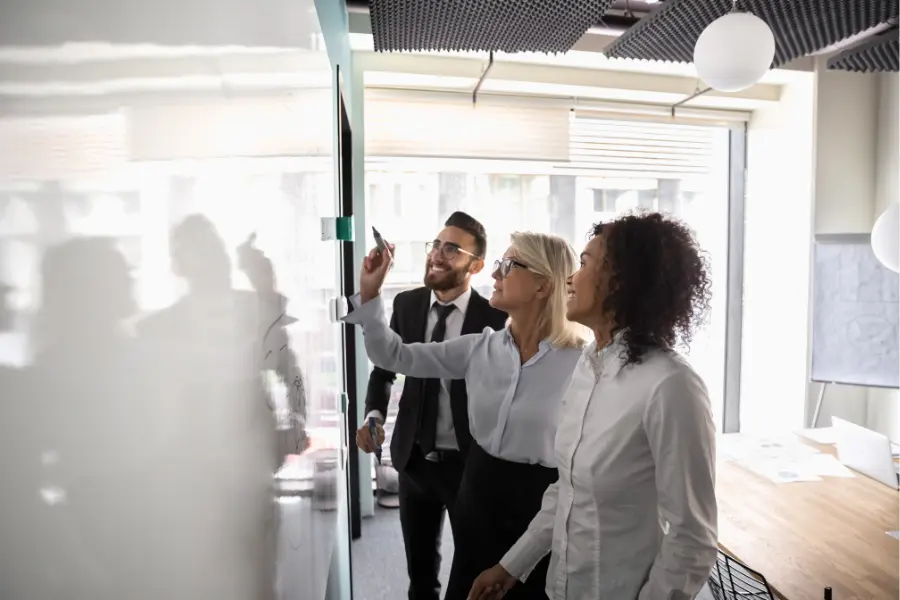 Understanding The Employee Motivational Strategies
At its core, employee motivation involves influencing your team members to consistently bring their best selves to work, resulting in enhanced productivity and improved business outcomes. It is the psychological force that encourages employees to fulfill their roles effectively and work towards the company's mission and goals.
Motivation can be both extrinsic and intrinsic. Extrinsic motivation involves tangible rewards like bonuses or promotions, while intrinsic motivation is derived from the inherent pleasure and satisfaction of doing meaningful work. To unlock the highest levels of motivation, businesses must consider and address both these types.
The Impact of Employee Motivation on Business Success
Before we delve into strategies to motivate employees, it's important to appreciate the significant impact motivated employees can have on a business. When employees are motivated, they often display increased dedication and commitment to their job, leading to enhanced employee performance.
Employee motivation is also closely tied to employee engagement and employee satisfaction. When your team is motivated, they're likely more engaged with their work and satisfied with their job, leading to increased employee retention.
Motivated employees are also essential for achieving high customer satisfaction. When your team members are genuinely motivated and passionate about their work, this enthusiasm often translates to superior customer service and experiences.
Finally, motivation directly impacts the bottom line. According to a Gallup report, organizations with high employee engagement rates are 21% more profitable than those with low engagement levels.
35 Strategies to Foster Employee Motivation
Motivating employees is not a one-size-fits-all task. It requires a thorough understanding of individual needs, organizational goals, and the dynamics of your team. The following 35 strategies provide a comprehensive approach to fostering employee motivation, which can transform your workplace into a powerhouse of productivity, innovation, and satisfaction.
1. Recognize Employee Efforts
One of the most effective employee motivation strategies is recognizing the hard work and achievements of your team members. Employee recognition can be as simple as verbal praise during a team meeting or as formal as an annual award ceremony. This approach satisfies the basic needs of employees for appreciation and respect, resulting in higher levels of motivation and employee satisfaction.
2. Offer Competitive Compensation
While more money isn't the only way to motivate employees, fair compensation remains a crucial factor. Offering competitive salaries, bonuses, and profit-sharing options can significantly increase motivation levels.
3. Provide Growth Opportunities
Employees often feel more motivated when they see clear career development pathways in their workplace. This could include opportunities for promotions, professional development programs, or certification courses. The prospect of growth fosters intrinsic motivation by making employees feel that they're progressing both personally and professionally.
4. Cultivate a Positive Company Culture
A positive company culture that encourages collaboration, openness, and trust can inspire employees to give their best at work. This environment can create a sense of belonging among employees, leading to enhanced intrinsic motivation.
5. Encourage Employee Input
Employees are more likely to feel motivated when they believe their opinions and ideas are valued. Creating a culture where employee input is sought and valued can make employees feel more connected to their job and the company.
6. Establish Clear Goals
Goal setting is a powerful motivation strategy. Clear, achievable goals can give employees a sense of direction and a purpose to strive for. Celebrating milestones along the way also serves as positive feedback, fueling motivation.
7. Implement an Incentive Program
Incentive programs that offer tangible rewards can spur extrinsic motivation. This could include benefits like paid time off, company swag, or other incentives that align with employee preferences.
8. Foster a Work-Life Balance
Employees who maintain a healthy balance between their work and personal lives often demonstrate higher levels of motivation and job satisfaction. This balance can be encouraged through flexible scheduling, the option to work remotely, or providing paid time off for personal activities.
9. Engage Employees in Decision-Making
Involving employees in decision-making processes can make them feel more invested in their job and the company. This approach not only encourages motivation but also fosters a sense of ownership and responsibility among team members.
10. Promote a Healthy Workplace Environment
A safe, healthy, and comfortable workplace environment can significantly impact employee motivation. This includes not only the physical workspace but also interpersonal relations, with company leaders fostering an environment of respect, cooperation, and positive communication.
11. Develop Strong Team Relationships
Team cohesion can serve as a strong motivation factor. When employees enjoy working with their team members, they're more likely to feel motivated to contribute to the team's success. Team building activities, collaboration tools, and open communication channels can enhance team relationships.
12. Provide Regular and Timely Feedback
Employees often crave feedback on their performance. Providing regular, timely, and constructive feedback helps employees understand what they're doing well and where they need to improve. This feedback, when given positively, boosts motivation by helping employees feel competent and valued.
13. Encourage Continuous Learning
Learning opportunities contribute to both extrinsic and intrinsic motivation. Encouraging continuous learning, whether through on-the-job training or certification courses, can make employees feel that they're expanding their skills and knowledge, adding value to the company.
14. Empower Employees
Empowerment is a potent motivator. When employees are given the autonomy to make decisions, solve problems, and execute tasks in their own way, they're likely to be more committed and engaged in their work.
15. Celebrate Successes
Publicly recognizing and celebrating successes, whether big or small, can greatly motivate employees. These celebrations can be a platform to acknowledge the hard work of your team members and give them the motivation to work towards the next project or goal.
16. Align Work with Employee Passions
When work aligns with an employee's passion, intrinsic motivation naturally follows. Managers should take the time to understand their team members' interests and strengths, and where possible, align their tasks and projects accordingly.
17. Promote Physical Health and Wellbeing
Employee motivation can be affected by physical health and energy levels. Encouraging regular breaks, promoting exercise, and offering healthy food options can help keep your team energized and motivated.
18. Create a Clear Career Path
A well-defined career path can serve as a motivational map for employees. Knowing there's room for growth in the company can inspire employees to excel in their roles and strive for promotions.
19. Leverage Technology
Modern technology tools can streamline tasks and improve workplace efficiency, leading to higher levels of motivation. Employees who are equipped with the right tools can perform their job more effectively and stay focused on their core responsibilities.
20. Connect Work to a Bigger Purpose
When employees see how their work contributes to the big picture of the company's success, they're likely to feel more motivated. Regularly communicating the company's mission and values can help employees understand their role in achieving this mission.
21. Offer Job Security
Job security is a fundamental physiological need for most employees. When employees feel secure in their job, they're likely to be more comfortable, less stressed, and more motivated.
22. Encourage Peer Recognition
Peer recognition can have a powerful effect on motivation. Establishing a culture where employees can acknowledge each other's hard work and contributions fosting a sense of camaraderie and motivation within the team.
23. Implement a Mentoring Program
A mentoring program can foster professional development, improve skills, and increase team member motivation. By pairing less experienced employees with seasoned ones, you not only facilitate knowledge sharing but also create supportive relationships that can motivate employees.
24. Offer Personalized Benefits
What motivates one employee may not necessarily motivate another. Offering personalized benefits, coupled with workplace recognition, tailored to individual needs and preferences, can be a highly effective strategy to motivate employees. This could include childcare services, gym memberships, flexible work hours, or remote work options.
25. Foster a Culture of Trust and Respect
Trust and respect are foundational to any successful relationship, including those in the workplace, leading to an engaged employee. When employees feel trusted and respected, they're more likely to take risks, be creative, and stay motivated.
26. Encourage Innovation and Creativity
Creating a culture that encourages innovation and creativity can significantly enhance employee motivation. When employees are encouraged to think outside the box and their ideas are valued, they're more likely to feel passionate and engaged in their work.
27. Set an Example
Company leaders play a crucial role in setting the tone for motivation. Leaders who demonstrate passion, dedication, and enthusiasm for their work can inspire similar attitudes in their team members.
28. Implement an Employee Wellness Program
Employee wellness programs can improve overall health and wellbeing, leading to increased motivation. These programs could include stress management workshops, mental health resources, or fitness challenges.
29. Provide a Path for Growth
Showing employees that there are opportunities for growth within the company can motivate them to strive for excellence. This could be through promotions, new roles, or the opportunity to lead projects or teams.
30. Provide Support During Difficult Times
Showing empathy and support during challenging times can motivate employees by showing them they're valued beyond just their work output. This could include offering flexible hours, providing mental health resources, or simply fostering an open, supportive conversation about challenges faced.
31. Foster a Sense of Community
Creating a workplace that feels like a community can lead to higher levels of employee engagement and motivation. Regular team-building activities, social events, or shared experiences can strengthen bonds and create a positive workplace culture.
32. Offer Remote Work Opportunities
The option to work remotely can motivate many employees by providing flexibility and demonstrating trust. Employees often appreciate the ability to work from a location that suits their lifestyle and needs.
33. Promote Open and Honest Communication
Encouraging open and honest communication can motivate employees by creating a transparent culture where everyone's voice is heard. This could include regular company updates, open-door policies, or ongoing conversations about team and company performance.
34. Offer Financial Incentives
While not the only motivator, financial incentives can be a powerful way to motivate employees. Bonuses, raises, profit sharing, or stock options can motivate employees to meet their goals and contribute to the company's success.
35. Provide Ongoing Training and Development
Ongoing training and development opportunities can motivate employees by showing them that the company is invested in their personal growth and career progression. This could include workshops, courses, or resources to help them develop their skills and knowledge.
Conclusion
Employee motivation is crucial for business success. By implementing these 35 strategies, you can create a motivated, engaged, and productive workforce that drives your business toward its goals.
FAQs
What is employee motivation? 
Employee motivation is a psychological state that influences an individual's direction, intensity, and persistence of voluntary behavior. It involves influencing employees to consistently put forth their best effort and demonstrate high levels of commitment and productivity.
How does employee motivation impact business success? 
Motivated employees are generally more productive, engaged, and committed to their job, leading to improved business performance. High motivation levels can lead to increased employee satisfaction, lower turnover rates, and better customer satisfaction.
What are some strategies for motivating employees? 
Some strategies include recognizing employee efforts, providing growth opportunities, giving employees a sense of purpose, promoting work-life balance, encouraging continuous learning, celebrating successes, and providing regular feedback.
What role does a company's culture play in employee motivation? 
A company's culture can significantly influence employee motivation. A positive, supportive, and inclusive culture can make employees feel valued and engaged, which in turn can boost motivation.
How can managers inspire their team members? 
Managers can inspire their team members by setting clear expectations, providing positive feedback, encouraging professional development, demonstrating empathy and understanding, and leading by example.