Disclaimer: We sometimes use affiliate links in our content. For more information, visit our Disclaimer Page. 
In the fast-paced corporate world, the importance of positivity in the workplace cannot be overstated. The role of a positive attitude, a positive work environment, and a positive mindset are paramount in driving productivity, employee engagement, and job satisfaction.
This blog delves into the significance of fostering positivity, how to promote it, and strategies to nurture a positive mindset in the office. Let's immerse ourselves in this fascinating topic.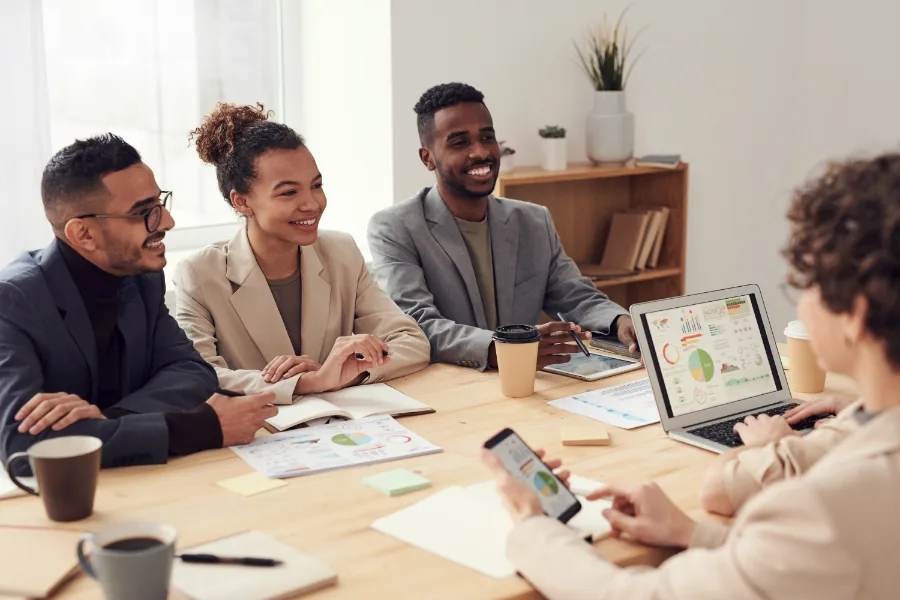 Why Is Positivity Important in the Workplace?
A positive workplace culture offers a myriad of benefits, from boosting morale to enhancing mental well-being. A positive workplace is not merely a perk—it's an essential factor for the success of any organization.
Promoting positivity improves employee morale, reduces stress levels, and increases job satisfaction. It encourages effective communication, which is key to a healthy and productive work environment. Employees feel valued and motivated to complete tasks efficiently when they are part of a positive work environment.
Moreover, positivity in the workplace plays a significant role in shaping our general outlook and mental health. By keeping negative thoughts and negative attitudes at bay, a positive work environment encourages employees to adopt a positive approach, thereby benefiting both their professional development and personal life.
Cultivating Positivity: Building a Positive Work Environment
Promoting positivity is not merely about eradicating negativity—it's about building a supportive environment where everyone feels inspired to bring their best selves to work. Here are practical strategies to help you foster a positive work environment.
Foster Positive Relationships
Employees thrive in an environment where they can form meaningful relationships with their co-workers. Creating positivity starts with promoting positive interactions and building positive relationships. Encourage employees to communicate openly, support each other, and develop mutual appreciation. This will enhance team morale and create a positive environment.
Promote Employee Engagement
A strong correlation exists between positivity in the workplace and employee engagement. Engage employees in decision-making processes, give them opportunities for professional development, and value their contributions. This will not only boost positivity but also foster a sense of belonging, leading to increased job satisfaction.
Encourage Positive Behavior
Model positive behavior to inspire employees to maintain a positive attitude. Celebrate achievements, show gratitude, and promote a positive outlook. This will help eliminate negative thinking and inspire employees to adopt positive thinking.
Related: The Importance of Relationships Within the Workplace
Maintaining a Positive Mindset: Strategies for Success
Maintaining a positive mindset requires conscious effort. Here are some strategies to help employees maintain positivity, even in challenging situations.
Practice Gratitude
Showing gratitude has a powerful impact on our mindsets. Encourage employees to practice gratitude, expressing appreciation for their colleagues and their accomplishments. This will help foster positive emotions and reduce negative thoughts.
Respond Positively to Challenges
How we react to challenges significantly impacts our mindset. Encourage employees to view challenges as opportunities for growth rather than threats. This positive thinking will boost their problem-solving abilities and help them maintain a positive outlook.
Develop Healthy Habits
A balanced diet and regular exercise can have a tremendous effect on our mood and energy levels. Encourage employees to take care of their physical health to help them maintain a positive mindset and improve their work life.
Beyond the Norm: Managing Toxic Positivity
While positivity in the workplace is beneficial, it's crucial to beware of toxic positivity—the overemphasis on positive thinking to the point of dismissing or invalidating genuine emotions. It's vital to create an environment where employees feel comfortable expressing their feelings without fear of negative comments.
Related: Examples of Difficult Work Situations and How to Handle Them
Understanding the Power of Positive Thinking
Positive thinking plays a pivotal role in the creation of a positive work environment. The concept isn't about ignoring negative situations; instead, it's a mental attitude that encourages employees to approach challenges with a more positive and productive outlook. Employees who embody positive thinking are often more motivated, less stressed, and show greater resilience to change – all of which significantly enhance workplace morale and employee engagement.
Positive thinking not only improves our professional lives but also significantly influences our personal life. It guides us in creating a positive approach to problems, enhances our energy levels, and improves our overall mental health. Moreover, studies show that positive thinkers are more likely to achieve success, thanks to their problem-solving skills and their optimistic perspective on life.
Despite the many benefits of positive thinking, it's crucial to avoid toxic positivity. It's important to acknowledge negative thoughts and feelings as a natural part of the human experience rather than dismissing them as simply "negative." Instead, we should aim to balance positive thinking with emotional awareness and healthy coping strategies.
The Power of Positive Interaction and Positive Relationships
The strength of positivity in the workplace lies in its ability to foster positive relationships and interactions among team members. Developing meaningful relationships and maintaining positive interactions can make a significant impact on overall job satisfaction and work relationships. Employees who feel supported by their co-workers are more likely to feel positive at work, leading to higher levels of job satisfaction and productivity.
Creating a positive environment that encourages open communication, mutual appreciation, and understanding can help employees feel valued. Moreover, it allows them to approach challenges with a positive outlook, fostering a positive mindset within the entire team. This collaborative and supportive environment ultimately leads to the creation of a positive workplace culture.
Related: Effective Verbal Communication in the Workplace
Cultivating a Positive Environment: The Role of Leadership
Leadership plays a crucial role in promoting positivity in the workplace. Leaders can model positive behavior, encourage employees, and create an environment that promotes positivity. This includes providing employee feedback, recognizing achievements, and fostering a sense of community in the workplace.
Leaders can also play a significant role in addressing and managing negative situations in the workplace. By responding positively to challenges, leaders can set the tone for the rest of the team, promoting a culture of resilience and positive thinking.
Encouraging Positivity: Strategies and Tips
Creating positivity in the workplace requires deliberate and sustained effort. Here are some effective strategies that can help foster a positive workplace culture.
Promote Positivity through Positive Attitudes
Fostering positive attitudes is the cornerstone of promoting positivity in the workplace. Encourage your team to approach tasks with enthusiasm, maintain a positive outlook, and celebrate achievements. These actions can have a substantial impact on workplace morale and overall positivity.
Develop a Positive Work Environment
A positive work environment is key to fostering positivity. This involves creating a supportive environment where employees feel valued, encouraged, and engaged. Positive workplaces promote effective communication, mutual respect, and job satisfaction.
Encourage Self-Care and Well-being
Encouraging self-care and prioritizing employee well-being can significantly contribute to positivity in the workplace. Stress management, regular exercise, and maintaining a balanced diet can influence employees' moods and energy levels, leading to a more positive and productive workforce.
Recognize and Reward Positive Behavior
Recognition and reward can be powerful motivator, and acknowledging positive behavior encourages more of the same. Celebrate achievements, offer praise, and provide incentives to boost positivity and enhance job satisfaction.
Foster a Culture of Continuous Learning and Professional Development
Offer opportunities for professional development to help employees feel valued and motivated. Continuous learning opportunities contribute to employee engagement, job satisfaction, and overall workplace positivity.
A Holistic Approach to Positivity in the Workplace
Cultivating positivity in the workplace is a multifaceted task, requiring a concerted effort from every team member, especially from leadership. A proactive approach to creating positivity includes fostering positive attitudes, promoting a supportive environment, encouraging self-care and well-being, recognizing positive behavior, and facilitating continuous professional development.
These strategies collectively foster a positive workplace culture, improving employee morale and productivity, and reducing stress levels.
It's also worth noting that fostering positivity isn't about dismissing or avoiding negative situations. It's essential to manage these effectively and respond positively to foster a balanced and supportive work environment.
Creating a Ripple Effect: How Positivity Influences Others
Positivity in the workplace is contagious, much like a ripple effect, it spreads, influencing others and enhancing the overall atmosphere. When one employee maintains a positive attitude and exhibits positive behavior, it encourages others to do the same. The result is a positive workplace environment that promotes collaboration, innovation, and productivity.
This ripple effect of positivity extends beyond the workplace into employees' personal lives. An employee who feels positive and satisfied at work tends to carry those feelings into their personal life, creating a balanced and fulfilled existence.
However, it's important to understand that everyone experiences a range of emotions, and feeling positive all the time isn't realistic or healthy. The goal isn't to eliminate negative emotions but to foster an environment where all emotions are acknowledged and addressed healthily. This approach ensures that positivity doesn't transform into toxic positivity.
Related: Why Teamwork is Important in the Workplace
The Role of Positivity in Employee Retention and Satisfaction
Positivity in the workplace plays a significant role in employee retention and satisfaction. When employees work in a positive environment, they feel more valued and satisfied, leading to increased loyalty and lower turnover rates. Moreover, a positive work environment promotes employee engagement and well-being, which contributes to higher job satisfaction and productivity.
The Art of Staying Positive
Staying positive, especially in challenging times, requires resilience and a positive mindset. Here are a few tips for maintaining positivity:
Practice Gratitude: Focusing on positive things in life and practicing gratitude can help maintain a positive outlook, even during difficult times.
Stay Active: Regular exercise helps release endorphins, the body's natural mood boosters, helping to maintain a positive attitude.
Nurture Positive Relationships: Spending quality time with positive people can help boost positivity.
Maintain a Balanced Diet: Eating healthy can improve mood and energy levels, helping to foster a positive mindset.
Adopt a Positive Approach: Viewing challenges as opportunities for growth can help maintain positivity in the face of adversity.
Positivity and Success: A Dynamic Duo
Successful people often exhibit a positive attitude. They approach challenges with optimism and view failures as opportunities for learning. They believe in their abilities and maintain a positive outlook, which contributes to their success.
A positive mindset allows individuals to see possibilities rather than limitations. It fosters resilience, innovation, and persistence, key characteristics often associated with successful people.
While maintaining positivity requires effort, the rewards are worthwhile. A positive work environment boosts morale, improves job satisfaction, and contributes to a company's success. By fostering positive attitudes, encouraging positive behavior, and maintaining a supportive environment, organizations can harness the power of positivity, transforming their workplace into a vibrant, productive, and positive space.
In the face of adversity, let's remember these words by one of the great positive thinkers, Winston Churchill: "A pessimist sees the difficulty in every opportunity; an optimist sees the opportunity in every difficulty."
Related: Examples of Adaptability in the Workplace
Conclusion
Fostering positivity in the workplace is a key ingredient to a thriving and successful organization. By promoting positivity, we can create workplaces that are not only productive but also enjoyable spaces where employees feel valued and motivated.
As we continue to navigate the complex dynamics of modern work environments, it's clear that a positive approach to work and its challenges can make all the difference. Here's to fostering positivity in all our workplace endeavors!
FAQs
How do you promote positivity in the workplace?
Promote positivity in the workplace by fostering a supportive environment, modeling positive behavior, acknowledging achievements, and providing opportunities for professional growth.
Why is positivity important in the workplace?
Positivity in the workplace is crucial as it enhances productivity, fosters job satisfaction, reduces stress levels, and creates a positive workplace culture that benefits both the employees and the organization as a whole.
What are some examples of positivity in the workplace?
Examples of positivity in the workplace include employees helping one another, constructive feedback, celebrations of small and large victories, and positive communication within the team.
What is the definition of positivity in the workplace?
Positivity in the workplace refers to the creation and maintenance of a positive, supportive environment that fosters collaboration, employee engagement, job satisfaction, and productivity. This environment is characterized by positive attitudes, behaviors, and relationships among employees.