Disclaimer: We sometimes use affiliate links in our content. For more information, visit our Disclaimer Page. 
Every successful leader knows that at the core of effective management lies empathy. Understanding and sharing the feelings of others might not immediately strike one as a core competency in a business environment. However, the influence of empathy in the workplace, particularly in a management role, is profound and can change the course of team dynamics and overall productivity.
Let's dive into the importance of empathy in management and discuss how to develop it.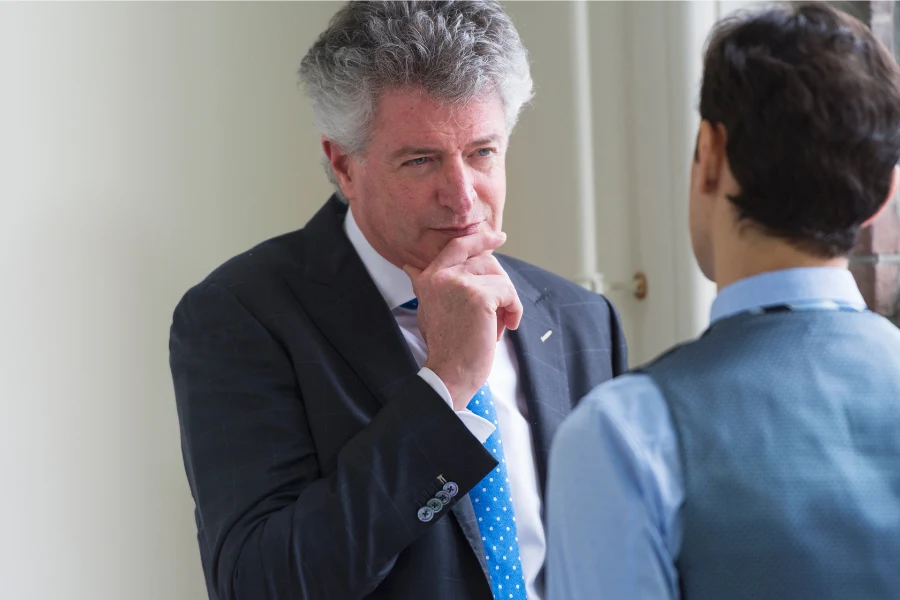 The Power of Empathetic Leadership
An empathetic leader is one who goes beyond simply understanding their employees' perspectives. They strive to genuinely share in their feelings, challenges, and triumphs. Empathetic leaders don't merely recognize an employee's perspective; they feel it. They can step into another person's shoes and see the world from their viewpoint. This person-centered approach to leadership yields a multitude of beneficial outcomes.
Now, we will examine why empathy holds such great significance in leadership:
Increased Employee Engagement and Satisfaction: Employees feel more engaged when they believe their managers genuinely care about their well-being. The power of empathy shines through when leaders demonstrate an understanding of their employees' personal lives and their professional responsibilities. This leads to higher levels of employee satisfaction and retention.
Improved Problem Solving: Empathy allows managers to better understand the problems their employees face. By paying attention to the feelings and perspectives of their team members, managers can identify challenges earlier and help their employees to find solutions.
Enhanced Team Relationships: Empathy fosters trust and respect, which strengthen relationships within the team. Employees feel more comfortable sharing their ideas, concerns, and feelings when they know their leader genuinely cares about their well-being.
Boosted Employee Performance: A leader who demonstrates empathy inspires employees to exceed expectations. Team members who feel understood and valued are more likely to go the extra mile, resulting in enhanced job performance.
Developing Empathy in the Workplace
It's clear that empathy is essential for effective management, but how does one cultivate this crucial soft skill? Here are some ways managers can build and exercise empathy:
Active Listening: This is a critical component of demonstrating empathy. Active listening involves giving full attention to the speaker, understanding their message, and responding thoughtfully. It's about more than just hearing words; it's about understanding the feelings behind them.
Understand Personal Issues: An empathetic manager is interested in their employees' personal lives. Remember that employees are human beings dealing with various personal issues. Understand these issues without crossing professional boundaries.
Nonverbal Communication: Empathy requires paying attention to nonveractive cues such as facial expressions, body language, and tone of voice. These nonverbal cues often reveal more about a person's feelings than their words.
Encourage Open Communication: Foster an empathetic workplace by creating an environment where employees feel safe to express their feelings and thoughts. Keep open lines of communication and encourage team members to share their perspectives and feelings.
Practice Perspective Taking: Regularly stepping into someone else's shoes helps to develop empathy. By seeing things from the perspective of team members, managers can gain valuable insight into their experiences.
Nurturing an Empathetic Culture
Promoting empathetic leadership is just the first step. For long-lasting impact, empathy needs to be woven into the very fabric of the workplace culture. Let's explore how managers can foster a more empathetic workplace:
Value Emotional Intelligence: Emotional intelligence, the ability to understand and manage your own and others' emotions, should be recognized and valued within the company. Emphasize its importance during recruitment, performance reviews, and professional development training.
Offer Support During Stressful Times: Understand that each employee deals with stress differently. Be patient and offer support, whether it's due to an excessive workload, personal problems, or intense stress. Show genuine interest in their well-being, both in their personal life and in their role as a team member.
Promote Work-Life Balance: An empathetic manager understands the importance of personal life and the need for a healthy work-life balance. Encourage your team members to take care of their personal well-being and support them in managing their current workload.
Develop Empathy Training Programs: Consider implementing training programs to foster empathy in the workplace. Such programs can guide employees and managers on how to demonstrate empathy, pay attention to nonverbal cues, and practice active listening.
Empathy and its Relationship with Other Core Leadership Skills
The significance of empathy extends beyond just understanding and sharing the feelings of others. It's positively related to several other core leadership skills:
Effective Communication: Empathy strengthens communication by allowing leaders to understand their employees individually. This understanding facilitates the effective transmission and reception of messages, ensuring everyone feels heard and valued.
Conflict Resolution: Leaders who possess empathy skills are typically more proficient at resolving conflicts. They understand each person's perspective and feelings, enabling them to address disputes in a fair and balanced manner.
Teamwork: An empathetic leader fosters a productive work environment where team members feel comfortable sharing their thoughts and collaborating with co-workers. This sense of unity boosts overall team productivity.
Performance Management: Empathetic leaders provide constructive feedback that helps employees improve their performance without making them feel undervalued. They understand their employees' abilities and limitations and provide support accordingly.
Related: Effective Communication as a Leadership Competency
Empathy: A Catalyst for Employee Satisfaction and Productivity
Employee satisfaction and productivity are closely linked with empathetic leadership. An empathetic manager recognizes that each employee feels and responds differently. They understand that showing genuine interest in an employee's feelings can make them feel valued, thereby enhancing employee engagement and inspiring employees to strive for excellence.
Empathy in the workplace can transform a tense, uncommunicative team into a cohesive unit working towards a common goal. By viewing challenges from the team members' perspectives, empathetic leaders can drive innovative solutions that benefit both the individuals and the organization as a whole.
Moreover, understanding the personal lives of employees allows empathic leadership to recognize the stressors that may be affecting their job performance. By addressing these issues and offering necessary support, managers can increase productivity while ensuring the well-being of their team.
The Consequences of a Lack of Empathy
Despite its clear benefits, empathy is often overlooked in the corporate world. Some managers focus solely on targets and results, showing little empathy for their team members. Such an approach can lead to a number of negative outcomes:
Poor Morale and Engagement: When employees feel their managers lack empathy, they may feel undervalued and disengaged. They might be less likely to contribute ideas, engage in problem-solving, or go the extra mile in their roles.
Increased Employee Turnover: A lack of empathy can lead to a high employee turnover rate. If employees feel their feelings and well-being are disregarded, they're likely to seek employment elsewhere.
Lower Productivity: Employees are less likely to be productive when working under managers who lack empathy. They may feel unappreciated, under immense pressure, or disconnected from their work, leading to decreased productivity.
Empathy is More Than a Soft Skill
While empathy may be considered a "soft skill," its impact on the workplace is substantial. Empathetic leadership cultivates a culture where employees feel understood, appreciated, and motivated to contribute their best work. As a result, organizations benefit from increased productivity, improved employee satisfaction, and reduced turnover rates.
Empathy isn't a trait reserved for specific personalities; it's a skill that can and should be developed. By actively practicing empathy, managers can foster a compassionate workplace that values the feelings of its members and strives to understand their perspectives.
Empathy: A Cornerstone for the Future of Work
As we advance into the future of work, empathy will only increase in importance. In an era where artificial intelligence and automation are becoming more prevalent, it's human skills, like empathy, that will distinguish successful leaders.
Empathy is vital to understanding and motivating a diverse workforce. As remote work becomes more common, leaders will need to adapt their empathetic skills to ensure they're effectively supporting and managing a distributed team. In such situations, paying attention to the feelings and well-being of each team member becomes even more critical.
Related: Conceptual Skills in Management
Closing Thoughts
Empathy in leadership isn't a luxury; it's a necessity. It's an investment that managers make in their employees, one that yields dividends in the form of higher job satisfaction, increased productivity, and lower turnover rates.
By fostering empathy, managers ensure that every employee feels heard, valued, and understood. Empathetic leadership also supports employees in their professional growth and personal well-being.
So, the question isn't whether empathy is important in management, but rather, how can managers build a more empathetic approach to leadership? By exercising empathy and promoting its value in the workplace, we can reshape the future of work and cultivate compassion.
FAQs
Why is empathy important in management?
Empathy is critical in management because it helps leaders understand their team members' perspectives and feelings. It fosters trust, increases employee satisfaction and engagement, improves problem-solving, and enhances team relationships.
How do you develop empathy in the workplace?
Developing empathy in the workplace fosters empathy by involving active listening, understanding the personal issues of employees, paying attention to nonverbal communication, encouraging open communication, and regularly practicing perspective-taking.
What are 3 ways to develop empathy?
1. Active listening: Pay full attention to the speaker, understand their message, and respond thoughtfully.
2. Understand personal issues: Show genuine interest in employees' personal lives and issues without crossing professional boundaries.
3. Practice perspective-taking: Try to see things from the perspective of your team members to gain insight into their experiences.
What is empathy and how can we develop it?
Empathy is the ability to understand and share the feelings of others. It can be developed by practicing active listening, understanding personal issues, paying attention to nonverbal cues, encouraging open communication, and regularly practicing perspective-taking. Additionally, promoting a culture that values emotional intelligence and providing empathy training programs can help foster empathy in the workplace.