Disclaimer: We sometimes use affiliate links in our content. For more information, visit our Disclaimer Page. 
Imagine this: a room filled with bright minds, yet filled with silence. Each team member carries brilliant ideas but struggles to articulate them effectively. In this scenario, what could be missing is the presence of facilitators to communication – individuals who bridge the gap and foster open, transparent dialogue.
But how exactly do facilitators of communication make an impact? And how can managers improve their communication to become successful facilitators? Let's dive in.
Understanding the Role of Facilitators in Communication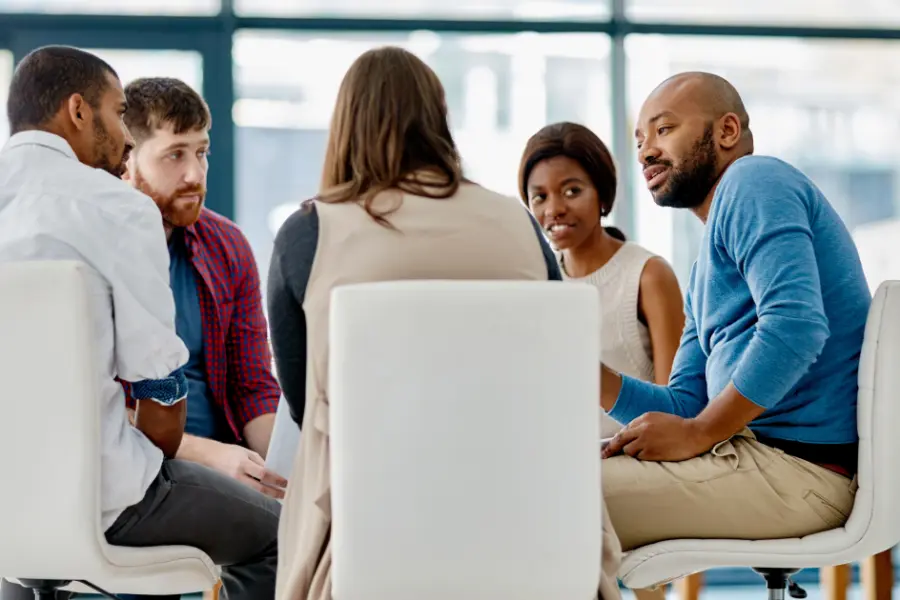 When it comes to successful business operations, good communication sits at the core. It's the fuel that powers employee engagement, facilitates problem-solving, and boosts employee productivity. Facilitators, in this context, are the individuals who have the responsibility to ensure clear and open communication within a team, paving the way for a stronger, more cohesive work environment.
Primarily, a facilitator's job is to ensure that all communication channels are open and flowing smoothly. Facilitators use various communication tools and techniques, honing their verbal and non-verbal communication skills to ensure every team member understands their roles and tasks. They provide an adequate space for employees to express their ideas, contributing to an environment where employees feel valued and heard.
The Importance of Manager Communication in the Workplace
The phrase "manager communication" isn't just about how many times a manager sends an email or holds a meeting. It's about how effectively managers communicate, creating a conducive environment for employees to share ideas, ask questions, and voice concerns.
Effective communication from managers plays a pivotal role in improving communication across the team. Not only does this lead to improved employee morale, but it can also have a tremendous impact on the company's progress and success. When managers communicate regularly and openly, they encourage employees to follow suit, fostering a culture of transparency and trust.
Balancing Communication Styles: Verbal, Written, and Non-verbal
Successful managers are adept at balancing different communication styles – verbal, written, and non-verbal. Each has its unique strengths and serves specific purposes.
Verbal communication, whether in person or via video conferencing, allows for more direct conversation. Tone of voice, volume, and emphasis can provide extra context and avoid confusion. Written communication, on the other hand, is ideal for sharing important messages, instructions, and performance reviews. Tools like email, project management software, or a chat app like Microsoft Teams can be helpful in this regard.
Non-verbal communication, though often overlooked, is equally vital. Body language, such as eye contact, facial expressions, and gestures, can significantly influence the message's interpretation. A good manager is aware of these subtleties and uses them to communicate effectively.
Improving Communication: Practical Strategies for Managers
One thing is understanding the importance of good communication, but how can managers improve their communication skills? Here are some practical strategies:
Foster Open Communication
The cornerstone of successful communication is an environment that encourages openness. Managers should strive to create additional avenues for communication, fostering a culture where team members feel comfortable sharing their thoughts. Regular team meetings, one-on-one sessions, and open-door policies are great ways to achieve this.
Embrace Active Listening
A good manager isn't just an effective communicator but an attentive listener too. Active listening involves not just hearing what the other person is saying, but understanding it too. It demonstrates respect for individual differences and can lead to improved understanding, trust, and engagement among team members.
Utilize the Right Communication Tools
Choosing the right communication tool is crucial. In today's digital age, there are numerous tools available that can streamline communication, whether it's video conferencing for remote teams, chat apps for quick updates, or project management software for coordinating tasks. Using the right tool can greatly improve communication within a team and keep everyone on the same page.
Develop Emotional Intelligence
A good manager understands the power of emotions in communication. By tapping into the emotions of team members, managers can create genuine relationships and keep the conversation moving organically. This helps in resolving conflicts and building a positive work atmosphere.
The Impact of Effective Communication on Employee Engagement
Effective communication isn't merely about transferring information from one person to another; it's about creating a connection and building trust. And when employees feel that their voices are heard and their work is valued, they naturally become more engaged.
Increased employee engagement is a powerful indicator of a successful business. It leads to better productivity, improved morale, and greater employee retention. By prioritizing open communication, managers can significantly boost employee engagement, contributing to overall business success.
Employee Productivity: The Power of Clear Communication
Clear communication leads to fewer misunderstandings and errors, which can have a direct impact on employee productivity. When team members understand their roles, responsibilities, and the main point of the tasks at hand, they can execute their duties more efficiently.
Employee Morale: The Value of Recognition and Feedback
Communicating effectively also means recognizing team members' efforts and providing constructive feedback. Regular performance reviews and acknowledgment of good work go a long way in boosting employee morale. It creates a positive work environment where team members feel appreciated and are more likely to perform at their best.
Employee Retention: The Role of Trust and Transparency
Trust and transparency are integral to employee retention. Managers who communicate openly and honestly about the company's progress, challenges, and future plans make employees feel part of the journey. This fosters loyalty and a sense of belonging, reducing turnover rates.
The Impact of Manager Communication on Team Collaboration
Effective manager communication is the backbone of successful team collaboration. Managers are uniquely positioned to encourage employees to work together harmoniously, promoting a culture of cooperation, mutual respect, and shared responsibility. Let's delve into how good communication fosters team collaboration.
Fostering a Collaborative Environment
Managers who communicate effectively create an environment where team members feel comfortable sharing their ideas, perspectives, and concerns. Open communication fosters mutual respect and understanding, laying the foundation for successful collaboration. Managers should ensure that they create additional avenues for team members to communicate and share their thoughts, helping to keep the conversation moving organically.
Facilitating Problem-Solving
Collaboration is crucial when it comes to problem-solving. Managers can guide this process by facilitating discussions, encouraging team members to communicate their thoughts and potential solutions. This not only helps in resolving conflicts but also promotes a sense of teamwork and shared accomplishment.
Enhancing Team Performance
When team members communicate effectively, they work more efficiently. Clear communication about each member's roles and responsibilities, as well as the team's goals and objectives, ensures everyone is on the same page. This leads to better coordination, less confusion, and ultimately, improved team performance.
Strengthening Relationships
Good communication builds trust and strengthens relationships within a team. Managers play a crucial role in this by being transparent, showing empathy, and maintaining open lines of communication. Regular team meetings, one-on-one sessions, and utilizing appropriate communication tools can help in fostering strong, genuine relationships among team members.
By promoting good communication, managers encourage employees to collaborate more effectively. This not only leads to improved team performance but also contributes to overall employee engagement and business success.
Enhancing Communication: Manager's Tools and Techniques
Having covered the importance of manager communication and its impact on employee engagement, let's delve into some specific communication tools and techniques that managers can employ.
Regular Team Meetings
Team meetings are an excellent platform for managers and employees to communicate directly. These meetings provide an avenue for everyone to stay updated on the company's progress, discuss challenges, and share ideas. It also helps keep everyone on the same page, specifically work-related tasks and projects.
One-on-One Sessions
While team meetings are great, they might not always provide the space for personal discussions or individual feedback. This is where one-on-one sessions come in. These sessions allow managers to understand their team members' perspectives better, address specific concerns, and provide individualized feedback.
Utilizing Technology
With the increasing shift towards remote work, technology plays a crucial role in facilitating communication. From email and chat apps to video conferencing and project management tools, managers need to take advantage of these technologies to keep communication flowing smoothly.
Encouraging Two-way Communication
Communication shouldn't be a one-way street, especially in the workplace. Encouraging two-way communication fosters a sense of belonging among employees. It makes them feel that their opinions matter and encourages them to voice their thoughts and concerns more openly.
Overcoming Communication Barriers: A Manager's Role
Despite all efforts, sometimes, communication can break down in the workplace. As a manager, it's essential to identify these communication barriers and find ways to overcome them.
Recognizing and Respecting Individual Differences
Each employee brings a unique set of skills, experiences, and perspectives to the table. Recognizing these individual differences and respecting them is crucial for effective communication. Managers should adapt their communication styles to meet the needs of different employees.
Encouraging Feedback
Feedback, both positive and negative, is a valuable tool for improving communication. Managers should encourage employees to share their feedback about communication processes and take steps to address any issues raised.
Building Trust
Trust is the bedrock of all successful relationships, and the workplace is no exception. Managers who are open, honest, and transparent in their communication naturally build trust with their team members. This leads to a more comfortable environment where employees feel safe to express their thoughts, ideas, and concerns.
Training and Development Programs
Not everyone naturally possesses good communication skills, which is why it's important to develop communication skills. Sometimes, specific training and development programs are required to enhance these skills. These programs could focus on verbal and written communication, active listening, non-verbal cues, and even understanding different communication styles.
Conclusion
Communication is the glue that holds everything together. Facilitators, especially managers, are essential in ensuring effective communication within their teams. By fostering open communication, honing their communication skills, utilizing the right communication techniques, and working towards overcoming communication barriers, managers can significantly improve workplace communication and create a highly productive and successful business environment.
Through these actions, managers also enhance employee engagement, keeping employees informed, improving employee morale and productivity while reducing turnover rates. Thus, communication isn't just about transmitting information; it's about building relationships, fostering trust, and leading teams towards shared goals.
FAQs
What is a facilitator of communication? 
A facilitator of communication is an individual who ensures clear and open communication within a group or team. They utilize various communication tools and techniques to make sure everyone is heard and understood.
What are examples of facilitators of communication? 
Facilitators of communication can be managers, team leaders, or any individual appointed to ensure effective communication. They use a range of strategies, from conducting regular meetings, one-on-one sessions, using communication software, and encouraging feedback.
What is the primary role of facilitators of communication? 
The primary role of facilitators is to ensure smooth communication within a group or team. They ensure that all team members understand their roles and responsibilities and feel comfortable expressing their ideas and concerns.
How can a manager get better at communicating? 
Managers can improve their communication by fostering open communication, practicing active listening, utilizing the right communication tools, understanding and respecting individual differences, encouraging feedback, and undergoing relevant training programs.