Disclaimer: We sometimes use affiliate links in our content. For more information, visit our Disclaimer Page. 
You've just started your new job and are eager to make a good impression on your new boss. But how do you go about introducing yourself? What are the best ways to make a positive first impression? This blog post explains how to introduce yourself to your new boss.
Read on to learn more!
Why does a good first impression matter?
The old saying goes that you never get a second chance to make a first impression. In the workplace, this could not be more true. So whether you gave up your previous job and started a new job or interacted with a new supervisor, it's essential to give a professional introduction at first. After all, your boss will be the one making decisions about your career, so you want to start on the right foot.
The importance of introducing yourself to your new boss
Introducing yourself to your new boss is important in building a professional relationship. It gives them a chance to get to know you as a person and helps you learn more about their leadership style.
When you start a new job, there may be uncertainty regarding the person who will lead your team. It can be difficult when you and your new supervisor attempt to get a feel for one another's personality quirks. You may assist the incoming leader in making the transition to your company more smoothly by getting to know them better.
Furthermore, establishing mutual trust early on in your new job can improve your working relationship. This confidence may significantly enhance your company's connection and positively influence future employment prospects. So don't be afraid to introduce yourself to your new boss – it could benefit both of you!
Related: How To Communicate Assertively
How to introduce yourself to your new boss?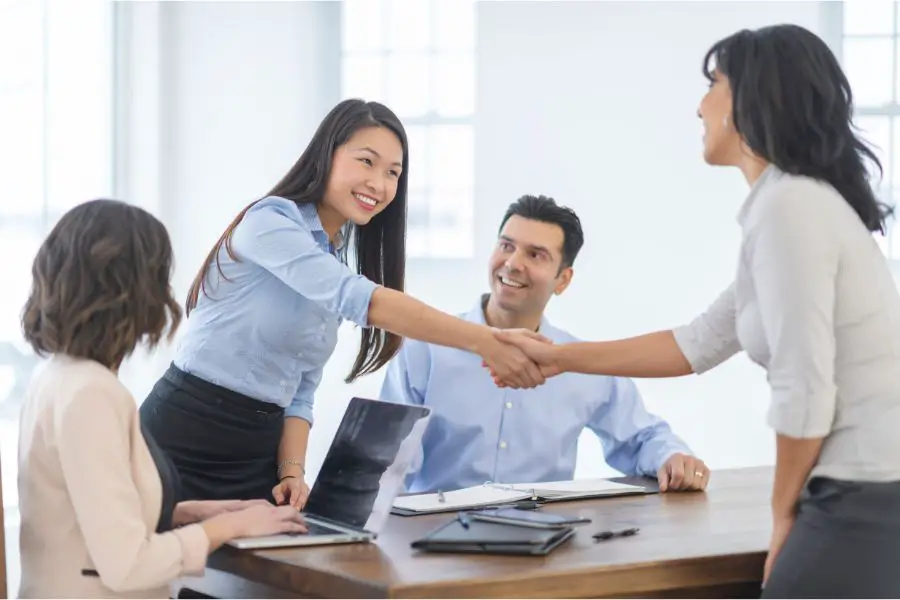 While it may seem daunting, there are some simple ways to make a great first impression with your new boss. Here are a few tips:
1. Be proactive
It is always important to be proactive no matter what field you work in. This means taking the initiative rather than waiting for others to take action. For example, if you are working on a team, don't wait for your manager to introduce themselves to you.
Instead, take the initiative and introduce yourself first. This shows that you are punctual, prepared and even have leadership qualities. Being proactive doesn't mean that you have to take on all the work yourself. It simply means you are willing to take the initiative and be a team player. So next time you work on a project, don't wait for someone else to take the lead. Be proactive and show your worth as a team member.
2. Present yourself professionally
When you're introducing yourself to your new boss, it's crucial to present yourself professionally. This means dressing the part and speaking confidently. First impressions are often based on appearance, so make sure you look your best.
If you're not sure what the dress code is, err on the side of caution and dress slightly more formally. It's always better to be overdressed than underdressed. As for speaking confidently, practice what you're going to say beforehand. This will help you sound more polished and professional.
For example, if you are a new project manager, you can also respond, "I'll need your assistance for the first few weeks, after which we'll collaborate to create this project the finest in the business."
3. Do your research
Asking about your new supervisor before meeting them is a great way to get some insight into their personality and how they might manage you and your team. For example, you may find out they have a great sense of humor or are passionate about a particular cause.
Either way, research can help you understand your new supervisor better before working with them. Additionally, it's always good to be prepared, so knowing your new supervisor in advance as much as possible will only help you in the long run. So don't be afraid to ask around and do your research before your first meeting – it could make all the difference in how smoothly your transition into the new role goes.
4. Be yourself
It's important to be yourself. This doesn't mean you should share your life story with your new boss on the first day. However, it does mean being genuine and authentic in your interactions.
Letting your true personality shine will help your new boss understand who you are. Additionally, it will make it easier for you to build a rapport with them. So don't be afraid to be yourself when you're giving your personal introduction to your new boss – it's the best way to start on the right foot.
5. Provide insights
Sharing growth ideas and improvements may be beneficial if your new supervisor asks for your opinion on the organization. This establishes you as somebody who can contribute insightful ideas. For example, during your first meeting with your team leader, you might suggest an idea to improve a specific process.
This will show that you are always looking for ways to help the team grow. Alternatively, you could highlight a teammate's great work that the team leader may have missed. Pointing out other people's successes demonstrates your observational skills and shows that you are a team player. No matter what route you choose, providing insights is a great way to prove your value from the get-go.
6. Be original
In a sea of new employees, it can be hard to stand out. However, being original is a great way to make a lasting impression on your new boss. Of course, this doesn't mean you have to be the party's life or crack jokes all the time.
Instead, try to think of unique ways to contribute to the team. For example, if you're a creative type, offer to design the next company newsletter. If you're a whiz with numbers, offer to compile the monthly sales report. There are endless possibilities – it's just a matter of thinking outside the box and showing your new boss what you're capable of.
7. Offer to help
Another best way to endear yourself to your new boss is by offering to help with anything they might need. This could be something as simple as getting them a coffee or helping them carry some boxes.
Additionally, you could offer to help with a specific project they're working on. For example, if they're organizing a company event, offer to help with the planning. Or, if they're working on a presentation, offer to proofread it. Whatever you do, make sure your intentions are genuine, and you're not just trying to suck up to them.
Offering to help is a great way to show that you're willing and eager to contribute to the team. It's also a great opportunity to get to know your new boss and build a rapport with them.
8. Listen before you speak
In any relationship, communication is vital. But when you're first getting to know someone, especially in a professional setting, it's essential to take a step back and listen first. Listening shows that you are open to hearing new ideas and perspectives, allowing you to understand better what your supervisor believes is important.
It can also demonstrate your leadership qualities, as good leaders gather information and feedback from all before making their own decisions. Taking the time to listen before you speak can help build a strong foundation for a productive and positive relationship.
9. Learn your team lead's communication style
When you are new to a team or have been assigned to a new manager, it can be helpful to take some time to learn their communication style. For example, some managers prefer direct supervision via weekly or even daily updates, while others allow you to be autonomous and only want to hear about the most important issues. Once you know your manager's preferred style, respecting this can help maintain your relationship.
Additionally, you may want to consider your supervisor's preferred channel for communication. For example, they may like to receive quick updates over text messages or email and ask to speak in person for more urgent matters. Again, the best way to find out is to ask your team lead about their communication preferences. Doing so will help ensure that you are on the same page from the start and can set the foundation for a productive working relationship.
10. Ask questions
Lastly, asking questions is a great way to show that you're interested in the job and willing to learn. So when you're introducing yourself to your new boss, take the opportunity to ask them about their vision for the team.
You could also ask them about their management style or what they see as the team's strengths and weaknesses. Asking questions shows that you're willing to listen and want to learn more about the job. It's also a great way to start a conversation and get to know your new boss better.
Related: How To Introduce Yourself as a Manager To A New Team
Final Thoughts
Introducing yourself to your new boss can be a daunting task. But by following these simple tips, you can make a great first impression and start building a solid working relationship. Remember to be genuine, listen more than speak, and ask questions. With these guidelines in mind, you'll be sure to make a positive impact on your new team.
What other tips would you add for introducing yourself to a new boss? Let us know in the comments below!
FAQ
What is the role of project managers?
Assuming the role of project manager for a new team can be a daunting task. Not only are you responsible for ensuring the successful completion of the project, but you also need to build trust and rapport with your team. One of the best ways to do this is to be positive and friendly in your introduction. This will help put your team at ease and let them know you're approachable. Additionally, being positive will set the tone for the entire project.
How do you welcome a new team manager?
There's no one right way to do this, but some methods to welcome a new team manager may include sending them an email or note expressing your excitement to have them on board or verbally welcoming them at a team meeting. You could also take them out for coffee or lunch to get to know them better. Whatever you do, make sure you're sincere and genuine in your welcome.
How do you greet a new boss in an email?
Again, there's no one correct answer to this question. You may want to keep it fairly formal with a simple "Dear Mr./Mrs./Ms. Smith" followed by a brief message expressing your excitement to work with them. Or, you could take a more informal approach and use their first name, depending on your relationship with them. Whatever you do, make sure you sound sincere and eager to work with them.
How do you welcome someone new at work?
When welcoming someone new to the workplace, you may want to introduce yourself and shake their hand. You could also offer to show them around the office or help them settle in. If you're in a position of authority, you may want to assign someone to be their buddy or mentor. Make sure you're friendly and helpful, so they feel comfortable in their new environment.
How do I introduce myself to my new boss?
When introducing yourself to your new boss, you may want to keep it fairly formal and professional. For example, you could say, "Hello, my name is John Doe, and I'll be starting as your assistant on Monday." Or, you may want to take a more informal approach and say, "Hi, I'm John. I'm looking forward to working with you." Whatever you do, make sure you sound confident and eager to start.
What is meant by company culture?
Organizational culture represents an organization's shared values, beliefs, and norms. It's what makes up the company's identity and influences employee behavior. Strong company culture can help employees feel like they're part of a team and inspire them to do their best work.
What is meant by team values?
Team values are the guiding principles that a team lives by. They help shape the team's culture and can be used to make big and small decisions. Team values can be anything from 'always putting the customer first to 'working hard and having fun. Some teams will have values set by the company they work for, while others will develop their values. Either way, it's crucial that everyone on the team knows the values and buys into them.